Serve up a tried and true family classic homemade Pineapple Upside Down Cake! A moist cake that is topped with pineapples and a cherries. This cake is perfect for serving in the spring and summer months. It is light, refreshing, and perfectly sweet!
What I love about the Pineapple Upside Down Cake is the cake gets infused with pineapple flavor as it bakes. So you have a moist and sponge-like texture to the cake. Add a dollop of whipped cream and serve to family and friends. Each bite is bursting with pineapple flavor that leaves you wanting one more bite.
Also if you love upside down cakes, give my Apple Upside Down Cake a try! This recipe is a favorite to make in the fall and winter months in our home. Such a holiday flavored dessert.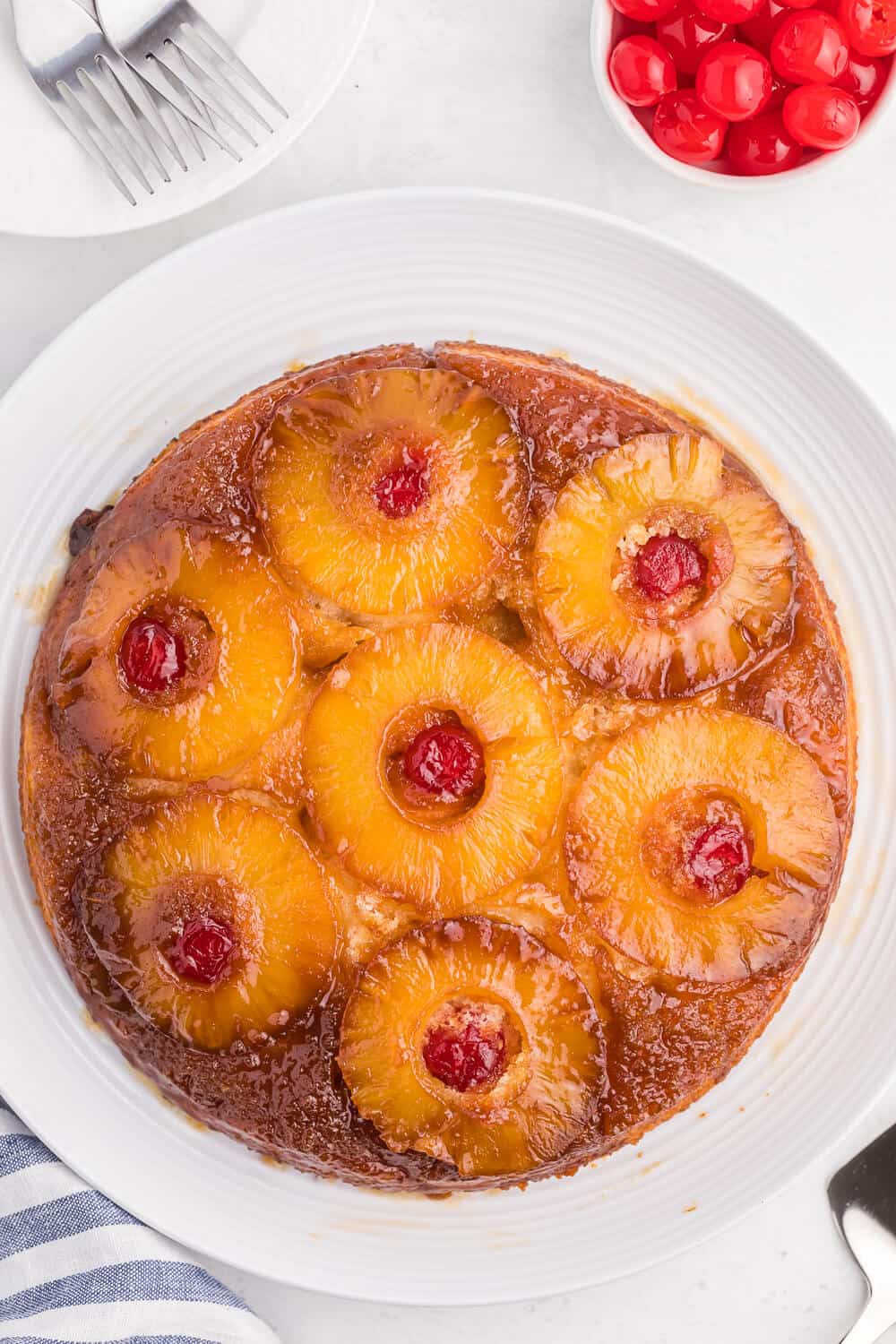 I made this cake totally from scratch, no boxed cake mix used here. I grabbed basic everyday pantry supplies and got to work to create a buttery, sweet cake that will win over anyone's heart.
Canned pineapple works wonderfully in this recipe, so it makes the prep a lot easier than cutting fresh pineapple and hoping for symmetrical slices. The maraschino cherries on top adds the perfect amount of color and sweetness to the cake. Helps to make it nice and pretty for serving up family and friends.
What Does a Pineapple Symbolize?
Pineapple has been known to symbolize friendship and hospitality through a variety of cultures. That is why I think Pineapple Upside Down Cake has been around for so many years. It is a great way to show hospitality to friends and family and a great dessert to offer a friend.
Here are more ways to enjoy pineapple:
Do You Need to Refrigerate a Pineapple Upside Down Cake?
Yes. Pineapple Upside Down Cake does need to be refrigerated after you bake and allow it to cool. If you don't refrigerate it can go bad rather fast. You can store it in the fridge for up to three days. Each day it can dry out a bit more, so eat it sooner than later.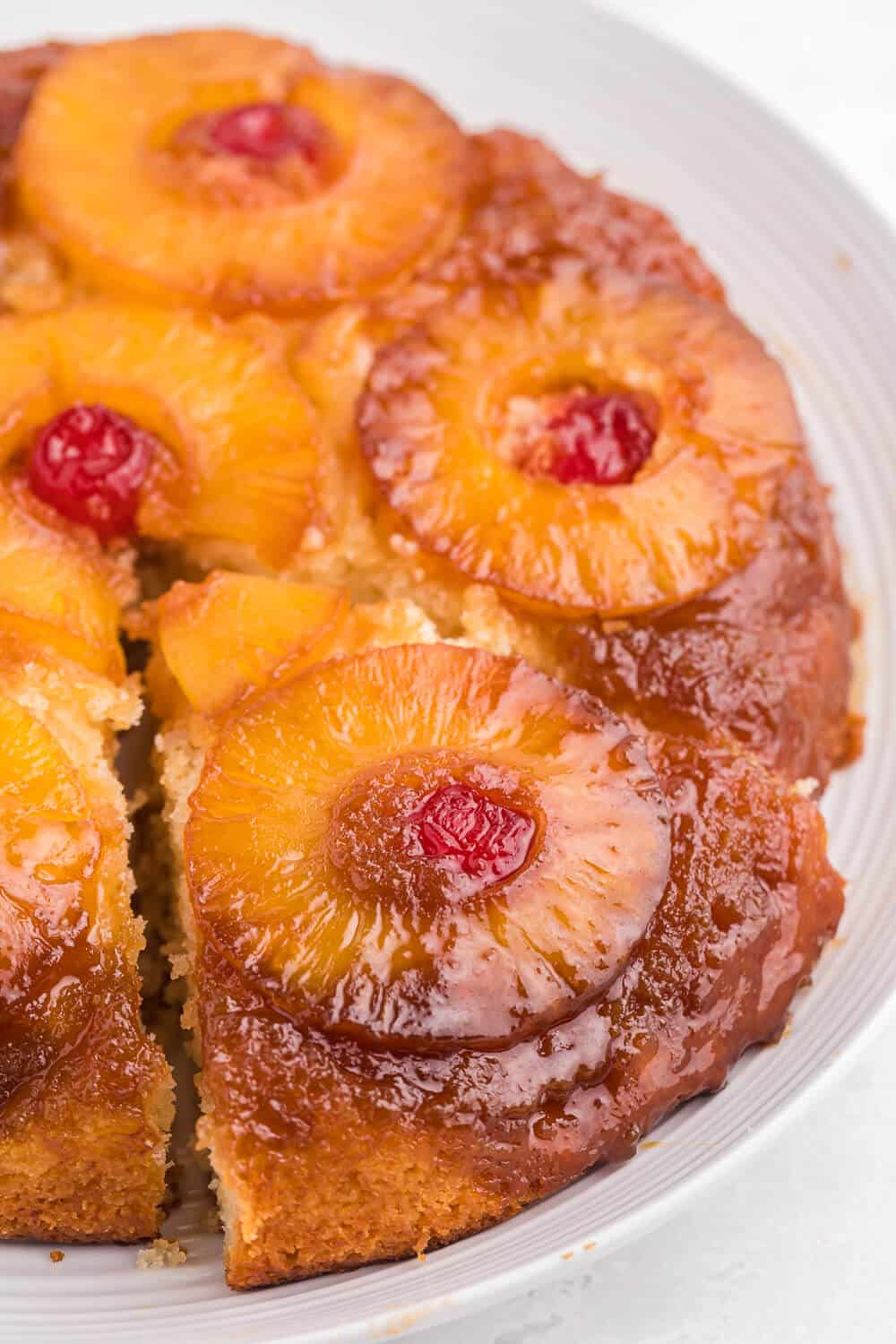 Can You Freeze Pineapple Upside Down Cake?
Yes. Feel free to make a couple of cakes at once and eat one now and freeze the other. Or save back part of this one and toss in the freezer until you are ready to serve.
Allow your cake to cool, and then place in an airtight container or wrap with aluminum foil and place in the freezer for up to three months. Thaw it in the fridge the night before you are ready to eat it. Slice and serve once thawed.
Can I Use Fresh Pineapple Instead of Canned?
You can use fresh pineapple for your cake instead of canned. You will find fresh pineapple offers a lighter pineapple flavor than canned. Also, aim to slice your pineapple close to the same size so it provides an excellent presentation and cooks up evenly. Just make sure core your pineapple before placing in the pan.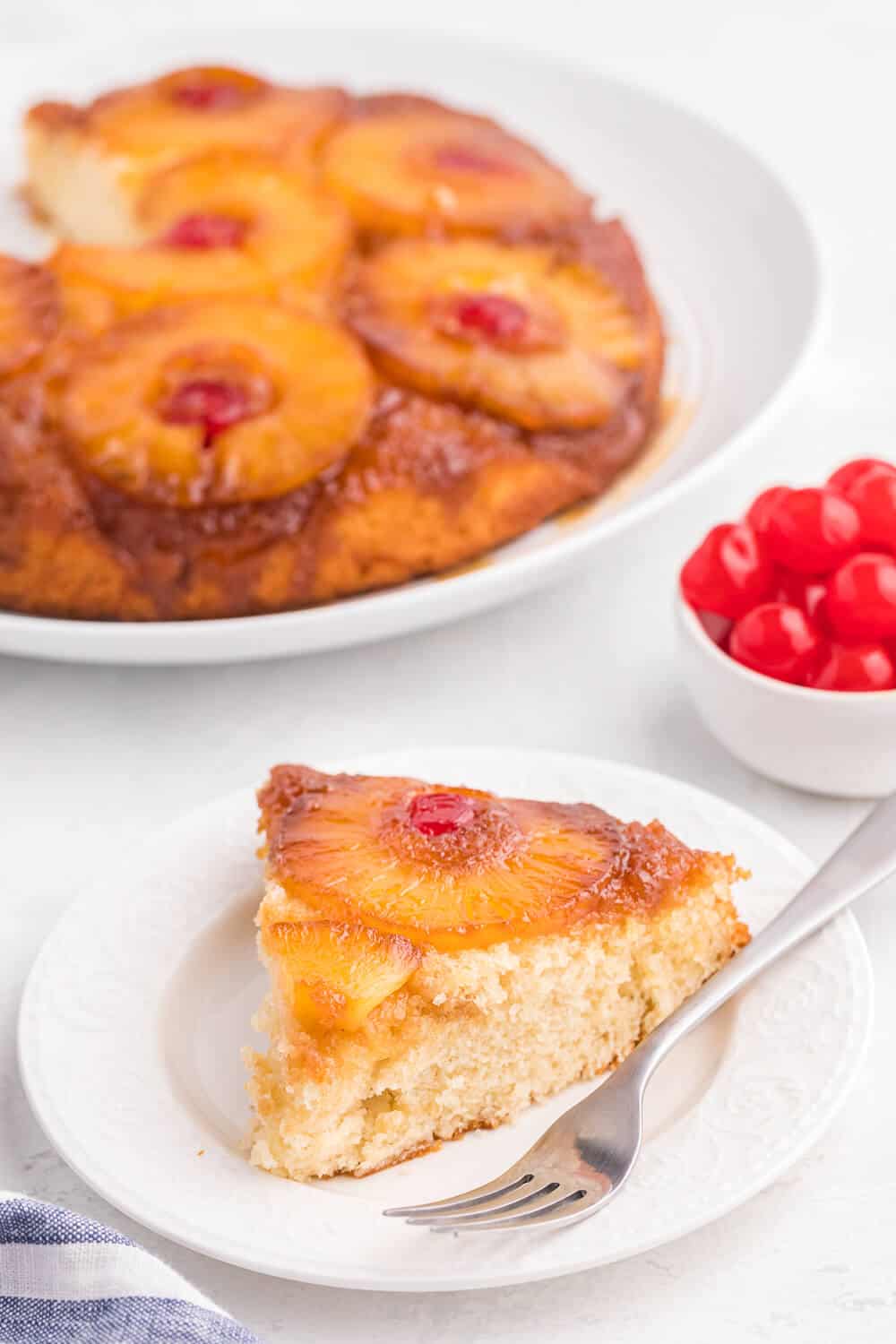 How to Make
Start by melting butter in your round pan in the oven. Then sprinkle your brown sugar over your butter, and follow up by laying down the pineapple. Then place a cherry in each center of the pineapple ring.
Mix together the wet ingredients in one bowl and then mix together the dry ingredients. Combine together.
Pour mixture over the pineapples and bake for around 55 minutes.
Once you remove from oven, grab a platter or heat-proof plate and hold the cake onto the plate, and gently flip the cake over onto the plate as quickly as you can.
Allow the cake to sit for a few minutes, then gently lift the pan, and the whole cake should have come out of the pan, and now the cake is on the plate or platter.
The process of making a pineapple upside down is straightforward to do, and once you do it, you will keep making them over and over again. So easy, and it makes your house smell fantastic as it bakes up.
You'll also like these Pineapple Upside Down Cupcakes and Pig Pickin Cake.
Have you made an Upside Down Cake before?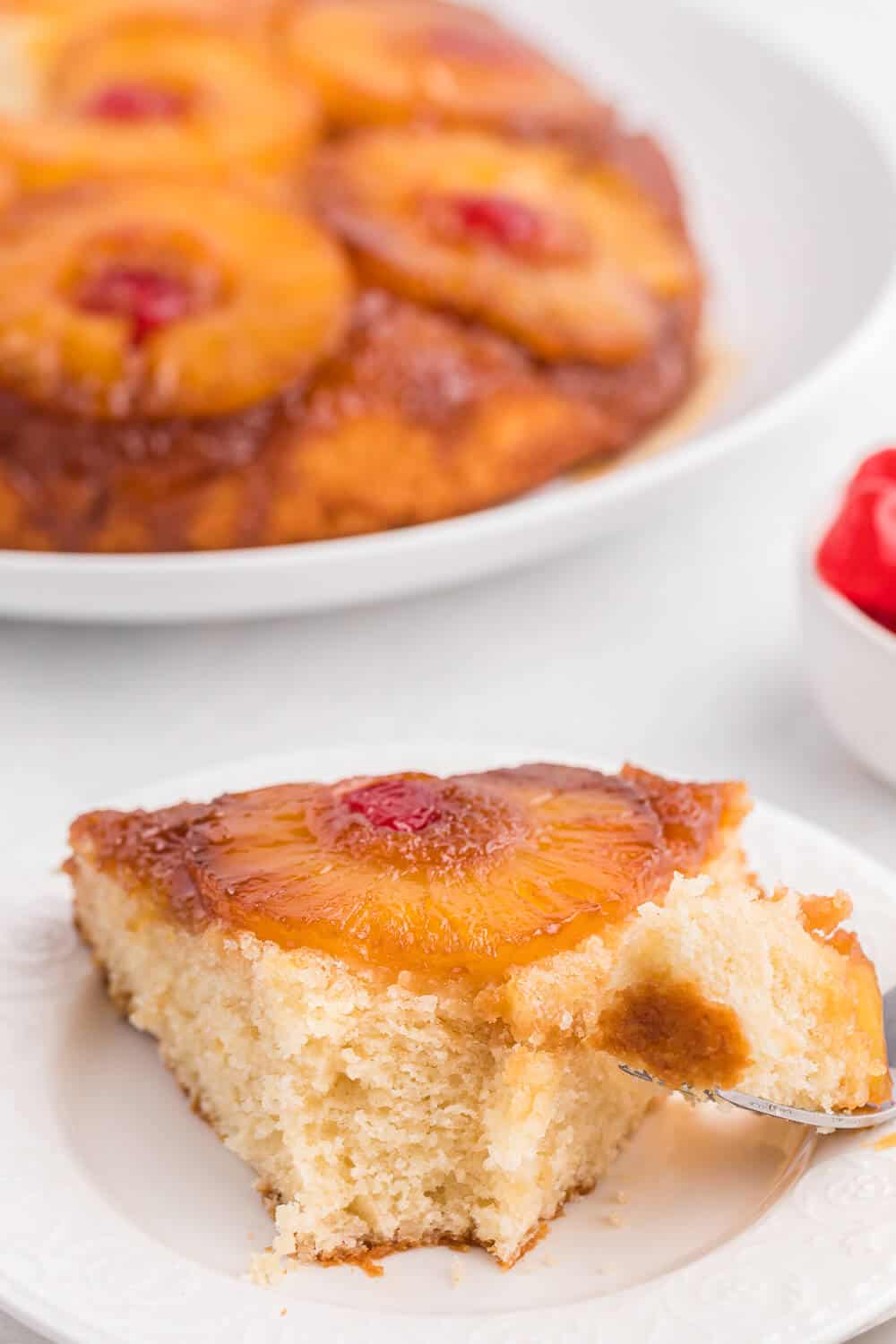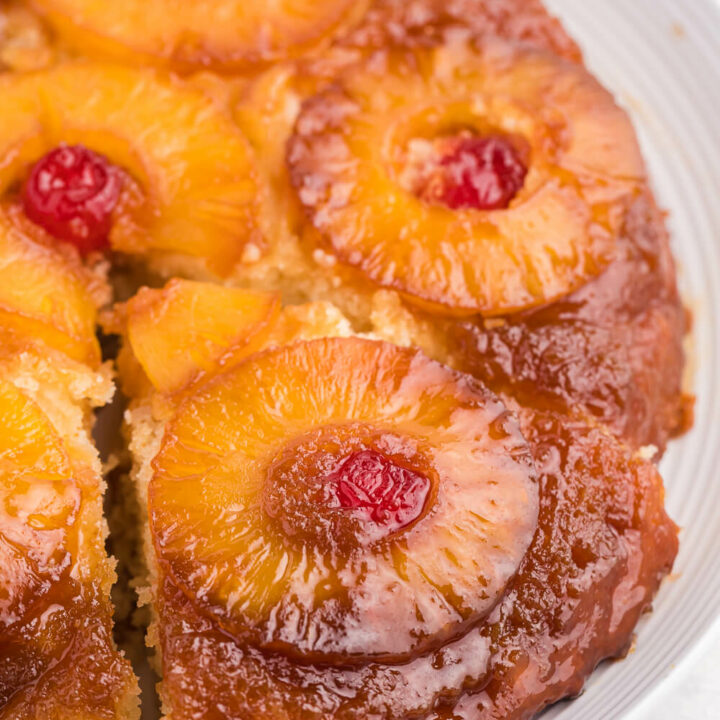 Pineapple Upside Down Cake
Total Time:
1 hour
10 minutes
Bursting with pineapple flavour, this retro dessert is an amazing end to a meal. Using canned pineapple rings makes for less prep, and evenly sliced pineapple throughout the cake.
Ingredients
1/4 cup butter
2/3 cup brown sugar
1 can (14 oz) sliced pineapple, drained
1 cup sugar
1/3 cup shortening
1 egg
1 teaspoon vanilla extract
3/4 cup milk
1 1/3 cup all-purpose flour
1 1/2 teaspoon baking powder
1/2 teaspoon salt
7 Maraschino cherries
Instructions
Preheat oven to 350F.
In an 9-inch round cake pan, melt the butter in the oven. Sprinkle the brown sugar over the butter. Arrange the pineapple on the brown sugar. Place a cherry in the centre of each pineapple slice.
Add shortening and sugar to a large bowl. Beat with a mixer on medium until combined (about 2 to 3 minutes). Add egg, vanilla extract and milk and beat until combined.
In another bowl, stir together flour, baking powder and salt. Add gradually to wet mixture, beating in between each addition.
Pour mixture on top of the pineapple slices.
Bake for 55 minutes or until a toothpick inserted in the middle comes out clean.
Immediately place heatproof plate upside down on the pan and then turn it over quickly. Leave it sit for a few minutes and then remove the pan. Cool for about 15 minutes and serve warm.
Recommended Products
As an Amazon Associate and member of other affiliate programs, I earn from qualifying purchases.
Nutrition Information:
Yield:

8
Serving Size:

1
Amount Per Serving:
Calories:

456
Total Fat:

22g
Saturated Fat:

8g
Trans Fat:

0g
Unsaturated Fat:

13g
Cholesterol:

43mg
Sodium:

361mg
Carbohydrates:

62g
Fiber:

2g
Sugar:

43g
Protein:

6g