Check out my upgraded Baklava recipe. A baked Apple Baklava that is a spiced apple filling, nutty, and a delicate puff pastry. If you are a fan of Baklava, you will love this apple version!
We are a huge fan of apples in our home. Apple cake, cookies, pies, and of course muffins. If it has an apple in it, you can bet I will never turn it down. The other day I wanted to try out making my own Baklava with a yogurt sauce for dipping. This apple recipe turned out better than I expected.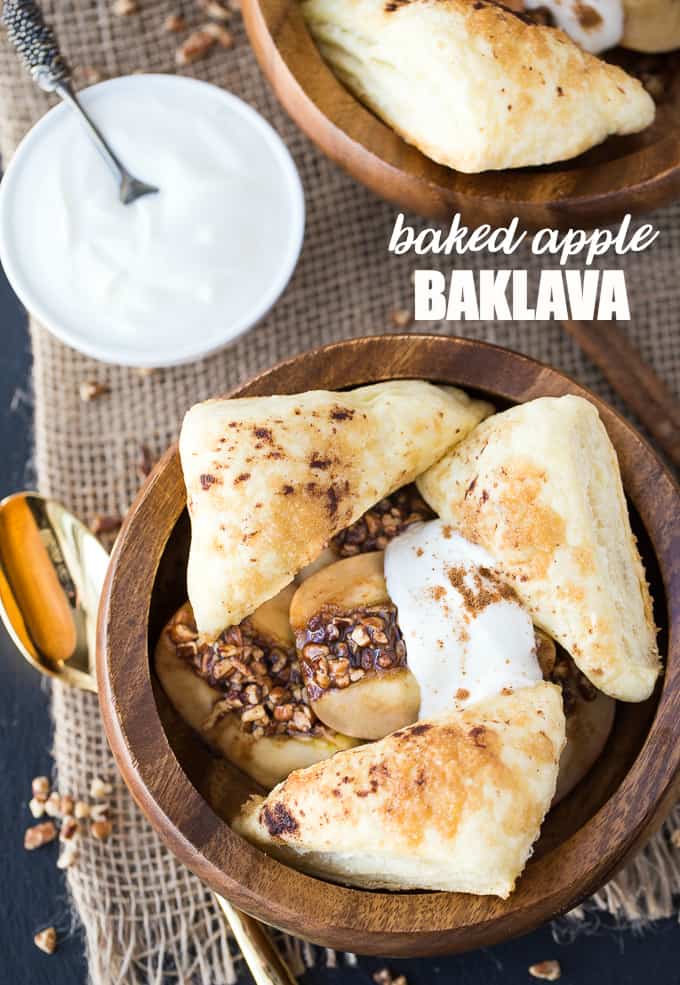 The Best Baked Apple Baklava Recipe
If you are looking for a unique and creative treat to serve your family or guests, give this recipe a try. It does require some steps but trust me; this Apple Baklava Bake is rather easy to make.
Some of My Favorite Apple Recipes

What is the Difference Between Baklava and Baklawa
The most significant difference is the ingredients used in the baklava and the baklawa recipe. Baklawa is from Egypt and uses hone in the syrup and almonds. Where baklava is Greek and walnuts or pecans and sugar.
Where is Puff Pastry in Grocery Store
You can look in your freezer section for puff pastry. A lot of times it is near frozen pie crust or pre-made pies that are in the freezer. Some stores might carry it in the refrigerator section, but I have only come across it in the freezer section.
Are Puff Pastry and Filo Dough the Same
Puff pastry and filo (phyllo) dough are very different. You will see some recipes use phyllo dough when making baklava, but for this particular recipe, I used puff pastry. If you use filo in this recipe, it will completely change the texture.
Best Apples to Use for Apple Baklava
I recommend reaching for a sweeter apple like Fuji or Gala apple. Both of these are great for baking and will hold up nicely and offer a sweet and tender texture to the puff pastry.
If you are looking for different varieties of apples to use when baking let me share a few ideas below, you want an apple that holds up well when it is baked. Some apples produce too much liquid and can make your end result soggy, others break down too much during being baked.
Fuji
Gala
Jonathon's (or Jonagold depending on where you live)
Honeycrisp
Braeburn
Rome Beauty
Granny Smith
Do I Have to Make Yogurt Sauce
No. Feel free to opt out of making the yogurt sauce if you want. I found the yogurt sauce added a nice refreshing taste to the baklava but you are welcome to skip making it if you prefer!
Making A Baked Apple
You want to start by coring your apple, and the goal is not to cut through the bottom of the apple. This will be a bowl in a sense that you will stuff with nuts, sugar, and of course butter. Then you bake in the oven or even on a grill until they are nice and tender.
Pair these with your baklava and drizzle over the yogurt sauce for one incredible dessert for the whole family to enjoy.
How to Make Baklava With Puff Pastry
Defrost your puff pastry and then cut it into triangles. Grab some melted butter and brush over the pastry. Then sprinkle the brown sugar and cinnamon all over the pastry top. Place on a pan and bake until golden brown. You can even use your toaster oven if you own one!
Will Baked Apple Baklava Store Well
Yes and no. The apples taste best when served warm, as they chill they will begin to break down more. You can still reheat them in the microwave, and the texture will slightly change. The baklava can be stored for a few days, and when you want to eat them warm them up in the microwave for a few seconds to give it that fresh out of the oven taste!
I seriously can't tell you how incredible this recipe is. From the stuffed baked apples paired with tender flavorful puff pastries, and the sauce on top. It felt like a dream spooning up a bite. Give this recipe a try today.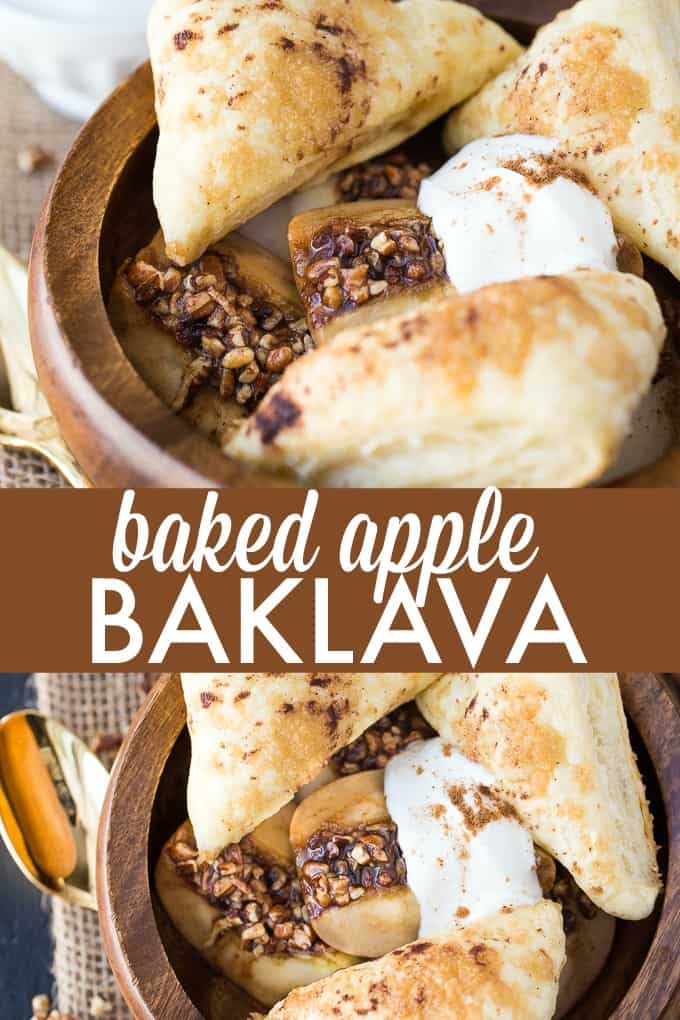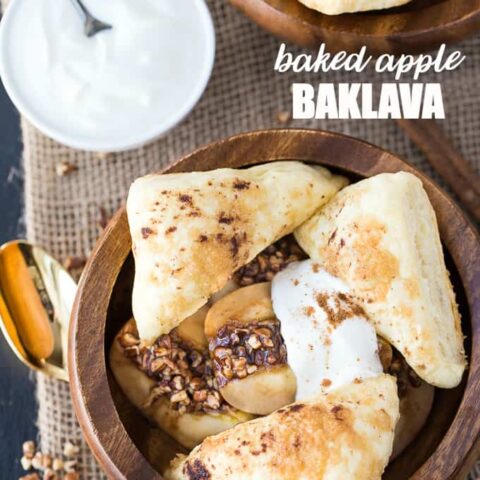 Baked Apple Baklava
Using convenient frozen puff pastry, these warm, apple flavoured bites are a twist on the traditional baklava we know and love! Best served warm, everyone will love the familiar flavours.
Ingredients
Baked Apples
4 large sweet apples like gala or fuji
½ cup pecans or walnuts
4 tbsp brown sugar
4 tbsp butter
1 tsp Cinnamon
Heavy duty foil
Pastry
1 sheet pre made puff pastry
2 tbsp melted butter
2 tbsp brown sugar
1 tsp Cinnamon
Yogurt Sauce
1 ¼ cup unflavored Greek yogurt
1-2 tbsp honey
Instructions
Start by coring the apples trying not to cut all the way through to the bottom. Remove all the tough center of the apple that you can. If you are making these in advance splash lemon juice inside the hole to keep it from browning. Sprinkle some cinnamon into each opening. Next fill each apple center with ¼ of the nuts, sugar, and butter. Cut four large sheets of foil and spray one side with cooking spray, then tightly wrap each apple in a sheet of foil.Bake either in the oven at 350 degrees or on the grill over indirect heat until tender for 30 to 40 minutes.
Cut the defrosted pastry into triangles. Paint one side of the pastry with melted butter. Sprinkle on brown sugar and cinnamon. Move to a greased baking sheet and bake at 350 degrees for about 12-15 minutes until golden brown. I normally do this in my toaster oven so simple.
Mix together the yogurt and honey. Taste and adjust honey to you preferred sweetness. Pop into the freezer for about 20-30 minutes before you are going to serve desert to get the yogurt really cold.
Carefully unwrap the baked apples don't spill any juice that might be caught in the foil. Slice the apple in half and place it in a bowl arrange 2-4 of the pastry triangles on the sides of the apple. Then spoon on the center a dollop of the yogurt, sprinkle with cinnamon. Repeat with the other 3 apples and serve.
Recommended Products
As an Amazon Associate and member of other affiliate programs, I earn from qualifying purchases.
Nutrition Information:
Yield:

4
Serving Size:

1
Amount Per Serving:
Calories:

596
Total Fat:

31g
Saturated Fat:

12g
Trans Fat:

1g
Unsaturated Fat:

16g
Cholesterol:

49mg
Sodium:

189mg
Carbohydrates:

78g
Fiber:

9g
Sugar:

61g
Protein:

10g