Pineapple Rice Pudding is sweet and creamy with a hint of yummy pineapple flavor! It's the perfect dessert to end a delicious meal.
Pineapple Rice Pudding
I've been a big fan of rice pudding since my childhood. I remember visiting the local Chinese restaurant with my parents and one of the desserts on the buffet table was rice pudding. I'd always save some room to enjoy it.
I talk to people and they either love it or hate it. I'm definitely team love. I'd eat rice pudding every day if my waist line would let me! Realistically, I like to make it every few months. A little indulgence for our family.
This particular rice pudding isn't made like others you might have tried. It has no sugar. Instead, the sweetness comes from the addition of marshmallows and crushed pineapples. It's SO EASY!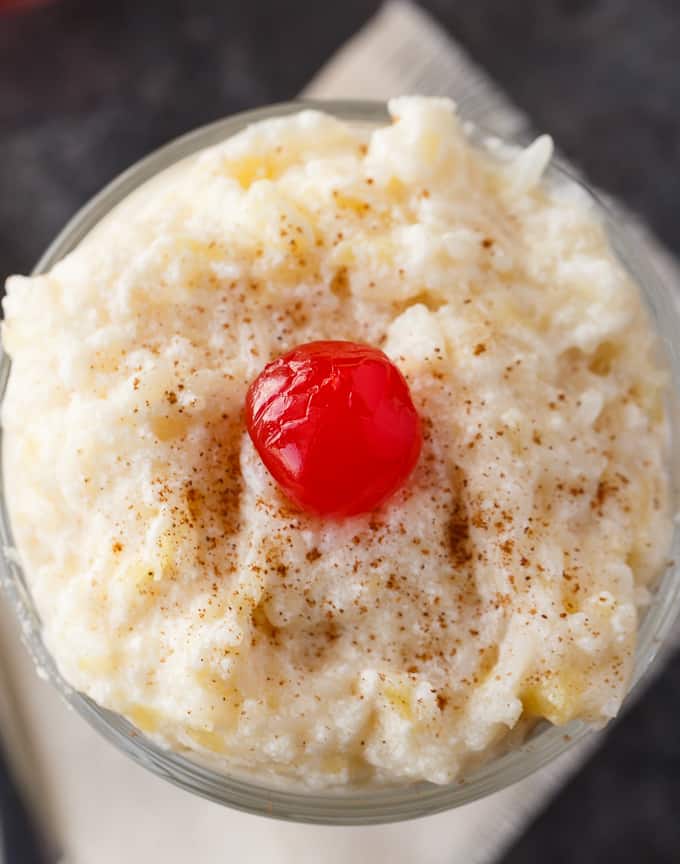 How to Make Pineapple Rice Pudding
The first step is to cook the rice. I used Uncle Ben's converted rice that takes about 20 minutes to cook on the stovetop.
Add the chopped marshmallows to the hot cooked rice. Stir until the marshmallows completely melt.
Add in the drained crushed pineapple and stir to combine.
Stir in whipped cream.
Add to parfait dishes and chill in the fridge until it's cold.
To serve, sprinkle with cinnamon and add a maraschino cherry on top.
Helpful Kitchen Tools
These kitchen tools will help you prepare the recipe.
This post contains affiliate links.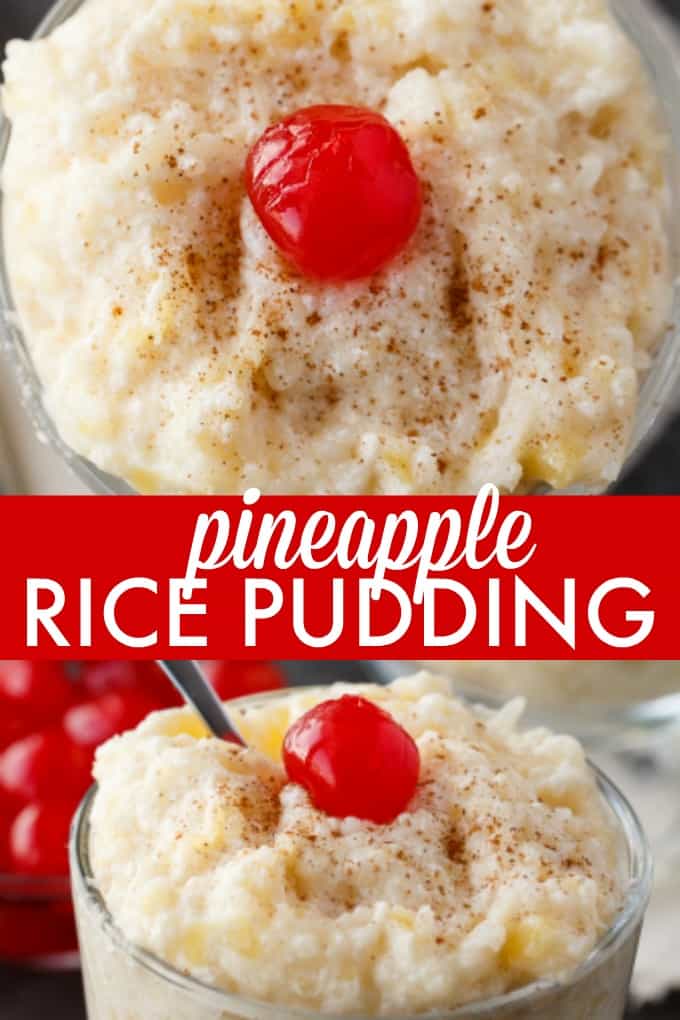 I had company over when I was making this recipe. Everyone said it was delicious – even the pineapple haters. The taste of pineapple isn't overly strong. It's just a light hint.
One time I made this dessert and I undercooked the rice. It ruined the whole thing. No one likes crunchy, sweet rice – ick! I'm always more careful now to make sure I properly cook the rice so the whole batch isn't a waste.
Pudding Recipes
Looking for more pudding recipes to try? I have several that are winners.
Hot Fudge Pudding Cake: So sinfully rich! Luscious chocolate cake bakes right with a creamy, chocolatey pudding sauce.
Half-Hour Pudding: An easy vintage dessert recipe just like Grandma used to make. The sweet bread pudding bakes in a rich caramel sauce for 30 minutes.
Cracker Pudding: A vintage Pennsylvania Dutch dessert recipe that is creamy and sweet.
Radio Pudding: A simple vintage recipe that has been passed down from generation to generation. The cake base bakes right in a luscious butterscotch sauce.
White Chocolate Pudding: Enjoy the smooth, creamy and sweet flavour of this homemade White Chocolate Pudding. Make it extra special by topping with strawberries and whipped cream!
You might also like this Pineapple Cake, Butterscotch Pudding, Orzo Pudding, Pineapple Upside Down Cake, Pineapple Pie, Pineapple Upside Down Cupcakes or Pineapple Delight.
Are you a fan of rice pudding?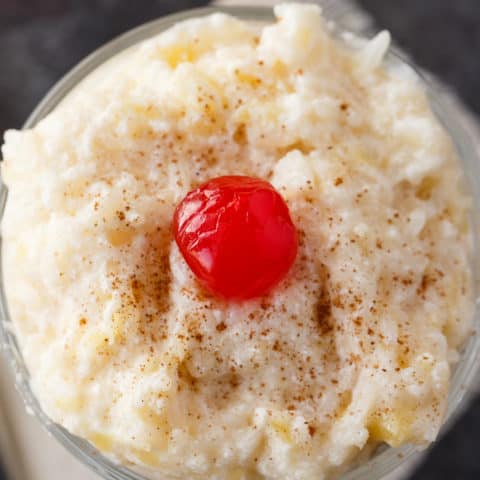 Pineapple Rice Pudding
Sweet and creamy with a hint of yummy pineapple flavor!
Ingredients
2 cups cooked rice
1 cup crushed pineapple, drained
10 marshmallows, chopped
1 cup whipping cream, stiffly whipped
Maraschino cherries, for garnish
Cinnamon, for garnish
Instructions
Add marshmallows to cooked rice while it's still hot. Stir until marshmallows melt.
Add crushed pineapple and stir.
Stir in whipped cream. Add to parfait dishes and chill in the fridge until cold.
Serve with a sprinkle of cinnamon and a cherry on top.
Recommended Products
As an Amazon Associate and member of other affiliate programs, I earn from qualifying purchases.
Nutrition Information:
Yield:

6
Serving Size:

1 bowl
Amount Per Serving:
Calories:

378
Total Fat:

12.5g
Saturated Fat:

7.8g
Unsaturated Fat:

4.1g
Cholesterol:

44.2mg
Sodium:

46.9mg
Carbohydrates:

66.3g
Fiber:

0.2g
Sugar:

20g
Protein:

2.6g