Serve up this White Chocolate Pudding recipe for a sweet dessert. Enjoy as an after-dinner treat or even a delicious mid-day snack. A homemade White Chocolate Pudding that you will want to make it over and over again.
Is there anyone out there who likes white chocolate better than regular chocolate? I'm waving my hand high in the air. Can you see me? Don't get me wrong, I love chocolate. It's just that I love white chocolate more. The Easter Bunny used to bring me white chocolate bunnies while my sisters received the milk chocolate counterpart. There's just something about the smooth, creamy, sweet flavour of white chocolate that drives my tastebuds crazy!
White Chocolate Pudding
I picked up some white chocolate for baking the other week. I've been known to eat those delicious little squares like a candy bar on its own. This time around I saved them for a recipe I was planning to make – White Chocolate Pudding. If you are a white chocolate fan like me, you will want to save this recipe!
More White Chocolate Recipes
Does White Chocolate Pudding Need to Chill Before Being Served
It's made on your stovetop in a saucepan in a matter of minutes. Once it thickens up, then it's time to add in your white chocolate squares. It needs to cool down first in the fridge for at least an hour.
Then, serve it with the toppings of your choice. I topped mine with sliced strawberries and whipped cream. Talk about decadent!
You might also like this White Chocolate Cranberry Cheesecake Bars or Pineapple Rice Pudding.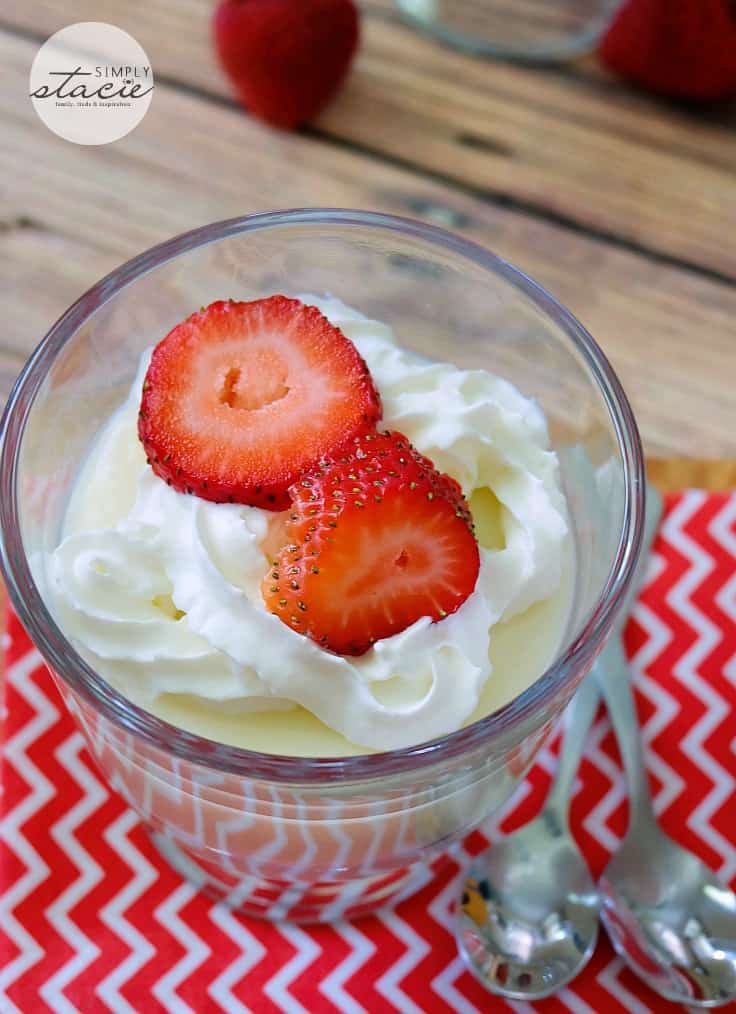 How to Store Leftover White Chocolate Pudding
You will want to store all leftover white chocolate pudding in an airtight container and store in the refrigerator for up to five days. I recommend holding back putting toppings on until you are ready to serve. I like to place them in single-serve containers so that you can have them ready to grab and enjoy in seconds.
How to Make White Chocolate Pudding
Start by adding your cornstarch, sugar, and salt in a medium pan and stir. Then whisk in cream and milk. Bring the ingredients to a boil, stirring constantly. Then once it begins to boil you will reduce the heat to low, and cook for an additional two minutes.
At this time the pudding should begin to thicken. Now you want to remove it from the heat, and stir in your chopped chocolate and vanilla. Then spoon into containers and store in the fridge.
Ways To Serve White Chocolate Pudding
Whipped Cream
Top with Fresh Strawberries, Blueberries, or any other fruit
White chocolate shavings
Dusting of cocoa
Cookie crumbles
Chopped Candy
Sprinkles
And the list goes on
You can eat this pudding alone or add your favorite toppings to elevate the flavor.
Can You Freeze White Chocolate Pudding
You can make freezer pops out of this white chocolate pudding, or freeze and save for later. Just place in airtight container and store for up to one month in the freezer. Thaw in the fridge before you plan to serve it. Give it a good whisk to make it nice and creamy again.
Can I Use This Pudding in Other Desserts
Yes, you can make trifles, parfaits, dessert lasagnas and more. This pudding can be used just like any other homemade or store-bought pudding you make. I have used pound cake and whipped cream along with fresh berries to make a trifle, and it was outstanding. You can give this a try and see how you like it.
What is the Best Chocolate to Use for White Chocolate Pudding
You want to use quality chocolate when you make this pudding. The reason being is because the white chocolate will stand out. So if you use cheaper chocolate you won't get as pure of a flavor in the pudding. So consider buying quality chocolate when making this pudding.
Give this white chocolate pudding a try, and let me know what you think. If you are a fan of white chocolate you will really enjoy this velvety smooth rich pudding.
White Chocolate Pudding
White chocolate fans rejoice! Simple and sweet, this pudding goes so well with fresh fruit or served solo for a mid-day treat.
Ingredients
1/4 cup sugar
1/4 cup cornstarch
1/4 tsp salt
2 cups milk
3/4 cup whipping cream
6 squares of white chocolate (1 oz each), chopped
2 tsp vanilla extract
4 strawberries, sliced
Whipped cream, for garnish
Instructions
Add sugar, cornstarch and salt to a medium saucepan and stir to blend. Whisk in milk and cream. Bring to a boil over medium heat, stirring constantly. Once it boils, reduce heat to low and continue to stir for an additional two minutes. It will be thick at this point.
Remove from heat. Stir in white chocolate and vanilla. Spoon into dessert dishes. Cover in plastic wrap and place in the fridge for at least an hour.
When ready to serve, remove plastic wrap and top with sliced strawberries and whipped cream.
Recommended Products
As an Amazon Associate and member of other affiliate programs, I earn from qualifying purchases.
Nutrition Information:
Yield:

4
Serving Size:

1
Amount Per Serving:
Calories:

996
Total Fat:

60g
Saturated Fat:

37g
Trans Fat:

1g
Unsaturated Fat:

19g
Cholesterol:

88mg
Sodium:

337mg
Carbohydrates:

104g
Fiber:

1g
Sugar:

90g
Protein:

13g