This homemade Rocky Road Pudding is going to blow your mind. Velvety smooth chocolate pudding that is topped with nuts and mini marshmallows. You get the flavors of rocky road in every creamy and crunchy bite.
I see nothing wrong with indulging every once in a while. I've been making an extra effort to eat healthy most of the time. Sometimes, though, you need to treat yourself. As long as you don't overdo it, it's ok. I made a batch of this no-bake Rocky Road Pudding recently. It was pure chocolate heaven. I gave myself the smallest portion and let my family have the larger ones. Afterward, I went back to healthy eating. Moderation is the key!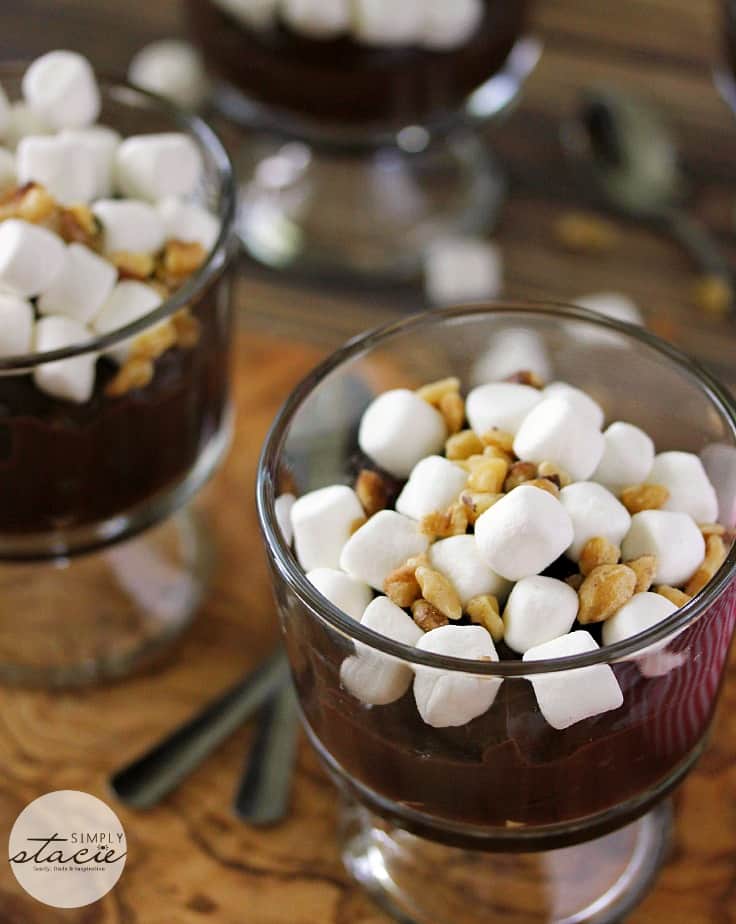 Rocky Road Pudding
I could have gone the easy route and used instant chocolate pudding. You could totally do that if you like! However, I decided to make my chocolate pudding from scratch. The magic happens on the stovetop and finishes off in the fridge. I think it tastes better from scratch.
Once you have the chocolate pudding made, the rest is easy. Top with mini marshmallows and your choice of nuts. I used chopped walnuts because that's what I had in my pantry. Peanuts or almonds would also work nicely.
Do You Mix in the Marshmallows and Nuts
Will you mix the marshmallows and nuts in with the chocolate pudding? Or eat them first and then dig in? I like to mix mine up! For picture purposes, it looks much nicer to have them sit on top.
You could even mix some marshmallows and nuts in, and then top with more for presentation value.
Sadly, it did not last long. I'm looking forward to making it again soon. I told my sister about it and now she wants me to make it for dessert when she comes over for dinner this month. I guess I can do that for her. She's my sister, after all!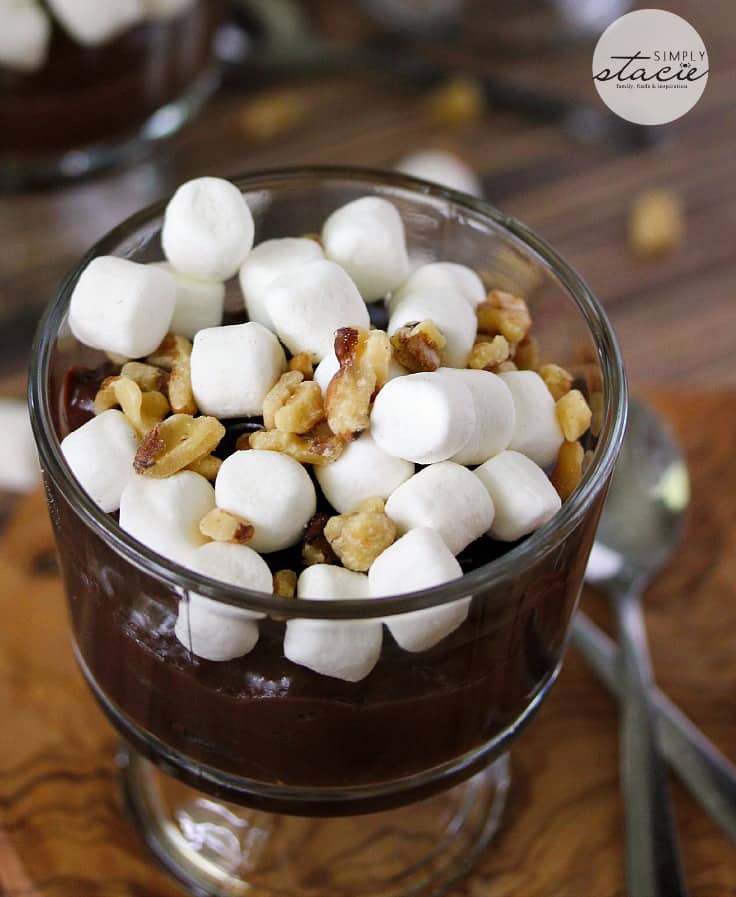 Can I Use Store-Bought Pudding Instead of Homemade
Of course. If you don't want to take the time to make homemade you can easily use store-bought pudding. I find that homemade chocolate pudding offers a lot more flavor, but feel free to reach for your favorite store-bought if you prefer.
More Pudding Recipes
Butterscotch Pudding | Velvety smooth, creamy, and incredibly flavorful. This butterscotch pudding will truly be a delightful treat to serve up.
Half Hour Pudding | A classic recipe that has been a part of our family for generations. Make this 30-minute pudding today for a warm and sweet treat.
Cracker Pudding | Here is another unique and flavorful pudding. Soda crackers in the pudding? You read that right! This pudding is so tasty.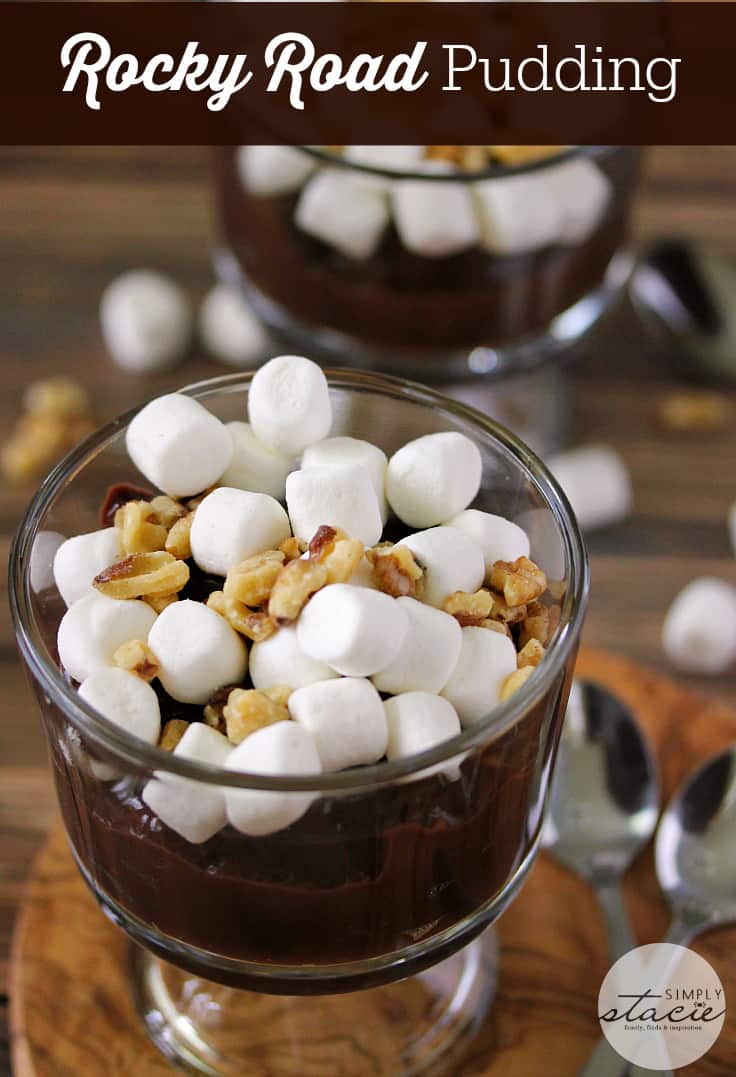 What are the Best Nuts for Rocky Road Pudding
Salty peanuts
Pecans
Slivered almonds
Chopped walnuts
You are welcome to use any nut that you want. I will change it up depending on what I have on hand or am in the mood for. All are tasty but feel free to reach for your favorite nut.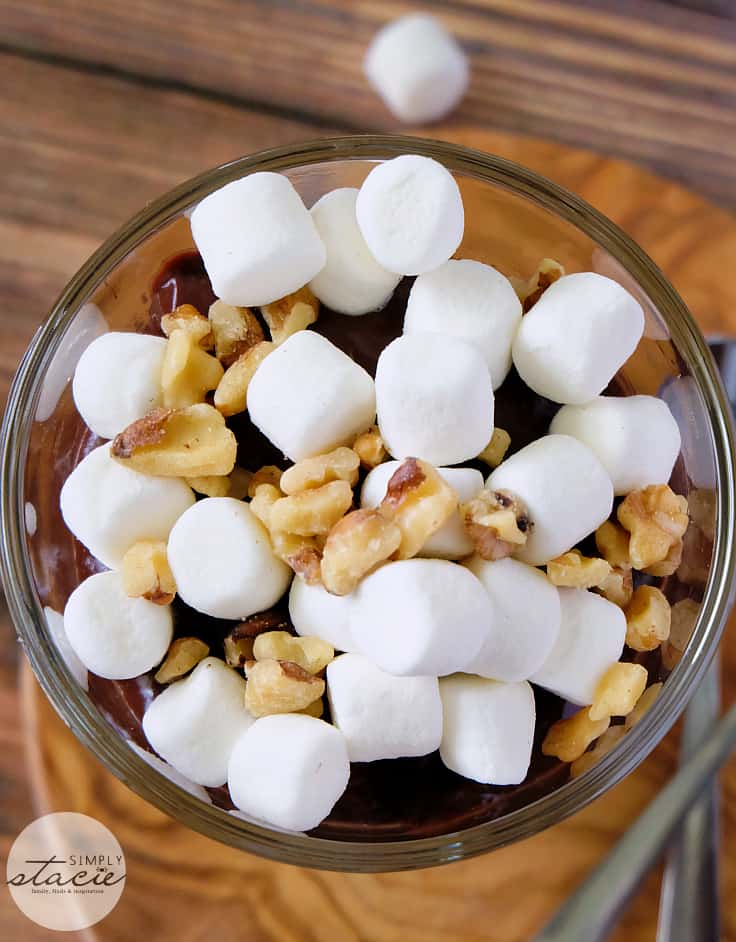 Other Topping Ideas For Rocky Road Pudding
Cool Whip (homemade or store-bought)
Graham cracker crumbs | Add to the top or even bottom to create a crust layer.
Chocolate Chips | For added sweetness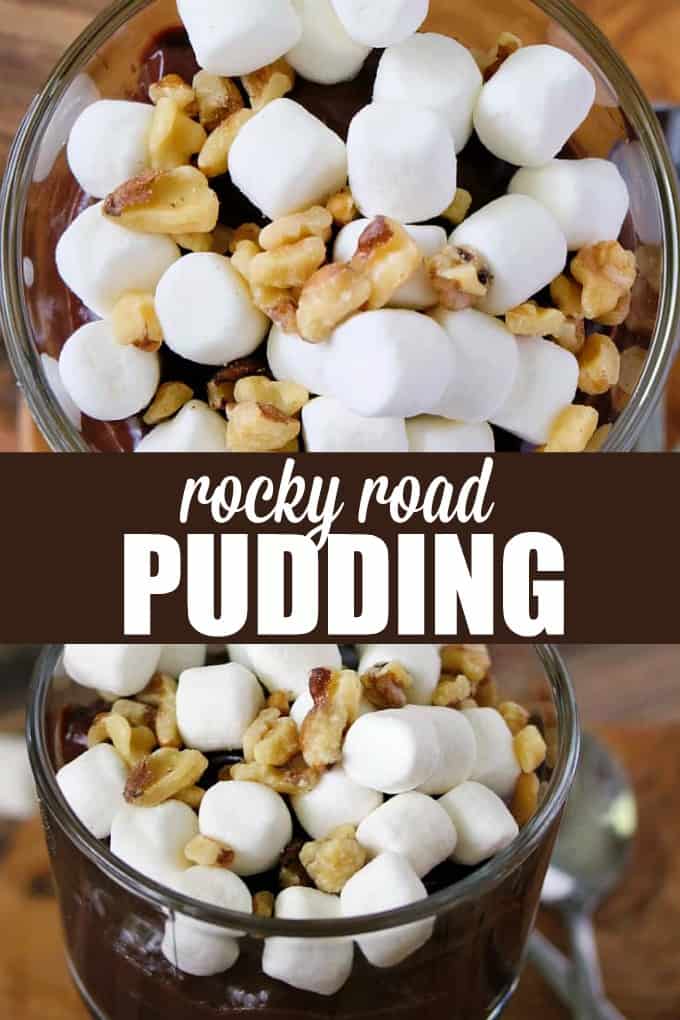 Can I Make This Ahead of Time
Of course. I recommend if you plan to make this ahead of time, to leave the marshmallows and nuts off. Then right before you are ready to serve, sprinkle on and serve. The marshmallows can become soft on top where they touch the pudding.
You can make the pudding up to 24 hours in advance. Then scoop into single-serve containers or a large bowl.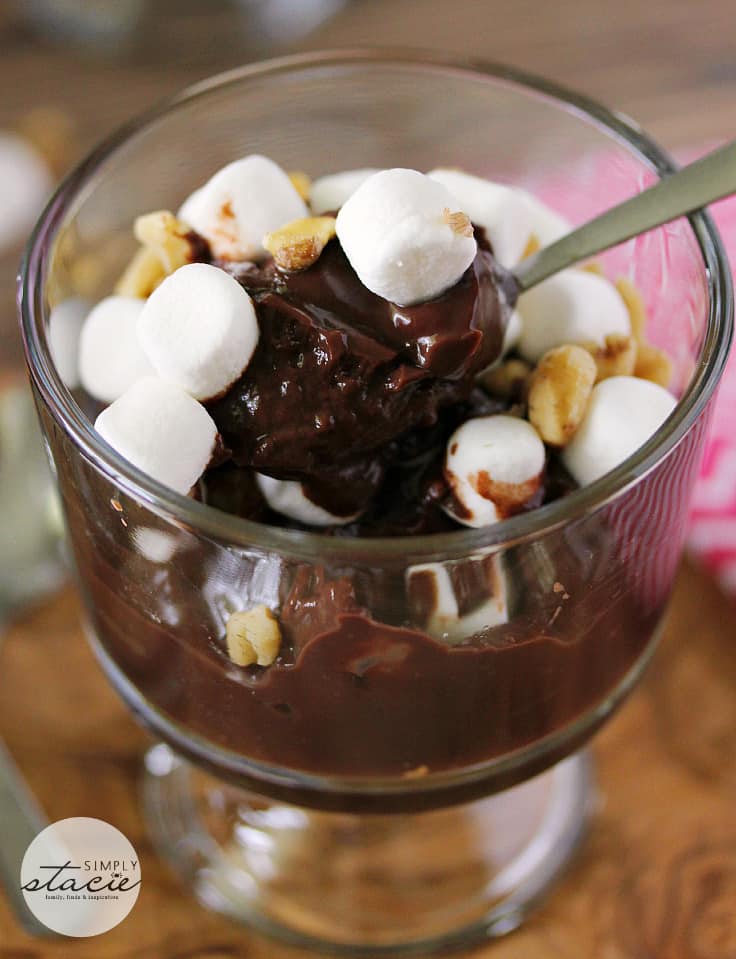 How to Make Rocky Road Pudding
Start by putting your sugar, cocoa, and cornstarch and salt in a saucepan. Stir well, then add milk and stir over medium-high heat. Make sure to stir occasionally to prevent burning.
Then take 1/2 cup of the milk mixture and add eggs into a bowl, whisking it. This is going to help mix the eggs, vs creating scrambled eggs into the mixture. Cook for another 10 minutes. Once done, remove from heat, stir in vanilla extract. Then place in fridge for 20 minutes to cool off. Stir in the remaining sugar, spoon out into containers and top with nuts and marshmallows.
How Long Will Rocky Road Pudding Last
You can store this pudding in the fridge for 3-5 days. You will find the marshmallows and nuts will soften a bit as they are in the fridge, but for the most part it keeps the same flavor and texture.
This is such a fun pudding that you will want to make for parties, holidays, and even weeknight desserts.
You'll also love Butterscotch Pudding, Rocky Road Fluff and Rocky Road Bites.
Have you made Rocky Road Pudding before?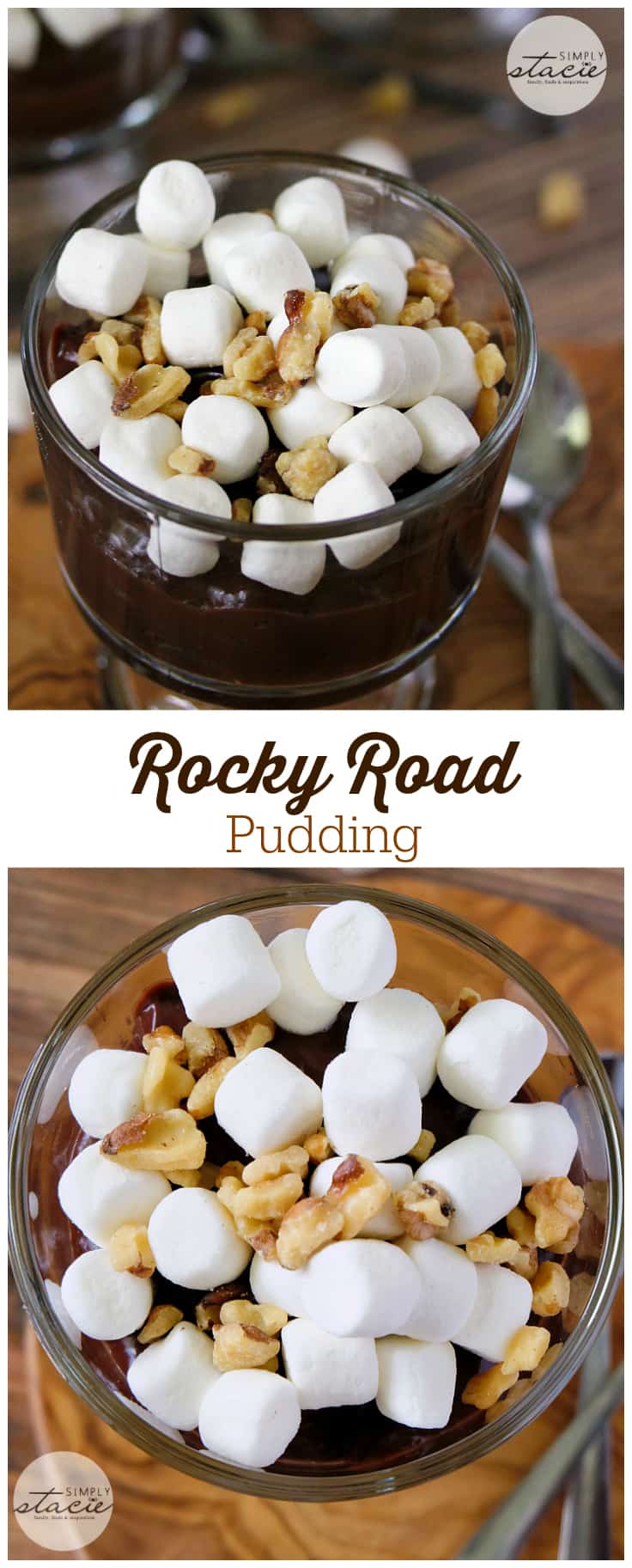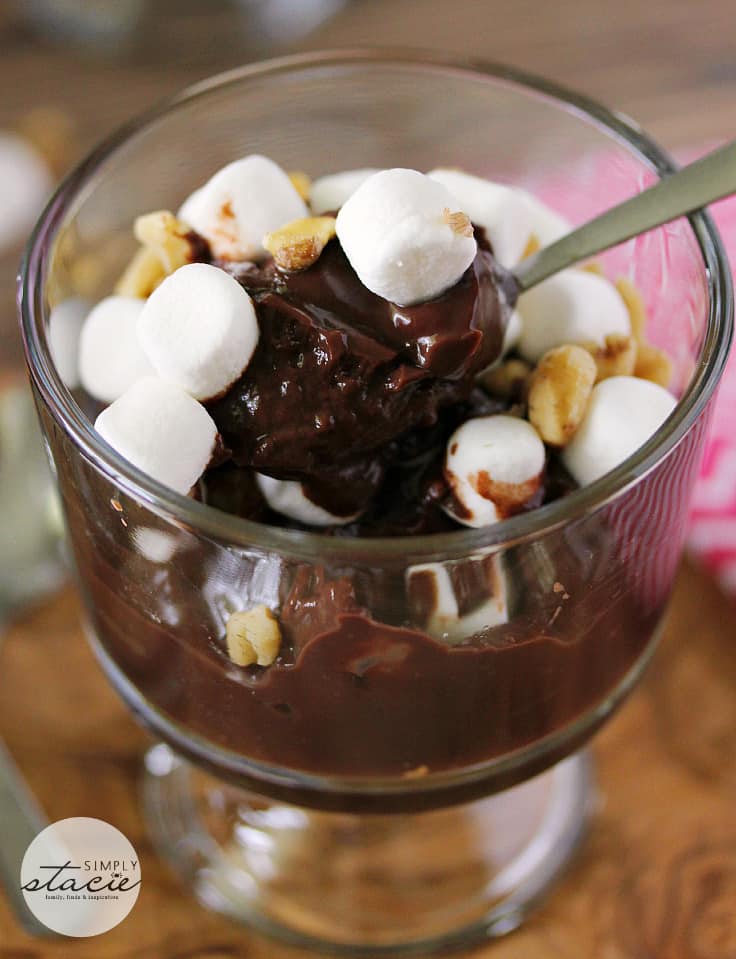 Rocky Road Pudding
No baking here! This velvety smooth chocolate pudding is topped with nuts and marshmallows for a light, but decadent dessert.
Ingredients
5 tbsp cocoa
1/2 cup sugar
3 tbsp cornstarch
1/8 tsp salt
2 1/2 cups milk
2 egg yolks, beaten
2 tsp vanilla extract
Mini marshmallows and chopped walnuts, for garnish
Instructions
Add cocoa, 1/4 cup sugar, cornstarch and salt to a saucepan and stir together. Add in milk and stir until blended. Cook mixture over medium high heat for 10 minutes, stirring constantly.
Take 1/2 cup of the hot milk mixture and add it to the eggs in a bowl. Whisk together and then return to saucepan. Continue to cook over medium heat for 10 minutes.
Remove from heat and stir in vanilla extract. Cover with plastic wrap and place in the fridge for 20 minutes to cool off.
Stir in 1/4 sugar. Spoon into dishes and top with marshmallows and walnuts.
Recommended Products
As an Amazon Associate and member of other affiliate programs, I earn from qualifying purchases.
Nutrition Information:
Yield:

4
Serving Size:

1
Amount Per Serving:
Calories:

275
Total Fat:

7g
Saturated Fat:

3g
Trans Fat:

0g
Unsaturated Fat:

3g
Cholesterol:

104mg
Sodium:

156mg
Carbohydrates:

44g
Fiber:

1g
Sugar:

26g
Protein:

8g