Cherry Cheesecake with Oreo Crust is one decadent dessert. Oreo crust that is filled with a creamy and velvety smooth cheesecake layer, and topped with a homemade cherry filling.
Hi all! Nicky here, calling in from Kitchen Sanctuary with a recipe for a delightfully wicked cheesecake.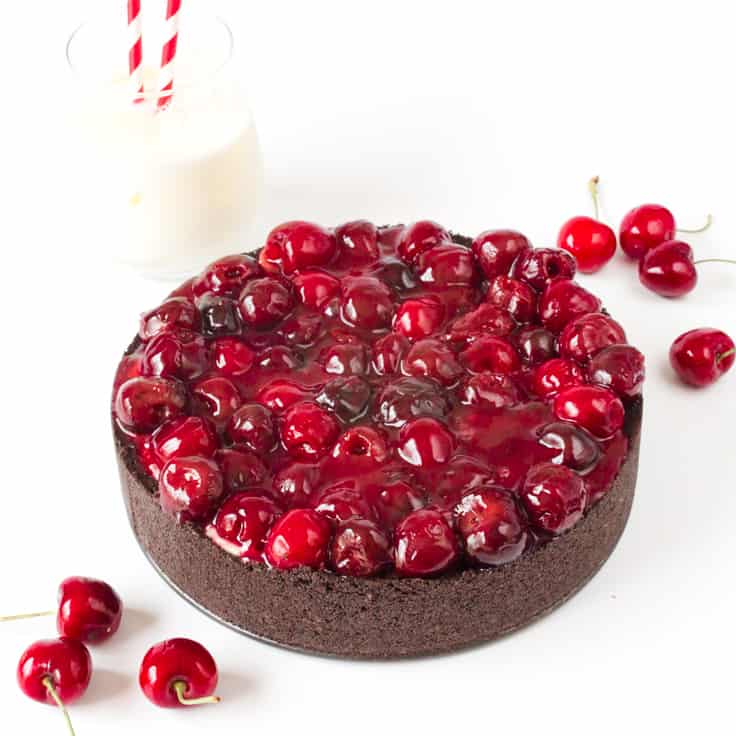 Cherry Cheesecake with Oreo Crust
I hope you like Oreos (who doesn't like Oreos!) as this recipe contains, erm, quite a few.
Ignoring the two (ok 5 or so…) that end up in my mouth whilst I'm making this, we're talking two whole packs in the base of the cheesecake, and then pretty much another pack crumbled into the no-bake cheesecake filling. So it may be worth saving this recipe for a day when you need an indulgent treat.
You won't be disappointed though. In fact you may not want any other cheesecake again in your whole life!!
Tip for Making Oreo Crust
I've finally got the technique right for getting the perfect crust. A measuring cup, a spoon, and a little bit of patience, and you'll have a lovely, thick and even crust to hold all of that creamy filling.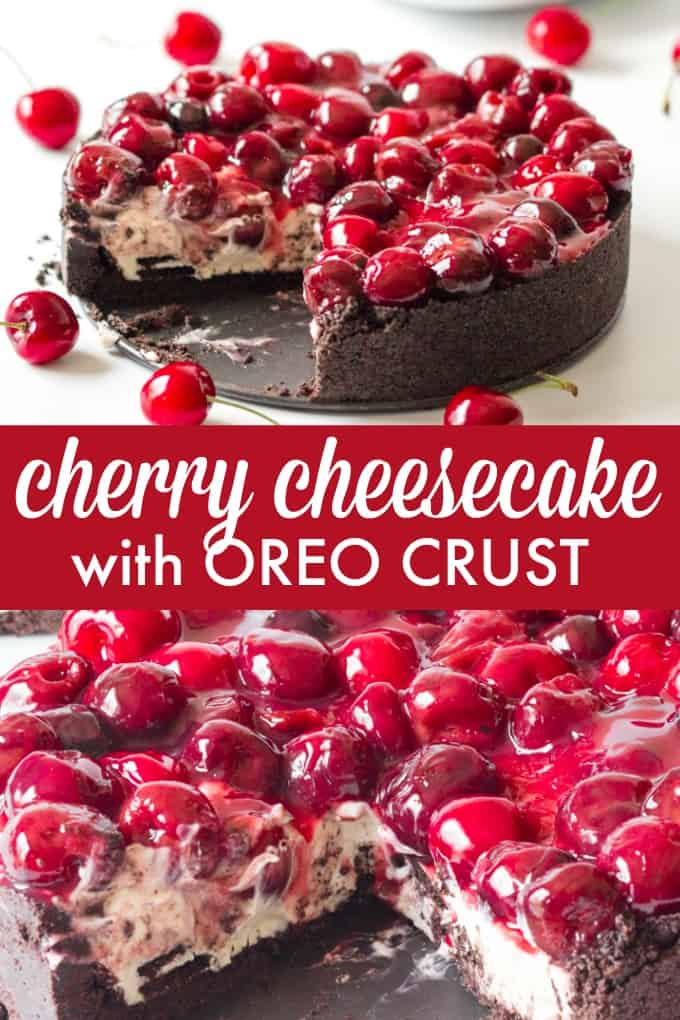 Can I Use a Regular Graham Cracker Crust
Yes, if you don't want to use Oreos you can use a classic graham cracker crust. Just make it as normal and then press it into the pan to make a pressed crust.
You could also swap out the regular Oreos for even a Golden Oreo if you wanted a different flavor component to the crust.
What Type of Cherries Do You Use for Cherry Filling
The topping can be made from fresh, frozen or even tinned cherries. I like to use a mixture of tinned and fresh, as this results in cherries of different shades, that I think looks quite nice.
The addition of a little kirsch or cherry brandy really takes the flavor to the next level, but if you'd rather leave it out, you can just add a little bit of cherry jelly mixed with water, or even a drop of cherry or almond extract.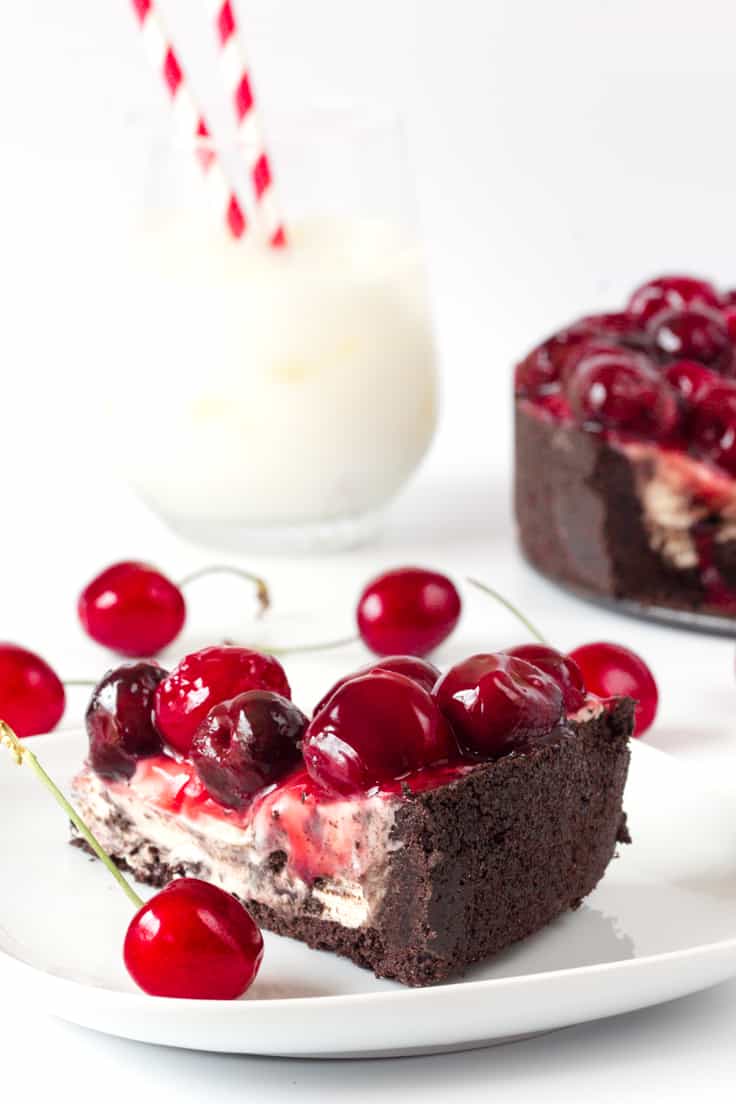 Can I Use Canned Cherry Pie Filling Instead of Homemade
Yes. If you want to cut a corner and skip the homemade cherry filling, go ahead. Of course, it will change the flavor a bit but I get if you don't want the extra steps of making the filling homemade. In that case, buy a can or two and use that instead of homemade. Load up as many or little of cherry topping as you would like.
So grab a fork and maybe a bib, as this cheesecake is creamy, sticky and a little bit messy. If you're anything like me though, you wouldn't want it any other way.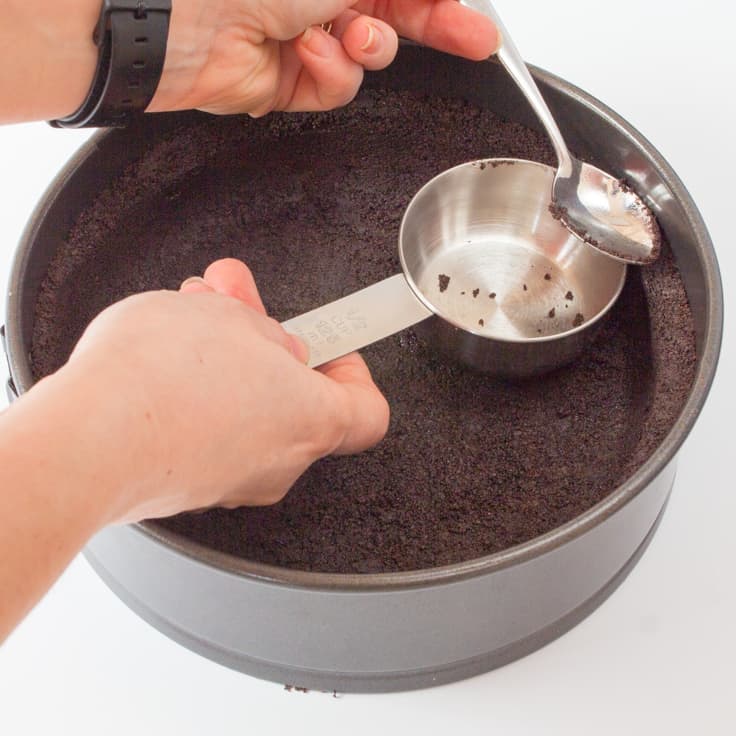 Do You Bake This Cherry Cheesecake
No, this is a no-bake cheesecake dessert. You will prep the crust, whip up the filling and top with the cherry topping. It is crazy easy to whip up and boy is it an incredibly indulgent dessert.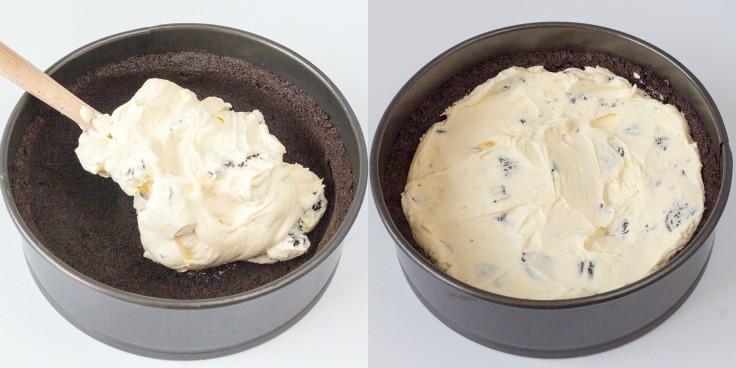 How to Make a Cherry Cheesecake with Oreo Crust
Start by pulsing up your Oreo's in a food processor until they are coarse crumbles. Then you will mix with the butter and create a crust that you firmly press into your cheesecake pan. Store in the fridge while you prepare the filling. To do the filling you want to take a stand mixer and whip up the cream until it creates soft peaks. Then fold in your cream cheese and pour over the Oreo crust. Place in the fridge to store.
Now grab a pan and work on your cherry filling. Prep your cherries and place on a pan with sugar, lemon juice, and the brandy and vanilla. Heat on low until sugar has dissolved. Then pour cornstarch mixture while stirring. This will thicken the sauce. Allow the cherry mixture to cool, before pouring over the cheesecake mixture. Chill for around an hour before serving.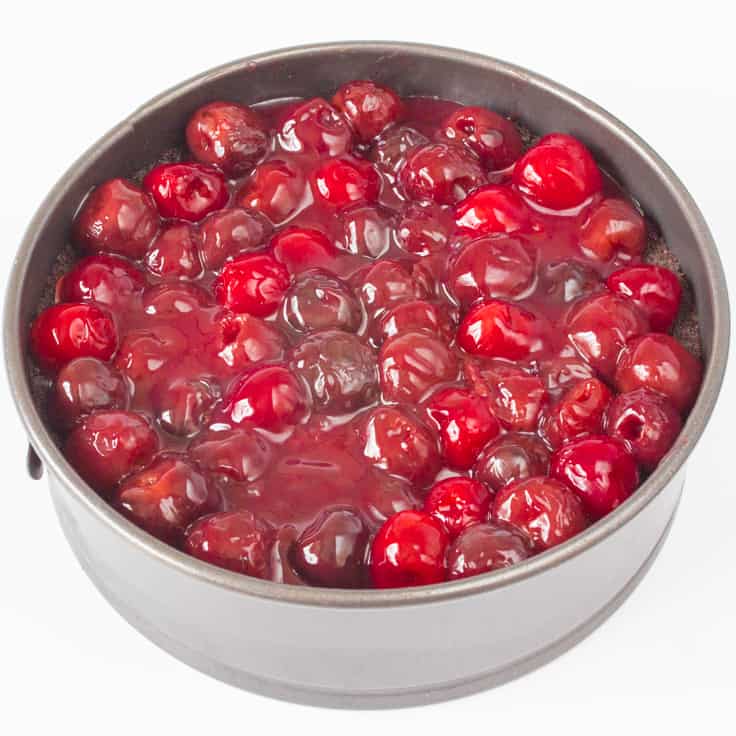 How to Store Cherry Cheesecake
Your cheesecake needs to be refrigerated. Because of the cream cheese base, it can't stand up being left on the counter. Try not to have your cheesecake out on the counter for more than 2 hours at a time. The USDA recommends not letting it sit out for longer than two hours due to bacteria growing more rapid.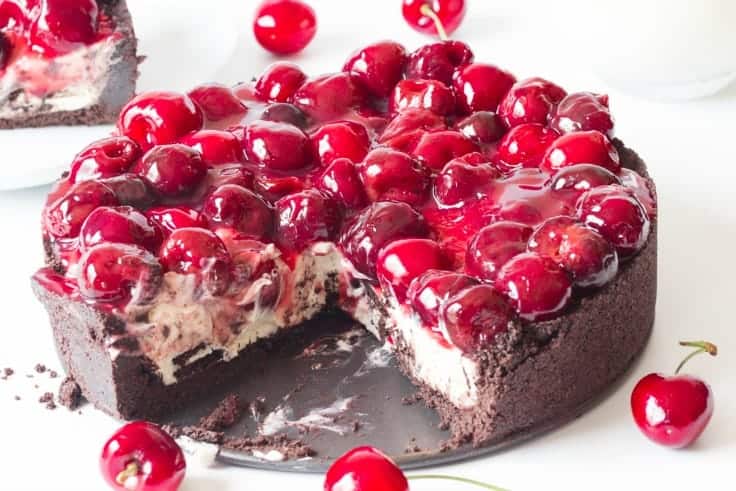 Searching for more Cheesecake Recipes
Brownie Bottom Cheesecake | Here is a really delicious cheesecake with a brownie crust, and then a cheesecake topping. Baked to perfection.
Keto Pumpkin Cheesecake | If you want a lower-carb option, here is a pumpkin cheesecake recipe. Great for the holiday season that is approaching.
Egg Nog Cheesecake Bars | Love egg nog? Here is a fantastic dessert to whip up. Velvety smooth, creamy, and bursting with egg nog spice flavor.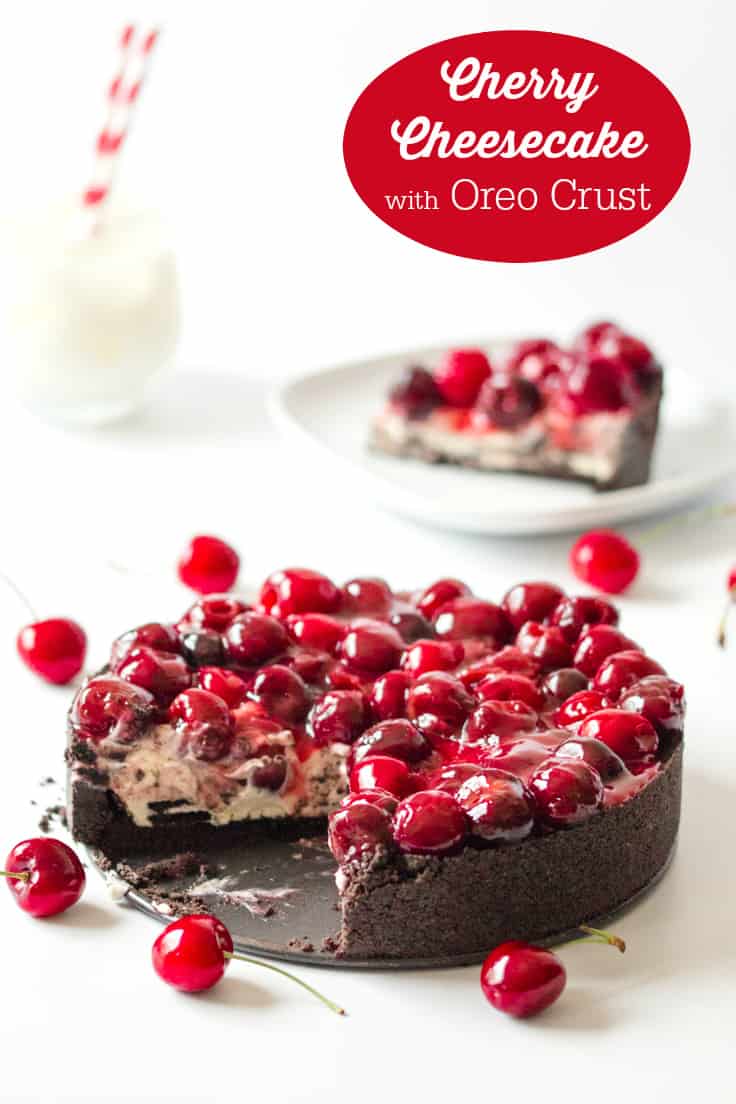 How Long Will Cherry Cheesecake Store in Fridge
You can store this cheesecake in the fridge for 3-4 days. I always recommend using your best judgment in terms of if you feel the cheesecake has gone bad.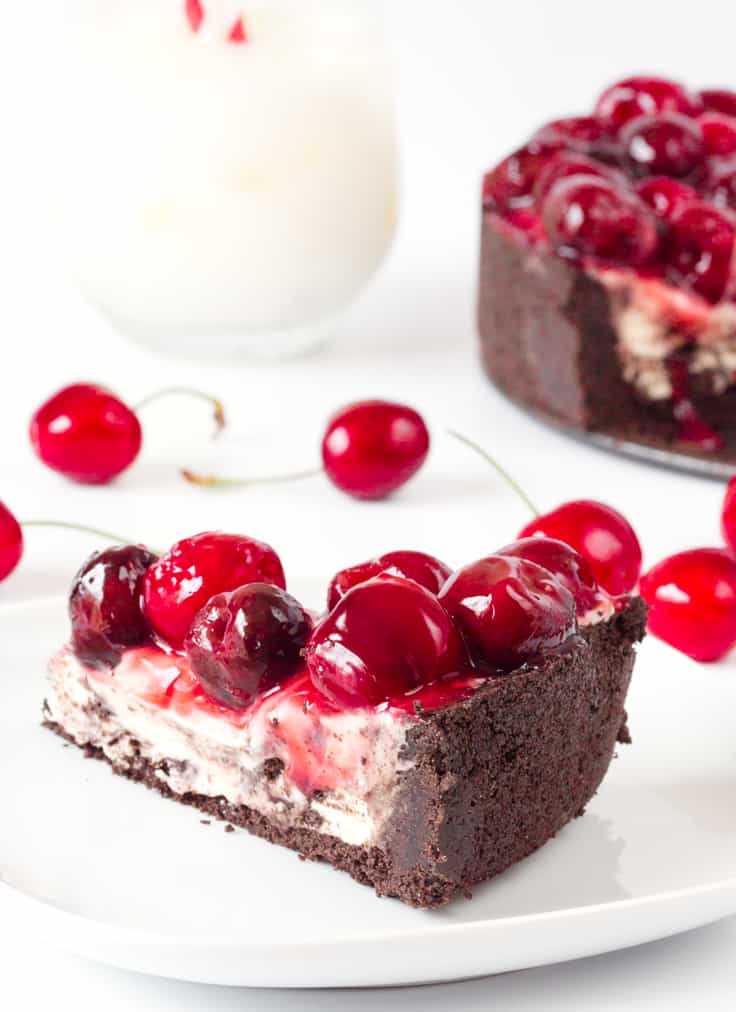 I hope you enjoy this recipe, we love it. It is a few steps but the outcome is totally worth it.
You'll also like this Oreo Pie, Oreo Cupcakes or Air Fryer Oreos.
Would you like a slice?

Cherry Cheesecake with Oreo Crust
Prep Time:
1 hour
30 minutes
Total Time:
1 hour
35 minutes
Chocolate and cherry combine for this decadent dessert! The sweet cheesecake filling melds perfectly with the crunchy cookie crust for a delicious and beautiful treat.
Ingredients
Oreo Base
30 Oreo cookies, broken into rough pieces
7 tbsp unsalted butter, melted
Filling
2 x 8oz packs full-fat cream cheese
1 cup confectioner's sugar (powdered sugar)
1 tsp vanilla
¾ cup heavy cream
12 Oreo cookies, roughly broken up
Cherry Topping
3 cups of whole, pitted cherries*
1/2 cup golden caster sugar (brown sugar)
2 tbsp fresh lemon juice
1 tbsp kirsch or cherry brandy (optional)
1/2 tsp vanilla extract
2 tbsp cornstarch mixed with 3 tbsp water
Instructions
First make the base. Place the Oreos in a food processer and pulse until you have coarse crumbs. Stir in the melted butter and then transfer to a 9-inch baking tin with removable base. Use a measuring cup to firmly and evenly squash the crumbs into the base and up the sides of the tin. Use a teaspoon to level the top of the sides. Place in the fridge to chill whilst you make the filling.
Place the cream cheese, confectioner's sugar and vanilla extract in a large mixing bowl and whisk until smooth.
In a separate bowl, whisk the cream to soft peaks. Fold the cream cheese mix into the whipped cream and then carefully fold in the Oreos. Spoon this mixture into the biscuit base and smooth with the back of a spoon. Place in the fridge to chill for an hour whilst you make and cool the cherry topping.
Place the cherries in a pan with the sugar, lemon juice, kirsch/cherry brandy and vanilla extract. Heat on low with the lid on for 3-5 minutes until the sugar has dissolved and the liquid is bubbling lightly. Pour in the cornstarch mixture whilst stirring. The sauce should thicken quite quickly. Turn off the heat and leave to cool (you can pour onto a plate to cool faster).
Once the cherries are cool, pour them over the cream cheese topping and place back in the fridge until completely chilled – about an hour. Then serve!
Notes
*These can be frozen, fresh or canned cherries that have been drained (discard the liquid as it's too weak to add a good flavour to the cheesecake) – or even a mixture. I used half canned cherries and half fresh.
Recommended Products
As an Amazon Associate and member of other affiliate programs, I earn from qualifying purchases.
Nutrition Information:
Yield:

6
Serving Size:

1
Amount Per Serving:
Calories:

1084
Total Fat:

67g
Saturated Fat:

35g
Trans Fat:

0g
Unsaturated Fat:

23g
Cholesterol:

146mg
Sodium:

571mg
Carbohydrates:

114g
Fiber:

4g
Sugar:

82g
Protein:

10g