Ice Cream Pie is the perfect summertime treat, birthday cake, or dessert to serve up to guests. A waffle cone crust that is filled with smooth and creamy ice cream, nuts, a drizzle of chocolate and topped with whipped cream.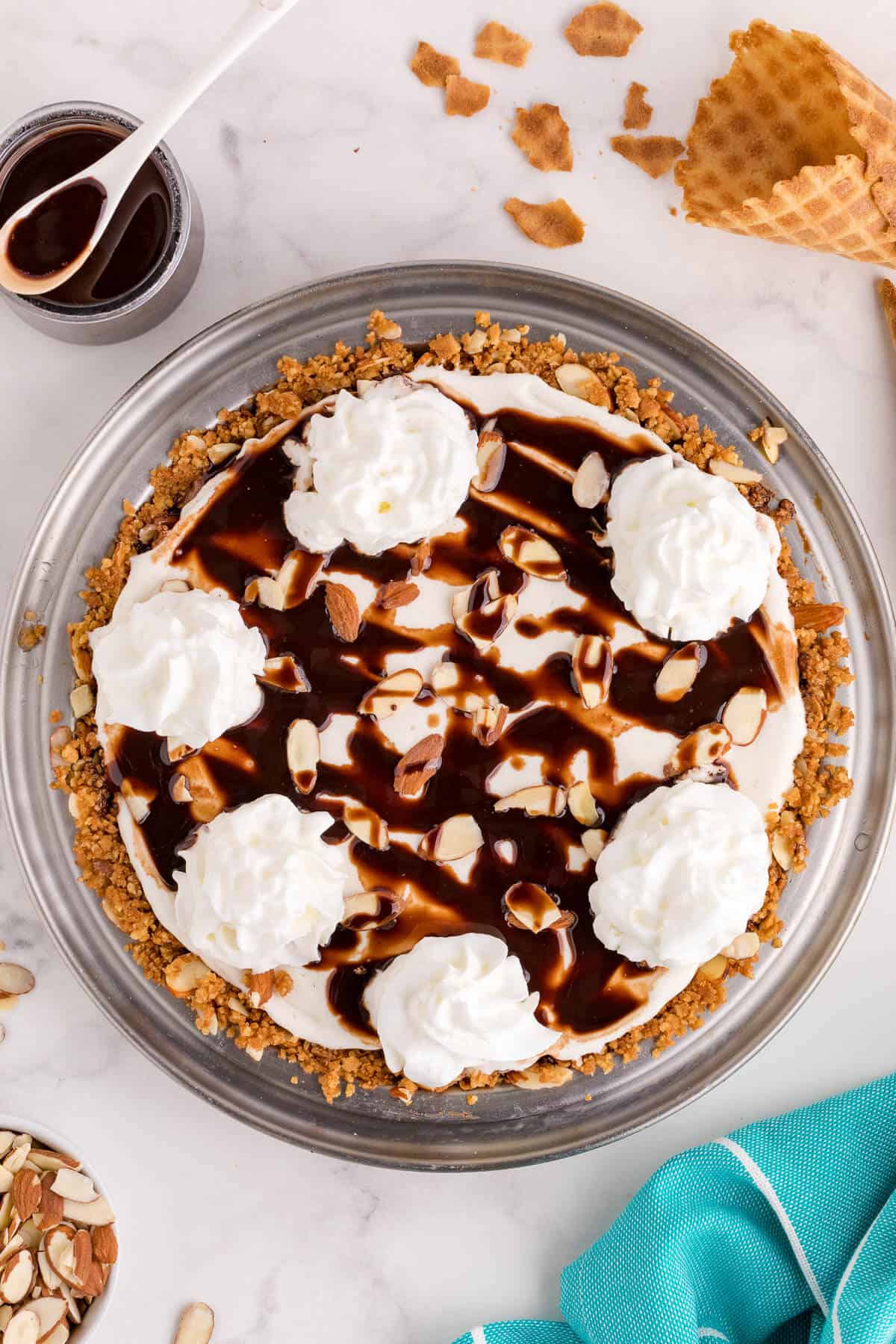 This past long weekend, I made my very first Ice Cream Pie. For some reason, I always thought they would be harder to make. I don't know why I assumed I needed special equipment like an ice cream maker! I had just about everything I needed already in my kitchen. It was super easy to make!
Easy Ice Cream Pie
The crust is waffle cones broken into small pieces, sliced almonds, butter, and honey to hold it all together. A crunchy texture coupled with the soft sweetness of the ice cream to make a heavenly dessert. I love caramel, but Bridget doesn't so that's why we only used chocolate.
We usually buy Dairy Queen ice cream cake for birthdays, but making my own is so much cheaper and tastes just as good!
Check Out More Ice Cream Recipes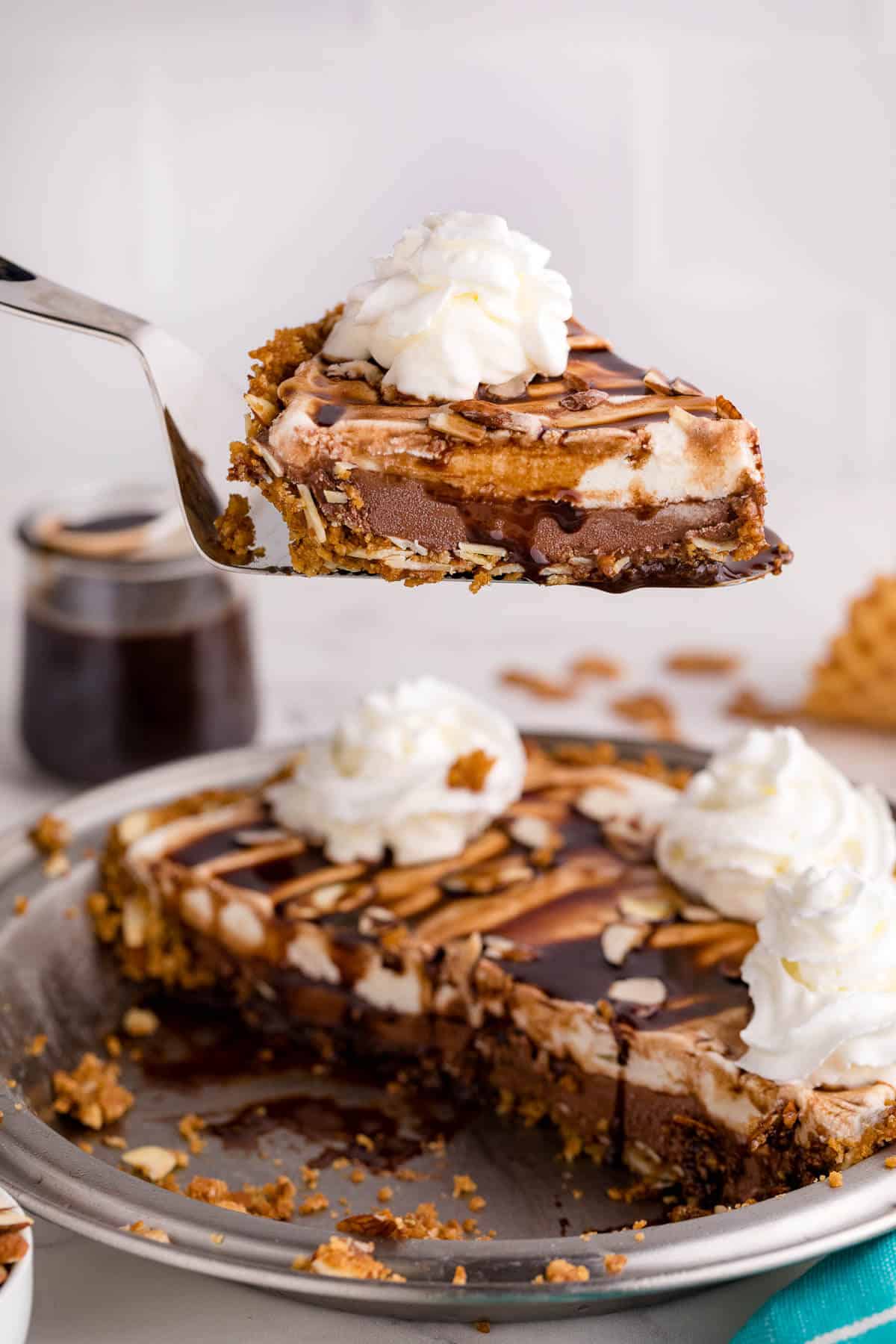 What Flavor of Ice Cream Did You Use
For this Ice Cream Pie, I used vanilla and chocolate ice cream. But, you are welcome to use any flavor of ice cream you want. Love cookie dough? Add that in, or do mint chocolate chip. The possibilities are endless and you don't have to use plain ice cream like me. So grab your favorite ice creams and go for it.
Can I Use Graham Cracker Crust Instead of Waffle Cone Crust
Absolutely! If you are not a huge fan of waffle cones you can easily swap for a graham cracker crust or even Oreo crust. Any type of pre-cooked or n0 cook crust will work for this ice cream pie recipe.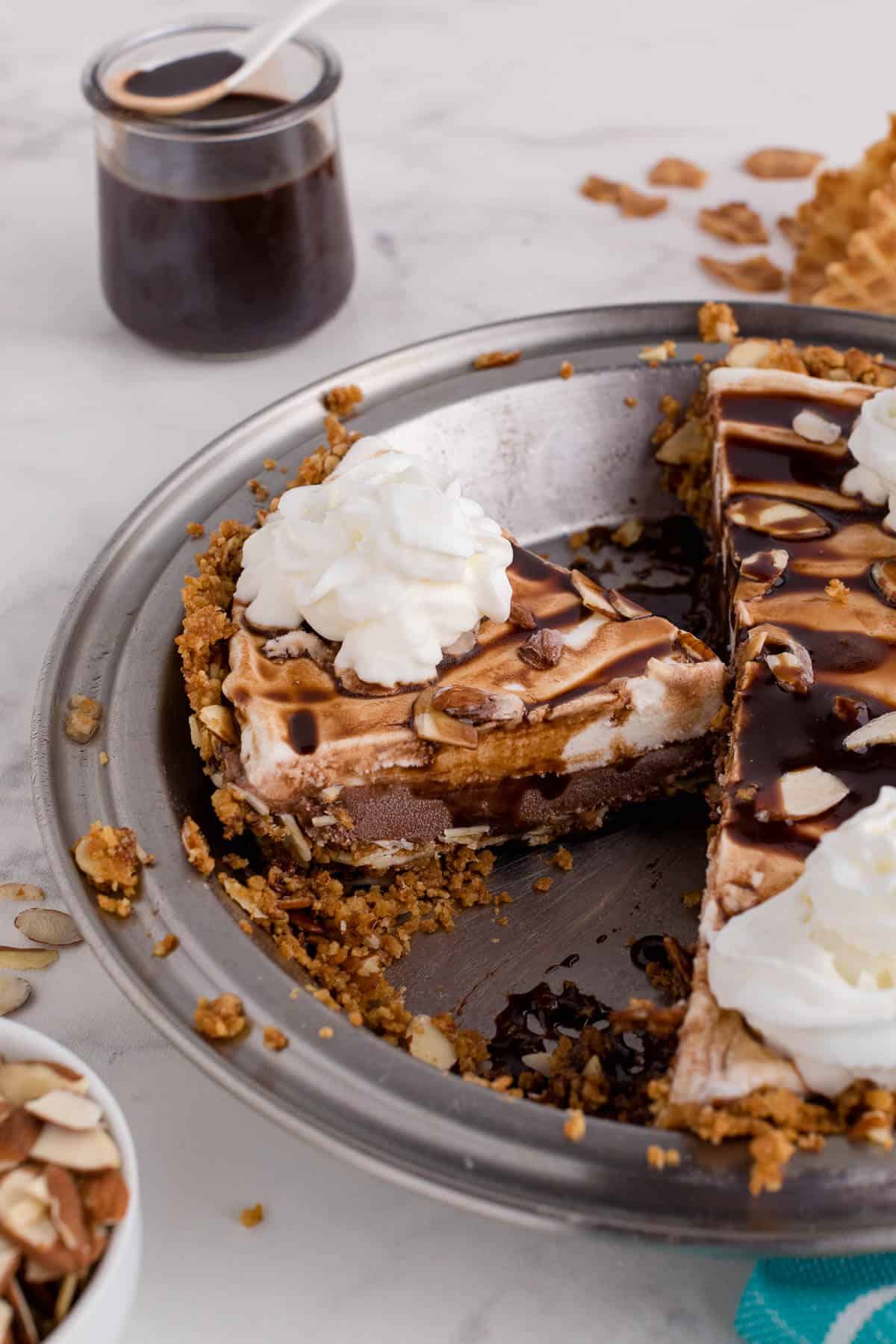 Variations for Ice Cream Flavors
Mint Chocolate Chip
Strawberry and Vanilla
Peanut Butter and Chocolate
Mocha Coffee and Vanilla
Toppings for Ice Cream Pie
I went kind of plain for this recipe, but the sky is truly the limits on toppings for your ice cream pie. Here is just a bit of what you might consider adding to top your pie.
Caramel, Hot Fudge, Chocolate, etc.
Peanut Butter
Fresh Fruit sliced up
Sprinkles
Chopped Up Candy Bars (Snickers, Twix, Milky Way, etc)
Crumbled Waffle Cone
Canned Fruit Topping
Nuts
Those are just a handful of the items I would top my ice cream pie recipe with. Give any or all a try and create a one-of-a-kind pie to enjoy.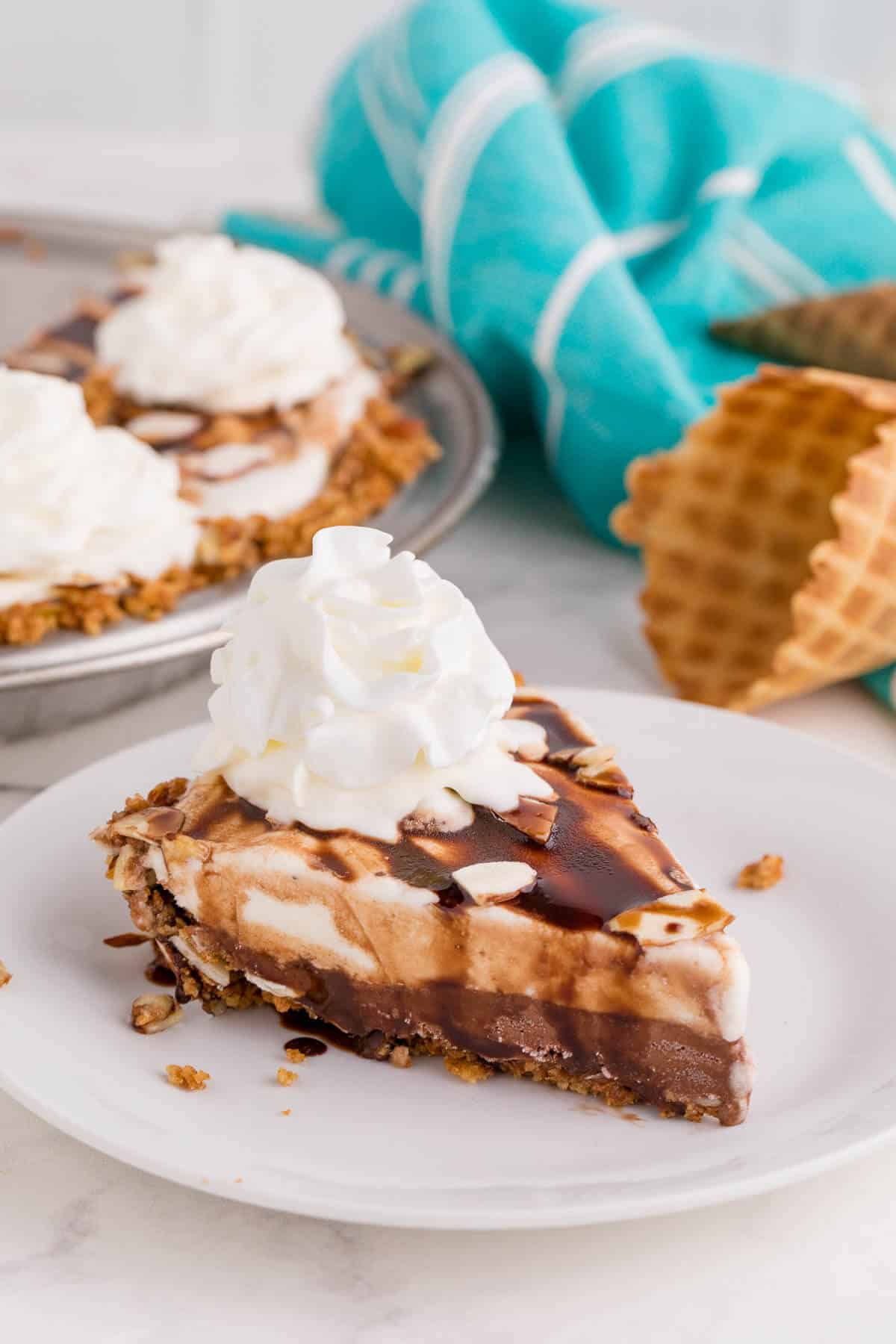 Can Ice Cream Pie Be Re-Frozen
If your ice cream is only slightly melted, you can go ahead and re-freeze. When the ice cream begins melting that opens up to allow bacteria to grow. So refreezing thawed ice cream is never a good idea. Always slice and serve and then put back your remaining pie so it can stay frozen.
How to Make Ice Cream Pie
First, you want to start by taking your waffle cones and breaking them up. I generally place them in a resealable bag and then use a rolling pin to help smash it up. Then in a bowl add in your honey and 3/4 cup crushed almonds (works great in food processor), and butter and mix well. This will be the crust for your pie.
Press it firmly down into the bottom of a pie pan. Then freeze for 30 minutes to allow it to harden up. If you skip this step, the crust will fall apart when you go to slice it.
Now you want to remove crust from the freezer and spread on a layer of softened chocolate ice cream. Then drizzle with chocolate syrup and freeze for around 30 minutes or until firm. Then remove and do the same with spreading softened vanilla ice cream, and then chocolate syrup. Freeze for an additional four hours or until completely firm.
When ready to serve, remove from freezer and decorate with toppings of your choice, and serve.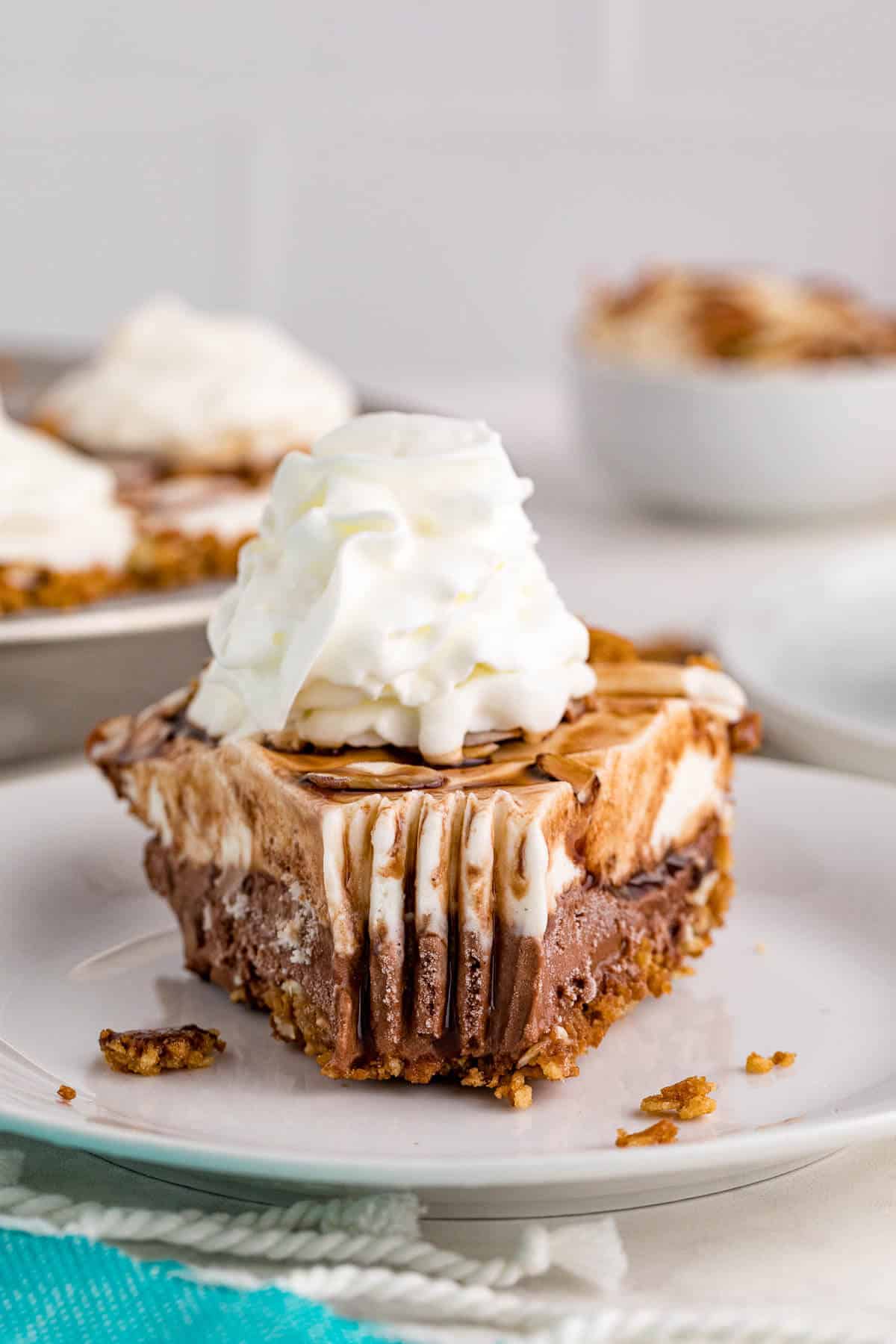 Tip for Slicing Ice Cream Pie
One tip I find that is extremely helpful is taking your knife and letting it soak in hot water for about 2-3 minutes. Remove from water and wipe off with a paper towel and then go to slice. The hot knife will slice easily through the ice cream and you won't fight it so much.
If you have an event coming up, birthday, summer cookout or just love ice cream, this recipe is going to win you over. The waffle cone crust is simply irresistible, and you will get so many compliments on this recipe.
You'll also enjoy this Turtle Ice Cream Sandwich Cake and Classic Lemon Pie.

Ice Cream Pie
Layers of crushed waffle cones, chocolate syrup plus chocolate and vanilla ice cream make this cold dessert perfect for summer!
Ingredients
3 tablespoons honey
3 tablespoons salted butter, melted
8 waffle cones, broken up into small pieces
1 cup sliced almonds
2 cups vanilla ice cream
¼ cup chocolate syrup
2 cups chocolate ice cream
3 tablespoons chocolate syrup (or caramel syrup) for topping
Whipped cream
Instructions
In bowl combine honey, butter, waffle cones and ¾ cups almonds and mix well.
Firmly press mixture into the bottom and along the sides of 9-inch pie plate. Freeze 30 minutes, or until firm. Layer softened chocolate ice cream evenly into crust; spread with chocolate syrup. Freeze 30 minutes or until firm.
Place softened vanilla ice cream over chocolate syrup. Cover; freeze 4 hours or until firm.
Before serving drizzle with topping of choice. Top with dollops of whipped cream and remaining almonds.
Recommended Products
As an Amazon Associate and member of other affiliate programs, I earn from qualifying purchases.
Nutrition Information:
Yield:

6
Serving Size:

1
Amount Per Serving:
Calories:

750
Total Fat:

41g
Saturated Fat:

14g
Trans Fat:

0g
Unsaturated Fat:

24g
Cholesterol:

121mg
Sodium:

653mg
Carbohydrates:

84g
Fiber:

4g
Sugar:

40g
Protein:

16g