This Strawberry Ice Cream is so creamy, sweet and luscious! This fresh ice cream is ready in hours and super simple to make at home!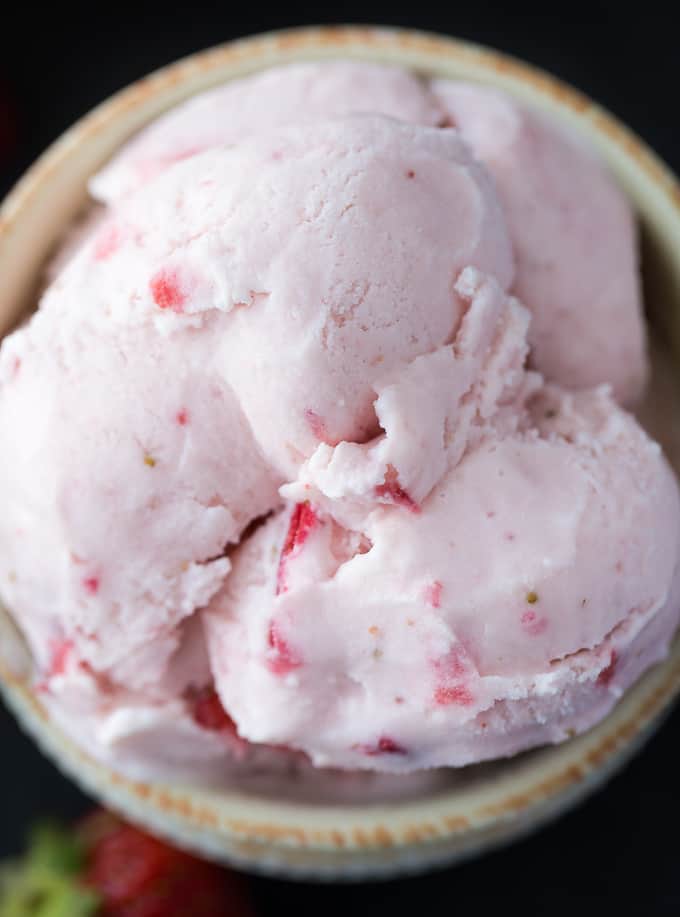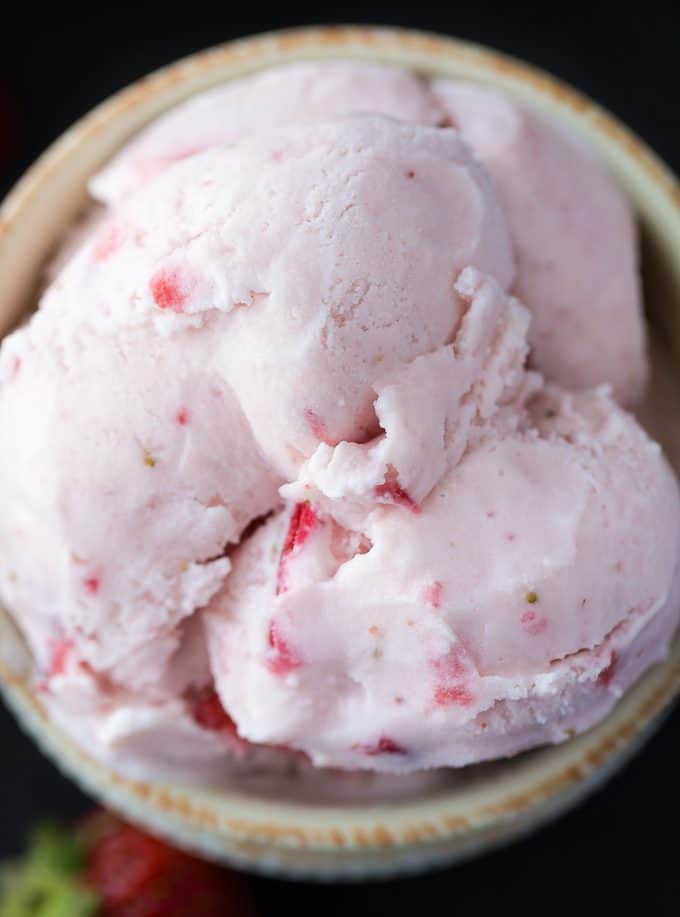 Strawberry Ice Cream
This post contains affiliate links.
I'm loving my new ice cream maker and am SHOCKED at how easy it is to use! You can enjoy fresh ice cream with no additives or preservatives within an hour! It's very little effort for such a delicious result.
And the taste! Oh my. The strawberry flavor is bursting out of this sweet, creamy, smooth ice cream. It's better than anything store-bought I've tried in both flavor and texture.
Got extra strawberries to use? Check out this scrumptious Strawberry Sauce on ice cream, in cocktails, or with an angel food cake!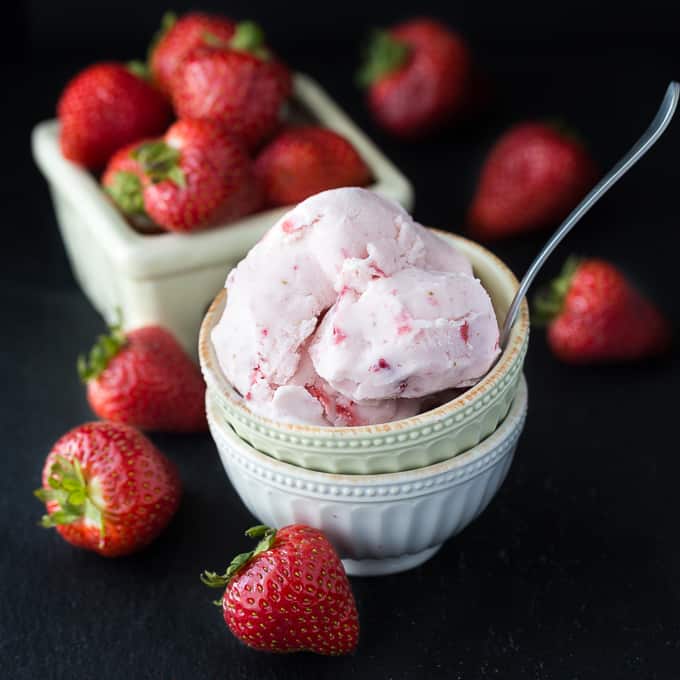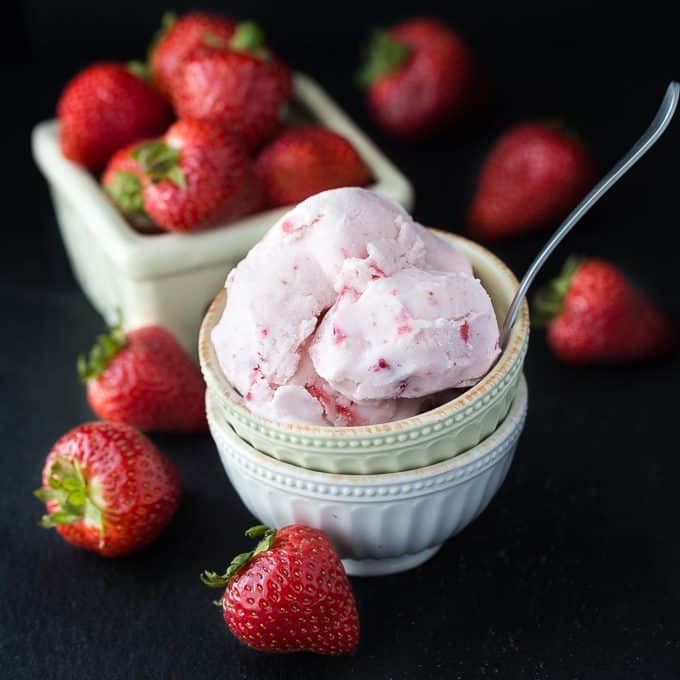 This recipe makes about six servings. If you need to double the recipe, I recommend making it in batches so your ice cream maker doesn't overflow!
Ingredients
Sliced strawberries
Lemon juice
Sugar — you'll use this twice!
Whole milk
Heavy cream
Vanilla extract
You can absolutely use fresh or frozen strawberries here! Don't have strawberries? This can definitely be made with blackberries, blueberries, peaches, or raspberries in a pinch!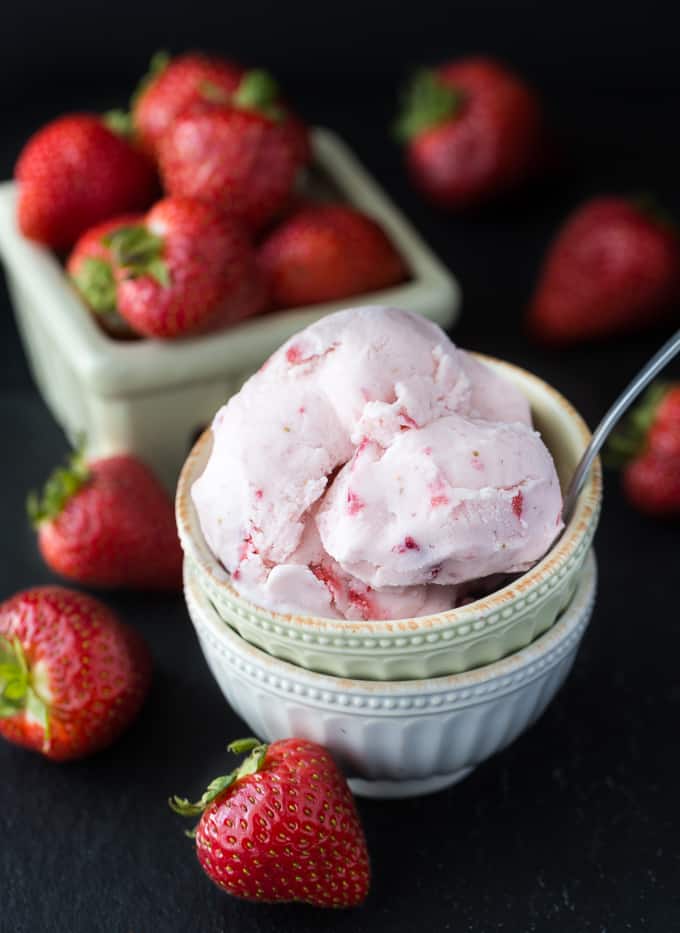 What I used for my ice cream
Ice cream maker: This ice cream maker is one of my new best friends! It's speedy and quiet, whipping up amazingly smooth and creamy ice cream every time. It's also great for sorbets and frozen yogurt!
Hand mixer: I love this hand mixer. It fits easily into my hand and has 5 speeds to make all your sweet and savory dreams come true.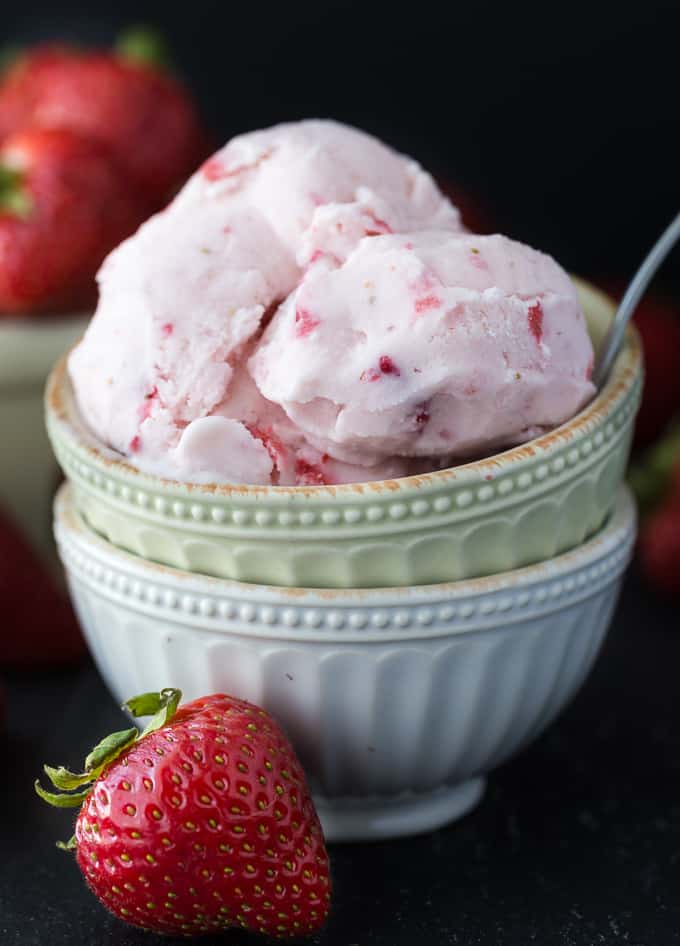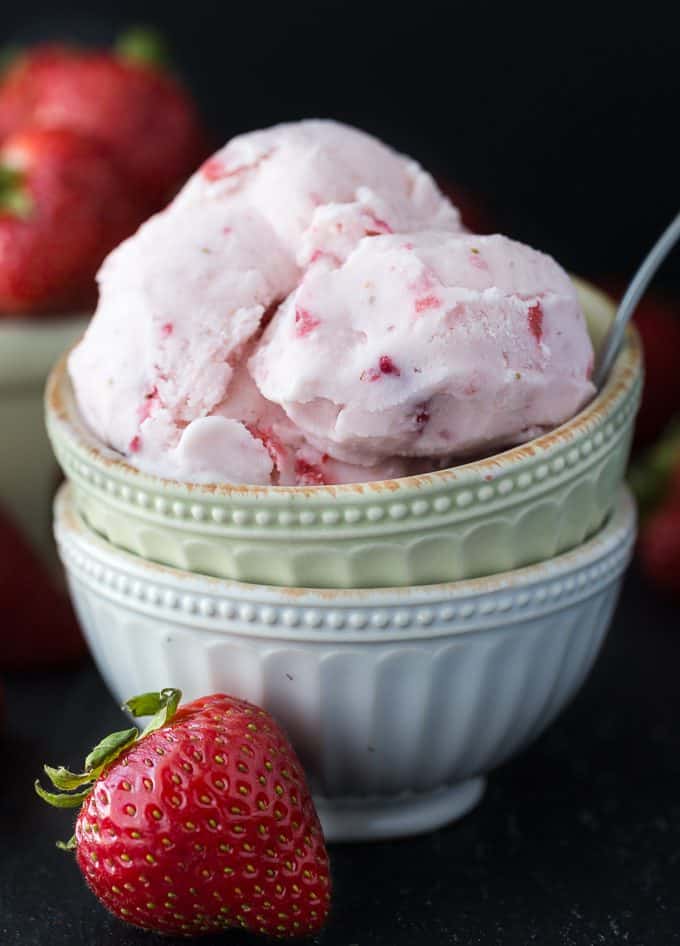 This recipe takes a bit longer to make because you need to let the sliced strawberries soak in lemon juice and sugar before you incorporate them into your ice cream base. No artificial ingredients or food coloring in this ice cream! The pretty pink color is all from the strawberries!
How to Make Strawberry Ice Cream
Take your sliced strawberries, lemon juice and some sugar in a bowl and toss. Let the mixture sit for about two hours. If using frozen berries here, thaw them before this step!
Strain the berries but save the juice! We'll use it for the ice cream base for flavor and color.
Move about half the strawberries to another bowl and puree them with a hand mixer. You can also use a stand blender here, but be sure not to overblend.
Mix milk and more sugar on low speed for about 2 minutes before adding heavy cream, your reserved strawberry juice, pureed strawberries and vanilla extract. Pour mixture into ice cream maker's freezer bowl.
Mix for about 25 minutes in your ice cream maker until it's mostly solid but not quite ice cream texture. Add the remaining sliced strawberries and mix for about 5 more minutes.
Move your ice cream to a freezer storage container and freeze for about 2 more hours before serving.
I prefer my ice cream to have a hard, firm texture, so I like to pop it in the freezer for a couple hours after mixing. If you prefer a soft serve ice cream, you can eat this almost immediately! I would give it about half an hour in the freezer to set a bit so it doesn't melt immediately when served.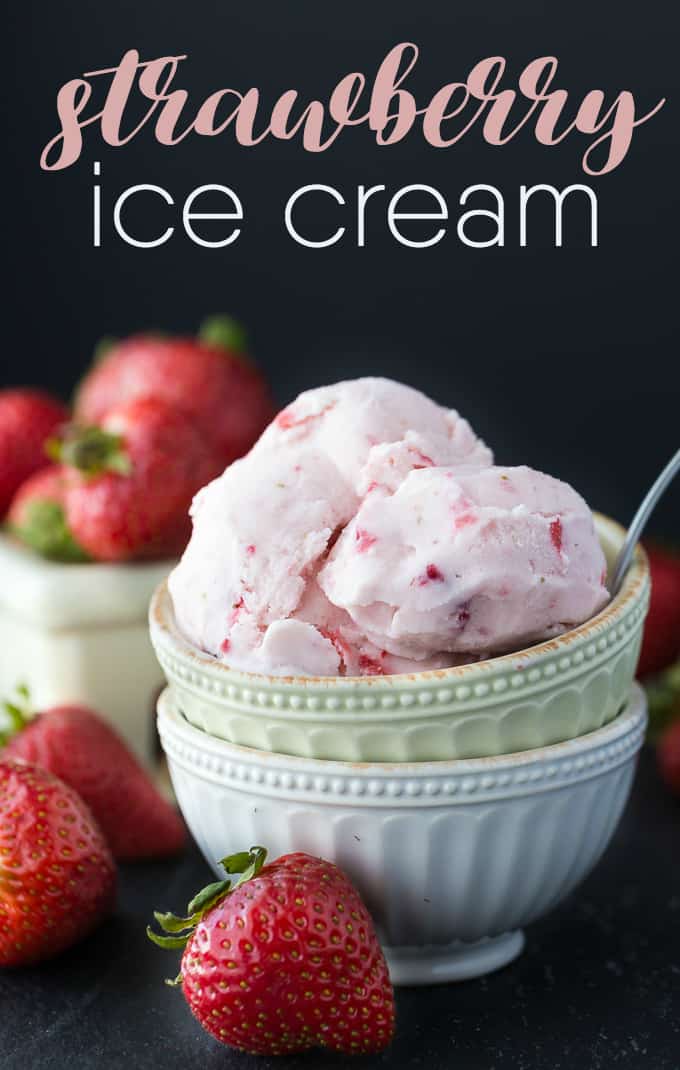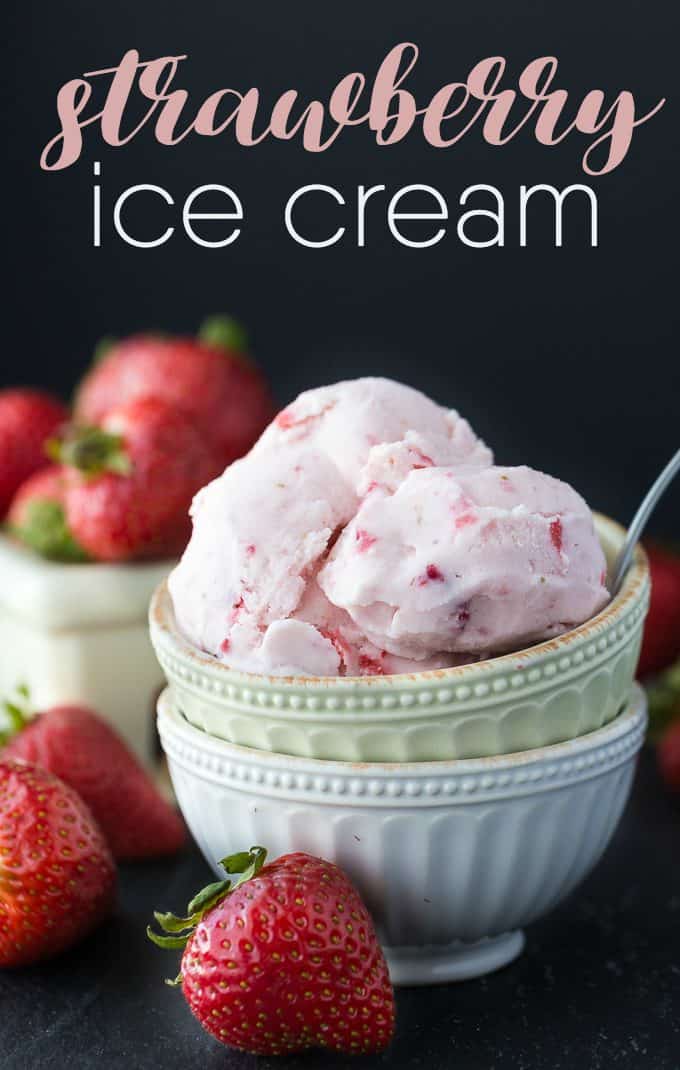 How long does homemade ice cream stay fresh?
Homemade ice cream will last for about 2 weeks in the freezer in a tightly sealed storage container. While store-bought ice cream can last up to 4 months, this ice cream has no preservatives to keep it fresh for more than 2 weeks.
Ice cream's texture can also change dramatically if thawed and refrozen repeatedly, so I recommend eating this ice cream as soon as possible — if you have any leftovers at all!
How to make keto Strawberry Ice Cream
On a low carb diet and miss real ice cream? This recipe is a quick fix with only one ingredient swap!
Trade all the sugar for stevia, monk fruit sweetener, or any other keto-friendly sweetener you prefer when you soak the strawberries in step 1 and for your ice cream base in step 4. You're looking for the sweetener to at least partially dissolve in the milk.
Because of the different freezing points, I don't recommend using alternative milks here.
Recipe ideas for Strawberry Ice Cream
Looking for ways to use your deliciously smooth homemade ice cream? My favorite way is to make strawberry milkshakes with whipped cream and a maraschino cherry on top!
Have a house full of people with different palates? Set up an ice cream sundae bar with different syrups, sprinkles, and toppings and let everyone build their own!
Still have leftovers? Combine this tasty ice cream with a fluffy baked good for an ice cream cake, ice cream cookie sandwiches, or brownies a la mode! There is no end of ways to use this strawberry ice cream again and again!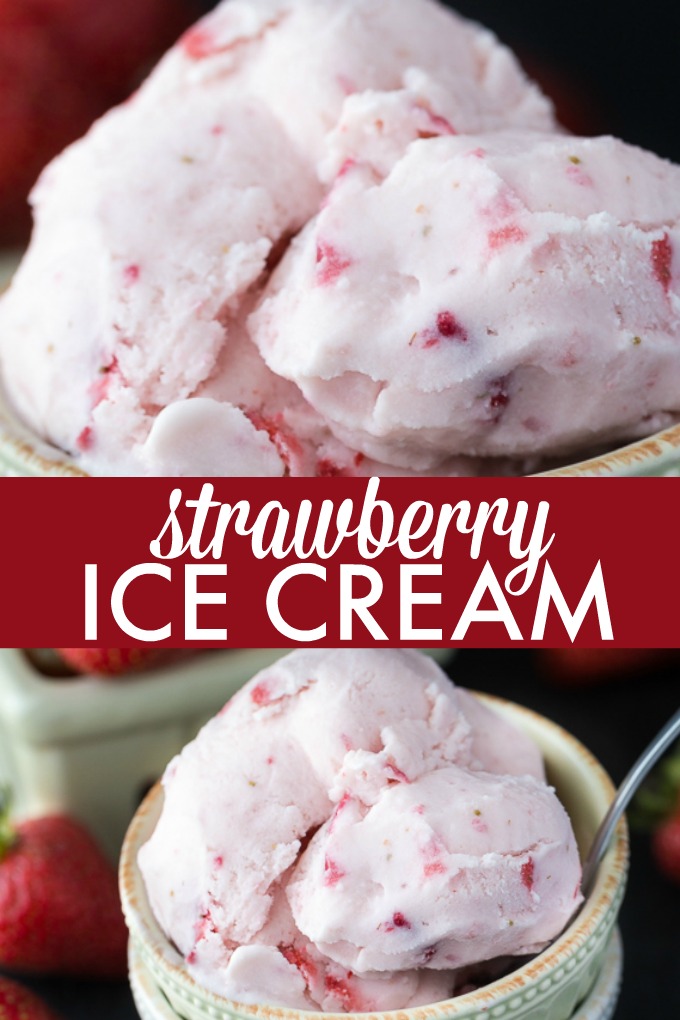 Other homemade ice cream recipes to try
Keep an eye on my Dessert recipe box for more ice cream recipes to try! You might also like this Vanilla Bean Ice Cream that goes well with anything or Mint Chocolate Chip Ice Cream for the perfect party treat!
You'll also enjoy this Jelly Donut Ice Cream Bowl and Frozen Strawberry Fluff.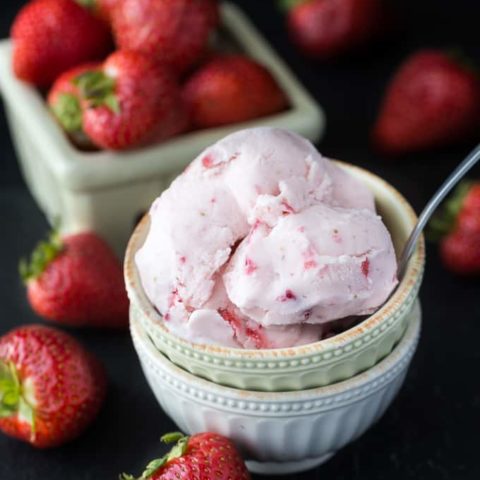 Strawberry Ice Cream
Prep Time:
2 hours
30 minutes
Total Time:
2 hours
30 minutes
So creamy, sweet and luscious! This fresh ice cream recipe is ready in a matter of hours and super simple to make at home with your ice cream maker.
Ingredients
3 cups strawberries, stems removed and sliced
4 tbsp lemon juice
1/2 cup sugar + 1 cup sugar
1 1/4 cup whole milk
2 3/4 cup table cream (heavy cream)
1 tbsp vanilla extract
Instructions
Add strawberries, lemon juice and 1/2 cup sugar to a bowl and toss to combine. Let sit for two hours.
Strain the berries and reserve the juice.
Add half the berries to a bowl and puree with a hand blender.
Mix milk and 1 cup sugar on low speed for 2 minutes. Stir in table cream strawberry juice, pureed strawberries and vanilla. Pour into the ice cream maker's freezer bowl.
Mix for 25 minutes in the ice cream maker. Add in the rest of the strawberries about 5 minutes before it's done.
Transfer the ice cream to a freezer container and freeze for at least two hours.
Recommended Products
As an Amazon Associate and member of other affiliate programs, I earn from qualifying purchases.
Nutrition Information:
Yield:

6
Serving Size:

1
Amount Per Serving:
Calories:

631
Total Fat:

41g
Saturated Fat:

26g
Trans Fat:

1g
Unsaturated Fat:

12g
Cholesterol:

128mg
Sodium:

55mg
Carbohydrates:

63g
Fiber:

2g
Sugar:

60g
Protein:

5g