Cherry Mousse is velvety smooth, and bursting with cherry flavor. A no-bake Cherry Mousse that is crazy simple to make. Give this dessert recipe a try for all your entertaining needs, or a mid-day treat.
Are you all mousse-d out yet? I've been sharing simple no-bake mousse recipes lately because they are just so darn easy to make. And they always turn out fabulous. This Cherry Mousse recipe is no different. It's also a winner.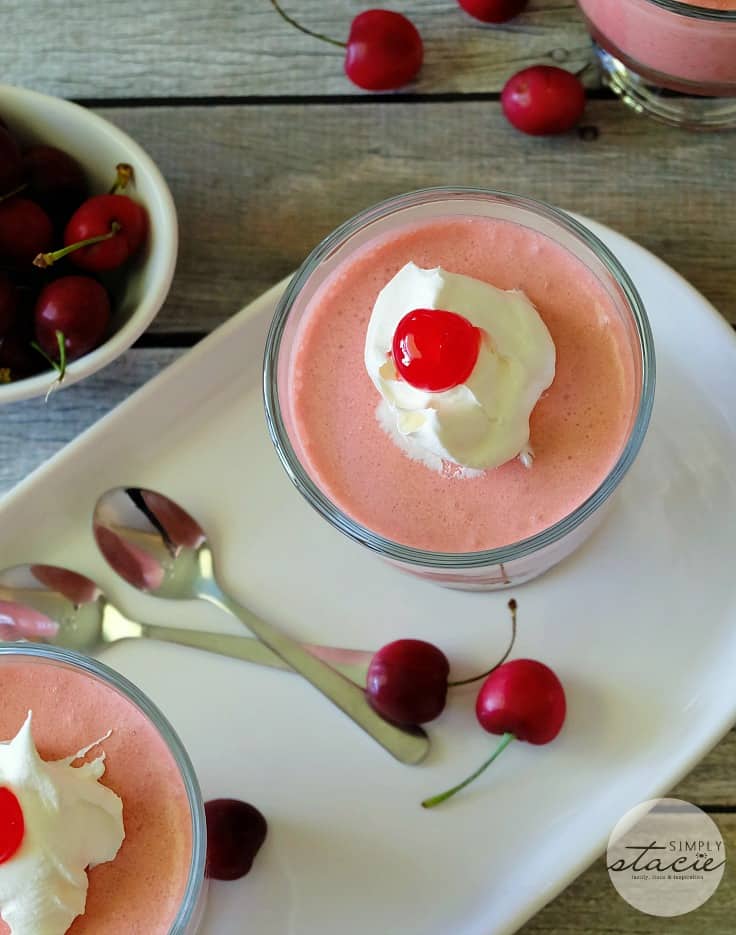 Cherry Mousse
I picked up a bag of cherries at Food Basics this past week and have been snacking on them. I don't even mind the pits. I just bite around them and all is good.
Do You Use Real Cherries in this Cherry Mousse Recipe
This recipe uses 1 cup of chopped cherries (yes, the pits were removed and not with my mouth!), cherry Jello, cream cheese and Cool Whip. The blender and fridge does most of the work. I supervised.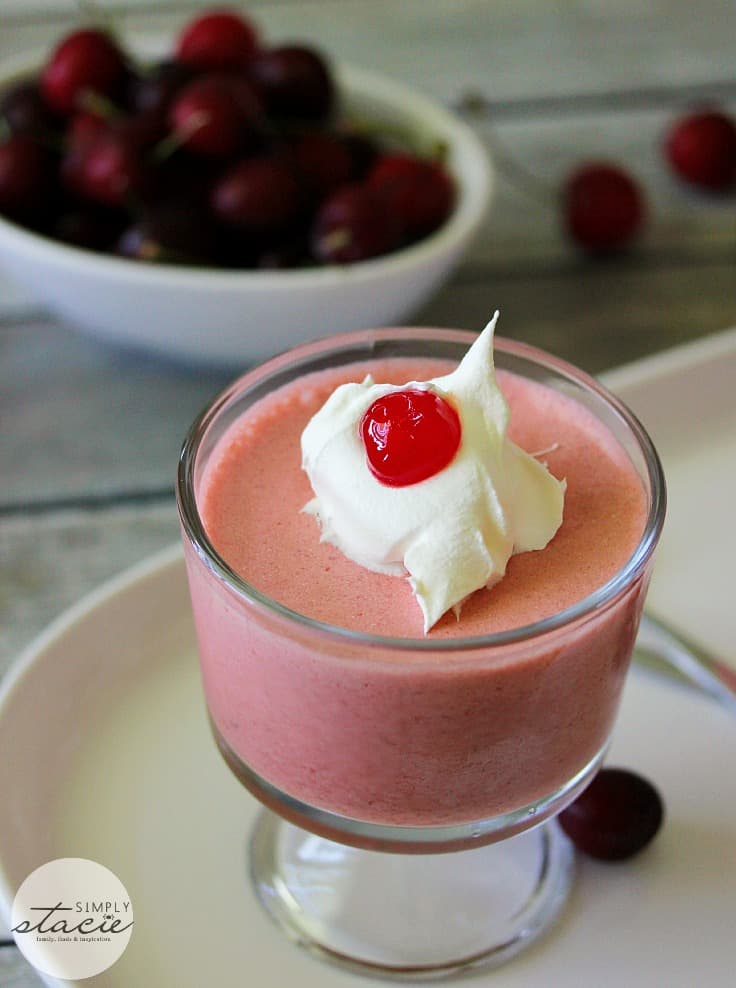 Why Does My Mousse Look Soupy
It looks a little soupy when you pour the mixture into the dessert dishes. Not to worry, though. It will come out light and fluffy after it sits in the fridge for a couple of hours.
Craving more mousse recipes? Try my Lemon Cheesecake Mousse and Strawberry Mousse. Yum!
No-bake desserts are great for summer because who feels like baking in the heat? Definitely not me. The easier, the better.
Can I Make Mousse Ahead of Time
Absolutely! Because this cherry mousse has to set up, it is a great recipe to make ahead! You can make this up to a day in advance. Just prepare as directed, pour into containers, cover, and store in the fridge. Then when you are ready to serve, top with whipped cream, fresh cherry or serve plain.
Do You Need Gelatin for Mousse
I used a cherry Jello for my mousse recipe. I find it adds incredible to the mousse and helps give it that set up texture you want when it comes to mousse.
Can I Freeze Mousse
Yes, you can freeze your mousse. Some people prefer a frozen mousse as it offers a texture similar to ice cream. Just cover and place in the freezer until you are ready to enjoy.
What is Mousse Made of
For my cherry mousse, I used a cherry Jello, whipped cream, cream cheese and a handful of other ingredients. The cream cheese offers a rich and velvety flavor that is irresistible.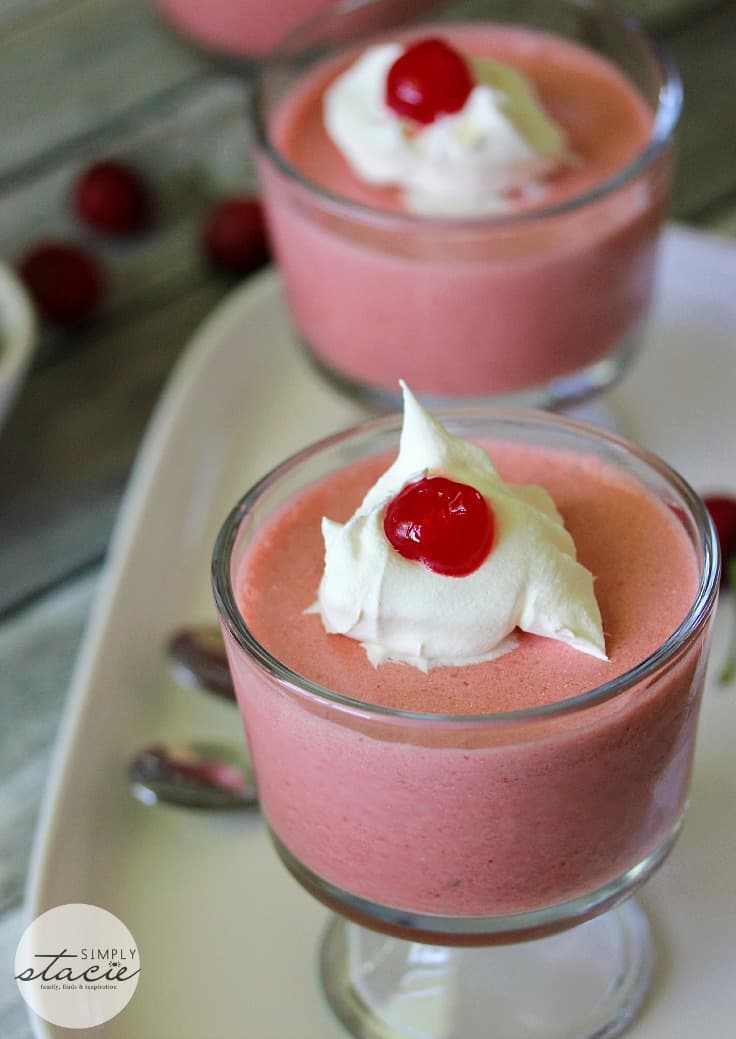 How to Make Cherry Mousse
Start by taking your Jello and placing it in a bowl with boiling water. You want to stir until it is dissolved. Then in a blender add in your cream cheese, cherries, cold water and vanilla. Pour your Jello mix in and blend for a minute until the texture is nice and smooth.
Then pour the mixture into a bowl and whisk in your Cool Whip until it is blended. Pour your mixture into containers, and place in the fridge covered for a minimum of two hours. Once your mousse has set up and ready to serve top with whipped cream and topped with cherries.
If you can't find Cool Whip where you live, you can make your own homemade stabilized whipped cream.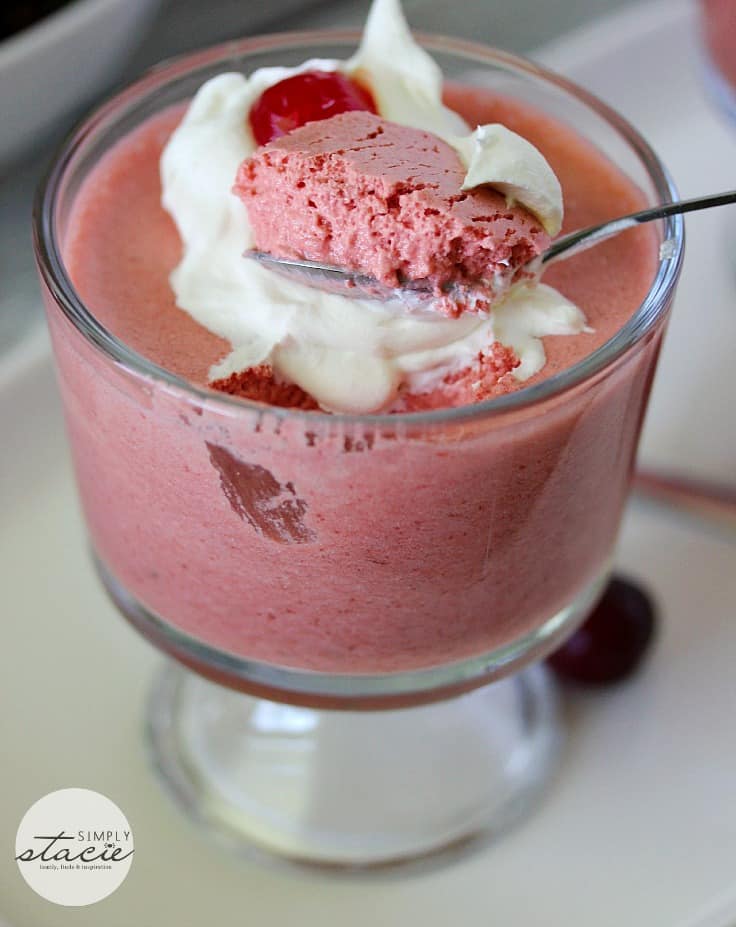 Here are more no-bake desserts to make
No-Bake Cherry Tarts | A light and refreshing dessert that is going to be a delight. Graham cracker crust, creamy filling and topped with cherry filling.
Marshmallow Pie | Light, fluffy, and absolutely a sweet pie recipe you will love. So easy to make, and unique so it stands out in a line of desserts.
13 No-Bake Desserts | Here is 13 more no-bake desserts for you to try. A great lineup of recipe that you can make for any and every occasion.
Can I Make This Cherry Mousse with Other Fruit
Of course. You could swap with raspberry or strawberries rather easily. I really love the fresh cherry but if you have other berries on hand you could swap them out and swap the Jello out as well to make the flavor of fruit you are using.
Can I Use Homemade Whipped Cream Instead Of Making My Own
Sure you can do that. I prefer the homemade taste, but you are welcome to buy the tub whipped cream and swap it out. It won't affect the flavor that much.
Can I Double This Mousse Recipe
Of course. You are welcome to make as much or as little as you want with this recipe. I found that doubling works great for when you are serving a crowd for a party or event. If your blender can't hold all of the contents, just batch mix, and then use a larger bowl to fold in the whipped cream.
Give this cherry mousse recipe a try today. If you love cherries you will really fall in love with this recipe. Add some chocolate shavings on top for a fun Valentine's Day feel, that you can serve up to your loved ones.
Out of the three mousse recipes I've shared so far, which one are you most looking forward to trying?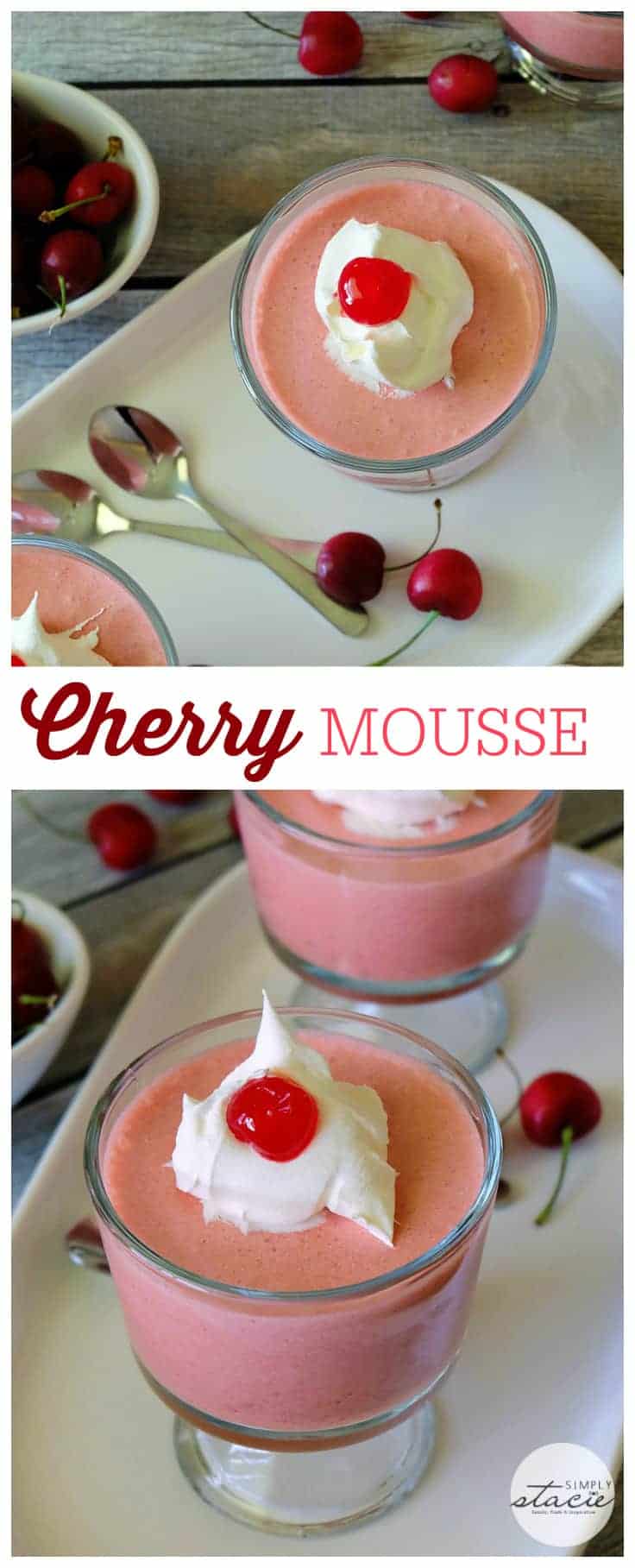 Cherry Mousse
Prep Time:
2 hours
15 minutes
Total Time:
2 hours
15 minutes
This velvety, no-bake dessert is perfect for parties. Try this sweet whipped cherry treat with a dollop of whipped cream for the perfect summer sweet dish!
Ingredients
1 package cherry Jello (4 serving size)
1/2 cup boiling water
1 cup fresh cherries, chopped
1/2 cup cream cheese, softened
1/2 cup cold water
1/4 tsp vanilla extract
1 cup Cool Whip
Cool Whip and/or maraschino cherries for garnish, if desired
Instructions
Add Jello into a small bowl and pour in boiling water. Stir until completely dissolved.
Add cherries, cream cheese, cold water and vanilla extract in a blender. Pour in Jello mixture. Blend for 1 minute or until smooth.
Pour mixture into a large bowl and whisk in Cool Whip until completely blended.
Spoon mixture into dessert dishes and place in the fridge for 2 hours to set.
To serve, top with Cool Whip and maraschino cherries, if desired.
Recommended Products
As an Amazon Associate and member of other affiliate programs, I earn from qualifying purchases.
Nutrition Information:
Yield:

4
Serving Size:

1
Amount Per Serving:
Calories:

277
Total Fat:

15g
Saturated Fat:

10g
Trans Fat:

0g
Unsaturated Fat:

3g
Cholesterol:

29mg
Sodium:

200mg
Carbohydrates:

32g
Fiber:

1g
Sugar:

29g
Protein:

4g