Velvety smooth, creamy Lemon Cheesecake Mousse is one easy and pleasing lemon dessert recipe. If you are a fan of mousse, you have to try my lemon inspired mousse. The citrus is incredible next to the cheesecake mousse. A no-bake mousse that will transform your life.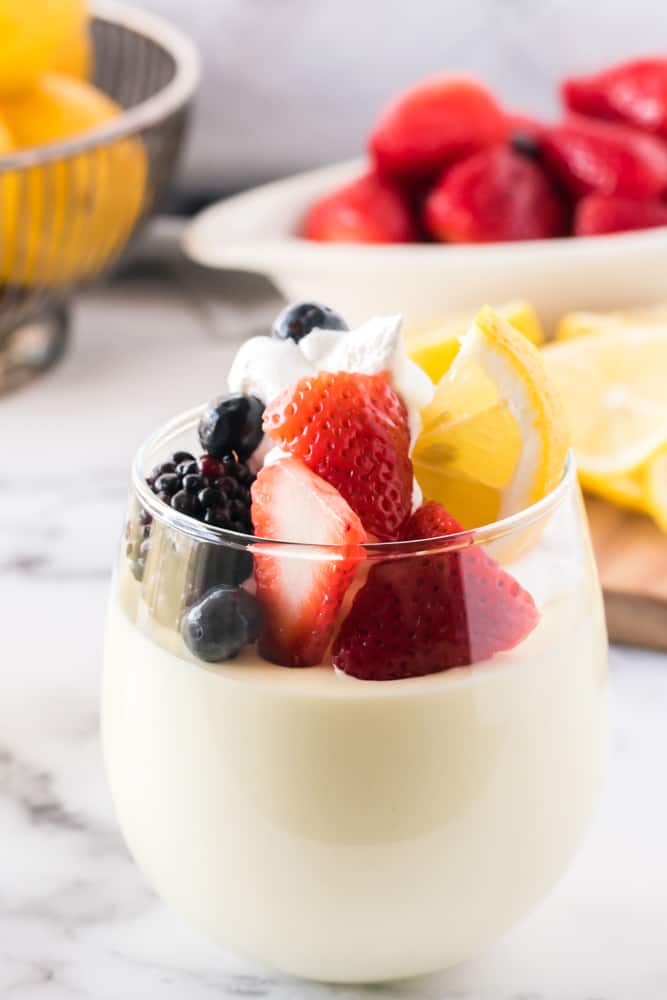 I went a little crazy the other week buying Jello. It was on sale and I had a couple of coupons and couldn't pass up the opportunity. With all my bargain Jello, I needed to come up with some ways to use it. I could make regular ol' Jello which I will probably end up doing when John goes in for his dental surgery and can't eat solid food. But I was thinking that is a bit blah. I settled on making mousse! I added a whole package of cream cheese to make it super creamy and oh so special. Not light on calories, but it's worth every bite!
Lemon Cheesecake Mousse
It's also NO-BAKE – the best kind of dessert ever. Who wants to turn the oven on in this heat? Not this girl.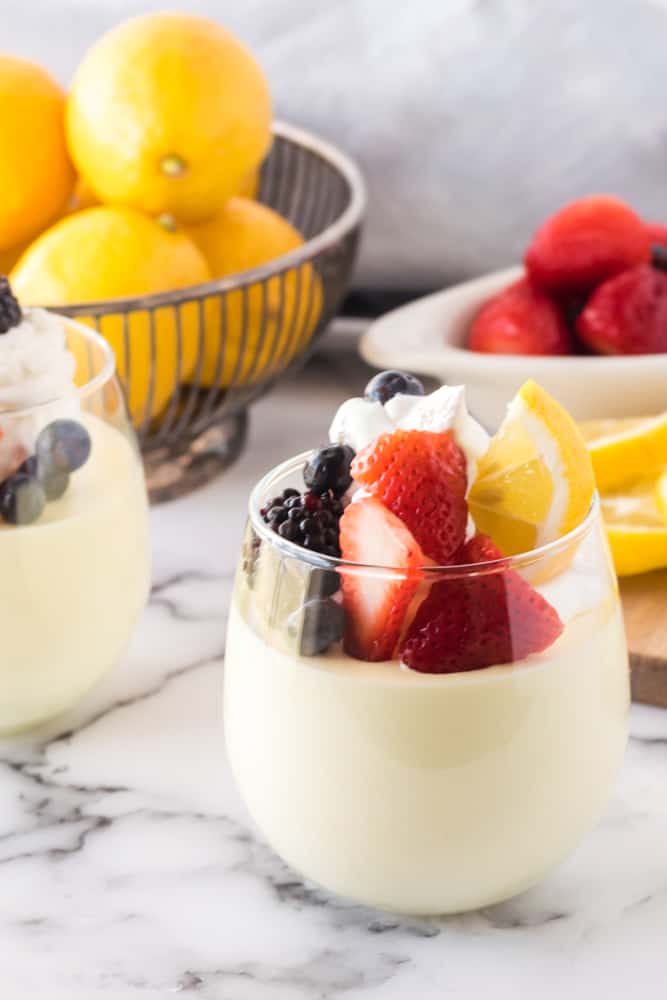 Hold yourself back from eating it right out of the bowl. Trust me, you'll want it to sit for a couple of hours in the fridge so it gets that light, fluffy texture. It's even better then!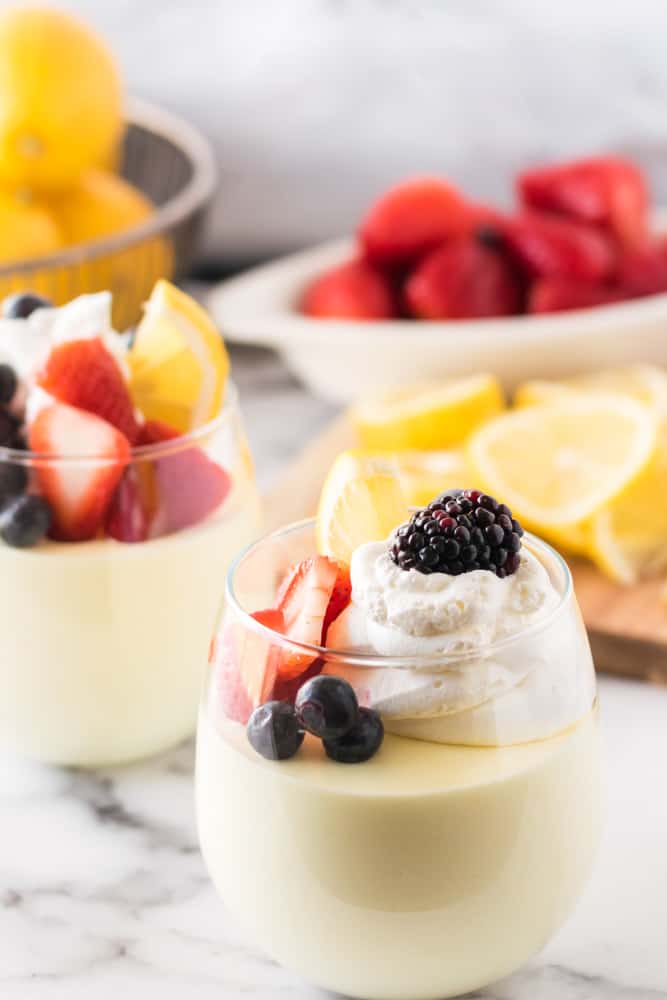 How Do You Top Cheesecake Mousse
I topped ours off with fresh blackberries, but you could leave off the berries or add a dollop of Cool Whip on top. Or live on the wild side and add berries AND Cool Whip. There ya go!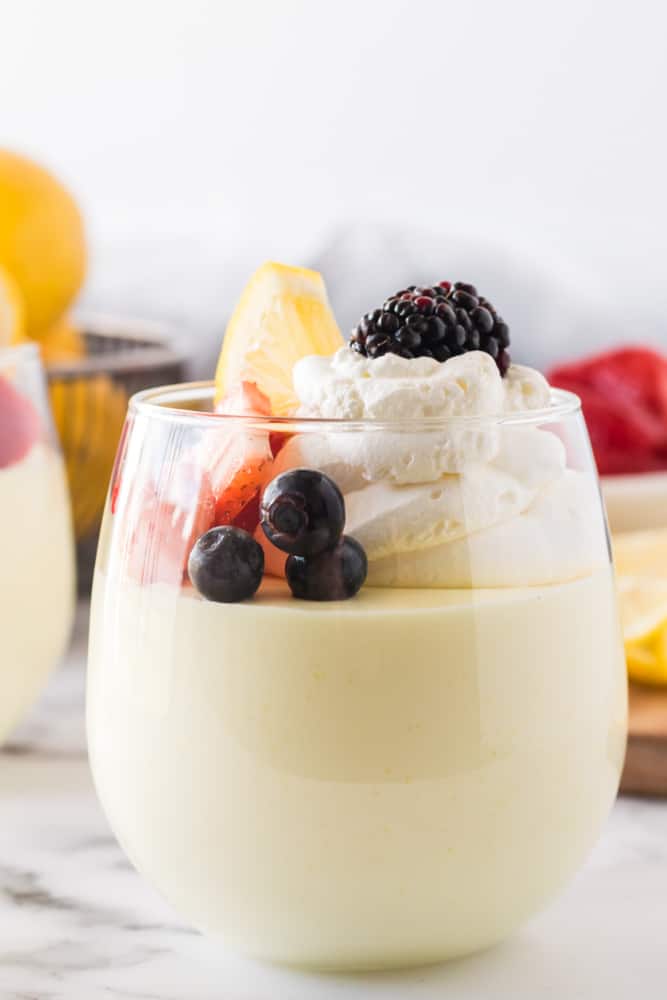 Three ingredients (Jello, cream cheese + Cool Whip) or four, if you count water and no-bake. That, my friends, is a winner, in my books!
You can make your own Cool Whip, too!
You might also like my Cherry Mousse and Strawberry Mousse.
Can I Add a Graham Cracker Crust to this Cheesecake Mousse
Yes. You can make a homemade crust with graham crackers that are crumbled, butter, and a tad bit of sugar. Then press it down in the bottom of the container, and top with the mousse. It adds even more flavor and gives it a cheesecake feel.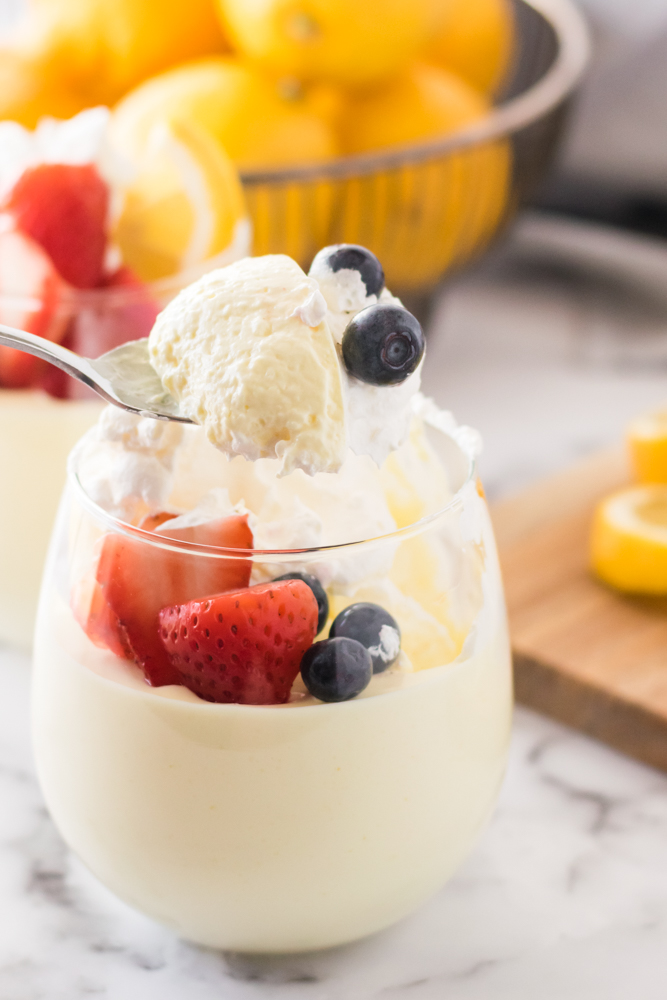 How to Serve Lemon Mousse
You want to serve your lemon mousse cold. Because of the ingredients in this recipe, it needs to be chilled. Add on fresh berries, a mint leaf, or even whipped cream. Just make sure that you keep your mousse refrigerated.
Can I Make This Mousse Ahead of Time
Absolutely. You can whip up this Lemon Cheesecake Mousse a day before you plan to serve it. Just prep it fully and then cover each mousse and store in the fridge. When you are ready to serve, top with the fresh fruit or however you would like.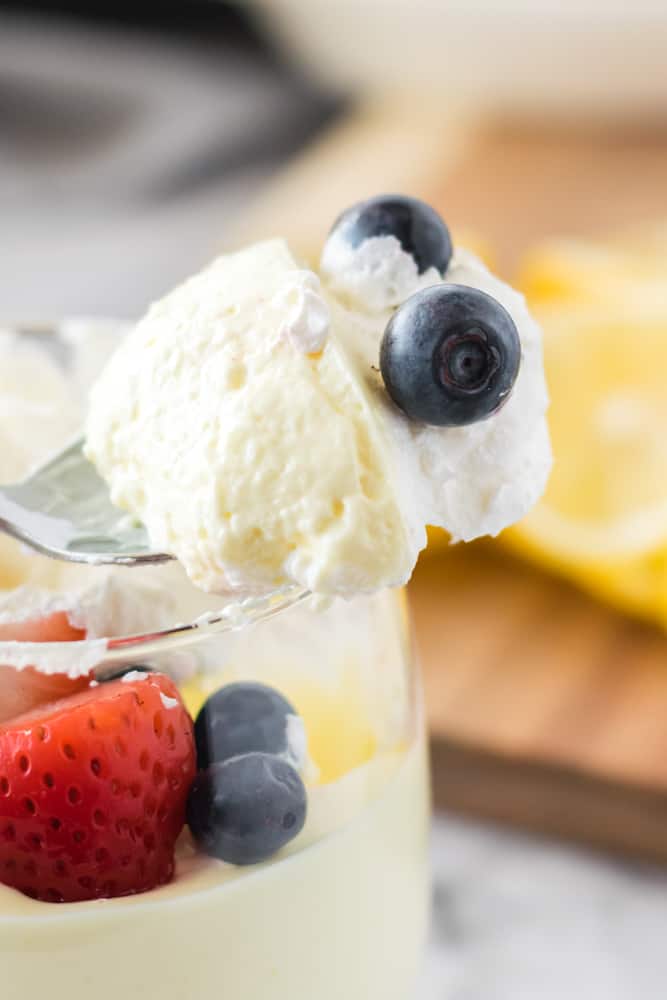 How Long Does Lemon Cheesecake Mousse Last
You can store your mousse for 3-4 days before it will begin to go bad. This is a fantastic grab and go snack that you can serve up for after dinner, parties, or even as a birthday treat.
I use glass containers to store my mousse but you are welcome to use any kind you want. Just ensure it is covered, to protect the mousse.
I have even made this recipe for Easter, Mother's Day, and so many more occasions.
What's The Difference Between Mousse and Pudding
The biggest difference between a mousse and a pudding is mousse tends to be a lot more of a lighter dessert. Puddings are a lot thicker in texture, but both are a refreshing dessert option. Mousse you can top with fresh fruit, mint leaves, and more. Where pudding tends to eat it alone since it is heavier.
Looking for more desserts
Fruit Cocktail Dessert | Creamy, sweet, and bursting with fresh fruit flavor. A really easy and fantastic dessert that is great for kids and adults.
Creamy Fruit Salad | A great option for a quick and easy potluck dish, holiday dessert, or even mid-day treat. Give this recipe a try next time you want to add some fruit into your diet.
Grapefruit Smoothie Bowl | Kickstart your morning with this smoothie bowl recipe. Lots of fantastic toppings for a nutritious and tasty breakfast.
Can You Freeze Lemon Mousse
You can freeze this mousse. If you have never tried frozen mousse it is like really incredible ice cream in a sense. Creamy, smooth, and rich in flavor.
You'll also like this Homemade Lemon Curd and Lemon Curd Coconut Macaroons.
Would you make your mousse with lemon Jello or would you try another flavor?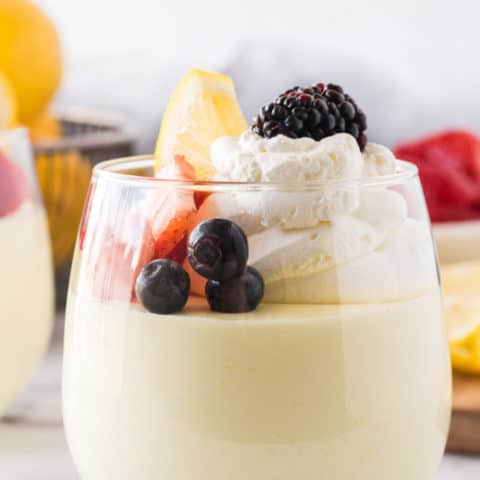 Lemon Cheesecake Mousse
Prep Time:
2 hours
15 minutes
Total Time:
2 hours
15 minutes
The perfect fluffy lemon dessert! This mousse is lighter than cheesecake, but still tastes like a fresh slice from your favorite NYC eatery.
Ingredients
1 package (4 serving size) lemon Jello
1/2 cup boiling water
1 package (8oz) cream cheese, softened
1/2 cup cold water
1 cup Cool Whip
berries, for garnish
Instructions
Add lemon Jello to a bowl and pour in the boiling water. Stir until Jello is completely dissolved.
Pour Jello mixture into a blender. Add in cream cheese and cold water and blend for 1 minute or until smooth.
Pour mixture into a large bowl and add in Cool Whip. Mix together until well blended and smooth.
Spoon into four to six dessert dishes (depends on how full you want them). Place in the fridge for 2 hours.
When ready to serve, top with berries or Cool Whip.
Recommended Products
As an Amazon Associate and member of other affiliate programs, I earn from qualifying purchases.
Nutrition Information:
Yield:

6
Serving Size:

1 bowl
Amount Per Serving:
Calories:

245
Total Fat:

16.5g
Saturated Fat:

9.3g
Unsaturated Fat:

4.6g
Cholesterol:

49.7mg
Sodium:

529.2mg
Carbohydrates:

23g
Fiber:

0.8g
Sugar:

6.6g
Protein:

2.7g