Whip up a batch of this Citrus Bliss Infused Water today. It will hydrate, taste refreshing and even detox the body thanks to the citrus. This is such an easy way to dress up your water. If you struggle drinking enough water in a day, try my infused water recipe.
The heat is on and I can't stand it! I hate being hot. Give me 15°C weather any day. I prefer to step outside and feel refreshed and not like I just stepped into an oven. One way I stay cool in the heat and humidity is being drinking lots of water. I like the taste of water and the colder the better. I will admit that it does get a little blah day and day out.
Citrus Bliss Infused Water
I bought a funky new container at Canadian Tire the other day and thought it would be perfect for some fruit infused water. I have lots of oranges already in my fridge (my addiction) so I picked up some lemons and limes and decided to make citrus water.
It's basically just ice, cold water, limes, an orange, and a lemon, all sliced up nice and pretty. Give it a little stir and that's it. It's chilling in the fridge when my thirst hits.
My aunt always said that she likes to drink a glass of lemon water before a meal because it helps her stay slim. I'm going to give it a try, but drink this water instead.
My daughter, Bridget, is also citrus obsessed. This kid will eat a lemon-like an orange without batting an eye. No way I could do that. She's also been enjoying our tasty new water.
For another fruit-infused water recipe, try this Strawberry Agua Fresca. You'll also like this Peachy Sparkler.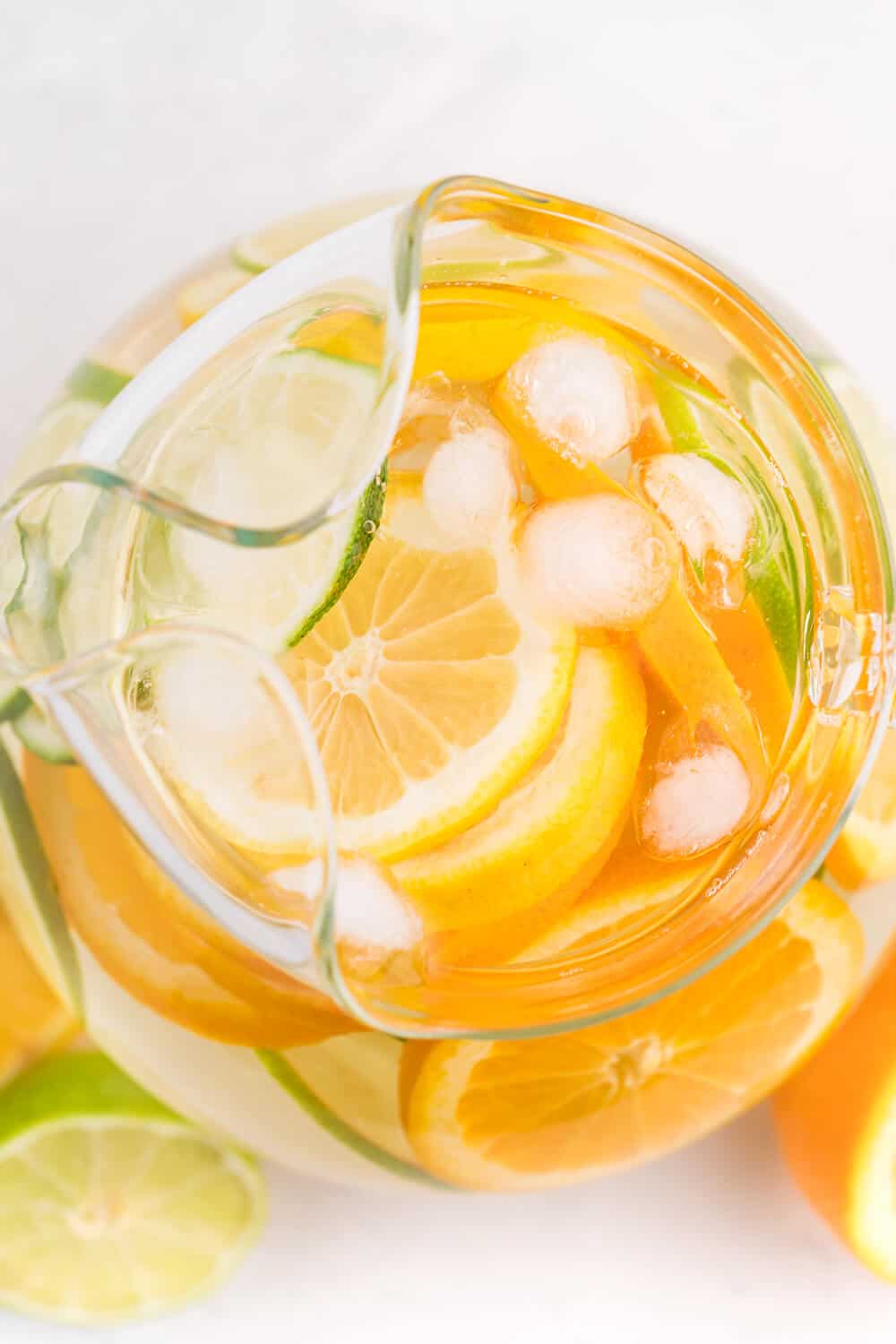 What Are Benefits of Drinking Citrus Infused Water
Lime
You will find limes are great citrus to incorporate into your diet. Limes can help to support your digestion, and even be a nice boost to your immunity.
Lemon
While lemons are tart, they taste great in the water. It is a great way to help cleanse your system in a natural way. Many swear by drinking lemon water each day.
Oranges
We all know and love oranges. Oranges are going to give your drink a slight natural sweetness, and also help to boost your immunity with each sip.
Do You Slice Fruit for Infused Water Recipe
Yes. You want to slice up the fruit so that it will release the juices. This is what is going to be released and infuse the water so that it tastes citrusy. If you don't slice your fruit the juices won't get into the water.
One way I found to help get as much out as you can, simply roll the fruit back and forth on the counter, to help soften it up. Slice and then toss in the pitcher.
How Long Will Citrus Infused Water Last in Fridge
You will want to drink your water within 3-5 days. Because of the fruit in the water, it will cause it to go bad sooner than just plain water sitting in the fridge.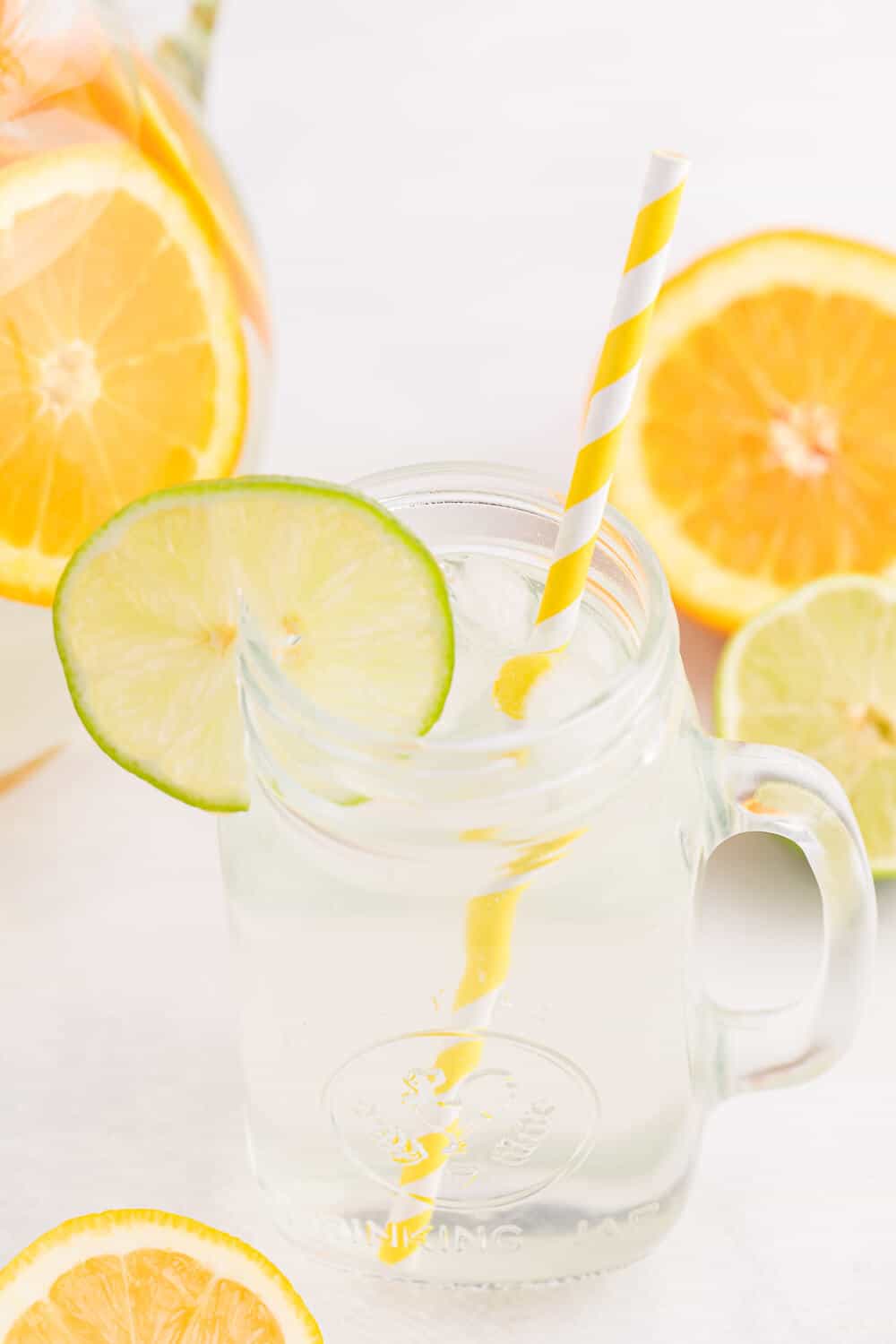 Can I Cut Down the Recipe Size
Yes. You can make as much or as little of this infused water as you would like. I recommend only making what you know you will drink within the time frame. If you are having a party or gathering feel free to double or even triple the recipe.
Does the Water Need to Infuse Before You Drink it
The longer you let your water sit, the more citrus flavor you will find the water has. You can also squeeze some of the juice of each fruit into the water to help speed up the process if you are in a hurry to drink your water.
Can You Drink Infused Water Each Day
Of course. Infused water is a great way to get more water intake into your daily diet. Feel free to play around with fruit, herbs, and even vegetables like cucumber. You can make some incredible flavored waters that will keep you hydrated and feeling great.
This infused water recipe is so easy to make, and I think you will love it. Play around with fruits you use and herbs and really create a recipe that works for you. We are a huge fan of just citrus, but you might enjoy a different variety.
You'll also enjoy this Sparkling Grape Lemonade.
What do you drink to stay hydrated in the hot summer months?
Citrus Bliss Infused Water
This refreshing infused water is the perfect way to amp up plain ol' water. Fresh lemon, lime and orange slices help you stay hydrated and healthy!
Ingredients
8 cups of water
2 limes, sliced
1 lemon, sliced
1 orange, sliced
ice
Instructions
Add water to a large pitcher.
Add in limes, lemon, orange and ice and stir. Serve cold.
Recommended Products
As an Amazon Associate and member of other affiliate programs, I earn from qualifying purchases.
Nutrition Information:
Yield:

8
Serving Size:

1
Amount Per Serving:
Calories:

17
Total Fat:

0g
Saturated Fat:

0g
Trans Fat:

0g
Unsaturated Fat:

0g
Cholesterol:

0mg
Sodium:

10mg
Carbohydrates:

5g
Fiber:

1g
Sugar:

2g
Protein:

0g