Italian Meatball Pizza is one of our favorites in our home. A loaded pizza that is topped with tender and juicy Italian meatballs, mushrooms, peppers, and cheese. A quick and easy dinner that will be pleasing for your kids and yourself.
When I ask my family what they want to eat for dinner, I'll be answered with a chorus of "pizza!". No surprise there. Pizza is an all-time favourite meal for the kids and I. Most times, they'll gobble everything up and won't leave any leftovers. I've been experimenting with different varieties of pizza to test the waters. It also keeps meals interesting because it gets boring with the same ol' toppings every time. Variety is the spice of life!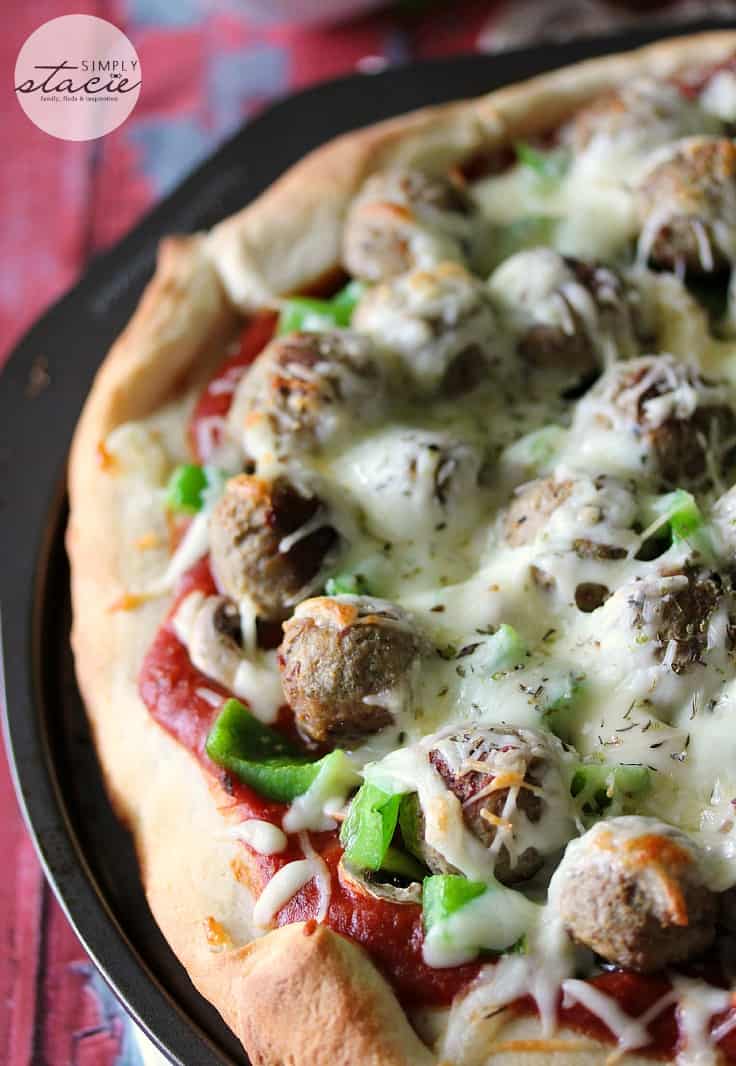 Italian Meatball Pizza
Italian Meatball Pizza isn't as unique as some of the pizza recipes I've made in the past, but it is one that is well-loved. And for good reason! I love hot Italian meatballs in anything and pizza is no exception.
Do You Use Frozen or Homemade Italian Meatballs for Pizza
This pizza recipe can be made with your favorite homemade meatball recipe or use frozen meatballs to save time. Just remember to cook them before you put them on the pizza!
This is a meal that you may want to eat with a fork! It's quite the load of toppings and can get a little messy. I don't mind though. It's pizza.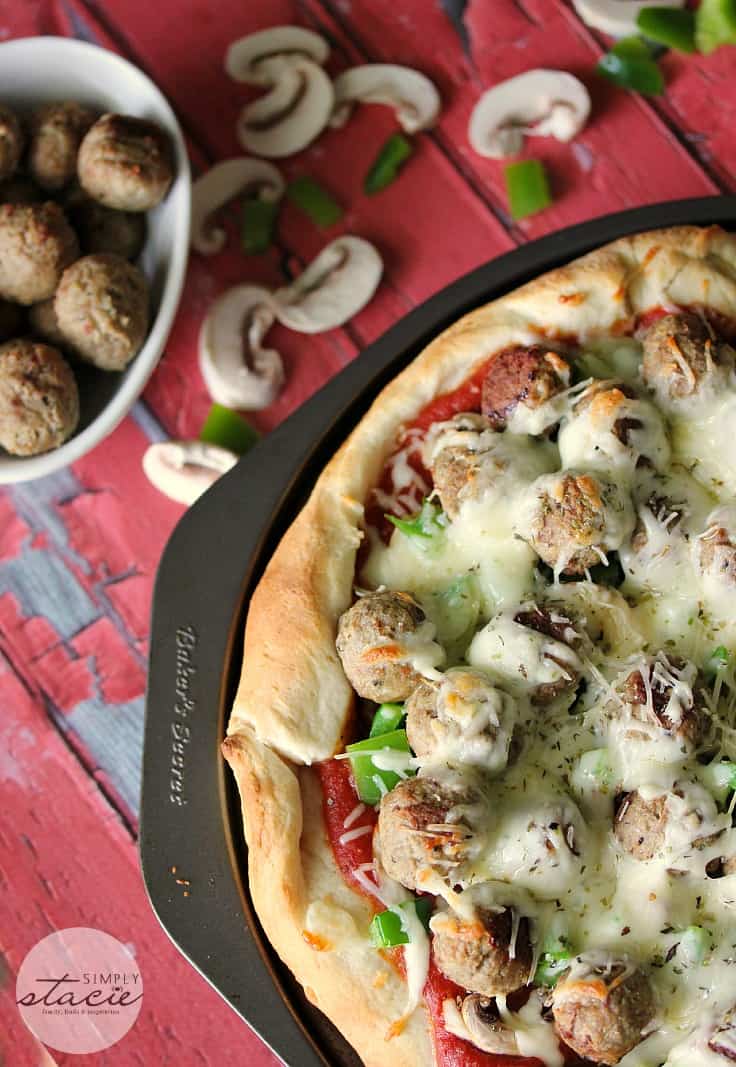 What Toppings Do You Use For Italian Meatball Pizza
I use green peppers and mushrooms, but you could leave them off or add something different. The crust is your canvas!
Use my homemade Italian seasoning in this recipe!
For more pizza recipes, check out my recipes
Sweet Chili Chicken Thai Pizza | Unlike any other pizza you have had. A sweet and slightly spicy pizza that is bursting with fresh flavors.
Cheeseburger Pizza| Pizza and a juicy cheeseburger collide in this recipe. I love a good cheeseburger pizza recipe and this one is a winning recipe.
Chicken Bacon Alfredo Pizza | A white sauce pizza that gives you that rich and creamy taste and texture. This recipe is incredible and super easy to make.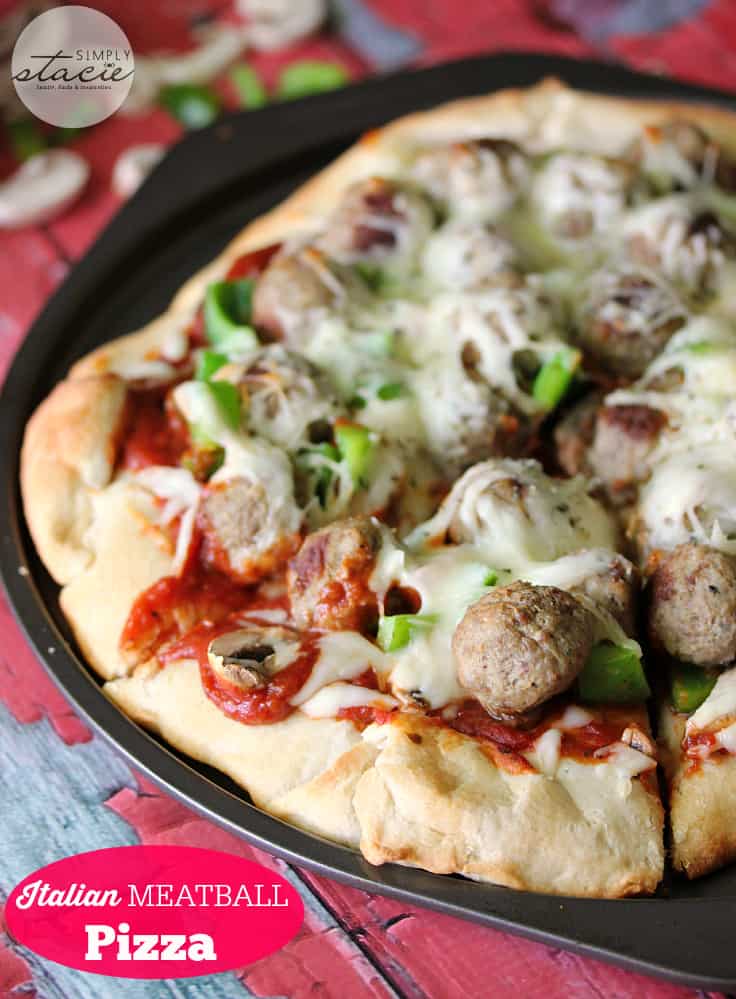 What is the Best Crust for Pizza
Personally, I just reached for the refrigerated dough in our fridge section at the store. If you have your favorite tried and true pizza crust recipe, go ahead and use that. In terms of thickness, you can do thin, pan, or even a deep-dish style. It is all about your personal preference. The key is just to cook the pizza properly so it doesn't overcook or undercook the crust depending on the thickness.
What Type of Pan is Best for Homemade Pizza
If you have a pizza stone that is great to use, for that more rustic restaurant quality pizza crust. But, if you don't have a pizza stone pan reach for a regular aluminum pizza pan. I used an aluminum pan for years and loved how my pizza turned out. I just recently used stone and it was a nice change in texture.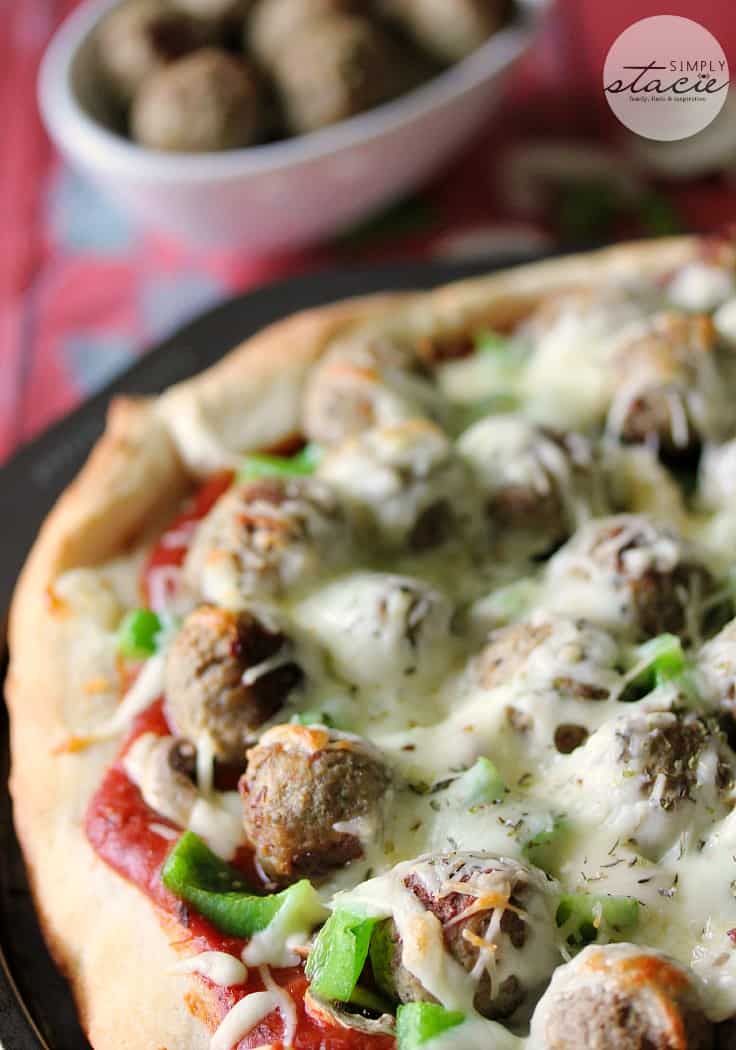 How to Make Italian Meatball Pizza
Start by prepping your dough. Whether you are making it homemade or rolling it out from the store onto your pizza pan. Pre-bake your dough for 8 minutes. Then once the pizza dough comes out from the oven, spread the pizza sauce all over the pizza crust except around the edges. Then add on your mushrooms, peppers, and cooked meatballs. Then top with both kinds of cheese and a sprinkle of Italian seasoning.
Pop it in the oven and cook until the crust is golden. Remove and serve right away.
What to Serve with Pizza
You can eat this pizza alone or reach for a salad to pair with your pizza. I love a crisp green salad that is loaded with veggies and a nice light dressing. Or you can even reach for a pasta or coleslaw style dish.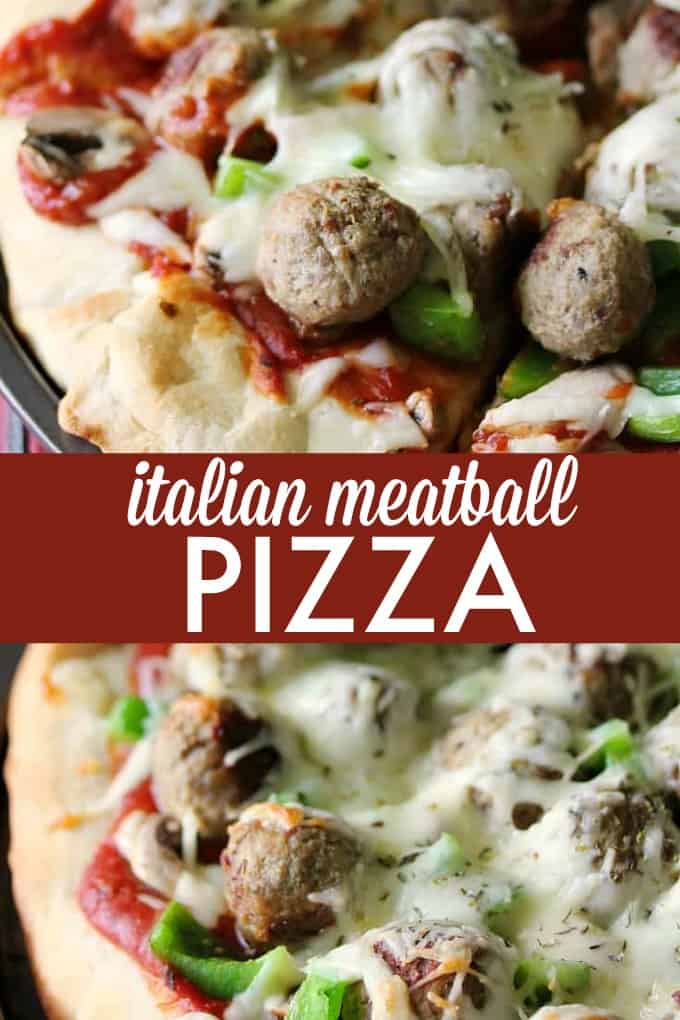 How Long Will Pizza Store in the Fridge
You can store your pizza in the fridge for up to three days. Then eat the pizza cold or opt to warm it up in the oven or even microwave. I never mind a cold slice of pizza every now and again!
Best Way to Reheat Pizza
Start by taking your cold pizza and laying it on a baking sheet. Then cover the baking sheet with aluminum foil and place in the oven on the lowest rack. Then turn on the oven to 275 degrees. And allow the pizza to slowly warm up for around 20-30 minutes. This is going to offer you the best texture pizza and crust.
As you know reheating pizza in the microwave can leave it soggy or chewy. The oven route works really nice at giving you a fresher take on a reheated pizza.
Do you ever put meatballs on your pizza?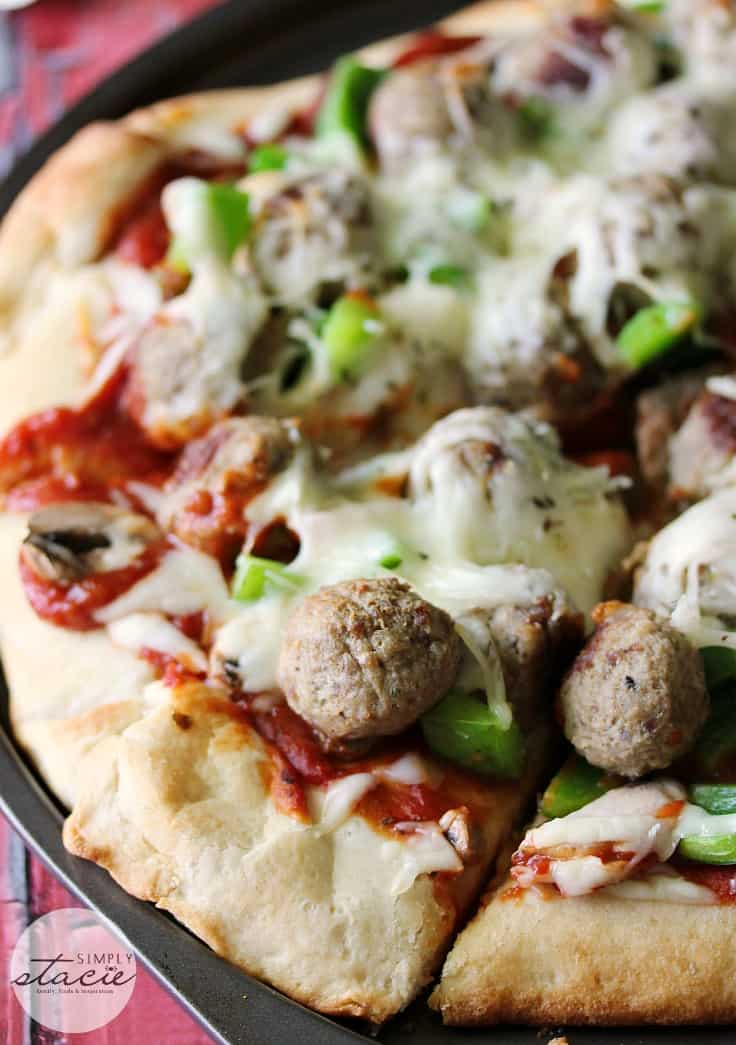 You'll also love this Buffalo Chicken Pizza.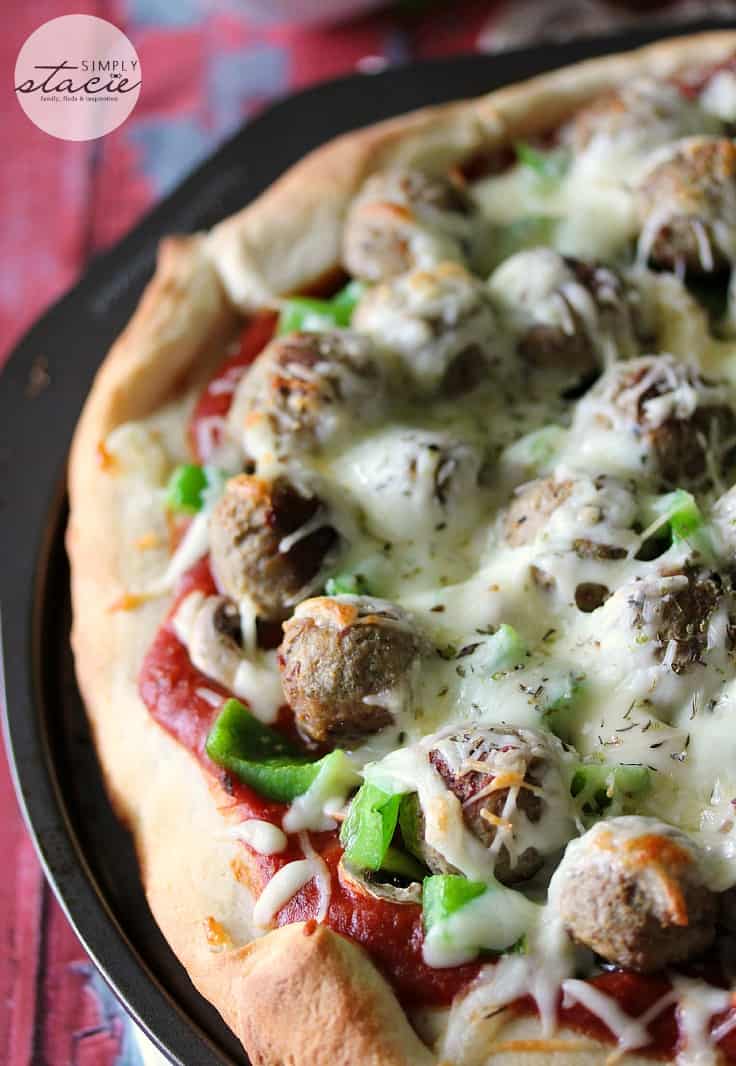 Italian Meatball Pizza
Take your homemade pizza to the next level with Italian meatballs, green peppers, mushrooms, and plenty of cheese.
Ingredients
1 Pillsbury Pizza Crust (or your own homemade pizza crust or other brand of refrigerated pizza crust)
3/4 cup pizza sauce
1 cup cooked Italian meatballs
1 small green pepper, chopped
1/2 cup sliced mushrooms
3/4 cup mozzarella cheese, shredded
1/4 cup Parmesan cheese
1/4 tsp Italian seasoning
Instructions
Prepare the pizza crust according to package directions. For the Pillsbury Pizza Crust I used, I greased a pizza pan and spread the dough to fit. Then I pre-baked for 8 minutes in a 400°F oven.
Spread pizza sauce over pizza crust, leaving a gap around the edge.
Evenly distribute green pepper, mushrooms, cooked meatballs over the sauce. Then top with mozzarella cheese and Parmesan cheese. Sprinkle Italian seasoning on top.
Bake an additional 7 to 10 minutes or until crust is golden and cheese is melted.
Recommended Products
As an Amazon Associate and member of other affiliate programs, I earn from qualifying purchases.
Nutrition Information:
Yield:

6
Serving Size:

1
Amount Per Serving:
Calories:

429
Total Fat:

18g
Saturated Fat:

6g
Trans Fat:

0g
Unsaturated Fat:

10g
Cholesterol:

40mg
Sodium:

921mg
Carbohydrates:

50g
Fiber:

4g
Sugar:

4g
Protein:

17g