If you love Chicken Alfredo, your heart will skip a beat with this Chicken Bacon Alfredo Pizza. It is the coming together of pizza and your favorite pasta dish! Creamy white size, tender crust, savory chicken and bacon, and cheese of course.
We love Chicken Alfredo Pasta, but I'd never tried it on a pizza. I figured it would be good though. And I was right! It was ahhh-mazing!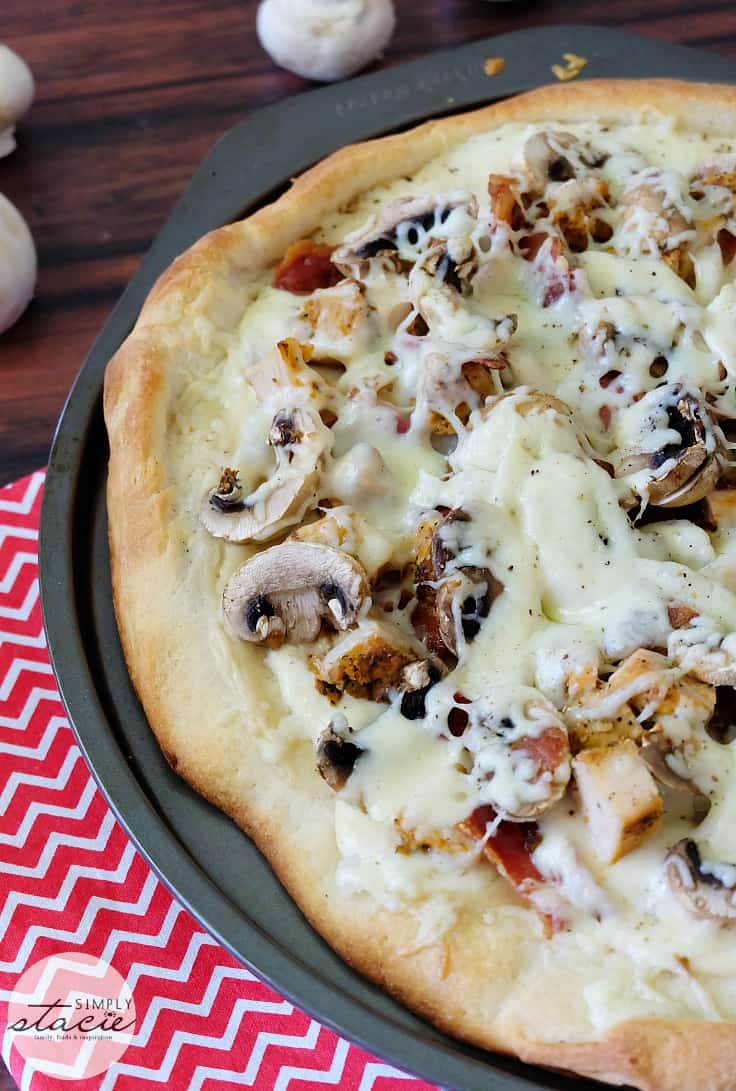 Chicken Bacon Alfredo Pizza
If you're short on time and need to get dinner on the table in a hurry, use short cuts! For starters, you can use a refrigerated pizza crust. Pillsbury has a good one that I like to use.
We topped our pizza with some crispy bacon, chopped cooked chicken breasts, sliced fresh mushroom, diced onions and shredded mozzarella cheese. Perfection.
Craving More Pizza
Italian Meatball Pizza | One of our favorite pizzas. Tender and juicy Italian meatballs piled on top of pizza crust. Loaded with cheese and baked till golden brown.
Sweet Chili Chicken Thai Pizza| Sweet and spicy collide in this thai pizza. I was unsure how the flavors would pair, but this pizza was incredible. We ate it up so fast.
Cheeseburger Pizza| Love cheeseburgers? If you say yes, you will do backflips for this pizza. The crust works perfectly with the cheeseburger toppings.
What Type of Alfredo Sauce Do You Use for Alfredo Pizza
For the Alfredo sauce, I like Classico Alfredo Sauce. It's a little more pricey than regular pasta sauce, but watch for sales and grab some when you see it. Or you could also make your own homemade Alfredo sauce. Whatever works best for you!
It is all about the preference of your sauce. If you don't like canned then make your own. If you have any leftover sauce, just make pasta the next day and pile it on top!
What Type of Pizza Crust Is Best For Chicken Alfredo Pizza
You can honestly use any type of pizza crust. I love the Pillsbury refrigerated pizza crust. You roll it out and then pile on your toppings and bake. It is so tender and offers that light and a refreshing crust that isn't too heavy.
But if you want like a deep-dish pizza go for it. This recipe is incredibly versatile so you can use what you want.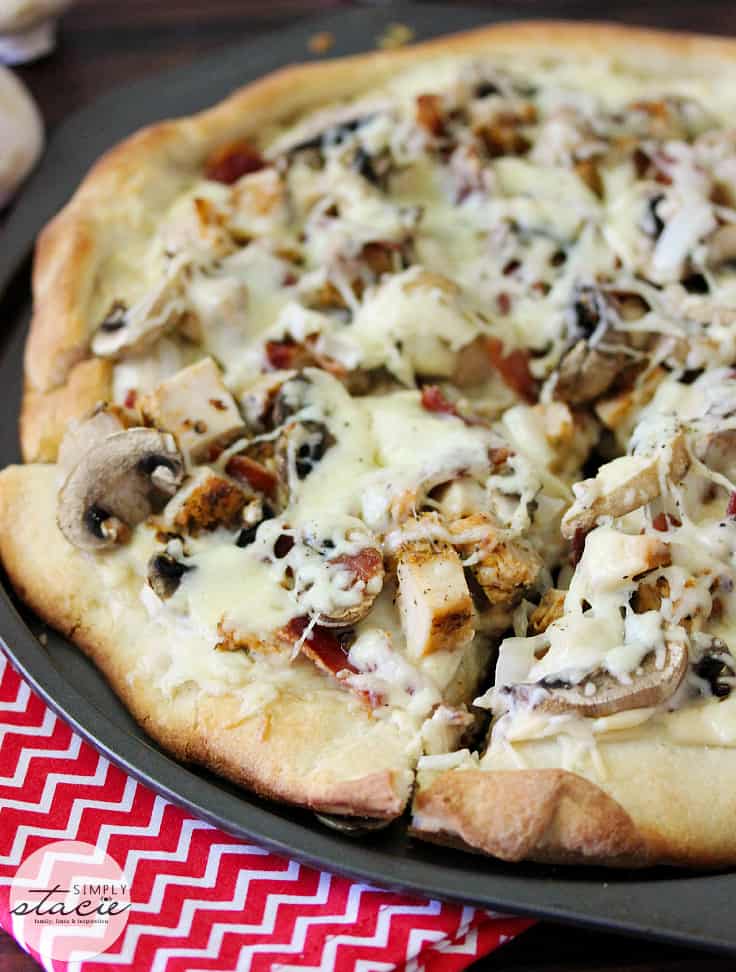 How to Make Chicken Bacon Alfredo Pizza
Roll out or make your pizza crust, and then place on a greased pizza pan or stone. Then pre-bake your pizza crust for 8 minutes. Then spread your Alfredo sauce over the pizza crust, leaving a gap at edges for the crust portion. Then add on your onions, chicken, mushrooms, and bacon. Top with your mozzarella cheese and bake until golden brown and the cheese is melted.
Variations for Chicken Bacon Alfredo Pizza
Bacon | Leave the bacon off if you don't want that savory and salty twist to the pizza.
Pancetta | Replace the bacon with chopped up pancetta for a fun new flavor.
Veggies | Add on different veggies like steamed broccoli, or remove the onions or mushrooms if you are not a fan.
Cheese | We love mozzarella on pizza but you are welcome to leave off the cheese or swap with a different white cheese-like provolone.
Best Way to Reheat Pizza
Microwave
If you choose to reheat your pizza in the microwave here is a trick I learned. Place your pizza on a plate as normal, and then take a cup and fill it partially full of water. Heat your pizza on high for 30 seconds or so. The water will help to keep your crust crispy and still warm up the pizza.
Oven
Turn your oven on to 200 degrees. Then on a baking sheet place your pieces of pizza. Then place the pan in the oven and warm your pizza up low and slow. After about 15 minutes check to see if your pizza is warm yet. If not just let it stay warming up in the oven. This method is great for giving you that fresh pizza flavor and texture.
Stove Top
Grab a skillet and turn the burner on low. Then lay down however many pieces of pizza you want to reheat. Let them sit in the skillet and slowly warm up. It will heat the bottom of the crust helping to crisp it back up from being in the fridge.
Or if you are the type that likes cold pizza, go for it! Nothing wrong with eating cold pizza straight from the fridge.
How Long Will Chicken Alfredo Pizza Store In Fridge
You can store your pizza in the fridge for up to three days. After that use your best judgment in terms of if you feel your pizza is gone bad.
Give this Alfredo Pizza a try today, and let me know how you guys like it.
Have you used Alfredo sauce on pizza before?

You'll also like this Chicken Pesto Pizza, Buffalo Chicken Pizza and BBQ Chicken Pizza.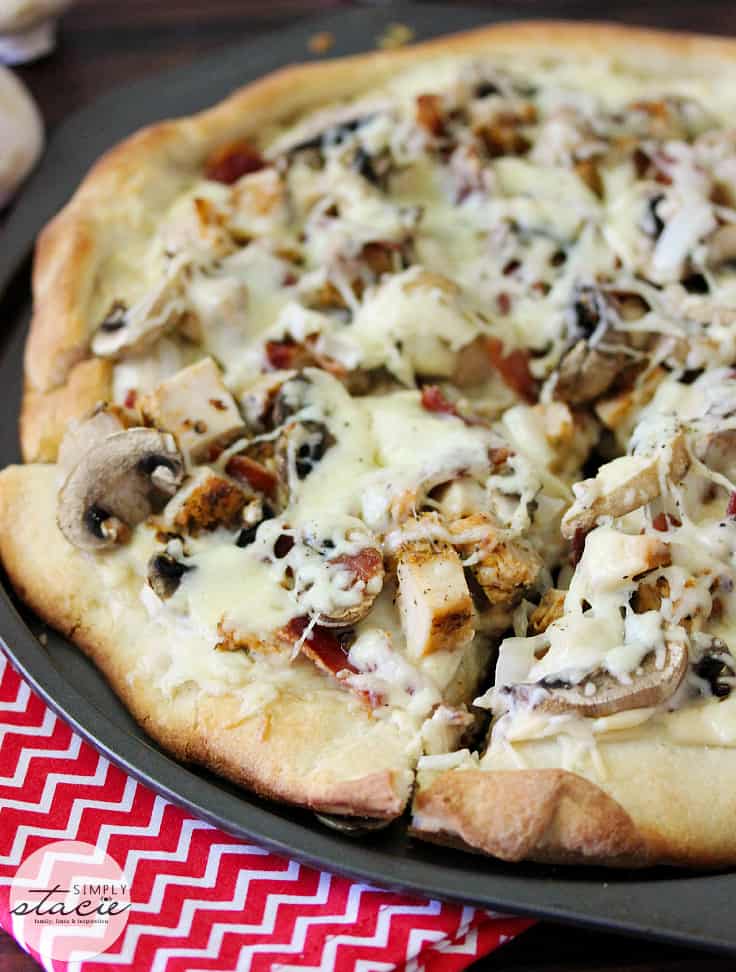 Chicken Bacon Alfredo Pizza
Turn your favorite pasta into a pizza! Ditch the red sauce for creamy Alfredo sauce, moist chicken, and crunchy bacon!
Ingredients
1 Pillsbury Pizza Crust (or your own homemade pizza crust or other brand of refrigerated pizza crust)
¾ cup Alfredo sauce
2 cooked chicken breasts, chopped
5 strips bacon, cooked and chopped
½ cup sliced mushrooms
1 small onion, diced
1 cup mozzarella cheese, shredded
Instructions
Prepare the pizza crust according to package directions. For the Pillsbury Pizza Crust I used, I greased a pizza pan and spread the dough to fit. Then I pre-baked for 8 minutes in a 400°F oven.
Spread Alfredo sauce over pizza crust, leaving a gap around the edge.
Evenly distribute onions, mushrooms, chicken and bacon over the sauce. Then top with mozzarella cheese.
Bake an additional 7 to 10 minutes or until crust is golden and cheese is melted.
Recommended Products
As an Amazon Associate and member of other affiliate programs, I earn from qualifying purchases.
Nutrition Information:
Yield:

6
Serving Size:

1
Amount Per Serving:
Calories:

545
Total Fat:

27g
Saturated Fat:

13g
Trans Fat:

0g
Unsaturated Fat:

12g
Cholesterol:

95mg
Sodium:

1008mg
Carbohydrates:

45g
Fiber:

2g
Sugar:

2g
Protein:

30g