Dress up your pizza game, with this Sweet Chili Chicken Thai Pizza. The prep work of this pizza is minimal and is a tasty weeknight meal for those busy nights. Delicious pie crust, chicken, a sweet chili sauce, broccoli, and a variety of cheeses come together.
We eat pizza at least once a week in our house. It's something our gang of picky eaters can all agree on. They normally like the classic pizza toppings like pepperoni, cheese, and tomato sauce. But every once in a while, I like to change things up just a bit.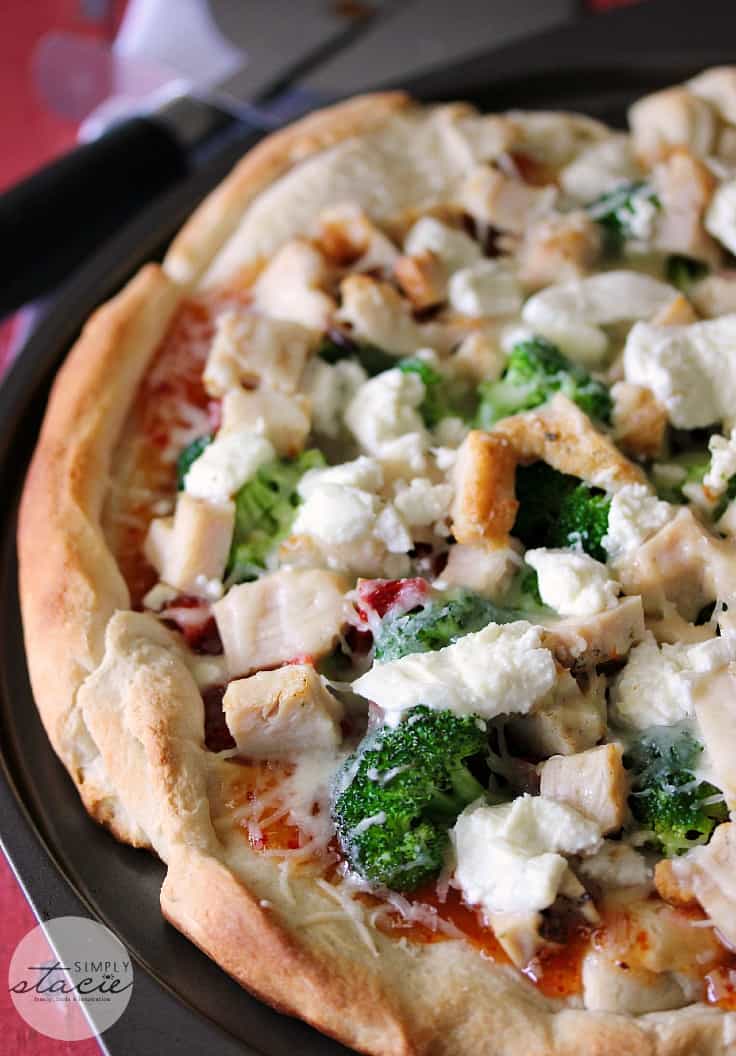 Sweet Chili Chicken Thai Pizza
Then I hope for the best! I made a Sweet Chili Chicken Thai Pizza with not-so-traditional pizza ingredients. To be honest, I wasn't sure how my family would react. I think overall it was a success with three out of four people giving it a thumbs-up.
What Type of Pizza Crust Do You Use
I like using Pillsbury Refrigerated Pizza Dough to make the crust. Also, I used VH Sweet Thai Chili Sauce to save on time. If time is on your side, feel free to make your own homemade crust and chili sauce. I was looking to get dinner on the table quickly so I used what I had in my fridge and pantry.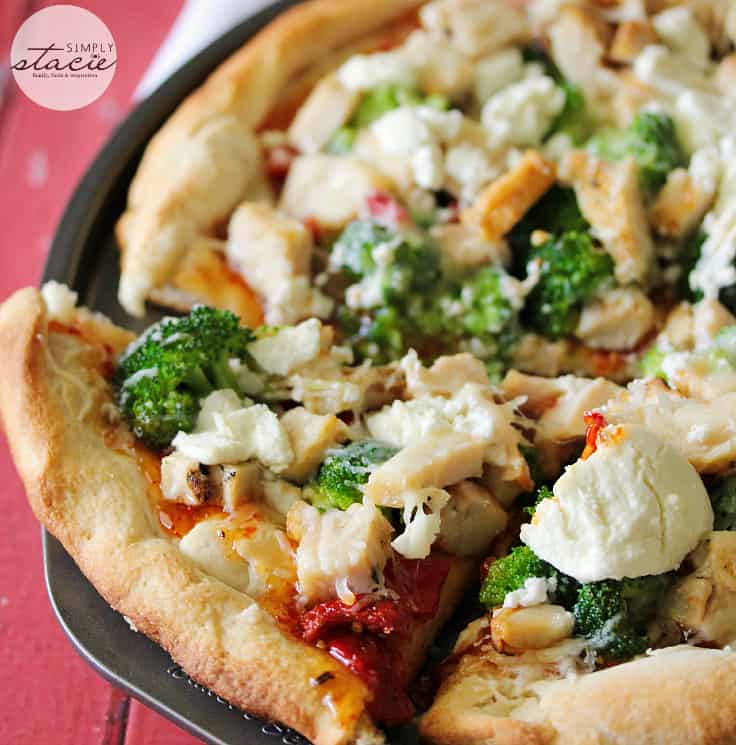 Do You Pre-Cook Broccoli for Thai Chicken Pizza
To have more tender broccoli, I cooked the broccoli ahead of time rather than putting raw broccoli on the pizza. To disclose, I prefer the broccoli to be softened and am not crazy about the taste of raw broccoli.
All the flavors go together very nicely and I will be making this again. I hope that my youngest daughter will give it a chance because it's really good. Olivia is more willing to try new things and said it was yummy.
What Type of Cheese Pairs Good with Chili Sauce
I really found that goat cheese and mozzarella were a great mix of flavor for this pizza. I think if you are not a fan of goat cheese, you could just use mozzarella. Goat cheese offers a tangy flavor to the pizza, which I enjoy. But if it isn't your favorite, just replace with more mozzarella cheese.
What to Serve with Sweet Chili Chicken Thai Pizza
Most often we just pair with a crisp green salad or eat it alone. You are welcome to add in your favorite side dishes if you want. Maybe an extra vegetable, side of fruit, or anything else you can think of.
What Type of Chicken Do You Use for Thai Sweet Chili Pizza
You want to reach for any type of chicken that is pre-cooked and cut up or shredded. I have used leftover rotisserie chicken, as well as store-bought grilled chicken. Even when I have batch cooked and shredded chicken, and tossed in the freezer for meals down the line. Just as long as the chicken has minimal seasoning it will work well with this recipe.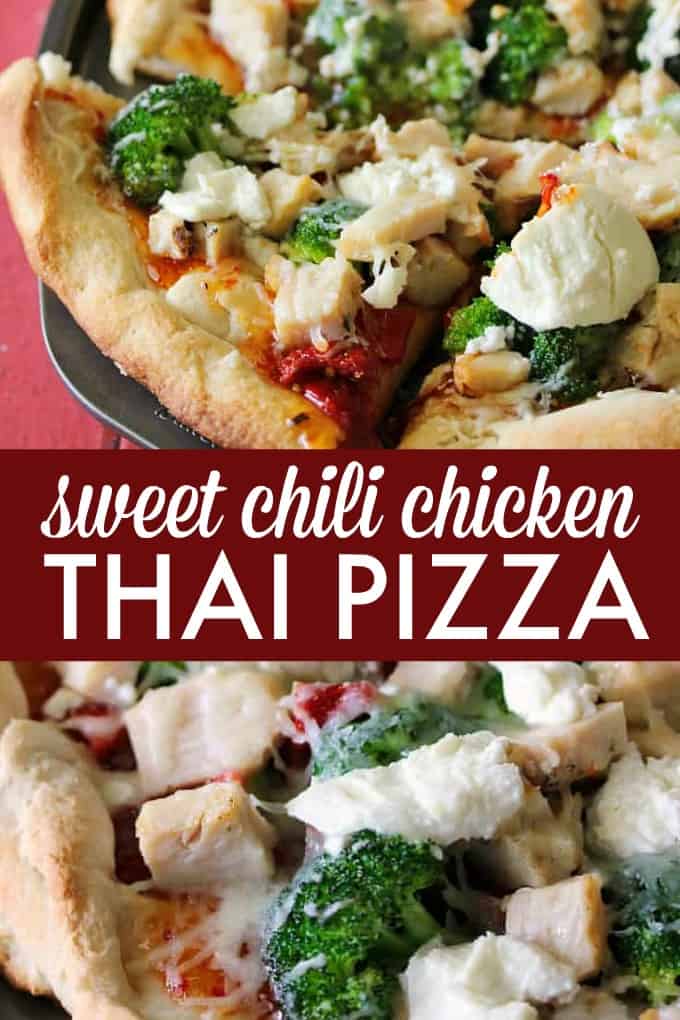 How to Make Sweet Chili Chicken Thai Pizza
Start by grabbing your pizza crust. I used the refrigerated pizza crust, so I laid it out on a greased baking sheet and baked for around 8 minutes to get the crust cooked.
While that was cooking I sauteed my broccoli in a pan for around 3-4 minutes, to help make the broccoli tender. Then set it aside and let cool while the crust is cooking. Once the crust is done, add the chili Thai sauce all over your pizza except for edges. Then add on your chicken, tomatoes, broccoli, and top with both kinds of cheese. Toss back into the oven and bake for another 9-11 minutes or until cheese is melted.
Craving More Pizza Inspired Recipes
Best Way to Reheat Leftover Pizza
I find that placing the slices of pizza on a baking sheet and warming them up in the oven is a great way to keep the texture of the crust. Or warm a skillet on the stove over medium-low heat and allow it to warm the pizza up slowly. Or if you are in a hurry zap in the microwave.
How Long Will Leftover Pizza Store in the Fridge
You can store pizza in the fridge for up to three days. Anything after that make sure to use your best judgment. You will notice that the broccoli will soften more as it sits in the fridge each day. This pizza is best when served fresh or the next day.
Give this tasty sweet chili chicken pizza a try. It is something unique, and I think you will enjoy the flavor combination.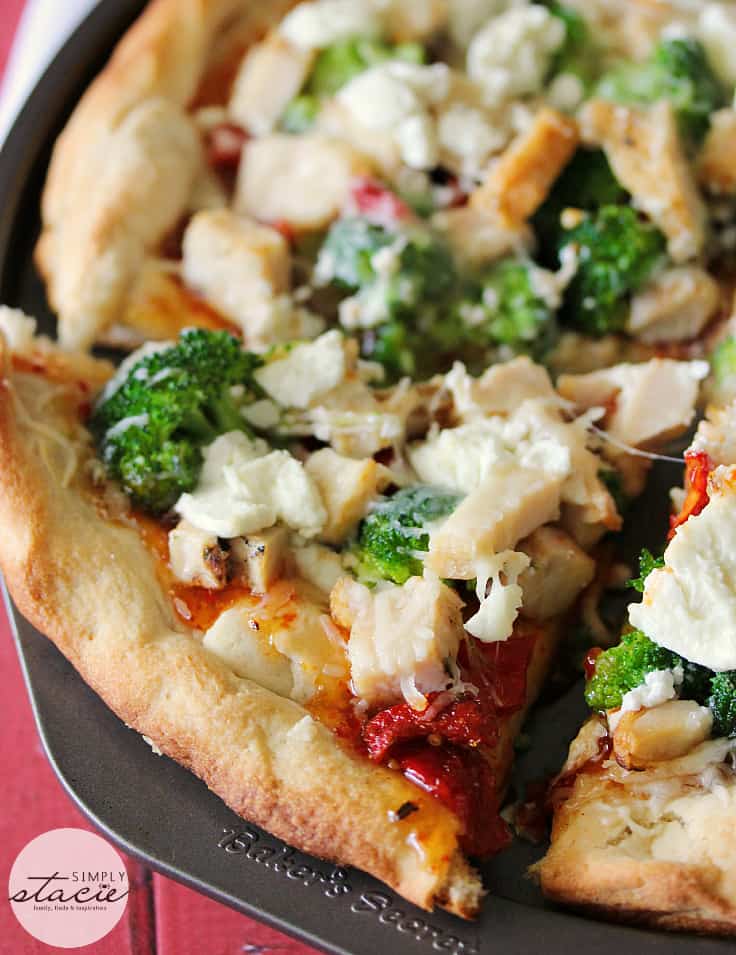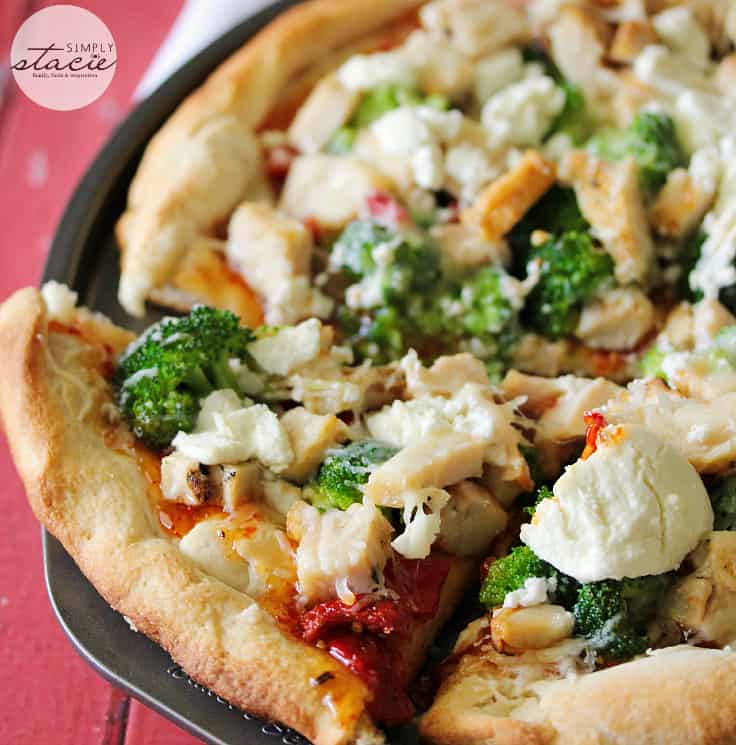 Sweet Chili Chicken Thai Pizza
East meets West for this out-of-the-box homemade pizza recipe! Ditch the pepperoni for chicken, broccoli, Thai sweet chili sauce, sundried tomatoes, and goat cheese.
Ingredients
1 Pillsbury Pizza Crust (or your own homemade pizza crust/other brand refrigerated pizza crust)
1 cup chicken, cooked and sliced into strips
3/4 cups sweet chili thai sauce
1/4 cup sun-dried tomatoes, roughly chopped
1/2 cup broccoli florets
1/4 cup goat cheese, sliced
3/4 cup mozzarella cheese, shredded
1 tbsp extra virgin olive oil
Instructions
Prepare the pizza crust according to package directions. For the Pillsbury Pizza Crust I used, I greased a pizza pan and spread the dough to fit. Then I baked for 8 minutes in a 400°F oven.
Heat olive oil on medium heat in a skillet on the stove. Add broccoli and saute for 3 to 4 minutes, or until tender crisp.
Spread sweet chili thai sauce over pizza crust, leaving a gap around the edge.
Evenly distrubute chicken, sun-dried tomatoes and broccoli over the sauce. Then top with goat cheese and mozzarella cheese.
Bake an additional 9 to 11 minutes or until crust is golden and cheese is melted.
Recommended Products
As an Amazon Associate and member of other affiliate programs, I earn from qualifying purchases.
Nutrition Information:
Yield:

6
Serving Size:

1
Amount Per Serving:
Calories:

428
Total Fat:

18g
Saturated Fat:

6g
Trans Fat:

0g
Unsaturated Fat:

10g
Cholesterol:

43mg
Sodium:

771mg
Carbohydrates:

47g
Fiber:

3g
Sugar:

3g
Protein:

19g