Chicken Bacon Alfredo Pizza
We love chicken alfredo pasta, but I'd never tried it on a pizza. I figured it would be good though. And I was right! It was ahhh-mazing!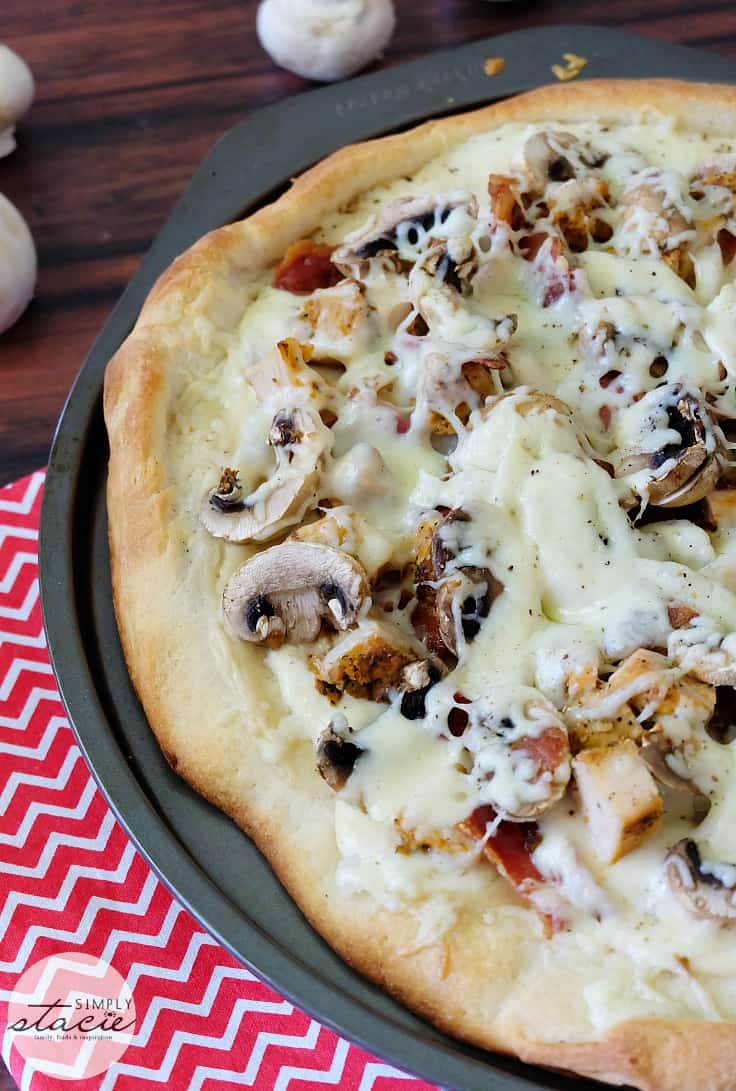 Chicken Bacon Alfredo Pizza
If you're short on time and need to get dinner on the table in a hurry, use short cuts! For starters, you can use a refrigerated pizza crust. Pillsbury has a good one that I like to use. For the Alfredo sauce, I like Classico Alfredo Sauce. It's a little more pricey than regular pasta sauce, but watch for sales and grab some when you see it. Or you could also make your own homemade Alfredo sauce. Whatever works best for you!
Then top with some crispy bacon, chopped cooked chicken breasts, sliced fresh mushroom, diced onions and shredded mozzarella cheese. Perfection.
I was really pleased with how it turned out. John and the kids enjoyed it and I wished I had made more. I had extra Alfredo sauce, but no more pizza crust! I'll know for next time to make two pizzas.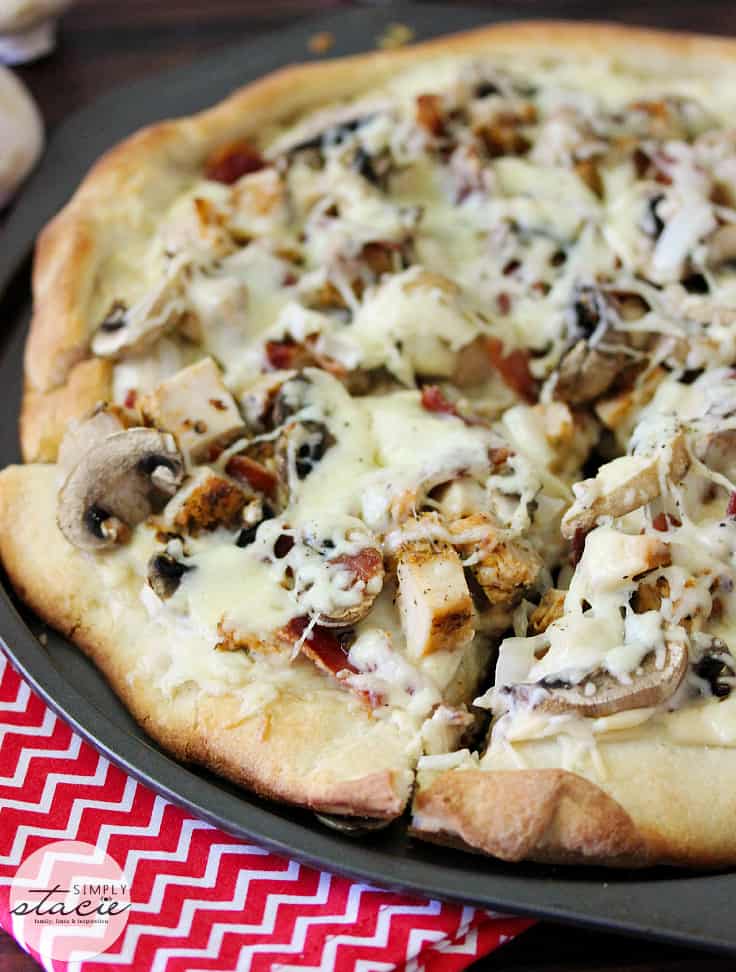 Check out my other pizza recipes – Italian Meatball Pizza, Sweet Chili Chicken Thai Pizza and Cheeseburger Pizza.
Have you used Alfredo sauce on pizza before?

Yield: 6
Chicken Bacon Alfredo Pizza
Love Chicken Alfredo Pasta? Try this Chicken Bacon Alfredo Pizza. It's delish!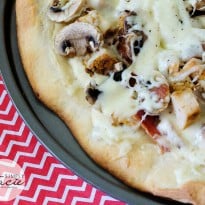 Ingredients:
1 Pillsbury Pizza Crust (or your own homemade pizza crust or other brand of refrigerated pizza crust)
¾ cup Alfredo sauce
2 cooked chicken breasts, chopped
5 strips bacon, cooked and chopped
½ cup sliced mushrooms
1 small onion, diced
1 cup mozzarella cheese, shredded
Directions:
Prepare the pizza crust according to package directions. For the Pillsbury Pizza Crust I used, I greased a pizza pan and spread the dough to fit. Then I pre-baked for 8 minutes in a 400°F oven.
Spread Alfredo sauce over pizza crust, leaving a gap around the edge.
Evenly distribute onions, mushrooms, chicken and bacon over the sauce. Then top with mozzarella cheese.
Bake an additional 7 to 10 minutes or until crust is golden and cheese is melted.