Buffalo Chicken Pizza
I hope you aren't tired of pizza because I have another yummy recipe to share today! I don't think I could ever tire of pizza. There are too many ways you can make it unique. Of course, you have the basics with the crust, sauce, toppings and cheese. Where it gets interesting is with the variety of ingredients. With pizza pretty much anything goes. Like I said before, the crust is your canvas…
Buffalo Chicken Pizza
We are fans of Buffalo chicken wings with the fixins'. I recreated this spicy, flavour-packed meal on a pizza. The sauce is Frank's Red Hot Buffalo Wing Sauce. Add some chopped chicken breasts, crumbled blue cheese, a little green onion and melty mozzarella. Dip your slices in Ranch dressing if you like to cool down the heat of the sauce.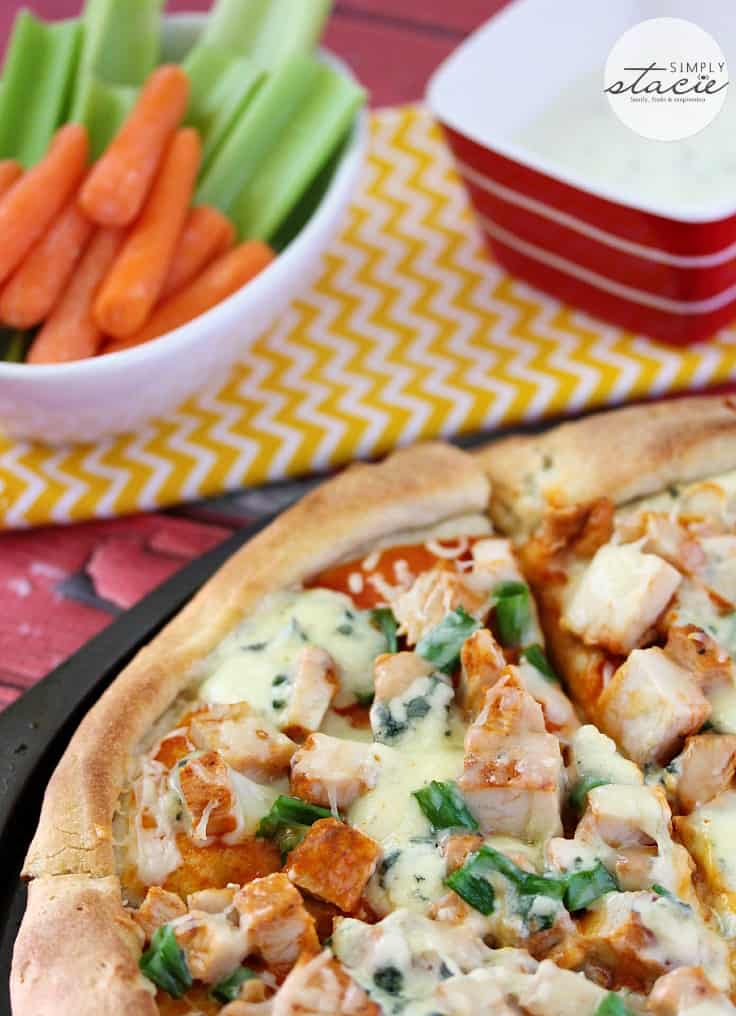 Serve with a side of celery and carrots with a Ranch dressing. That makes it a little healthier right?
If you are a fan of buffalo wings, chances are, you'll enjoy this pizza too. It's delish!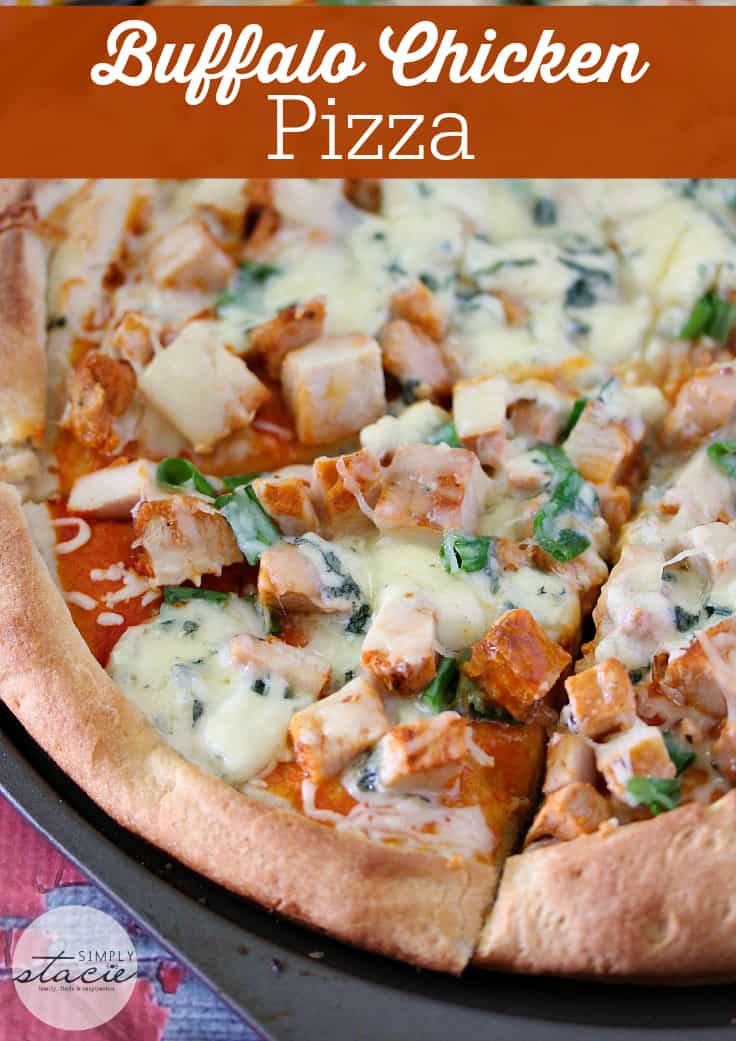 Blue cheese is an acquired taste. I find people either love it or hate it. I personally love the pungent flavour. John, on the other hand, said that he would have preferred it without. He said the pizza was delicious except for the cheese. Keep it or leave it depending on your own personal taste.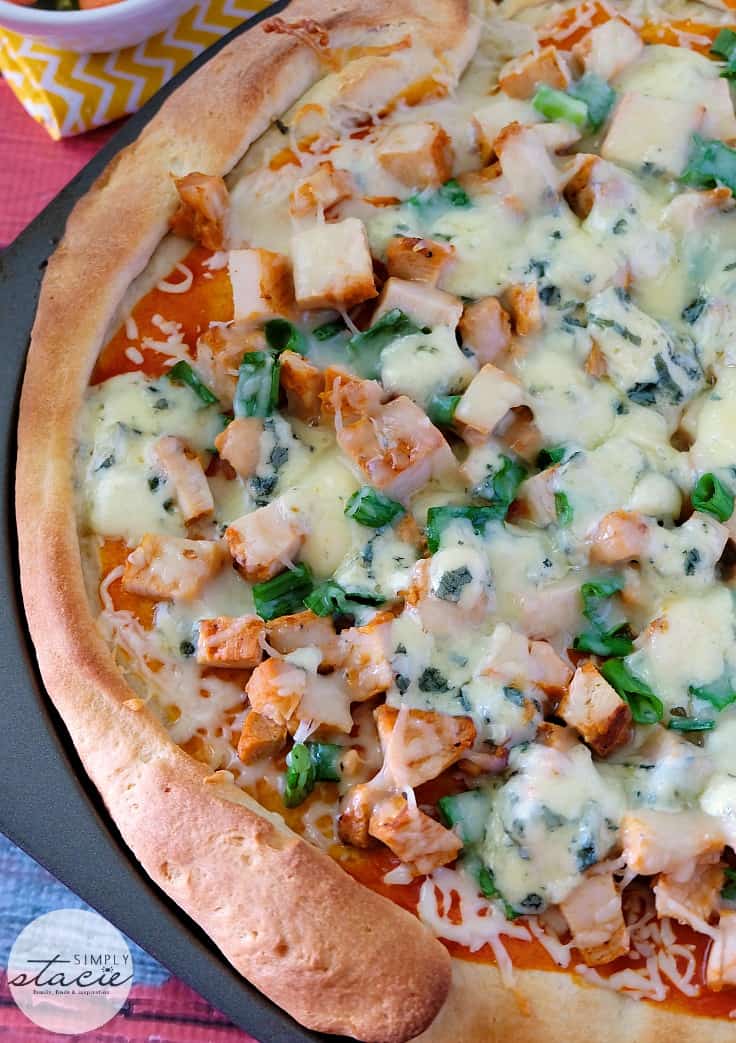 Check out my other pizza recipes – Vegetable Pizza, Italian Meatball Pizza, Sweet Chili Chicken Thai Pizza, Chicken Bacon Alfredo Pizza and Cheeseburger Pizza.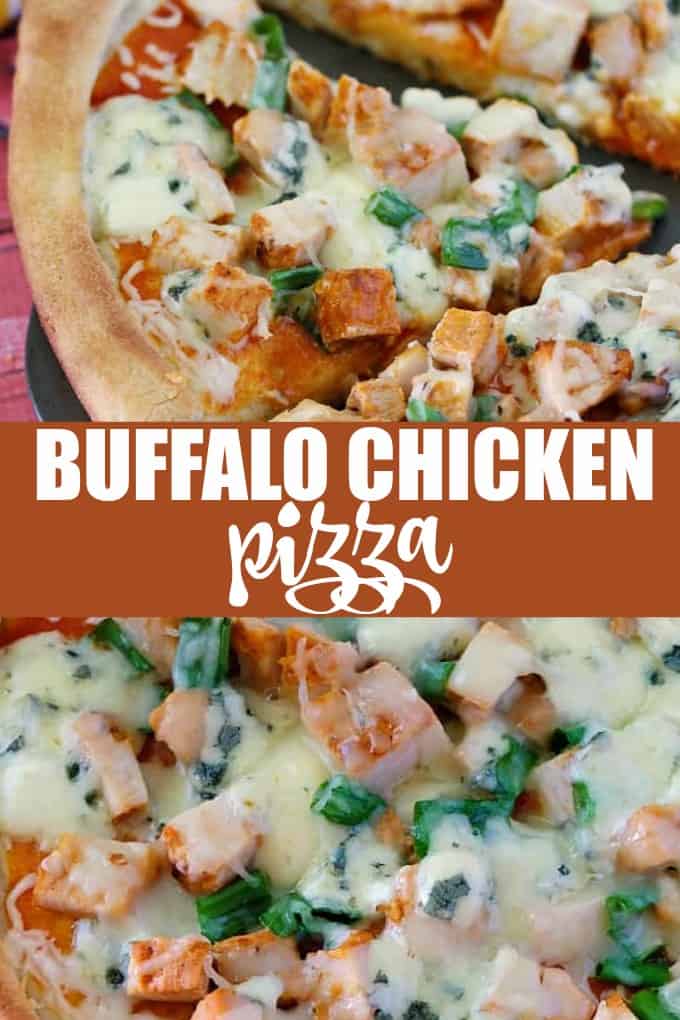 For more buffalo chicken recipes, try my Buffalo Chicken Sliders.
I'm curious – are you a fan of blue cheese? Would you add it to the pizza or leave it off?

Yield: 6
Buffalo Chicken Pizza
All the buffalo flavours we love, but on a pizza! This Buffalo Chicken Pizza recipe is a hit.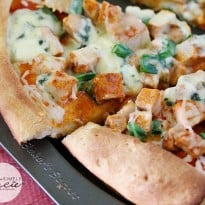 Ingredients:
1 Pillsbury Pizza Crust (or your own homemade pizza crust or other brand of refrigerated pizza crust)
¾ cup FRANK'S® RedHot® Buffalo Wings Sauce
2 cooked chicken breasts, chopped
3 green onions, chopped
3/4 cup mozzarella cheese, shredded
1/2 cup blue cheese, crumbled
Directions:
Prepare the pizza crust according to package directions. For the Pillsbury Pizza Crust I used, I greased a pizza pan and spread the dough to fit. Then I pre-baked for 8 minutes in a 400°F oven.
Spread Buffalo sauce over pizza crust, leaving a gap around the edge.
Evenly distribute green onions and chicken over the sauce. Then top with blue cheese and mozzarella cheese.
Bake an additional 7 to 10 minutes or until crust is golden and cheese is melted.