These Slow Cooker Buffalo Chicken Sliders are the perfect game day appetizer. Tender, slow-cooked chicken is enveloped in wing sauce and Ranch dressing and served on a soft slider bun. They are always a hit at parties!
This post contains affiliate links.
We can't get enough Buffalo Chicken these days. I picked up a big bottle of Frank's Wing Sauce and have been using it in lots of recipes.
I made Buffalo Chicken Pizza using it as the sauce. So tasty!
This recipe for Buffalo Chicken Sliders is just as good and it's even easier to make. The slow cooker does most of the hard work!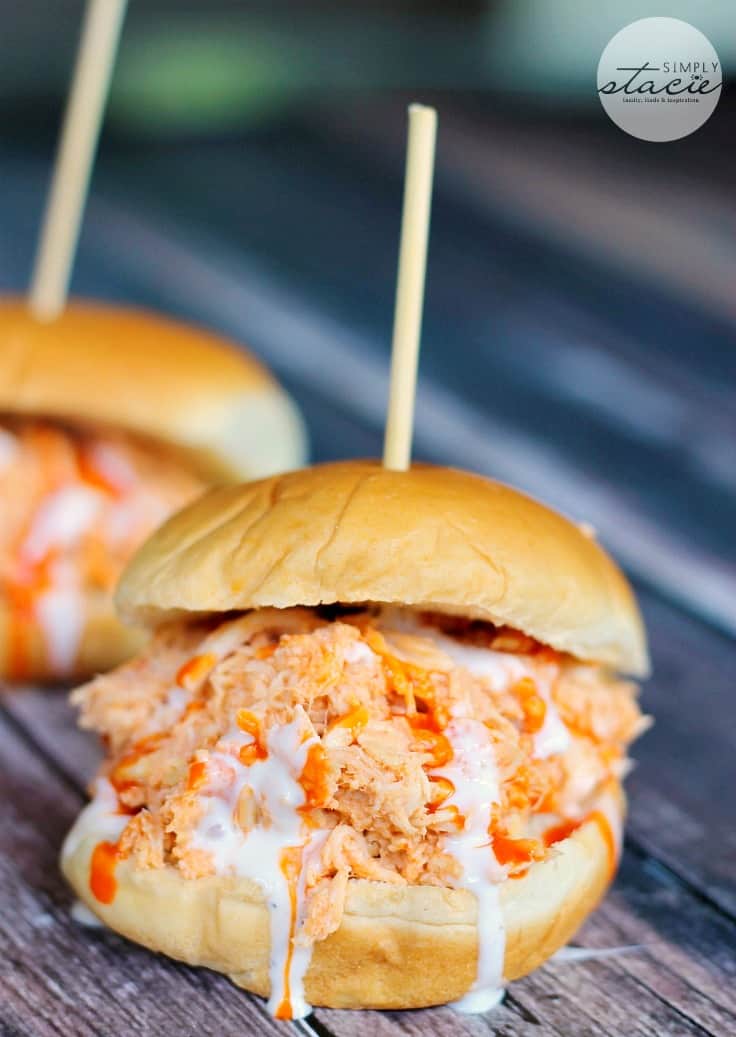 Buffalo Chicken Sliders
The chicken breasts are covered in Frank's Wing Sauce and onions in the slow cooker. And like anything you make in the slow cooker, the flavour permeates deep down so that every bite lights up your taste buds.
Remember to keep the lid on the slow cooker while they are cooking. I know it's tempting to want to check and see how things are going, but don't! You lose heat that way and it takes even longer to cook. Patience is the key.
Why is it Called Buffalo Sauce
This sauce was created in Buffalo New York. That is how buffalo wings came about to recommend the name of the sauce. I always just assumed because buffalo sauce carries a kick of heat.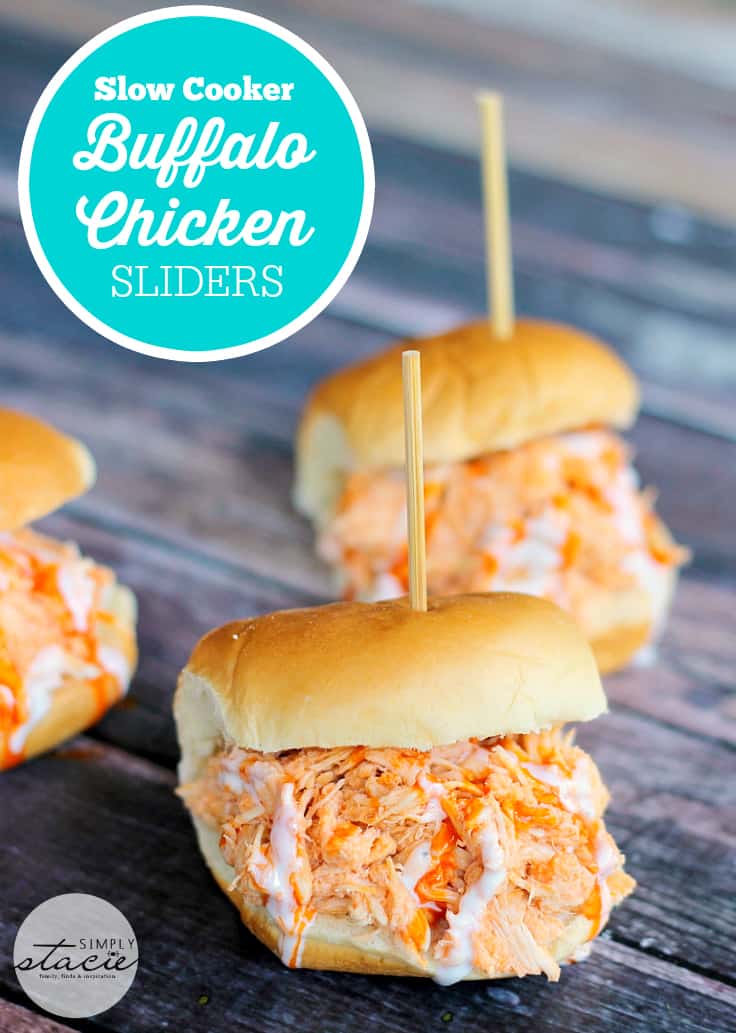 What Does Buffalo Sauce Taste Like
Buffalo sauce is a cayenne pepper-based sauce. It is generally made with a vinegar base, butter, and other seasonings. You will find different brands offer a slightly different flavor. Feel free to reach for any of your favorite brands.
Can You Swap Different Rolls Out for the Slider Buns
The only thing that could make these sliders better is if they were on King's Hawaiian buns! I tried them at Blogher 2011 in San Diego and have been craving them since. I wish they had them in Canada.
The ranch dressing complements the spice of the wing sauce. I like Hidden Valley Ranch dressing, but I'll buy others if they are on sale. Renee's and Kraft are other ones that we often use.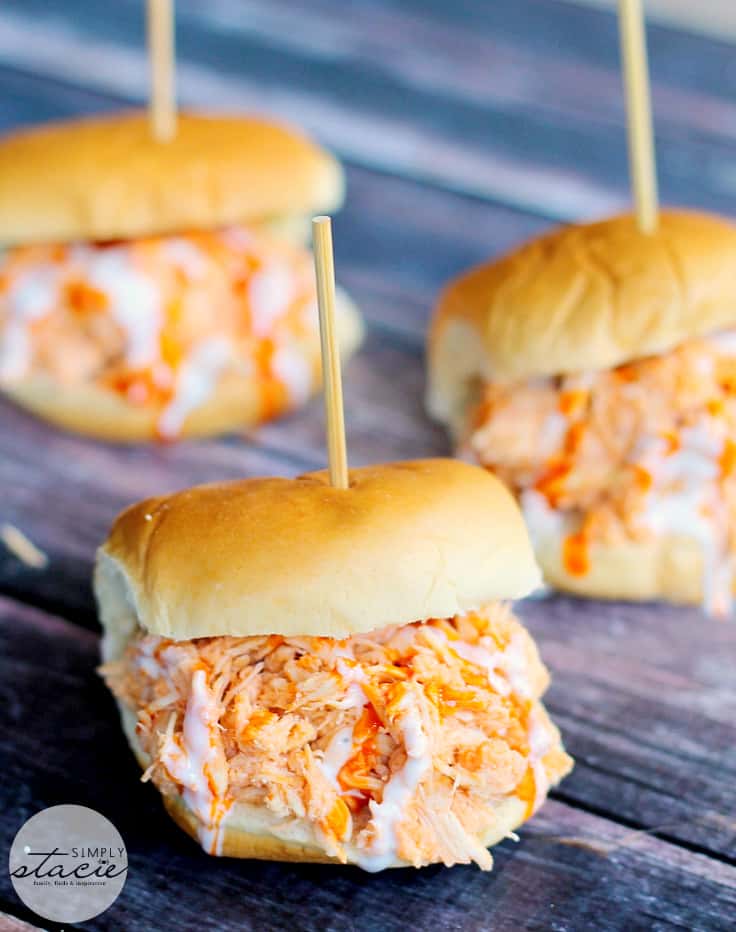 How to Make Buffalo Chicken Sliders
The first thing you'll need to do is add the chicken breasts to your slow cooker and then pour over 1/2 cup of wing sauce and onions. Cover and cook on low or high, your choice.
Once the chicken is cooked, take it out of the slow cooker. It will be very tender. Shred the chicken with two forks or in a stand mixer.
Remember to take 1/4 cup of the liquid from the slow cooker. You'll need this for the recipe. You can discard the rest of the liquid.
Put the shredded chicken back in the slow cooker and add the 1/4 cup of the reserved liquid and the remaining wing sauce. Give it a good stir to make sure the chicken is coated completely.
To serve, place about 1/4 to 1/3 cup of chicken on each slider bun. Top with more wing sauce and Ranch dressing.
Serve up some coleslaw with your sliders. Yum!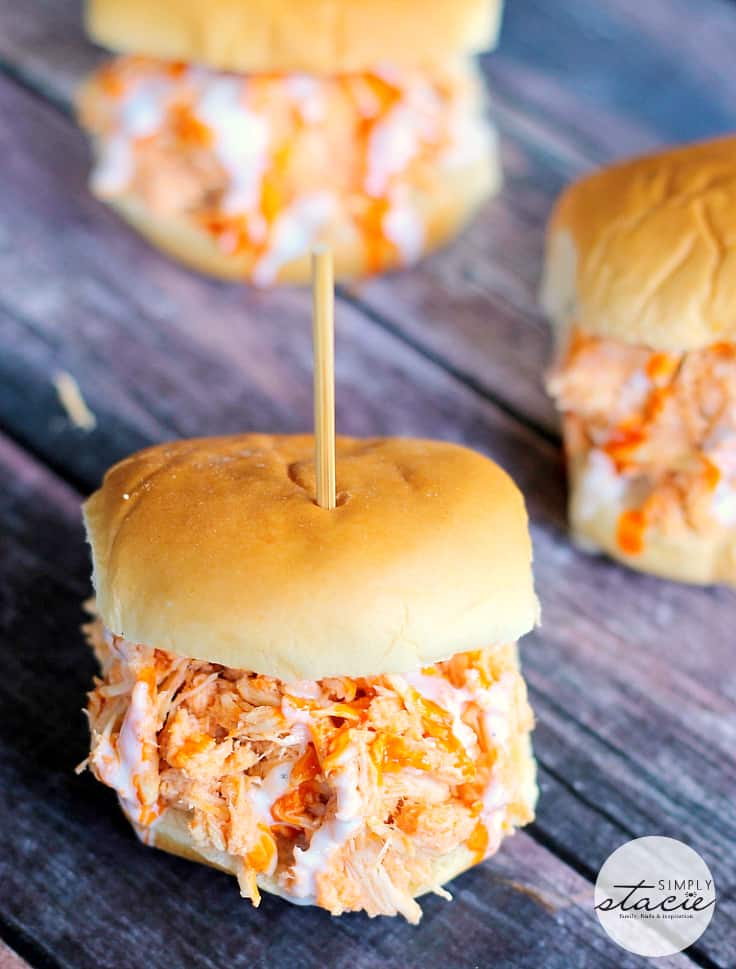 Can I Use Tenderloins Instead of Chicken Breast in this Recipe
Absolutely! Any boneless skinless chicken will work great in this slider sandwich recipe. You don't want to use a bone-in chicken as it might be hard to get all the smaller bones out, and you don't want to bite into a bone when eating a sandwich.
Can I Use Pre-Cooked Chicken For The Sliders
You can use pre-shredded chicken that has been cooked previously. This is great for those who meal prep and have pre-shredded chicken in the freezer. Or you can reach for a rotisserie chicken that has minimal seasoning on it. Just shred and mix in the chicken, and allow it to cook and marinate the flavors.
I have used fresh chicken, frozen, and pre-cooked chicken and all recipes turn out great.
Best Way to Shred Chicken
In this recipe, I use my stand mixer to shred the chicken. It is an effortless way to get that shredded chicken you love. If you don't own a stand mixer, then you can reach for meat claws. They are pretty cheap to buy and they are huge plastic, fork-like teeth that will shred your meat effortless. Or you can even go old-school and reach for 2 forks and use them to stick in meat and pull outward.
There are a handful of ways you can shred your chicken effortlessly. These are the top three best ways that I use when I need to shred any type of meat!
Helpful Kitchen Tools
Check out these Slow Cooker Recipes for Beginners.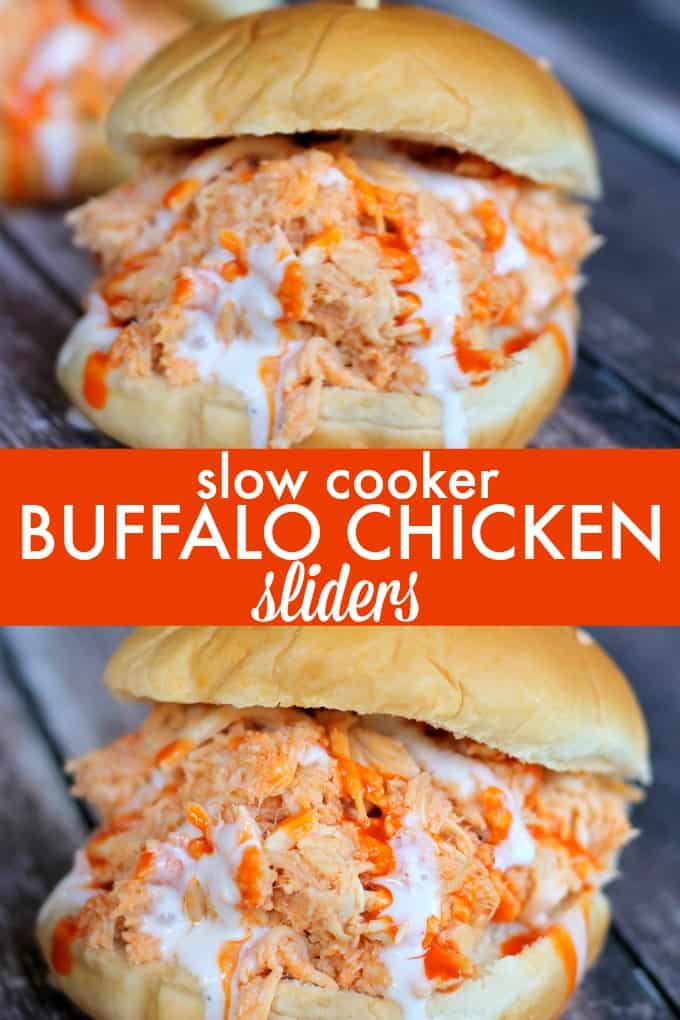 How Long Can Buffalo Chicken Sliders Store in Fridge
You will want to store your meat separate from your buns. The chicken mixture will store for up to three days in the refrigerator. Anything after you will want to use your best judgment in terms of quality.
Best Way to Reheat Chicken Sliders
Warm your meat mixture up in the microwave or opt to heat on the stove in a pan. Once the chicken mixture is warm, pile on the sliders and dive right in. Or if you have a lot leftover you can reheat the next day in the slow cooker, on low until heated through and re-serve.
Can Your Freeze Buffalo Chicken Sliders
Yes, you can freeze them! I often freeze buns and chicken. I would freeze them separately and then assemble once you've thawed them out.
They will store for up to three months in the freezer. Thaw the chicken in the fridge the night before you plan to use, or place in a pan with warm water for a quick thaw that you will assemble right after and bake.
Buffalo Recipes
Craving more Buffalo flavored food? Check out these delicious recipes:
These Buffalo Chicken Sliders are the perfect game day snack. Your whole house will smell delicious and everyone will be salivating by the time the sliders are ready to eat.
I recommend starting the slow cooker in the morning so that they are ready to enjoy during mid-afternoon. I guarantee your guests will love them!
What is a Good Side Dish for Buffalo Chicken Sandwich Sliders
Coleslaw
Crisp fresh veggies
Fries
Potato Skins
Chips
You can pair your sliders with almost anything, or serve them up as an appetizer if you choose to. Depending on our mood we will do them as a dinner vs an appetizer.
Variation to Chicken Sliders
If you want to add one more layer of flavor to your buffalo chicken sliders, try this. Assemble your sandwiches, and place them in a baking dish. Then melt 1/4 cup of butter and season with garlic salt. Then brush buns with the mixture and bake in the oven until the rolls are warm, which takes 5-6 minutes. You could even sprinkle with parmesan to add a tang to the rolls.
How to Tame the Heat of Buffalo Chicken
Use less buffalo sauce, and make sure to reach for ranch dressing or blue cheese to help reduce the heat. The ranch or blue cheese will help to calm the spice of the buffalo sauce.
Do you like sliders?

Check out Cheeseburger Sliders, Meatball Sliders, Copycat Popeye's Chicken Sandwich, Copycat Chicken Fil A Nuggets, Chicken Pinwheels, Breakfast Sliders, Italian Sliders, Ham and Cheese Sliders and Thanksgiving Sliders.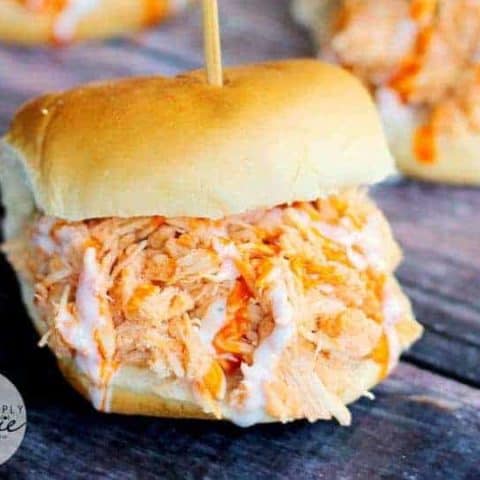 Slow Cooker Buffalo Chicken Sliders
The perfect game day appetizer. Tender, slow cooked chicken is enveloped in wing sauce and Ranch dressing and served on a soft slider bun. They are always a hit at parties!
Print
Facebook
Pin
Share by Email
Rate
Ingredients
2

lbs

boneless skinless chicken breasts

1

cup

wing sauce

divided

½

sweet onion

chopped finely

Ranch dressing

12

slider buns
Instructions
In a slow cooker, add chicken breasts and top with ½ cup wing sauce and onions. Cover and cook on low for 6-7 hours or high for 4-5 hours.

Remove chicken from slow cooker and shred using 2 forks or stand mixer. Reserve ¼ cup of liquid from slow cooker, and discard the rest. Place shredded chicken back into slow cooker bowl, add ¼ cup reserved liquid, and remaining ½ cup wing sauce. Stir to coat chicken.

Place about ¼ to ⅓ cup of chicken on each bun. Garnish with additional wing sauce and ranch dressing if desired. Enjoy!
Notes
I like Frank's Wing Sauce.
Nutrition
Serving:
1
slider
|
Calories:
333
kcal
|
Carbohydrates:
43.7
g
|
Protein:
26.6
g
|
Fat:
5.8
g
|
Saturated Fat:
1.5
g
|
Polyunsaturated Fat:
1.2
g
|
Cholesterol:
55.5
mg
|
Sodium:
1037.8
mg
|
Fiber:
2.7
g
|
Sugar:
6.3
g
The information shown is an estimate provided by an online nutrition calculator. It should not be considered a substitute for a professional nutritionist's advice.
Love Recipes? Join our Free Facebook Group!
Join Mom's Best Recipes to find more delicious family recipes.
Save
Saved!