Taco Pizza
We are fans of tacos and taco salad. As it turns out, we also like Taco Pizza! I don't think I've ever seen a pizza get eaten this quickly in my home. It was gobbled up while it was still hot from the oven.
Taco Pizza
Start the recipe like you would if you were going to make a batch of tacos. Brown lean ground beef in a frying pan and then add your taco seasoning mix and water, according to the package directions.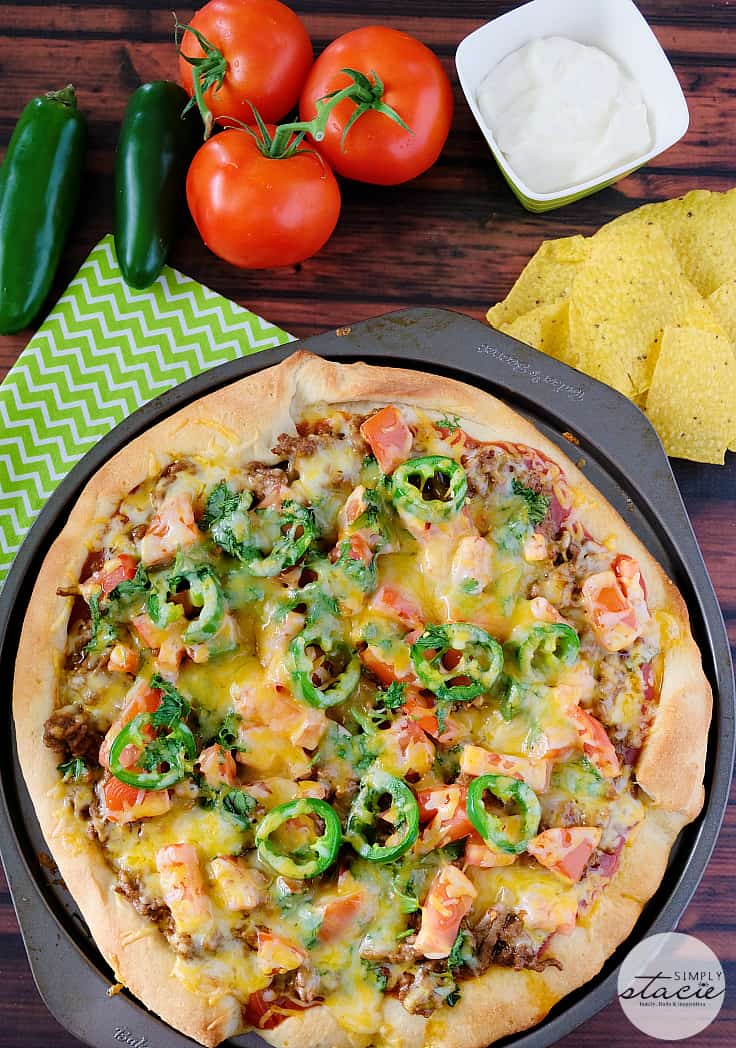 Once your crust is ready, spread on the taco sauce. Salsa would also work. Add your cooked ground beef mixture, tomatoes, cilantro and jalapeno slices for a spicy kick. I topped mine with melted marble cheese, but regular cheddar would also be fine.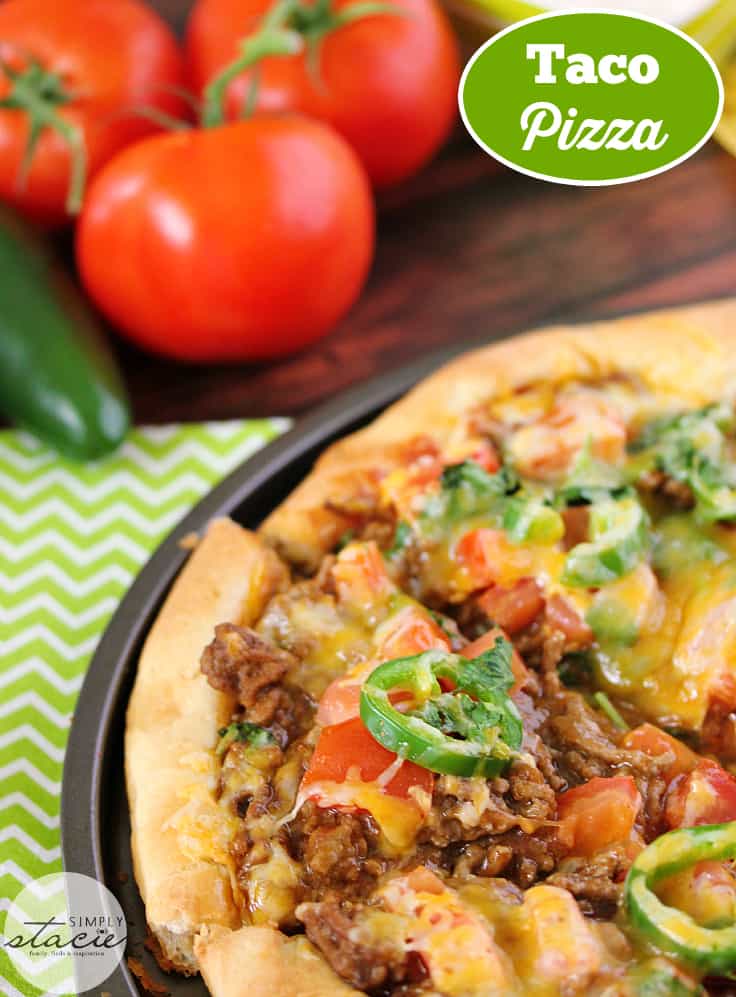 I also served it with a dish of sour cream for dipping. I find the jalapenos a little spicy so I need something to cool me down!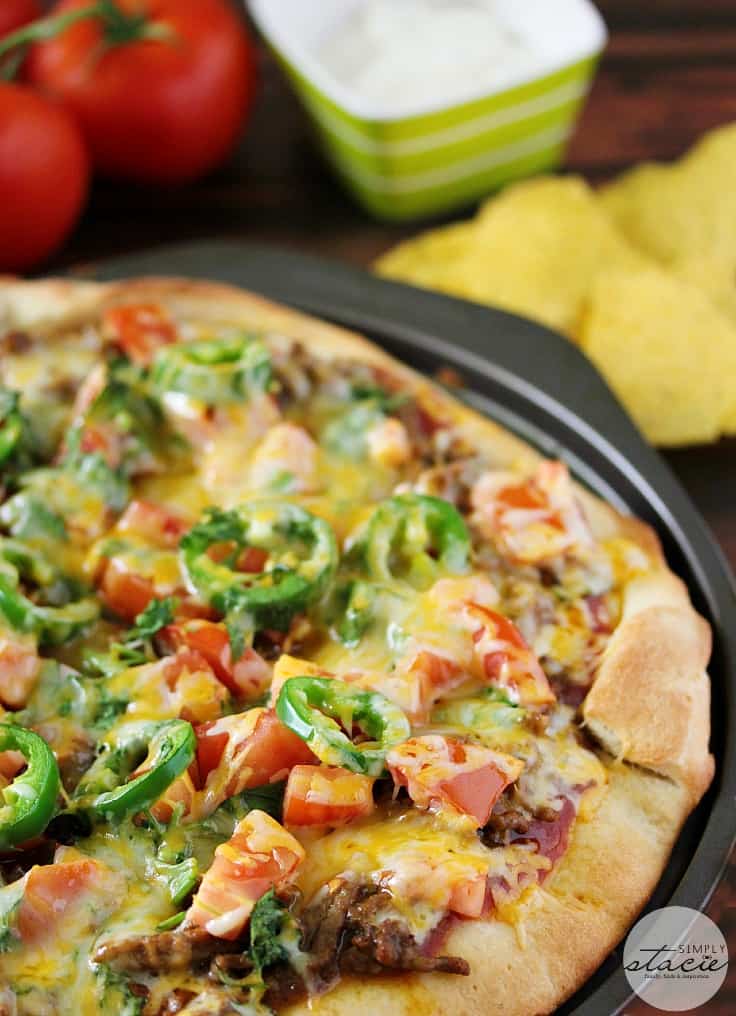 Tacos make a darn good pizza. I'm very pleased with how well this recipe turned out. It's not as messy as eating a taco. They always break a part on me and I ended up eating the toppings and tacos separately. With this pizza recipe, if you are careful enough, you can eat it mess free. Though I think a couple toppings dropping down isn't so bad. As long as they hit your plate and not the floor!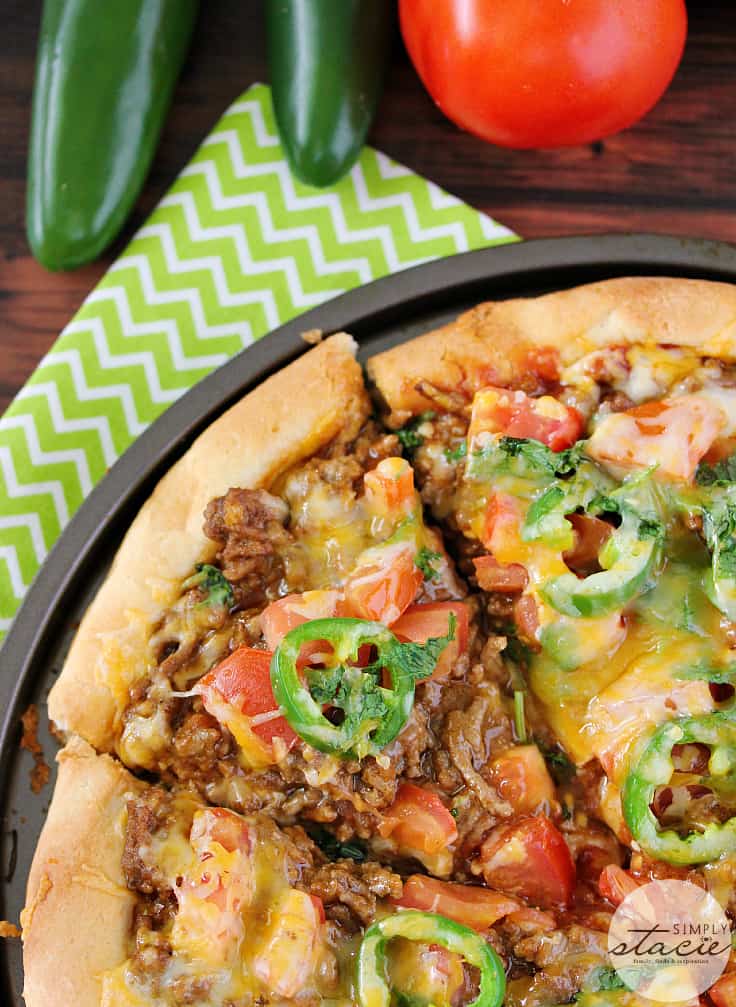 Check out my other pizza recipes – Italian Meatball Pizza, Sweet Chili Chicken Thai Pizza, Chicken Bacon Alfredo Pizza and Cheeseburger Pizza.
Have you tried Taco Pizza? What ingredients are in your recipe?
Yield: 6
Taco Pizza
A flavor fiesta in your mouth with this delicious Taco Pizza recipe!
Ingredients:
1 Pillsbury Pizza Crust (or your own homemade pizza crust or other brand of refrigerated pizza crust)
¾ cup taco sauce
1 lb lean ground beef
1 packet of taco seasoning mix
2 tbsp fresh cilantro, chopped
1 jalapeno sliced
2 tomatoes, chopped
1 cup marble or cheddar cheese, shredded
sour cream, for dipping, optional
Directions:
Cook ground beef according to directions on taco seasoning mix. Set aside.
Prepare the pizza crust according to package directions. For the Pillsbury Pizza Crust I used, I greased a pizza pan and spread the dough to fit. Then I pre-baked for 8 minutes in a 400°F oven.
Spread taco sauce over pizza crust, leaving a gap around the edge.
Evenly distribute ground beef, jalapeno slices, tomatoes, cilantro over the sauce. Then top with cheese.
Bake an additional 7 to 10 minutes or until crust is golden and cheese is melted. Serve with a side of sour cream for dipping, if desired.