American classics combine in these Pizza Hot Dogs! Swap the traditional toppings for marinara sauce, mozzarella cheese, and pepperoni.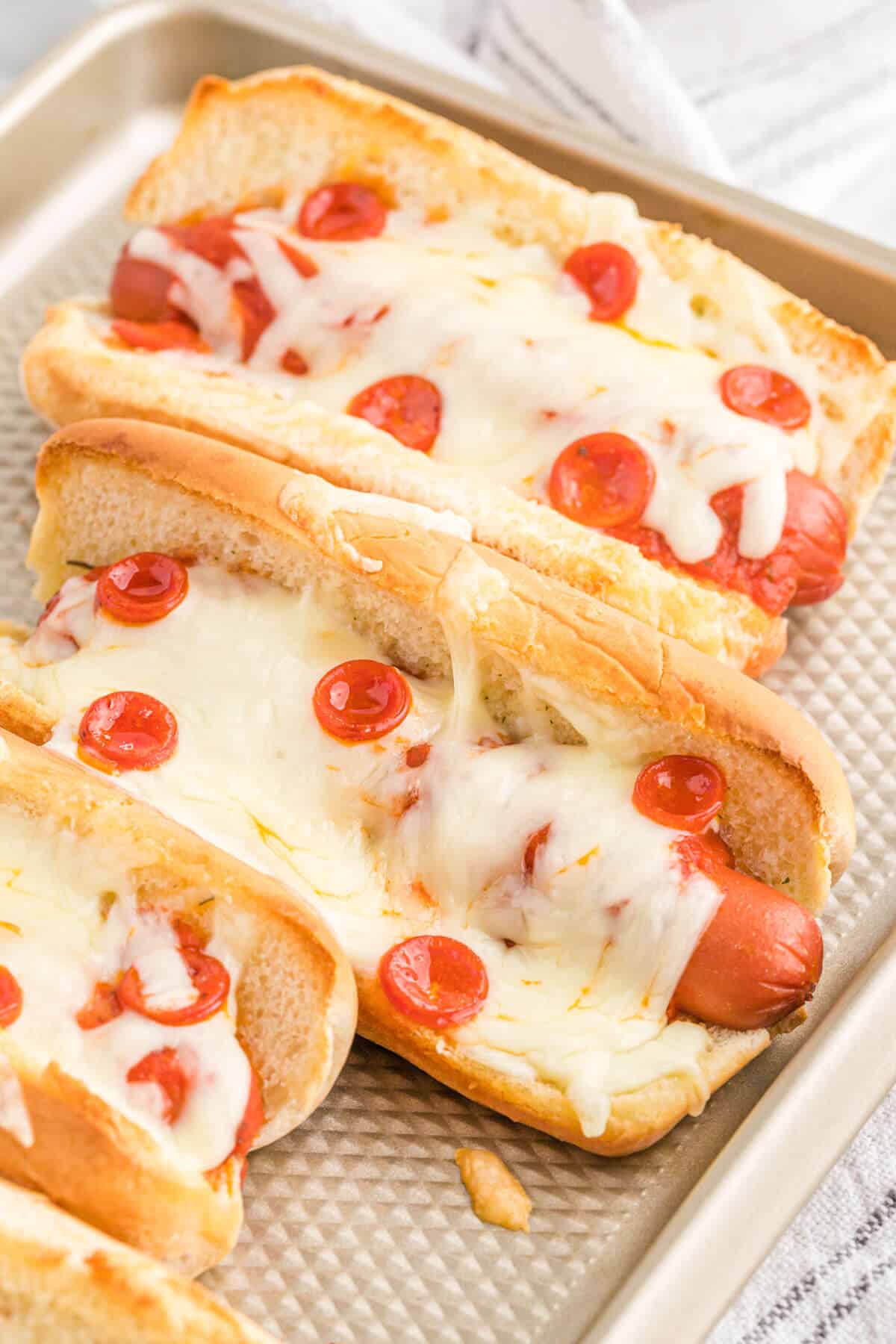 There's nothing better than a classic hot dog. Always piping hot and bursting with all-American flavors, they're a popular pick in our household.
I'm the kind of person who usually tops my hotdogs with the same ol' thing every time. That's right folks, I'm a strict mustard and ketchup kind of gal.
Now, these are totally reliable condiments to go with, but I felt like switching things up one day. Out of nowhere, I created a game-changing snack – these deliciously saucy Pizza Hot Dogs.
You might not think that hot dogs could be improved, but with a dash of pizza sauce, pepperoni, and plenty of cheese, this staple snack promises to take summer garden parties to new heights.
Although you can use regular buns for this recipe, I love swiping a generous amount of butter onto the bread before adding my toppings. I feel that it gives these pizza hot dogs an extra bit of depth that butter naturally brings.
You can switch this recipe up using your favorite pizza toppings, so feel free to throw on veggies, jalapenos, cured meats, or anything else you fancy using!
These Pizza Hot Dogs were a total hit at my last BBQ, as they're incredibly filling thanks to the extra toppings and cheese. If you want to make these for a midweek meal, I highly recommend involving your kids. My little ones loved getting involved, and there's nothing complex about this recipe that you'd need to watch out for safety-wise.
So, go nuts!
Why You'll Love Pizza Hot Dogs
They're incredibly easy to make
They're perfect for garden parties and BBQs
You can get the kids involved
They're easy to switch up with alternative toppings
They're awesome for eating on-the-go
Ingredients
Hot dogs
Hot dog buns
Pizza sauce
Mini pepperoni
Garlic butter
Mozzarella cheese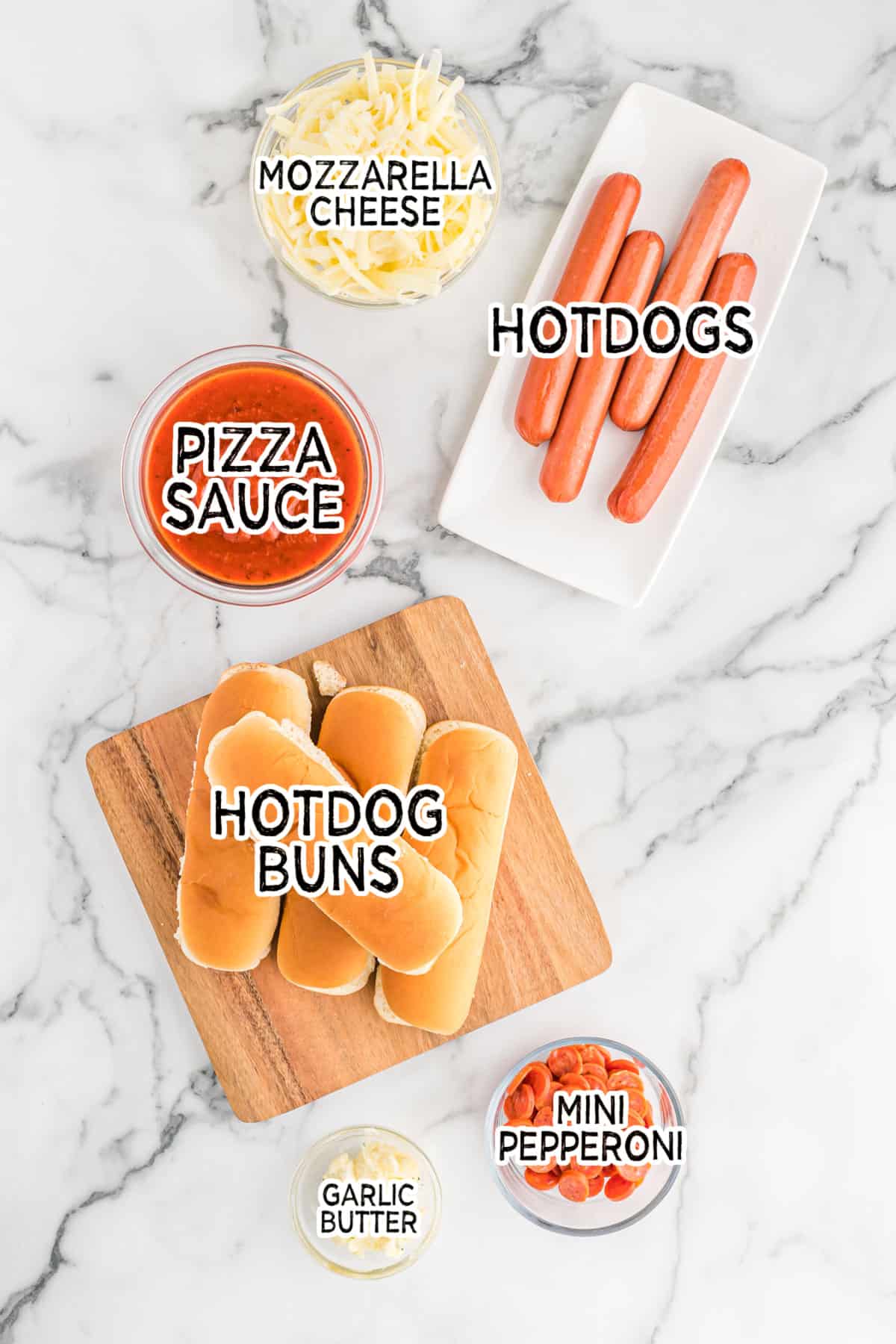 How to Make Pizza Hot Dogs
Step One: Spread garlic butter on both sides of the inside of the hot dog buns.
Step Two: Place a hot dog on each bun and top with a few tablespoons of pizza sauce.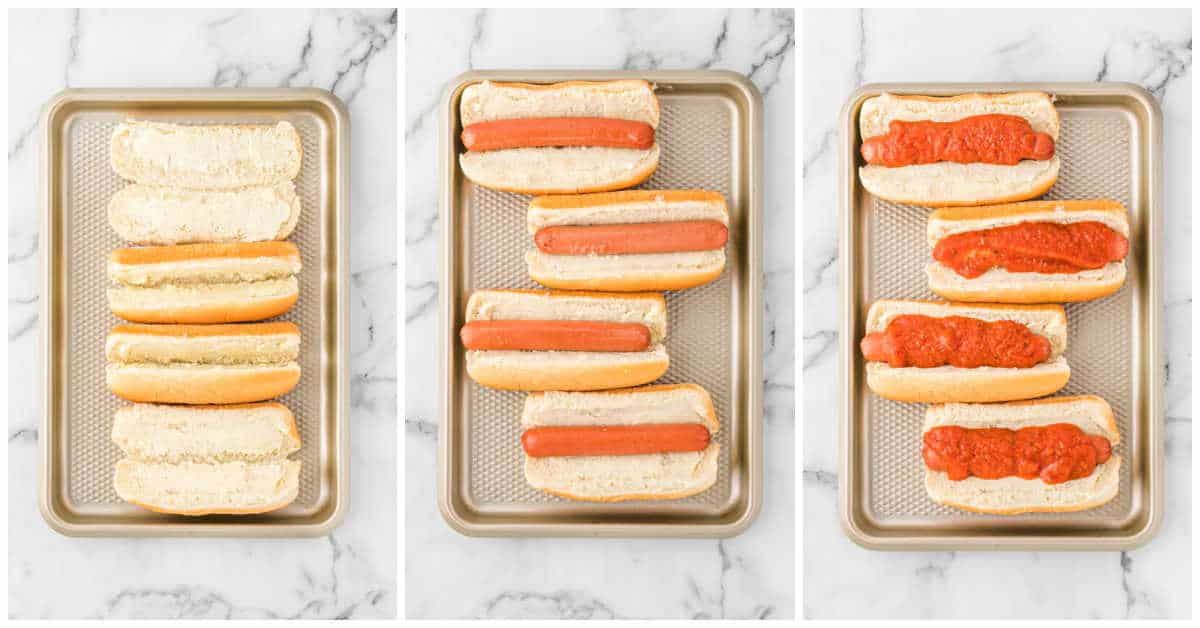 Step Three: Top with mozzarella cheese and pepperoni.
Step Four: Bake at 375°F for 5 to 10 minutes, or until is melted and buns are toasted.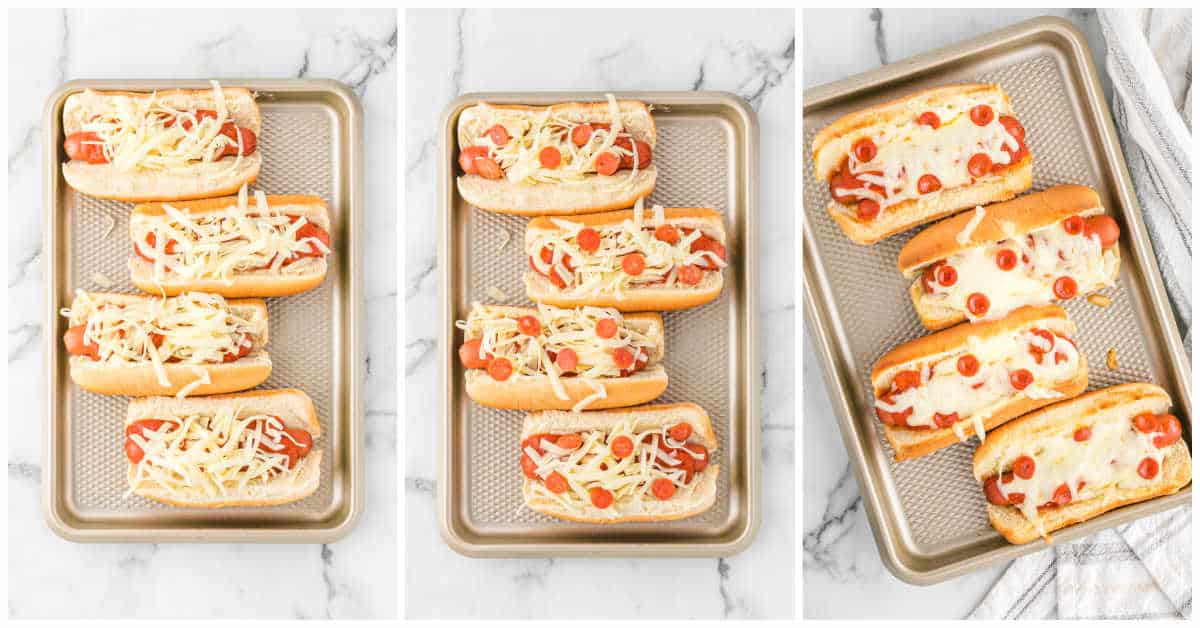 Equipment Needed
This post contains affiliate links.
You don't need many things to make Pizza Hotdogs a reality. In fact, you probably have most of these items to hand already!
What to Serve with Pizza Hot Dogs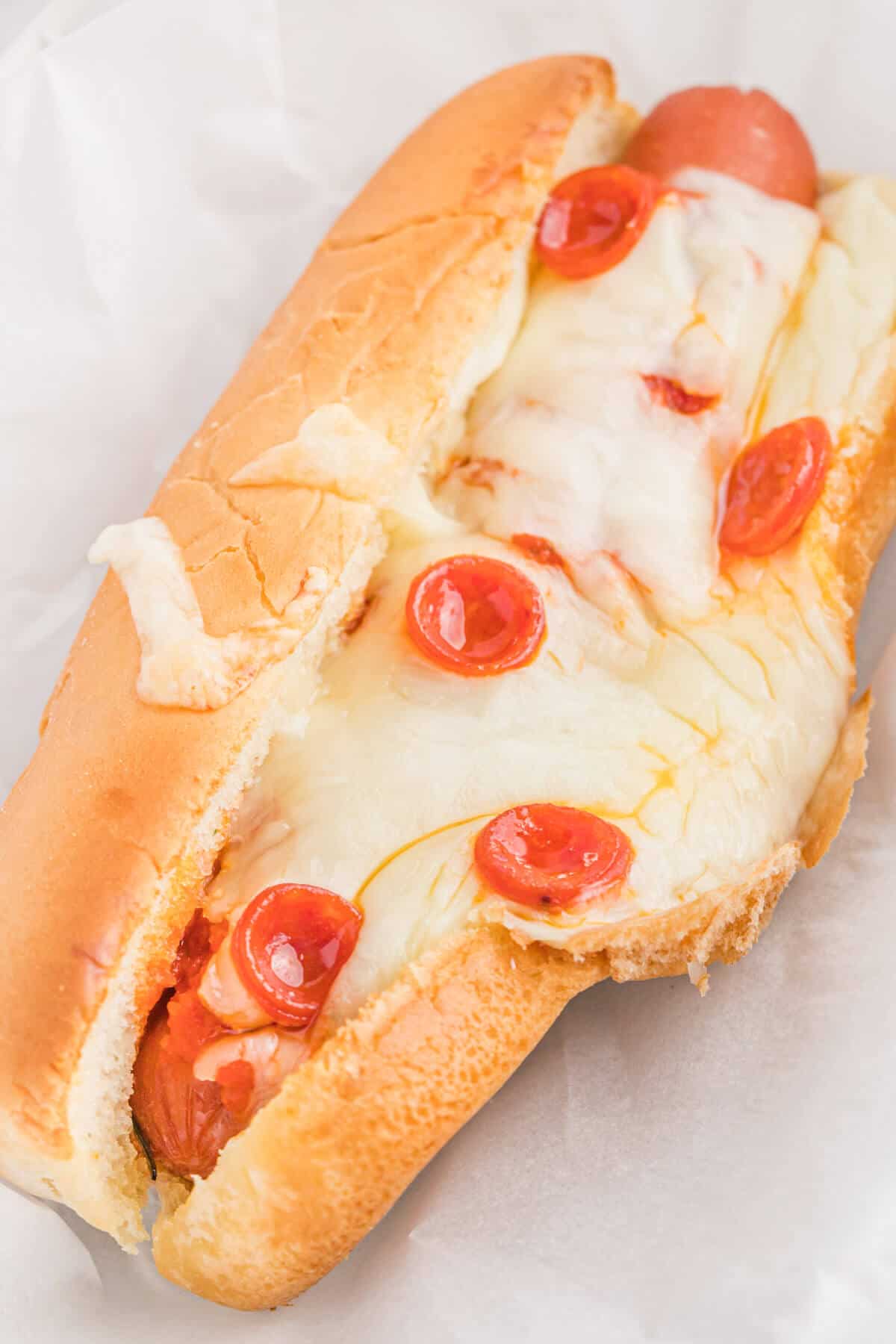 Recipe Tips and Tricks
Make things bougie with brioche buns: You can certainly use regular hot dog buns for this recipe, but I love using brioche buns when I can find them at the grocery store. They're more buttery than traditional buns, and I feel they add an extra layer of decadence to an otherwise simple recipe.
Don't be afraid to use a mozzarella ball: You can use pre-grated cheese for this recipe, but using a fresh mozzarella ball often lends a richer flavor to this recipe.
Use small pieces of pepperoni instead of large cuts: It's far easier (and cuter!) to use small pepperoni bites for this recipe instead of large slices. You want to make them bite-sized to prevent any mess, so buy small pepperoni rounds or finely chop pepperoni sticks for best results.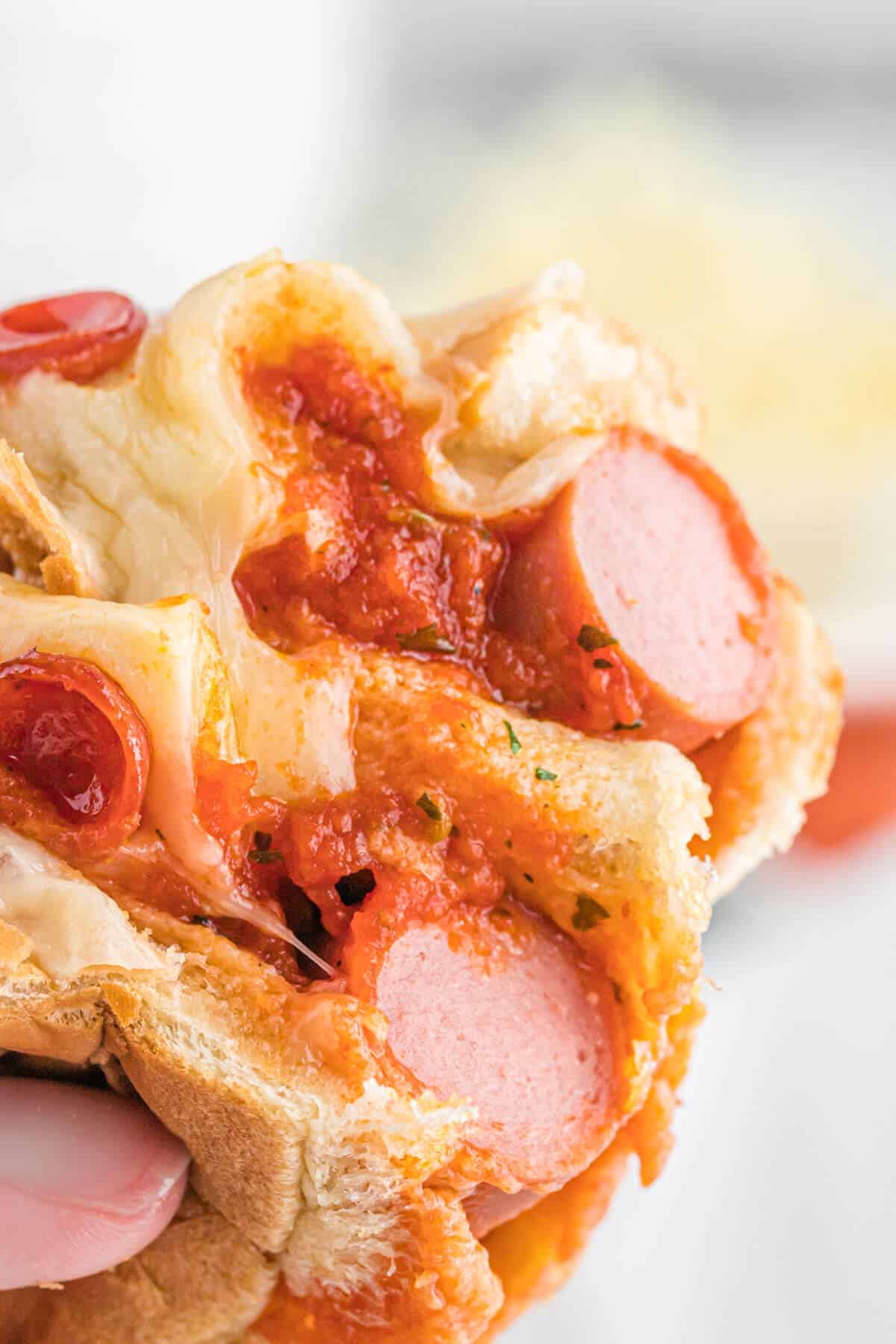 Variations and Substitutions
Try buttering your bread with regular butter: You can use regular butter for this recipe, but using garlic butter on the inside of your buns truly takes things to the next level. If you're serving kiddos, it may be worth keeping it simple and skipping this variation.
Use a variety of cheeses: Don't be afraid to use a variety of cheeses to spice up this recipe. I enjoy the sharp tang of parmesan, the natural bite of cheddar, and the strength of more pungent cheeses. A slightly bolder cheese will balance the mildness of the mozzarella, so it's worth trying if you're feeling adventurous. If you want the ultimate ooey-gooey bite, add a single string cheese to the mozzarella and enjoy!
Get adventurous with toppings: This recipe features pepperoni and mozzarella, but you can easily make your Pizza Hot Dogs unique by adding ham, pineapple, spicy peppers, different meats, and anything else you can think of!
Switch out the marinara for BBQ sauce: If you adore BBQ base pizzas, you can replace the marinara sauce in this recipe with a sweet BBQ sauce. I suggest using slightly less BBQ sauce here as the flavor is stronger, but you know your tastebuds best.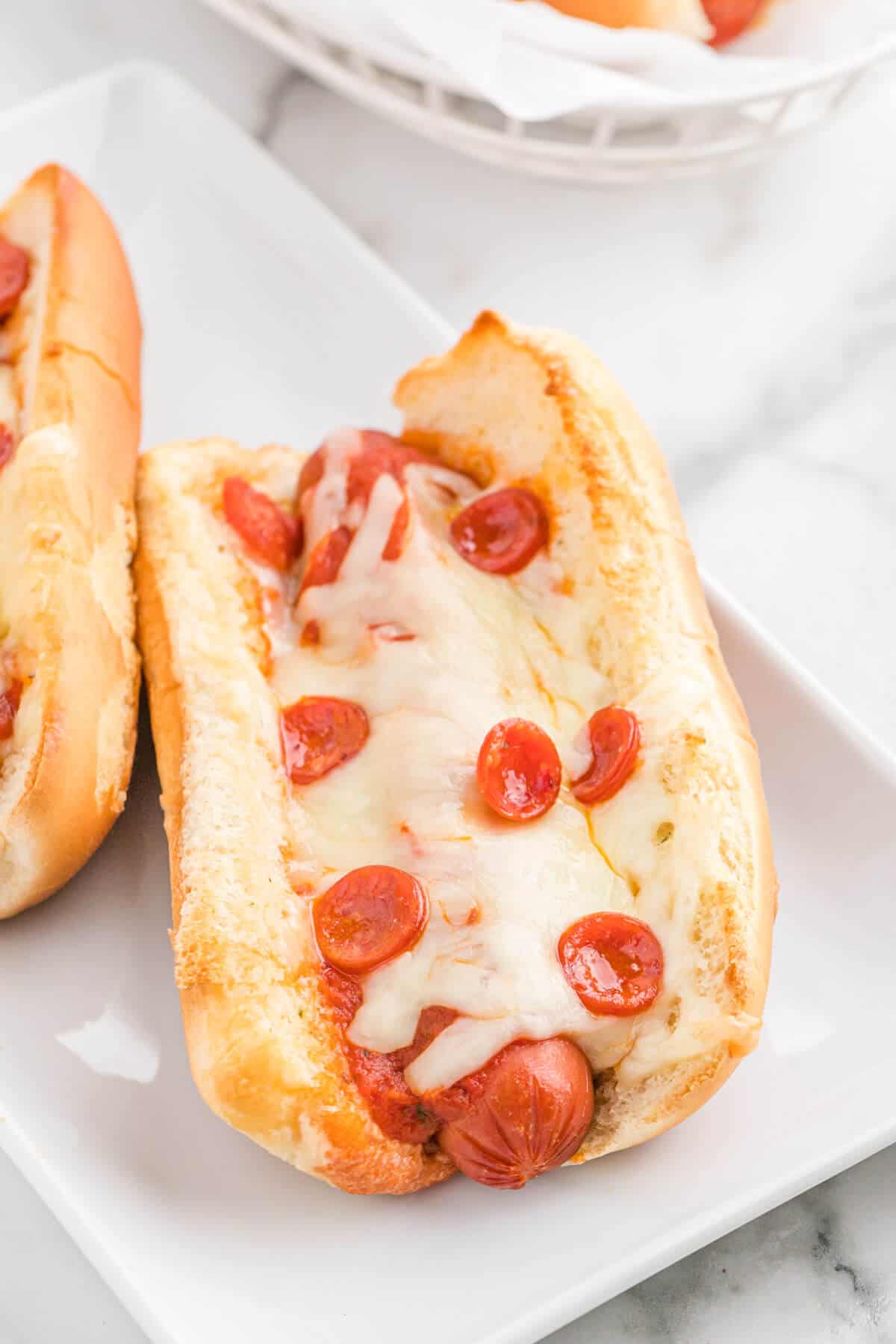 Storage Instructions
If you know that you won't be eating your Pizza Hot Dogs immediately, I recommend keeping the ingredients separate until you're ready to eat them. This will keep your buns fresh and your ingredients in peak condition.
The hot dogs should store safely in food storage bags and the marinara sauce can be placed in a Tupperware container for a few days before being thrown out.
You may be able to store your fully formed Pizza Hot Dogs in the fridge for a couple of days before reheating them in the oven. However, keep an eye out for soggy buns as they simply won't reheat well if the bread has been soaked through.
Can I Freeze?
You can freeze packaged hot dogs for up to 2 months, but we don't recommend freezing your cooked Pizza Hot Dogs.
The bread is the main issue here, as the recipe simply won't retain its structural integrity or texture when defrosted.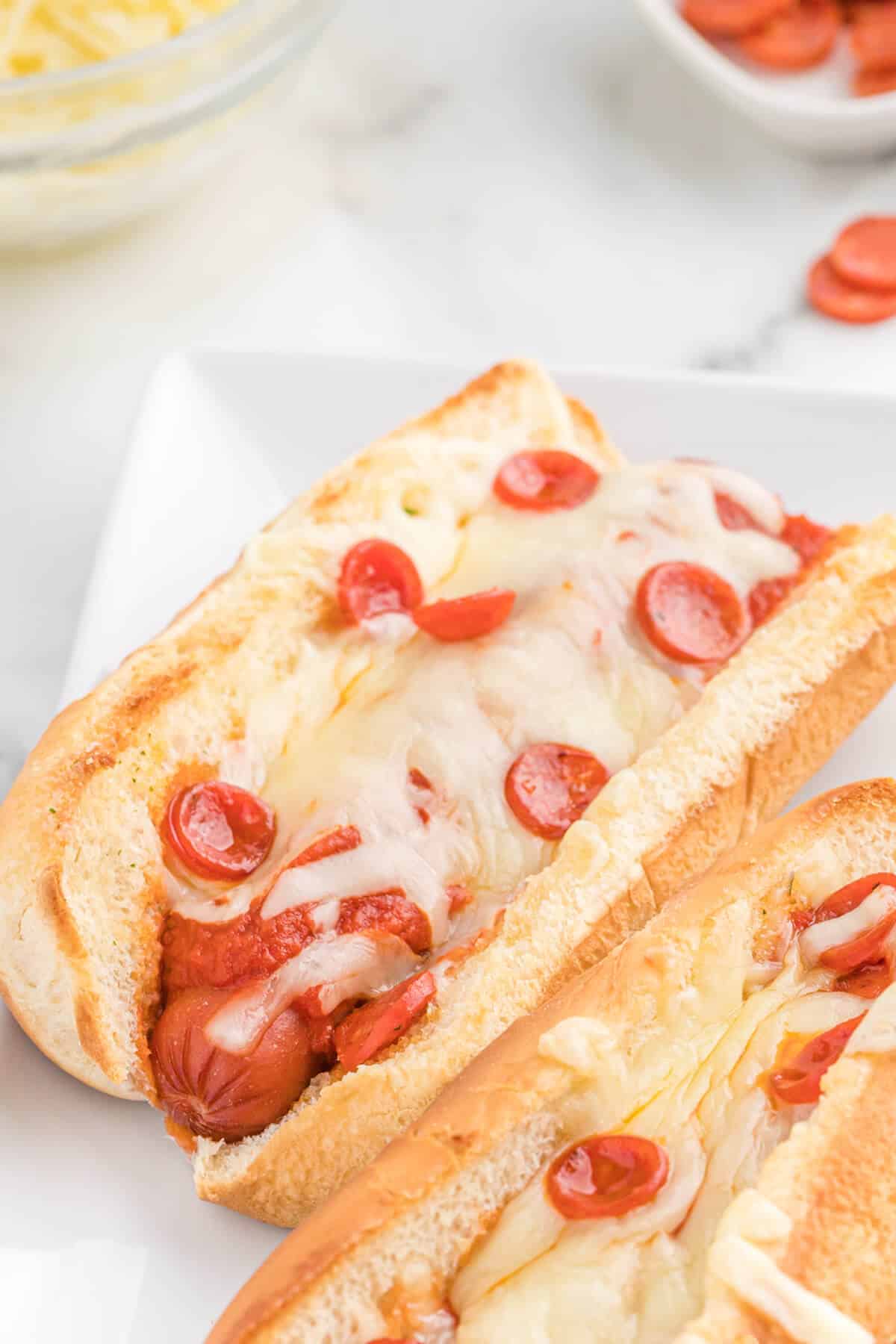 Pizza Inspired Recipes
If you loved this recipe, please check out some of my similar recipes below!
Follow me on Instagram @simplystacieblog, Facebook at Simply Stacie, TikTok @simplystacierecipes or Pinterest at @simplystacie and let me know how you liked this recipe and my other recipes.
If you make the recipe, rate it on the recipe card below and tag me on Instagram and use #simplystacie. I like sharing the photos on my Instagram stories!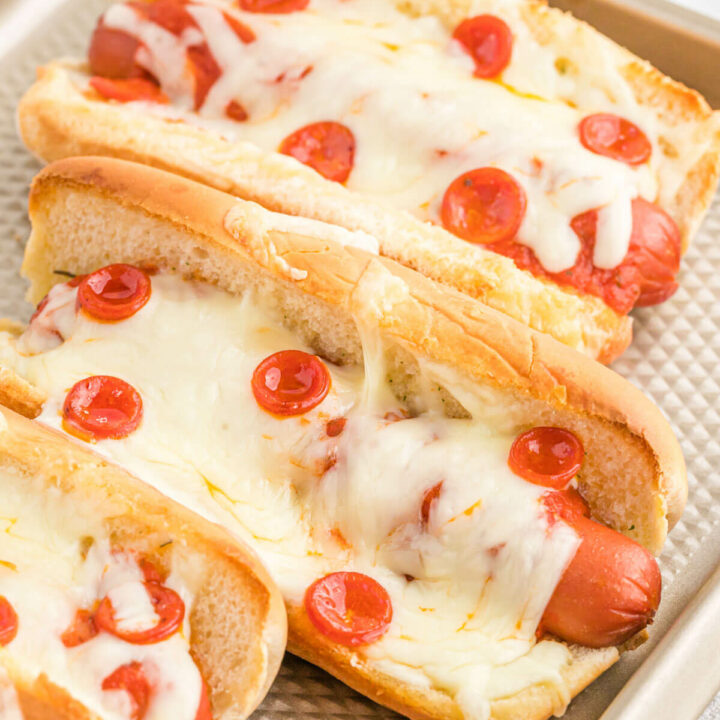 Pizza Hot Dogs
American classics combine! Swap the traditional toppings for marinara sauce, mozzarella cheese, and pepperoni.
Ingredients
4 hot dogs, cooked
4 hot dog buns, cut on one side to open up
1 cup pizza sauce
¼ cup mini pepperoni
¼ cup garlic butter, softened
1 cup mozzarella cheese, shredded
Instructions
Preheat oven to 375F.
Place hot dog buns on a baking sheet. Spread garlic butter on both sides of the inside of the hot dog buns.
Place a hot dog in each bun and top with a few tbsp of pizza sauce.
Top with mozzarella cheese and pepperoni.
Bake for 5 to 10 minutes or until cheese is melted and bun is toasted.
Recommended Products
As an Amazon Associate and member of other affiliate programs, I earn from qualifying purchases.
Nutrition Information:
Yield:

4
Serving Size:

1
Amount Per Serving:
Calories:

556
Total Fat:

38g
Saturated Fat:

18g
Trans Fat:

1g
Unsaturated Fat:

16g
Cholesterol:

87mg
Sodium:

1331mg
Carbohydrates:

34g
Fiber:

2g
Sugar:

7g
Protein:

20g