I hope you are enjoying my one-pot pasta recipes I've created so far! I've teamed up with Ragú and have been sharing some yummy one-pot pasta recipes that are hits with my family over the last little while. Check out my first two recipe creations – One-Pot Chili Rigatoni and One-Pot Unstuffed Pepper Pasta.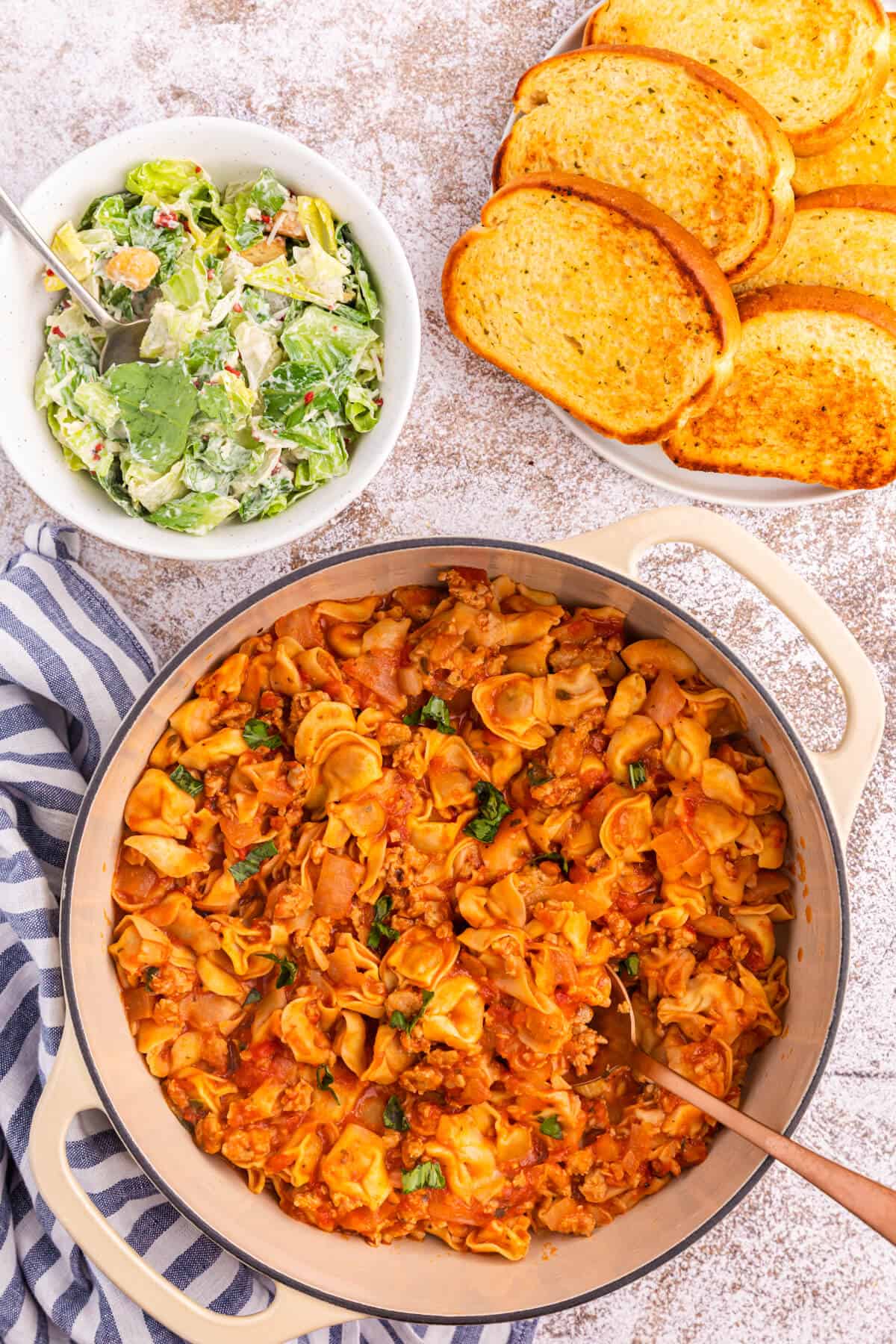 There are several good reasons why one-pot pasta dishes are my go-to meal for busy nights. The first one is pretty obvious – it's ONE-POT. This means less clean up and my kitchen doesn't look like something blew up in it. I'm messy when I cook and notice that there is considerably less of a mess when I'm making one-pot pasta for dinner.
Another reason is that they are incredibly easy to make. There is no need to pre-cook the noodles. They cook right in the sauce! You don't need your colander when you are dealing with one-pot pasta recipes. They are just a matter of adding in your ingredients in sequence and letting your stove work its magic.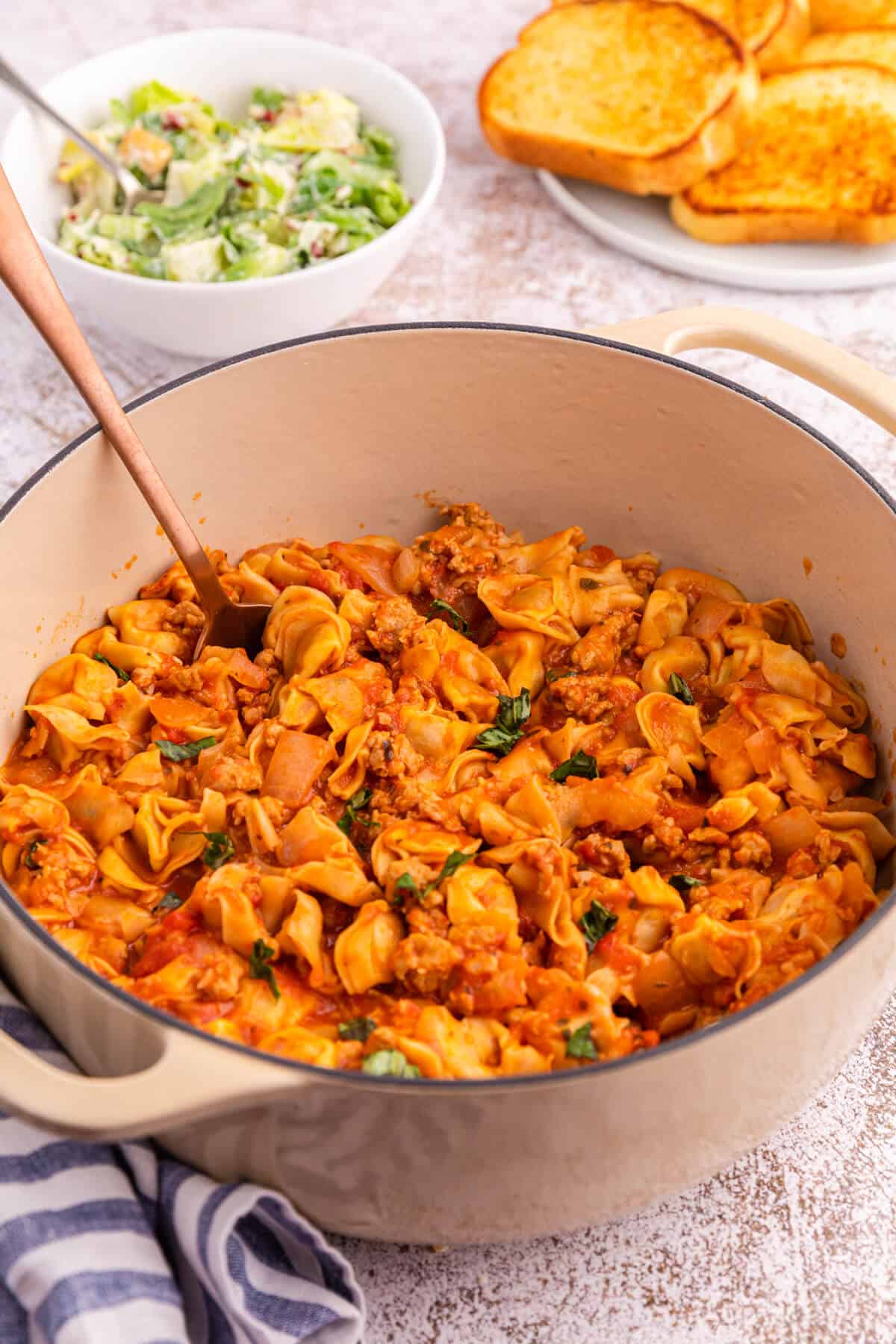 As someone who budgets her money, I certainly appreciate how inexpensive one-pot pasta meals are to create. All you need is pasta, sauce, veggies, cheese and meat to make a memorable meal your family will enjoy. I typically always have these ingredients on hand.
And lastly, you don't need any special cooking skills to make a one-pot pasta dish. It's pretty hard to mess up a one-pot pasta recipe!
One-Pot Sausage & Cheese Cappelletti
Today I've got one more recipe to share with all you – One-Pot Sausage & Cheese Cappelletti! This recipe has a spicy kick to it and is made with fresh pasta.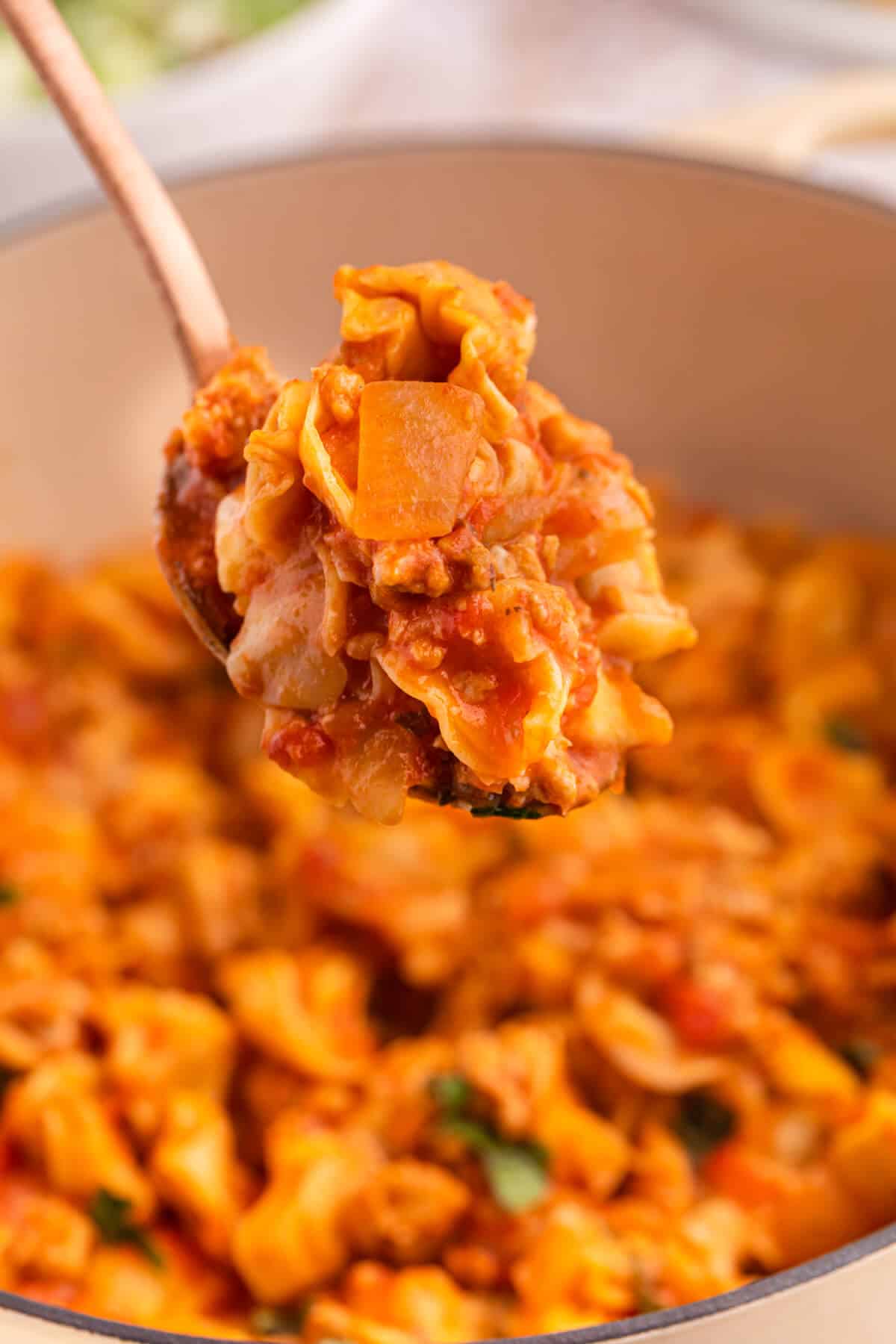 I used hot Italian sausage, but if you prefer it to be less spicy, you can use mild Italian sausage. It's cooked first along with the onions and garlic in a large Dutch oven.
Once your sausage is cooked, it's dumping time! Literally just dump your other ingredients (minus the cheese) into your pot.
I used fresh cappelletti for this recipe. You could use any type of fresh pasta or dried if you prefer. Just remember if you use dried pasta, you will need to adjust the cooking time. Fresh pasta does not require as long to cook.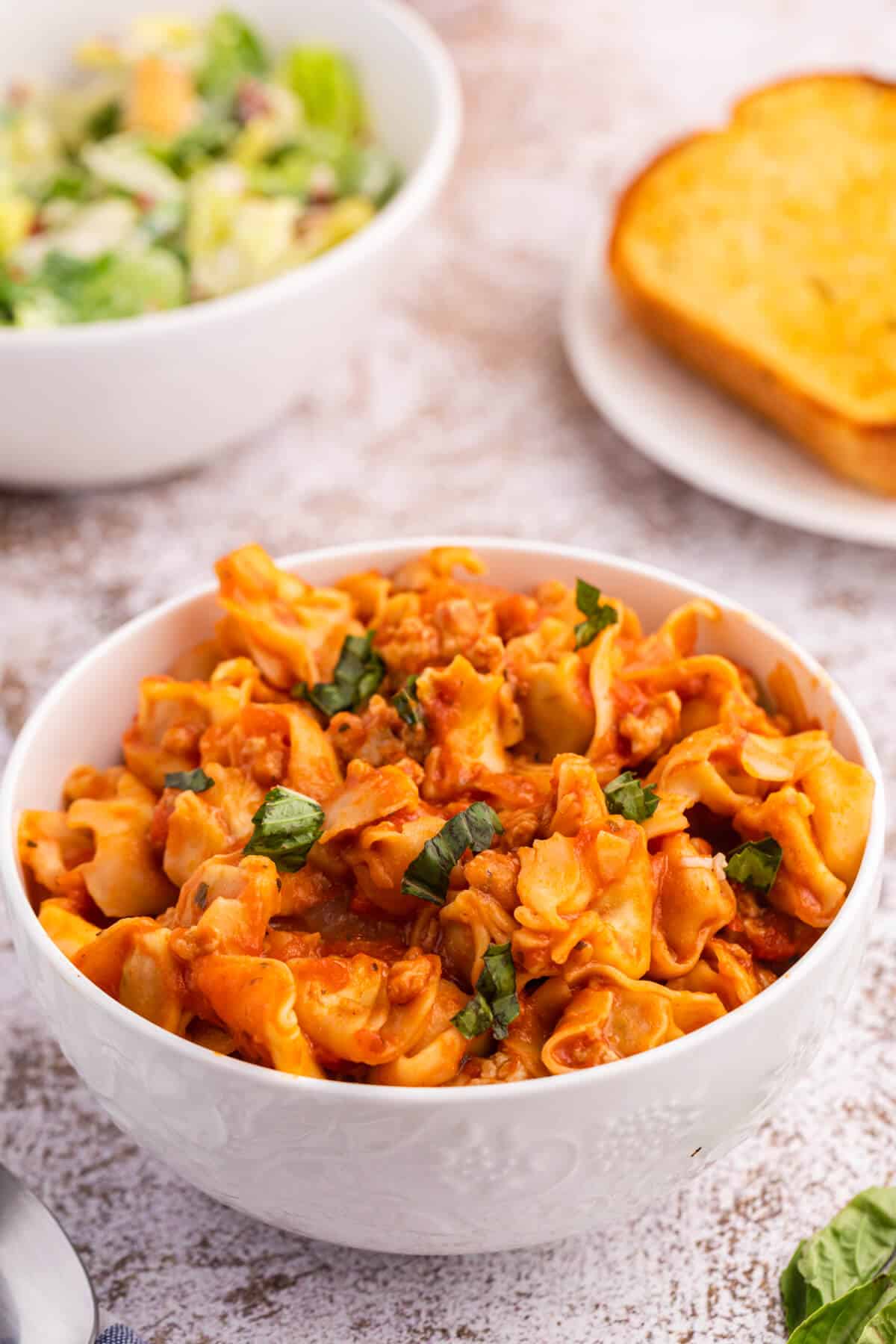 After the pasta has reached your desired tenderness, remove the pot from heat. Then you add in your cheese and stir till it melts. It won't take long!
It's ready to serve hot and fresh. I seriously love this recipe!
If you like, you can garnish with more cheese. This dish is pure comfort food!
My family doesn't mind the spicy flavours of the hot Italian sausage. I made sure to have a big pitcher of cold water on the table just in case!
If you're in the mood for more, both the Simply Stacie Pinterest page and the Ragú Pinterest profile (with the help of some amazing pinners) are spending this month collecting the most delicious One Pot Pasta Recipes out there. I invite you to come find your favorites!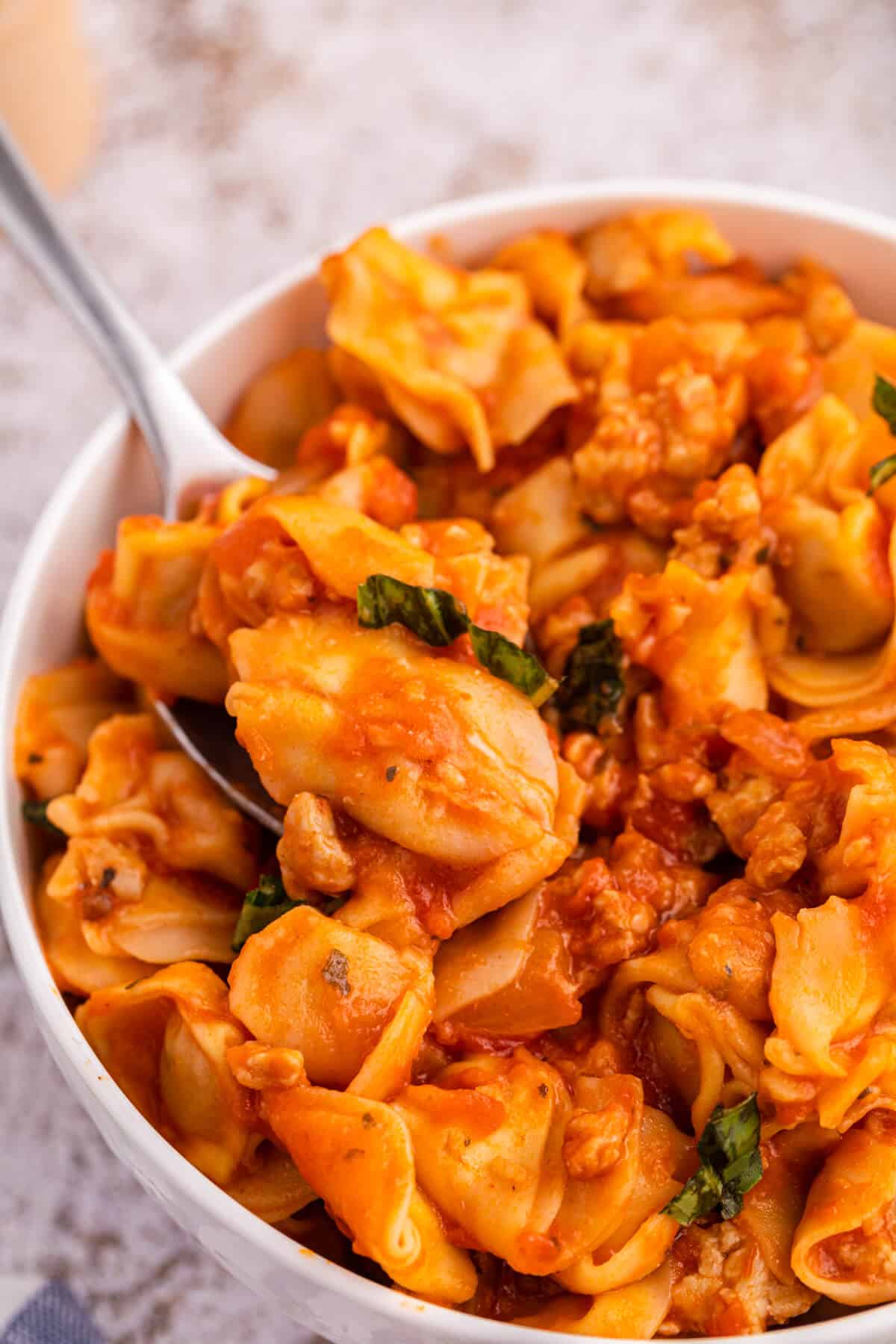 Simple, delicious and budget-friendly – what's not to love about one-pot pasta recipes?!
Like this recipe? Pin it to your Pinterest boards!
You'll also like this Sausage Jambalaya.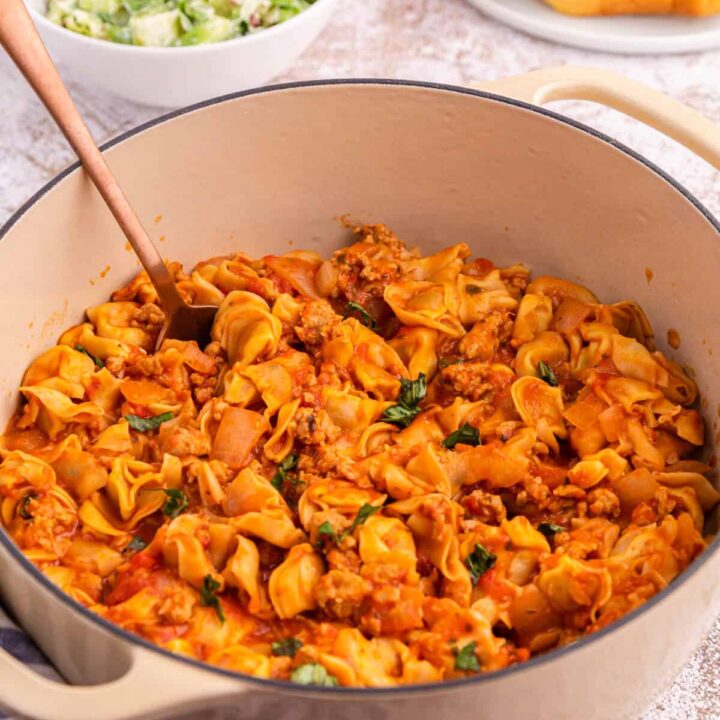 One-Pot Sausage & Cheese Cappelletti
Dinner in a flash! Skip the dishes with this savory pasta dish packed with Italian sausage, mozzarella cheese, basil, garlic, and oregano.
Ingredients
4 Italian sausages (mild or hot), casings removed
1 sweet onion, chopped
3 cloves garlic, minced
4 cups fresh cappelletti pasta, uncooked
1 jar pasta sauce (about 3 cups)
2 cups beef broth
1 teaspoon dried oregano
1 tablespoon fresh basil, roughly chopped
1 cup mozzarella cheese, shredded
Instructions
Add onions, garlic and Italian sausage to a Dutch oven over medium high heat. With a wooden spoon, crumble the sausage and stir ingredients together. Cook for 5 to 7 minutes, or until sausage is cooked. Drain excess fat, if needed.
Stir in pasta sauce, cappelletti, dried oregano and beef broth. Bring to a boil. Once boiling, reduce heat to medium. Stir in fresh basil.
Cover and cook for 6-8 minutes, or until pasta reaches desired tenderness.
Remove from heat and stir in mozzarella cheese. Serve immediately.
Recommended Products
As an Amazon Associate and member of other affiliate programs, I earn from qualifying purchases.
Nutrition Information:
Yield:

4
Serving Size:

1
Amount Per Serving:
Calories:

591
Total Fat:

29g
Saturated Fat:

12g
Trans Fat:

0g
Unsaturated Fat:

19g
Cholesterol:

66mg
Sodium:

1332mg
Carbohydrates:

51g
Fiber:

4g
Sugar:

8g
Protein:

30g