Cream of Asparagus Soup is one of my favorite easy recipes to whip up. This is a white asparagus soup recipe that is velvety smooth and extra creamy. Cream of Asparagus Soup is one recipe you have to try if you are a fan of asparagus.
Have you been having your fill of fresh, spring asparagus? 'Tis the season! I had been making asparagus the same way for years. I would steam it in the vegetable steamer that I received as a gift for my wedding. Then I'd play around with the toppings. Sometimes I'd add just a splash of fresh lemon juice and other times I make it more indulgent by topping with melted butter or a creamy sauce.
More recently, I've been experimenting with other asparagus recipes like Roasted Asparagus, Pasta with Asparagus and Chicken and Bacon Wrapped Asparagus.
Cream of Asparagus Soup
Today, I want to share this velvety smooth recipe for Cream of Asparagus Soup made with white asparagus. I found it interesting to learn how farmers grow white asparagus. They cover the plant with mud and dirt as it grows so it doesn't absorb as much sunlight. The sunlight triggers the production of chlorophyll (remember photosynthesis?) and turns the asparagus green. White asparagus is thicker and requires more peeling. If you don't peel the bottom half, your dish will taste very bitter. So peel away!
Looking for More Cream Soups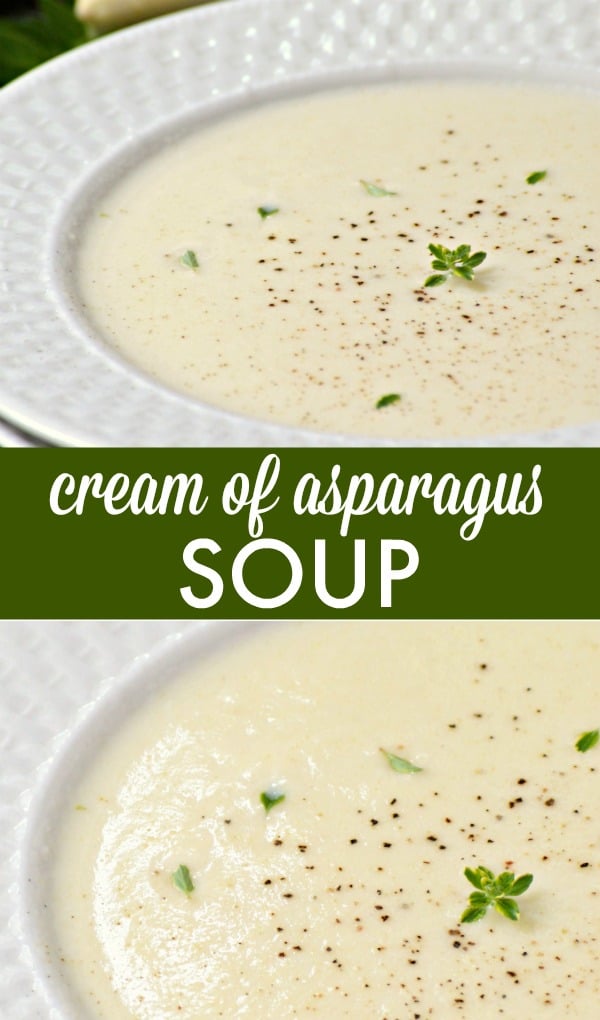 How Do You Get Creamy Asparagus Soup
This post contains affiliate links.
Immersion blenders are so handy to have when you are making soup. You can blend it right in the pot instead of having to dump hot soup into a blender. I use one from Breville that I really like.
Easy peasy! If you see white asparagus, pick some up and give this recipe a try!
If you don't have an immersion blender reach for a regular blender. It will really offer that same silky smooth texture. Reach for this over a food processor.
Can I Make This Cream Of Asparagus Soup with Green Asparagus Instead of White
Yes, you can make it with either asparagus varieties. I love the white, but it is something you don't have to have if your store doesn't have white asparagus on hand.
Do I Need To Trim Asparagus For Soup
Yes, whenever you cook with asparagus you need to trim and prep them. First, you want to grab a clump of say five or six asparagus and trim off the ends. I aim to cut a few inches off the spears, to get rid of the woody part. You can also hold a piece of asparagus at both ends and bend and it should naturally break where the woody part ends as well.
What Do You Top Cream of Asparagus With
A Dollop of Greek Plain Yogurt
Sour Cream
Pumpkin Seeds
Sprinkle of Cayenne for Heat
Hot Sauce
Or any other of your favorite toppings
Can I Substitute the Shallot in the Asparagus Soup Recipe
Of course. You are welcome to reach for any onion that you want to use in the recipe. I find white onion or even a yellow onion work as well. Or if you are not a huge fan of the flavor of a shallot you can leave it out. It will, of course, change the flavor and lessen the flavor of the soup overall.
How to Make Cream of Asparagus Soup
Start by grabbing a saucepan and bring the broth, shallots, and asparagus to a boil. Once it is boiling let it simmer until the asparagus is soft. Then set aside to cool for around 10 minutes. Then with your Immersion blender or regular blender blend up your asparagus and the broth until it is smooth and creamy.
Pour it back into the same pan and allow it to slowly simmer. Then turn the heat down and pour in the cream, and don't let it boil. Once mixed remove from heat and add in your butter. Season and serve.
Can You Freeze Cream of Asparagus Soup
Because of the cream in this soup, you have to watch that it doesn't curdle when it thaws after being frozen. One way to work around this is to slowly warm the soup up on the stove after it has thawed out from the freezer. With a whisk really work it over to remove any curdles you may have found.
As for freezing, you can place in a freezer bag or airtight container and store for up to three months. If you know you are planning to freeze part of the soup, I recommend leaving the cream out and then when you go to reheat just pour it in as it is warming up on the stove.
How Long Will Cream of Asparagus Soup Store in the Fridge
You will want to eat all of your soup within three days. If you go longer use your best judgment in terms of if the soup has gone bad and needs to be tossed. This recipe really reheats well whether you do the microwave or a slow reheat on the stovetop.
You'll also like this Chicken Asparagus Bake.
Have you tried white asparagus?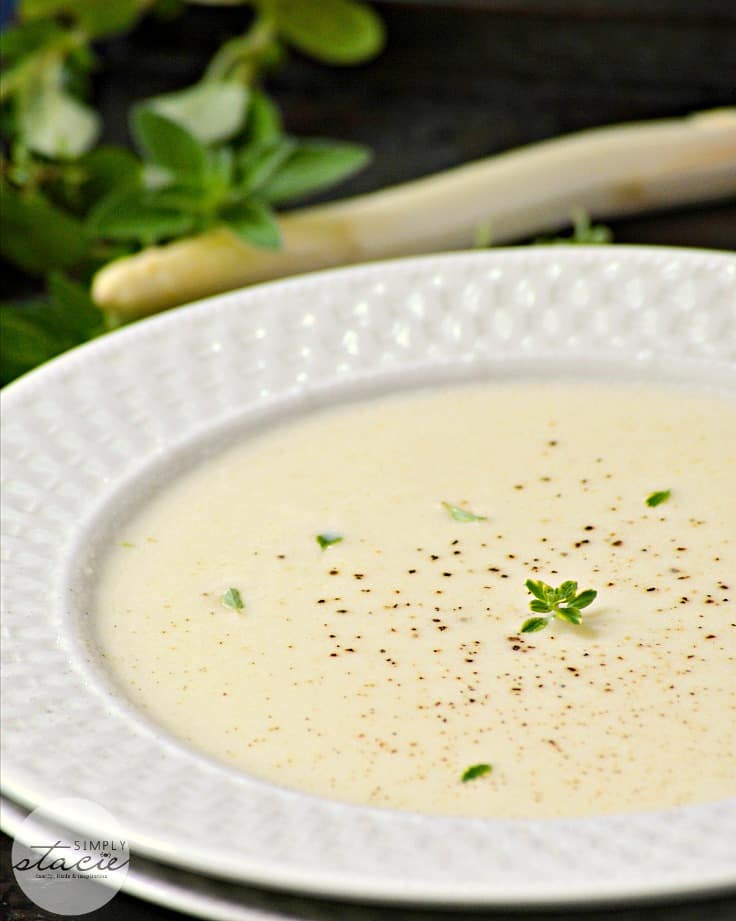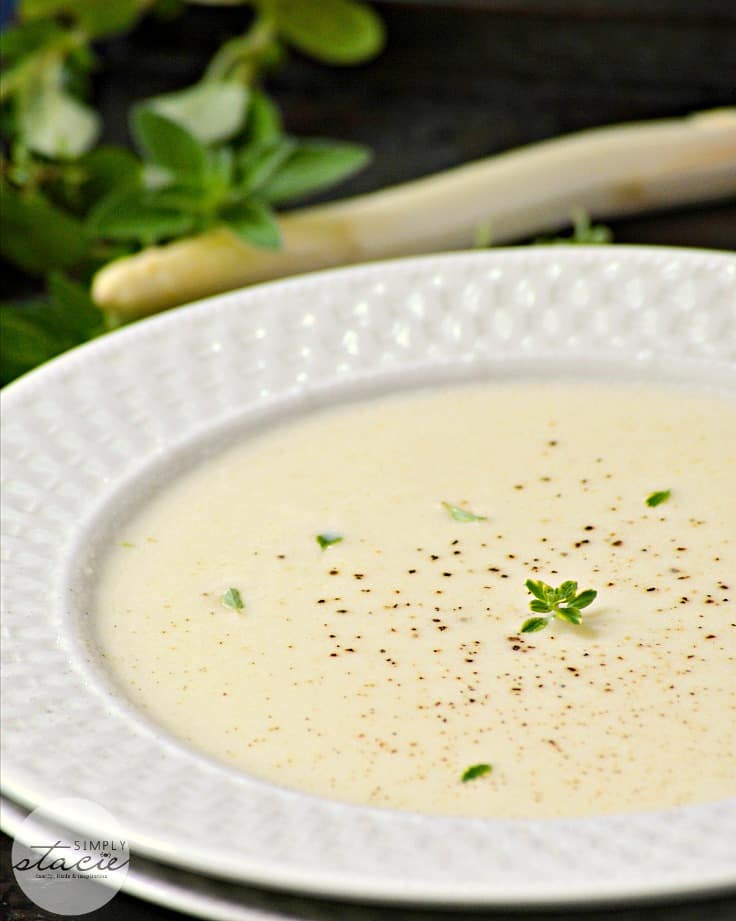 Cream of Asparagus Soup
The best creamy soup! This white asparagus bisque is seasoned with shallots and super rich with heavy cream.
Ingredients
2 bunches of white asparagus, peeled and cut in half
2 cups of vegetable or chicken broth
1/2 of shallot, chopped
2 tbsp butter
1 cup heavy cream or half & half
salt and pepper, to taste
Instructions
In a small saucepan, bring the asparagus, broth and shallots to a boil. Allow everything to simmer until the asparagus are soft when checked with a fork. Let cool for 10 minutes.
Blend the asparagus with broth until it's smooth and creamy.
Pour it back in the pan and bring it back to a slight simmer. Turn down the heat. Add the cream, making sure it does NOT boil. You only want to heat enough to get the soup hot again. Remove from heat and add the 2 Tbsp butter.
Check for salt and season to your taste. Add fresh ground pepper and decorate with your favorite herbs.
Recommended Products
As an Amazon Associate and member of other affiliate programs, I earn from qualifying purchases.
Nutrition Information:
Yield:

4
Serving Size:

1
Amount Per Serving:
Calories:

290
Total Fat:

28g
Saturated Fat:

18g
Trans Fat:

1g
Unsaturated Fat:

8g
Cholesterol:

85mg
Sodium:

392mg
Carbohydrates:

8g
Fiber:

2g
Sugar:

5g
Protein:

4g