Rocky Road Pizza is your new favorite dessert pizza! You have a pizza crust that is loaded with Nutella, marshmallows and topped with crunchy nutty peanuts.
This Rocky Road Pizza is similar to my S'mores Pizza minus the graham crackers plus peanuts. Nutella spreads so easily on the hot pizza dough. You are in for a sweet treat with this recipe.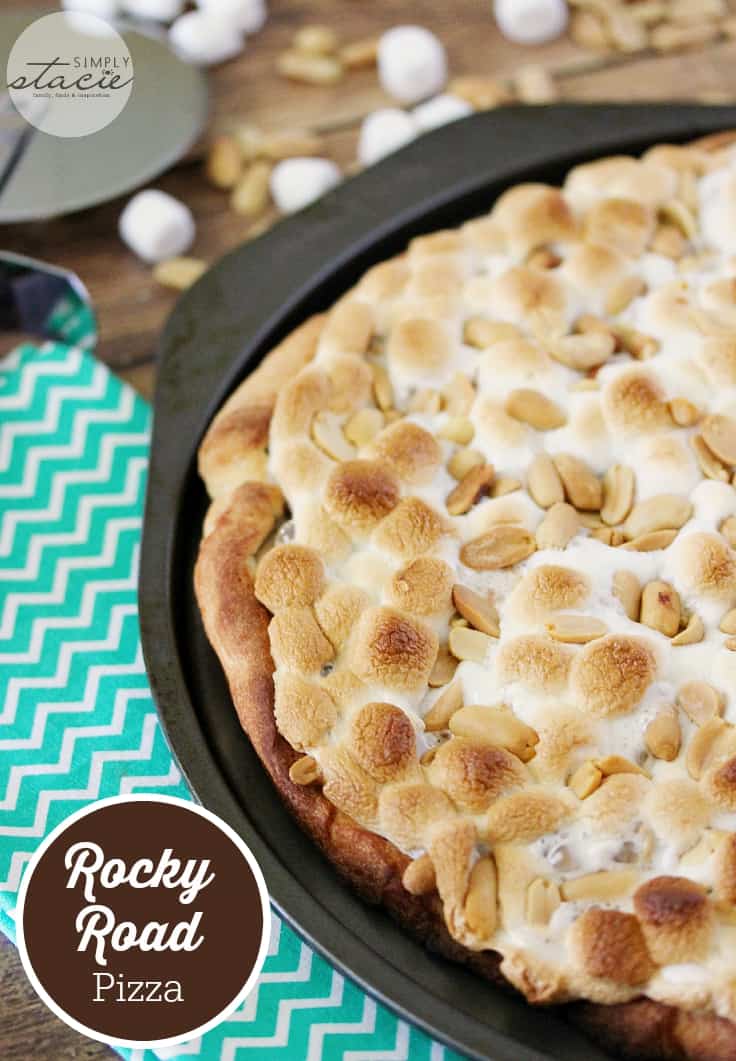 Rocky Road Pizza
I'm not crazy about marshmallows on their own. Toasted though? That's a whole other experience. Toasted marshmallows are divine! They melt on top of the pizza like cheese! Each bite is sticky and sweet perfection.
Now I know I've gone a little bit (ok maybe a lot) wild with the pizza recipes. I'm done…for now. I've used up all my pizza dough and am moving on. I hope you enjoyed all my pizza recipes. It was fun to create them and share them with you!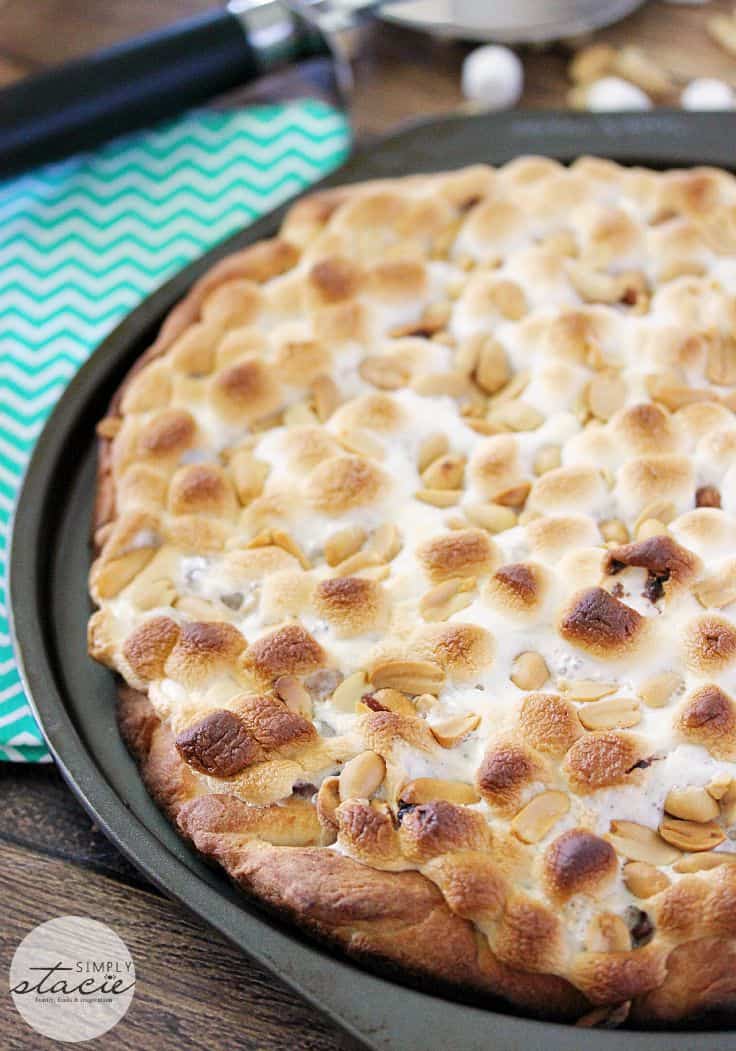 What Type of Crust Do You Use for Rocky Road Pizza
You will use a regular pizza crust, that you will pre-bake partially. The regular crust will help take away the extreme sweetness from the recipe and balance it perfectly!
You have a choice to use store-bought pizza crust or make homemade pizza crust and roll it out and use it. This is up to you on what you prefer flavor-wise.
Can I Use Big Marshmallows on this Pizza
You can use larger marshmallows if that is what you have. I would recommend that you cut them up a bit, as they might be too big and kind of be too large. But if you feel it would work, go for it.
What Toppings Do You Put on Dessert Pizza
For this particular dessert pizza, I reached for the classic Rocky Road style desserts. Nutella, marshmallows, and peanuts. But for dessert pizza, you can use any type of toppings.
Can I Use Something Besides Nutella
You could easily swap out the Nutella, with a different type of hazelnut spread. Or you could even reach for a cookie butter but it will, of course, swap the flavor combination and it might not be a rocky road theme if you swap the base.
Another option is mixing the melted chocolate and peanut butter together and creating that as the base. That is a traditional rocky road flavor that would be incredible on this pizza. Or even spread on the peanut butter and then sprinkle chips on top, it would change the flavor slightly but could still be good.
Craving more Pizza Recipes
Here's a quick refresher on the pizza recipes I've shared so far:
How to Make Rocky Road Pizza
Start by cooking your pizza dough partially. Once it is particularly cooked you will then spread on the toppings and toss it back in the oven to finish cooking.
Do You Serve Rocky Road Pizza Hot or Cold
You will want to serve this pizza hot. I find the gooey marshmallows and warm hazelnut spread are just incredible together. Slice and serve and then refrigerate any leftovers you may not eat right away.
Now, once it is stored as a leftover I tend to just eat it cold after, but you are welcome to toss any leftovers you might have in the microwave and warm it up if you choose.
If you are a huge fan of the rocky road, here are more recipes to consider trying:
Rocky Road Pudding | This pudding is going to transform your dessert option. A chocolate-based pudding, loaded with marshmallows and all things rocky road.
Easy Rocky Road Bites | Check out my rocky road bites. Crunchy, chocolatey, and downright addictive. These bites are a treat to serve up for dinner, holiday events and more.
Can You Freeze Rocky Road Pizza
Unfortunately, I don't think this pizza would freeze well with the toasted marshmallows on top. I would recommend that you toss any leftovers that you don't eat. If you wanted to try to freeze it you could but know that it could become mushy and a mess once it thaws after it has been frozen.
I highly recommend giving this recipe a try and let me know. Serve this up after any dinner, midnight treat, and more. We are a huge fan of dessert pizza.
What is your all-time favourite pizza?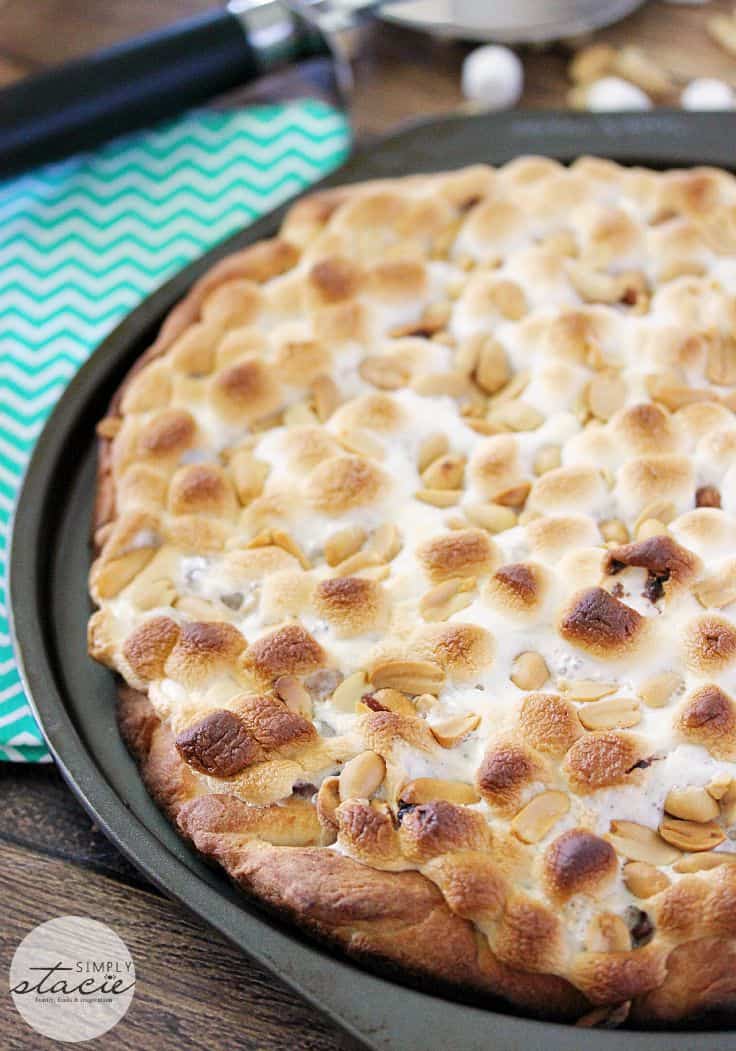 Rocky Road Pizza
Decadent dessert pizza! This pizza is loaded with creamy Nutella, toasted marshmallows, and crunchy peanuts.
Ingredients
1 Pillsbury Pizza Crust (or your own homemade pizza crust or other brand of refrigerated pizza crust)
3 to 4 tbsp Nutella
2 cups mini marshmallows
1 to 1 1/2 cup peanuts
Instructions
Preheat oven to 400F. Grease a pizza pan and spread out dough to fit. Bake for 10 minutes.
Remove from oven and spread Nutella over the cooked pizza dough leaving a gap around the edge. It will be very hot so be careful.
Sprinkle mini marshmallows and peanuts on top.
Put back in the oven for another 5 minutes, or until marshmallows are browned and crust is completely cooked to a golden brown. Serve hot. Refrigerate any uneaten portions.
Recommended Products
As an Amazon Associate and member of other affiliate programs, I earn from qualifying purchases.
Nutrition Information:
Yield:

6
Serving Size:

1
Amount Per Serving:
Calories:

703
Total Fat:

34g
Saturated Fat:

14g
Trans Fat:

0g
Unsaturated Fat:

17g
Cholesterol:

0mg
Sodium:

574mg
Carbohydrates:

85g
Fiber:

7g
Sugar:

32g
Protein:

17g