S'mores Pizza is the perfect dessert pizza recipe. Tender crust loaded with all the s'mores toppings and baked right in the oven! Get the flavors of s'mores any time of the year with this delicious s' mores pizza recipe!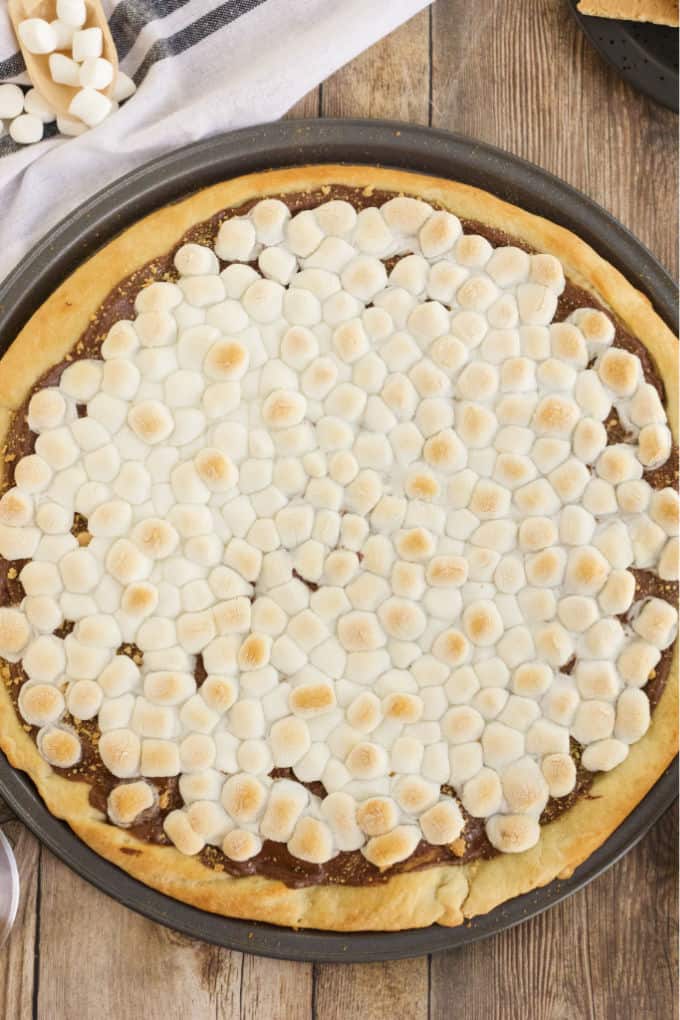 S'mores Pizza
All you need to make this dessert pizza is some pizza crust (I like Pillsbury), Nutella, a couple graham crackers and mini marshmallows. I used Nutella because I had a jar of it already in the pantry and it spreads nicely when it goes on the hot pizza crust.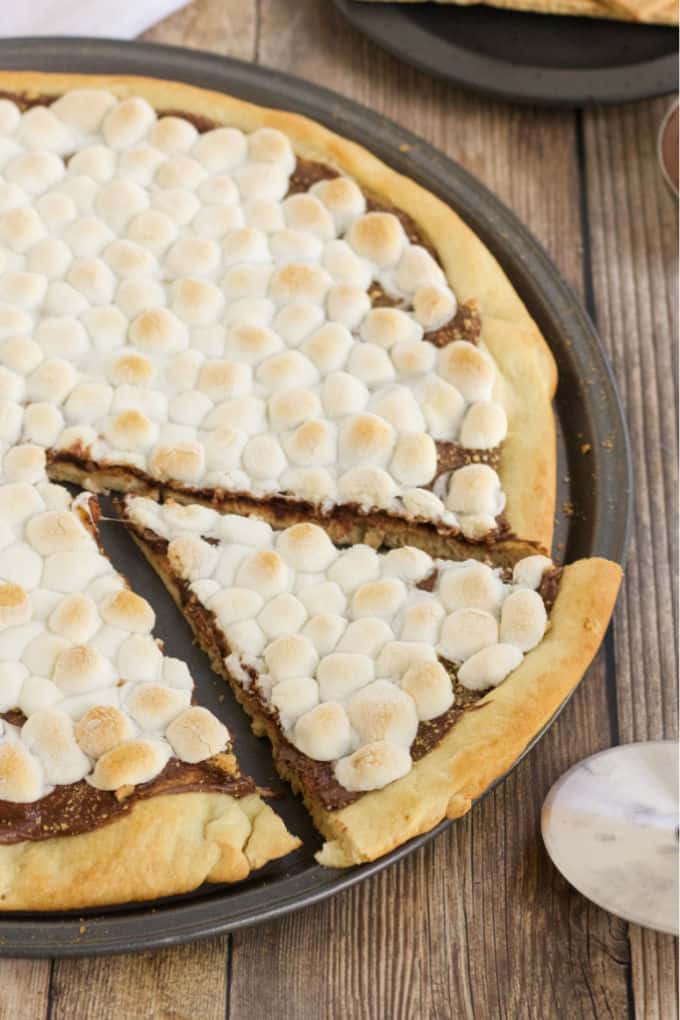 Do You Eat S'mores Pizza Hot or Cold
This pizza is best served when it's hot, for obvious reasons! The chocolate and marshmallows melt together in your mouth. It's sticky, sweet heaven.
Don't want pizza? Try these S'mores Overload Cupcakes instead.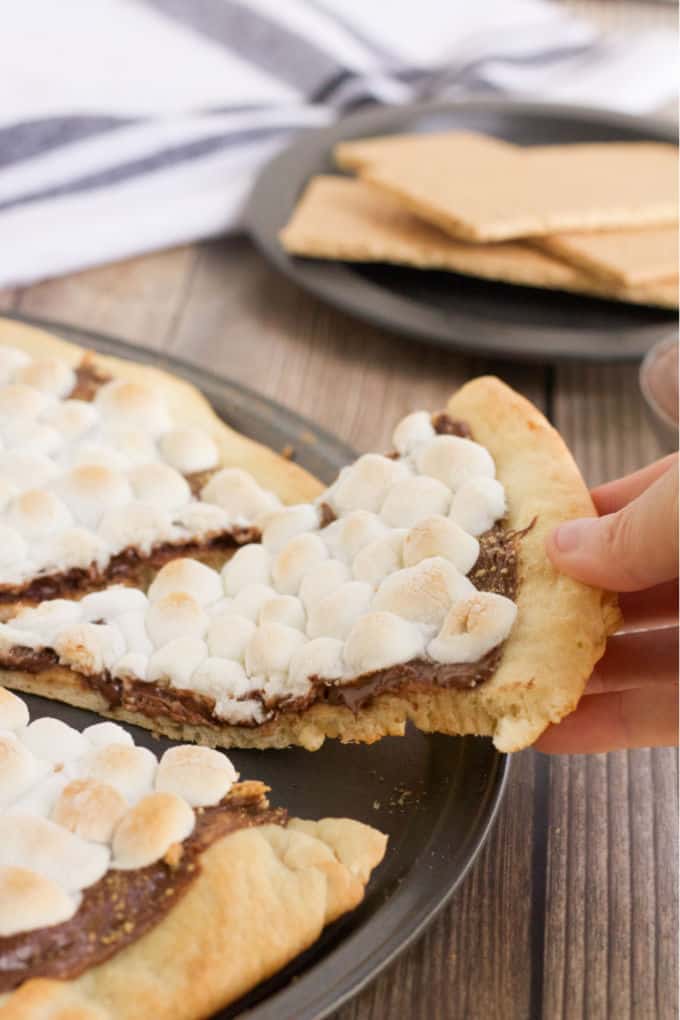 Can I Add Chocolate To S'mores Pizza
You can absolutely add chocolate to this recipe. After you spread Nutella, add on some chocolate chips or break up a Hershey's bar and sprinkle all over! Then finish topping like normal and bake!
How Do Marshmallows Brown on S'mores Pizza
Because you put the pizza in the oven the heat from oven will give the marshmallows that campfire roasted marshmallow look! It is a gorgeous display for the pizza but that toasty marshmallow really helps transform the flavor of this pizza!
Looking for more S'mores Desserts
S'mores Cake | Tender and moist cake that offers your classic s' mores flavors in every single bite! This cake is great for potlucks, birthdays and more.
Homemade S'mores Ice Pops | A Frozen great I highly recommend making! Fudge ice pops with graham crackers and of course mini marshmallows.
S'mores Coffee Milkshake | Sip on this perfectly sweet coffee milkshake with a s' mores twist. Call it a drink or dessert in a cup, either way, it is delightful.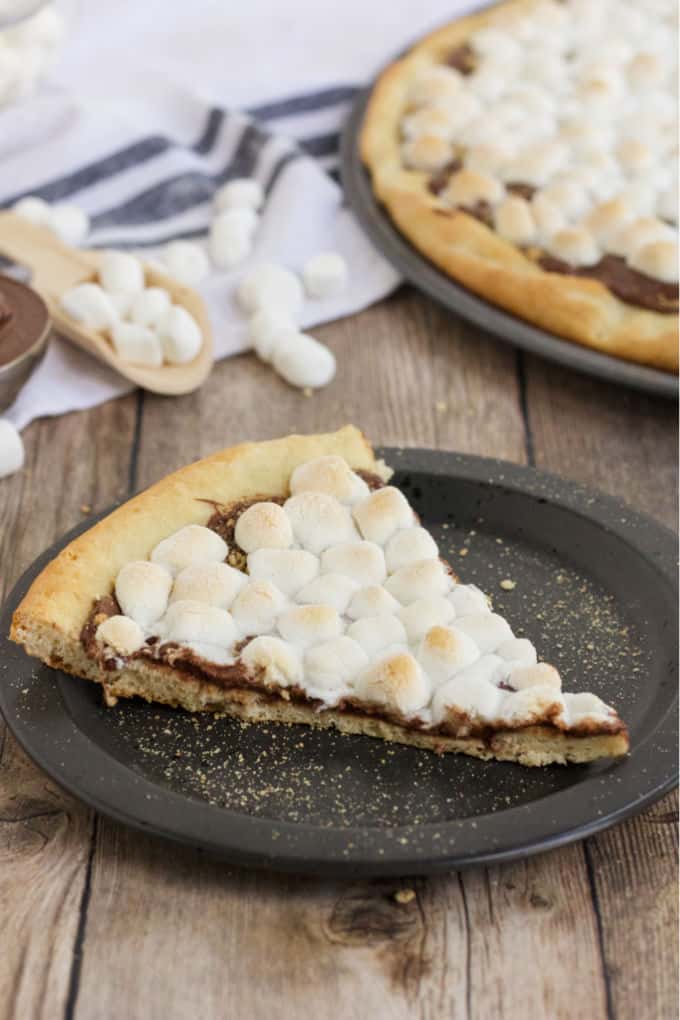 How To Make S'mores Pizza
Start by rolling out your pizza dough and pre-cooking it for ten minutes. Then once your cook time is up, remove from oven and spread Nutella on the crust. Leave an edge to act as the crust of the pie.
Now sprinkle your crunched up graham crackers onto the pizza and top with marshmallows. Then pop back in oven to get marshmallows toasted.
Remove and serve.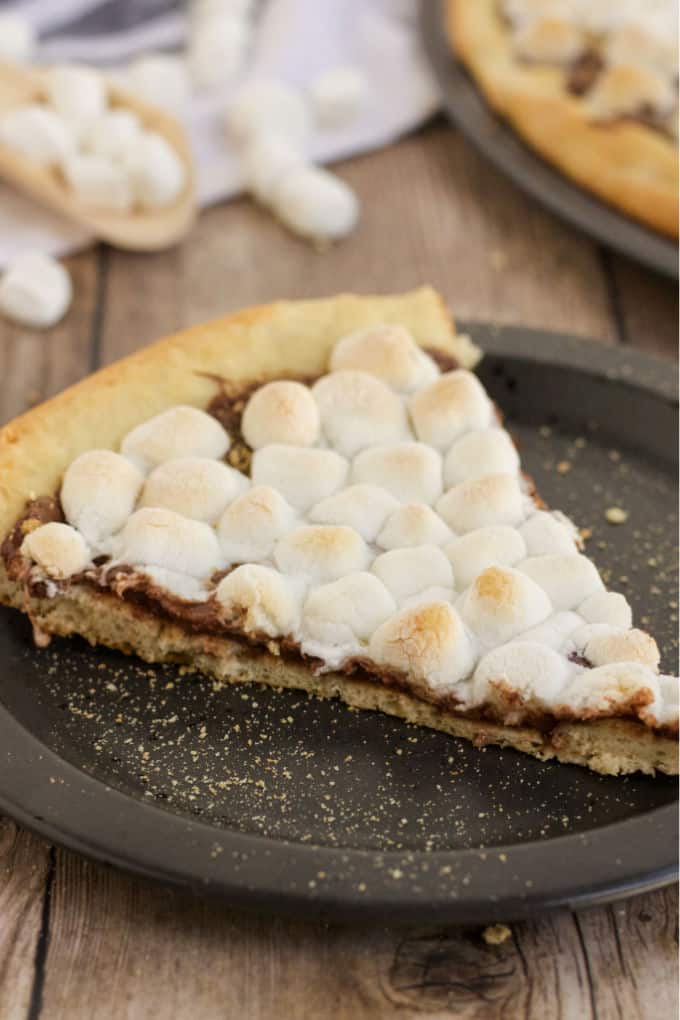 How to Store Leftover S'mores Pizza
If you have leftovers, allow to cool and then store in an airtight container. Your pizza will store 3-5 days in the fridge. This pizza is best when served fresh but it does reheat pretty good.
Best Way to Reheat Dessert Pizza
For this dessert pizza, you will find the marshmallows make it tricky. If you place in the oven you need to put foil over the pizza like a tent. Or your marshmallows will burn up.
I find that heating a skillet on low is the best route. Place a slice of pizza and pan and slowly warm up the pizza. It will get it hot without burning your marshmallows!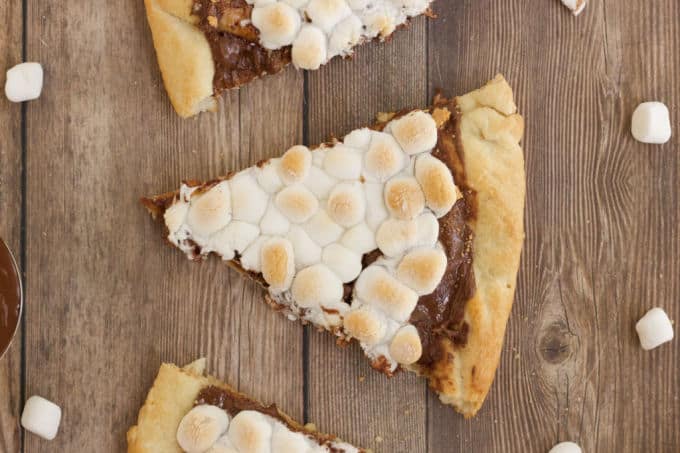 Variations to S'mores Pizza Recipe
Chocolate syrup | Drizzle on chocolate syrup once you pull pizza from oven. It will add more sweetness to your dessert pizza.
Fruit | Slice up fruit and lay on top of pizza once you pull from the oven. Or let people top their pizza slice how they would like.
Cookies | Crumble up cookies and sprinkle over the top of your freshly baked pizza! Oreos would be tasty!
Peanut Butter Cups | Chop up peanut butter cups and sprinkle over the top. This would give a great twist to add in a peanut butter flavor!
What Type of Crust to Use for Dessert Pizza
I personally enjoy a classic crust. I used Pillsbury pizza dough I picked up in the refrigerator section at the store. It gives you a similar taste to a homemade crust but without all the extra steps to prepare the dough.
It helps make the dessert pizza not too sweet. With all the sweet toppings it helps mellow out the flavor.
If you want to change it up you could do a sugar cookie, peanut butter cookie, or even graham cracker cookie crust. You would mostly bake the crust just like I did, top and then finish baking with toppings on.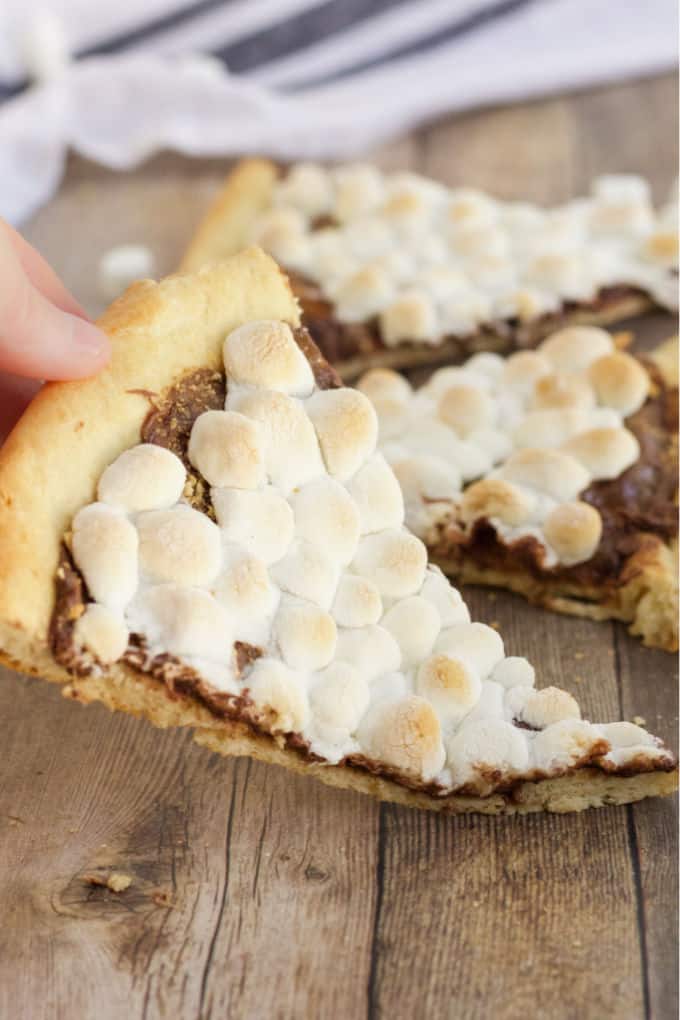 Can You Freeze S'mores Pizza
I have not tried freezing this pizza. I am not sure it would hold up in the thawing process. The marshmallows would more than likely change in texture as well.
If you try to freeze I would recommend testing one piece and see how it holds up. My guess is this is a no-go.
If you enjoy s'mores you will surely devour this pizza. Give it a try and let me know how you like it! My family and I absolutely love this sweet twist.
You'll also like these Indoor S'mores.
Have you ever tried S'mores Pizza?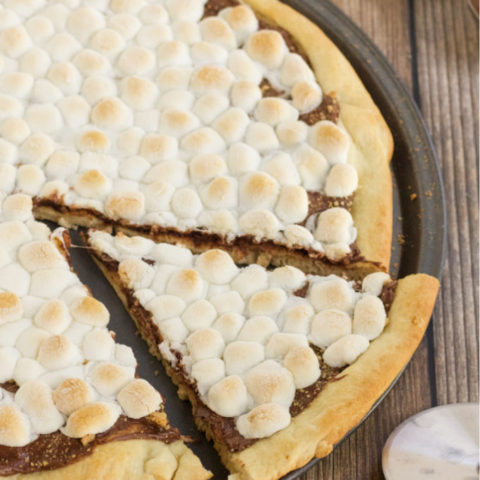 S'mores Pizza
S'mores indoors! Bring the camping to the oven with this graham cracker, chocolate, and marshmallow pizza for a great family night treat.
Ingredients
1 Pillsbury Pizza Crust (or your own homemade pizza crust or other brand of refrigerated pizza crust)
3 to 4 tbsp Nutella
2 to 3 graham crackers, crumbled
2 cups mini marshmallows
Instructions
Preheat oven to 400F. Grease a pizza pan and spread out dough to fit. Bake for 10 minutes.
Remove from oven and spread Nutella over the cooked pizza dough leaving a gap around the edge. It will be very hot so be careful.
Sprinkle graham cracker crumbs over the chocolate. Top with a layer of mini marshmallows.
Put back in the oven for another 5 minutes, or until marshmallows are browned and crust is completely cooked to a golden brown. Serve hot. Refrigerate any uneaten portions.
Recommended Products
As an Amazon Associate and member of other affiliate programs, I earn from qualifying purchases.
Nutrition Information:
Yield:

6
Serving Size:

1
Amount Per Serving:
Calories:

521
Total Fat:

17g
Saturated Fat:

11g
Trans Fat:

0g
Unsaturated Fat:

5g
Cholesterol:

0mg
Sodium:

459mg
Carbohydrates:

83g
Fiber:

4g
Sugar:

32g
Protein:

9g