Peach and Blueberry Pizza is one incredible duo on this dessert pizza! Pizza crust topped with a creamy and sweet sauce and topped with peaches and blueberries!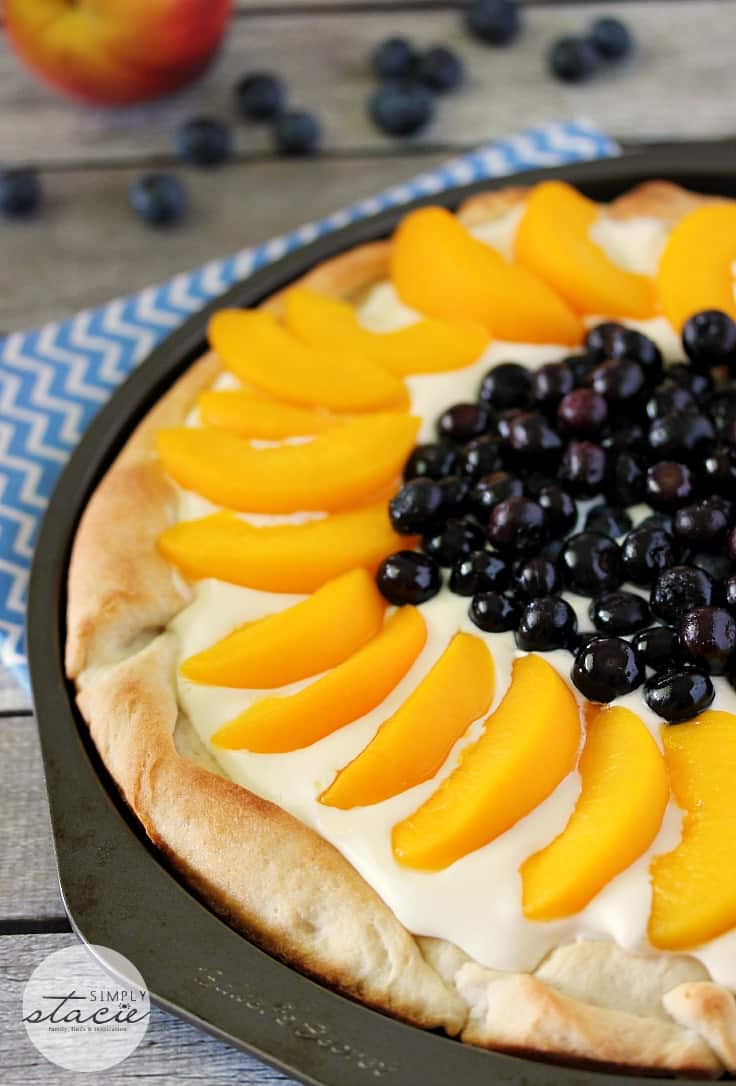 Peach and Blueberry Pizza
I was chatting with my bloggy friend, Randa of The Bewitchin Kitchen about our recipe obsessions. I told her about my latest pizza craze and she mentioned she was going through the same thing with waffles!
She understood exactly what I meant about getting on a roll with something and you just need to keep going with it wherever it may lead! She suggested I make a pizza with peaches and blueberries and got my wheels turning yet again.
Fruit Pizza
I have an abundance of fresh blueberries here after our recent trip to the blueberry farm. There was a can of sliced peaches in my pantry already and I only had to think about what I would do for my "sauce".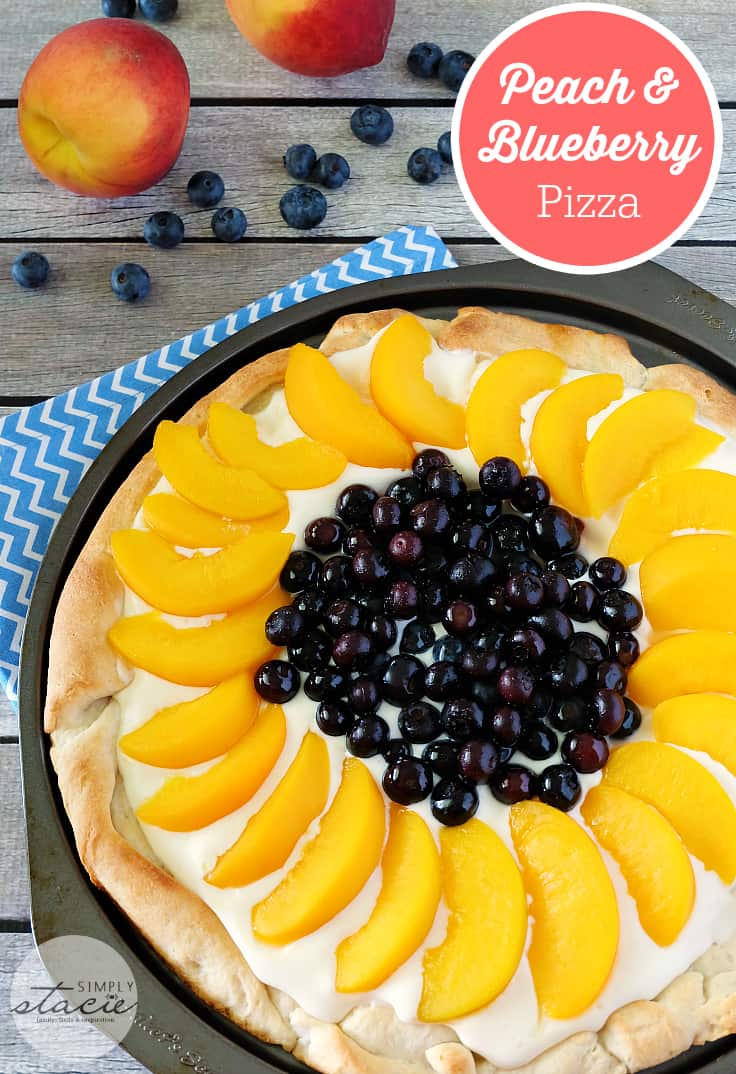 What is the Sauce on Peach and Blueberry Pizza
I settled on a combination of cream cheese, sweetened condensed milk, vanilla, and lemon juice. Wow, it was GOOD! Sweet, creamy and smooth.
It's hard to stop yourself from eating the sauce from the bowl. It pairs perfectly with the fruit and even looks a little "summery", don't you think?
You Might Also Like These Fruit Recipes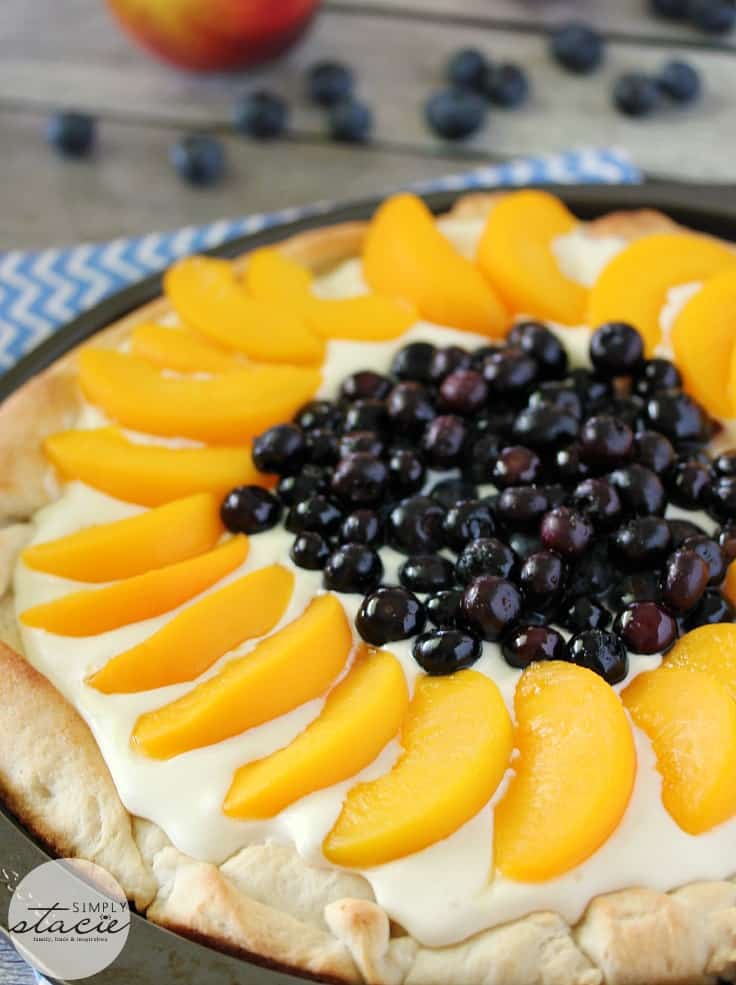 Can I Change Fruit on this Dessert Pizza
Yes, feel free to add on any fruit you want. Create a flavor duo that fits your liking! Almost any fruit will work. Just make sure if it is a fruit that browns like bananas you aim to leave them off.
What Fruit Toppings to Put on Dessert Pizza
Strawberries
Raspberries
Kiwi
Blackberries
Orange wedges
Pineapple
Or any other fruit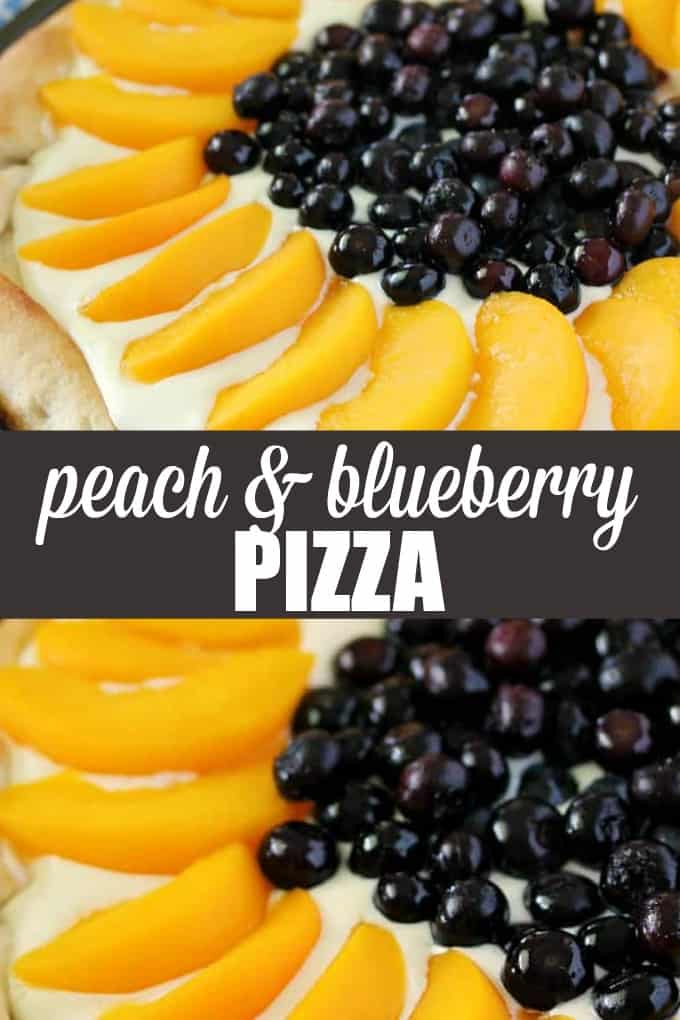 Do You Cook Dessert Pizza with Fruit on
Yes, you will precook the pizza dough alone till it is close to done. Then assemble the sauce and fruit and toss back in the oven for five minutes.
How to Store Leftover Peach and Blueberry Pizza
You will want to place your pizza in an airtight container. Store in the refrigerator for up to 3-4 days. The biggest thing to watch is the fruit, this will be the first thing to go bad. It will break down, so if in doubt toss it out.
Craving more dessert pizza recipes
Caramel Apple Pizza | Flavors of fall in every bite of this pizza. Reminds me of an apple pie with a twist!
Rocky Road Pizza | Talk about incredible flavors uniting! Chocolate, gooey marshmallow and more!
Reese's Peanut Butter Pizza | If you are a fan of peanut butter and chocolate together give this pizza a try. Grab a napkin, it might get messy!
Do You Reheat Peach and Blueberry Pizza
You can either eat this pizza chilled from the fridge or set a slice in the counter for 10 minutes or so and eat it that way. You don't want to microwave or heat the pizza as it will affect the fruit.
Can You Freeze Fruit Pizza
Because of the fresh fruit on this pizza I recommend not freezing it. The reason being is once you go to thaw the pizza the fruit will be mushy.
You could, however, cook the pizza dough and then freeze it for up to three months. Then when ready to do your pizza thaw and top with sauce and fruit.
How to Make Peach and Blueberry Pizza
First, you want to make pizza dough or layout your pre-bought dough. Bake in the oven till the dough is done. Remove and allow to cool.
While the dough is cooking grab your hand mixer and whip up the sweet sauce for the pizza. I recommend using a mixer to get that creamy texture.
Once you remove pizza from the oven, top with sauce and sliced and prepped fruit and then toss back in the oven for five minutes. Once done slice and serve immediately.
When to Serve this Peach Pizza
Dessert | Serve for dessert any day of the week! It's a tasty pizza that would be fun any day.
Pizza Night | Once everyone has devoured their last slices, whip this out for a nice pizza ending to the night!
Gatherings | Change up from a classic pie or cookie, and serve pizza. I think your guests could love this.
Parties | Maybe you or someone you know isn't a fan of cake. Make a dessert pizza instead of serving cake!
No matter when you serve my Blueberry and Peach Pizza I think you will appreciate the flavors. A homemade sweet sauce that brings it all together nicely.
Are you a fan of Peach and Blueberry Pizza?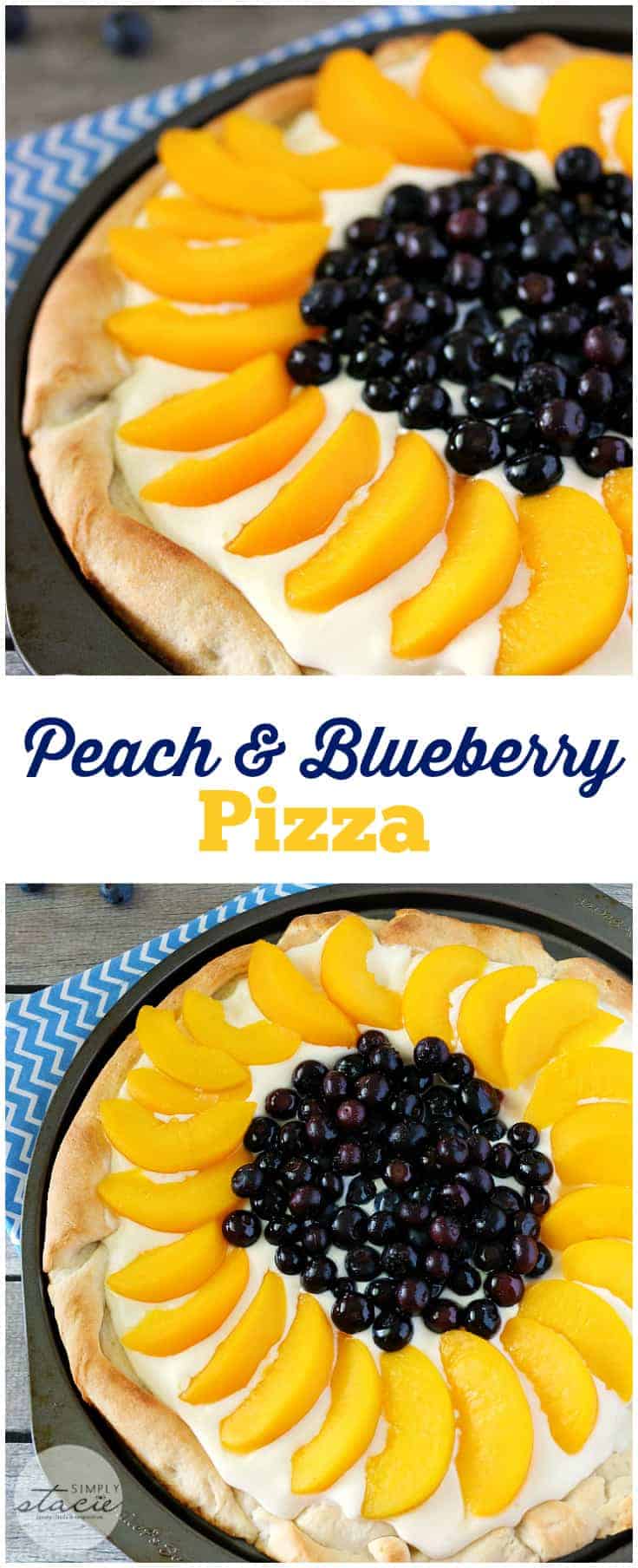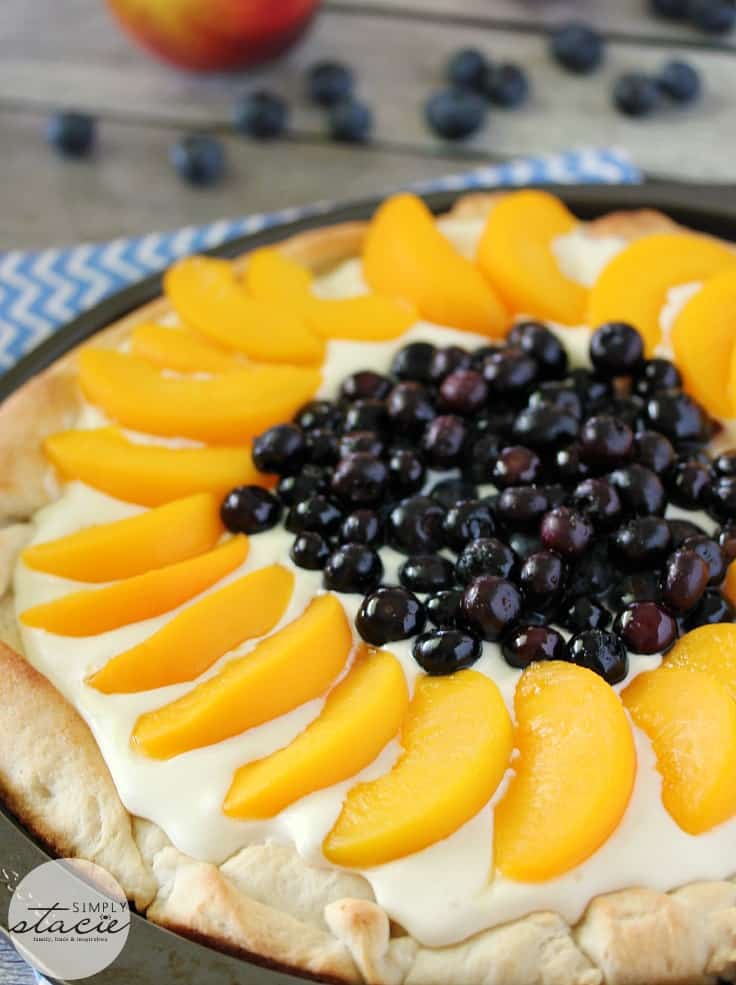 Peach & Blueberry Pizza
The freshest dessert pizza! This easy recipe is a visual party pleaser and tastes great.
Ingredients
1 Pillsbury Pizza Crust (or your own homemade pizza crust or other brand of refrigerated pizza crust)
1/2 250g package of cream cheese, softened
2/3 cup sweetened condensed milk
2 tbsp lemon juice
1 tsp vanilla extract
1 can (796 ml) peach slices
1 cup blueberries
1 1/2 tbsp sugar
Instructions
Preheat oven to 400F. Grease a pizza pan and spread out dough to fit. Bake for 10 minutes.
Add cream cheese, sweetened condenses milk, lemon juice and vanilla extract to a mixing bowl and beat on medium until smooth.
Spread cream cheese mixture over partially cooked pizza crust.
Toss peaches in 1 tbsp sugar and then spread on top of cream cheese layer.
Toss blueberries in 1/2 tbsp sugar and then spread on top of cream cheese layer.
Bake for an additional 5 minutes.
Refrigerate any uneaten portions.
Recommended Products
As an Amazon Associate and member of other affiliate programs, I earn from qualifying purchases.
Nutrition Information:
Yield:

6
Serving Size:

1
Amount Per Serving:
Calories:

447
Total Fat:

15g
Saturated Fat:

7g
Trans Fat:

0g
Unsaturated Fat:

7g
Cholesterol:

33mg
Sodium:

507mg
Carbohydrates:

68g
Fiber:

2g
Sugar:

26g
Protein:

10g