Rocky Road Bites are one tasty bite-size treat that is an easy no-bake dessert! Tender marshmallows and crunchy ramen noodles smothered in a peanut butter chocolate. Bite into these rocky road treats for the ultimate sweet dessert.
I'm the queen of no-bake desserts these days! I've been whipping up mousse like it's going out of style. I have another simple no-bake treat to share today – Rocky Road Bites!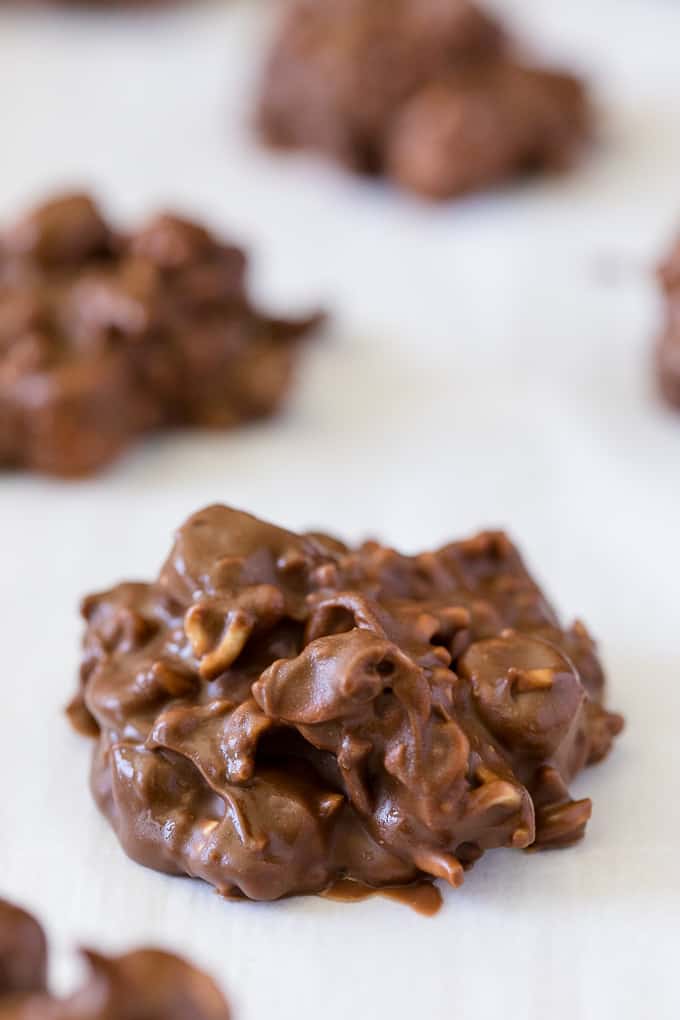 Rocky Road Bites
You'll only need four ingredients to make these babies – chocolate chips, mini marshmallows, peanut butter, and ramen noodles. They are sweet and crunchy! If you want an easy dessert, this is it. You could even let little ones help you make them, with the supervision of an adult, of course.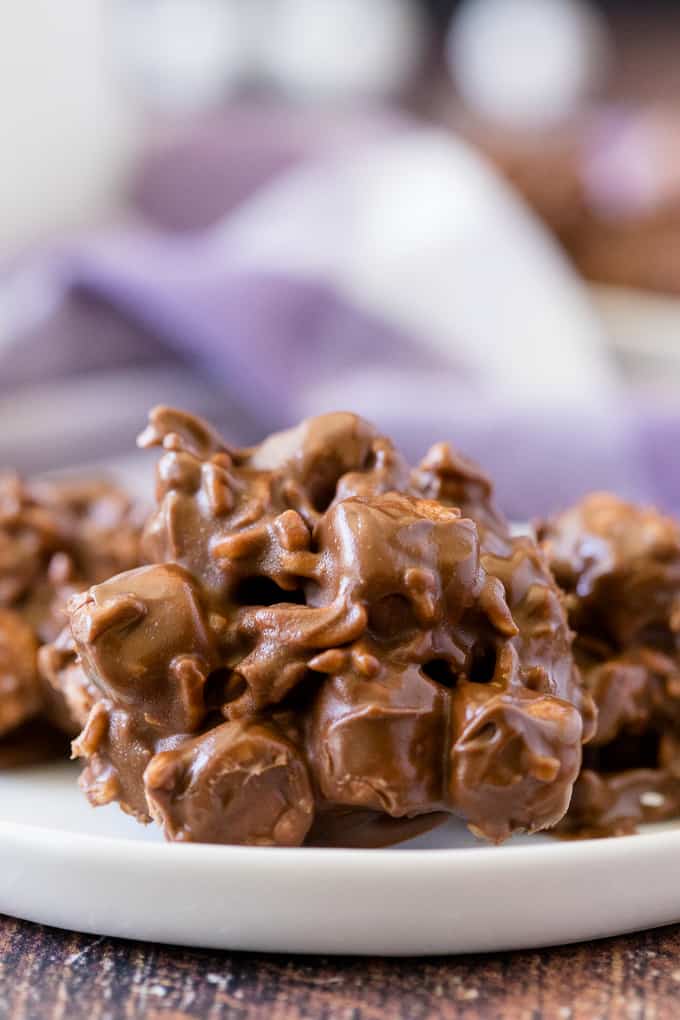 What is in Rocky Road
Chocolate, peanut butter, marshmallows and in this case the ramen noodles, in replace of nuts. Nuts are traditional to rocky road, but I wanted to change things up slightly.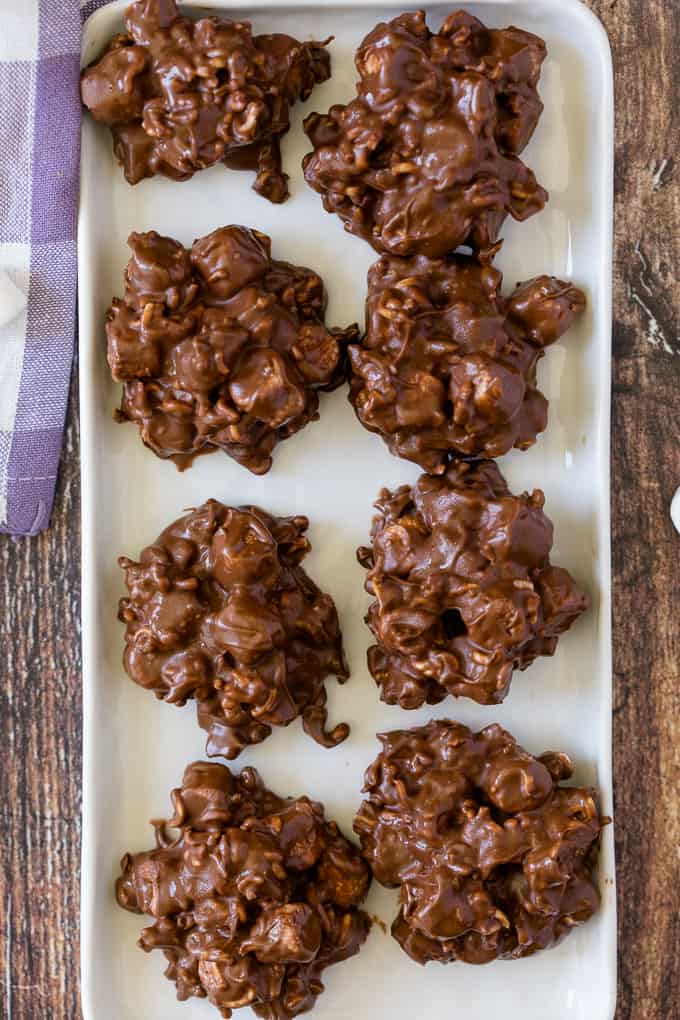 No-Bake Rocky Road Bites
Ramen noodles are around $0.29 for a package at our local grocery store. It doesn't matter what kind you buy since you won't be using the seasoning packet that comes with them. I would either discard it or save it for another recipe.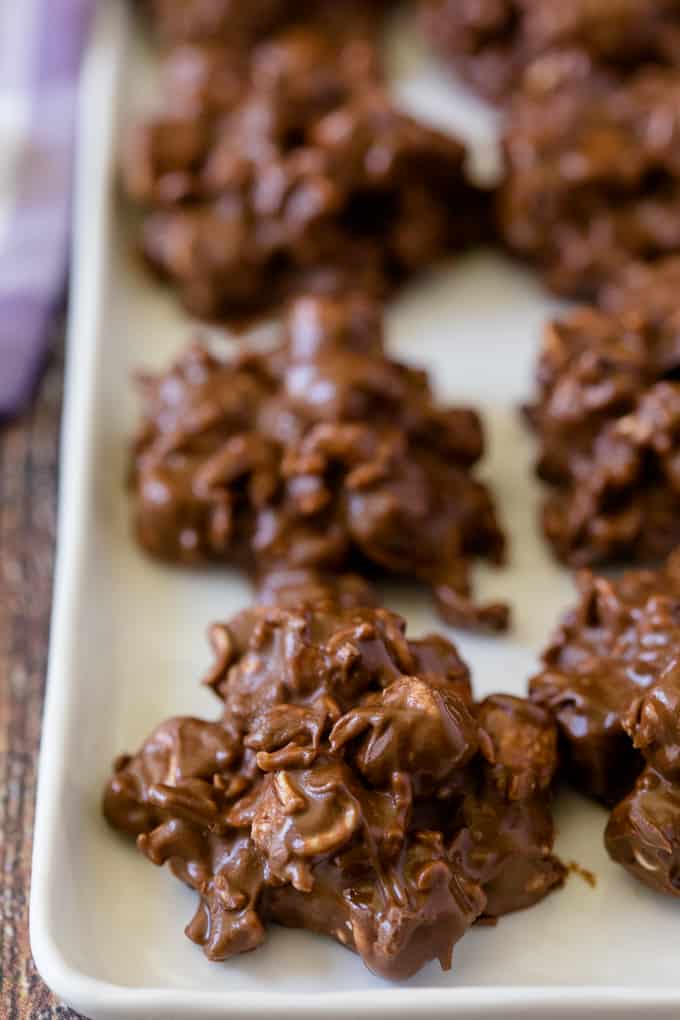 Searching for more holiday dessert recipes

How to Make Rocky Road Bites
After you melt the peanut butter and chocolate, it's just a matter of stirring in the broken up noodles and marshmallows. Plop a dollop of the mixture on a baking sheet lined with wax paper and put in the fridge for an hour.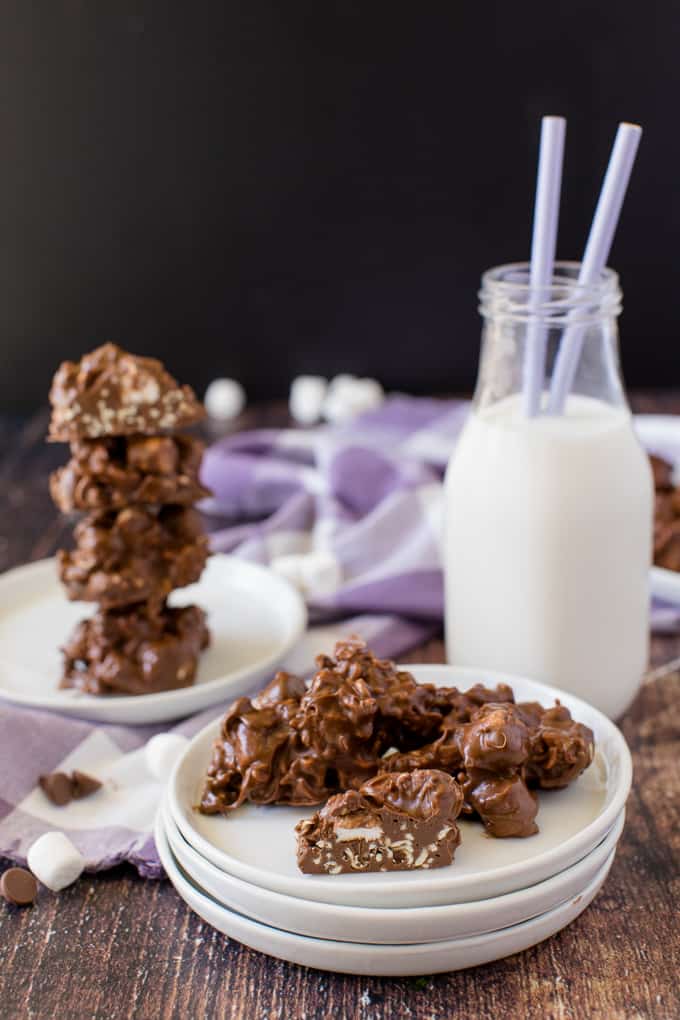 How to Store Rocky Road Bites
I store them in the fridge so they don't melt. It keeps them fresh and ready to eat! This recipe makes about 10 to 12 Rocky Road Bites, depending on how big you make them.
They remind me a little of my No-Bake Chocolate Peanut Butter Haystacks. That recipe uses chow mein noodles, peanuts, peanut butter chips, and chocolate chips.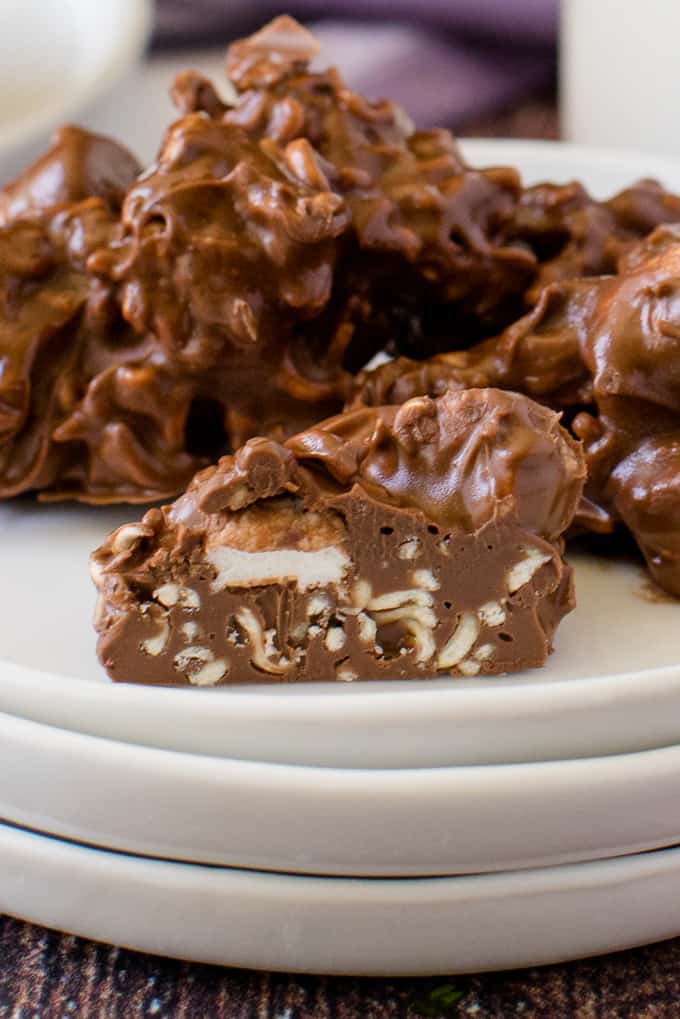 Can I Double This Rocky Road Dessert Recipe
Yes, you can make as much of this as you would like. Just reach for a large enough bowl to be able to hold all the chocolate and filling. Then give a good stir and then drop out to allow to harden up.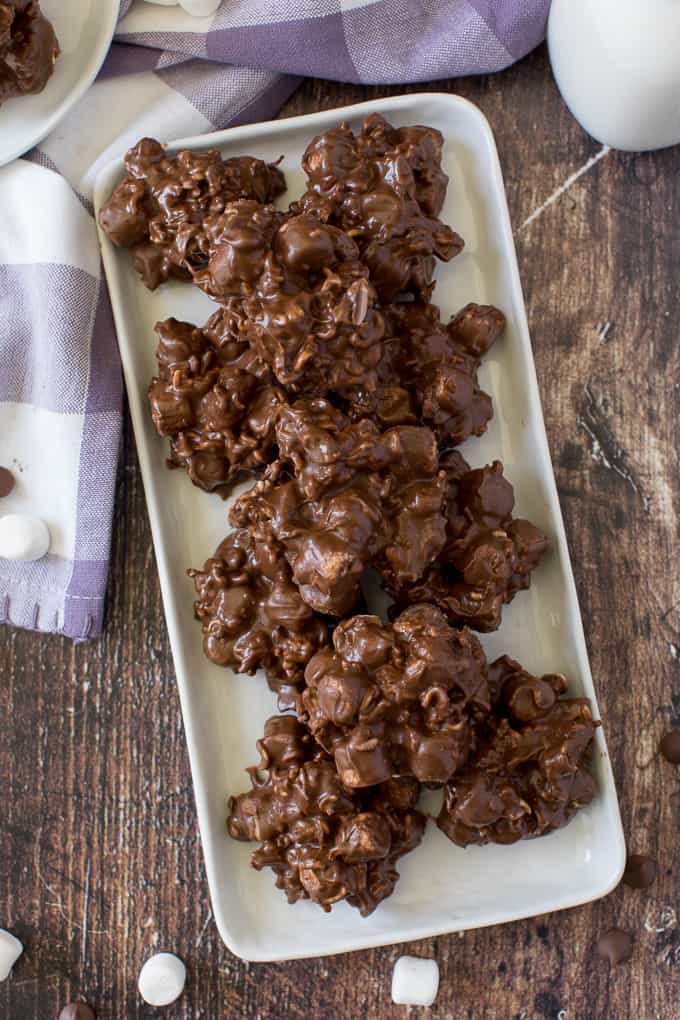 Is There a Way to Make Rocky Road Bites Set Up Without Refrigerating
If you want to have your Rocky Road Bites to where they don't need to be stored in the refrigerator to stay set up, you can add a teaspoon of Crisco to the melted chocolate. This will help it to harden up to where it will stay set up and then can be stored on the counter.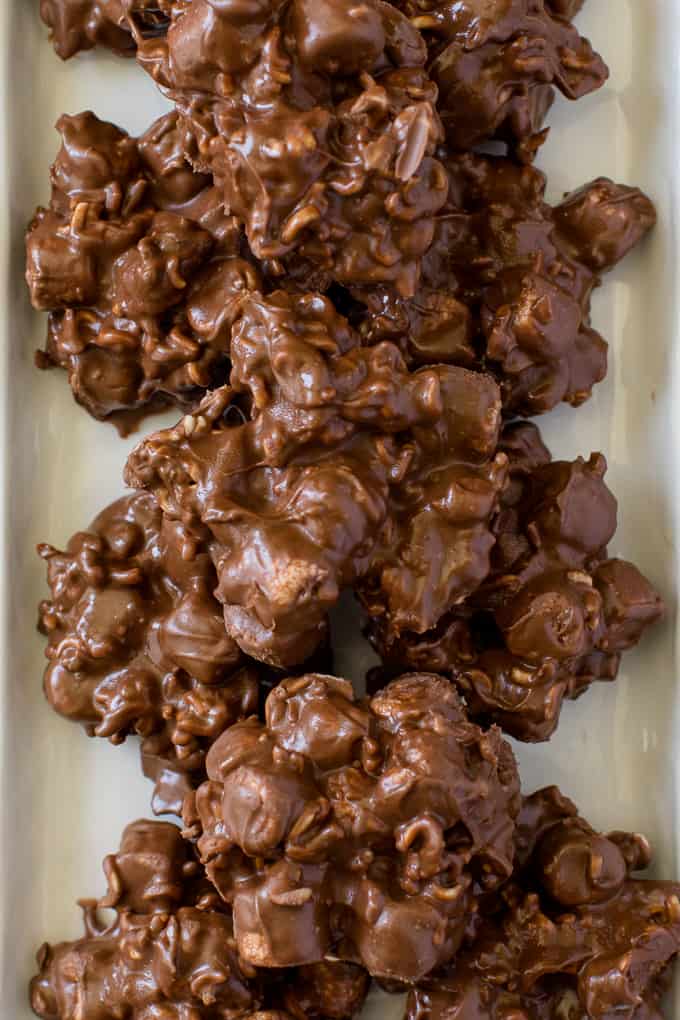 What is the Best Chocolate to Use for Rocky Road Bites
I use semi-sweet chocolate. If you are not a huge fan of semi-sweet chocolate you are welcome to use milk chocolate. Just reach for quality chocolate as it will be one of the main ingredients in the recipe. If you use cheaper chocolate you will taste it in the bites.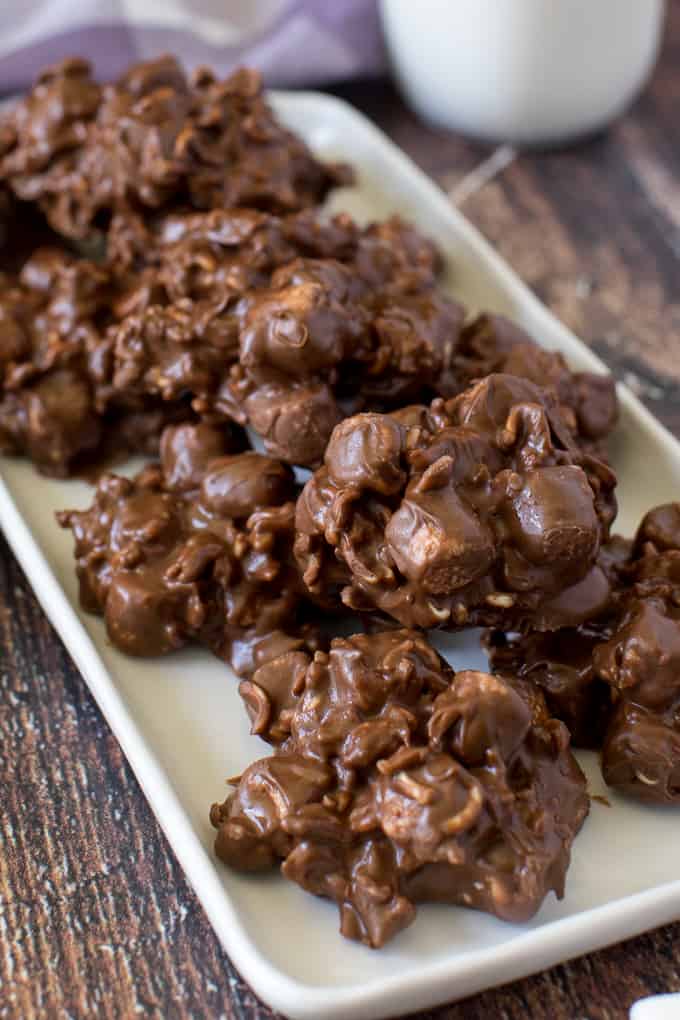 Can I Use a Double Boiler for Melting Chocolate and Peanut Butter
Of course, if you want to use a double boiler go for it. I find that using the microwave is easy enough to do. But, you are welcome to use the double boiler if you have one and find it easier.
You just want to ensure the chocolate and peanut butter meltdown until nice and creamy and that you warm it up slow and stir often so it doesn't burn the chocolate.
This is a fantastic easy holiday dessert to make and pair with cookies, bars, and other dessert treats. We make these for weekday treats but also to gift during the holidays.
Would you like a Rocky Road Bite?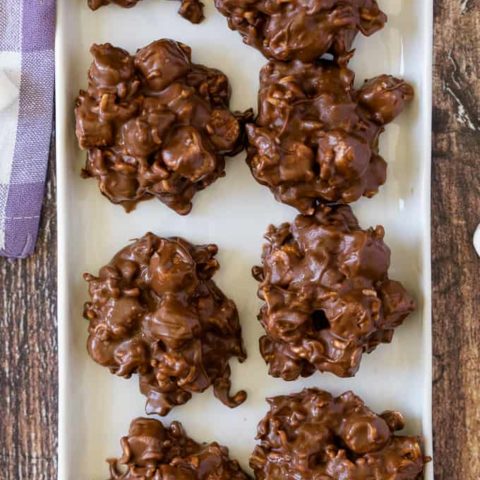 Rocky Road Bites
No-bake dessert alert! These sweet kitchen sink treats are covered in peanut butter PLUS chocolate and filled with gooey marshmallows and a crunchy surprise.
Ingredients
1 cup semisweet chocolate chips
1/2 cup smooth peanut butter
1 package ramen noodles, broken up
1 cup mini marshmallows
Instructions
Line a baking sheet with waxed paper. Set aside.
In a medium size microwaveable bowl, add chocolate chips and peanut butter. Microwave on medium for 1 minute. Stir. If not entirely melted, return to microwave and microwave an additional 15 seconds. Then stir till melted.
Add in ramen noodles and marshmallows and stir to combine.
Drop by spoonfuls onto the baking sheet. Place in the fridge for 1 hour to set.
Notes
Break up the ramen noodles while still in the package to lessen the mess.
Recommended Products
As an Amazon Associate and member of other affiliate programs, I earn from qualifying purchases.
Nutrition Information:
Yield:

12
Serving Size:

1
Amount Per Serving:
Calories:

178
Total Fat:

11g
Saturated Fat:

4g
Trans Fat:

0g
Unsaturated Fat:

6g
Cholesterol:

0mg
Sodium:

192mg
Carbohydrates:

20g
Fiber:

2g
Sugar:

11g
Protein:

4g