Friends, are you up for a sweet challenge?
When it involves food, I'm always game. Desserts? Count me in!
Voortman has been a popular brand in many families' homes, mine included, for over 60 years. My grandma always had a few packages of Voortman Wafers in her pantry. I remember sneaking some when she wasn't looking. Sorry Grandma! My kidself couldn't resist. Now, Voortman wants to help inspire you to get creative using Voortman Wafers in their Inspired by Voortman Contest.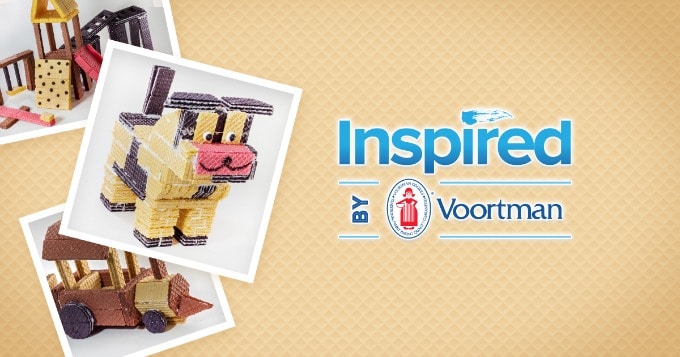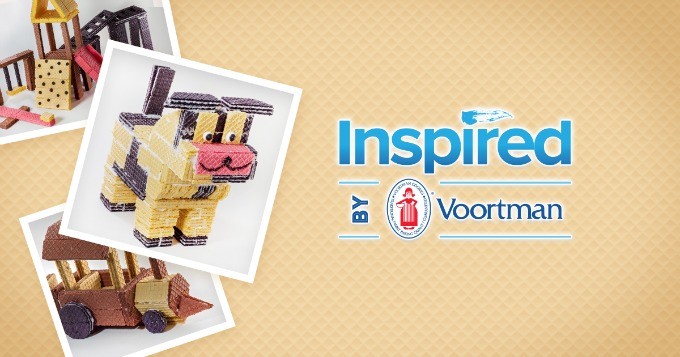 Inspired by Voortman Contest
Voortman is giving away $2,500 USD to two lucky winners. I'd say cold hard cash is a sweet prize too!
There are two categories you can enter under and each category has a $2,500 USD cash prize.
1. Wafer Structure: Create a delicious work of art or an object using Voortman Wafers. The wafers must be visible in your creation and ideally should make up the majority of it.
2. Wafer Recipe: Create a wafer-based dish or treat with Voortman Wafers that you can eat and enjoy. Again, the wafers must be visible in your recipe and must be a primary ingredient. Don't worry about including a list of ingredients or steps to make your recipe in your entry.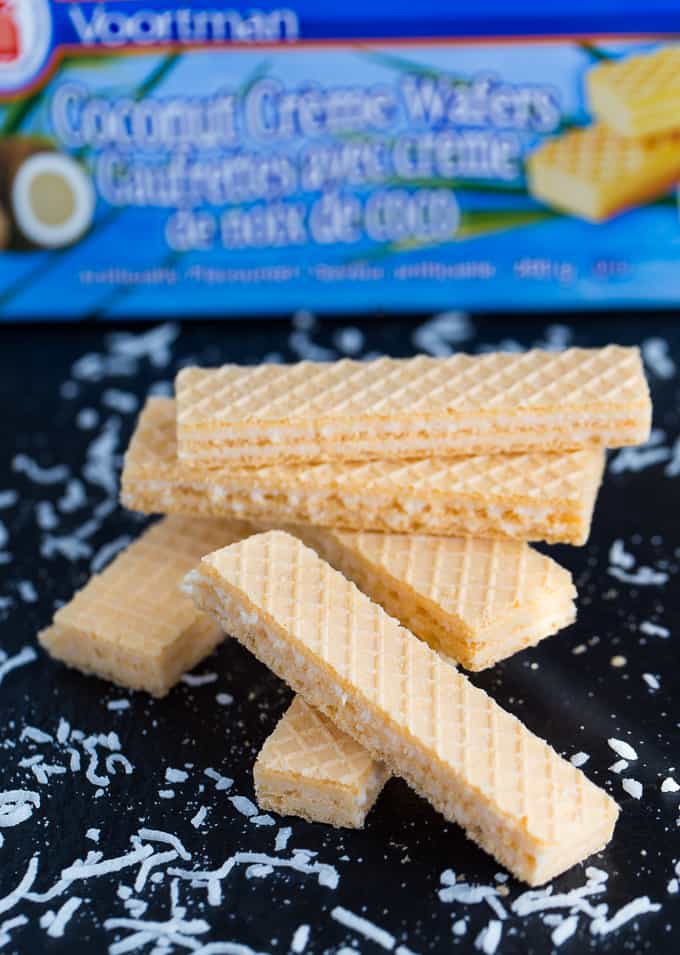 Voortman Wafer Cookies come in a variety of flavours including vanilla, strawberry, chocolate, lemon, coconut, cookies n creme, peanut butter and more. In Ontario, buy them at Walmart, Sobeys, Fortinos, Loblaws, Real Canadian Superstore, Food Basics, Metro, Longos, Canadian Tire and Giant Tiger. Check their Where to Buy store locator to find a store near you.
After you've made and taken a photo of your recipe or structure, submit your image and your information at Inspired by Voortman. Entrants are allowed one entry per day. The contest runs from May 2 to June 13, 2016 at 12 pm EDT and is open to Canada (excludes QC) and USA (excludes AZ, CO, MD, NE, ND and PR). The winners will be selected by a panel of judges.
Make sure to check out the tips and guidelines, the Creations Gallery and contest rules while you are there. That Wafer Poutine in the Creations Gallery is pretty neat!
My Wafer Recipe Creation
Of course, I had to make something. My mind was brimming with ideas on what would work well for this contest. I can't win, but I'm sharing just for the fun and to hopefully inspire you to make something unique and/or delicious. At first, I thought of some kind of cake with wafer layers. I was going to run with that until I was shopping in the paper towel aisle and saw those little bathroom cups you use for rinsing your mouth after you brush your teeth. I thought they were the perfect size to make ice pops and use a Voortman Wafer as the stick. It was my own little a-ha moment in the cleaning aisle at Walmart.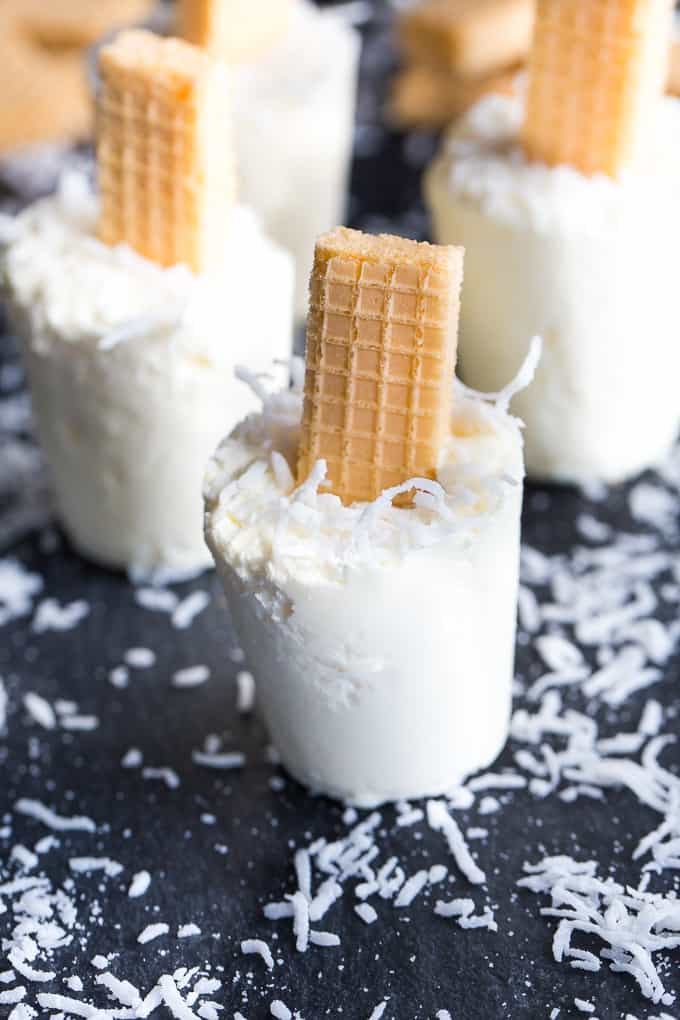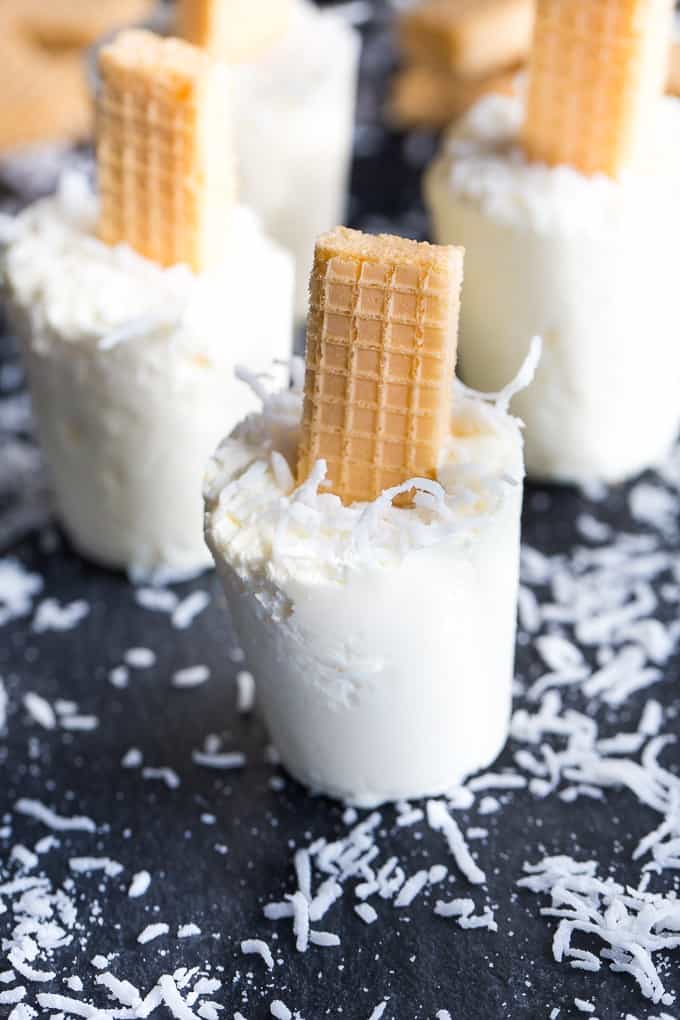 I settled on using the Coconut Creme Voortman Wafers and knew I needed something to complement the flavour. I went with the obvious – a coconut cream pie filling, but in a frozen format.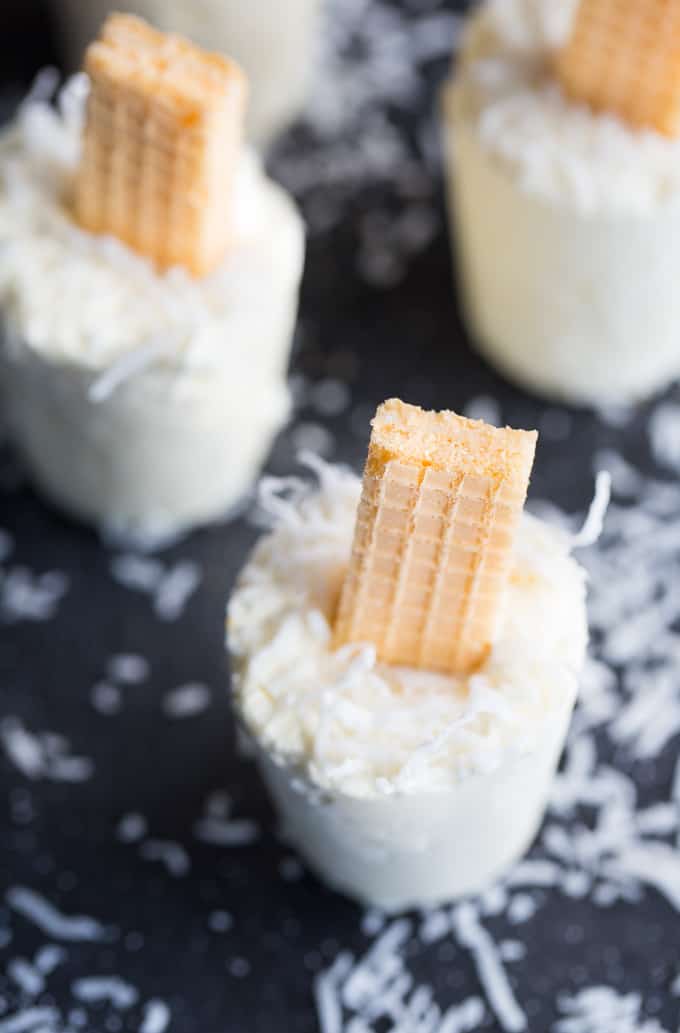 The ice pop portion is made with vanilla instant pudding, coconut extract, shredded coconut and frozen whipped topping.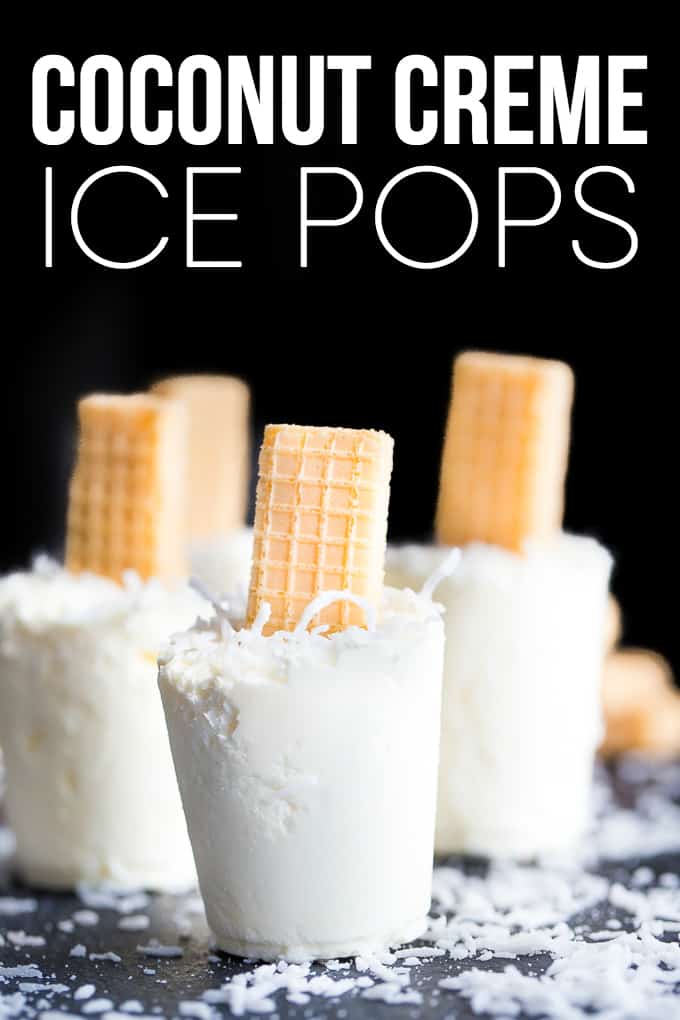 The pudding mixture goes into the small plastic cups. Then place a Voortman Wafer in the centre of each pushing down so it will hold upright. Sprinkle on a little coconut to decorate and freeze for at least 4 hours. I left mine sit overnight so I knew they'd be nice and firm to eat.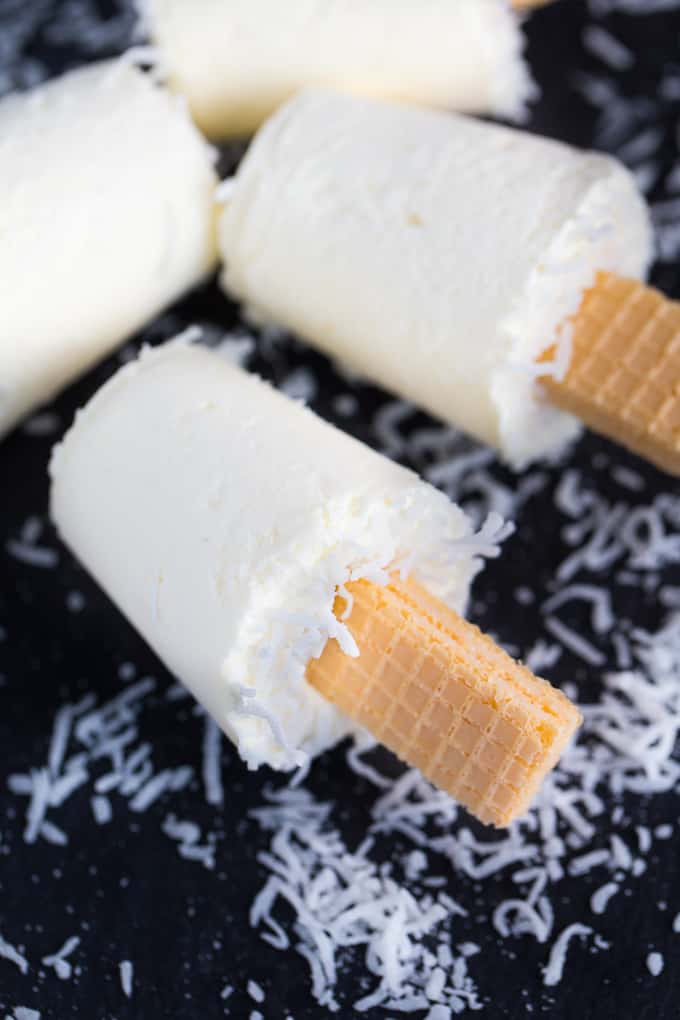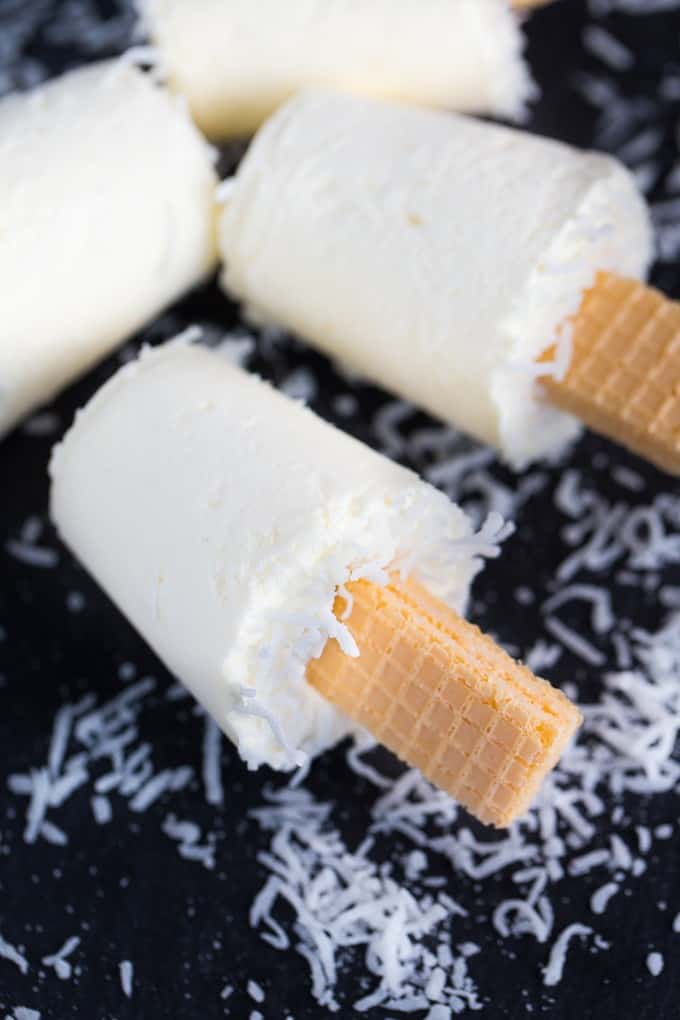 I carefully removed the cup with a knife and it peeled off into these beautiful treats!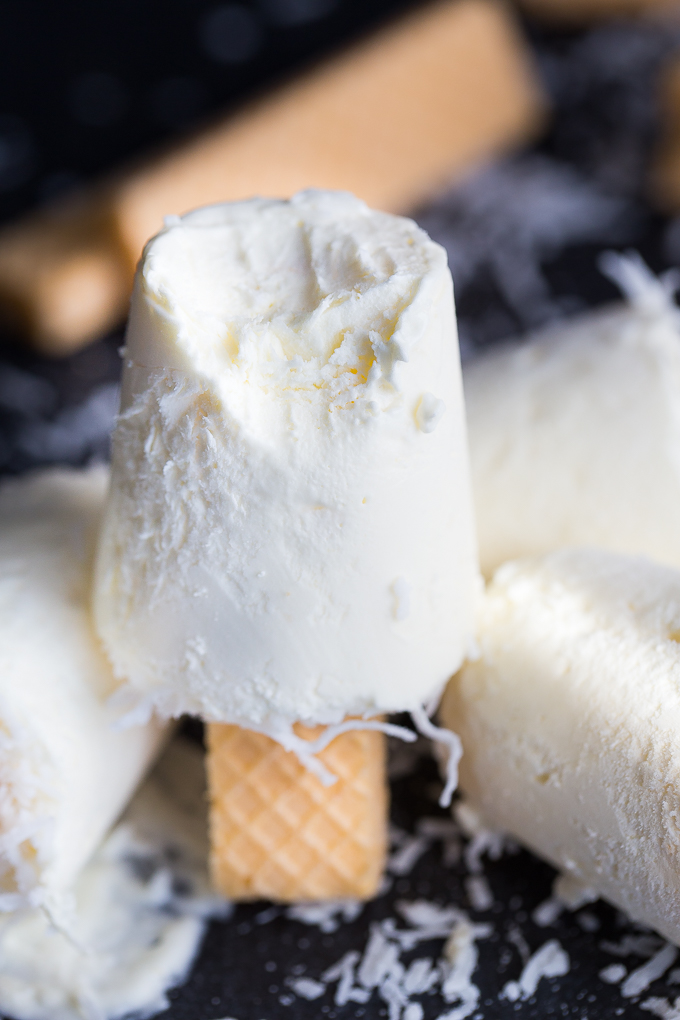 They are cold, creamy and coconutty! The best part is you can eat the entire treat with nothing going to waste. I personally don't like the wooden sticks and much prefer Voortman Wafers.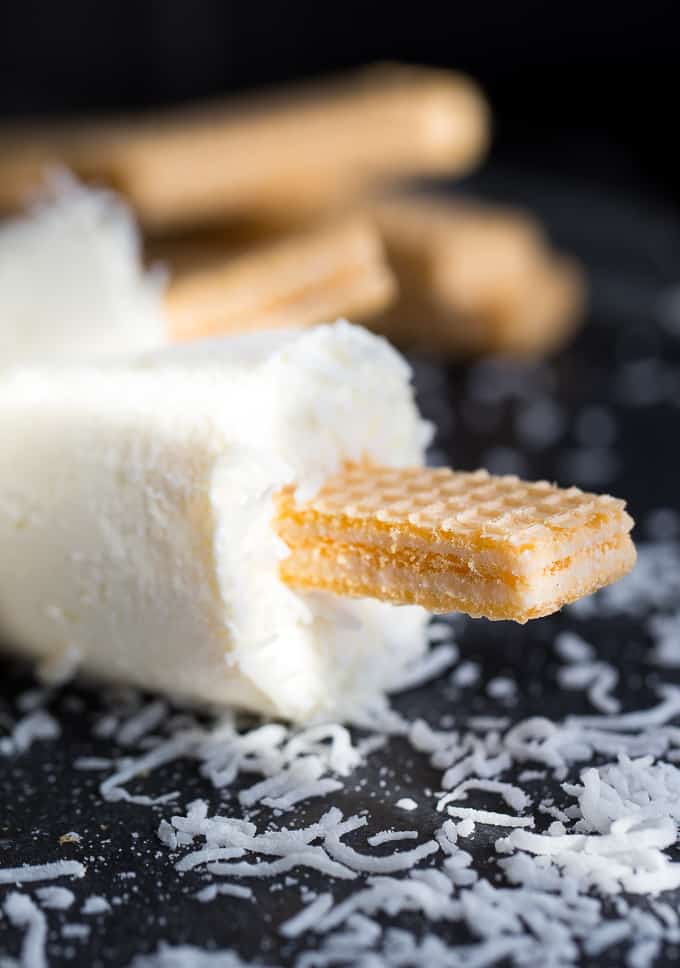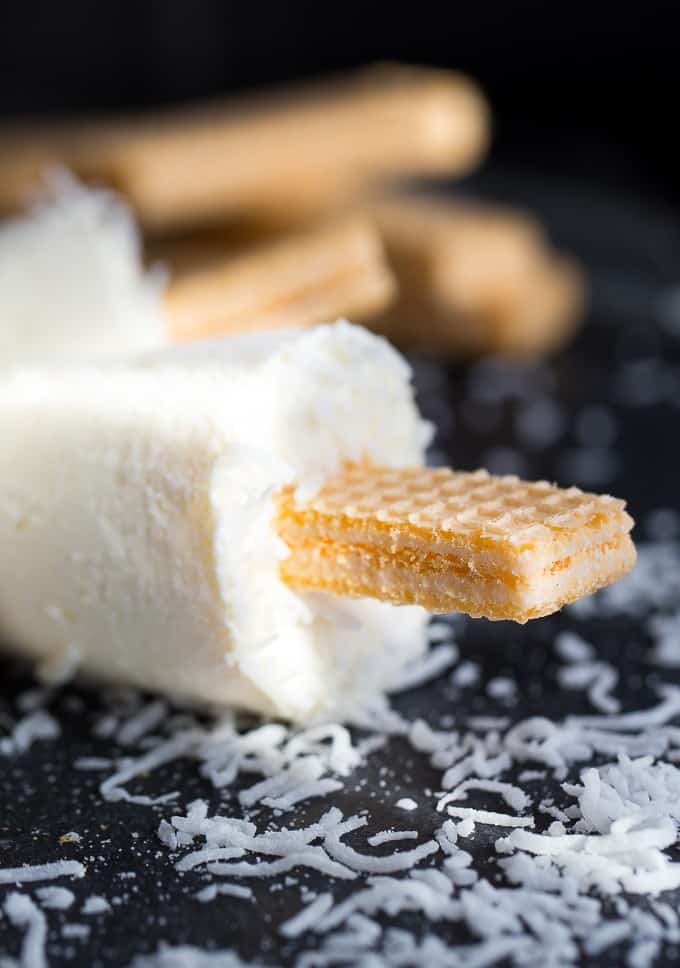 Kids can help make this recipe and will love to eat them. My daughter has been eating them like they are going out of style. Good thing it will be a cinch for me to make more. I might try a few other flavours like strawberry or chocolate.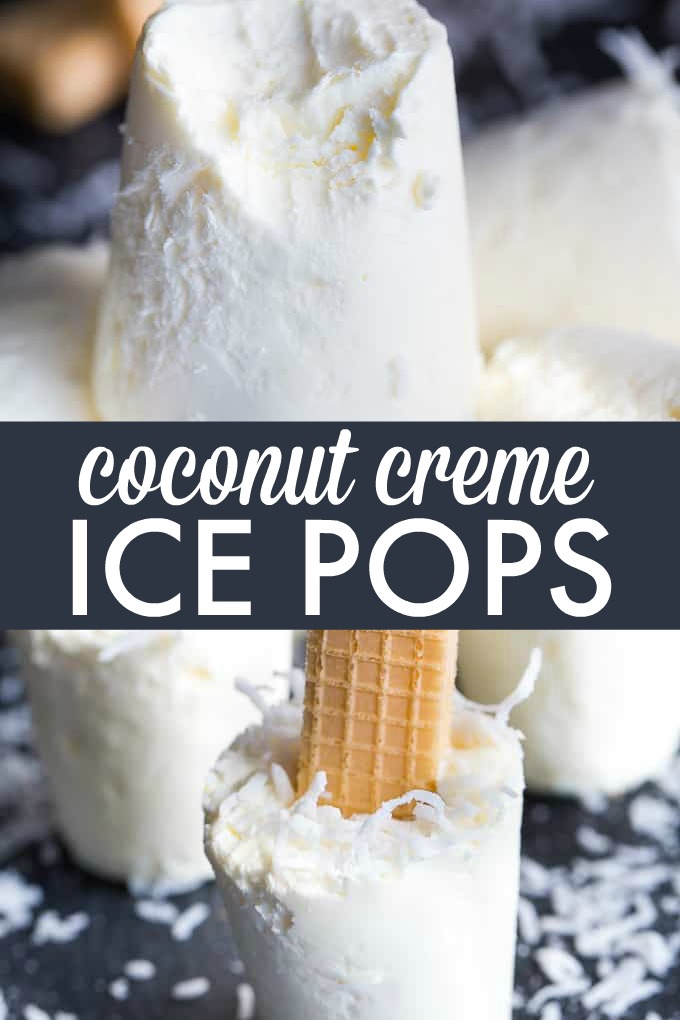 I hope I've helped to inspire you to create something delicious or fun with your Voortman Wafers. I'll be watching the Creations Gallery to check out everyone's entries. Good luck to all!
Connect with Voortman on Facebook, Twitter, Pinterest and Instagram.

You'll also like these Cereal Milk Popsicles, Toasted Coconut Fudgsicles and Strawberry Lemonade Popsicles.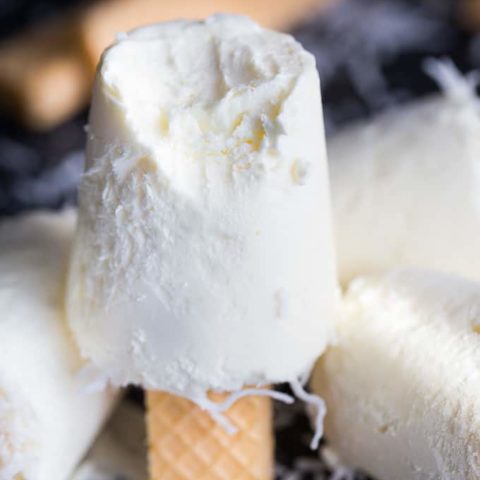 Coconut Creme Ice Pops
Total Time:
4 hours
10 minutes
Cold, creamy and perfectly sweet! This summer treat tastes like a coconut cream pie.
Ingredients
1 102g package instant vanilla pudding
2 cups cold milk
1 tsp coconut extract
1/2 cup sweetened shredded coconut, divided
2 cups thawed whipped topping
12 Voortman Coconut Crème Wafers
Instructions
Combine pudding, milk and coconut extract in a large bowl and beat on low speed for 2 minutes or until thickened and smooth.
Stir in 1/4 cup shredded coconut and whipped topping until smooth.
Fill small bathroom cups about 3/4 way full with the pudding mixture. Insert one wafer into each cup. Sprinkle with the remaining coconut.
Freeze for 4 hours or overnight for best results. Carefully remove the cup and enjoy your ice pop.
Recommended Products
As an Amazon Associate and member of other affiliate programs, I earn from qualifying purchases.
Nutrition Information:
Yield:

12
Serving Size:

1
Amount Per Serving:
Calories:

488
Total Fat:

30g
Saturated Fat:

27g
Trans Fat:

0g
Unsaturated Fat:

2g
Cholesterol:

3mg
Sodium:

299mg
Carbohydrates:

55g
Fiber:

9g
Sugar:

38g
Protein:

5g
Disclosure: I was compensated for this post. All opinions expressed are my own.