If you love Pumpkin Pie, you are going to love Sweet Potato Pie! It tastes almost the same with a similar texture. It's an amazing pie to serve this holiday season for either Thanksgiving or Christmas dinner. This simple sweet potato dessert with all its yummy fall flavors is the exactly what you need.

The first time I tried Sweet Potato Pie I was blown away at how similar it was to my favorite pie recipe, pumpkin pie. It closely resembles pumpkin pie in both color, texture and taste. I served it for Thanksgiving dinner last year and everyone thought it was pumpkin pie. Once I mentioned that it was sweet potato pie, they were surprised and said they had no idea.
Some people might be able to tell while others will be oblivious like my family!
Sweet potatoes are naturally sweeter than pumpkin making sweet potato pie slightly sweeter than pumpkin pie. Once you try it, you'll see that they are very close in terms of taste and texture.
I think it would be neat to put both pies side by side and have a blind taste test. I'd be curious to see who could tell the difference. Check out this post to learn more about the comparison between sweet potato pie versus pumpkin pie.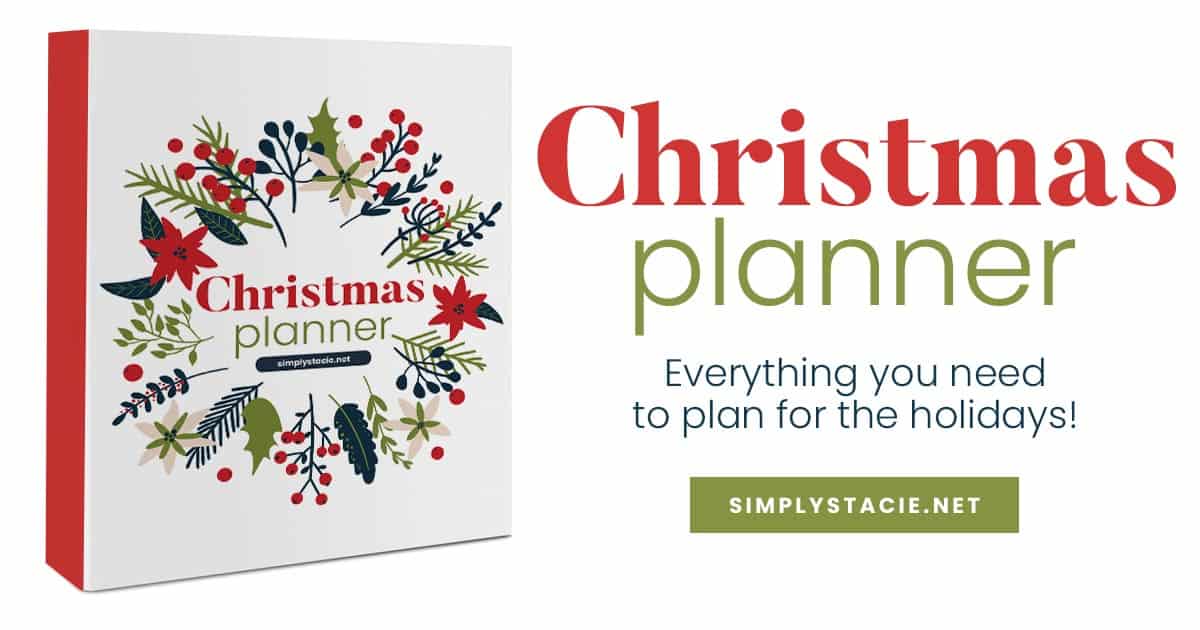 Why You'll Love This Sweet Potato Pie Recipe
Perfect dessert for your Thanksgiving table or Christmas dinner
A delicious alternative to the more traditional pumpkin pie recipe
Made with simple ingredients including fresh sweet potatoes
One of the best sweet potato pies (in my family's opinion!)
Can be topped with whipped cream or vanilla ice cream
Smooth filling full of warm spices and sweet flavor
Easy to make in just over an hour
Ingredients
9-inch deep dish pie shells – I use frozen pie shells that have been thawed according to package directions.
Large eggs
Sweet potatoes – I used two sweet potatoes that I peeled, chopped, cooked and mashed.
Granulated sugar
Salt
Pumpkin pie spice – Use store-bought or make your own pumpkin pie spice.
Evaporated milk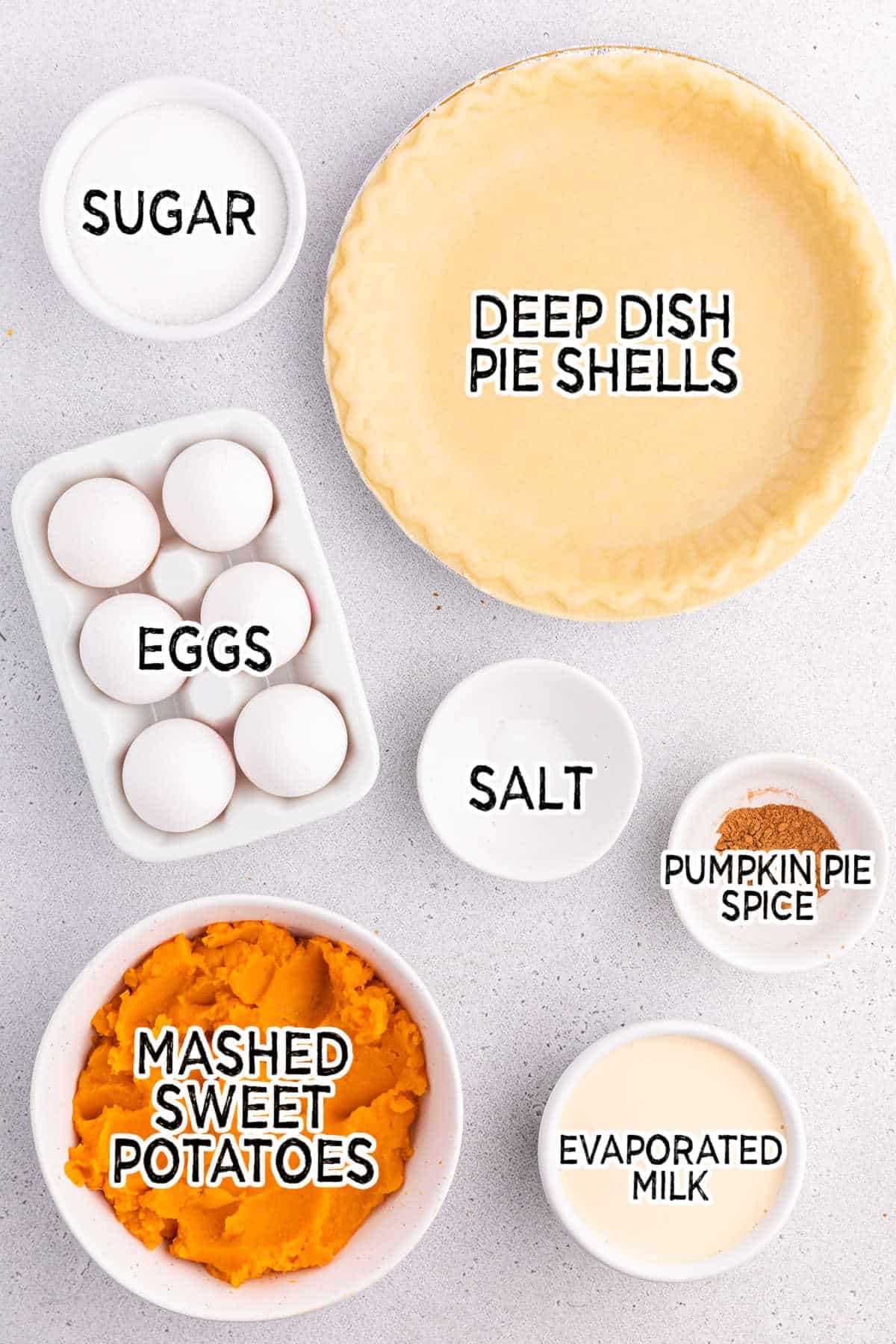 How to Make Sweet Potato Pie
Step One: Preheat the oven to 425°F.
Step Two: Beat together the sweet potatoes, evaporated milk, sugar, eggs, pumpkin pie spice and salt with an electric mixer or stand mixer on low speed.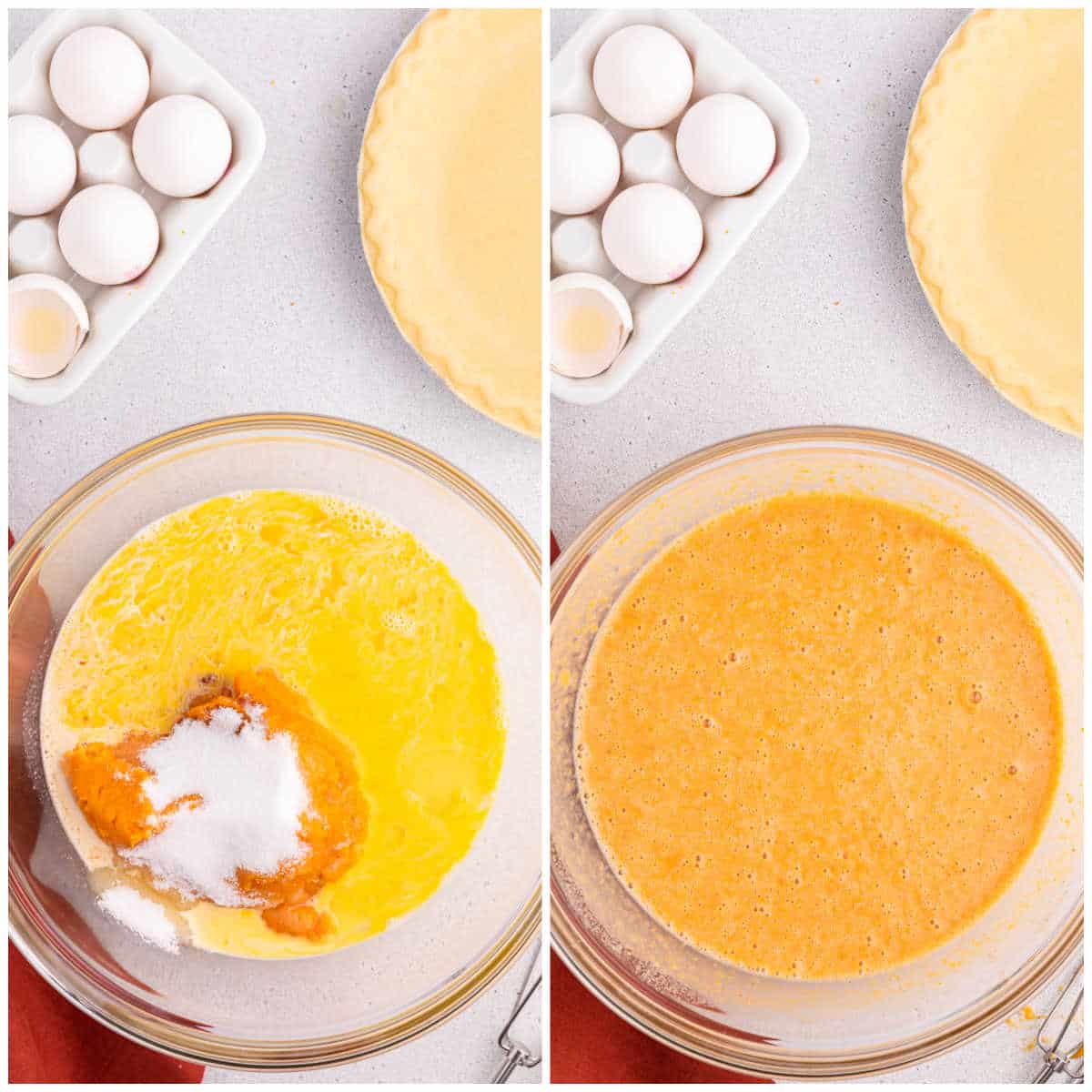 Step Three: Pour sweet potato mixture evenly between the two thawed pie shells.
Step Four: Bake for 15 minutes. Reduce heat to 350°F and bake for another 45 minutes. Cool your baked pie completely before serving.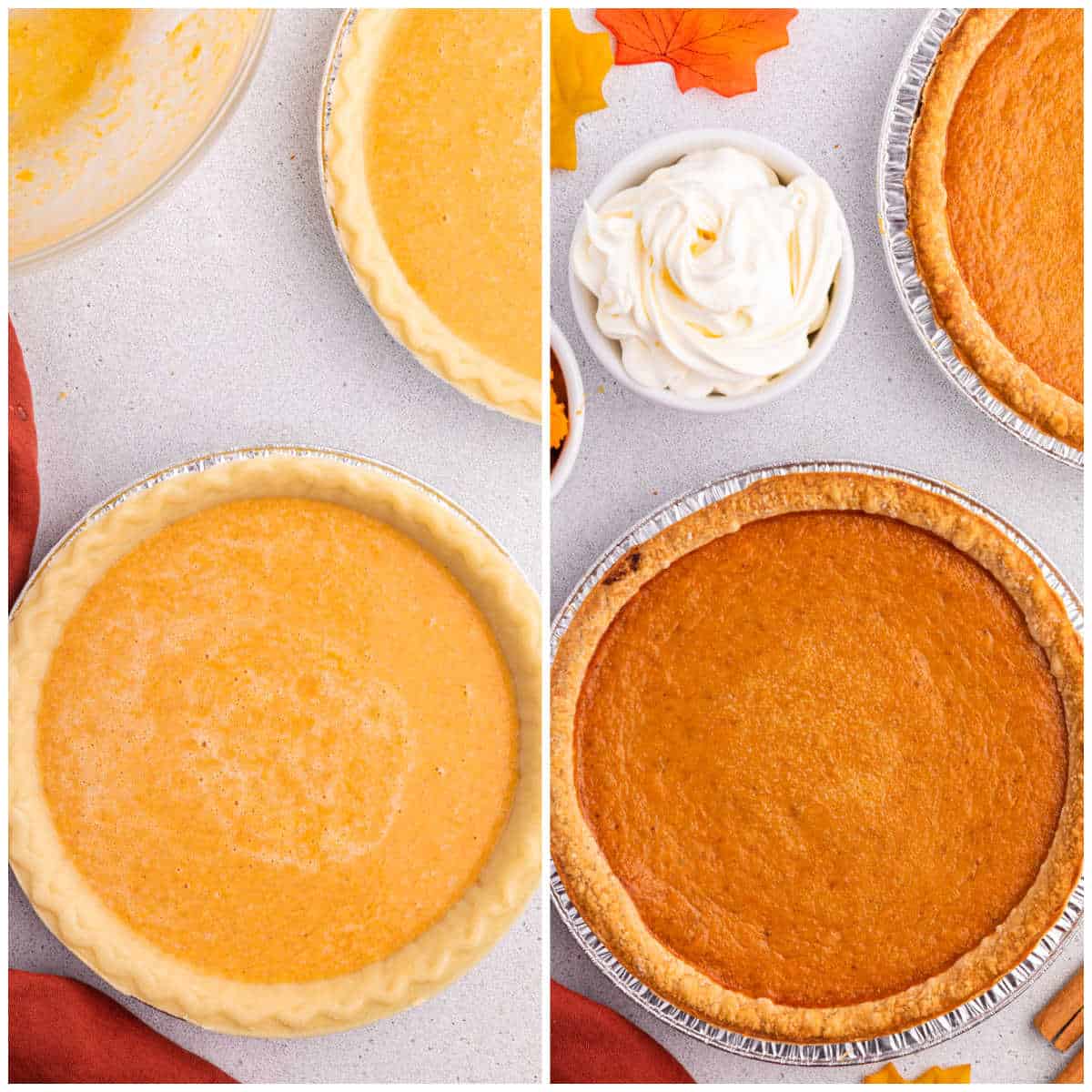 Equipment Needed
This post contains affiliate links.
How to Prep the Sweet Potatoes
You have two options to prep the sweet potatoes for your pies. Cook on the stove or bake in the oven!
How to Cook Sweet Potatoes on the Stove
Step One: Wash the sweet potatoes with cool water and a vegetable brush (if needed).
Step Two: Peel the sweet potatoes with a vegetable peeler.
Step Three: Chop the sweet potatoes into ½ inch chunks. Try to keep all the sweet potato chunks about the same size so they'll cook evenly.
Step Four: Add the sweet potatoes to a large pot or Dutch oven. Fill with cold water to cover the sweet potatoes about an 1-inch above. Season with salt.
Step Five: Bring to a boil on high heat.
Step Six: Boil for 20 to 25 minutes or until sweet potatoes can be pierced easily with a fork.
Step Seven: Drain in a colander and put sweet potatoes back in the pot.
How to Bake Sweet Potatoes in the Oven
Step One: Wash the sweet potatoes with cool water and a vegetable brush (if needed). Pat dry and then pierce the sweet potato with a fork about 4 to 5 times. This will help the steam escape.
Step Two: Preheat the oven to 350°F. Line a baking sheet with aluminum foil. Place sweet potatoes on the baking sheet.
Step Three: Bake for 30 minutes. Flip the sweet potatoes over to the other side at the 30 minute mark. Continue to bake for another 30 minutes.
Step Four: Remove sweet potatoes from the oven and carefully cut down the center of each sweet potato. Scoop out the flesh and place in a bowl.
What to Serve with Sweet Potato Pie
Sweet Potato Pie is a versatile dessert that pairs well with many types of meals. I typically picture it with hearty comfort food family dinners. Some of my favorite recipes include:
Variations and Substitutions
Use leftover mashed sweet potatoes if you have any.
Add 1 teaspoon of vanilla extract to the mixture for a hint of vanilla flavor
Make your own homemade pie crust if you prefer. A buttery pie crust would be delicious.
Use ground cinnamon if you don't have pumpkin pie spice.
Substitute light brown sugar for the white sugar if you like.
What Spices Can I Use in Sweet Potato Pie?
This recipe uses pumpkin pie spice, but you can use other combinations of spices if you like. Some suggestions are:
Cinnamon
Nutmeg
Ginger
Allspice
Cloves
Mace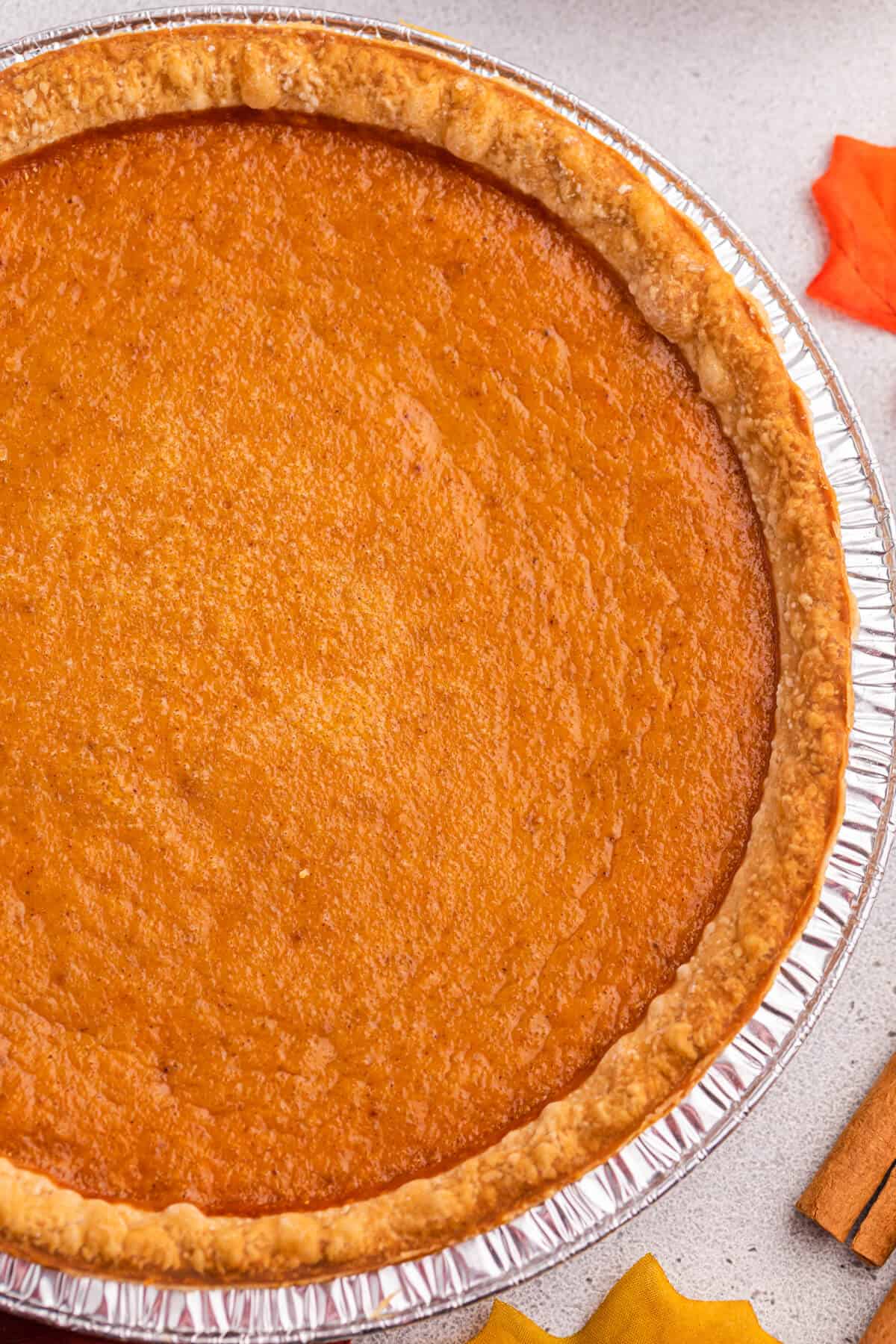 Storage Instructions
Store any leftover sweet potato pie in an airtight container or covered in aluminum foil (or plastic wrap) in the fridge for up to 3 days.
Can I Freeze Sweet Potato Pie?
Yes, you can definitely freeze them! Make extra pies and save for later or make ahead for the holidays.
Make sure to wrap the cooked pie well with aluminum foil so it won't get freezer burnt. Store in the freezer for up to 3 months.
Can I Make Ahead?
Yes, you can make this pie up to a day or two ahead of time. Make sure to store it, covered, in the fridge until you're ready to serve.
Want more fall pie recipes? Try my Shoofly Pie, Oatmeal Pie, Apple Slab Pie, and Sugar Pie.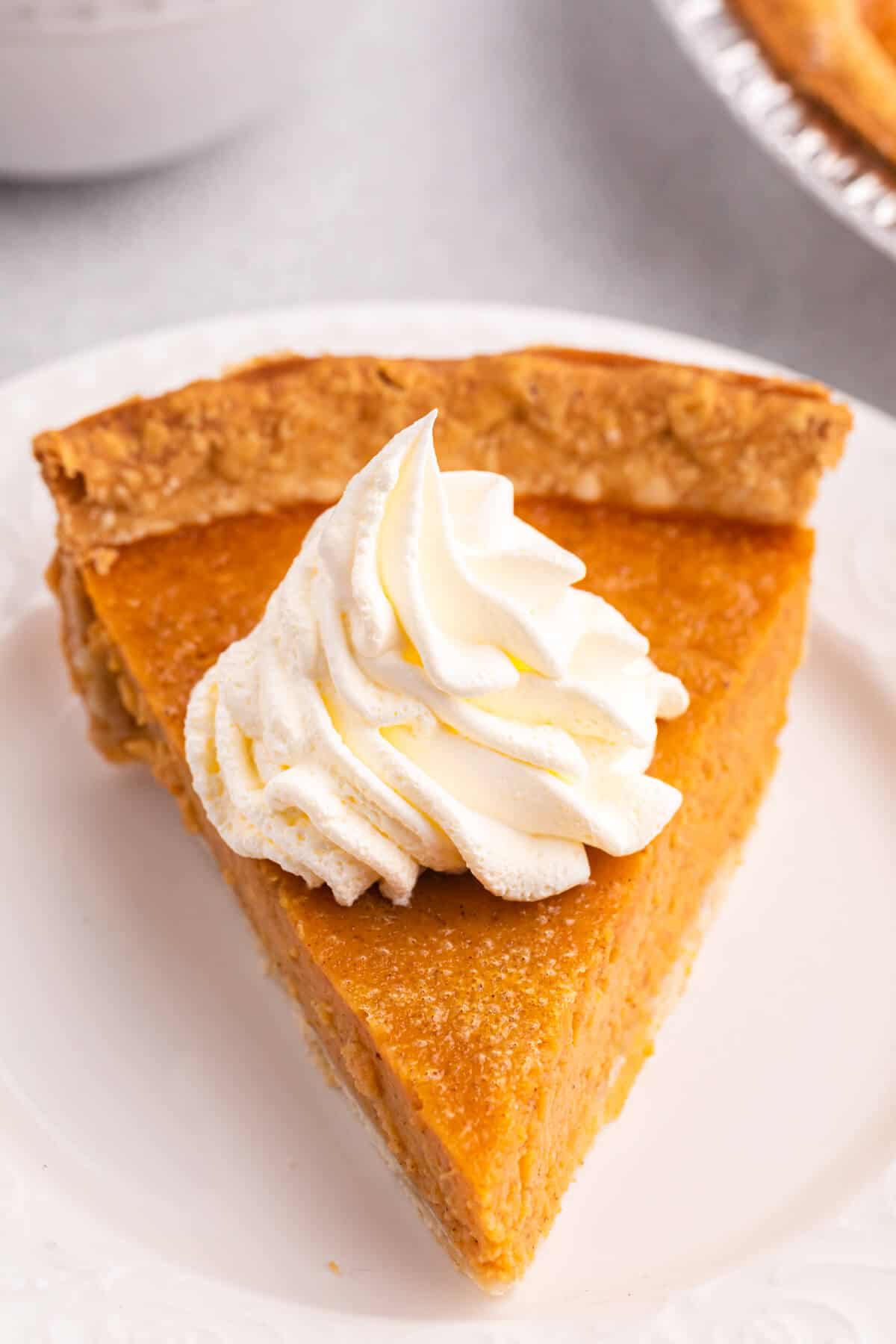 Can I Use a Homemade Crust?
Definitely! If you have a pie crust recipe that you love, feel free to use it in this recipe. I like the frozen pie shells because it saves me time in the kitchen.
Can I Use Canned Sweet Potatoes?
Yes, you can use canned sweet potatoes instead of fresh to make your sweet potato pie. Canned sweet potatoes are typically already cooked so you would need to mash them up to use in your pie recipe.
Can I Make with Yams Instead?
I don't recommend using yams to make a sweet potato pie.
Many people think they are the same thing and can be used interchangeably in recipes. In fact, they are quite different.
Yams are more starchy and dry like a potato with an earthy taste while sweet potatoes are softer after you cook them, sweeter and moister.
You likely won't get your desired outcome if you use yams instead of sweet potatoes.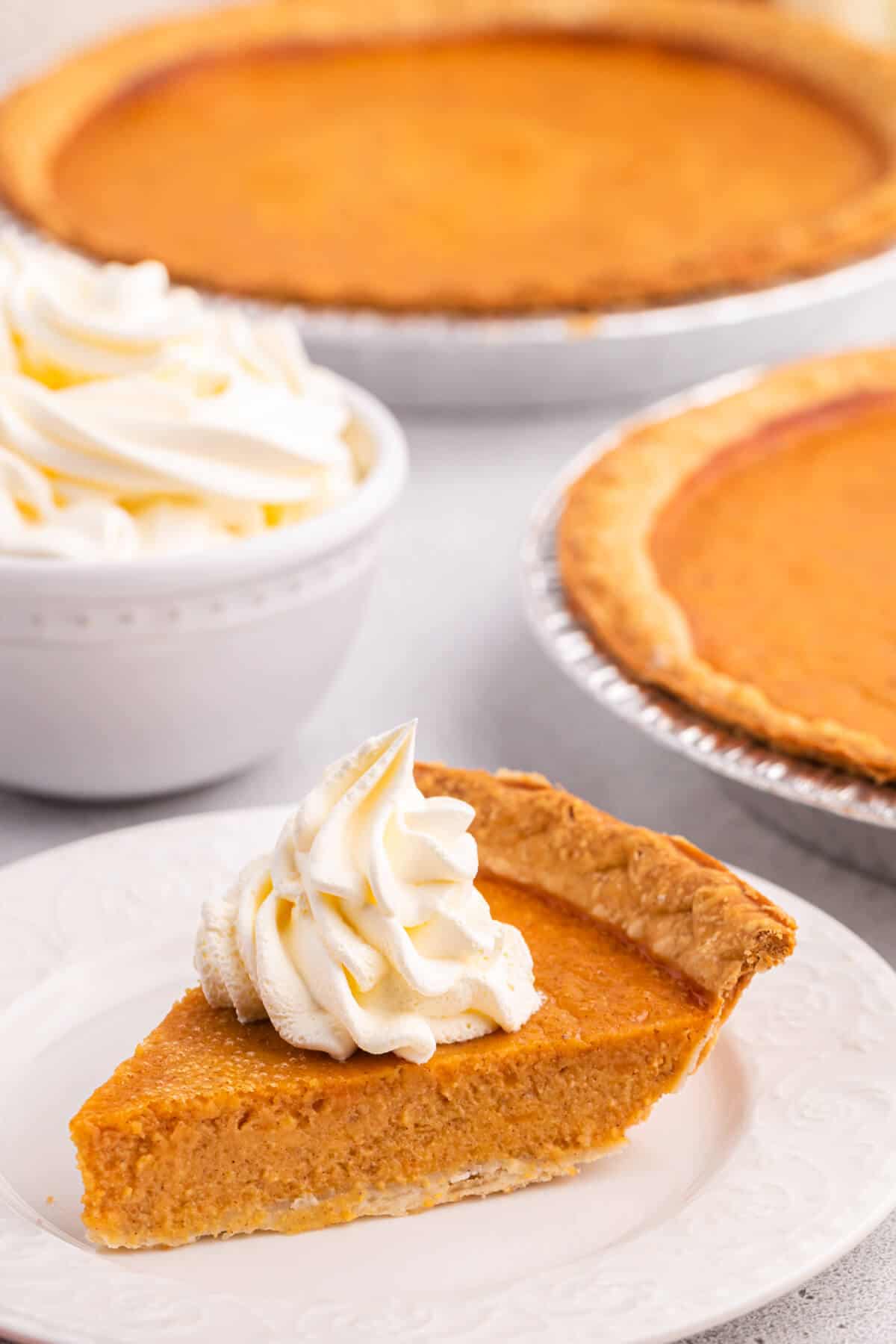 Recipe Tips and Tricks
Use leftover mashed sweet potatoes to save time in preparation.
Make sure that your sweet potatoes are fully cooked and mashed. You don't want to find hard lumps of sweet potato in your pie.
Don't use a substitution for the evaporated milk. You can find evaporated milk in cans in the baking aisle at the grocery store. It makes the pie filling creamy and delicious.
Let the pie cool completely before cutting it into slices. It's hard to wait if you're hungry, but it will be worth it so the slices cut nicely and keep their shape.
How to Serve
Sweet potato pie can be served either at room temperature or chilled. I don't recommend serving it hot or warm.
For toppings, try some whipped cream, Cool Whip (you can make your own stabilized whipped cream), vanilla ice cream, marshmallow fluff, caramel sauce or even butterscotch sauce.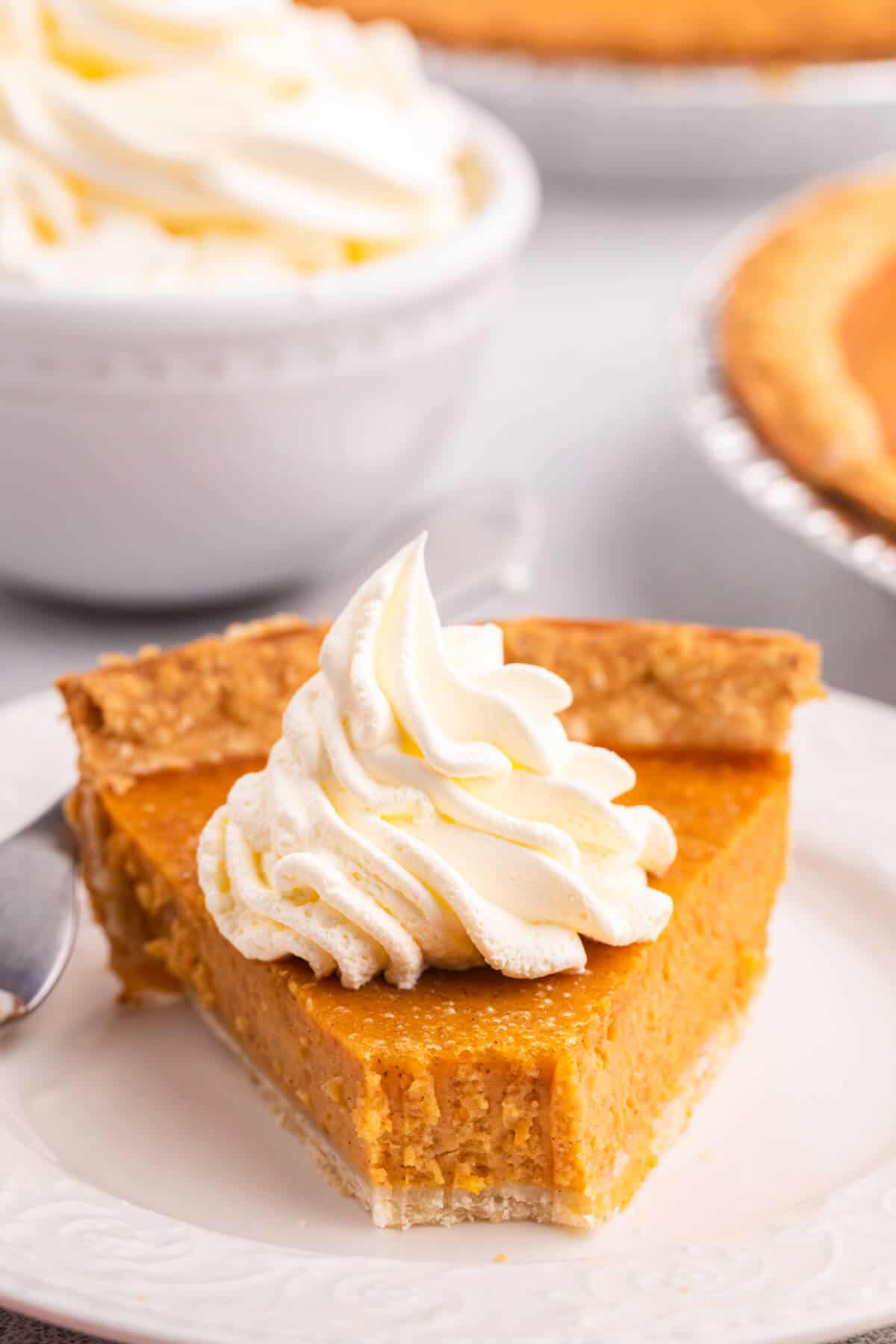 Sweet Potato Recipes
Look for more ways to use sweet potatoes? Try these yummy recipes:
Have you tried Sweet Potato Pie?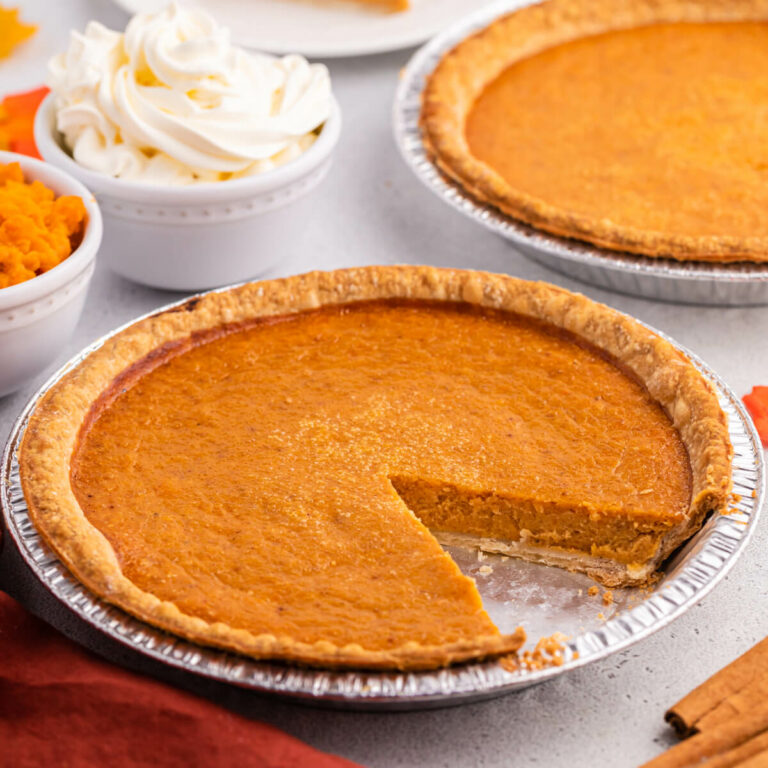 Sweet Potato Pie
The best easy addition to your Thanksgiving dessert spread. Just mix and bake to enjoy this creamy and sweet pie recipe.
Print
Facebook
Pin
Share by Email
Rate
Ingredients
2

cups

sweet potatoes

peeled, cooked and mashed

1 ½

cup

evaporated milk

¾

cup

granulated sugar

2

large eggs

beaten

1 ½

tsp

pumpkin pie spice

½

tsp

salt

2

9-inch deep dish pie shells

thawed and unbaked
Instructions
Preheat the oven to 425°F.

In a large bowl, add sweet potatoes, evaporated milk, granulated sugar, eggs, pumpkin pie spice and salt. Beat together on low with a mixer until combined.

Pour mixture into pie shells.

Bake for 15 minutes. Reduce heat to 350°F and bake for another 45 minutes.

Cool completely before serving.
Nutrition
Calories:
298
kcal
|
Carbohydrates:
38
g
|
Protein:
6
g
|
Fat:
14
g
|
Saturated Fat:
5
g
|
Polyunsaturated Fat:
2
g
|
Monounsaturated Fat:
6
g
|
Trans Fat:
0.003
g
|
Cholesterol:
37
mg
|
Sodium:
287
mg
|
Potassium:
218
mg
|
Fiber:
1
g
|
Sugar:
17
g
|
Vitamin A:
3262
IU
|
Vitamin C:
1
mg
|
Calcium:
104
mg
|
Iron:
1
mg
The information shown is an estimate provided by an online nutrition calculator. It should not be considered a substitute for a professional nutritionist's advice.
Love Recipes? Join our Free Facebook Group!
Join Mom's Best Recipes to find more delicious family recipes.
Save
Saved!