This recipe for sweet potato muffins yields muffins that are incredibly moist, perfectly sweet, and so easy to make. Fresh sweet potato, sweet maple syrup, vanilla, and pumpkin pie spice are mixed to create the best warm flavours!
I love these healthy sweet potato muffins because they are refined sugar-free and super moist thanks to the fluffy sweet potato and oil. This recipe is easy to make vegan, too, which makes this recipe flexible and easy to customize.
The sweet potato in this recipe is naturally sweet which gives these moist muffins an incredible level of sweetness enhanced by sticky maple syrup. Aromas of cinnamon, nutmeg, and more are blended into the muffin batter and make this easy muffin recipe perfect for both fall and winter.
These muffins are perfect for breakfast and brunch at home. I rotate between this and my crumbly pumpkin crumb muffins recipe–both options are so enjoyable and full of rich flavours!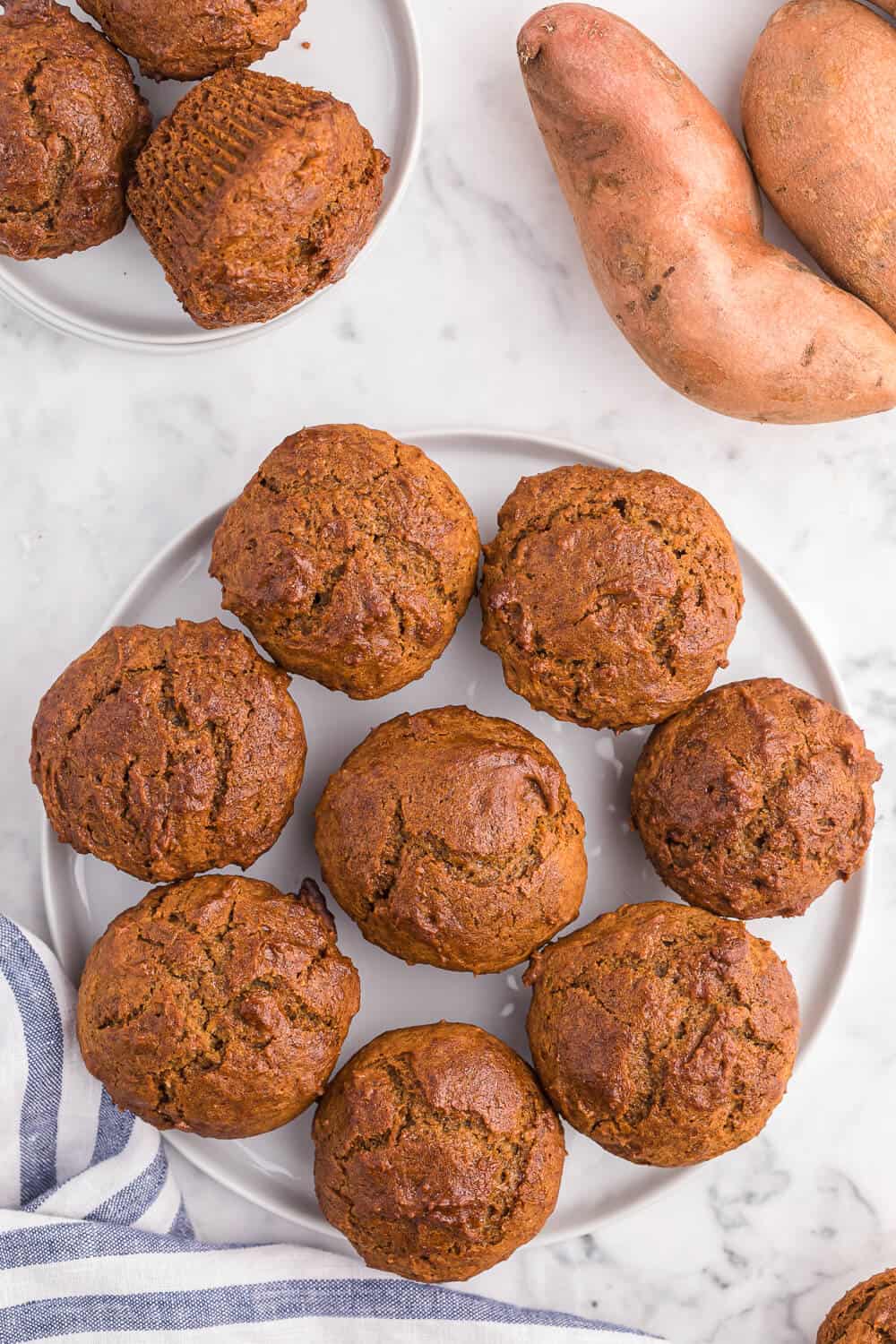 Ingredients
This post contains affiliate links.
Sweet Potato: One whole large sweet potato is roasted in the oven and mashed for these muffins! Alternatively, if you have any leftover cooked sweet potato in any form, you can use that. Just be sure to mash the potatoes!
Oil: Any kind of vegetable oil will work for these sweet potato muffins.
Milk: This recipe is versatile and will work with any kind of milk. Use either dairy or dairy-free milk.
Maple Syrup: Sweet rich maple syrup is used to sweeten these muffins and also used to brush the tops of the muffins to make them extra moist and sweet.
Vanilla: Pure vanilla extract is used to give these muffins plenty of rich aromatic flavours.
Flour: All-purpose flour is used for this recipe to make super fluffy muffins that contain the perfect crumb. Gluten-free 1:1 flour will work, too.
Baking Powder and Soda: Both of these are used to make sure the muffins rise and bind together.
Pumpkin Spice: I always use my homemade pumpkin pie spice blend for these muffins because it contains five spices that are incredible. Cinnamon, nutmeg, ginger, and more. Mmm. You could also use apple pie spice for these muffins.
Salt: A little bit of salt balances everything and makes sure these muffins bake perfectly!
What I Used For This Recipe
Pyrex Glass Mixing Bowl: This set of glass mixing bowls is my favorite because of the different sizes it comes in. I love that they are glass, easy to clean, durable, and easy to store!
Measuring Cups and Spoons: I love these stainless steel measuring cups and spoons because they are easy to clean and use!
Balloon Whisk: This is a great whisk to use for all kinds of baking recipes when you need to whisk either dry or wet ingredients. The silicon handle is comfortable and easy to use!
12 Cup Muffin Pan: I usually make a dozen of these muffins at a time so the 12 cup muffin pan is perfect. A mini muffin tin will also work for these muffins.
How To Make It
First, preheat the oven to 400 degrees Fahrenheit. Be sure to prick the sweet potato a few times with either a knife or fork so the potato will evenly cook.
Bake the sweet potato in the oven for about an hour until soft. Put the potato aside and allow it to cool prior to mashing.
Next, peel the sweet potato with your hands and discard the skin. With a fork or potato masher, mash the sweet potato in a bowl until it is smooth.
Add the oil, milk, maple syrup, and vanilla into the sweet potato until well combined.
Line the muffin tin with paper liners or grease the pan with nonstick spray or butter. The batter will stick if you do not grease the pan or use liners.
With a spoon, evenly fill the muffin pan with the muffin batter. Make sure to make sure to use the batter evenly or the muffins will be different sizes.
Bake the muffins in the preheated oven for 20 minutes. Remove the muffins from the oven, brush the tops with maple syrup, and return to the oven.
Bake the muffins for an additional five minutes to absorb the maple syrup, then test the center with a toothpick or knife.
Remove the muffins from the oven and allow them to cool prior to serving.
Variations
Make sweet potato banana muffins by adding one or two mashed bananas to the batter.
Add chocolate chips for chocolate chip sweet potato muffins.
Use dairy-free milk for vegan sweet potato muffins.
What is the secret to making moist muffins?
For moist muffins, be sure not to overmix the muffin batter and be sure not to bake the muffins over 20 minutes. If you would like, you can add applesauce to the muffins to make them extra moist.
What is the difference between a muffin and a cupcake?
A cupcake is made by creaming both the sugar and butter together until fluffy where muffin batter is usually mixed by hand and lumpy compared to cupcake batter.
What To Serve With This
Serve a variety of different breakfast and brunch foods with this sweet potato muffin recipe. There are several options including Quiche Lorraine, scrambled egg casserole, spicy egg muffins, baked oatmeal, fresh fruit, and more!
More Muffin Recipes You'll Love
Sweet Potato Recipes
Do you have any amazing easy muffin recipes? I'm always looking for more recipes to try! Follow me on Instagram @simplystacieblog, on Facebook at Simply Stacie, and on Pinterest @SimplyStacie and let me know how you liked this and my other recipes!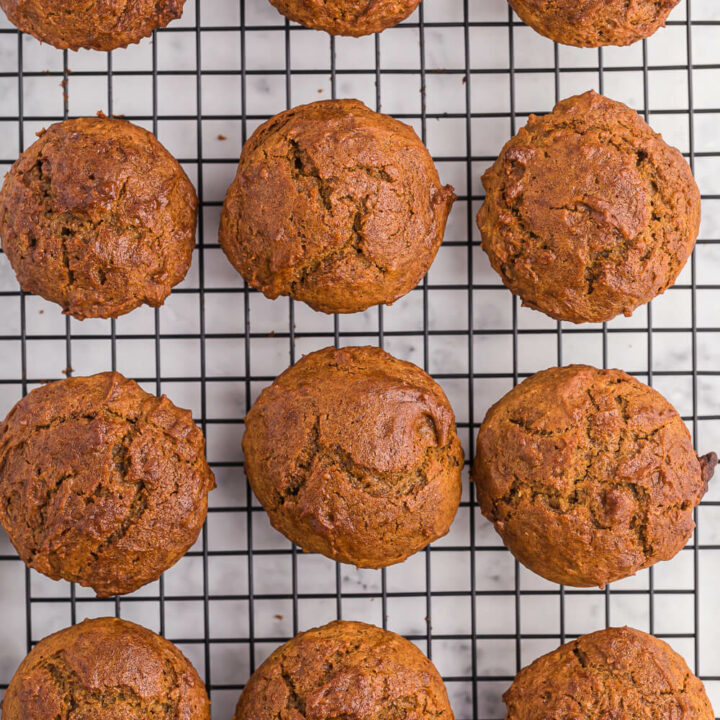 Sweet Potato Muffins
These muffins are sweetened with maple syrup and are delicious! The fall flavours of sweet potato and the warmth from pumpkin pie make them a great new muffin to add to your breakfast rotation.
Ingredients
1 large sweet potato
1/2 cup extra virgin olive oil
1/2 cup mik
3/4 cup maple syrup plus 2 extra tablespoons for brushing the muffins
1 teaspoon vanilla extract
2 cups all-purpose flour
2 teaspoon baking powder
2 teaspoon baking soda
1 1/2 tablespoons pumpkin pie spice
1/2 teaspoon salt
Instructions
Preheat the oven to 400°F. Prick the sweet potato a few times with a paring knife or a fork. Bake until soft (when a paring knife can cut through with zero resistance), about 1 hour. Set the sweet potato aside until it's completely cool.
Peel the sweet potato, discard the skin and mash the flesh in a mixing bowl with a fork. Whisk the olive oil, milk, maple syrup and vanilla into the sweet potato.
In a separate bowl, whisk together the flour, baking powder, baking soda, five-spice powder and salt. Fold the dry ingredients into the wet ingredients.
Line a 12-cup muffin tin with paper liners or grease a muffin tin and evenly distribute the muffin batter among the cups.
Bake for 20 minutes. Brush the tops with the extra maple syrup and bake an additional 5 minutes or until a toothpick comes out fo the centre clean.
Let the muffins cool before serving.
Recommended Products
As an Amazon Associate and member of other affiliate programs, I earn from qualifying purchases.
Nutrition Information:
Yield:

12
Serving Size:

1
Amount Per Serving:
Calories:

230
Total Fat:

10g
Saturated Fat:

1g
Trans Fat:

0g
Unsaturated Fat:

8g
Cholesterol:

0mg
Sodium:

392mg
Carbohydrates:

34g
Fiber:

1g
Sugar:

14g
Protein:

3g