Twice Baked Sweet Potatoes are the perfect fall side dish!
Potatoes are my ultimate comfort food, and Twice Baked Sweet Potatoes are an amazingly flavorful fall or winter side dish with a little bit of sweet and a ton of nutrients!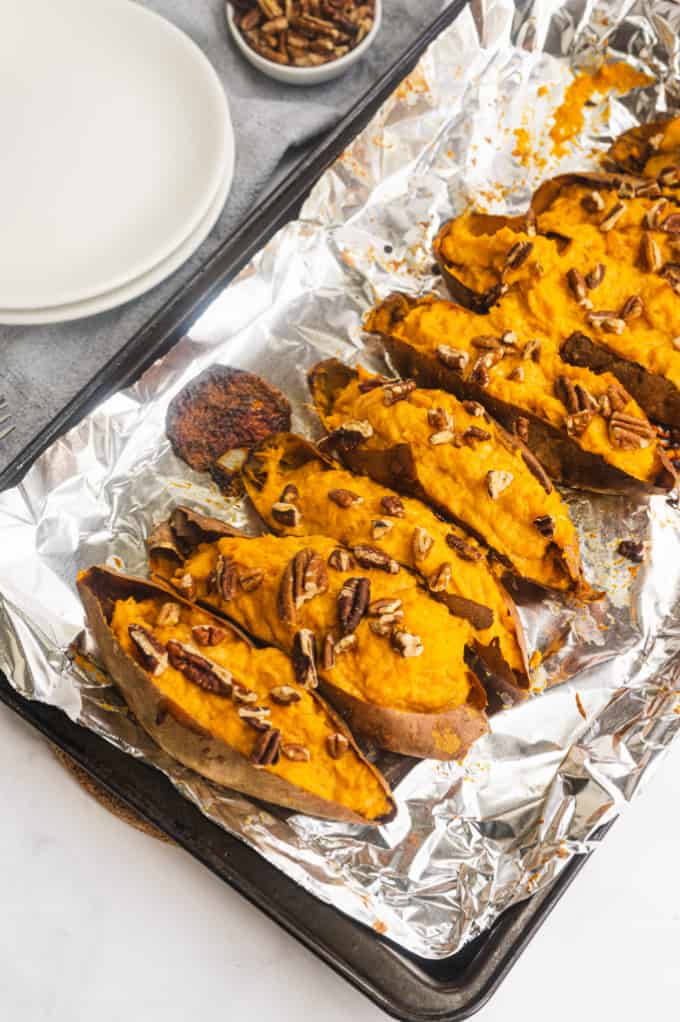 The inside is sweet, creamy and rich. I can usually only eat one at a time since they are so filling! The addition of cream cheese makes them creamy and smooth and they don't require a lot of extra sweeteners since sweet potatoes are naturally sweet. Some recipes call for brown sugar to be added, but I make mine without sugar and use only maple syrup to sweeten.
If you want more sweet potato recipes, try this traditional Sweet Potato Pie! Swap the pumpkin pie for this deliciously creamy dessert this Thanksgiving!
It's only in recent years that I started eating sweet potatoes. I don't remember my mom ever making them when I was growing up. Our family loves them including my girls. They are so versatile to cook with. You can bake them, fry them and even use them in desserts!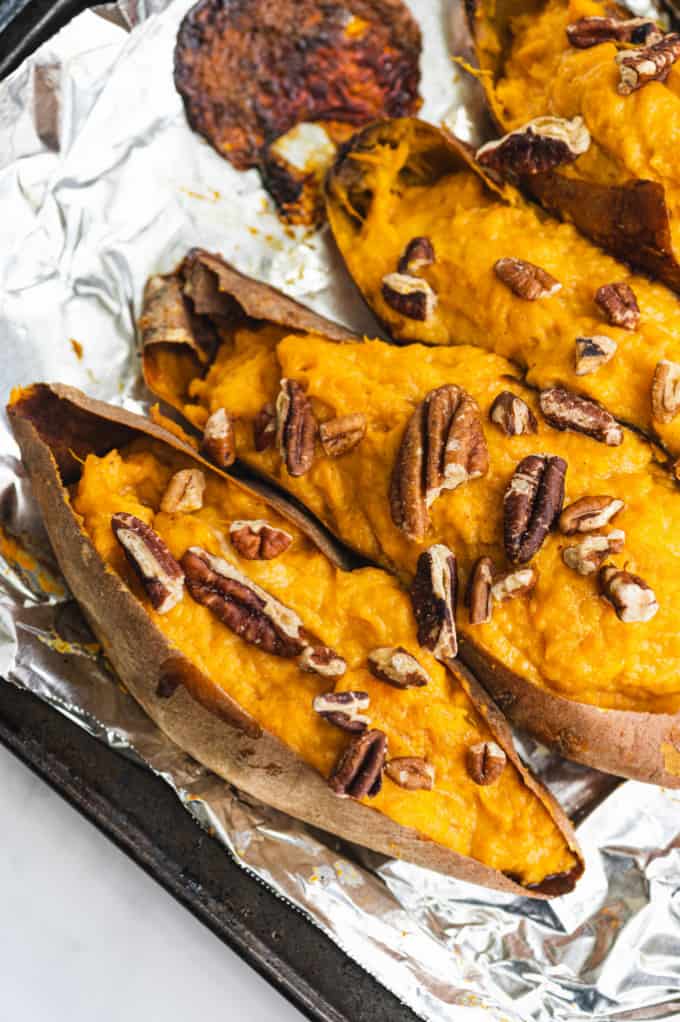 This post contains affiliate links.
Ingredients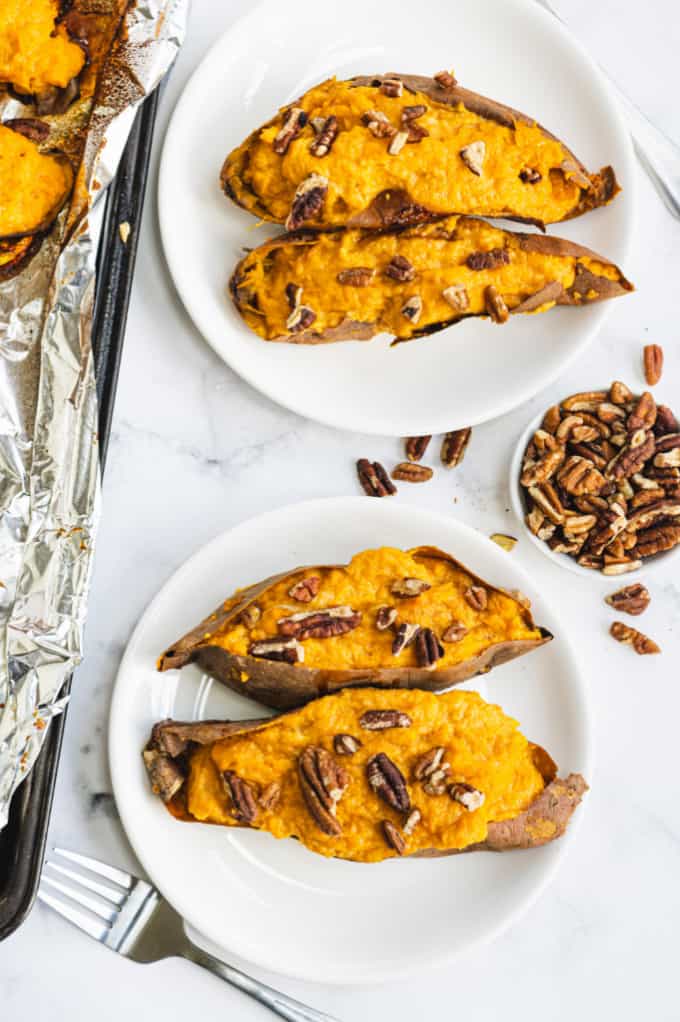 These sweet and savory potatoes are great with chicken or turkey and are a perfect side for a small Thanksgiving dinner!
What I used for my Twice Baked Sweet Potatoes
Aluminum foil: This foil has kept me away from generics for years. When it comes to wrapping food tight and preventing leaks, this one has never failed me!
Knife: Every home chef needs a great chef's knife. This one has an ergonomic handle and is great for thin slices and a rough chop!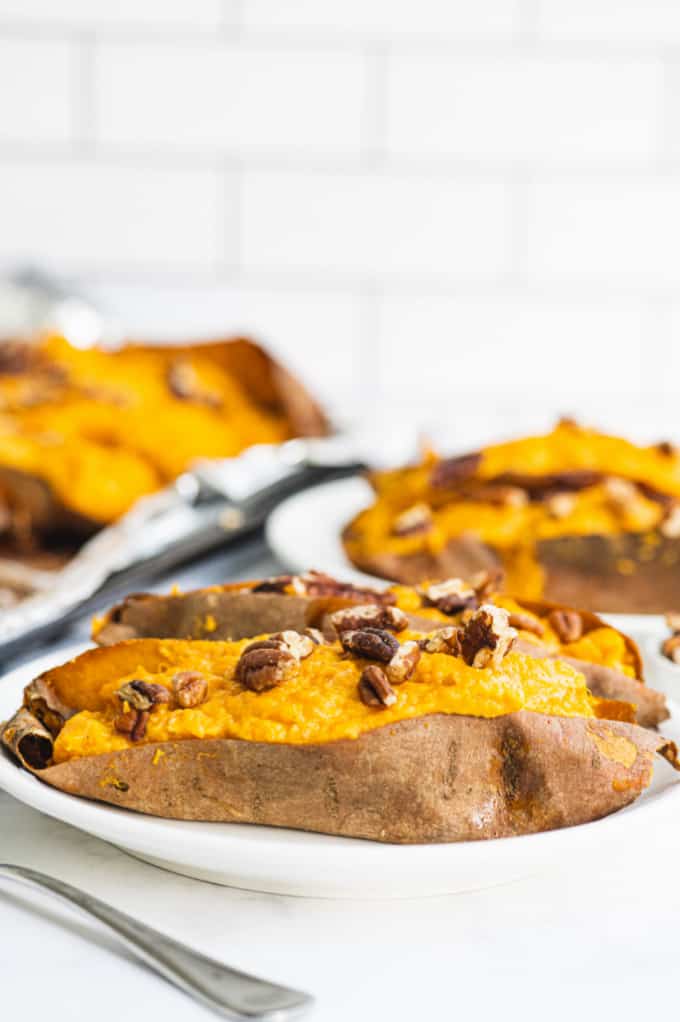 How to Make Twice Baked Sweet Potatoes
Start by wrapping your sweet potatoes in foil and baking them for about an hour at 400 degrees F, until the potatoes have softened. Once baked, let them cool about 15 minutes before slicing — for your hands' sake. You can also turn the oven down to 350 degrees F for the second bake!
Once they're manageable, unwrap the sweet potatoes and cut them in half lengthwise. Then, scoop out the orange insides and leave the shell like a bowl.
Next, mix the cream cheese, vanilla extract, cinnamon, nutmeg, and maple syrup with the sweet potato insides. Mash them together until blended thoroughly.
Now, spoon the potato mixture back into the shells and top each potato with pecans.
Finally, put the potatoes back in your 350-degree oven and bake for about 6 minutes. Serve hot and enjoy!
These twice baked potatoes are like individual sweet potato casseroles! If your potatoes cooled more before being baked again, you may want to increase the second cooking time. You just want the potatoes heated through before serving with a little browning on top!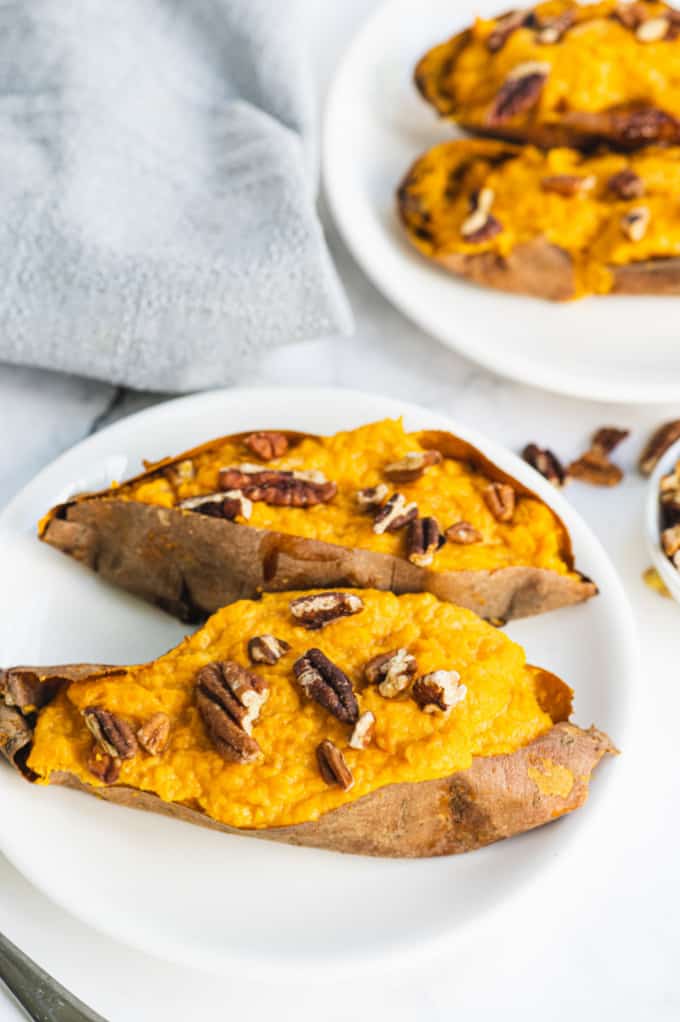 Tips for Twice Baked Potatoes
Since cold potatoes can get gummy when mashed, be sure to use hot potatoes when making the filling!
While a mixer will be faster, doing this by hand will give you a better texture! Like regular potatoes, sweet potatoes can change texture if overmixed.
Mix it up by adding mini marshmallows before the second bake!
You can easily make Twice Baked Sweet Potatoes ahead of time!
How to Make Ahead
I love an easy make-ahead recipe, and twice baked potatoes are a great one!
If you need to make the potatoes ahead of time, fully assemble them before refrigerating up to overnight before baking again.
You can also freeze these potatoes up to 3 months! If frozen, add about 15 minutes to your second baking time. Remember: You want the potatoes completely warmed through, so check the middle with a thermometer.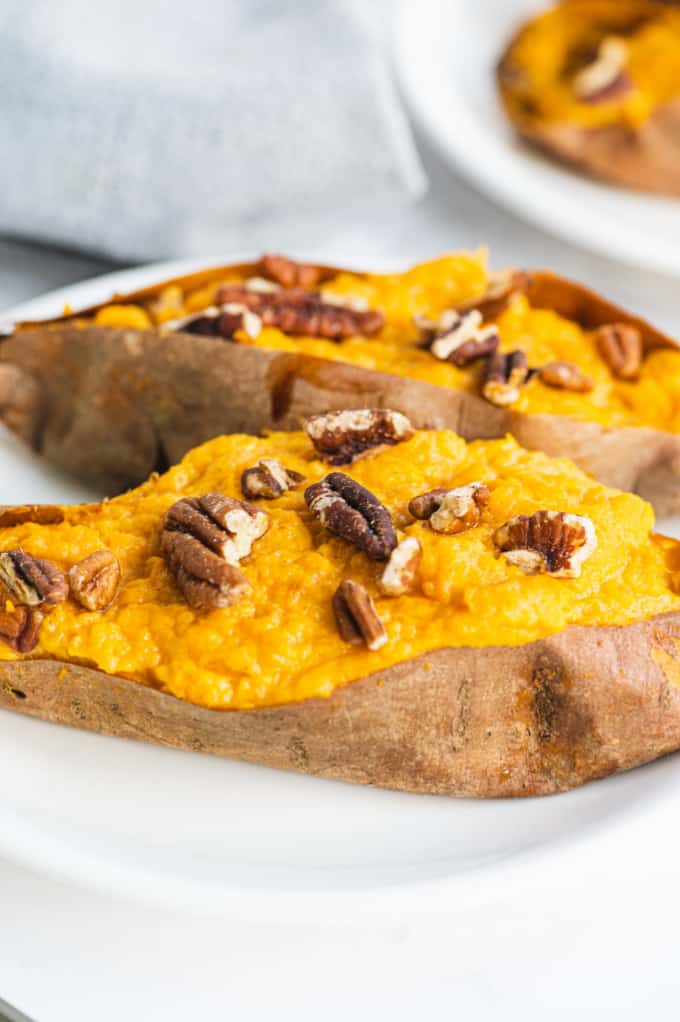 Other amazing recipes to try…
You'll also like these Buffalo Twice-Baked Potatoes.
Do you have any amazing sweet potato recipes? I'm always looking for more recipes to try! Follow me on Instagram @simplystacieblog, on Facebook at Simply Stacie, and on Pinterest @SimplyStacie and let me know how you liked this and my other recipes!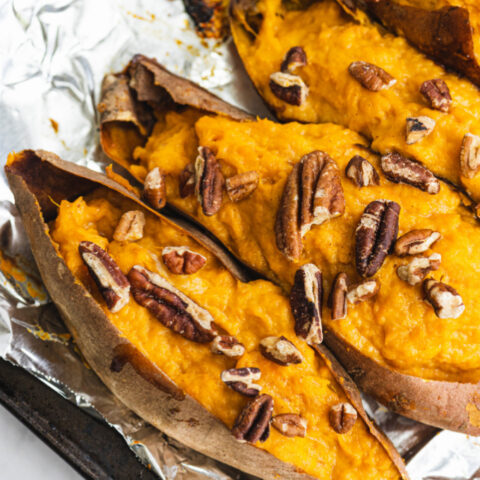 Twice Baked Sweet Potatoes
Cook Time:
1 hour
5 minutes
Total Time:
1 hour
20 minutes
Creamy and rich made with maple syrup and cream cheese. Sweet and savory sweet potatoes are as decadent as the famous casserole, but easy enough for a weeknight dinner.
Ingredients
4 sweet potatoes
1 8oz package cream cheese, cut into inch cubes
1 tsp vanilla
½ tsp cinnamon
¼ tsp nutmeg
¼ cup pecans
1 tbsp maple syrup
Instructions
Wrap sweet potatoes in aluminum foil. Bake in a 400°F oven for 1 hour to 1 hour 15 minutes or until potatoes are softened. Let cool for 15 minutes or until you are able to handle them.
Unwrap sweet potatoes and cut in half lengthwise. Carefully scoop out the insides into a bowl leaving only a shell with the skin.
In the bowl with the scooped sweet potatoes, add in cream cheese, cinnamon, nutmeg, maple syrup and vanilla and mash together until blended.
Add a few tbsp of the mixture to each potato skin. Top with pecans.
Place sweet potatoes back in a 350°F oven to heat up for about 5 to 7 minutes. Serve hot. Makes 8 individual potatoes.
Recommended Products
As an Amazon Associate and member of other affiliate programs, I earn from qualifying purchases.
Nutrition Information:
Yield:

8
Serving Size:

1
Amount Per Serving:
Calories:

182
Total Fat:

12g
Saturated Fat:

6g
Trans Fat:

0g
Unsaturated Fat:

5g
Cholesterol:

29mg
Sodium:

110mg
Carbohydrates:

16g
Fiber:

2g
Sugar:

6g
Protein:

3g