Chicken and Artichoke Rice is the perfect dinner to whip up any day of the week. Tender and juicy flavorful chicken paired with tender rice and artichoke in every single bite. This artichoke rice is excellent for serving your family or guests; it offers a stunning presentation value.
If there have ever been two ingredients that work well together, it is chicken and artichokes. Then a sprinkle of pine nuts for crunch, it takes this comforting dish to a whole new level of greatness.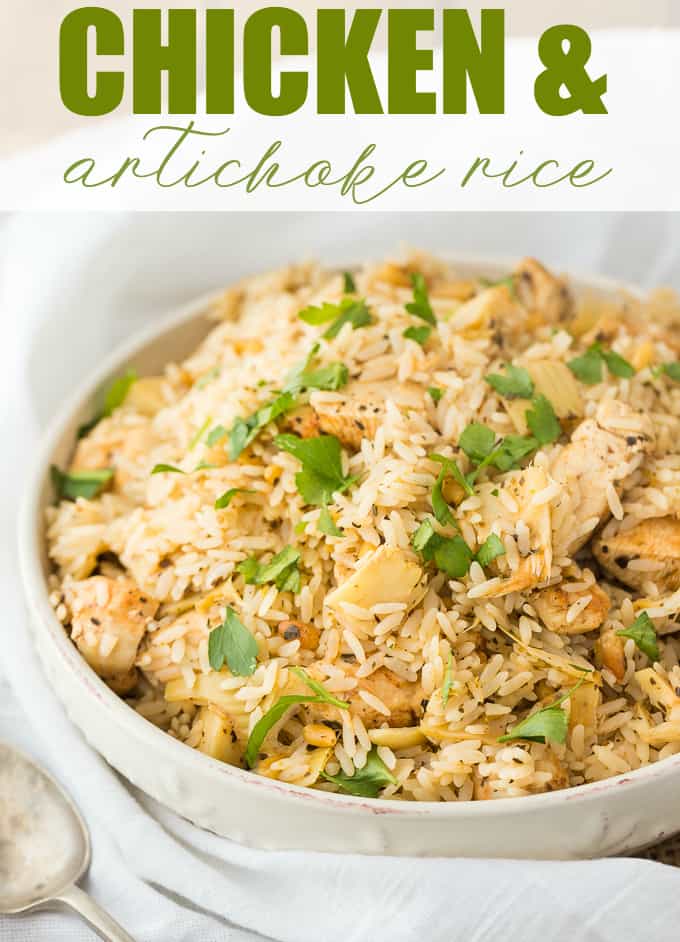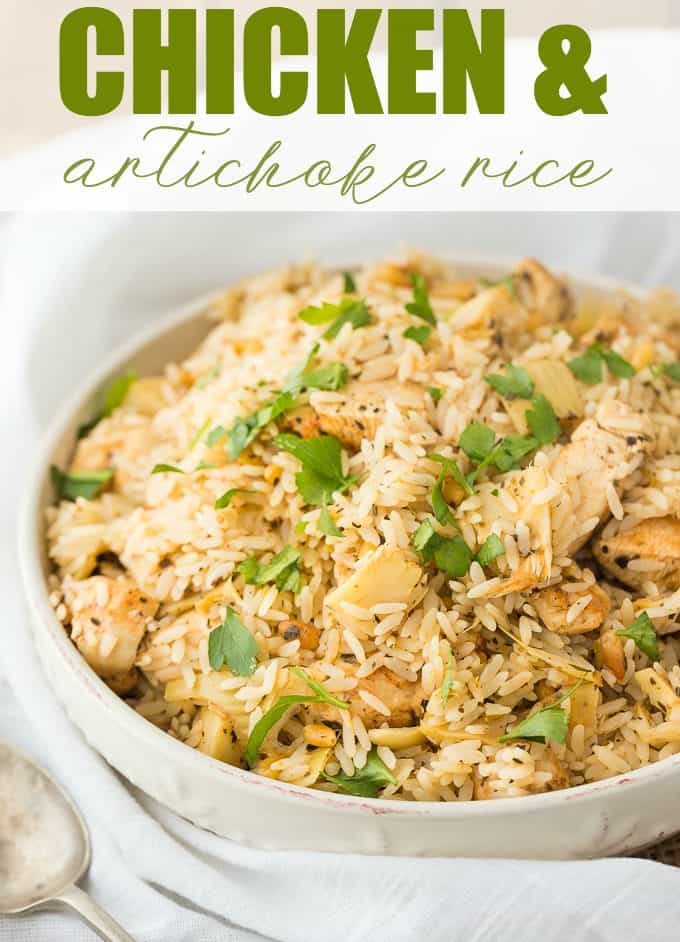 Easy Chicken Artichoke Rice
I was looking in the pantry the other night, and new I wanted to try something a bit different with our chicken. Then it was like a lightbulb went off when I saw the jar of artichoke hearts in the pantry! I used to make this dish all the time, and then kind of forgot about it. Well, today I want to share this chicken artichoke recipe with the world, so you too can enjoy the scrumptious flavors.
Jar Artichokes for Chicken Artichoke Rice
The jarred artichokes that have been marinated are what you want to use. Marinated artichokes are tender, flavorful, and offer a unique and delicious flavor to the rice. I have tried fresh, and I reach for jarred each time. It just works well with this recipe. If you have a specific brand you enjoy, buy that. Just make sure it is marinated, and you are good to go.
Best Rice to Use For Chicken Artichoke Rice
I reached for long grain rice. If you opt for a different type of rice like brown rice, or even jasmine rice, you will need to adjust your cook time. Brown rice tends to take longer to cook, so just make sure you monitor the rice through cooking if you don't use long grain rice for this dish.

Check out these other chicken recipes
Can I Used Bone-In Chicken For Chicken Artichoke Rice Recipe
I prefer to use boneless since I cut up my chicken in the recipe. You could use bone-in, but you would have to add on extra cook time, so it has time to cook the whole pieces of chicken all the way through. Depending on the size of chicken pieces will depend on the cook time. Just make sure your chicken reaches proper internal temperature and is no longer pink in the center if you use boned chicken pieces.
How To Make Chicken Artichoke Rice On Stovetop
Start by seasoning your chicken pieces, and cooking in a skillet until golden brown on each side. Then remove from the pan and set aside.
In the skillet toss in your pine nuts to give them nice toasting. Once well-toasted add in your oil, rice, artichoke hearts, seasonings, lemon juice, and broth. Then toss in your chicken, and give a good stir.
Bring your mixture to a boil and then reduce the heat and cover so it can simmer. Once the rice and chicken are cooked, sprinkle with lemon peel or drizzle on juice, and top with parsley.
What to Pair With Artichoke Chicken Rice
Feel free to eat the meal all by itself, or pair with a crisp green side salad, dinner roll, or even steamed or roasted vegetables. I have done broccoli as a side with this, or even a light wedge salad. This is a rather hearty dish on its own, so a side dish pairing doesn't have to happen!
How to Store Leftover Artichoke Chicken Rice
When you are finished eating, just spoon up any leftover and store in the refrigerator for up to three days. Then after you want to toss out any leftovers. This is great reheated, and perfect for anyone who enjoys meal prepping.
Do I Have To Use Pine Nuts in Recipe
No, feel free to leave the pine nuts out. You are welcome to make this dish without any nuts or replace with slivered almonds if you still want a crunch component. Or you could even crack up some pistachios and sprinkle on top at the end before you go to serve it! I find the nuts add a sweet nutty and earthy flavor to the rice dish.
Give this Chicken and Artichoke Rice recipe a try today. I think you and your family will enjoy the ease of the recipe and the flavor.
Have you ever tried Chicken Artichoke Rice before?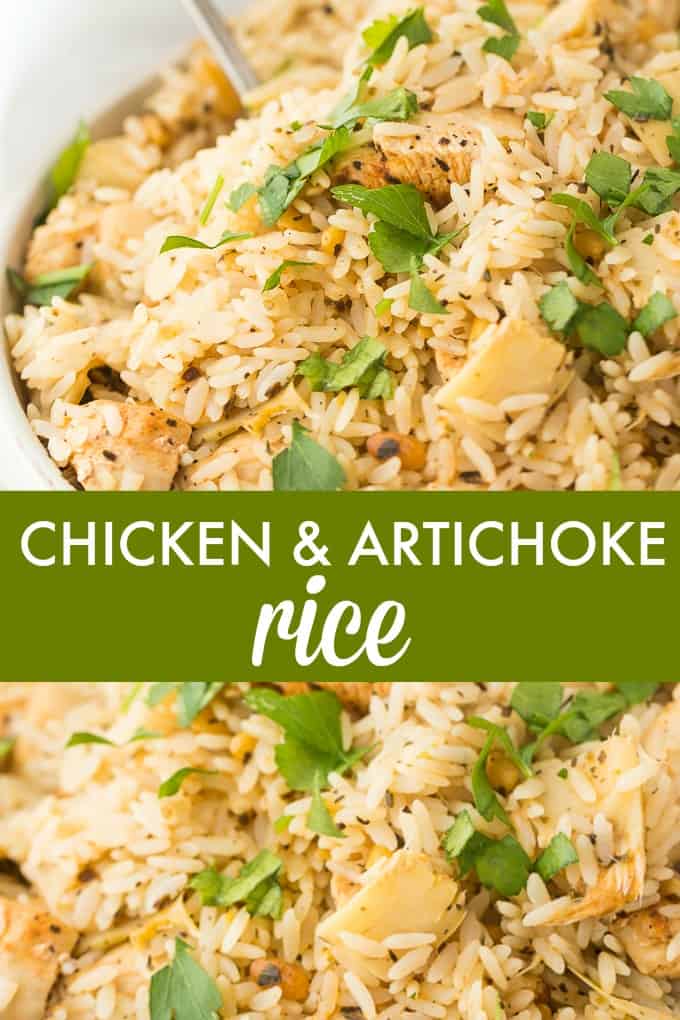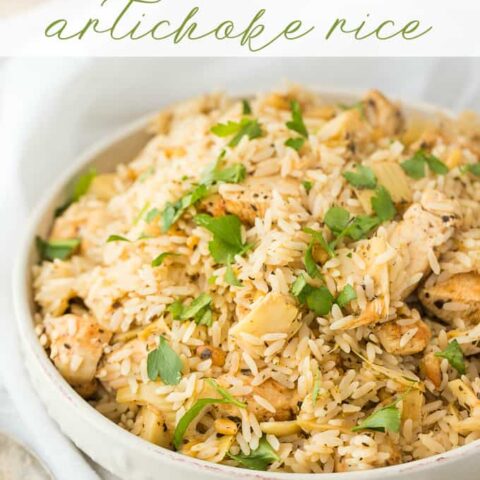 Chicken and Artichoke Rice
The perfect one-pan weeknight dinner! This Mediterranean-inspired recipe is packed with flavor and super easy.
Ingredients
2 teaspoons olive oil
1 1/2 pounds boneless, skinless chicken thighs (cut into 1-inch pieces)
1/2 tsp kosher* salt
1/4 tsp freshly ground black pepper
1/2 tsp paprika
1/4 cup pine nuts
2 teaspoons olive oil
1 1/2 cups uncooked, long grain rice
1 1/2 cups canned/bottled marinated quartered artichoke hearts (drained and rinsed)
1 1/2 Tablespoons Italian (or Greek) Seasoning
1 1/4 teaspoons kosher* salt
1/2 teaspoon freshly ground black pepper
1 Tablespoon freshly grated lemon peel (approx. 1 large lemon)
Juice from the grated lemon, divided
3 cups reduced sodium chicken (or vegetable) broth
1/4 cup chopped fresh parsley
Instructions
Sprinkle the chicken pieces with 1/2 tsp. salt, 1/4 tsp. freshly ground black pepper and 1/2 tsp. paprika. Heat 2 tsp. olive oil in a nonstick skillet over medium-high heat – add chicken to the skillet when pan/oil is hot and cook for 3 minutes on each side. Remove from skillet and set aside.
Add pine nuts to skillet and gently toast (stirring constantly) over medium heat for 2-3 minutes or until the nuts begin to take on a golden brown color. Add 2 teaspoons olive oil, uncooked rice, artichoke hearts, Italian (or Greek) seasoning, salt, pepper, lemon peel and juice of 1/2 of the lemon and the chicken broth. Add the chicken along with its juices and gently nestle the chicken in to the rice mixture.
Bring to a boil, reduce the heat to low and cover tightly. Simmer for 20-25 minutes or until rice is cooked. Sprinkle with the remaining half of the lemon and parsley.
Notes
If using regular (table) salt you will need to reduce the amount of salt by 1/4 teaspoon.
Recommended Products
As an Amazon Associate and member of other affiliate programs, I earn from qualifying purchases.
Nutrition Information:
Yield:

4
Serving Size:

1
Amount Per Serving:
Calories:

498
Total Fat:

24g
Saturated Fat:

5g
Trans Fat:

0g
Unsaturated Fat:

17g
Cholesterol:

208mg
Sodium:

1297mg
Carbohydrates:

29g
Fiber:

2g
Sugar:

8g
Protein:

45g