Lemon Herb Slow Cooker Chicken is the most stunning chicken dinner! Roast your whole chicken in a Crockpot for the juiciest chicken with oregano, basil, rosemary, and just a hint of lemon juice.
You can make anything in a slow cooker, even a juicy roast chicken! This Lemon Herb Slow Cooker Chicken is the perfect dinner that cooks all day while you enjoy time out of the kitchen. I've made this for dinner parties, and it's a perfect low energy recipe with a big payoff.
I'm in total slow cooker mode right now thanks to this cold weather. I love throwing all my ingredients in the slow cooker in the morning and having a delicious meal ready by the time the kids are home from school. Plus, my house smells so inviting! I must force myself to not constantly peek inside.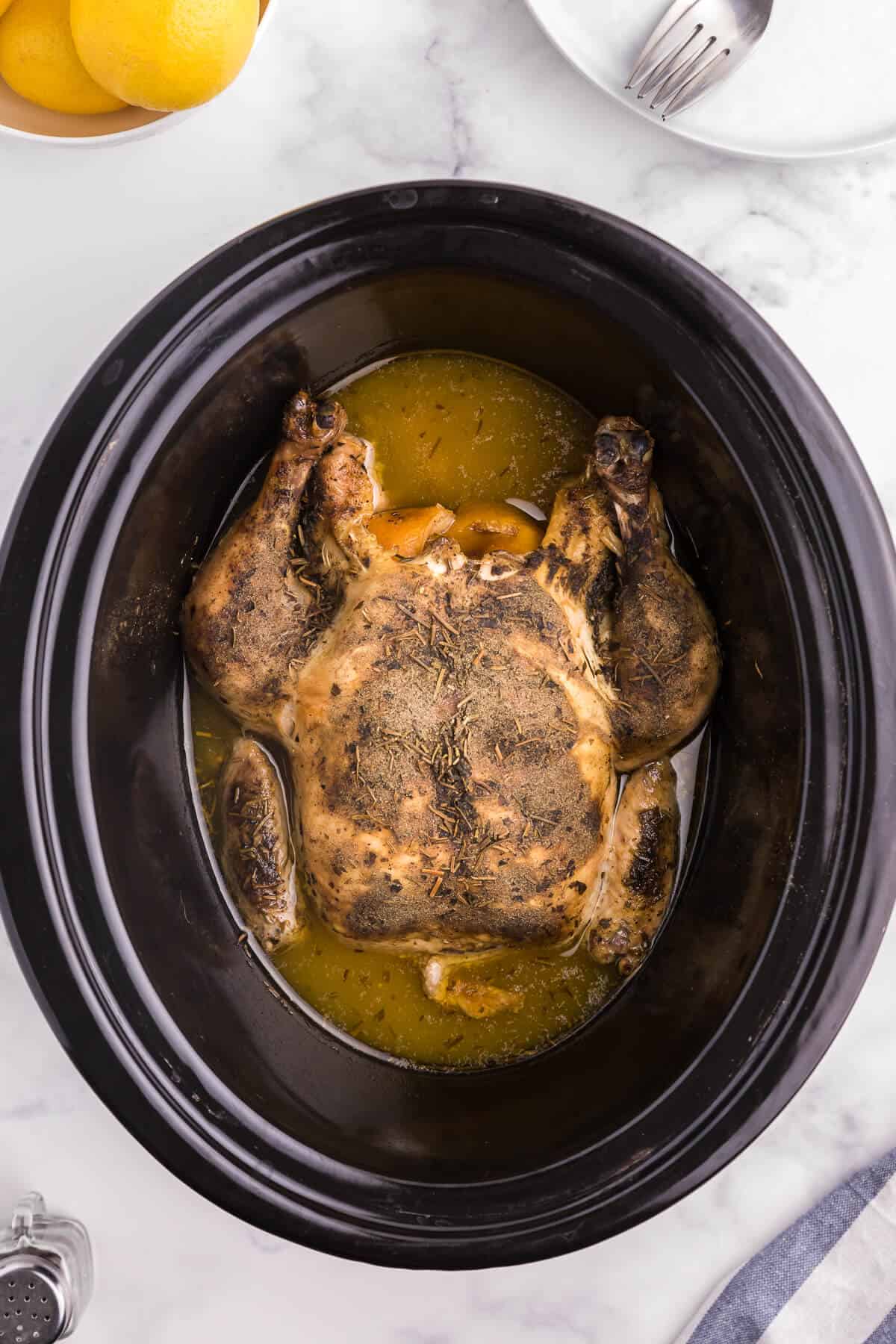 For this easy Lemon Herb Slow Cooker Chicken, just squeeze some lemons over the chicken and add your herb mixture. When you're done, stuff the lemons inside the chicken. It permeates the meat to make the most divine flavor. It's that easy!
Ingredients
Whole chicken
Butter
Lemons
Oregano
Basil
Rosemary
Salt
Black pepper
This Lemon Herb Slow Cooker Chicken recipe is almost fool-proof. The only way I've messed up before was not checking to see if there was anything left inside the chicken. I've cooked a chicken and forgotten to look inside in the past. Now I never forget to check for giblets. Lesson learned!
What I used for my Lemon Herb Slow Cooker Chicken
This post contains affiliate links.
Mixing bowls: I have an array of mixing bowl sizes so I can do single batch herb mixtures or a whole cake.
Measuring cups: There's minimal measuring in this recipe, but these help if you're not good at eyeballing spices. Plus, they're tied together so I'm not always losing my teaspoon.
Crockpot: This is easily my most-used kitchen gadget. I like having a slow cooker with a locking lid to make traveling with all my home cooked meals super easy!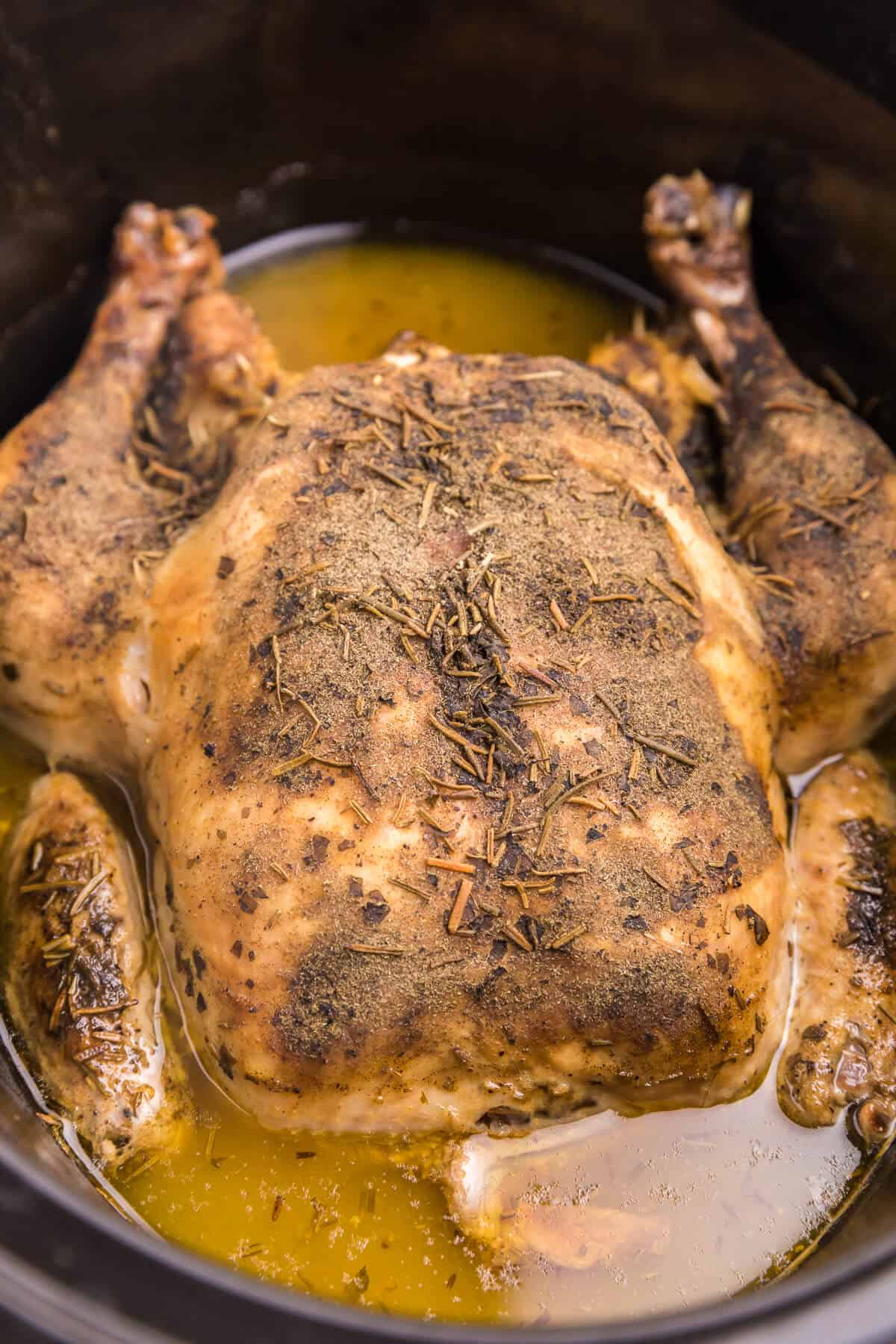 How to Make Lemon Herb Slow Cooker Chicken
First, slide some butter under the chicken skin with your clean fingers. Slow and steady wins the race!
Then, put the chicken in your slow cooker and squeeze lemon juice all over it! When you're done, stuff the lemons inside the chicken.
Now, season the chicken with all the spices. Don't forget the sides!
Finally, cook on low until the meat is at least 165 degrees F. Remove the lemons and serve!
Divvy up the chicken pieces, and you're ready to eat! When I'm home, I like to baste the chicken every couple hours with the drippings and lemon juice in the slow cooker. If you're gone all day, don't worry! You'll still have a super flavorful, tender chicken dinner waiting for you.
Can You Put Raw Chicken in a Crockpot?
A slow cooker is a lifesaver for a homemade dinner on a busy day. From breakfast to dessert, you can make anything in a Crockpot.
Chicken can dry out easily, but not in a slow cooker! Put your totally raw chicken in the Crockpot, and let the lemon juice and steam keep it moist while it cooks to perfection all on your countertops!
You can use raw or frozen chicken in a Crockpot. But when I'm making a whole chicken, I make sure it's completely thawed first. If you're using cuts of chicken, like breasts or thighs, you don't even need to thaw them!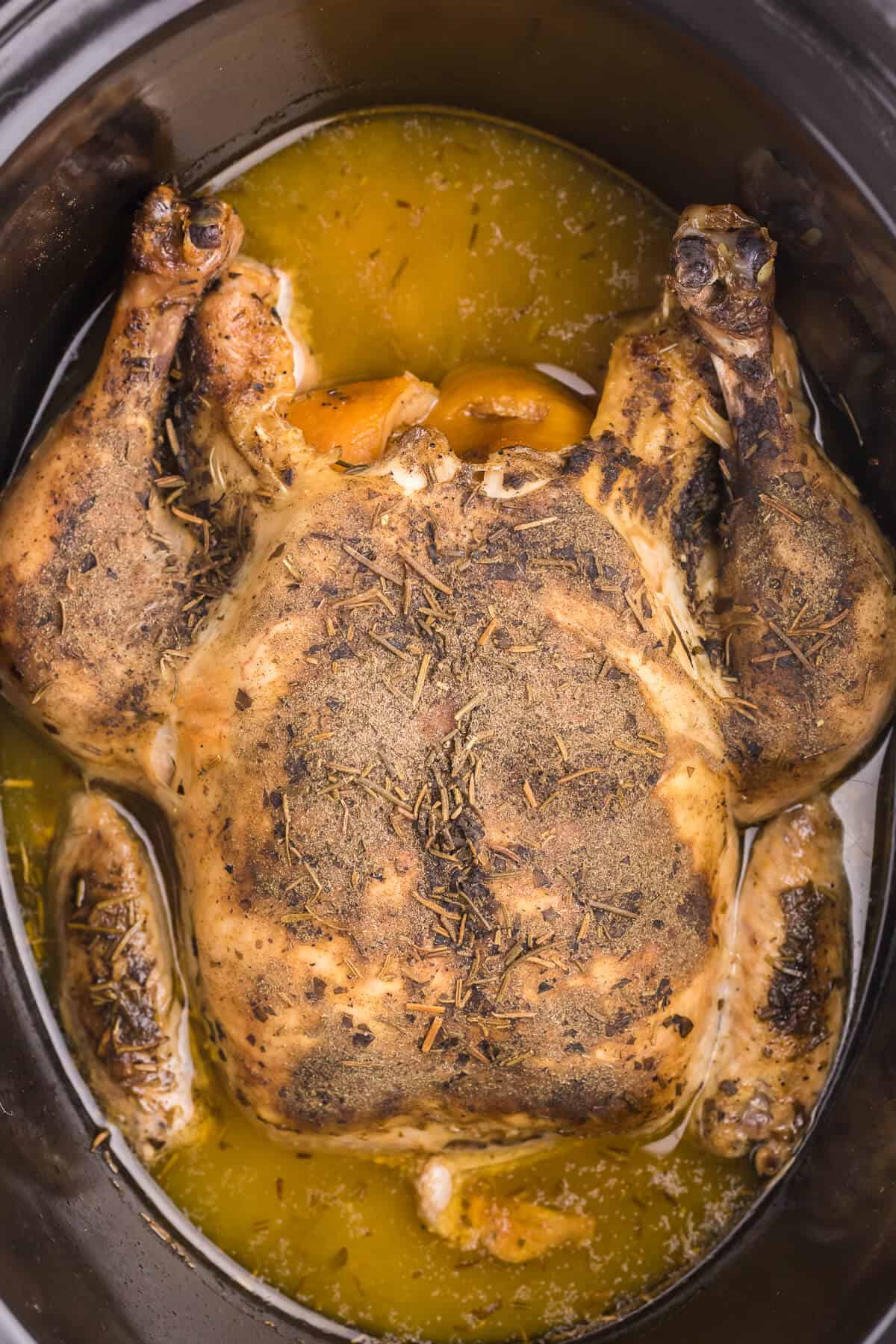 How Long Does It Take Chicken in a Crockpot?
Crockpots usually have two cooking settings: low and high. Which one should I use for Lemon Herb Slow Cooker Chicken?
While many recipes are interchangeable — on low for about 8 hours, or on high for about half the time — I think chicken needs to be cooked on low to keep it from drying out.
For this whole chicken in a Crockpot, I start checking the breast and legs about 6 hours later. It's usually done after about 8 hours on low.
When it comes to chicken, temperature is way more important than time. Always have a meat thermometer handy when making roast chicken so there's no surprises when you cut into your beautiful bird.
What to Serve with Lemon Herb Slow Cooker Chicken
Almost any side dish is perfect with this juicy Lemon Herb Slow Cooker Chicken!
Party potatoes are the easiest potluck recipe. Use frozen hash browns to whip up this cheesy potato casserole in just minutes!
If you're hosting a dinner party, try these company peas! They're so easy, full of nutrients, and bring a creamy crunch to the table.
Simple side dishes are some of the best. Candied sweet potatoes are super simple, kid approved, and almost feel like a decadent dessert.
I try to keep the oven off when I'm making a Crockpot dinner, but these roasted Brussels sprouts with cranberries and bacon are super fast! I make them every holiday season, but they're also a great pop of color for a weeknight dinner.
More Easy Chicken Recipes
Disclosure: I am participating in the Chicken Farmers of Canada campaign managed by SJ Consulting. I received compensation in exchange for my participation in this campaign. The opinions on this blog are my own.
The Chicken Farmers of Canada website has an amazing selection of delicious chicken recipes. I've already tried a bunch with my family and plan to try many more!
What is great about their site is how user-friendly it is. You can search by category or dietary need. It makes it very easy to find exactly what you are looking for quickly.
Let's say you want only gluten-free recipes. You would click on Advanced Search and check the box for Gluten-Free. It will pull up all the gluten-free recipes. You can refine your search even more if you like into specific cuts of chicken and style of dish.
The category where I've been spending a lot of time is Healthy Choices. Check out this Spaghetti Squash & Chicken Au Gratin. Yum yum!
Other amazing slow cooker recipes to try…
Do you have any amazing Crockpot recipes? I'm always looking for more recipes to try! Follow me on Instagram @simplystacieblog, on Facebook at Simply Stacie, and on Pinterest @SimplyStacie and let me know how you liked this and my other recipes!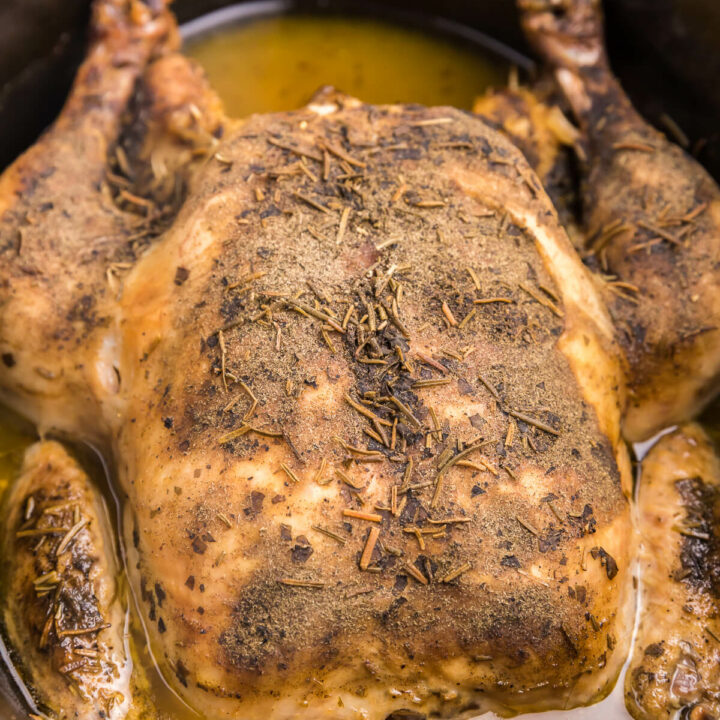 Lemon Herb Slow Cooker Chicken
Total Time:
8 hours
15 minutes
Roast a whole chicken in your Crockpot! This easy chicken recipe is so much juicier with lemon juice and a succulent herb blend.
Ingredients
1 whole fryer chicken, remove giblets if necessary
1/4 cup butter, cut into small pieces
2 lemons, cut in half and juiced
1 tsp dried oregano
1 tsp dried basil
1 tsp dried rosemary
1 tsp salt
1/4 tsp black pepper
Instructions
Loosen the skin of the chicken with your clean fingers by sliding it under the skin Place the pieces of butter under the skin.
Place your whole chicken in your slow cooker. Squeeze lemon juice all over the chicken and then put the lemons inside the chicken's cavity.
In a small bowl, mix together the spices. Sprinkle the spices all over the chicken.
Cover and cook on low heat for 8 hours. Use a meat thermometer to test when chicken has reached the proper temperature.
Remove the lemons from inside the cavity and serve hot.
Recommended Products
As an Amazon Associate and member of other affiliate programs, I earn from qualifying purchases.
Nutrition Information:
Yield:

6
Serving Size:

1
Amount Per Serving:
Calories:

343
Total Fat:

22g
Saturated Fat:

9g
Trans Fat:

0g
Unsaturated Fat:

11g
Cholesterol:

191mg
Sodium:

550mg
Carbohydrates:

3g
Fiber:

1g
Sugar:

1g
Protein:

32g