Slow Cooker Cinnamon Raisin Bread Pudding
I'm so glad it's slow cooker season once again! To be honest though, I never really stopped using my slow cooker. I use it less often in the summer months, but it never ever collects dust. The old girl has lasted me many years and is still going strong.
I'm branching out more now with slow cooker recipes. When I first started using it, I only cooked meat in it – mainly roasts. Now I do entire chickens, soups, quiche and even desserts. Your trusty slow cooker can cook pretty much anything.
Take this Slow Cooker Cinnamon Raisin Bread Pudding. It's super easy to make and is the epitome of comfort food. It's heavy on the carbs and calories, but oh so good!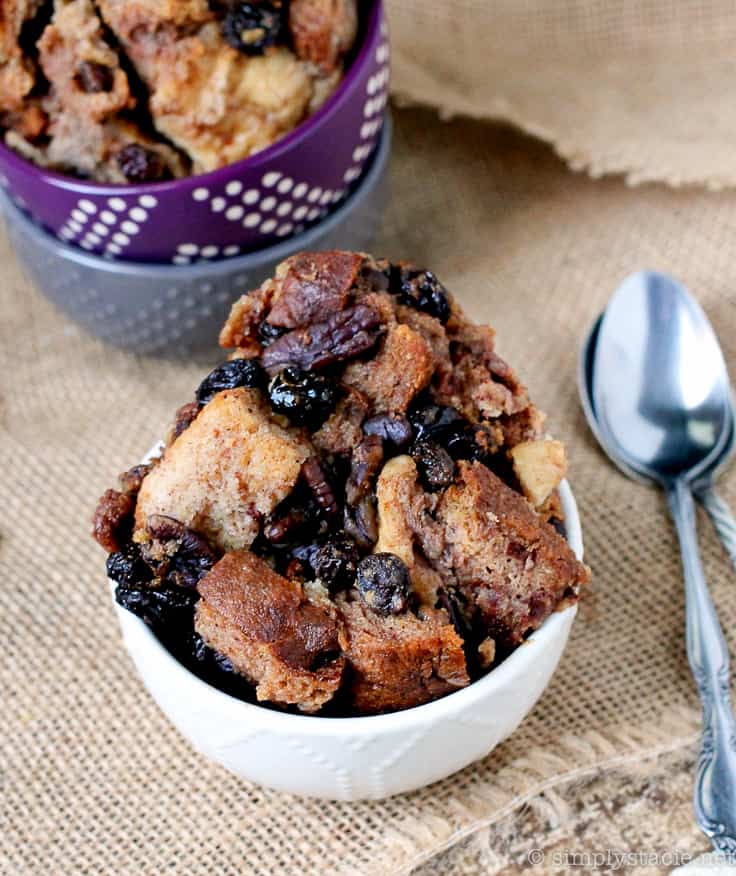 As for raisins, usually you either love 'em or hate 'em. I'm definitely a fan. I adore raisin toast with butter for breakfast. And this dessert? Even better!
Top with some whipped cream or vanilla ice cream. This dessert will make your guests swoon!
When you make this dessert, make sure you leave room. It's pretty filling!
You might also like these Sour Cream Raisin Bars or Half Hour Pudding.
What is your favourite dessert to make in your slow cooker?
Yield: 4 to 5
Slow Cooker Cinnamon Raisin Bread Pudding
This Slow Cooker Cinnamon Raisin Bread Pudding is easy to make and is the epitome of comfort food!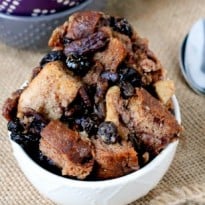 Ingredients:
1 loaf of raisin bread, cut into bite size pieces
¼ cup raisins
⅓ cup pecans, chopped
3 eggs, lightly beaten
½ cup sugar
1 tsp cinnamon
¼ tsp nutmeg
1 tsp vanilla
1 cup milk
1 cup heavy cream
1 tbsp butter, melted
whipped cream, for garnish
Directions:
In a large bowl, combine eggs, sugar, cinnamon, nutmeg, and vanilla' whisk well to combine. Add milk, heavy cream, and butter; whisk again to combine. Add raisins and pecans and stir. Add bread pieces, and carefully fold to coat bread. Once coated, cover bowl with plastic wrap, and place into fridge for 30 minutes to 1 hour.
In a large slow cooker, place a rack in the bottom (I like to use 1-2 mason jar tops – without pop in lid, these work great as a 'rack'). Add 1 cup of water to the slow cooker. Using an oven proof souffle dish or glass baking dish (must fit in the slow cooker), grease liberally with nonstick spray or butter. Add bread mixture to bowl, cover tightly with foil, then top with slow cooker lid, and cook on high for 3-4 hours.
Remove lid, and carefully remove foil from the top. Allow to cook for 20 minutes. Serve and garnish with additional raisins, pecans, and whipped cream if desired.