Hands down the best Chocolate Mousse Cake you will ever have in your life. If you are a chocoholic, then give this homemade chocolate cake a try. Three incredibly decadent layers of light and fluffy chocolate cake that is filled and topped with a chocolate mousse. Then add on some more chocolate curls for looks and sweetness, and slice and serve.
Hi everyone, Nicky calling in from Kitchen Sanctuary with a recipe especially for you chocoholics out there. A complete chocoholic myself, I can't go a day without eating the stuff, so this is the cake of my dreams.
Who doesn't love a classic homemade chocolate cake? I know I never say no when someone wants to offer me a big slice! So let me take a moment to talk about how incredible this cake is!
This recipe is such a winner; you get that moist and light cake that is perfect for layering. Then add in that silky smooth mousse in between each layer and on top to act as the frosting, I mean I am a fan! A big fan to say the least.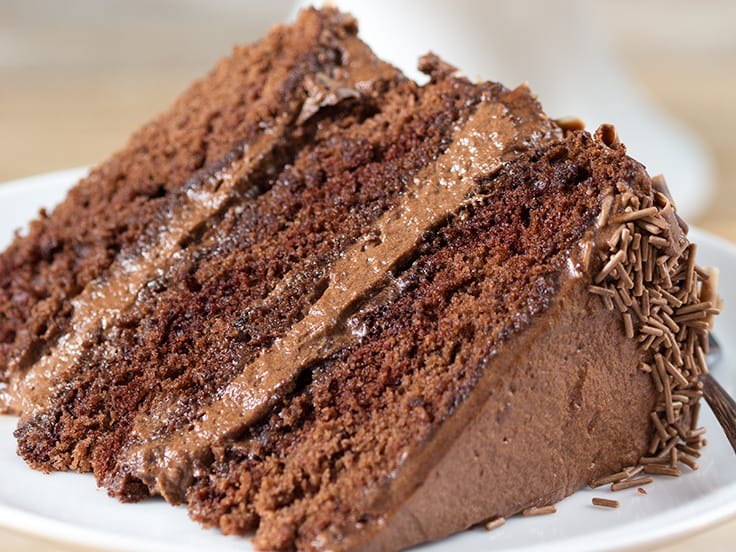 The Best Chocolate Mousse Cake
Why is this the best cake out there? I have a secret ingredient; it is white wine vinegar! Before you turn up your nose, hear me out. White wine vinegar reacts to the baking soda, and helps make the cake rise and become extra fluffy! That fluff is what makes this cake from great to golden!
More Incredible Chocolate Recipes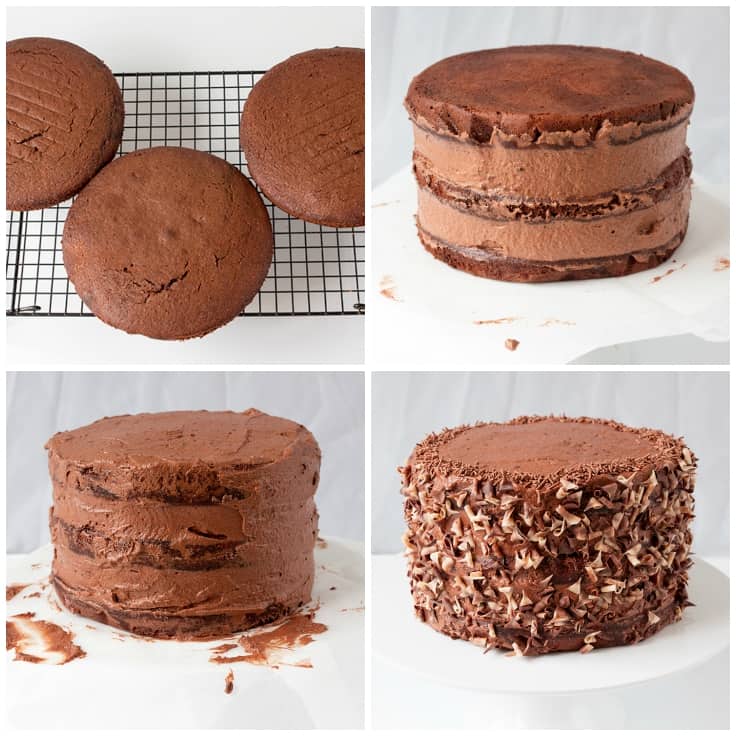 What If I Only Have 2 Cake Pans
That is okay; you are not alone! Just leave the rest of the batter in the bowl, and set it aside. Bake up your first two layers of cake, remove from pan and then fill it with the mixture remaining and bake the last layer. Easy peasy! Just don't burn yourself in the process!
Does Chocolate Mousse Cake Need To Be Refrigerated
Yes! You need to put your Chocolate Mousse Cake in the refrigerator once you are done serving it. If not your mousse will go bad if you allow it to sit out on the counter like a regular cake.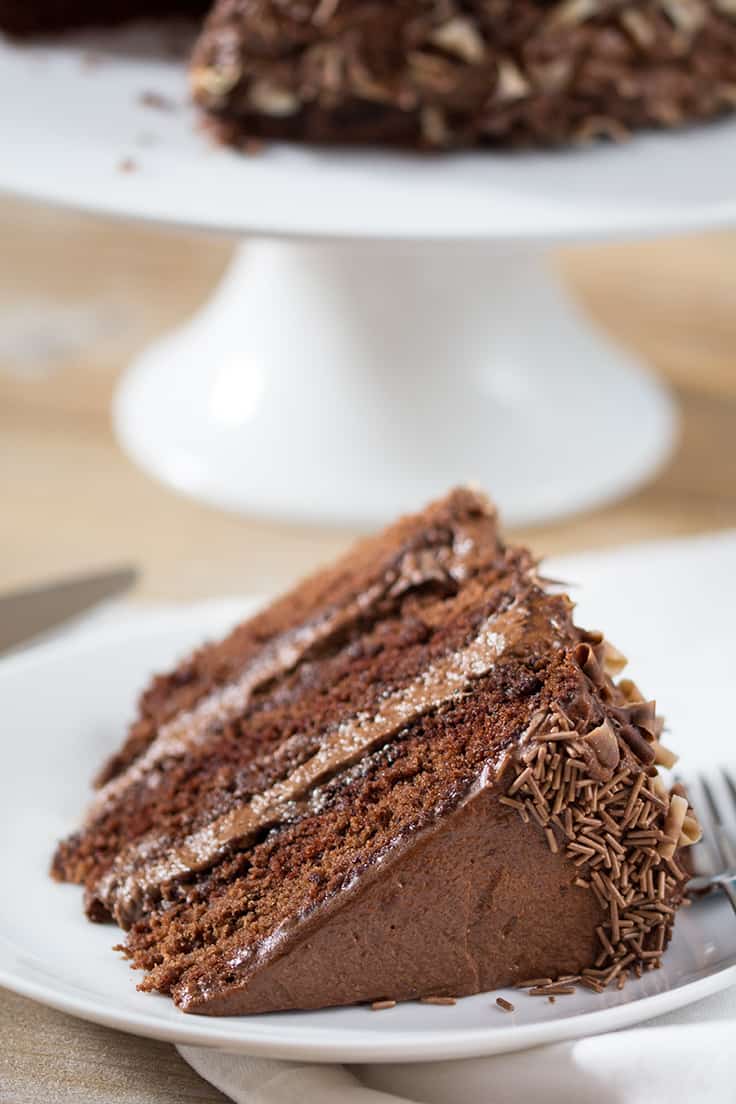 Can You Freeze Chocolate Mousse Cake
Yes! You can easily freeze this cake, and enjoy it at a later time. Just take what you are not planning to eat, or the whole cake, and put in an air right container or bag. Then toss in the freezer for up to 3 months.
One trick I use is pre-slice the cake so that on a day where I just want a slice I pull one out of the freezer. Allow it to thaw and then dive in.
Do not heat this cake in the microwave to thaw; it will ruin the mousse. Just sit on the counter and allow to come to room temperature that way, or stick the cake in the fridge. Both methods work, the table is just faster!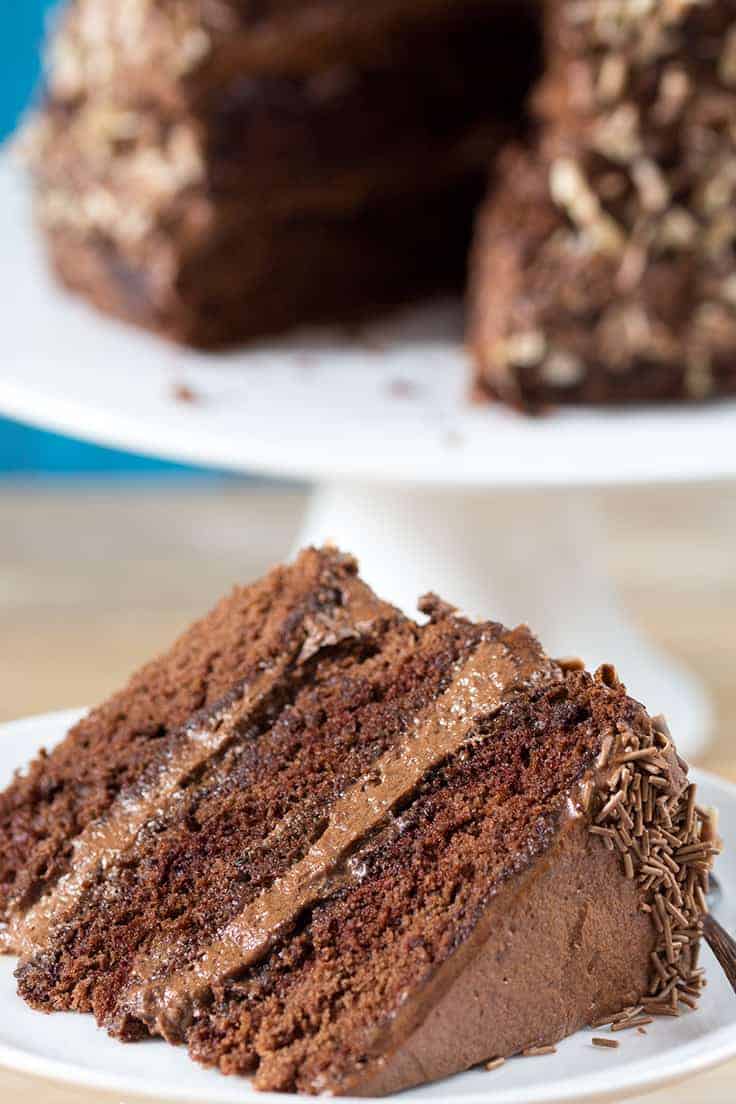 What is the Difference Between Chocolate Mousse and Chocolate Ganache?
You will find chocolate mousse is very light and offers almost a foamy texture. Where a chocolate ganache is a melted chocolate, so it is very rich and thick in texture.
How to Make Chocolate Mousse Cake
Start by preheating your oven to 375 degrees! Then butter your cake tins and line the base with parchment paper.
Then in a bowl or stand mixer, cream your butter and sugar until light and fluffy (around 3 minutes). Follow by adding in your eggs, milk, yogurt, and vanilla extract.
Then slowly add in your flour, cocoa, and coffee granules along with salt. Once well combined, slowly add in your baking soda followed by vinegar. This will bubble, so go slow.
Then divide your batter to your pans, and bake for 20-25 minutes or until a toothpick goes in and comes out clean.
While the cake is cooling work on your mousse.
Melt your chocolate and sugar along with vanilla and cream, over a pan of simmering water. Stir until nice and smooth, and then set it aside to cool for around 10 minutes.
Then whip up your cream until you get nice and soft peaks, and then little by little pour in your chocolate mixture to create the mouse.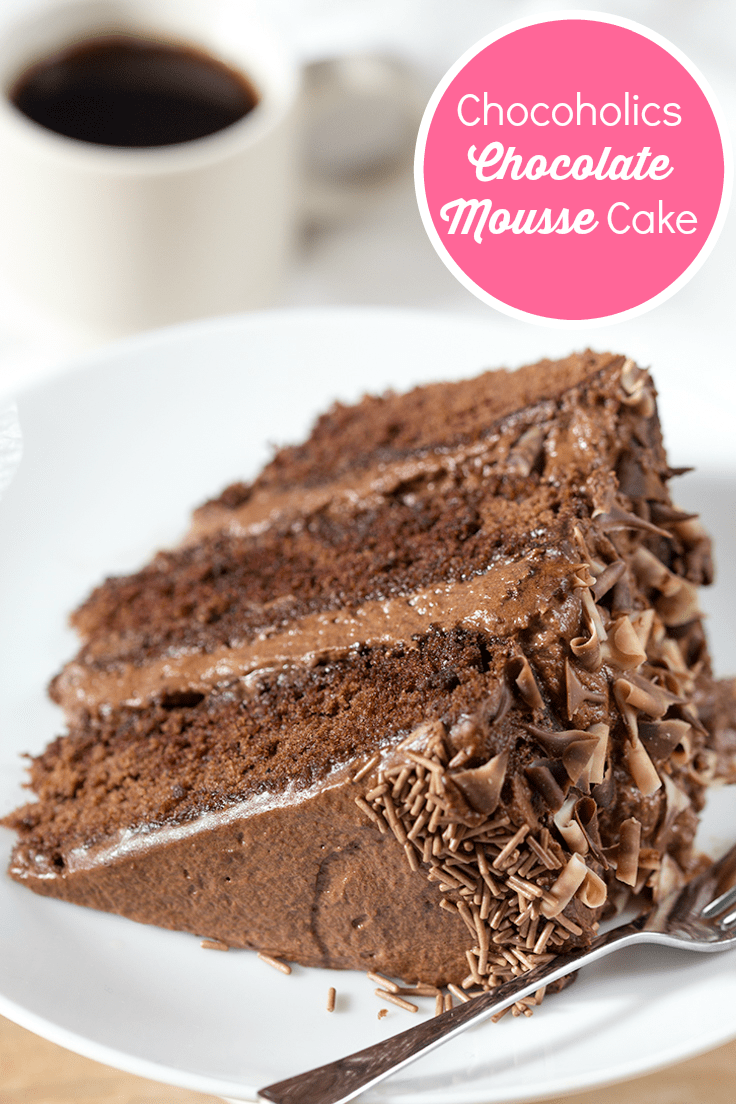 You might also like this Hot Fudge Pudding Cake.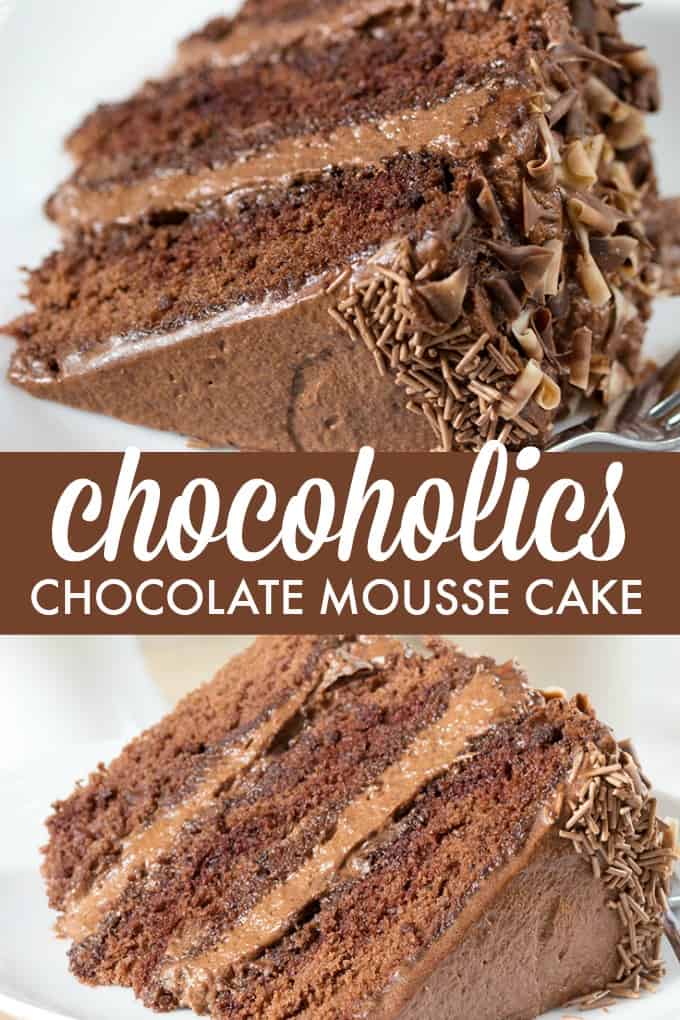 How to Assemble the Chocolate Mousse Cake
Start by laying parchment paper down on a plate or serving tray. I put two pieces side by side so once I am done decorating I pull each strip and it removes easily, and you don't have any mousse all over your pretty plate.
Lay down a cake, and spread with about a third of the mousse. Follow by the second layer and repeat with mouse till you get to the third cake layer.
Take remaining mousse and frost the entire outer part of the cake. Sprinkle with chocolate shavings and strands. Gently pressing into the sides, and then once done, refrigerate at least one hour before serving!
Give this Chocoholic Chocolate Mousse Cake a try; you won't be sorry!
You'll also like this Earthquake Cake and Root Beer Float Sheet Cake.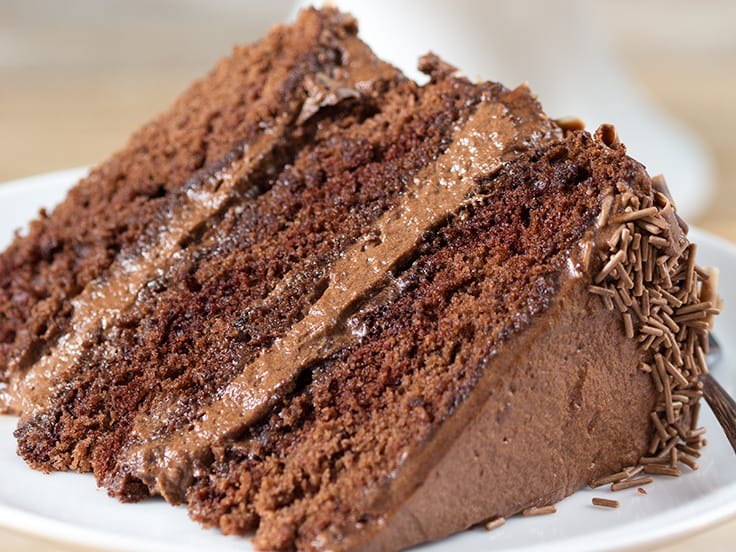 Ingredients
½

cup

unsalted butter

softened

1 ½

cup

brown sugar

2

large eggs

½

cup

half fat milk

½

cup

Greek yogurt

1

tsp

vanilla extract

2

cups

+ 2 tbsp plain flour

sifted

½

cup

cocoa powder

sifted

1

tsp

instant coffee granules

1

tsp

sea salt

1

tbsp

white wine vinegar

1

tsp

baking soda
Mousse
7

oz

good quality dark chocolate

2

tbsp

dark brown sugar

1 ½

tsp

vanilla extract

2

cups

heavy cream or whipping cream
Chocolate topping:
3

tbsp

chocolate strands

1 ¼

cups

chocolate curls
Instructions
Preheat the oven to 375℉.

Butter three round 20cm (8 inch) diameter cake tins with removable bases and line the bases with baking parchment. Butter the paper.

Cream the butter and sugar together in a food mixer until light and fluffy and then stir in the eggs. Add the milk, Greek yogurt and vanilla extract and stir until combined.

With the mixer on low, slowly pour in the flour and then the cocoa powder, coffee granules and salt. Continue to mix until combined. Mix the white wine vinegar and baking soda in a small bowl (it will fizz), then stir into the mixture until thoroughly combined.

Divide the mixture between the three tins, smooth out the top with the back of a spoon and then bake in the oven for 20-25 minutes until an inserted skewer comes out clean.

Leave to cool in the tin for 10 minutes, then remove from the tins (discarding the parchment) and place on a wire rack to cool completely.

Now make the mousse – melt the chocolate with the sugar, vanilla and 2 tbsp of cream in a bowl, over a pan of simmering water (make sure the bowl isn't touching the water). Stir until smooth, then take the bowl off the pan and set aside to cool for 10 minutes. Whip the cream until stiff peaks form and then slowly pour in the chocolate mixture whilst stirring until completely combined.

Now it's time to assemble the cake. Place some baking parchment on a plate (or whatever you're going to serve the cake from). I like to use two pieces of baking parchment lined up next to each other. This means it can easily be pulled away after decorating (just pull the two sheets apart – like a pair of curtains) – taking any mess with it. Place one cake on the plate and spread with 1/3 of the mousse. Top with the second cake and spread with another 1/3 of the mousse. Top with the third cake and spread the remaining mousse on top and round the sides of the cake.

Sprinkle chocolate strands on top of the cake (I just sprinkled them around the edge), and press the chocolate shavings into the side of the cake. Place in the fridge to set for an hour, and then serve.

The cake can be stored in a container in the fridge for 2-3 days.
Kitchen Tools
Nutrition
Serving:
1
g
|
Calories:
1003
kcal
|
Carbohydrates:
101
g
|
Protein:
12
g
|
Fat:
62
g
|
Saturated Fat:
38
g
|
Polyunsaturated Fat:
20
g
|
Trans Fat:
1
g
|
Cholesterol:
206
mg
|
Sodium:
699
mg
|
Fiber:
4
g
|
Sugar:
88
g
The information shown is an estimate provided by an online nutrition calculator. It should not be considered a substitute for a professional nutritionist's advice.
Love Recipes? Join our Free Facebook Group!
Join Mom's Best Recipes to find more delicious family recipes.
Save
Saved!