September has been a month of changes for my family. My oldest daughter, Olivia, is away at school in London, ON. It's been an adjustment to not have her around the house. Normally, she texts me for rides to pick her up here or drive here there. We still have Bridget at home, but it's not the same without Olivia.
Bridget has been busy, too. Her collarbone has healed and she is able to get back into her horseback riding lessons again. She fell off a horse at the beginning of the summer and broke her collarbone. It was an 8 week healing process.
As for me, I'm keeping busy working on the blog and running the household. I'm trying out new recipes and flavours. I'll try almost anything as long as it's easy to make. I like recipes that simplify life, not make it more complex.
The Chicken Farmers of Canada has long been my go-to source for easy, delicious and healthy recipes for my family. I found a soup recipe that fits all my criteria. Salsa Verde Chicken Soup is yummy comfort food that is packed full of spicy flavour. And it's only a few ingredients to make!
Salsa Verde Chicken Soup
This recipe serves two people so it's great for nights when John and I are alone and Bridget is off at her friend's house or at the barn tending to the horses. You can easily double or triple the recipe to feed a family.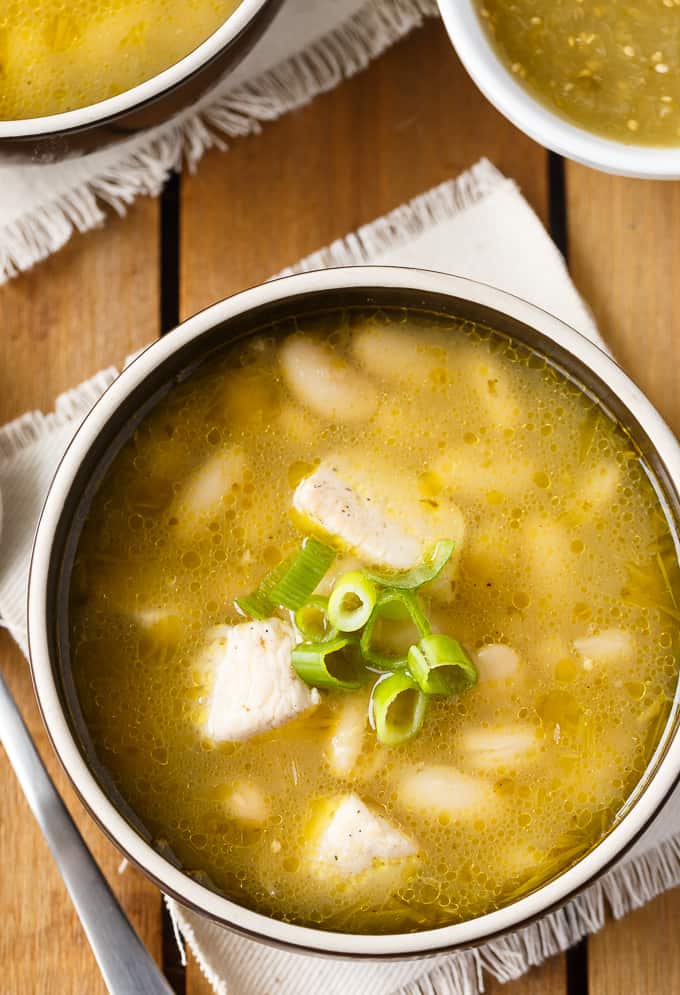 I like it because it's quick to whip up. It doesn't need to simmer long on the stove. Plus, I'm a big fan of spice and adore salsa verde!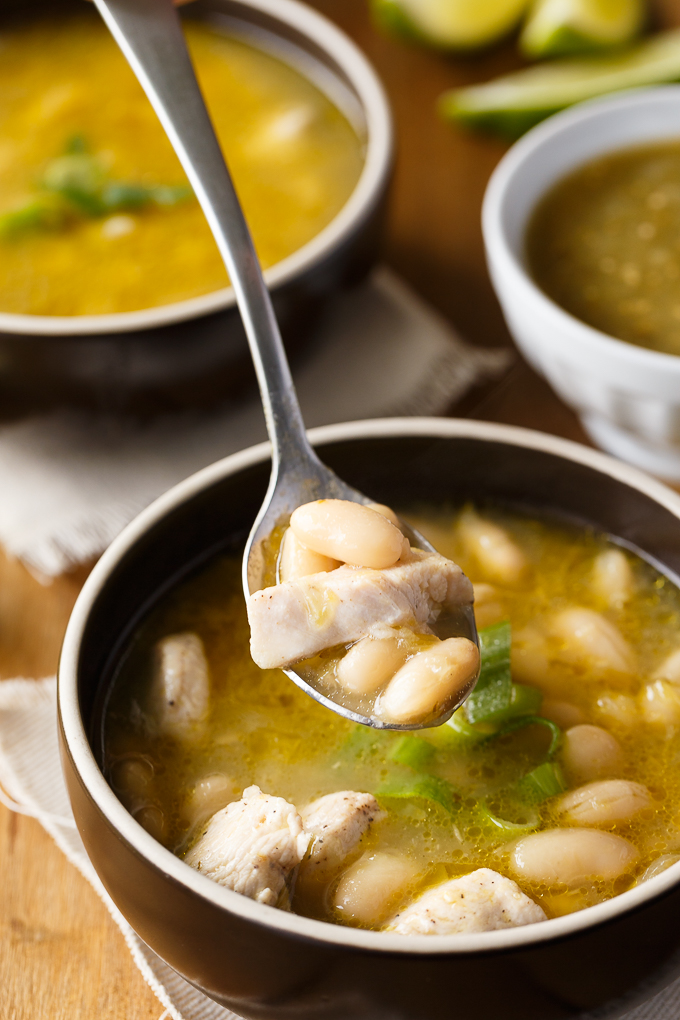 Get your fibre and protein with this mouthwatering soup recipe. Chicken is our preferred protein because of its health benefits and affordability. Look for the Raised by a Canadian Farmer logo on chicken at your grocery store to know you are receiving the best of the best!
The white kidney beans add a boost of fibre. I love their creamy texture.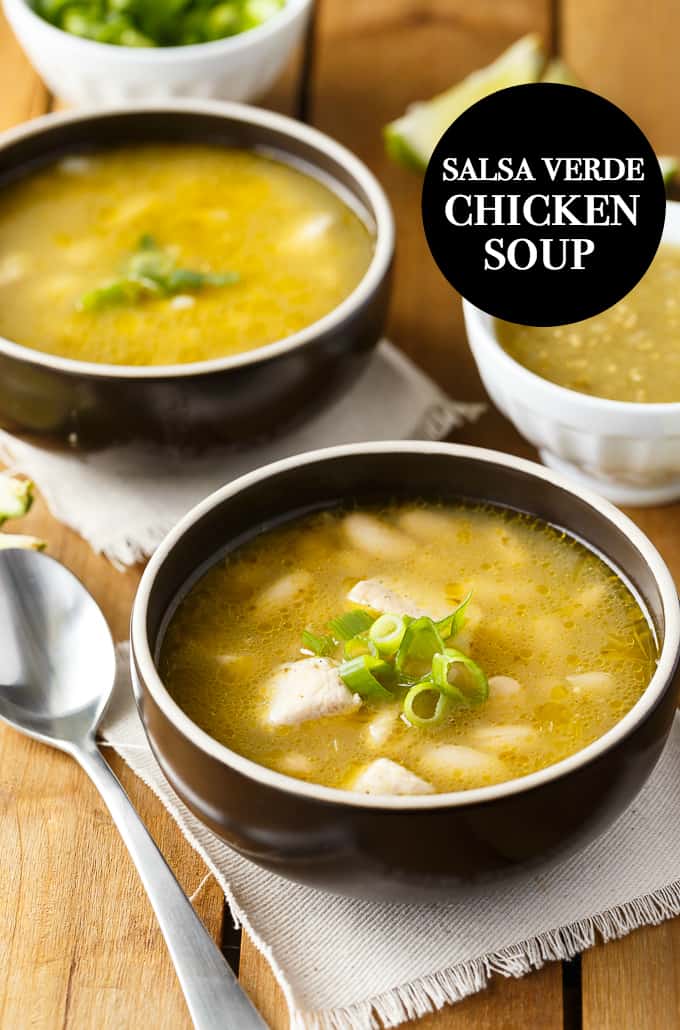 This soup would be great to eat when you are feeling under the weather. It cleared up my sinuses with all that spice! I had to visit two different stores to find salsa verde (aka green salsa). I found mine at Food Basics with the rest of the salsas.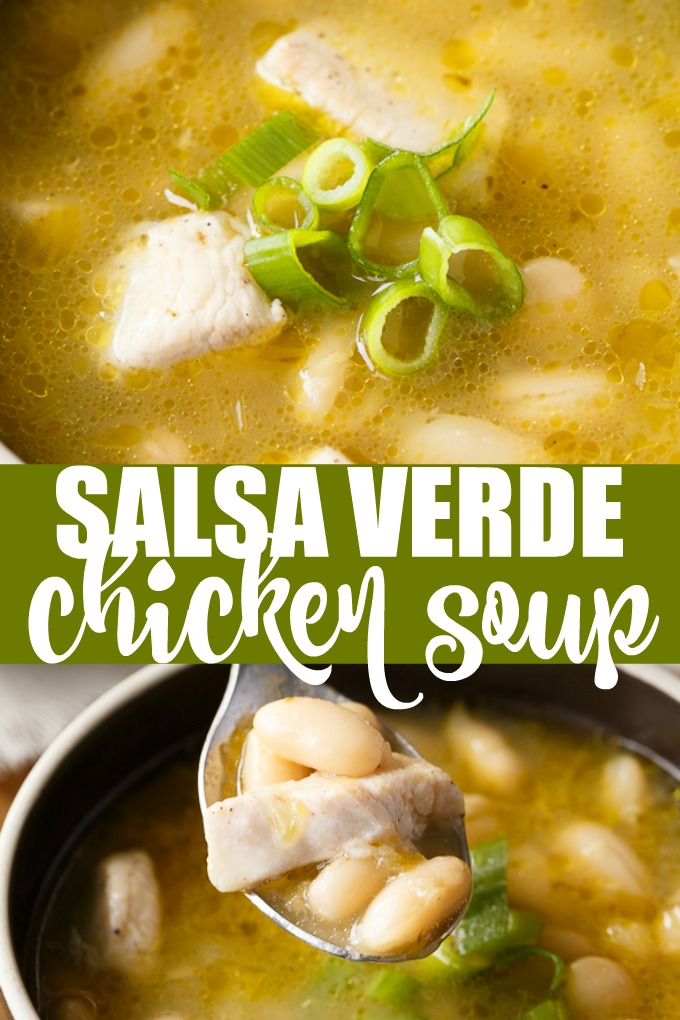 If you haven't yet downloaded the Shopping with Chicken app, you need to get it today. It's free and it will help you plan your grocery list and discover new chicken recipes to try! It's also cool that you can use the app with your spouse at the store and get your shopping done faster by splitting up and sharing the same list in realtime.
You'll also like this Chipotle Chicken Soup and Chicken Tortilla Soup.
What chicken recipes are you cooking up this fall?
Connect with the Chicken Farmers of Canada on Facebook, Twitter, Instagram and Pinterest.

Salsa Verde Chicken Soup
A quick and easy weeknight soup! Add a kick to your chicken soup with this light and warming salsa verde broth.
Ingredients
1 tbsp extra virgin olive oil
1 boneless, skinless chicken breast, cut into small cubes
1/2 tsp salt
1/2 tsp black pepper
3/4 cup salsa verde, divided
2 cups chicken broth
540ml can white kidney beans, drained and rinsed
2 green onions, sliced, for garnish
Lime wedges, for garnish
Instructions
Heat olive oil in a medium pot over medium-high heat. Season chicken with salt and pepper. Add chicken to pot and cook, stirring occasionally until golden, but not cooked through (2 to 3 minutes).
Add 1/2 cup salsa verde and scrape up any bits from the bottom of the pot. Cook 1 minute.
Add broth. Bring to a boil. Reduce heat to medium-low and simmer for 5 minutes.
Increase heat to medium. Add beans and cook another 5 minutes.
Stir in remaining salsa verde, salt and pepper. Remove from heat and let stand for 10 minutes. Stir before serving. Top with green onions and lime, desired.
Recommended Products
As an Amazon Associate and member of other affiliate programs, I earn from qualifying purchases.
Nutrition Information:
Yield:

2
Serving Size:

1
Amount Per Serving:
Calories:

565
Total Fat:

11g
Saturated Fat:

2g
Trans Fat:

0g
Unsaturated Fat:

7g
Cholesterol:

56mg
Sodium:

3109mg
Carbohydrates:

75g
Fiber:

18g
Sugar:

6g
Protein:

44g
Disclosure: I am participating in the Chicken Farmers of Canada campaign managed by SJ Consulting. I received compensation in exchange for my participation in this campaign. The opinions on this blog are my own.