A few months ago, I made the mistake of forgetting to pick up REESE Spread on a grocery shopping trip. My daughter, Bridget, loves it spread on an English muffin for breakfast. When I asked her if I could make her something else to eat instead, she gave me an exasperated look that said, "Like really, Mom! How could you?". I made sure to buy a few jars the next time I was out shopping since this versatile spread is enjoyed by all in our family.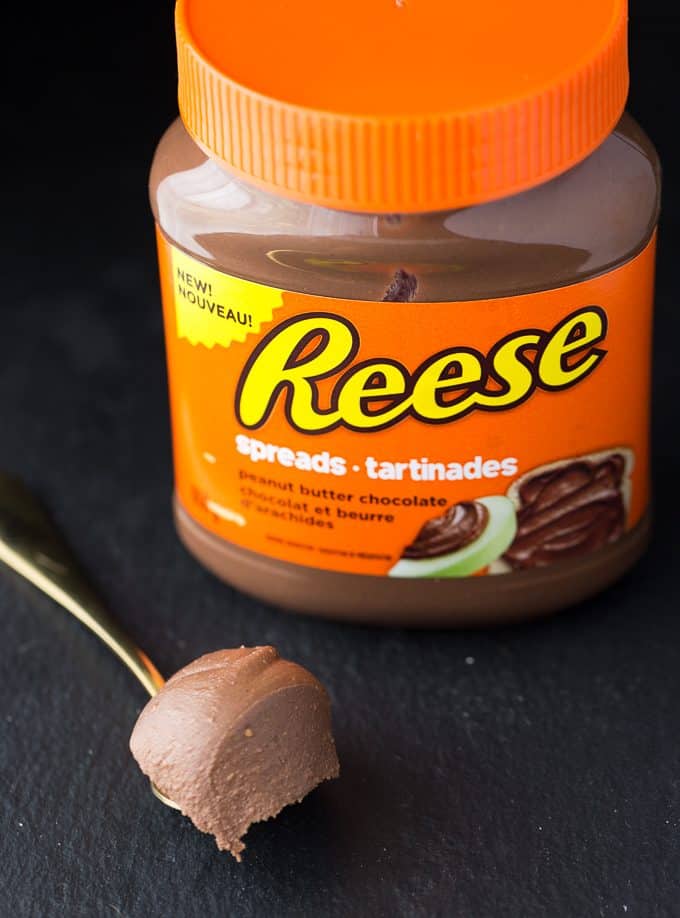 While Bridget eats hers on an English muffin, I'll sometimes just grab a quick spoonful for a mid-afternoon treat. It's SO GOOD.
I've partnered with REESE Spreads over the next several months and plan to share lots of yummy recipes on my blog and social channels. Keep an eye out for the #DoYouSpoon hashtag so you can follow along and discover new recipes to try.
REESE Cheesecake
Today, I'm sharing my first recipe and it's one for the record books. This REESE Cheesecake is out of this world!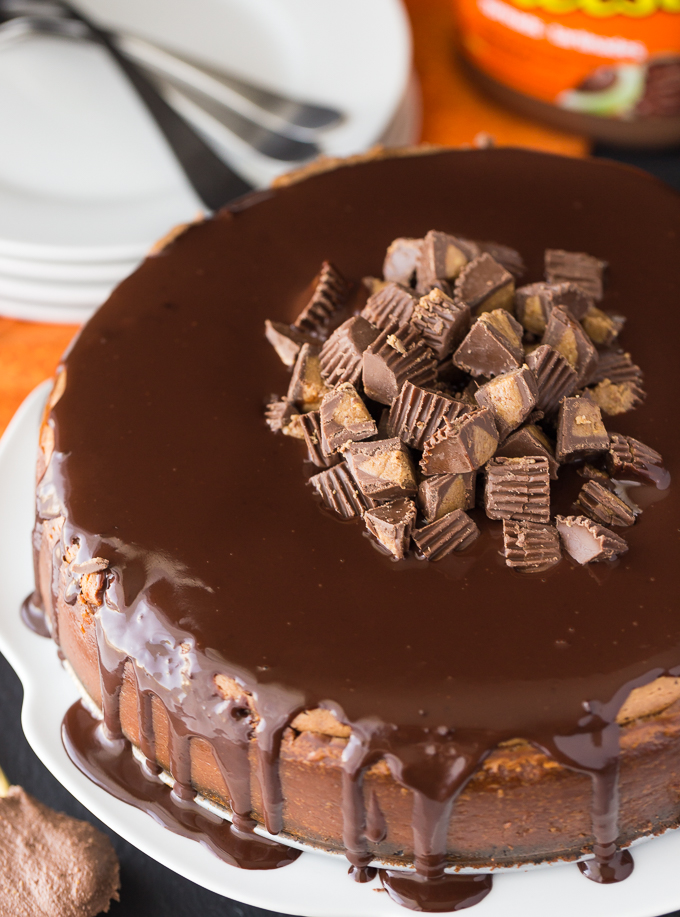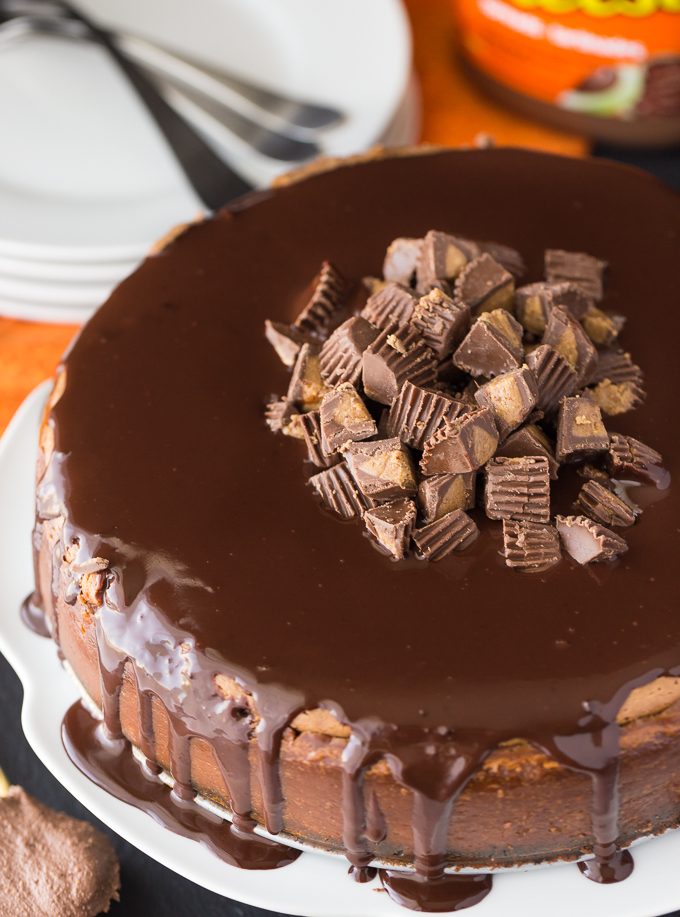 It all begins with a chocolate cookie crumb crust in a springform pan. I like springform pans for cheesecakes because it makes removing them from the pan super easy.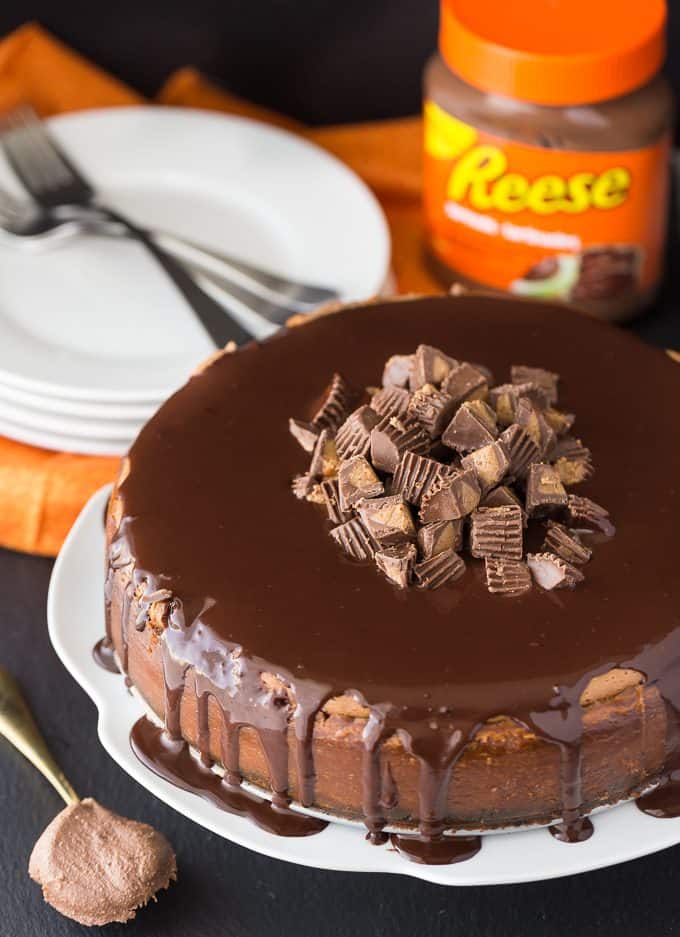 The cheesecake filling itself is my favourite part. It's made with REESE Spread, table cream, cream cheese, sour cream, vanilla extract, sugar and a pinch of salt. I love it because it's on the lighter side and not as dense as a New York Style cheesecake is. It practically melts in your mouth. It's that good.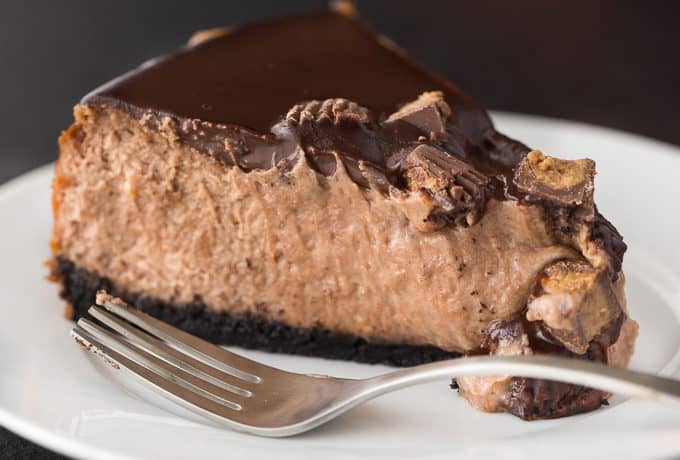 I typically use the dry baking method for cheesecake versus putting them in a water bath. It's easier for me to place it on a baking sheet in the oven and let it do the rest of the work. The only thing with dry baking is that your cheesecake will likely crack on top. In this recipe, it won't matter because your going to be covering it with a luscious chocolate ganache. It will hide all the imperfections.
The one thing I want to stress the importance of is to let your cheesecake cool completely after baking. You'll want it to cool on the counter at first until it gets to room temperature and then move it to the fridge to finish cooling. I recommend leaving it at least 5 hours. I know it's tempting to just grab a quick slice, but it will be SO MUCH better once it sets completely.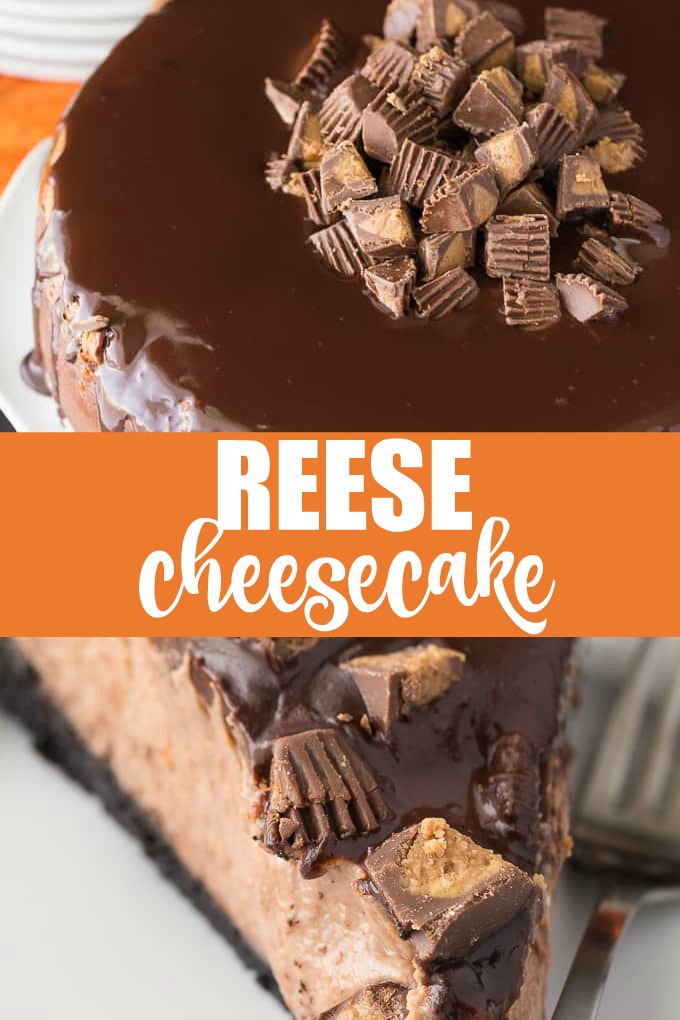 Once the cheesecake is cooled, prepare the chocolate ganache on the stove. Chocolate ganache is pretty basic – just cream, chocolate and a bit of butter. Let it cool for 15 minutes and poor over top. It gives the cheesecake a beautiful, glossy finish. I topped mine with some chopped REESE Peanut Butter Cups too.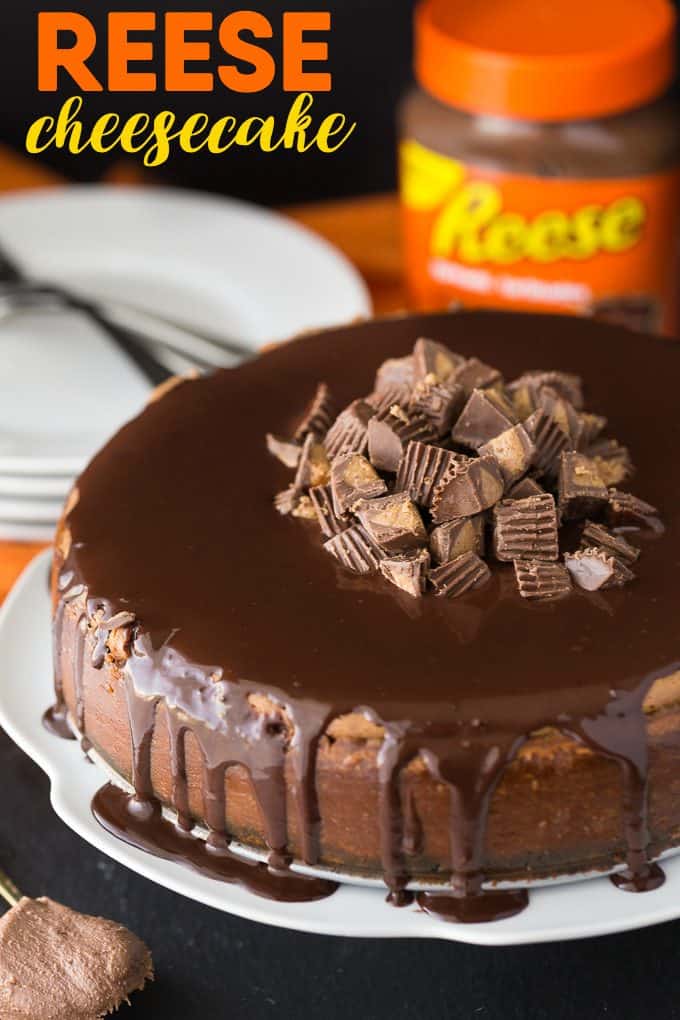 What a decadent end to a lovely meal! It was perfect. My family loved it and I hope yours will too. If you give this recipe a try, let me know how you enjoyed it.
You might also like this Caramel Pecan Cheesecake, No-Bake Cherry Cheesecake or Cappuccino Cheesecake.
Have you ever used REESE Spread in a cheesecake recipe?

Reese Cheesecake
Cook Time:
1 hour
2 minutes
Total Time:
1 hour
22 minutes
A chocolate and peanut butter dream! This decadent cheesecake is sandwiched by chocolate crust and chocolate ganache with a peanut butter punch.
Ingredients
Chocolate Cookie Crust
1 1/2 cups chocolate cookie crumbs
6 tbsp unsalted butter, melted
Reese Cheesecake
1 1/2 cups table cream (heavy cream)
1 1/2 cups REESE spread
1 cup sour cream
2 250g packages cream cheese, softened
3/4 cup sugar
3 eggs
2 tsp vanilla extract
pinch of salt
Chocolate Ganache
1 cup table cream (heavy cream)
1 1/2 cups semi-sweet baking chocolate, roughly chopped
1 tbsp unsalted butter
Instructions
Chocolate Cookie Crust
Preheat oven to 350F. Add chocolate cookie crumbs and butter to a bowl and stir together. Press into a 9 inch springform pan. Bake 12 minutes. Cool completely.
Reese Cheesecake
Add table cream to a small saucepan over medium heat. Heat until it just starts to simmer and then turn off the heat. Add in REESE spread and let sit for 3 minutes without stirring. After 3 minutes, stir until is fully melted and smooth. Whisk in sour cream and set aside.
In a large mixing bowl, beat cream cheese on medium speed for about 1 1/2 minutes. Add in sugar and beat for another minute on medium speed. Add in eggs, one at a time, beating in between each addition. Add in salt and vanilla and beat another 30 seconds on medium. Stir in cooled chocolate mixture until smooth.
Preheat the oven to 375F. Pour the cheesecake mixture into a springform pan that has been placed on a baking sheet. Bake for 20 minutes. Turn down the temperature to 300F and bake for another 30 minutes. The centre will be slightly jiggly when it's cooked.
Remove the cheesecake from the oven. Carefully run a butter knife blade around the edge of the pan to loosen the sides. Let it cool at room temperature and then place in the fridge to continue to cool and set for an additional 5 to 6 hours.
Chocolate Ganache
Heat the cream in a saucepan on medium heat until it starts to steam. Turn off the heat and add in the chocolate and butter. Make sure the chocolate is covered by the cream by gently shaking the pan. Do not stir. Let it sit for 3 minutes and then gently stir until its fully melted. Let it cool for 15 minutes before pouring it on top of the cheesecake.
Notes
It's important to let it cool completely or it will fall apart when you cut it. The longer you can let it sit in the fridge the better.
Recommended Products
As an Amazon Associate and member of other affiliate programs, I earn from qualifying purchases.
Nutrition Information:
Yield:

8
Serving Size:

1
Amount Per Serving:
Calories:

954
Total Fat:

82g
Saturated Fat:

48g
Trans Fat:

1g
Unsaturated Fat:

27g
Cholesterol:

261mg
Sodium:

339mg
Carbohydrates:

44g
Fiber:

5g
Sugar:

31g
Protein:

14g
Disclosure: This post is sponsored by REESE Spreads as part of the Golden Spoon Recipe Series. All opinions on this blog are my own.