Change it up with this incredible Caramelized Onion, Red Pepper, and Zucchini Frittata. Cheesy, light, and full of rich and vibrant vegetables in every single bite. Perfect for brunch or a quick breakfast for your family.
The challenge this time around was to find a recipe that uses eggs as the key ingredient. I had an easy time with this one since I'm on a low carb diet and have been eating lots of eggs. I ended up selecting a recipe from Skinny Taste.
My mom introduced me to that blog a couple of months ago, and I've tried out a number of Gina's recipes. They have all turned out great, and this one for Caramelized Onion, Red Pepper and Zucchini Frittata is no exception!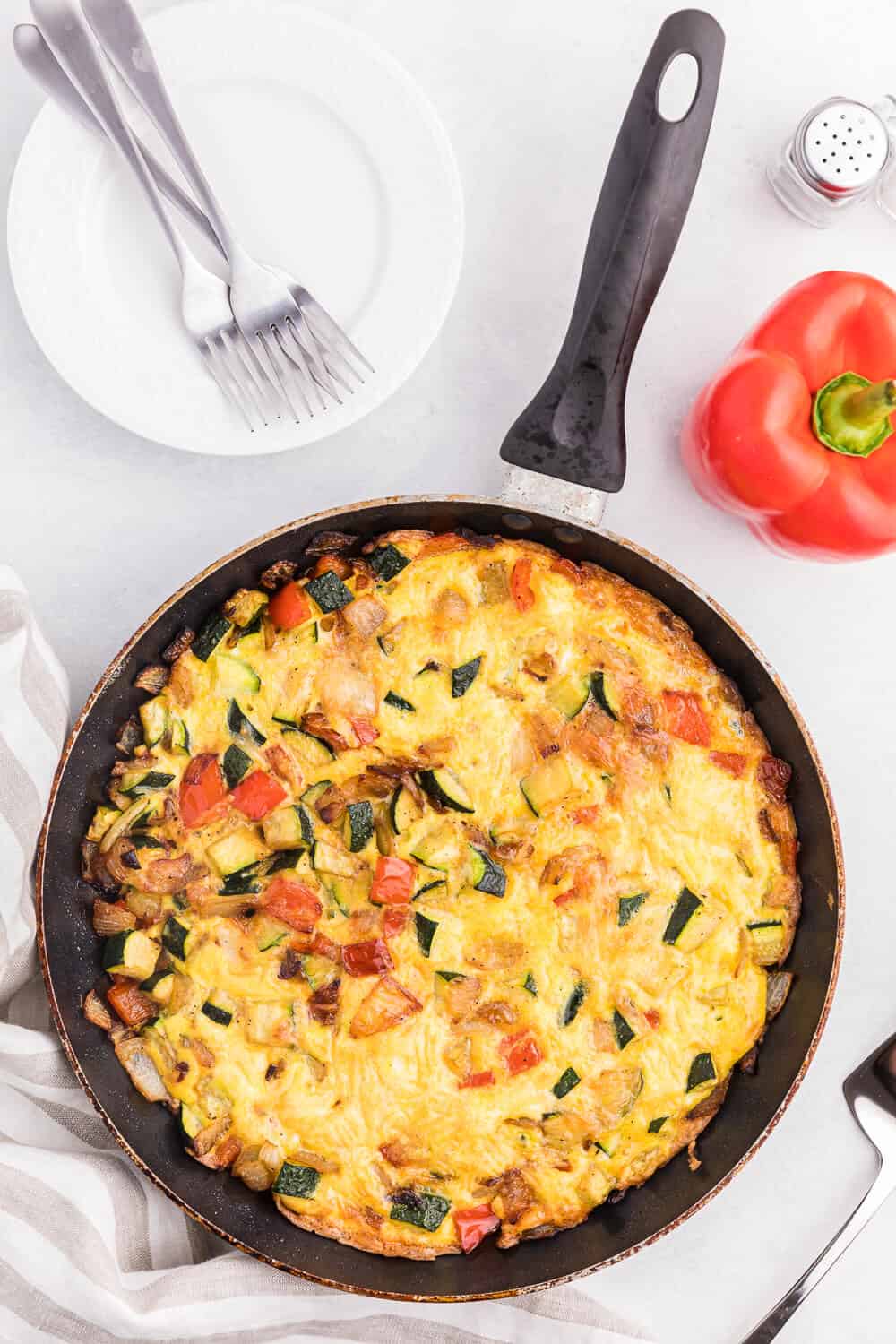 Zucchini is going to be in full swing soon in gardens around the globe. This is a straightforward and tasty way to use up produce in a creative way. Or maybe you don't garden, pick up some veggies at the grocery store and whip this up. I think if you are a fan of the vegetables used and a fan of eggs, you will swoon over this savory frittata.
The Best Zucchini Recipes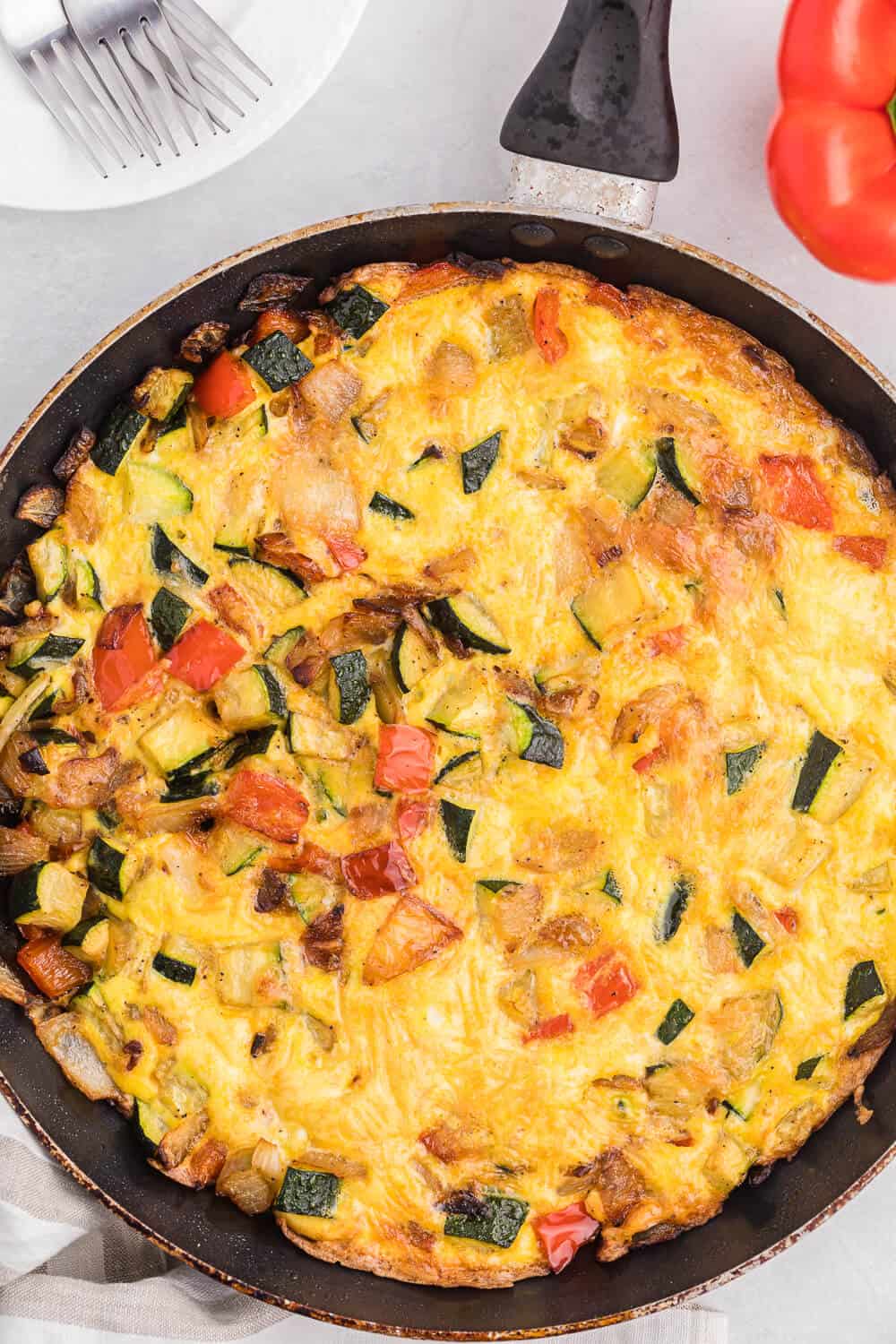 Cooking Vegetables Before Blending in Frittata
Cooking vegetables before mixing in and baking your frittata will help pull out extra water lingering in your veggies. This will help give you that light and moist frittata you want. If you don't pre-cook vegetables, it could make your frittata watery and not cook up properly. Plus caramelizing the onions gives it a richness you won't get any other way.
Do You Add Milk to Frittata
For this recipe, I do not add milk. The liquid in the vegetables is enough. I find you don't need milk like other recipes might call for it. Just make sure to whip your eggs well, and then add in your chopped and cooked vegetables.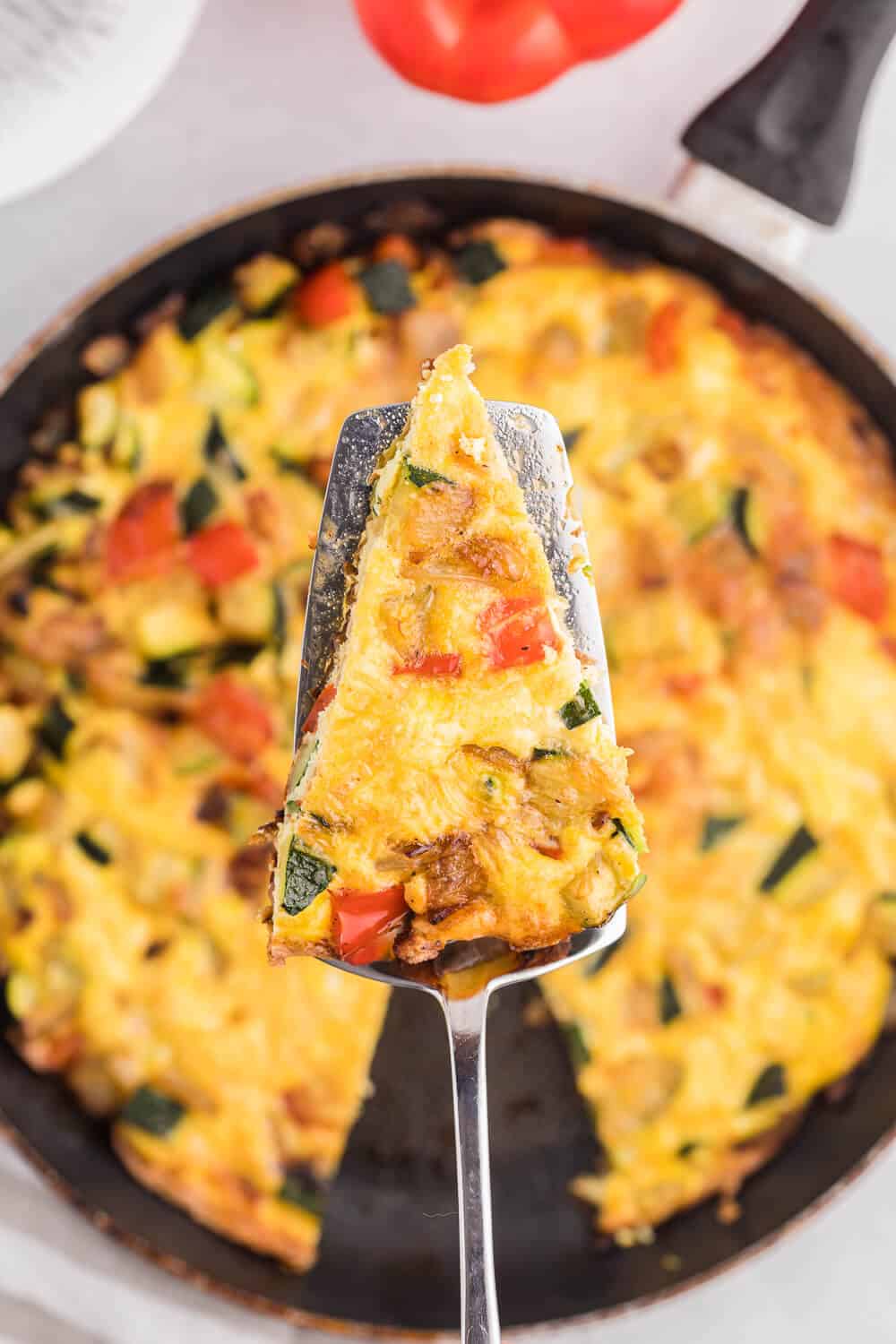 Frittata Garnishes and Toppings
Just like with any other recipe toppings and garnishes can always add even more elements of flavor and add some color to your dish. You could pile on some diced leafy herbs like parsley or basil, or even chives.
Add a dollop of sour cream, salsa, fresh diced avocado, balsamic vinegar, and more. The sky is the limit on what you can add to your frittata.
How to Make Caramelized Onion, Red Pepper & Zucchini Frittata
Start by adding some olive oil into your skillet and cook your onions for around 10 minutes. This is going to help caramelize and soften your onions.
Then toss in your chopped peppers and cook for around five more minutes, and then add in your zucchini and salt and pepper. Cook for approximately three more minutes until it tenderizes some.
Mix up your egg mixture and cheese, and pour over your cooked vegetables, and cook on stove for three more minutes. Then toss in a preheated oven for 15 minutes.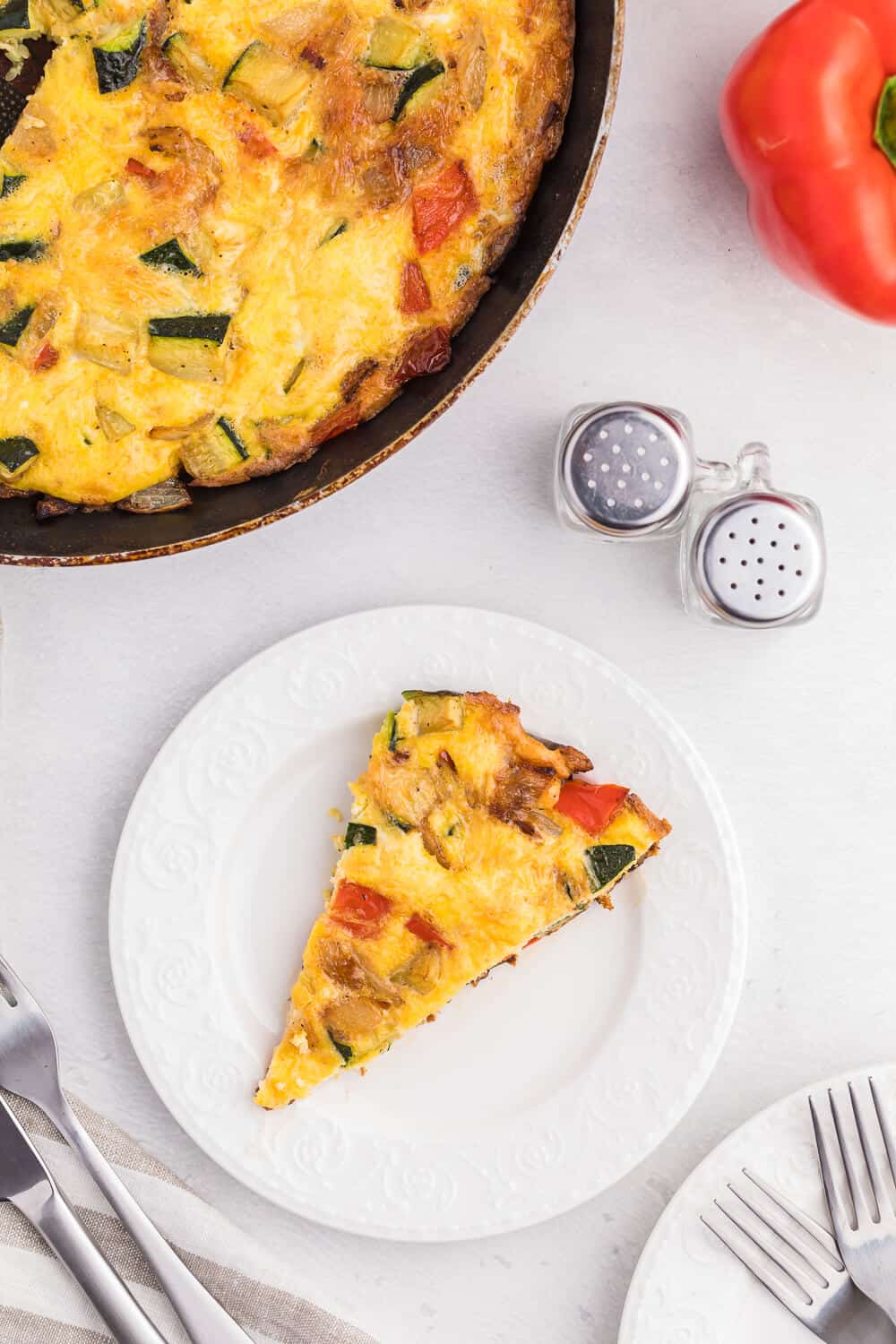 Can You Eat Frittata The Next Day
You can eat leftover frittata the next day. Eat it cold or feel free to reheat it in the microwave. Either way, it is a tasty leftover. I will say frittata always taste best fresh to me, but sometimes the leftover isn't too bad.
Just make sure to allow your frittata to cool before you toss it in the fridge for leftovers.
Best Skillet for Making Frittatas
One thing I recommend is investing in a skillet that can go from the stove top to oven. You can see most skillets are durable enough to go from stove to oven. But some pans have a rubber lining on the handle that is not oven safe. Make sure before you place your skillet in the oven that it is indeed oven safe.
Give my zucchini frittata a try today for your next breakfast, dinner, or brunch. Pair with your favorite sides and dive in. This is one savory and incredible recipe that I think you will want to make over and over again. This frittata is a breeze to whip up and requires minimal ingredients.
You'll also love this Pancetta and Onion Frittata, Bacon and Gouda Frittata, Broccoli Frittata and Turkey Bacon Frittata.
What is your favorite flavor for a frittata?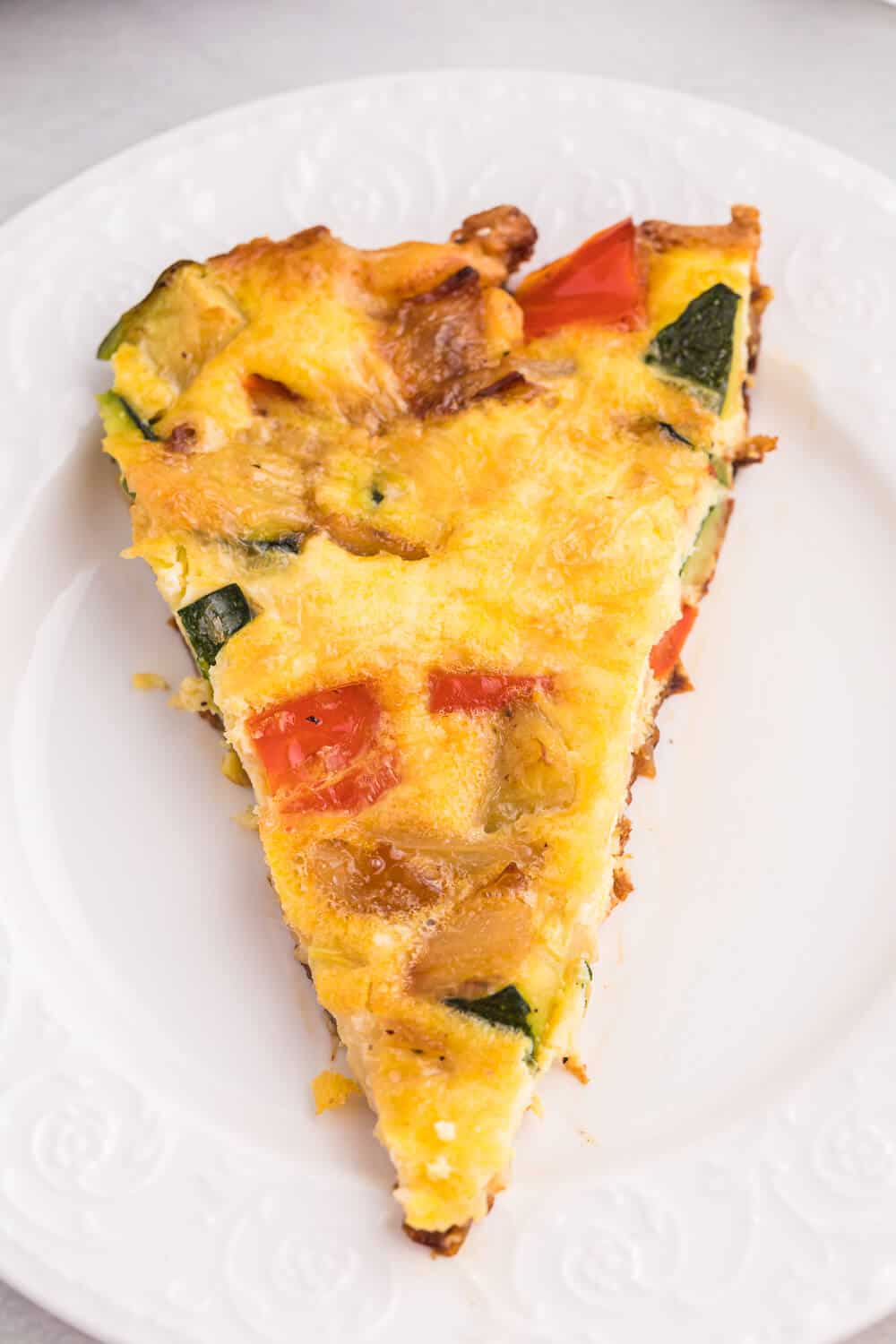 Try my Chocolate Zucchini Bread.
Caramelized Onion, Red Pepper & Zucchini Frittata
Loaded with red pepper and zucchini, this veggie-packed dish is healthy and filling – and low carb too!
Ingredients
1 tablespoon extra virgin olive oil
1 white onion, chopped
1 red pepper, chopped
2 zucchini, chopped
6 eggs
1/2 cup Parmesan cheese, shredded
1/2 teaspoon salt
1/4 teaspoon pepper
Instructions
Add olive oil to a skillet over medium heat. Add the onions and cook for about 10 minutes. Stirring occasionally.
Add the red peppers and cook another 5 minutes, stirring occasionally.
Add the zucchini and salt & pepper and cook another 3 minutes, stirring occasionally.
While your veggies are cooking, whisk the eggs and Parmesan cheese. Pour the egg mixture on top of the cooked veggies and continue to cook on the stove top for about 3 minutes. Do not stir.
Pre-heat the oven to 400F and place the skillet in the oven. Bake for 15 minutes. Let cool 5 minutes before cutting into slices.
Recommended Products
As an Amazon Associate and member of other affiliate programs, I earn from qualifying purchases.
Nutrition Information:
Yield:

6
Serving Size:

1
Amount Per Serving:
Calories:

142
Total Fat:

9g
Saturated Fat:

3g
Trans Fat:

0g
Unsaturated Fat:

5g
Cholesterol:

191mg
Sodium:

363mg
Carbohydrates:

5g
Fiber:

1g
Sugar:

3g
Protein:

10g