Broccoli Frittata is a great recipe to whip up for a quick lunch or even breakfast. Frittatas are so simple to make, low carb, and will fuel you to get through the rest of the day. Give this recipe a try today.
Frittata is my new obsession. I think because it's a perfect fit with my low carb diet and there's just something so right about eggs & cheese together. I can't get enough!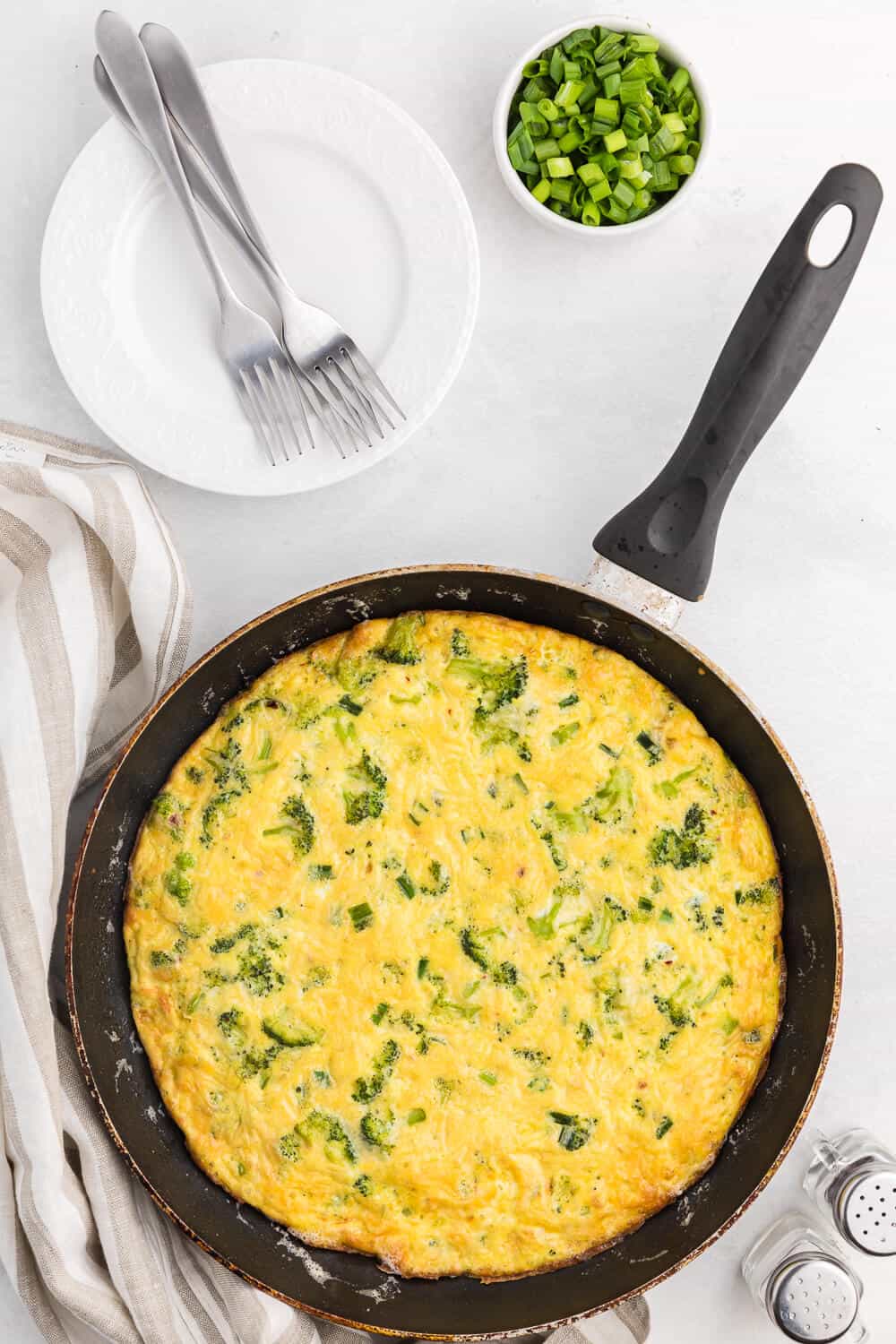 Easy Broccoli Frittata
I found this recipe in an issue of Canadian Living Fresh & Healthy and it sounded so yummy and easy to make. It was delicious! Even my 8-year-old daughter gobbled it up. If you are a fan of broccoli and eggs, this recipe is going to be a show-stopper for you.
Craving More Egg Recipes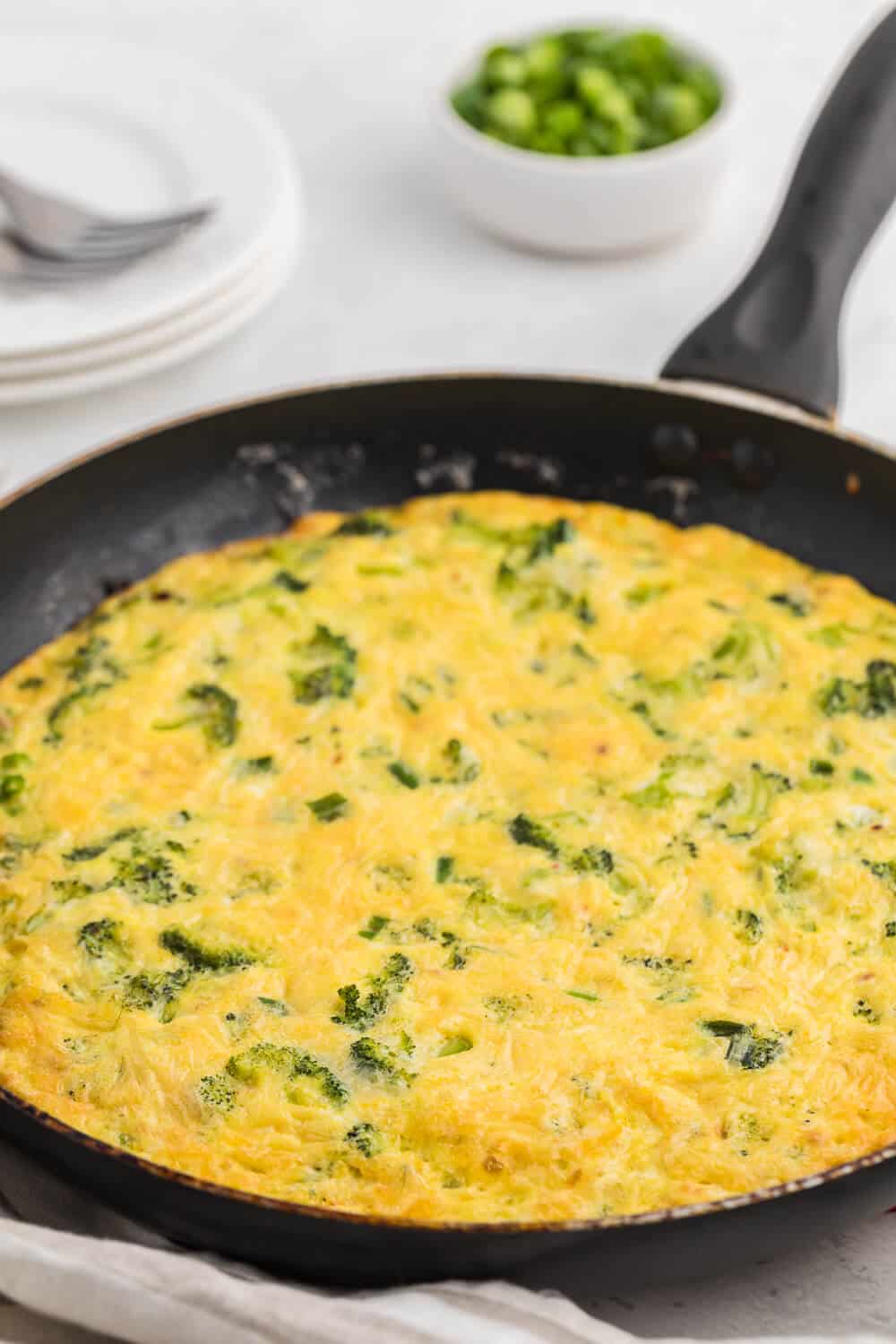 What's The Difference Between an Omelette and a Frittata
Frittatas are started on the stove and then transferred to the oven to finish cooking. Where an omelette is cooked fully on the stove with a mix of fillings and folded over. The other difference is a frittata is sliced more like a pie where an omelette is made for one generally.
Do You Serve Frittata Warm or Cold
We love to eat this broccoli frittata warm, but you can eat it cold if you prefer. Just allow it to cool a few minutes then slice and serve. Or if you want it to be served cold, feel free to make ahead the night before you want to serve so it is nice and chilled.
What If I Can't Handle Heat
You can leave off the hot pepper flakes if you don't like a little spice and heat to your food. Instead, you could add in some season salt to replace the pepper flakes.
Will Frozen Broccoli Florets Work in Broccoli Frittata
If you want to use frozen broccoli florets just allow your broccoli to thaw before you place in the frittata. You can thaw your broccoli by running cold water over the broccoli to thaw it faster or place the bag in the fridge the night before for a slow thaw. Either route works.
I love the way fresh broccoli tastes but you are welcome to use frozen if that is what you have on hand.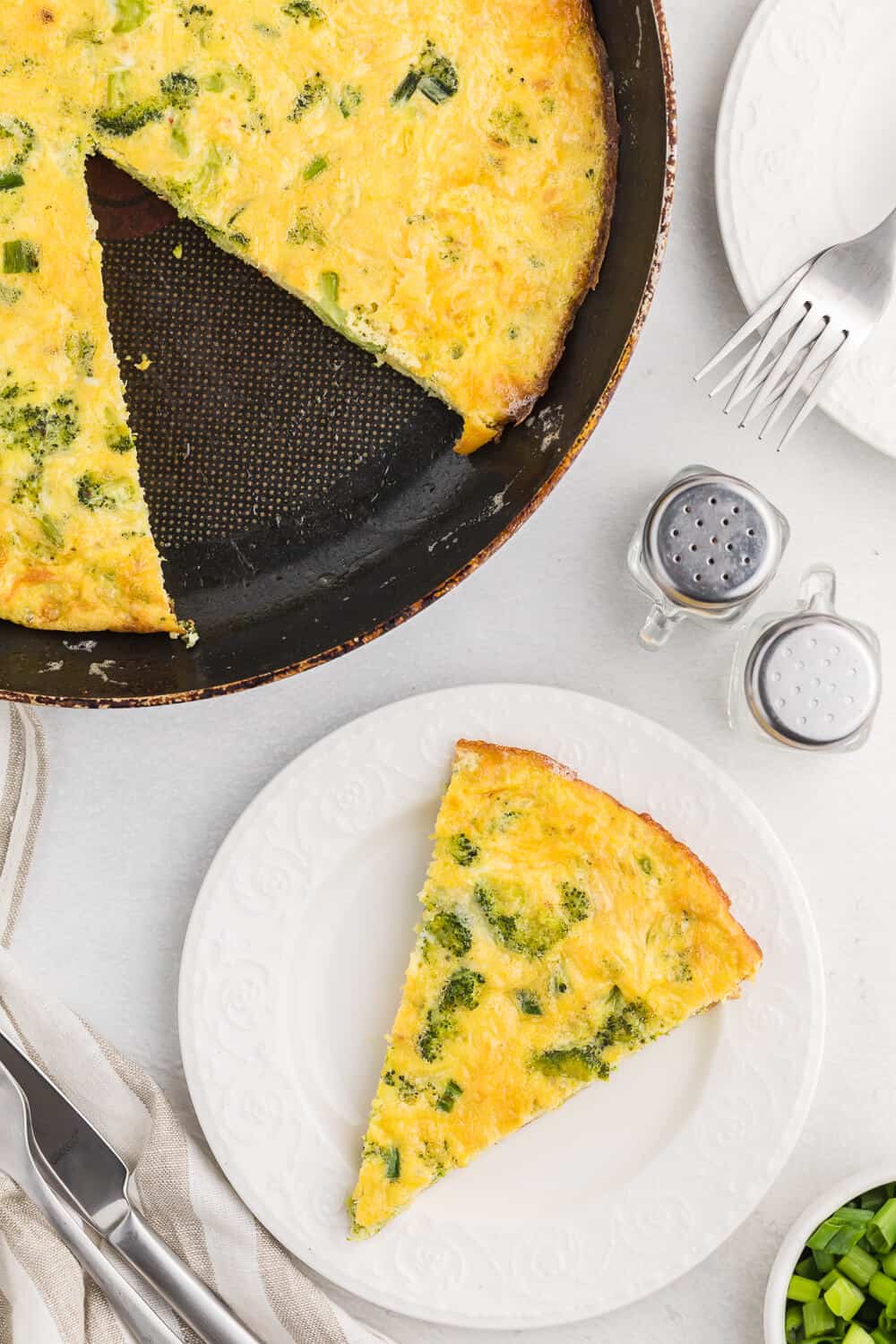 How to Make Broccoli Frittata
Start by cooking your broccoli in water in a skillet to help make it tender. You want to cook the broccoli for a few minutes and allow the water to cook out. Then add in your oil, pepper flakes, garlic, green onions, and brown it. Add in broccoli and give a good stir.
Then in a bowl beat your eggs and cheese and pour in the broccoli mixture.
In the same pan you want to wipe it out, and then heat it over medium heat. Pour in your egg mixture and spread it evenly in the pan. Cook for 5-6 minutes and then from there transfer your skillet to the oven to continue cooking.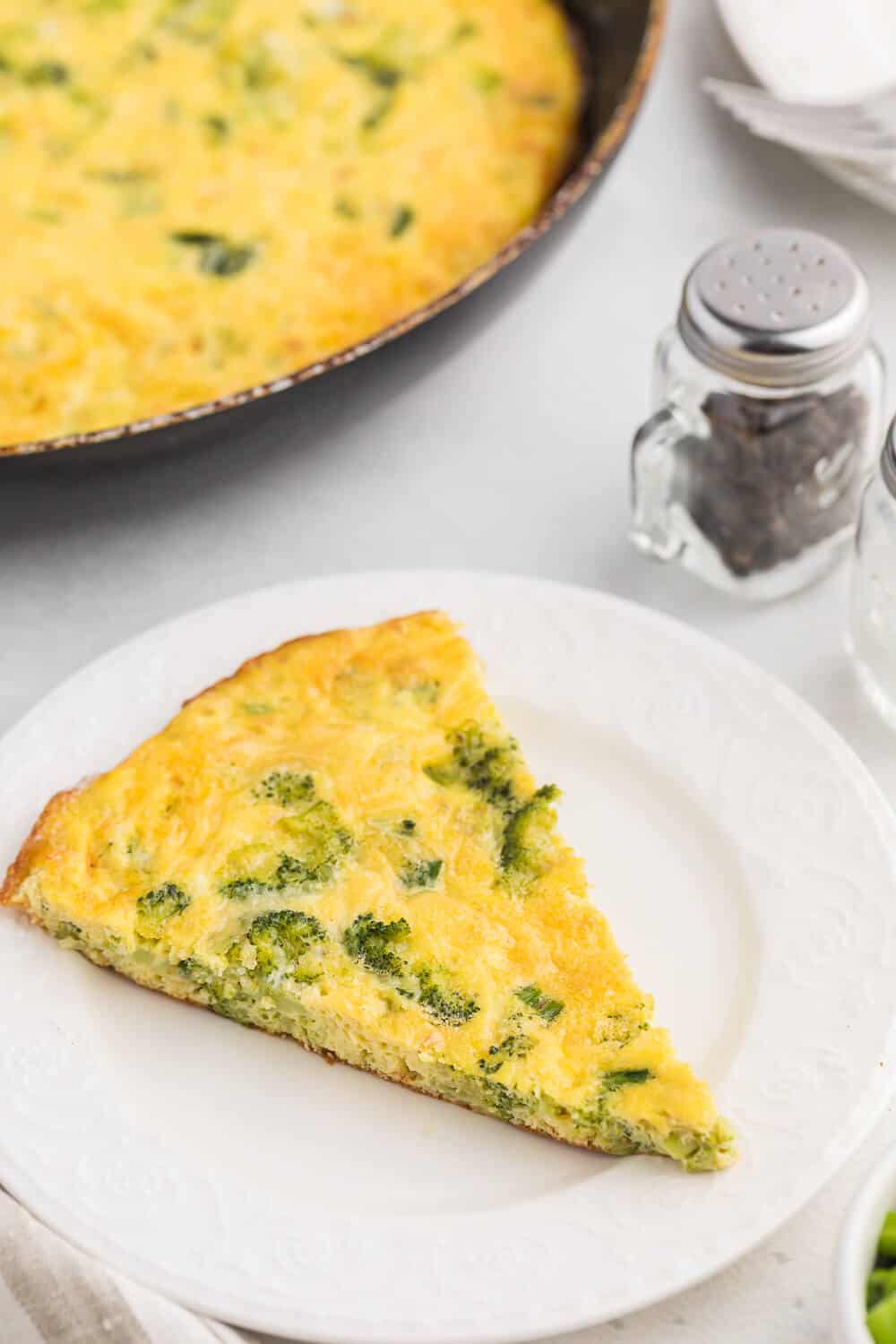 How Do You Know When Broccoli Frittata is Done
The easiest way to tell the frittata is done is to jiggle it slightly in the oven. If the center wiggles it needs to cook a bit longer. When the center is set and doesn't jiggle along with the edges being lightly golden brown you know your broccoli frittata is done.
Why Does My Frittata Go Flat
Frittatas will always fall when they are pulled from the oven. They are not meant to be puffy, it is just the air whipped in from the eggs deflating.
How Long Does a Frittata Last
You can keep cooked eggs in the fridge when stored properly for up to four days. Just make sure to store in an airtight container or to wrap in aluminum foil to prevent air from getting to it.
Can I Freeze a Cooked Frittata
Yes. Just allow your frittata to cool, and then place in a freezer friendly bag or container. Then keep it in the fridge for 2-3 months. I recommend thawing it in the fridge the night before you plan to eat it again.
Easy Frittata
Whether you are wanting to try something new or have a love for broccoli. This easy frittata will be a great recipe for you to try this week. Only a few ingredients are needed, which you might have already in your fridge and pantry!
This is our tried and true broccoli frittata we have made for years. It is one we always come back to for more. Especially my broccoli-loving daughter.
You'll also like this Pancetta and Onion Frittata, Bacon and Gouda Frittata, Zucchini Frittata or Turkey Bacon Frittata.
Have you ever made a homemade frittata?
Broccoli Frittata
The classic and delicious combination of broccoli and cheese are the perfect pair in this quick and easy oven-baked frittata. Fresh or frozen broccoli can be used to make this quick and easy meal.
Ingredients
3 cups chopped broccoli florets
1 cup water
2 tablespoons extra virgin olive oil
1/4 teaspoon hot pepper flakes
3 cloves garlic, minced
3 green onions, thinly sliced
8 eggs
1 cup Parmesan cheese, grated
Instructions
In a 10-inch skillet, bring broccoli and water to a boil. Cover and cook over medium heat until tender-crisp, about 2 to 3 minutes. Uncover and cook over medium-high heat until no water remains, about 4 minutes.
Add 1 tablespoon of oil, hot pepper flakes, garlic and green onions to pan; cook until lightly browned, 1 to 2 minutes. Add to broccoli.
In a large bowl, beat eggs and cheese. Stir in broccoli mixture.
Wipe out the skillet; heat remaining oil over medium heat. Pour in egg mixture, spreading evenly. Do not stir. Cook over medium-low heat for about 5 to 6 minutes.
Place skillet in 400°F oven; bake for 10 minutes. Let stand for 2 minutes. Cut into wedges & serve.
Recommended Products
As an Amazon Associate and member of other affiliate programs, I earn from qualifying purchases.
Nutrition Information:
Yield:

6
Serving Size:

1
Amount Per Serving:
Calories:

237
Total Fat:

16g
Saturated Fat:

5g
Trans Fat:

0g
Unsaturated Fat:

9g
Cholesterol:

262mg
Sodium:

429mg
Carbohydrates:

9g
Fiber:

3g
Sugar:

2g
Protein:

15g