Pancetta and Onion Frittata is the perfect way to kickstart your morning or a stunning dish to serve at brunch. Sweet onion, tender pancetta, tangy parmesan cheese come together for one incredible frittata recipe.
Baked Pancetta and Onion Frittata are one of my go-to recipes for the weekends. We like to whip up an excellent and hearty breakfast before we head out to enjoy our weekend. A frittata is always a good option cause you prep, then toss in the oven and get ready for the day. The great thing is that its perfect for my low carb diet I'm on right now.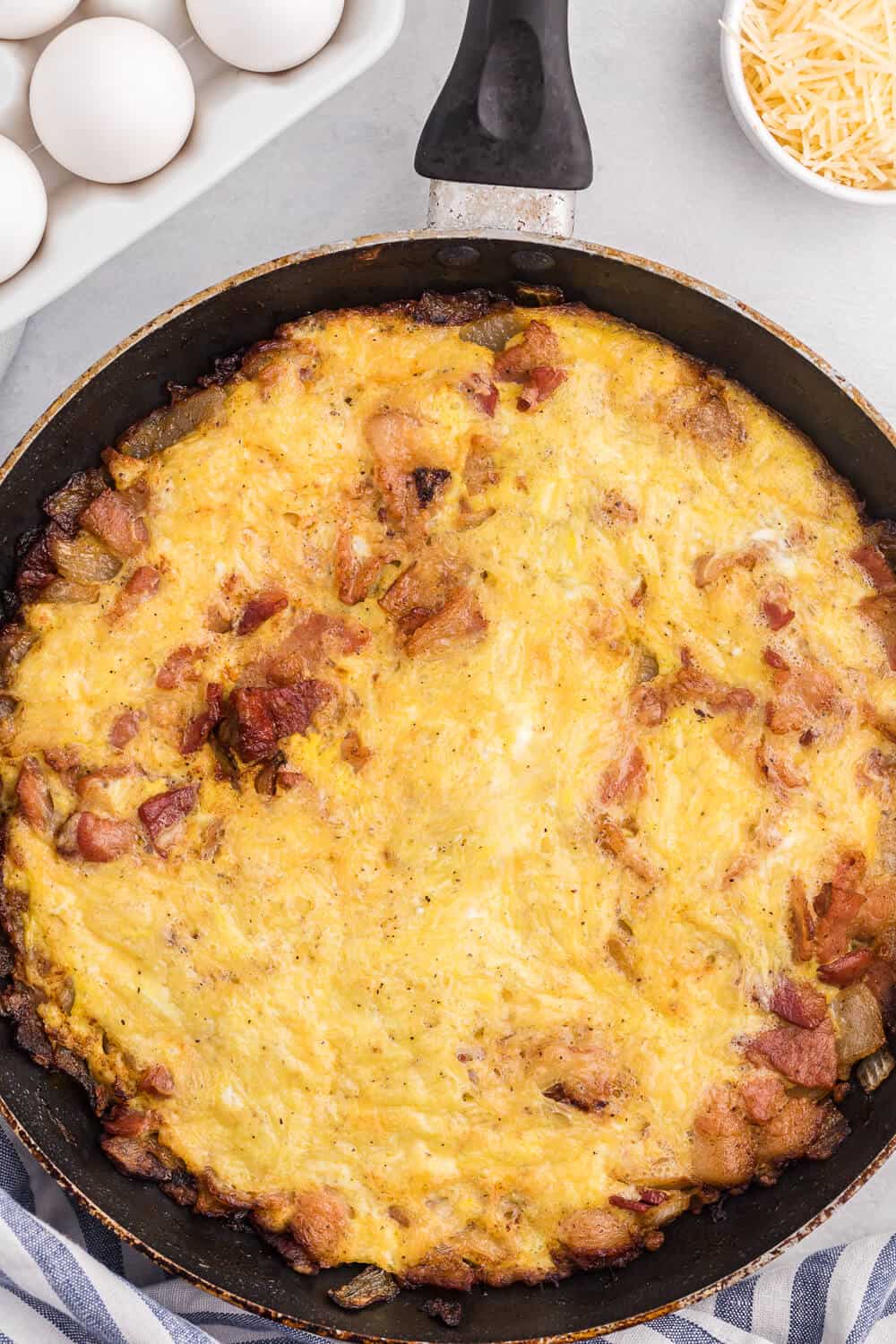 The perfect frittata offers a creamy and custard-like texture that is flavored with your veggies and meats you toss in. I went with a sweet onion and pancetta for this recipe, and it was a home run on flavor. Best of all, it is SO easy to make, and it carries well if you decide to bring this for a picnic, brunch, etc.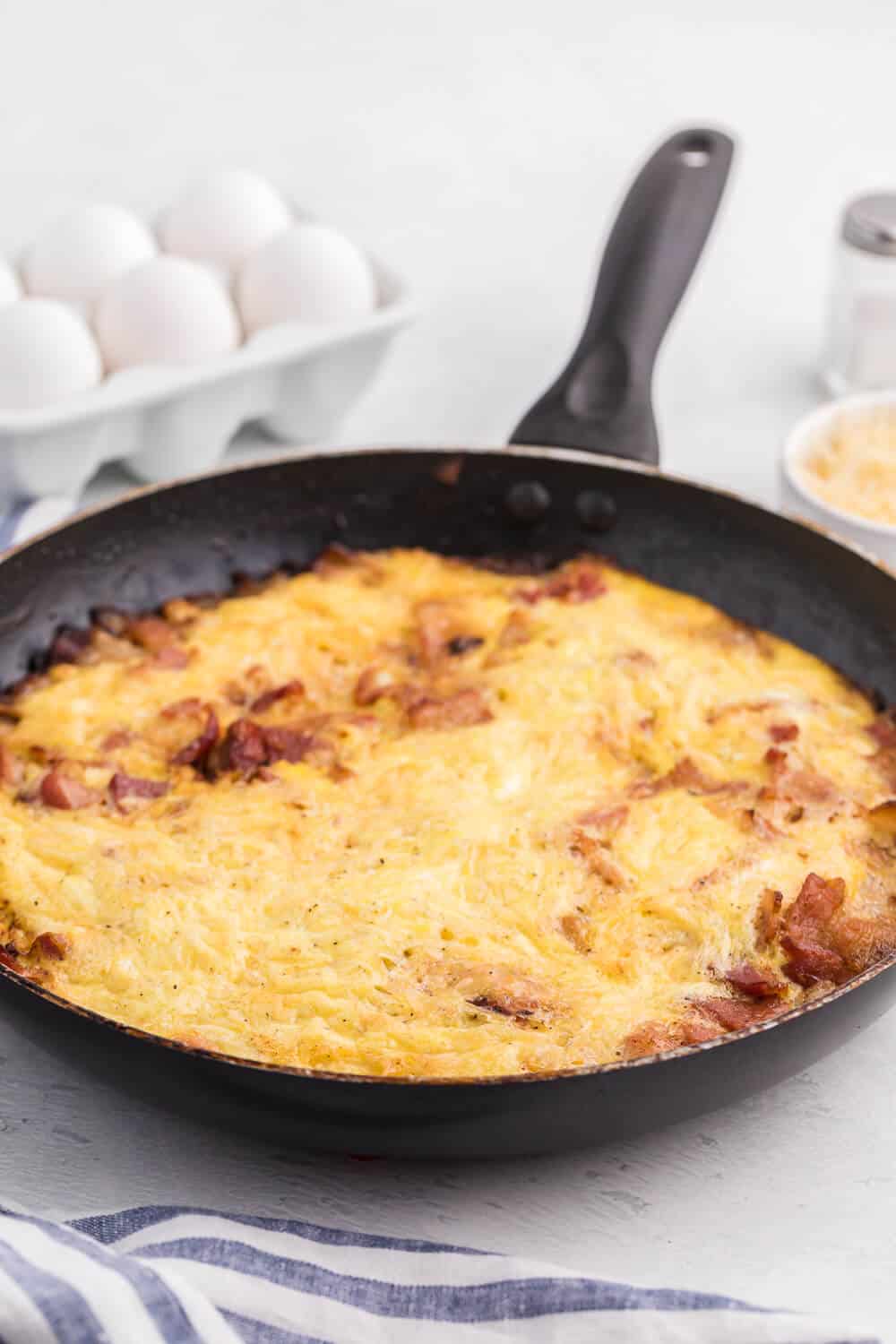 More Egg Dishes To Make
Stove Top Frittatas vs. Baked Frittatas
For this recipe, I used both methods. I worked on caramelizing my onions and letting them sweat it out and cooked up my pancetta for added flavor. Poured my egg mixture on top and then transferred the skillet right into the oven. It was the perfect combination of using the stove and the oven to make my frittata.
Some recipes won't need the stovetop for cooking ingredients, which will speed up the process. I love the flavor the caramelized onions offer to the mixture.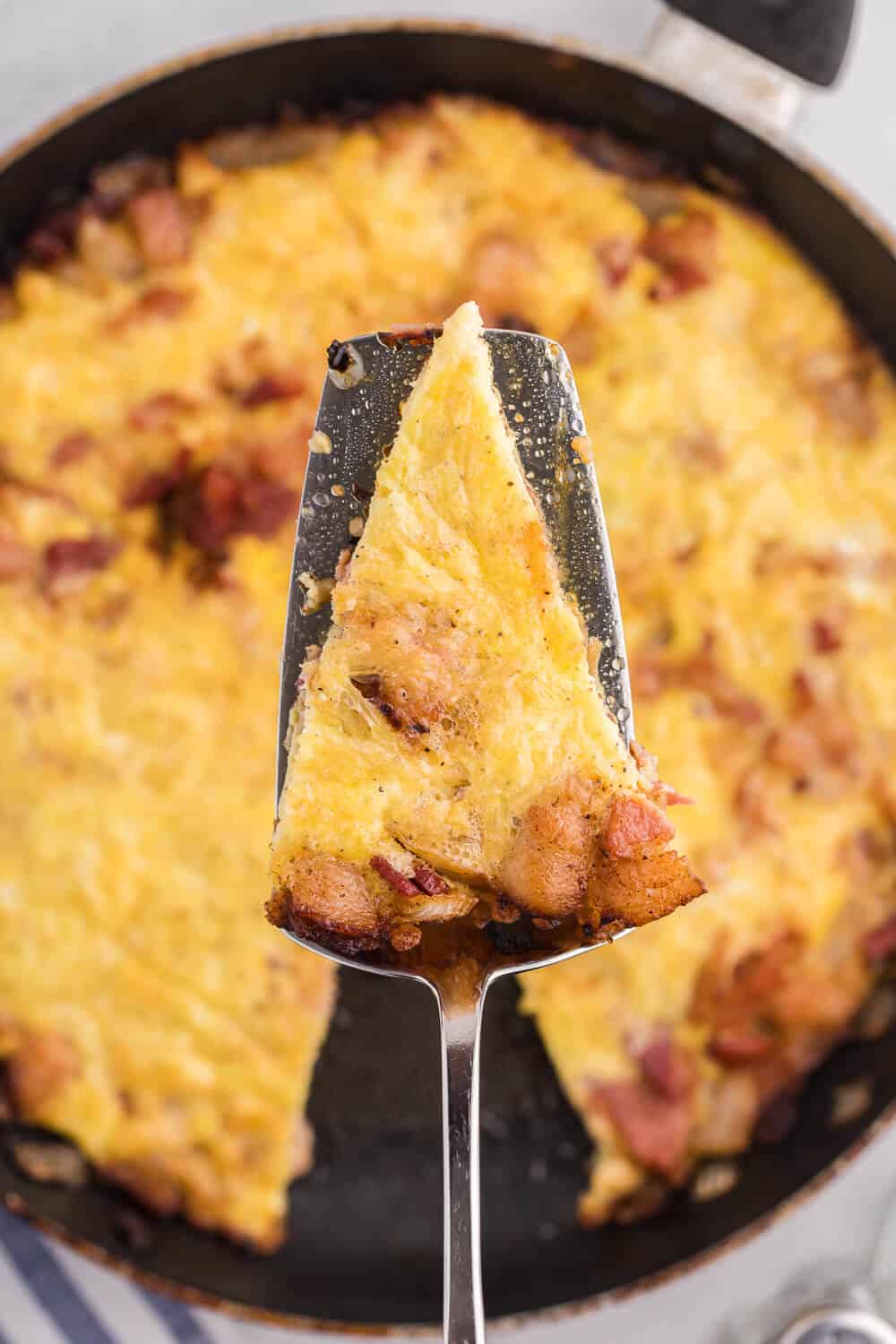 Why Cook Onions Before Putting in Frittata
Cooked vegetables are almost always a must when it comes to baking a frittata. Why? Well, raw vegetables can release a lot of water as they cook. If you put raw vegetables into a frittata, it will change the whole dynamic of how it is prepared, and you will not be happy with the result.
I sauté my onions for added flavor, but also to help release the liquid. So when I put them into my frittata to bake, I get a creamy texture at the end.
Don't Overcook Your Frittata
Let's be real. Overcooked eggs are not a friend to anyone. Be aware of your frittata in the oven at all times. You want to make sure the eggs are baked through but don't allow it to overcook or your frittata will be dry.
How I tell when my frittata is done is jiggle your frittata in the oven carefully. Pull it out when the center of your frittata offers a slight jiggle, just barely. Then allow it to sit and cool down, and your eggs will continue to cook from the residual heat from the oven. After a few minutes, you can then slice and serve.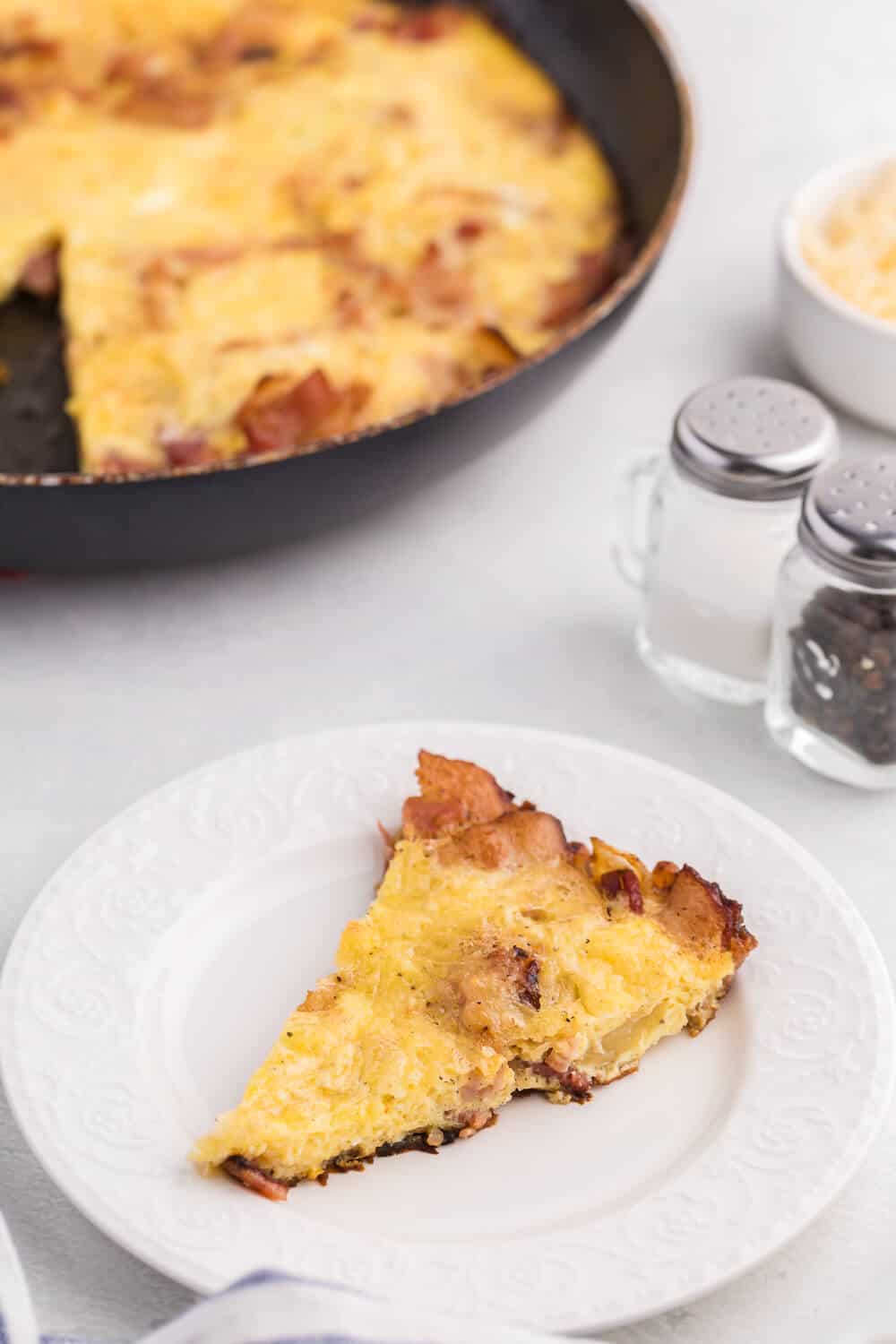 How to Make Pancetta and Onion Frittata
Start with sauteing your chopped onions with your butter. You want to cook them until they are caramelized, which can take around 7 to 10 minutes. I add in my pancetta at around the 7-minute mark to get it warmed up, and it will help flavor the onions even more.
In a bowl mix up your eggs and cheese, and then season with salt and pepper. Set aside and wait for your onions and pancetta to finish.
Take your pan with the onions and pancetta and pour the egg mixture on top. Resist the urge to stir them together. Toss in the oven and bake for around 15 minutes or until your frittata is cooked through.
What To Serve With Frittatas
Whether you treat your frittata as the main dish or a side, let me share some incredible recipes to pair next to it. Here are some tasty ideas to treat yourself with.
Fresh fruit
Green salad
Hash browns or breakfast potatoes
Toast or toasted English muffins
As you can see, don't be intimidated by this frittata recipe. It is straightforward, minimal steps, and a handful of ingredients. Before you know it, you will be ringing that dinner bell and watching your family dive right in! Give this recipe a try and let me know how you like it!
You'll also love this Broccoli Frittata and Slow Cooker Ham & Potato Hash.
Have you made a Pancetta and Onion Frittata at home before?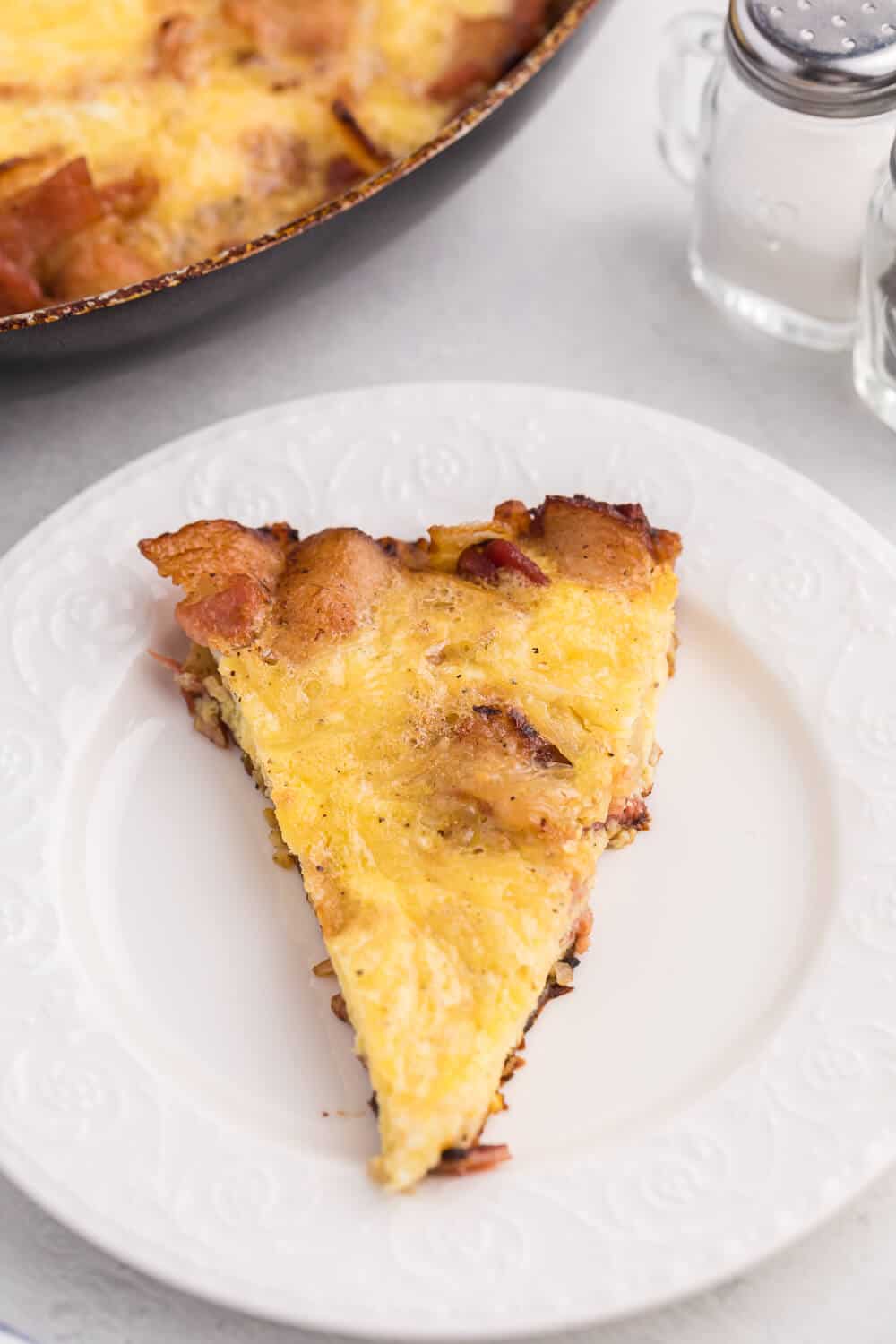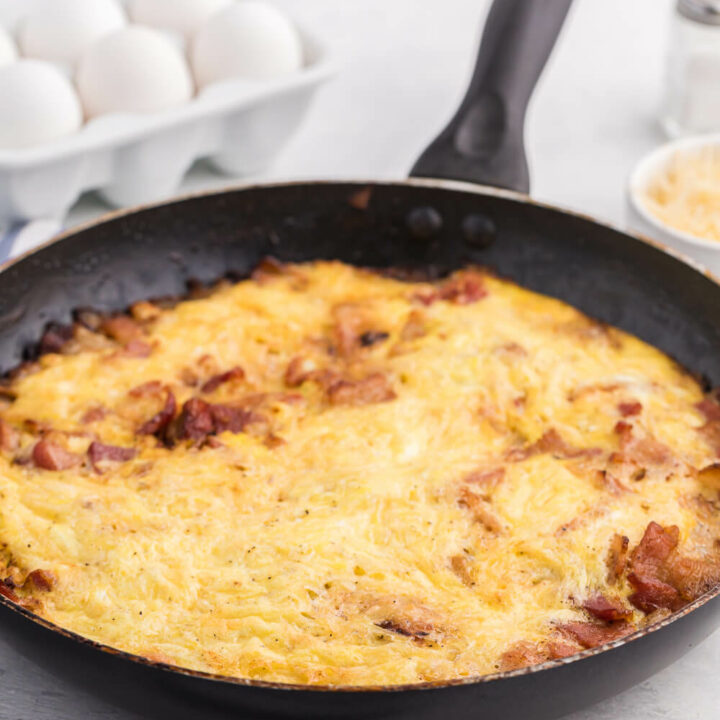 Pancetta & Onion Frittata Recipe
With sweet caramelized onions and salty pancetta, this quick and easy frittata is a great low-carb option – anytime of day!
Ingredients
1 onion, chopped
1 tablespoon salted butter
1/2 cup pancetta, chopped OR 6 slices of bacon, chopped
8 eggs
1 cup Parmesan cheese, shredded
1/2 teaspoon salt
1/4 teaspoon pepper
Instructions
Preheat oven to 350F.
Add butter to a large skillet over medium heat. Melt butter and add onions. Cook, stirring occasionally, for about 7 to 10 minutes. Add in the pancetta around the 7 minute mark and continue to cook for a few more minutes.
Whisk eggs, Parmesan cheese, salt and pepper in a large bowl. Pour the egg mixture on top of the onion and pancetta and do not stir. Cook for about 3 minutes on the stove.
Place the skillet in the preheated oven and bake for 15 minutes. Let cool for 5 minutes before cutting into slices.
Notes
I like to use sweet onion.
Recommended Products
As an Amazon Associate and member of other affiliate programs, I earn from qualifying purchases.
Nutrition Information:
Yield:

6
Serving Size:

1
Amount Per Serving:
Calories:

292
Total Fat:

22g
Saturated Fat:

9g
Trans Fat:

0g
Unsaturated Fat:

12g
Cholesterol:

283mg
Sodium:

710mg
Carbohydrates:

3g
Fiber:

0g
Sugar:

1g
Protein:

19g