Salsa Deviled Eggs are the creamy, spicy side dish your Easter dinner needs! Add a little of your favorite salsa to the egg filling for a new flavor profile. It's a great make-ahead appetizer, too!
I like easy appetizers, and deviled eggs are so simple to make and always a hit. These Salsa Deviled Eggs are a spicy twist on the Easter classic with a dusting of taco seasoning on top.
I love making variations on deviled eggs because I LOVE deviled eggs. It's part nostalgia, part perfect textures and flavors combining for one amazing bite. If you're looking for a Mexican-inspired spin, try these amazing deviled eggs.
If you're not a fan of spice, fear not! It's easy to adjust the spice level for your family by changing just one simple ingredient — the salsa!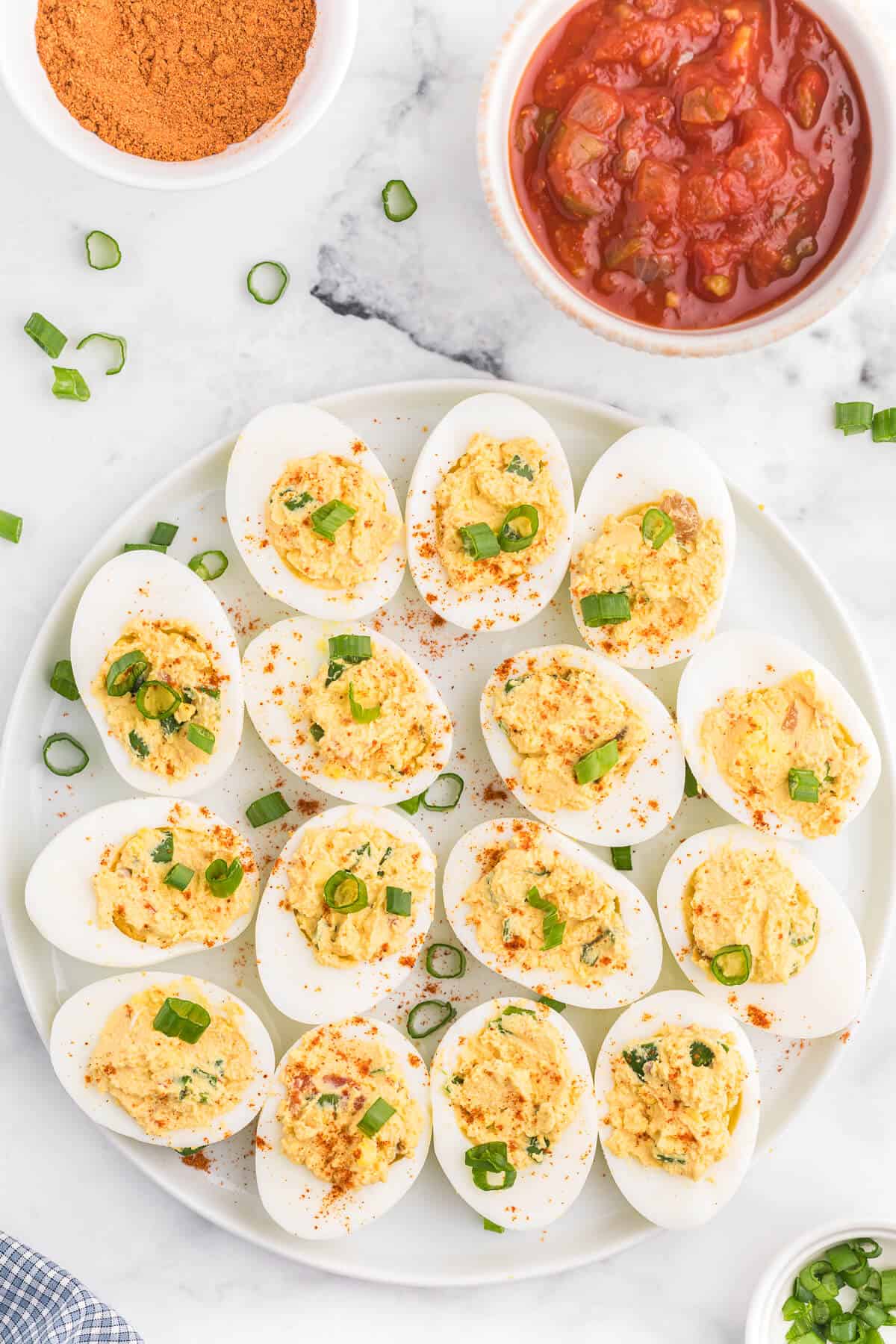 Ingredients
Eggs: The perfect hard-boiled egg is a true science. No matter your method, you always want hard-boiled eggs with solid yolks for deviled eggs.
Salsa: We like ours spicy, so I used a salsa made with habanero chilis. Any kind of salsa will work though! If yours is especially watery, drain some liquid first.
Sour cream: A lot of deviled egg recipes use mayo, but I love the tangy creaminess of sour cream. I think it makes a lighter filling, too.
Green onions: I love the gentle bite of raw green onions. Make sure to dice them super small so no one gets a surprise!
Taco seasoning: You can use a homemade seasoning blend or a store-bought packet. I love the extra flavor it brings instead of typical paprika.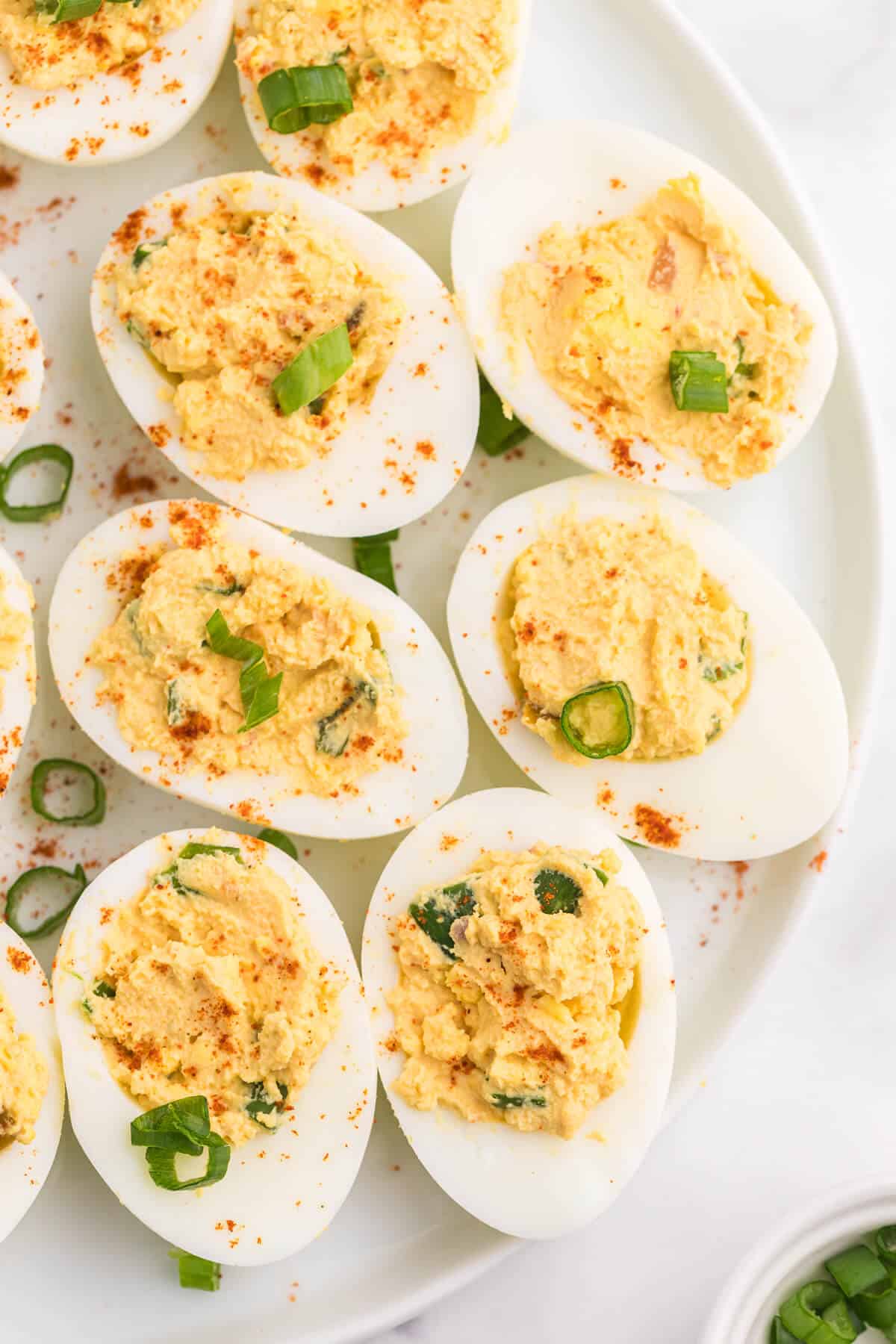 What I Used For This Recipe
This post contains affiliate links.
Egg tray: A beautiful deviled egg tray is necessary when you're serving! I love this one because the eggs always stay put when I travel.
Measuring spoons: Once you make this deviled egg recipe a few times, you'll be able to eyeball it. I use measuring spoons to fill the eggs, too, so every serving is equal!
Mixing bowl: You only need one small mixing bowl for this deviled egg recipe.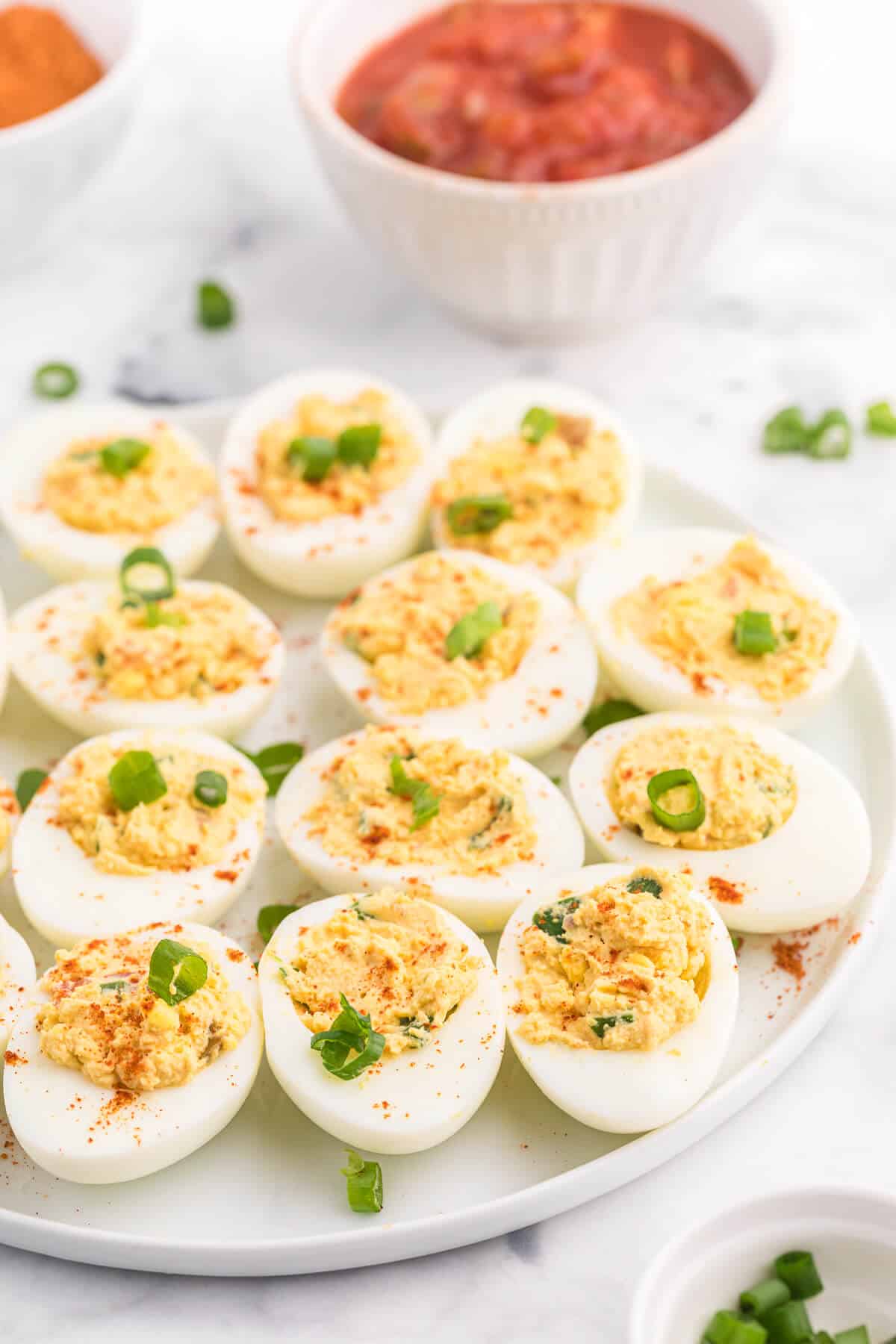 How To Make It
First, cut your hard-boiled eggs in half lengthwise. Scoop out the yolks and put them in a mixing bowl. Set the egg whites aside on a plate.
Then, mix the crumbled egg yolks with salsa, sour cream, and green onions with a fork.
Finally, add a little filling to each egg white. Garnish the eggs with a pinch of taco seasoning, and chill until it's time to eat.
Should I Make Deviled Eggs the Night Before?
Like a great pasta salad, deviled eggs need a little time between making and serving. That's why they're such a perfect make-ahead appetizer or side dish.
You can make deviled eggs up to 2 days before your Easter dinner or party. If you want them to look super fresh, mix the filling the day before and let it and the egg whites stay separately in the fridge.
Right before the party, pipe or spoon the filling into the eggs and garnish. Best of both worlds!
How Do You Hard Boil Eggs So They Peel Easily?
There's nothing worse than deviled eggs with craters! There are so many tips and tricks to get the perfect hard-boiled eggs that peel cleanly, but which ones really work?
One trick I learned from my mom is to use older eggs. That doesn't mean expired, but if you know you're going to make deviled eggs in a few weeks, buy the eggs now. I can't explain the science behind it, but it's never failed me yet!
I always add salt and water to my boiling water for eggs. The salt permeates the egg shell, and the vinegar softens the shell. The double whammy makes for easy to peel hard-boiled eggs!
The best peeling method I've tried yet is gently cracking and rolling the egg on the countertop. It helps loosen the shell and requires less picking and less chance to nick the egg white.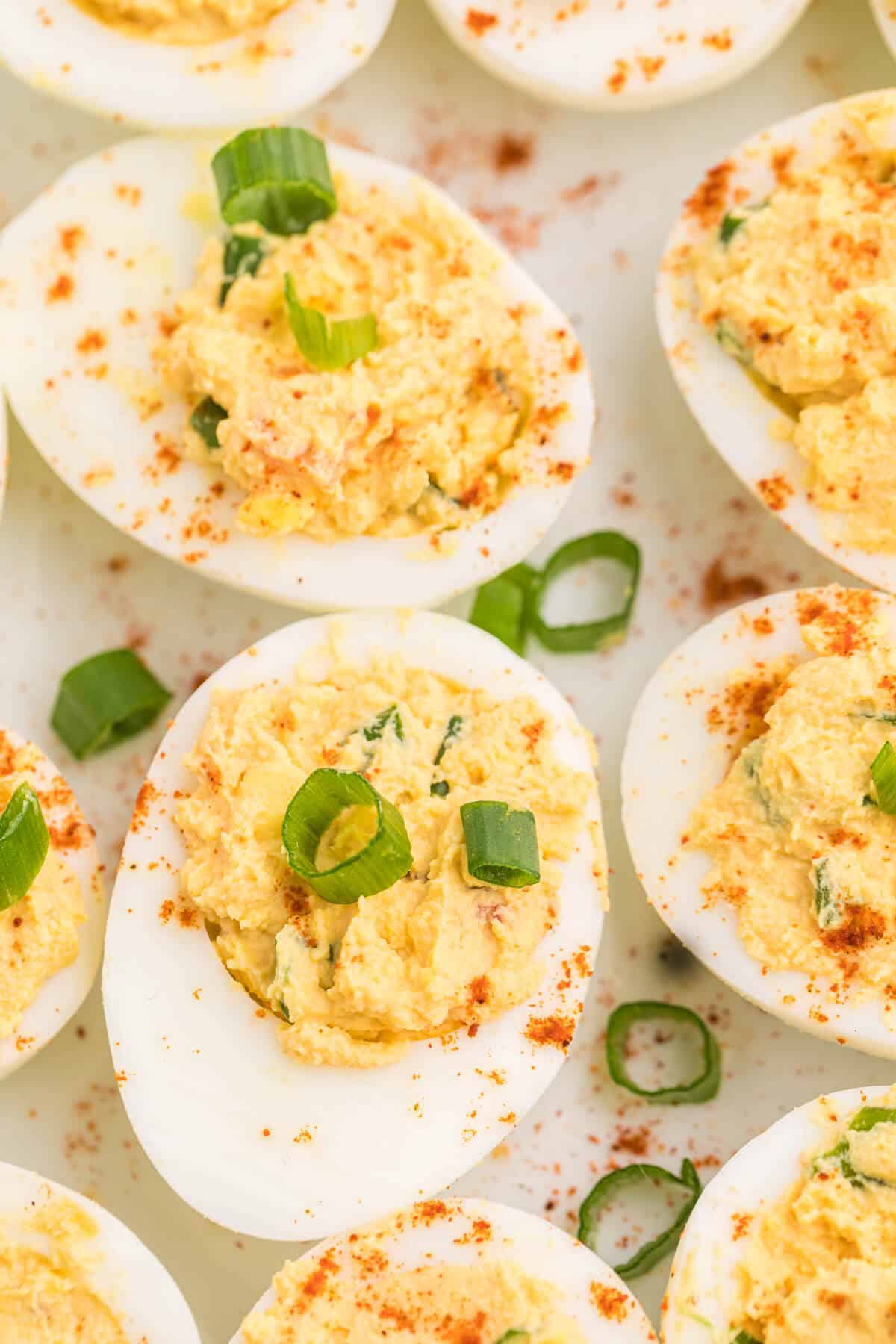 What To Serve With This
Start Easter morning with a delicious quiche lorraine! It's a great make-ahead breakfast dish to munch on while opening Easter baskets and prepping dinner.
It's not Easter to me without roasted asparagus. It's such a simple spring side dish that feels so fancy. I've got all the tips to make the best asparagus every time.
I love Easter desserts because they're always so decadent and beautiful. These Easter Mini Egg Brownies are packed with chocolate from the colorful chocolate eggs with candy shells.
More Easter Recipes You'll Love
Do you have any amazing deviled egg recipes? I'm always looking for more recipes to try! Follow me on Instagram @simplystacieblog, on Facebook at Simply Stacie, and on Pinterest @SimplyStacie and let me know how you liked this and my other recipes!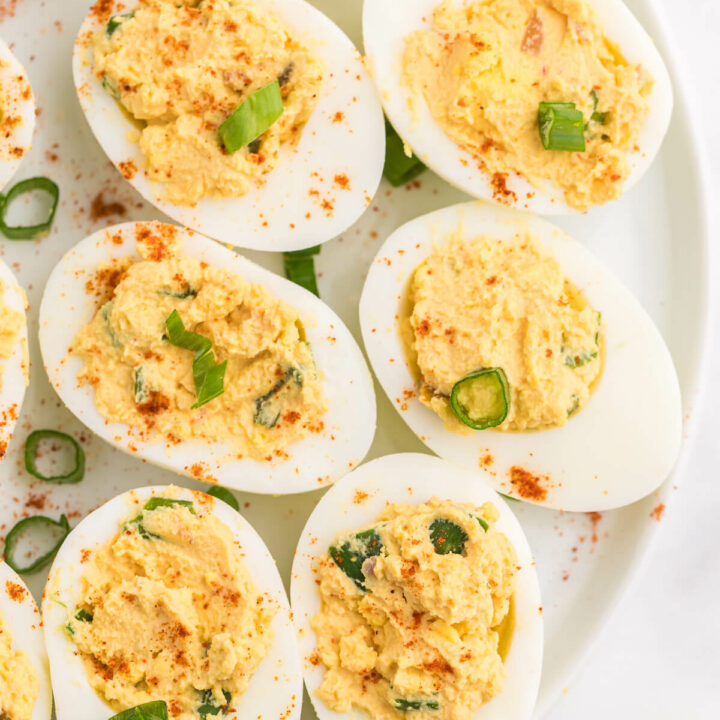 Salsa Deviled Eggs
A spicy kick to a popular appetizer recipe! This recipe is always gobbled up quickly.
Ingredients
12 eggs, hard boiled and shells removed
2 tablespoons salsa
3 tablespoons sour cream
2 green onions, chopped
¼ tsp taco seasoning
Instructions
Cut eggs in half lengthwise. Scoop out yolk centres into a bowl and set egg whites aside.
Add salsa, sour cream and green onions to yolks and mix together with a fork until fully combined.
Add a tsp of the yolk mixture to the centre of each egg white shell. Sprinkle Taco seasoning on top. Chill in the fridge until ready to serve.
Recommended Products
As an Amazon Associate and member of other affiliate programs, I earn from qualifying purchases.
Nutrition Information:
Yield:

24
Serving Size:

1
Amount Per Serving:
Calories:

49
Total Fat:

3g
Saturated Fat:

1g
Trans Fat:

0g
Unsaturated Fat:

1g
Cholesterol:

94mg
Sodium:

44mg
Carbohydrates:

2g
Fiber:

0g
Sugar:

0g
Protein:

3g