Enjoy this oven-baked Brown Sugar Dijon Pork Tenderloin recipe that is juicy, tender, and the right combination of savory and sweet. This glazed pork tenderloin comes with a dijon mustard sauce that is creamy, tangy, and sweet!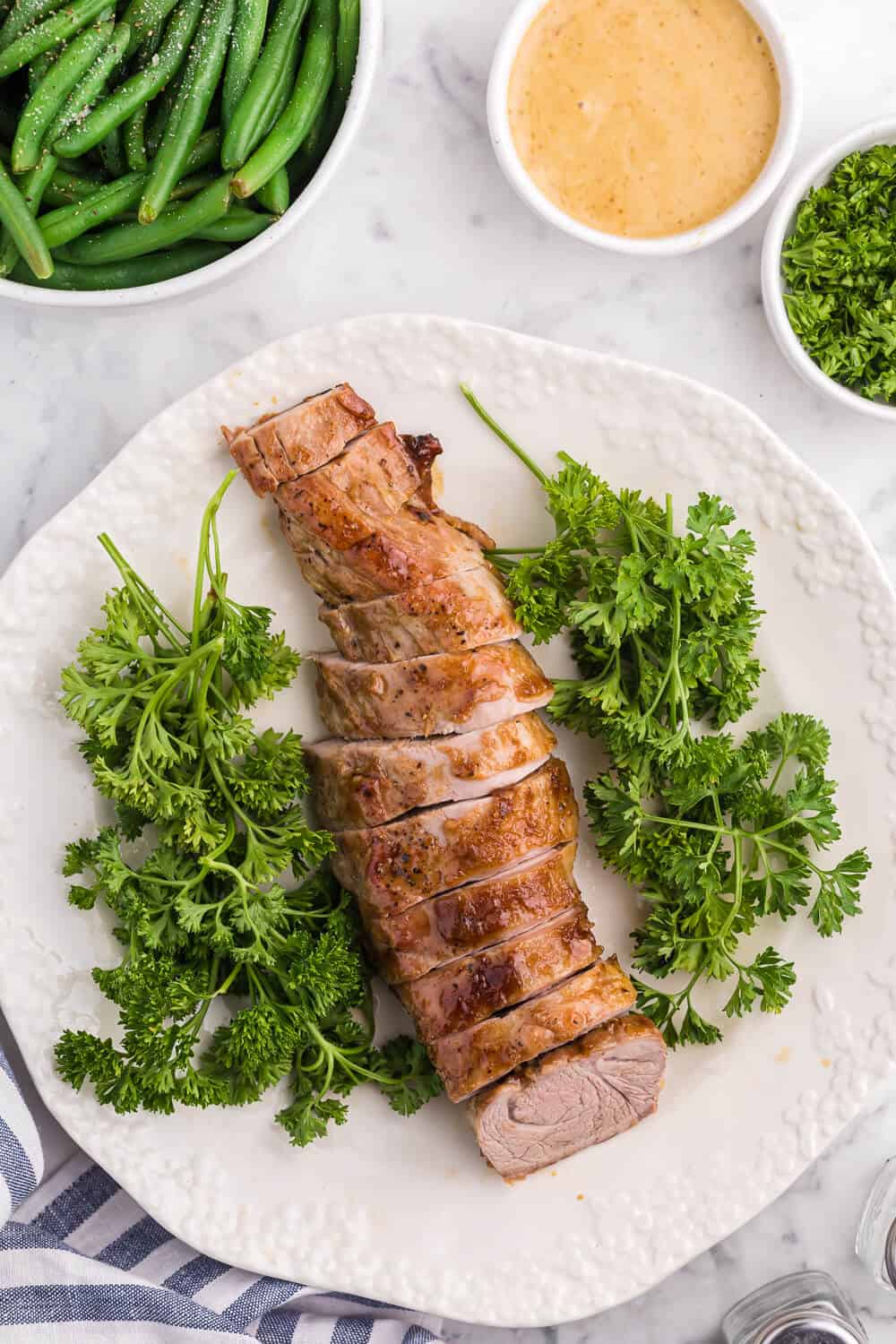 Easy recipes such as this dijon glazed pork that are baked in the oven and finished within minutes are the best because dinner turns out to be easy and there aren't a lot of steps to complete. This brown sugar and mustard glazed pork tenderloin recipe is not only simple but also delicious with the brown sugar rub and perfectly tender flavors of pork.
Brown sugar and pork tenderloin fit together nicely because the sugar rub on the outside of the pork creates a crispy sweet exterior that is balanced out by the creamy savoriness of dijon mustard.
Prepare this pork tenderloin recipe whenever you're craving a simple meal packed with juicy and satisfying flavors of comfort that are family-friendly and easy to fix for small or large crowds.
This brown sugar, glazed pork loin tastes best served with flavor-rich foods such as Loaded Mashed Potatoes, Candied Sweet Potatoes, Parmesan Thyme Roasted Potatoes, and Creamy Cauliflower just to name some of my favorite options!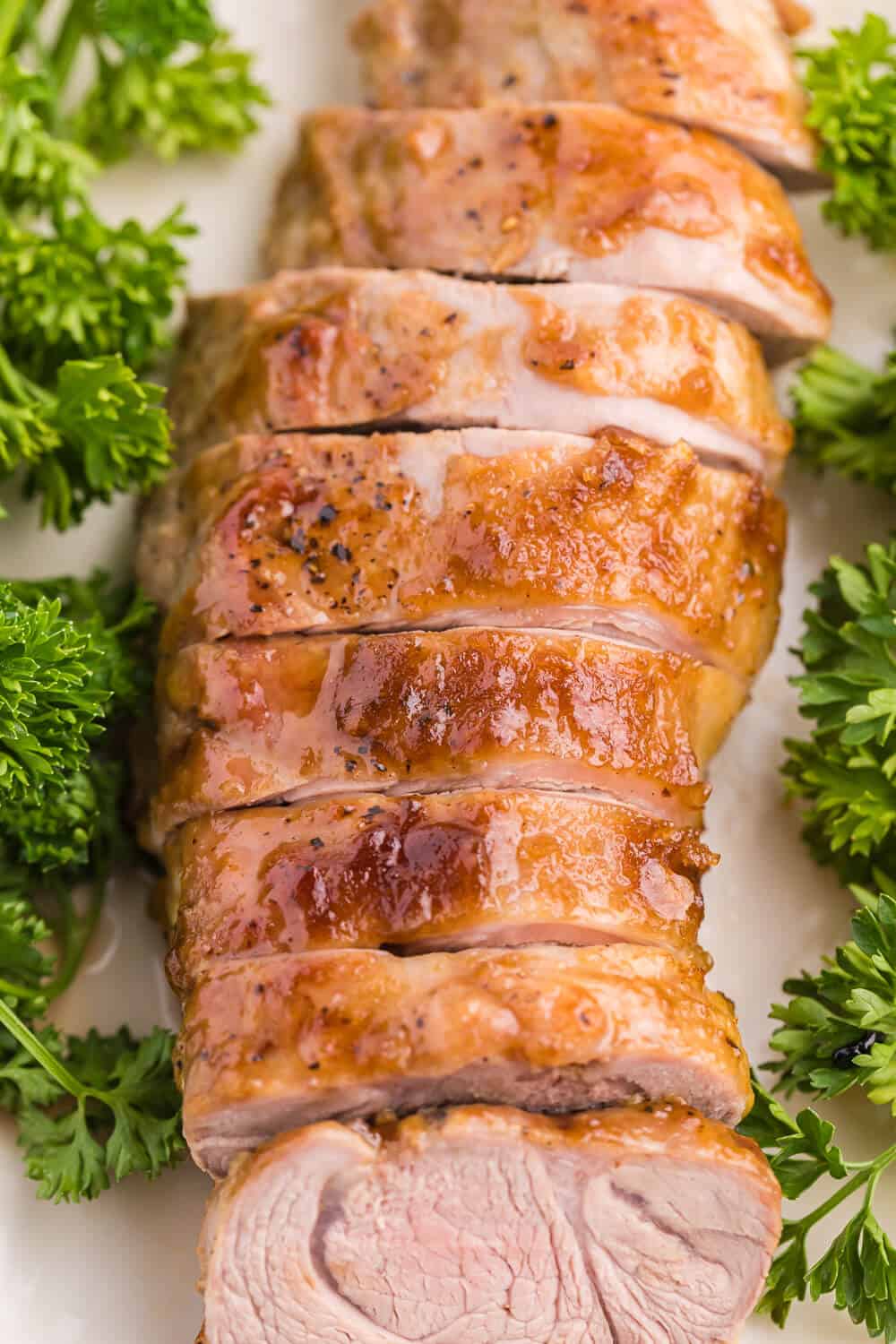 Ingredients
Pork Tenderloin: You will need one and a half pounds of pork tenderloin for this recipe. Pork tenderloin is found in the pork section at grocery stores and can be prepared a bunch of different ways with herbs, spices, oils, and more.
Salt and Pepper: The classic duo of salt and pepper provide a perfect base coating for the dijon-glazed pork so it isn't dull in flavor.
Olive Oil: Use your favorite high quality organic olive oil for fragrant silky flavors that really make a difference in recipes.
Dijon Mustard: Tangy and creamy yellow Dijon mustard is a great glaze for this pork and is absorbed into the pork skin as it cooks which makes it super moist and tender on the inside.
Brown Sugar: Dry brown sugar is rubbed atop the pork tenderloin skin after the mustard and creates the amazingly sweet coating.
Mayonnaise: Mayonnaise is used for the dijon mustard dipping sauce because it makes the perfect creamy base for all kinds of dips and sauces.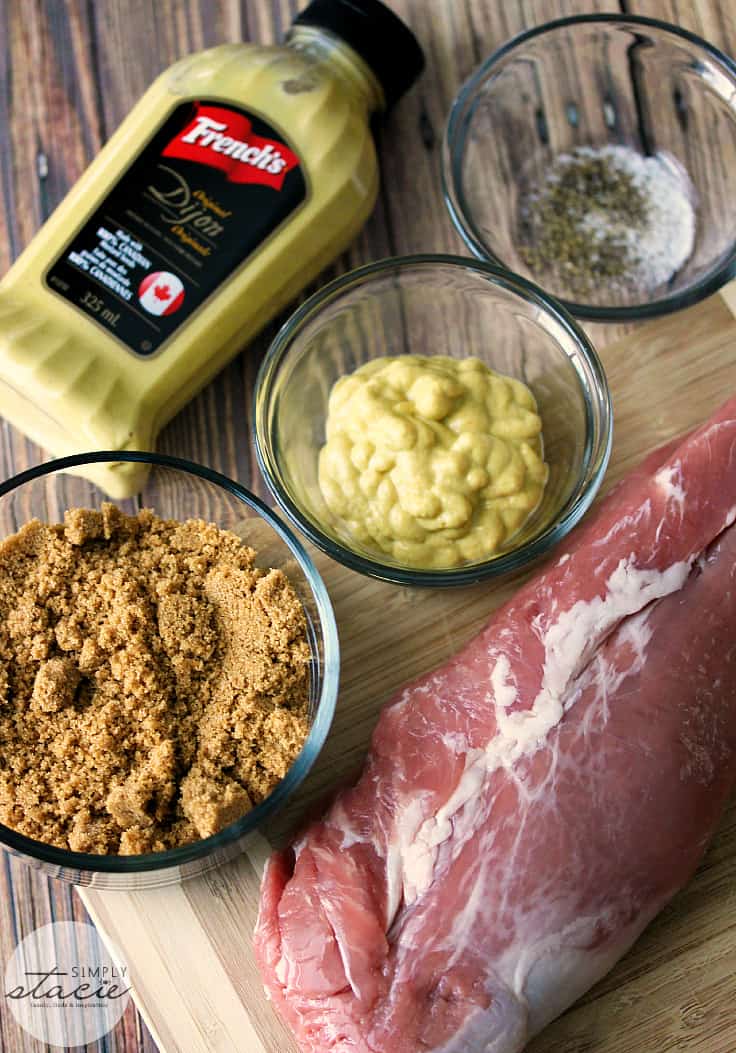 What I Used For This Recipe
This post contains affiliate links.
Meat Thermometer:This meat thermometer is by far my favorite because it has lasted me forever! I like that it is digital, too, which makes it super easy to read while cooking in the hot kitchen.
Measuring Cups and Spoons: This stainless steel set of measuring cups and spoons is easy to use and has lasted a long time! I love how easy to clean these cups and spoons are and how they come in a variety of sizes, too.
Casserole Dish: Everyone needs a good 9×13-inch baking dish, am I right? This porcelain durable dish allows me to prepare all kinds of casseroles, lasagnas, pork, and other delicious recipes.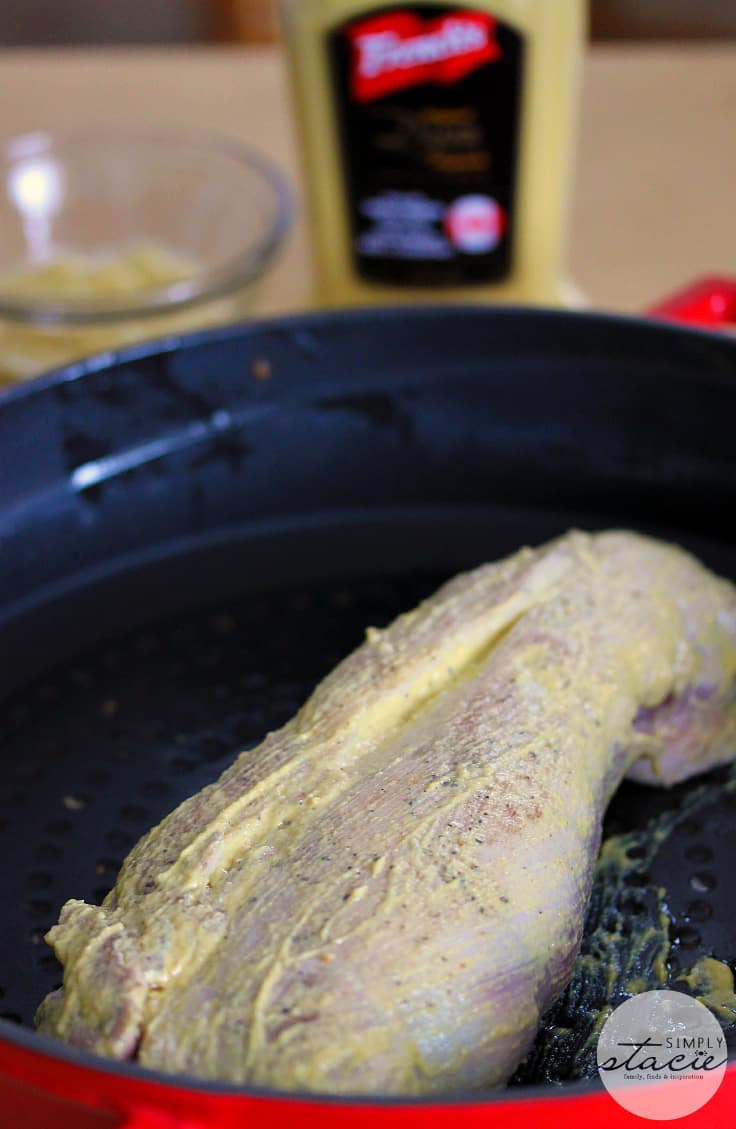 How To Make It
First, preheat the oven to 400 degrees Fahrenheit to make sure it is nice and toasty for the pork. Season both sides of the pork tenderloin with salt and pepper making sure to coat the entire surface to make sure it's well-seasoned.
Next, add the olive oil to a large skillet over medium heat and heat until warm. Add the pork tenderloin to the heated oil and brown on both sides for about two minutes. Browning the pork beforehand allows it to have the perfect crispy skin.
Remove the pork from the skillet and place into the baking pan. With a basting brush, brush the entire pork with the Dijon mustard.
With your hands, evenly coat the pork with the brown sugar. Massage and press the sugar into the pork to make sure it really absorbs the sweet flavors.
Bake the dijon glazed pork tenderloin with brown sugar for 20 to 25 minutes or until the meat thermometer reads 145 degrees Fahrenheit internally. Be careful not to overcook the pork or it will be dry and the opposite of tasty!
Remove the pork from the oven and allow it to rest and absorb all of the juicy flavors while you prepare the dipping sauce.
In a bowl, combine the mayonnaise, dijon mustard, and brown sugar with a spoon. Mix the ingredients until nice and creamy.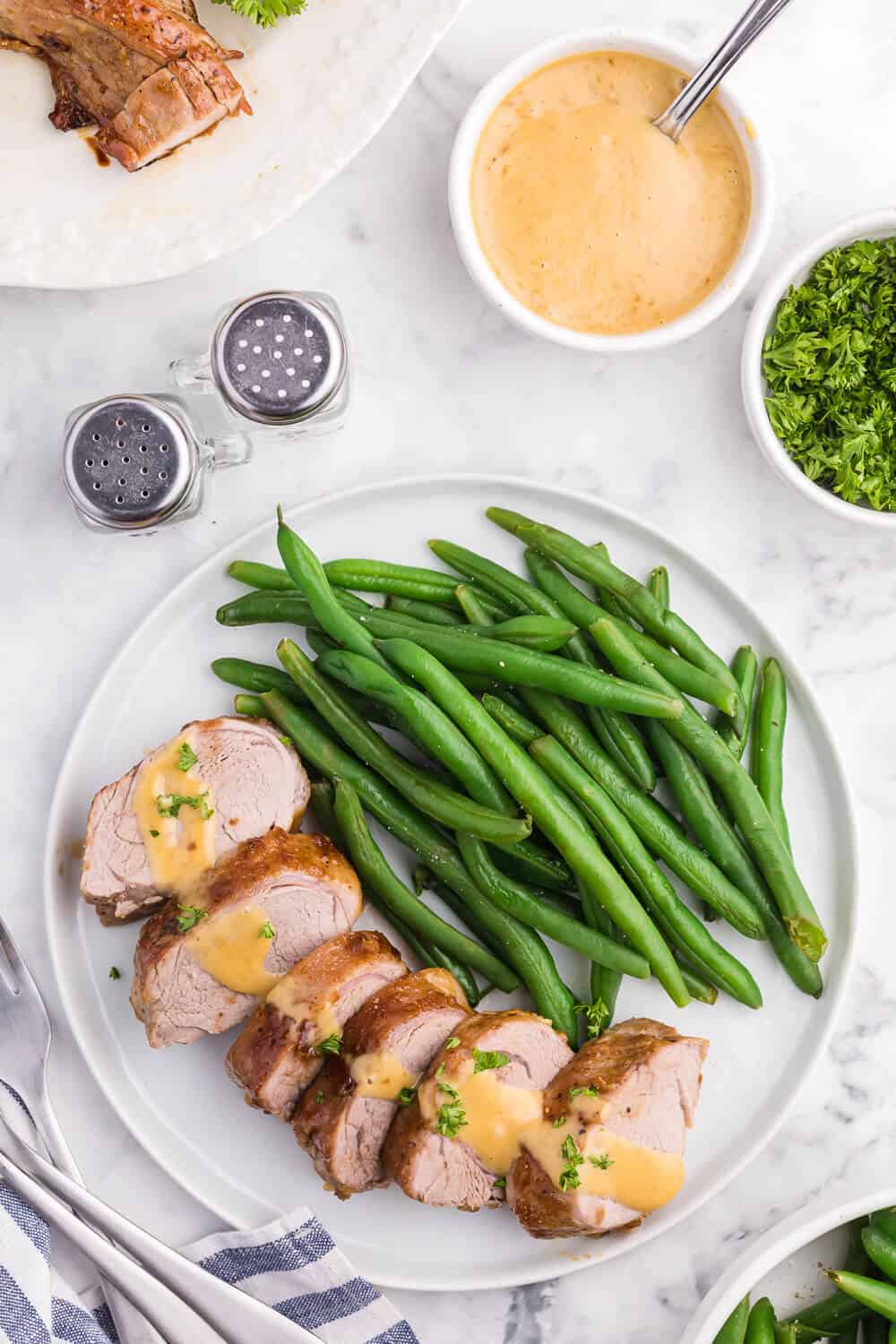 Variations
Substitute chicken for the pork to make a brown sugar mustard glazed chicken recipe in the oven.
Instead of dijon mustard, try this recipe with simple yellow mustard or whole grain mustard.
For a honey glaze, add some honey to the Dijon mustard and mix together before coating the pork.
Prepare brown sugar pork chops instead of loin. You may have to adjust the cooking time, though.
Add vegetables to the casserole dish as you bake the pork tenderloin such as sliced carrots, diced potatoes, sliced mushrooms, or peas.
How do I know if my pork tenderloin has finished cooking
The best way to tell if your pork tenderloin has finished cooking is by using a meat thermometer. That way you can cook it correctly to your desired doneness without overcooking.
It's okay if you see pink inside the middle. It is similar to steak in the amount of pink that you see in the center.
Here are the temperatures you should be looking for according to how well done you would like your tenderloin:
Medium Rare: 145 to 150F
Medium: 150 to 155F
Medium Well: 155 to 160F
Well Done: 160F
More Dinner Recipes You'll Love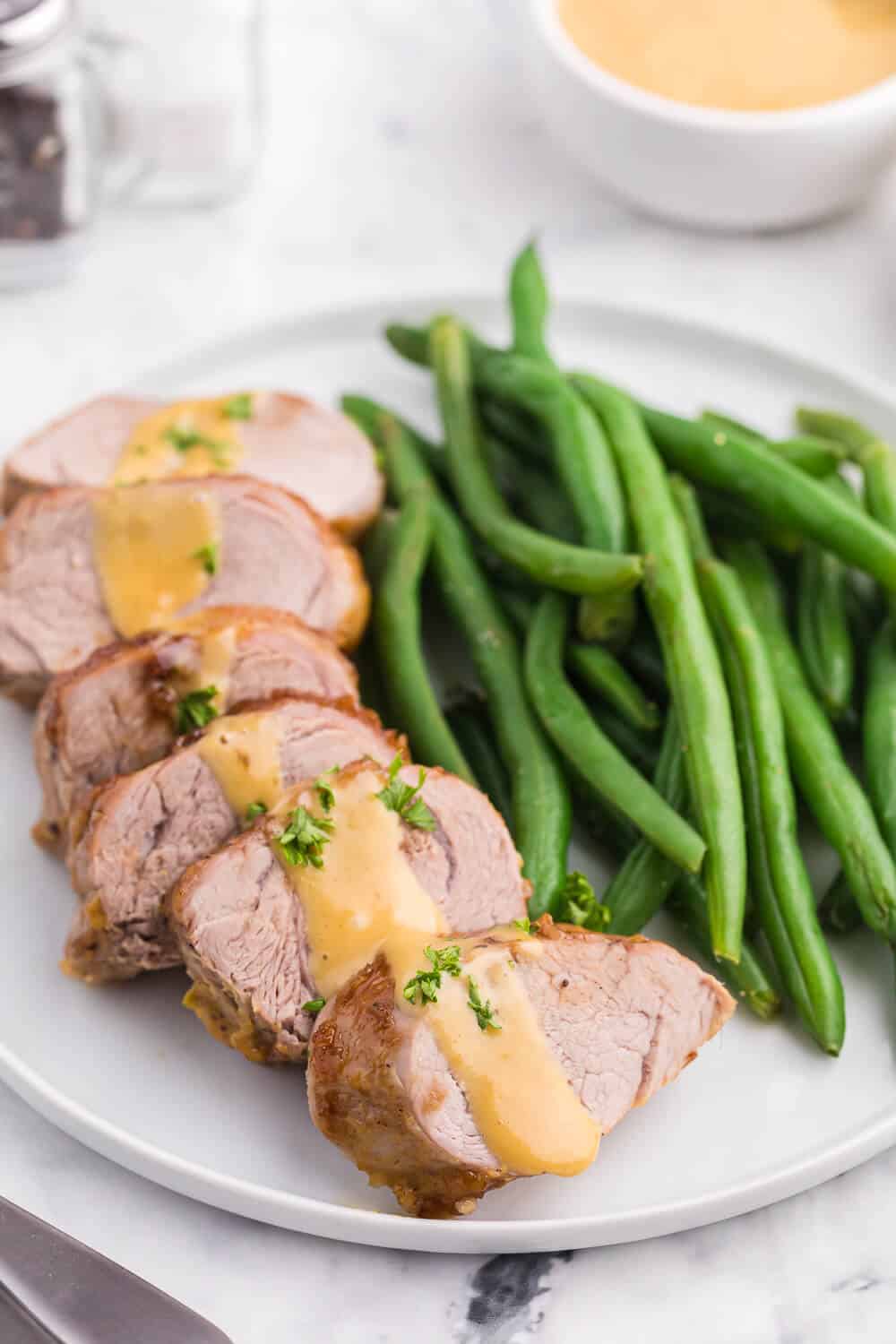 How do you keep pork tenderloin from drying out?
Right before baking, place the tenderloin fat side up in the baking dish to prevent the thinner parts of the meat from cooking too fast.
Do you cook pork loin covered or uncovered?
I typically cook my pork loin uncovered unless I notice it starts to brown too quickly! Cooking the pork uncovered allows it to have a nice golden finish.
What To Serve With This
Serve this pork tenderloin recipe for Easter or any other occasion with a variety of my favorite vegetables and carbs like Swiss Potatoes, Mashed Potatoes with Kale and Herbs, Roasted Brussels Sprouts with Cranberries and Bacon, and Roasted Root Vegetables.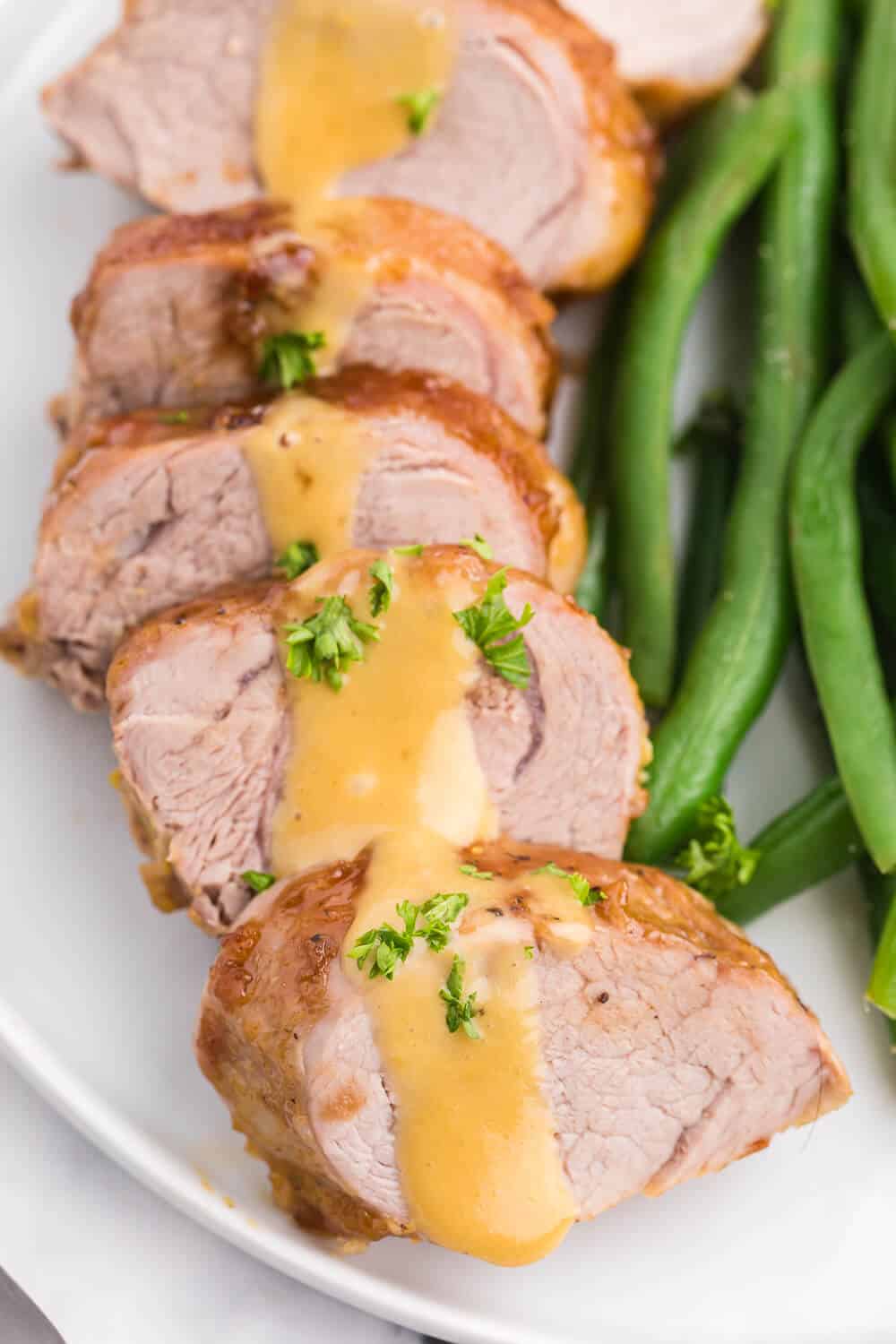 Pork Tenderloin Recipes
I have a couple more pork tenderloin recipes that you love!
Do you have any amazing easy pork dinner recipes? I'm always looking for more recipes to try! Follow me on Instagram @simplystacieblog, on Facebook at Simply Stacie, and on Pinterest @SimplyStacie and let me know how you liked this and my other recipes!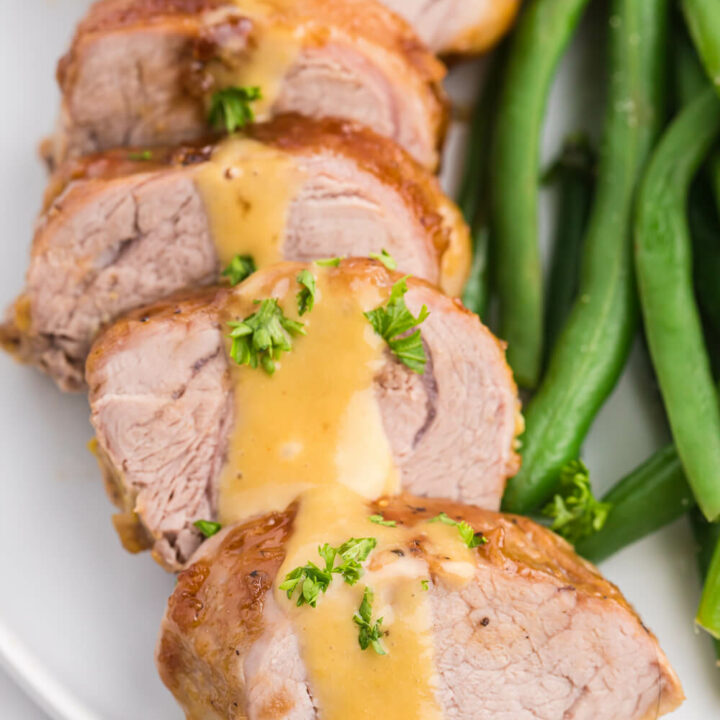 Brown Sugar Dijon Pork Tenderloin
Only a few ingredients for this delicious dinner recipe! This sweet and savory glaze goes perfectly with the tender, juicy pork.
Ingredients
1 ½ lb pork tenderloin
1 tablespoon extra virgin olive oil
2 tablespoons Dijon mustard
¼ cup brown sugar
salt and pepper, to season
Brown Sugar Dijon Dipping Sauce
2 tablespoons Dijon mustard
1 1/2 to 2 tablespoons brown sugar
2 tablespoons mayonnaise
Instructions
Preheat oven to 400F. Season the pork tenderloin with salt and pepper on both sides.
Heat olive oil in a skillet over medium heat. Add pork tenderloin and brown, about 2 minutes per side. Remove from heat.
Place pork tenderloin in an oven proof pan. Brush the entire pork tenderloin with Dijon mustard. Then sprinkle the pork tenderloin with brown sugar all over and press gently with your fingers to make it absorb in.
Bake, uncovered, for 20 to 25 minutes, or until pork tenderloin has reached an internal temperature of 145F. Remove from oven and let sit about 3 to 5 minutes before slicing.
Slice and serve with a Brown Sugar Dijon dipping sauce, if desired. To make the dipping sauce, simply mix together the Dijon mustard, mayonnaise and brown sugar. Taste test for desired sweetness.
Notes
For the best results, use a meat thermometer.
Recommended Products
As an Amazon Associate and member of other affiliate programs, I earn from qualifying purchases.
Nutrition Information:
Yield:

4
Serving Size:

4 slices
Amount Per Serving:
Calories:

284
Total Fat:

8.3g
Saturated Fat:

1.7g
Unsaturated Fat:

5.9g
Cholesterol:

110.6mg
Sodium:

483.3mg
Carbohydrates:

10.6g
Fiber:

0.4g
Sugar:

9.8g
Protein:

36.5g