Save time in the morning with this easy Wife Saver Breakfast recipe! Croissants are topped with a sweet egg layer, peach slices, cinnamon and maple syrup. This is one breakfast casserole you will want to make over and over again.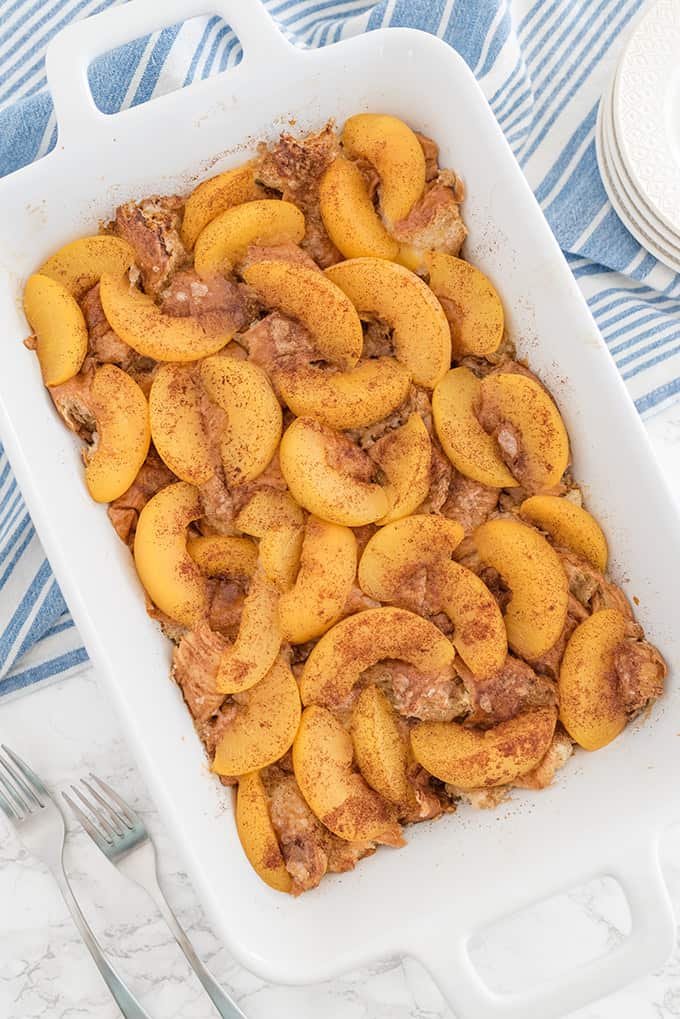 If you ever google "Wife Saver Breakfast" you'll discover that there are many variations. Some include meat and veggies while others (like mine) have fruit instead.
The one constant is that the dish is prepared the night before and then baked the next morning.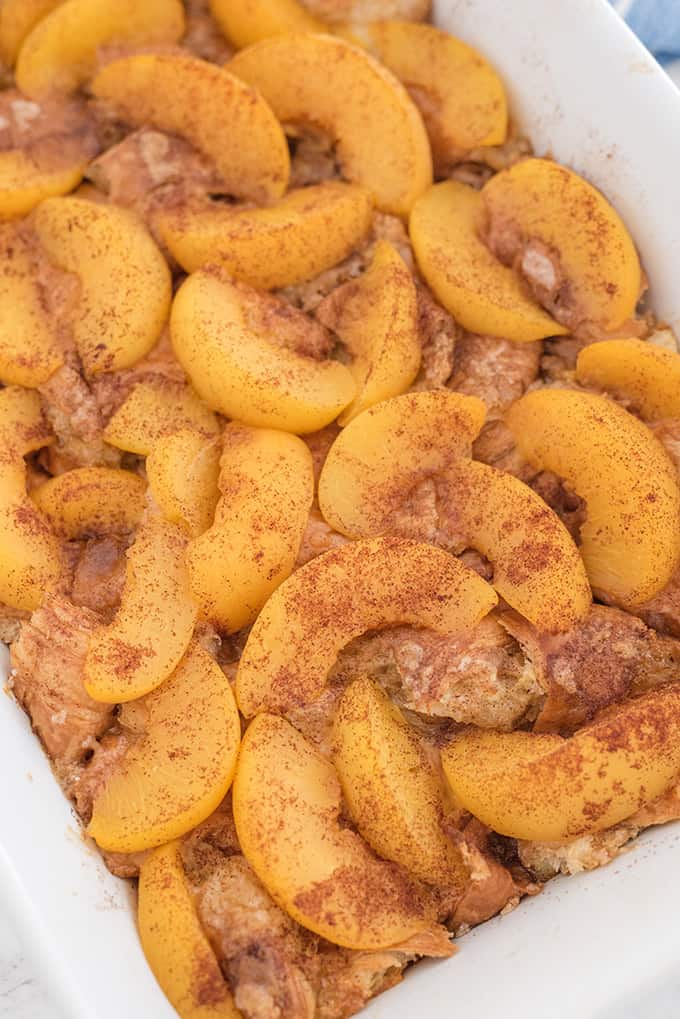 My cousin, Nicole, shared her recipe for Wife Saver Breakfast with me for a family cookbook project I'm working on. I'd never heard of it before (hence the googling).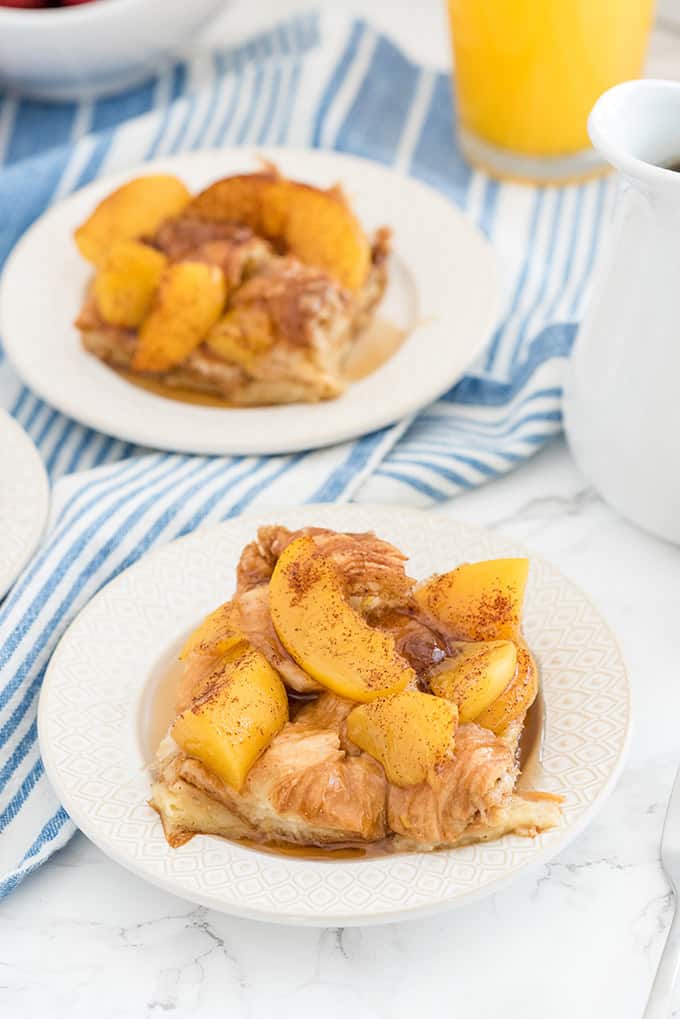 Wife Saver Breakfast
It reminds me a little of French Toast but in a casserole form. It has the bread in the form of croissants, eggs, spices and topped with peaches and maple syrup.
It's a sweet and filling way to start your day! Next time I make it I'm going to try a different fruit like berries.
Try this recipe if you've got a house full of company. They'll be impressed that you whipped up such a delicious meal so early in the day. Shhh it's our little secret.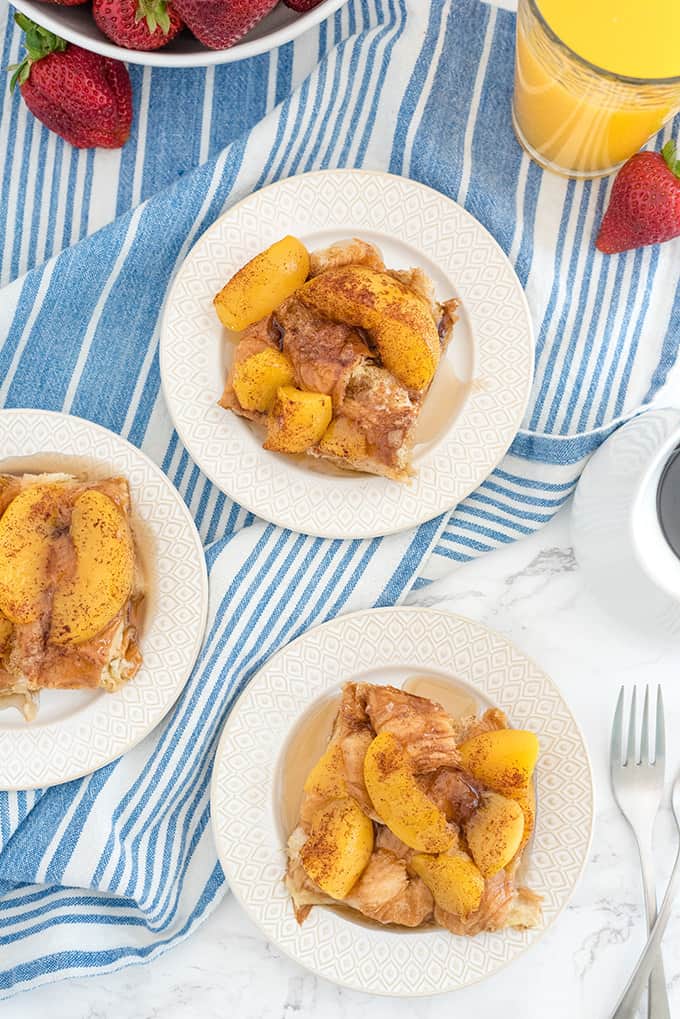 Make-Ahead Breakfast Casserole
As you know this is a make-ahead breakfast casserole. Whether you whip this up for when you have guests come or even a weekend treat. I love making this and my family and friends enjoy it too.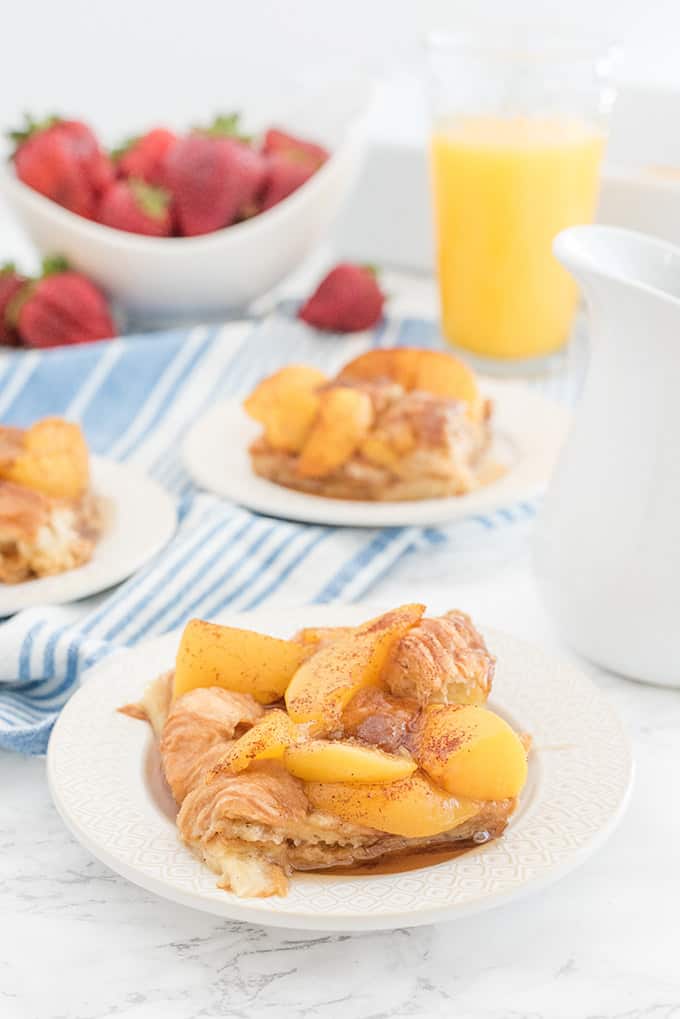 Can I Use a Different Kind of Fruit in this Breakfast Casserole
Yes, if you don't want to use peaches feel free to improvise. While you can use pie filling, frozen berries or fruit, or fresh that has been prepped. Any and all would be pretty tasty.
I have done a strawberry and mixed berry version and both were tasty. You just want to use about the same amount of fruit as I did originally. If you use canned fruit just drain liquid unless it is pie filling. Then you will include the liquid.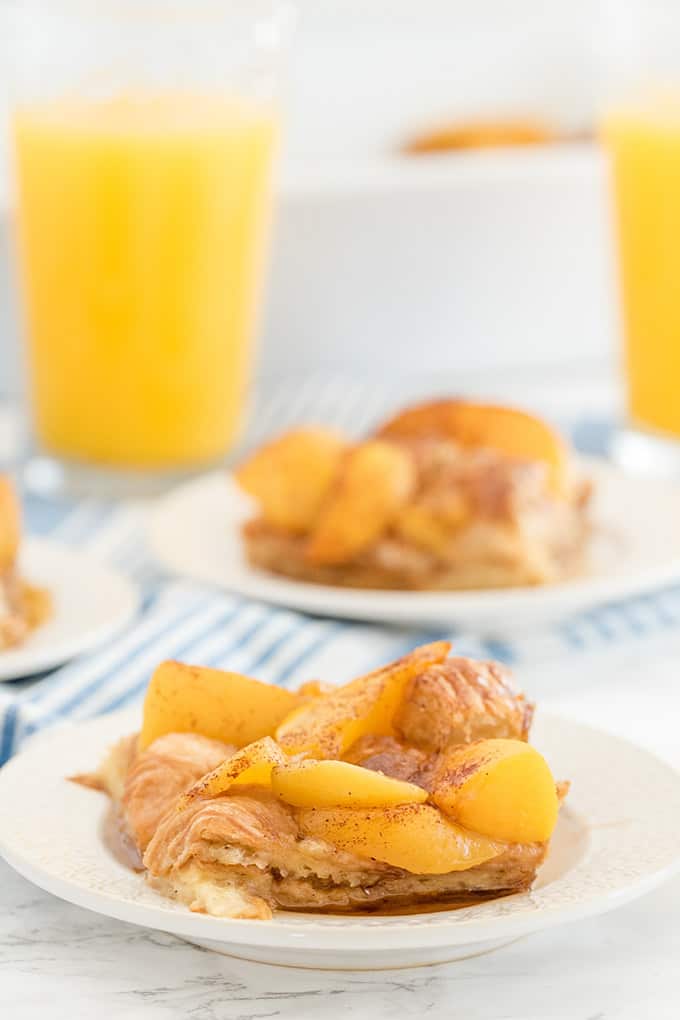 What Can I Use Instead of Croissants
If you don't want to use croissants you can easily swap for a french loaf that you slice or tear up. The one thing about bread being soaked overnight is that you want to ensure it is hearty enough.
For example if you used regular soft white bread it would be mush by the morning. So make sure to use brioche or something that is a bit tougher in texture. Then slice or tear apart to make it work for this breakfast casserole.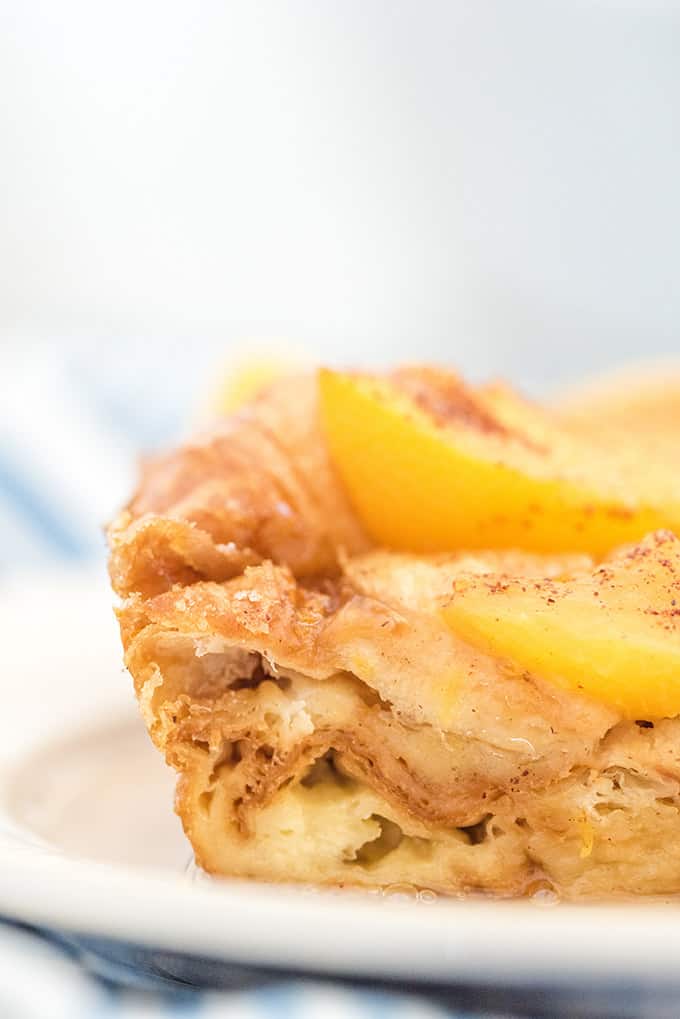 How to Make Wife Saver Breakfast
Start by greasing a 9×13 casserole dish.
Break up the croissants into bite-sized pieces. I used store-bought croissants. Spread on the bottom of the pan.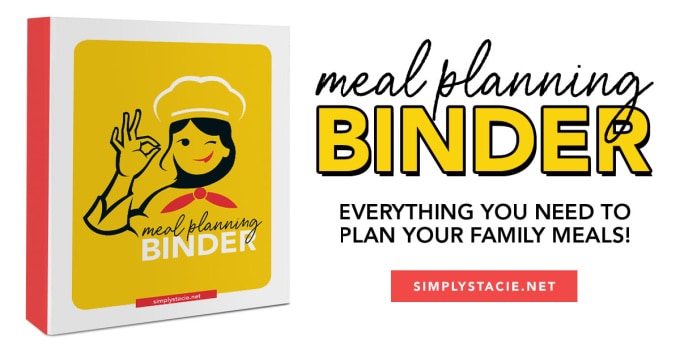 In a bowl, whisk together eggs, milk, vanilla, salt, and nutmeg. Pour over the croissants.
Layer peaches on top. Sprinkle with brown sugar and cinnamon.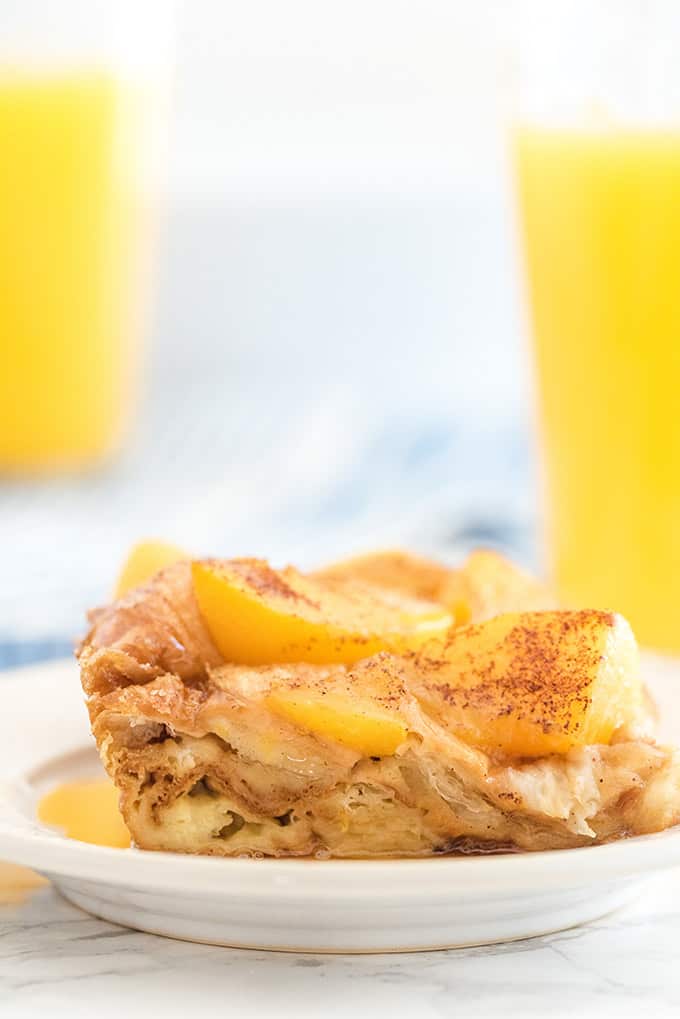 Cover with aluminum foil and refrigerate overnight.
In the morning, preheat the oven to 350F. Bake for 30 minutes. Remove the aluminum foil and bake for an additional 10 minutes.
Serve with maple syrup on top, if desired.
Helpful Kitchen Tools
This post contains affiliate links.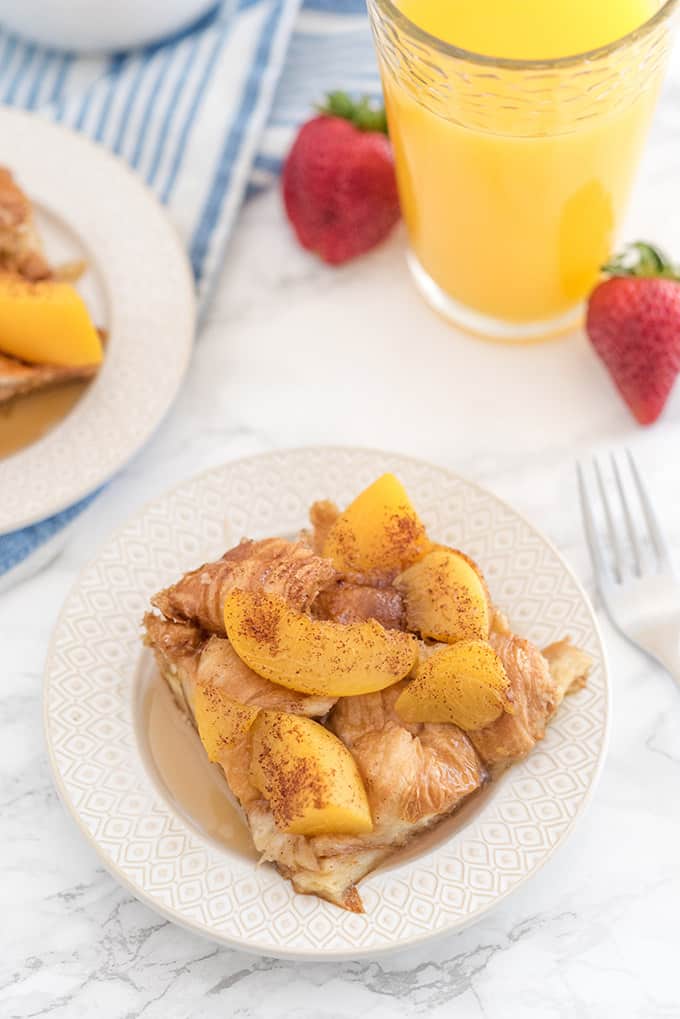 Breakfast Casserole Recipes
Looking for more breakfast casserole recipes? I have lots!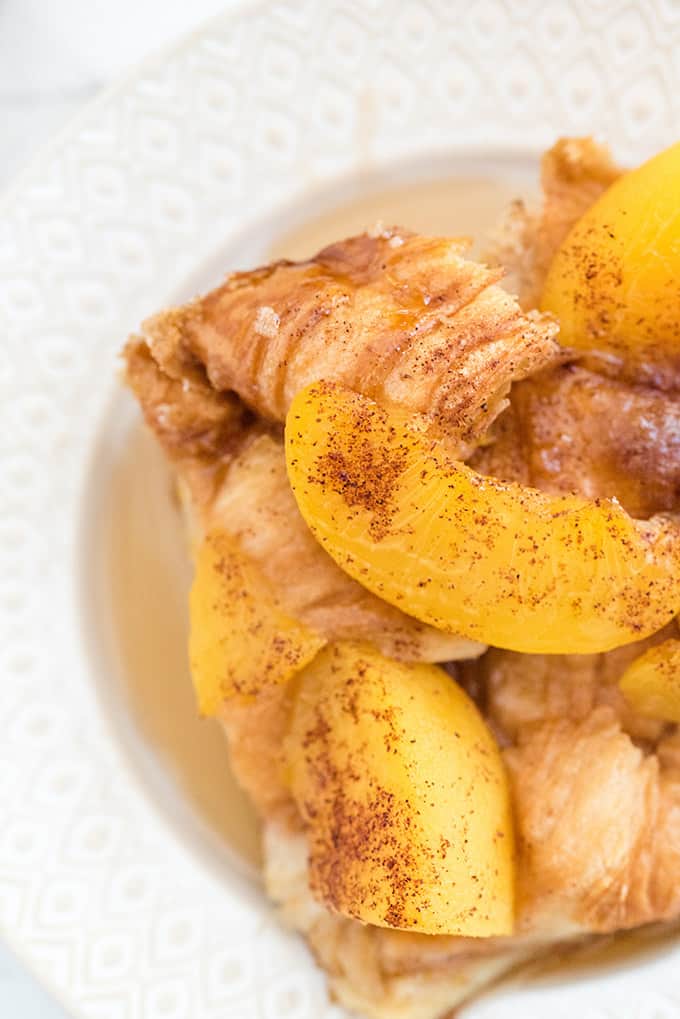 Do I Have to Bake this Casserole the Next Day
So you want to make this as soon as you can? If you are saying yes to this, then don't worry. You can let this dish set in the fridge for 30 minutes to an hour and then bake up. You don't have to allow it to soak overnight.
But it does need to soak for a big so the liquid soaks into the croissants. Just make sure to cover the dish and place in the fridge until you are ready to heat it up.
Or you can prep in the morning, and toss in the fridge and then cook it up for say dinner that night.
I know it is a breakfast dish, but who says you can't eat this for dinner? I pair it with some crispy bacon, sausage or even some Canadian Bacon for a savory to go along with our sweet.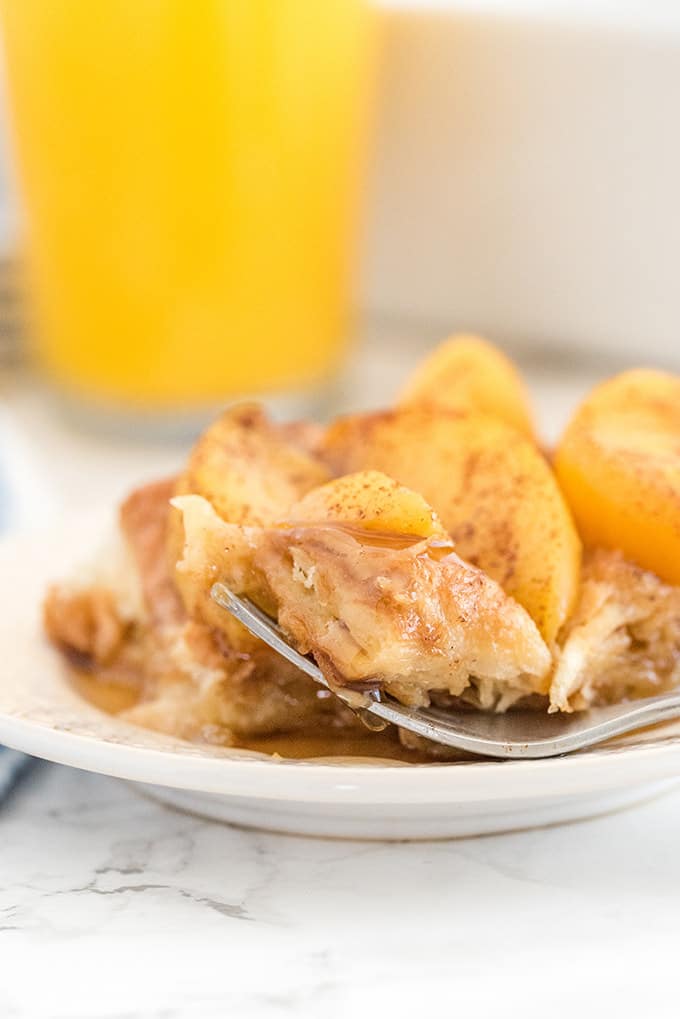 When to Serve up this Croissant Casserole
Holidays | Consider making this for breakfast for Christmas morning, Easter, or any other holiday. That way you wake up toss it in the oven and before you know it, you have a delicious breakfast to dish up.
Weekends | If you want to make a fun breakfast for the weekends for a family breakfast this is great. No major prep in the morning just toss it in the oven.
Birthday | So when our kids had a birthday you always want to create a dish to treat them in the morning. You can make this up and have it to serve up with a candle or even colorful sprinkles.
Guests | If you plan to have guests come and stay in your home, this is a way to greet them in the morning with a big cup of coffee. Then whip up some protein and you have a complete meal calling their name.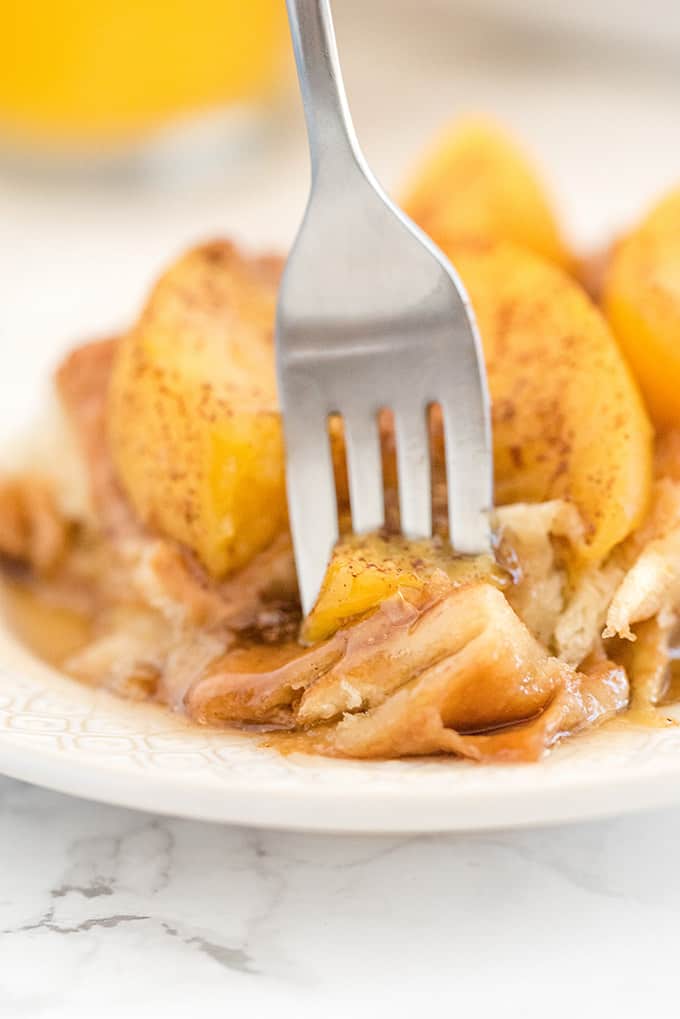 Does this Wife Savers Dish Need to be Refrigerated
Yes, after you cook this dish you will need to refrigerate any leftovers you may have. Just leave in the same dish and cover or place in an airtight container.
Then store this breakfast dish for up to five days in the fridge. It is great for reheating for meals later down the week. Simple and easy for sure.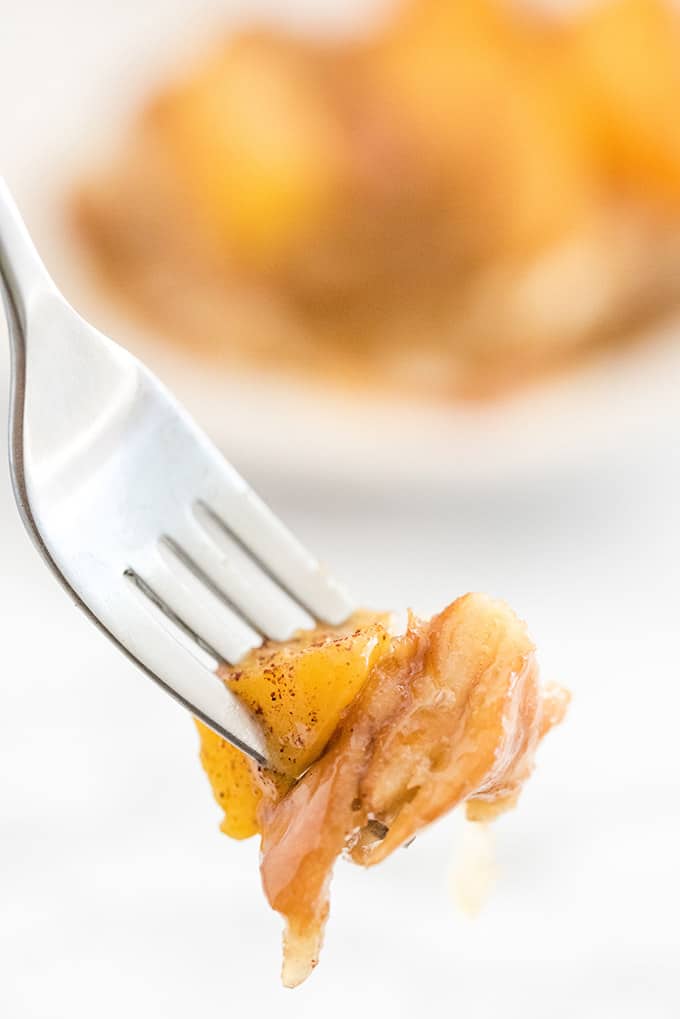 To reheat you can warm in the microwave for a quick reheat. Or opt to cover with aluminum foil and then warm it up in the oven. I cover it with foil when reheating so it doesn't dry out.
Have you made a Wife Saver Breakfast before? If so, what is in your recipe?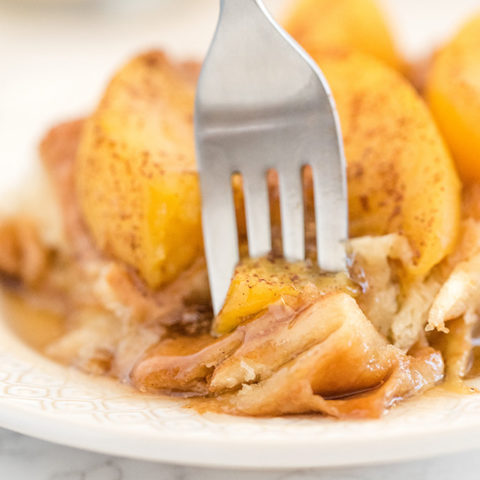 Ingredients
6

croissants

3

large eggs

1

cup

milk

2

tsp

vanilla

⅛

tsp

salt

⅛

tsp

nutmeg

1

can

unsweetened sliced peaches

drained (I think the one I used was around 700 ml)

¼

cup

brown sugar

¼

tsp

cinnamon

maple syrup

to taste
Instructions
Grease a 9×13 inch baking pan. Break croissants into bite-sized pieces and spread on the bottom of the pan.

In a medium size bowl, whisk together eggs, milk, vanilla, salt and nutmeg. Pour over top of croissants.

Layer the peaches on top. Sprinkle with brown sugar and cinnamon.

Cover with foil and refrigerate overnight.

In the morning, preheat the oven to 350°F. Bake for 30 minutes. Remove foil and bake an additional 10 minutes.

Serve with maple syrup.
Kitchen Tools
Notes
I used the already baked croissants in this recipe from the bakery at our grocery store.
Nutrition
Serving:
1
piece
|
Calories:
385
kcal
|
Carbohydrates:
46.3
g
|
Protein:
10.5
g
|
Fat:
17.5
g
|
Saturated Fat:
9.2
g
|
Polyunsaturated Fat:
6.2
g
|
Cholesterol:
141.2
mg
|
Sodium:
760.6
mg
|
Fiber:
3.4
g
|
Sugar:
21.4
g
The information shown is an estimate provided by an online nutrition calculator. It should not be considered a substitute for a professional nutritionist's advice.
Love Recipes? Join our Free Facebook Group!
Join Mom's Best Recipes to find more delicious family recipes.
Save
Saved!