This Fruit Cocktail Cake is a simple vintage recipe that you may remember Grandma making when you were a child. It's so darn easy to make and is ready in only a few simple steps.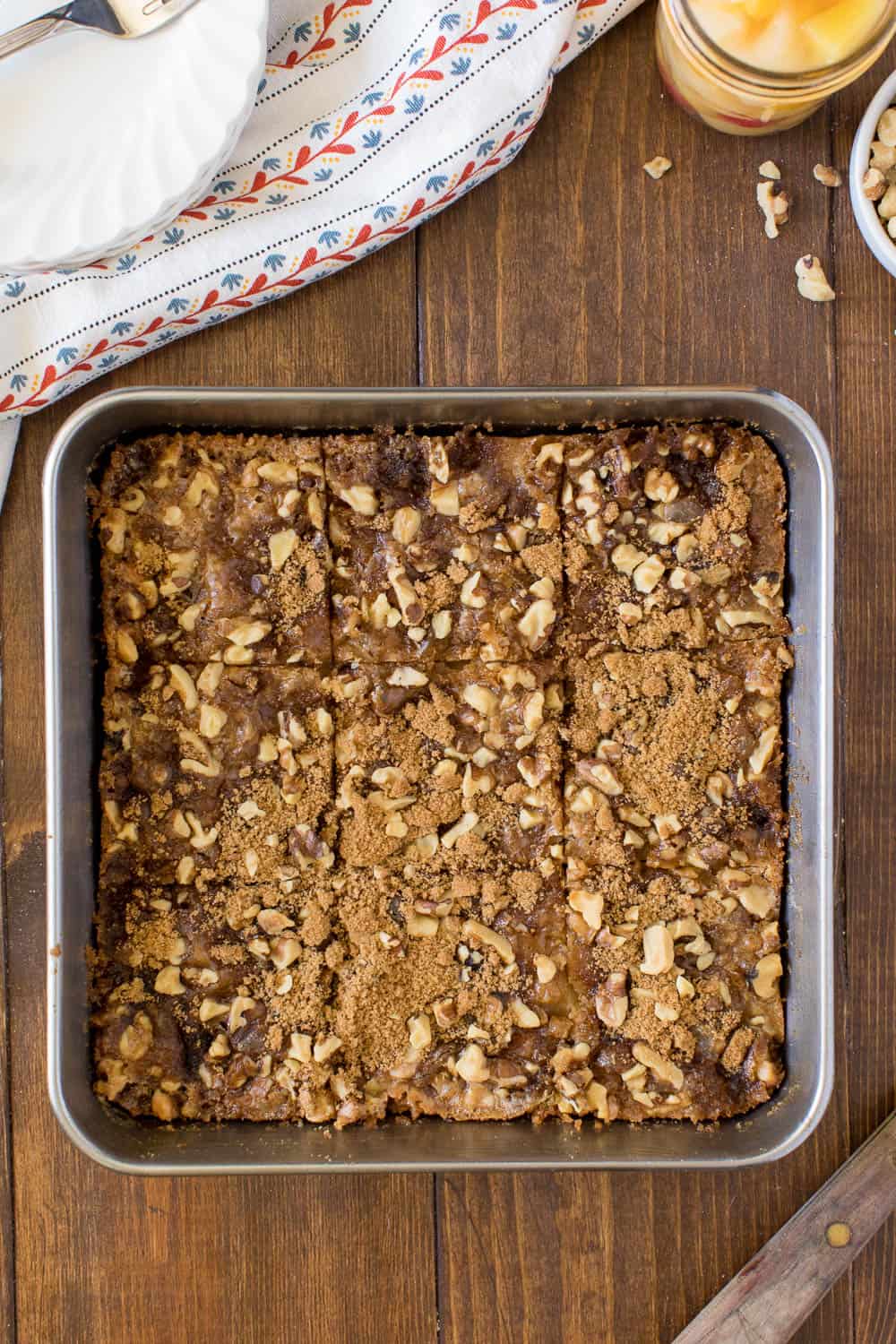 If you enjoy a nice big ol' serving of the fruit cocktail in a cup, or the irresistible Fruit Cocktail Dessert, you're going to absolutely love it when it's in a moist and delicious cake with a sweet and crunchy topping.
The topping texture kind of reminds me of a Coffee Cake with the brown sugar sprinkled on top. But I love how every bite of this cake is a little surprise of flavor and different textures. Truly irresistible!
Why You'll Love This Easy Recipe
An easy potluck dessert when you don't know what to make
Great way to use up any extra fruit cocktail cups you have on hand
The fruit cocktail makes the cake extra moist and sweet with bits of fruit spread throughout
Perfect for unexpected company
One bowl recipe, makes cleaning up that much easier
This recipe uses cheap and common ingredients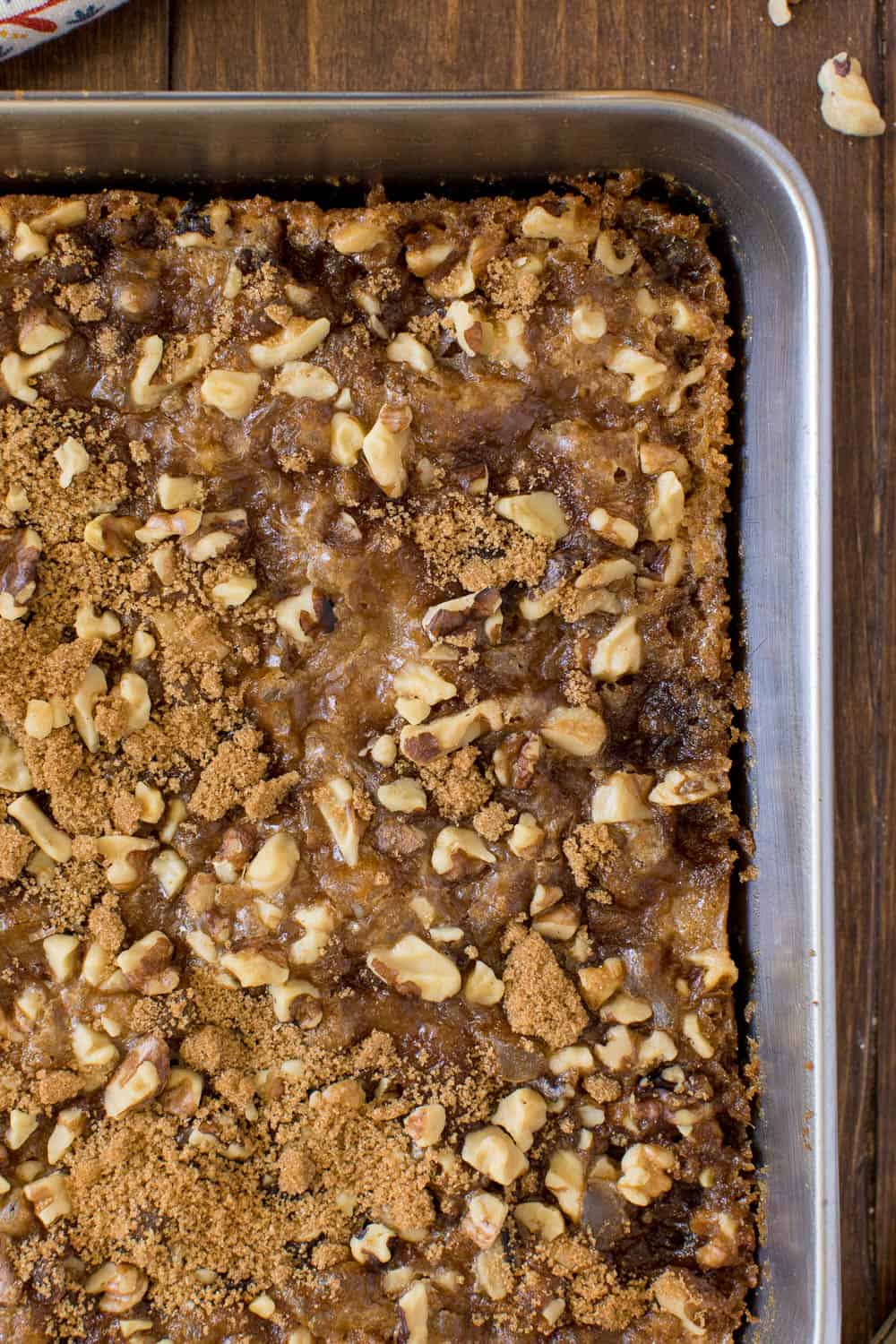 Ingredients Needed
Flour
Baking Soda
Eggs
Brown Sugar
Fruit Cocktail
Chopped Walnuts
How to Make Fruit Cocktail Cake
Step One: Preheat the oven to 350F.
Step Two: In a large mixing bowl, stir together the flour, baking soda, eggs, brown sugar, and fruit cocktail. Pour into a greased 9 inch square baking pan.
Step Three: Sprinkle with brown sugar and walnuts.
Step Four: Bake for 45 minutes or until done.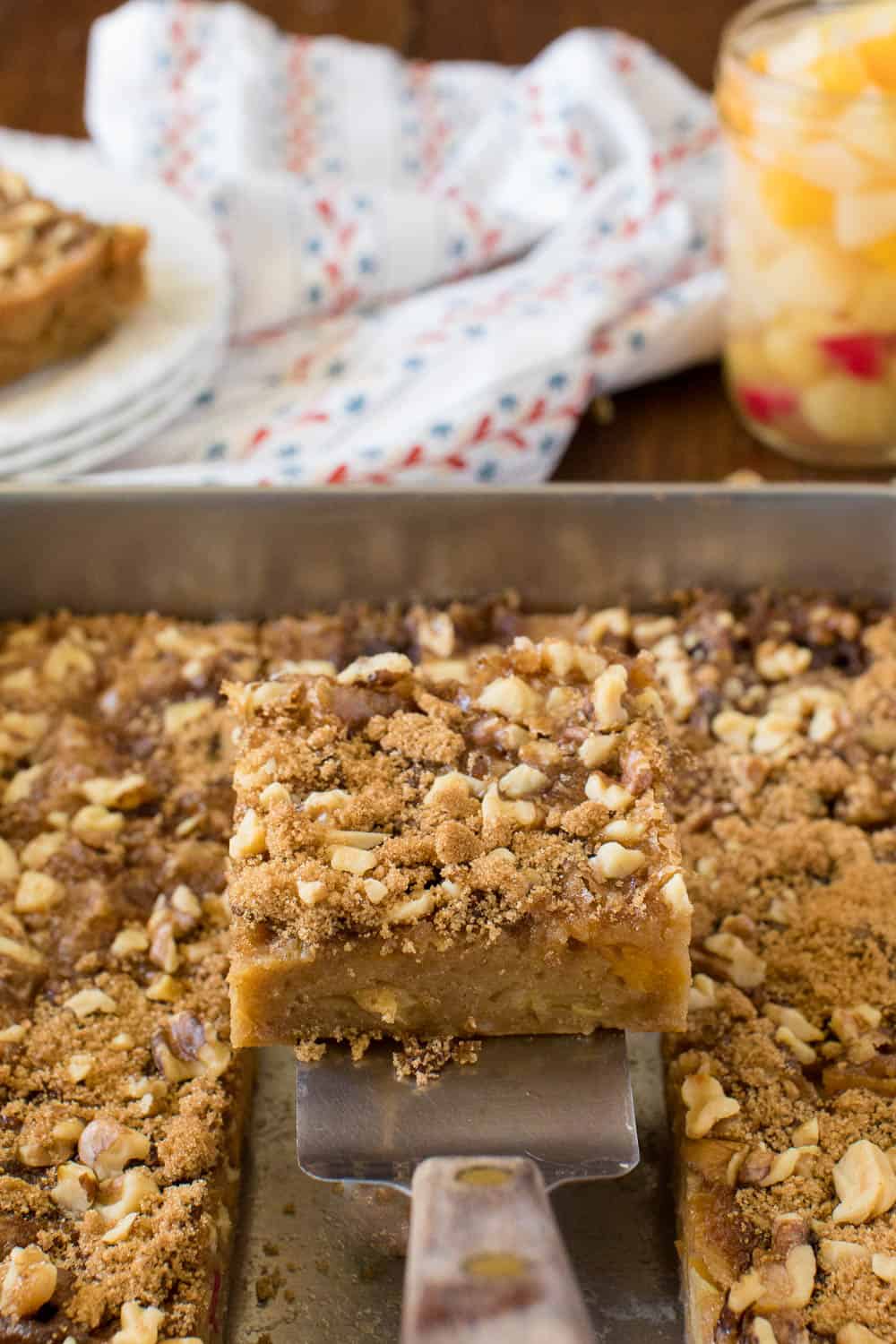 Helpful Kitchen Tools
This post contains affiliate links.
What to Serve with Cake with Fruit Cocktail
Here are some other easy desserts to make to serve alongside your cake on the dessert table:
Helpful Tips and Tricks
Always keep an eye on your cake as it bakes so you don't overbake it.
Don't drain the juices and syrup from your fruit cocktail, we're using this as part of the wet ingredient mixture that you would typically use in other cake mixes.
For this simple cake recipe, I tend to suggest using the electric mixer or just mix by hand instead of pulling out the stand mixer. You may accidentally end up overmixing the cake batter if you use the stand mixer. This really is a super simple, quick to make cake.
Pay attention to what kind of cake pan you are choosing to use. Know that glass pans tend to require a few more minutes of bake time than the dark pans tend to need.
This cake is super yummy when served still warm or at room temperature. If you wish to reheat it, simply pop a slice back in the microwave for a few seconds, not long, just enough to give it a little warmth all the way through.
You can use a different sized baking dish, like an 8×8-inch, but I wouldn't do a 9×13-inch pan as this cake would be too thin, maybe try doubling it if you want to use a larger pan. Also be aware that if you change the size of the baking dish, you will most likely also need to change the amount of baking time required. If you're an experienced baker you can probably do this with no problem, if not be sure to keep an eye on your cake as it bakes.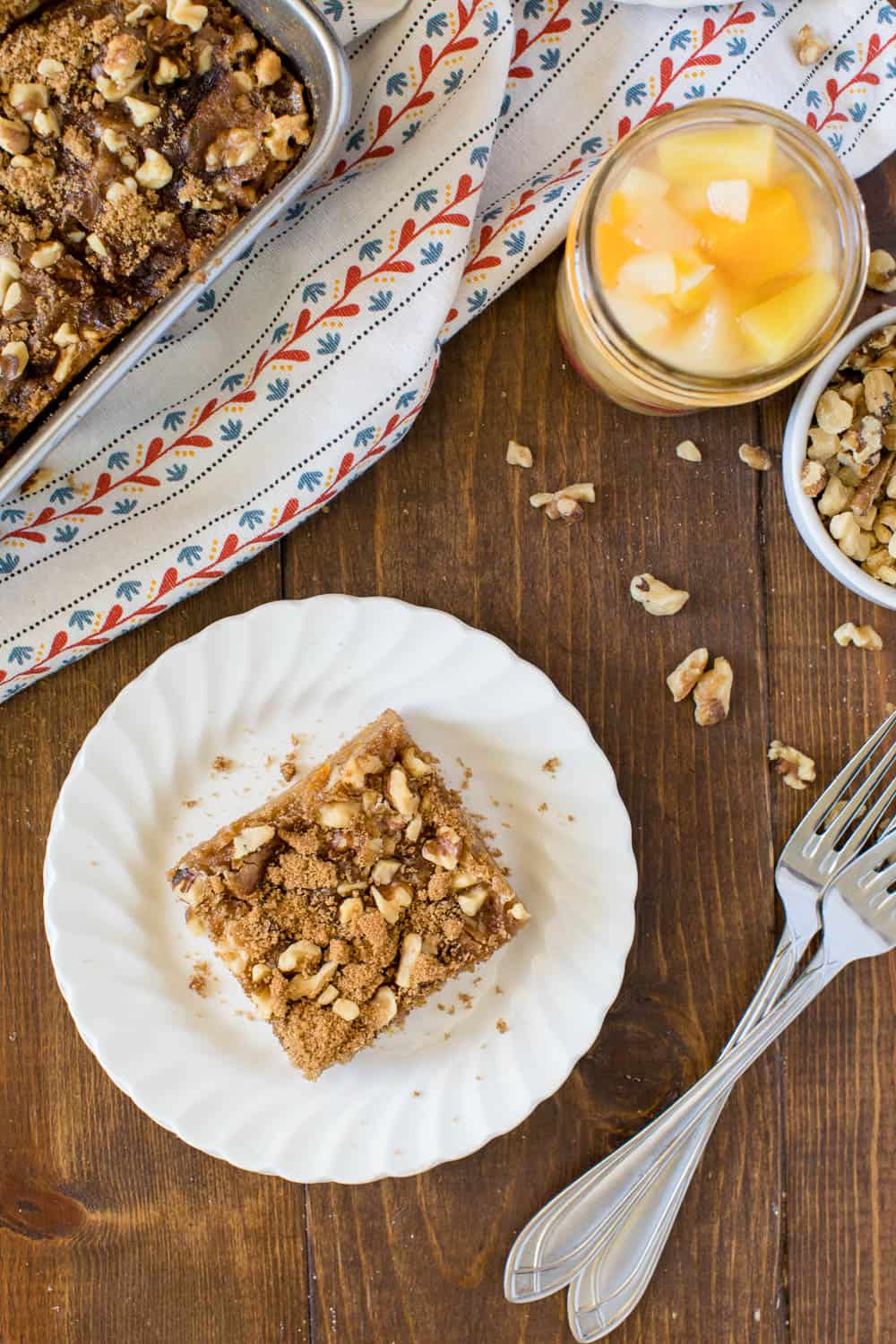 Recipe Variations and Substitutions
In addition to your fruit cocktail, you can add in other fruit options that you prefer.
Swap the nuts out. Instead of chopped walnuts, feel free to use chopped pecans, peanuts, macadamia nuts, almonds, or other nut varieties. Or just omit them if nuts aren't your thing.
Add in mini baking chips! Semi-sweet chocolate chips, butterscotch chips, and white chocolate baking chips would all be a great sweet option to toss in to the cake batter before baking. You could even sprinkle a few on top like you do with sprinkles on iced cake.
Leftover Storage
Leftover cake can be stored in the refrigerator for up to 2-3 days. Be sure to either cover it with plastic wrap or store it in an airtight container or cake box so it stays as fresh as possible.
Can I Freeze This
Yes, friends, you certainly can save this tasty cake by freezing it! You can freeze individual slices or freeze a whole cake at once. Either way you choose to preserve it, make sure it's covered in either an airtight container or wrapped tightly with plastic wrap, then aluminum foil. You don't want any moisture getting in and causing any freezer burns on your delicious fruit cocktail dessert.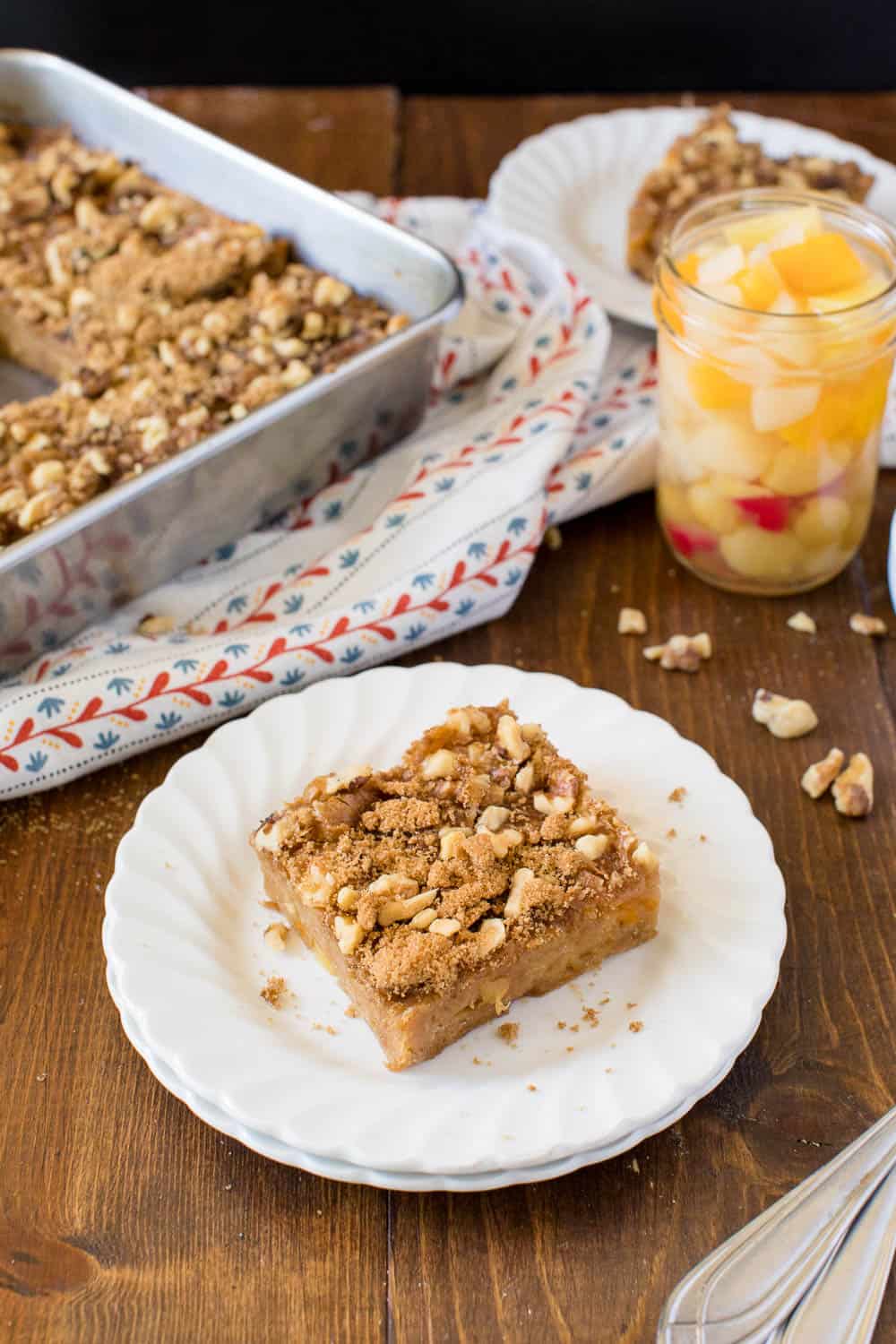 Can I turn this cake into cupcakes?
While most recipes, I usually say yes, go for it, let your creativity shine- with this specific cake recipe, I don't think they'd work out well.
Specifically, I think there would be a problem with the brown sugar and nut topping. The crumby texture topping wouldn't hold well on small cupcakes, as it does on a larger cake.
What happens when you add fruit to cake batter?
When you add any fruit, like fruit cocktail to a cake mix or cake batter, you'll end up with a little extra moisture, so oftentimes, other ingredients can be left out. Binding agents aren't always necessary depending on what you use.
You'll also end up with a cake with even more fantastic flavor and, of course, some amazing texture that gets added to the cake itself.
What else can I add to the topping?
If you want something a little more than your 2-ingredient topping of brown sugar and chopped walnuts, you can certainly add other ingredients.
A cream cheese frosting would be lovely. Maybe add some coconut flakes for another flavor and texture combo. Or just add a dollop of whipped cream and a cherry to each serving of this delish Fruit Cocktail Cake!
More Easy Cake Recipes Recipes
Did your grandma make Fruit Cocktail Cake?

Follow me on Instagram @simplystacieblog, Facebook at Simply Stacie, TikTok @simplystacierecipes or Pinterest at @simplystacie and let me know how you liked this recipe and my other recipes.
If you make the recipe, rate it on the recipe card below and tag me on Instagram and use #simplystacie. I like sharing the photos on my Instagram stories!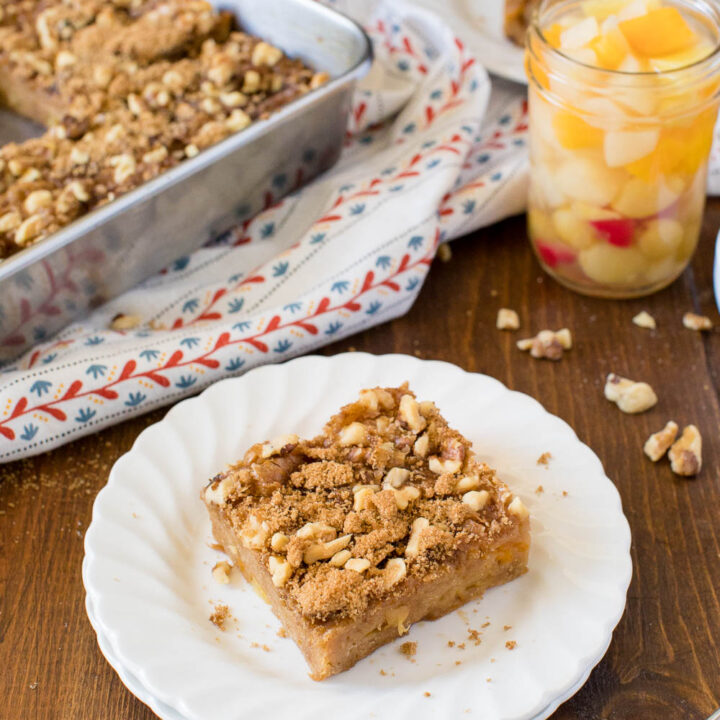 Fruit Cocktail Cake
This vintage recipe is packed with fruit and super moist. Just six ingredients and so easy to make.
Ingredients
2 cups flour
2 tsp baking soda
2 eggs
1 1/2 cup brown sugar
1 3/4 cup fruit cocktail, undrained
Topping
1/2 cup brown sugar
1/2 cup walnuts, chopped
Instructions
Preheat oven to 350F.
In a large bowl, stir together flour, baking soda, eggs, brown sugar and fruit cocktail. Pour into a greased 9 inch square baking pan.
Sprinkle with brown sugar and walnuts.
Bake for 45 minutes.
Recommended Products
As an Amazon Associate and member of other affiliate programs, I earn from qualifying purchases.
Nutrition Information:
Yield:

9
Serving Size:

1 piece
Amount Per Serving:
Calories:

406
Total Fat:

18.2g
Saturated Fat:

2g
Unsaturated Fat:

15.1g
Cholesterol:

41.3mg
Sodium:

308mg
Carbohydrates:

58.8g
Fiber:

3.8g
Sugar:

38.1g
Protein:

6.2g