This Wacky Cake has been around for decades as a sweet treat during World War II when many baking ingredients were scarce. This delicious and easy vegan cake is moist and packed with chocolate flavor, you won't notice it's missing dairy and eggs!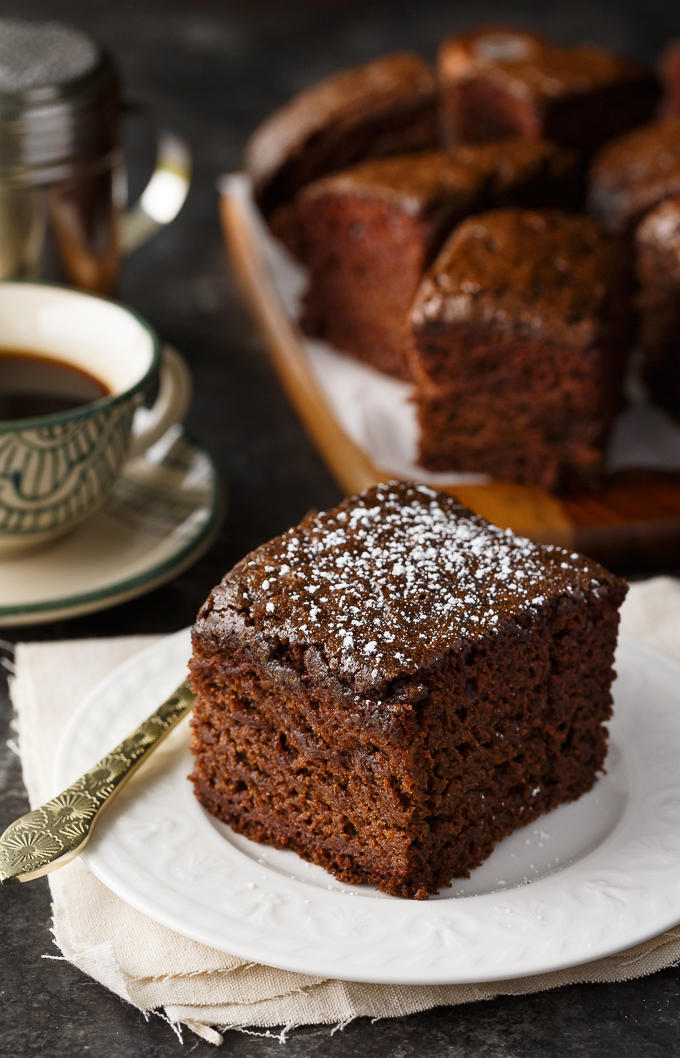 Wacky Cake
My Grandma June always used to say that she came with the Great Depression. She was born in 1929 and remembered food being scarce during her childhood. When you were eating at Grandma's house, you were expected to eat everything. She'd remind us how food wasn't always plentiful.
Wacky Cake was popular during World War II because of its unique combination of ingredients. It has NO eggs, milk or butter – your basic staples for baking almost anything cakey. Despite not having these key ingredients, it's surprisingly good!
Love vintage desserts? Try our Cracker Pudding from an old Pennsylvania Dutch recipe with soda crackers and coconut or our Shoofly Pie from the 1800s made with brown sugar to cut the sweetness.
This cake recipe is a breeze because most of these ingredients are in my pantry at all times! No perishable ingredients means your pantry can always be stocked and ready to whip up a Wacky Cake!
Ingredients
Flour
Sugar
Cocoa powder
Baking soda
Salt
Vanilla extract
Vegetable oil
White vinegar
Cold water — not necessarily ice cold, but definitely the coldest your faucet can get
While there's no milk, eggs, or butter in this cake, the baking soda and vinegar react during baking to create carbon dioxide, allowing the cake to rise! I promise this won't taste like vinegar, but it is important to the process.

What I used for my Wacky Cake
This post contains affiliate links.
Baking dish: I love this 9×13 baking dish because it's great for everything in the oven. The ceramic material makes for even heat distribution so my cakes and lasagnas are always evenly baked.
Mixing bowls: These mixing bowls are always being washed in my house because I use them for everything. The multiple size options are handy from prep work to cake mixing, and they nest inside each other to save space!
While the ingredients may seem strange, the process of making this Wacky Cake is pretty standard. Always mix the dry ingredients BEFORE adding the wet ingredients to distribute the rising agents, sugar, and spices for an evenly baked and delicious cake for every slice!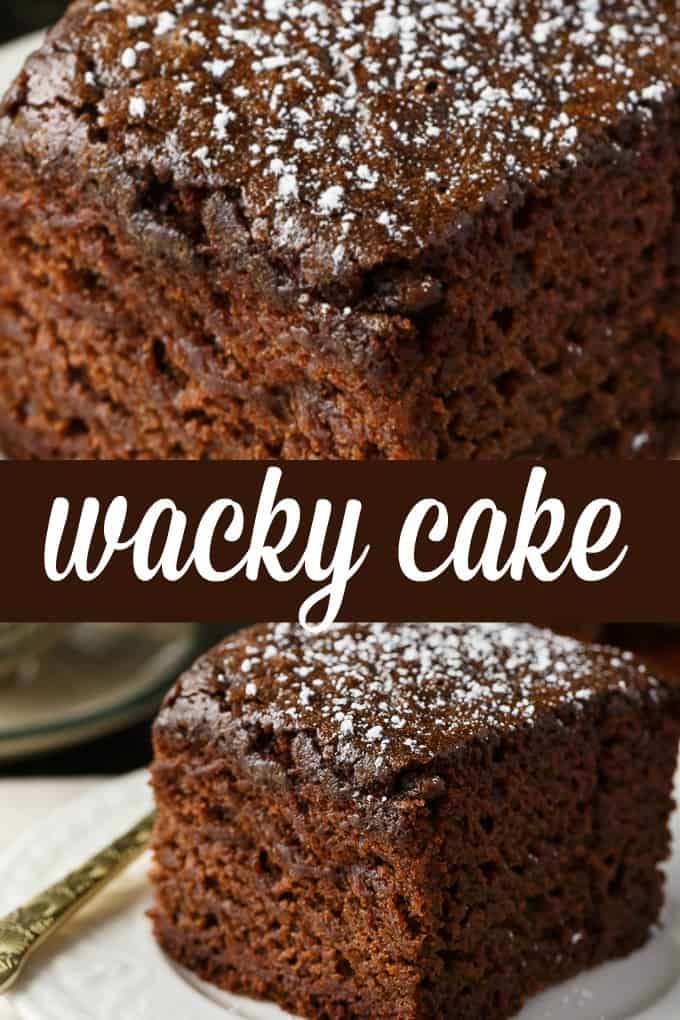 How to Make Wacky Cake
Preheat your oven to 325 degrees F.
Next, your dry ingredients: Add flour, sugar, cocoa powder, baking soda, and salt to a large bowl. Stir to combine before making three wells in the dry ingredients.
Onto the wet ingredients: Add the vanilla extract to one well, oil to the second well, and white vinegar to the third well. Pour in your cold water and beat until no lumps are left in the batter.
Pour batter into an ungreased 9×13 baking dish and bake for about an hour or until a toothpick comes out clean. Let cool before cutting.
While this cake can be mixed together with a stand or hand mixer, mixing by hand with a whisk is just as efficient and requires less cleanup!
How to Decorate Wacky Cake
Traditionally, this cake can be coated with powdered sugar, iced with a vanilla buttercream frosting, or served plain.
I typically don't use any frosting on the cake because I don't want to use butter or milk to make it. Instead, I dusted with some powdered sugar to keep the lightness of the cake but also give it a little something extra on top.
However, this is a sheet cake and can be decorated just like any other sheet cake! If you're a family that loves chocolate, cover it with chocolate frosting. Need a pop of color for a birthday party? Add sprinkles!
The History of Wacky Cake
This cake recipe can be traced back to at least 1940 by a Canadian newspaper columnist Mary Moore and has been publicized again and again and again through to today! The fluffy texture of this cake without the density of the eggs and heaviness of the dairy has kept this popular "wacky" dessert in cookbooks year after year.
Also called the Three-Hole Cake for the well-mixing technique, this cake became popularized again in the 1960s and '70s and has been featured on many school lunch menus for years because of its cheap pantry staple ingredients.
While the original recipe calls for the cake to be mashed together with a fork in the baking dish, I prefer to mix mine in a bowl before pouring into the dish.
How to Store Wacky Cake
You have two options when storing this cake: room temperature or freezer.
For leftovers, you can store them up to 3 days in an air tight container on your kitchen counter. If you want to freeze your Wacky Cake, make sure the cake has cooled completely before covering it a freezer-safe wrap. This can last up to 3 months in the freezer. If freezing, do not frost the cake or add any toppings until completely thawed.
Vintage Recipes
Other delicious desserts to try…
Check out these depression era recipes.
Wacky Cake is a unique vintage recipe you need to try and see for yourself how good it is!
Have you made Wacky Cake before?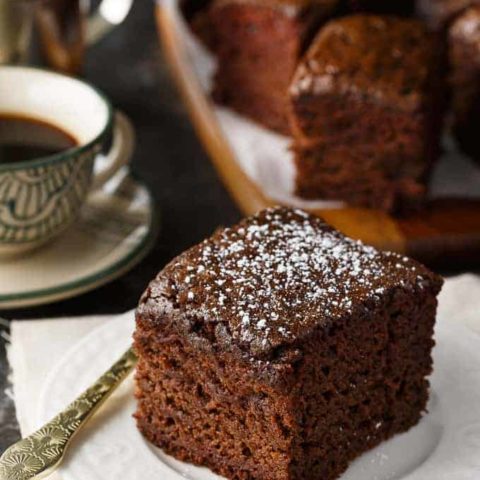 Wacky Cake
Total Time:
1 hour
5 minutes
Moist, chocolatey and easy to make! This vintage cake was popular in the Depression era and contains no butter, milk or eggs.
Ingredients
3 cups flour
2 cups sugar
1/2 cup cocoa
2 tsp baking soda
1 tsp salt
2 tsp vanilla
1/2 cup vegetable oil
2 tbsp white vinegar
2 cups cold water
Instructions
Preheat oven to 325F.
Add flour, sugar, cocoa, baking soda and salt to a large bowl. Stir to combine. Make 3 wells in mixture.
Add vanilla, oil and vinegar to each of the wells. Pour in cold water and beat until no lumps are left.
Pour into an ungreased 9×13 baking pan. Bake for 60 minutes or until a toothpick comes out clean. Let cool before cutting.
Recommended Products
As an Amazon Associate and member of other affiliate programs, I earn from qualifying purchases.
Nutrition Information:
Yield:

10
Serving Size:

1 piece
Amount Per Serving:
Calories:

338
Total Fat:

7g
Saturated Fat:

2.4g
Trans Fat:

0g
Unsaturated Fat:

4g
Cholesterol:

5.6mg
Sodium:

548.4mg
Carbohydrates:

68.5g
Fiber:

5.4g
Sugar:

40.3g
Protein:

5.6g