If you asked me to tell you my favourite type of berry, I wouldn't hesitate to answer. It's always been blueberries. I was a very picky eater as a child and the only berry I would eat was blueberries. My mom would put them in a small bowl and I'd eat them plain. Little did I know they were good for me. I just thought they tasted good.
Now that I'm adult, I understand all the health benefits of blueberries. First off, they are low in fat and only 80 calories a cup. They also contain a phytonutrient: polyphenol. It acts as an antioxidant and anti-inflammatory that can help with chronic conditions like cardiovascular disease, cancer, etc. I always think of anti-aging when I think of antioxidants. Blueberries are also loaded with Vitamin C and a good source of fibre.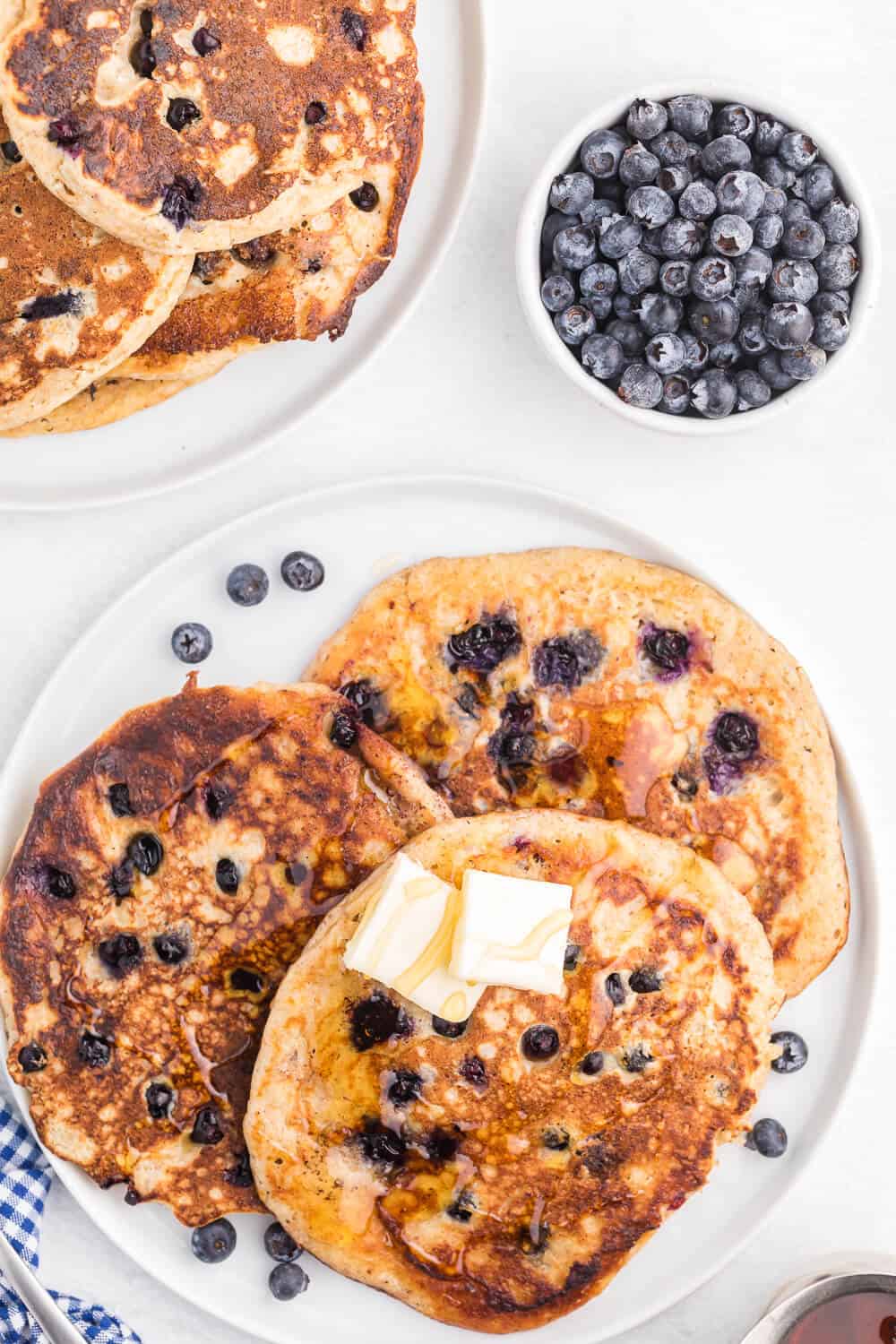 Highbush blueberries are the ones you find at the grocery store. They are grown on bushes that can grow as high as 12 feet tall. Each spring, beautiful white blossoms begin to grown all over the bushes and bees come to pollinate. Each blossom then becomes one blueberry. At first, they are hard and green and then change to a reddish-purple. When they turn blue they are ready to pick and eat.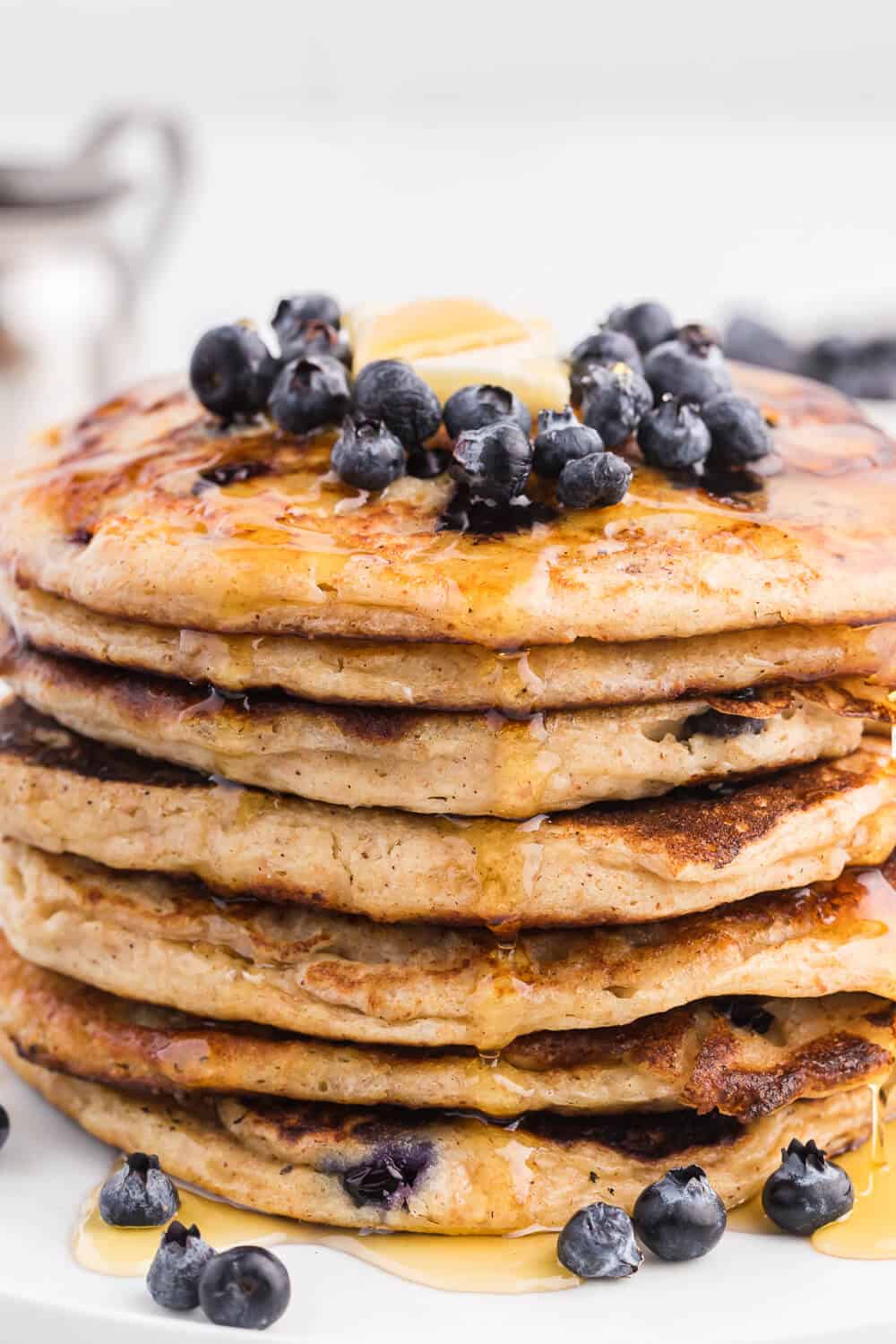 Disclosure: I was compensated for this post by the US Highbush Blueberry Council as part of the Mom It Forward Blogger Network. All opinions expressed are 100% my own.
When buying fresh blueberries, the US Highbush Blueberry Council recommends you look for ones that are firm, dry, plump and smooth-skinned. They will have a silvery surface bloom and no leaves or stems. The colour should be deep purple to blue-black and size doesn't matter! Store your blueberries in the fridge at home and make sure you eat them within 10 days of purchase.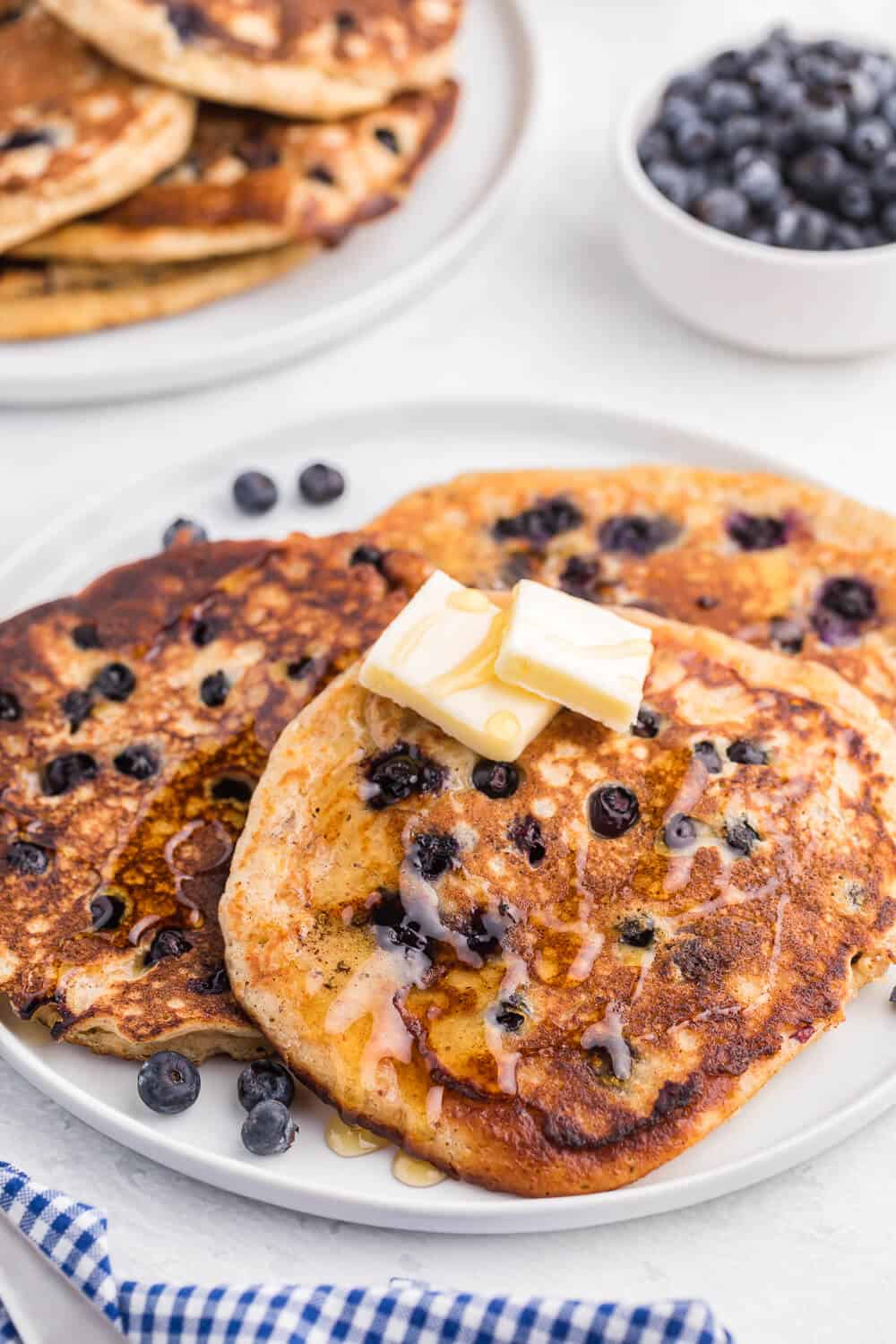 Though I enjoy snacking on blueberries on their own, I do use them in a variety of recipes. A few simple breakfast recipes include blueberry smoothies, blueberries and yogurt and blueberries and oatmeal. Another one that our family enjoys is Whole Wheat Blueberry Pancakes. I like that this recipe doesn't have a lot of sugar and you could even substitute honey in place of sugar if you wanted to cut it out completely. The fresh blueberries add an extra element of sweetness. Even John likes this recipe and he normally doesn't like my "healthier" picks. Shhhh don't tell him it's good for him!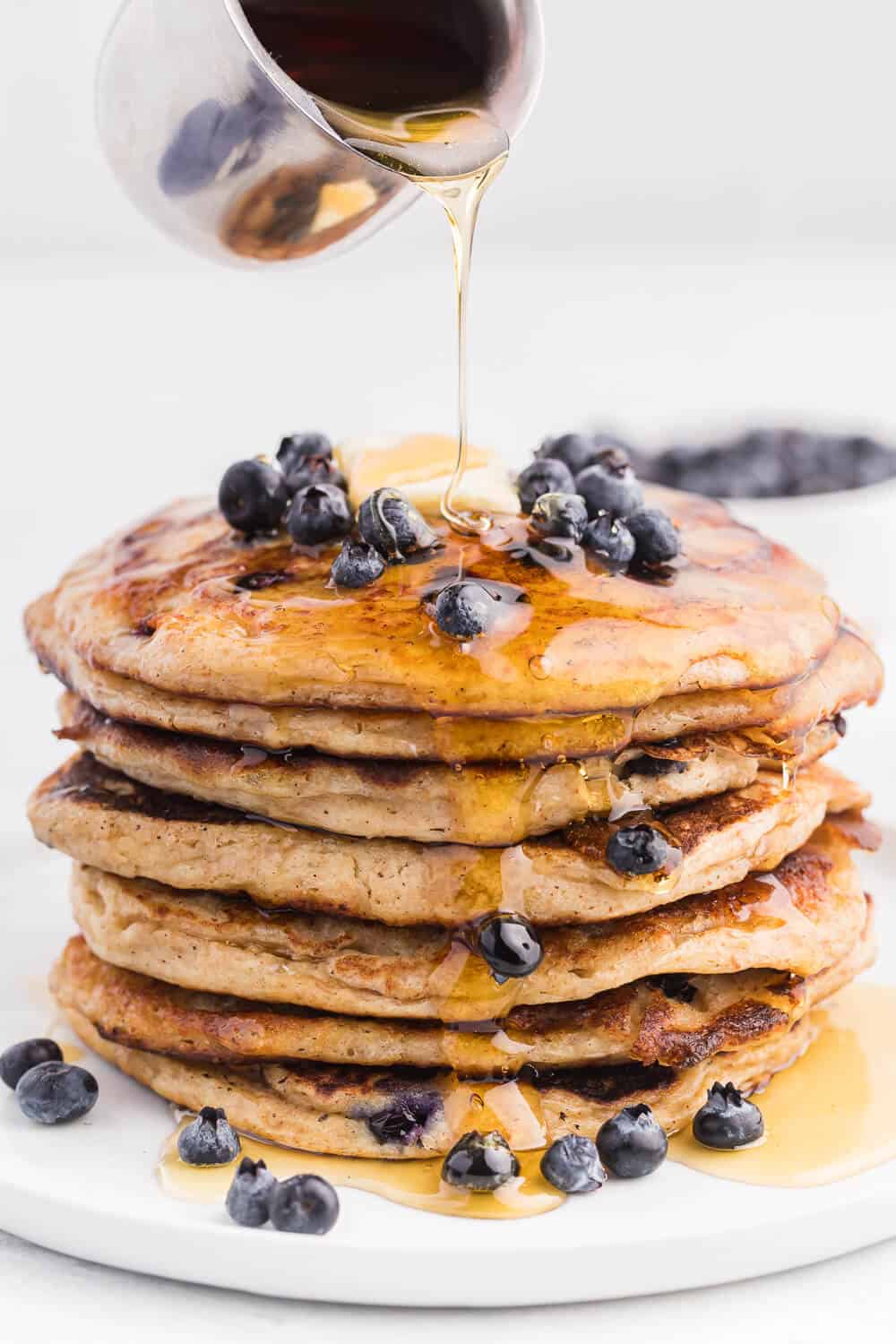 For more blueberry recipes, visit the US Highbush Blueberry Council website.
You'll also like these Cinnamon Banana Pancakes.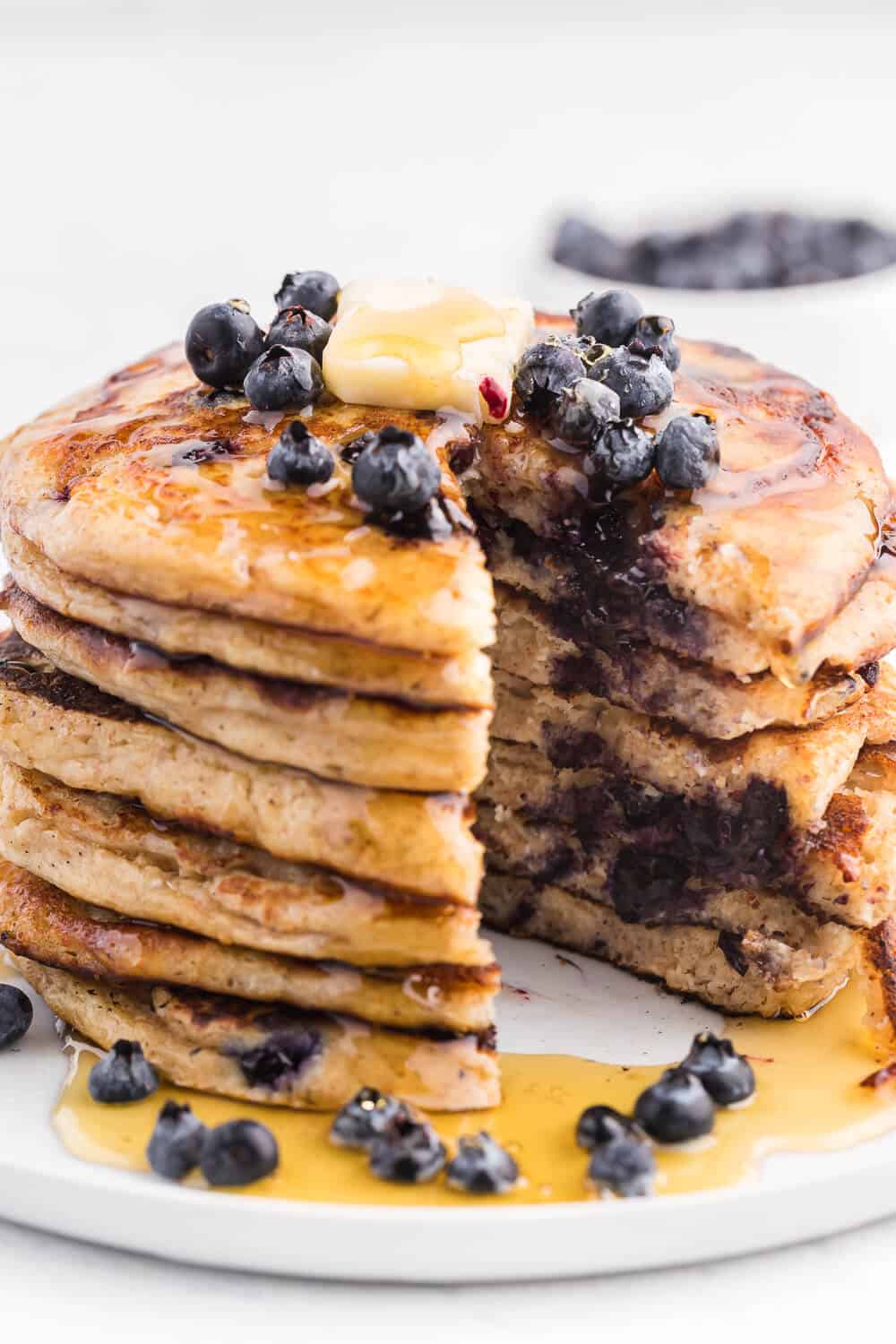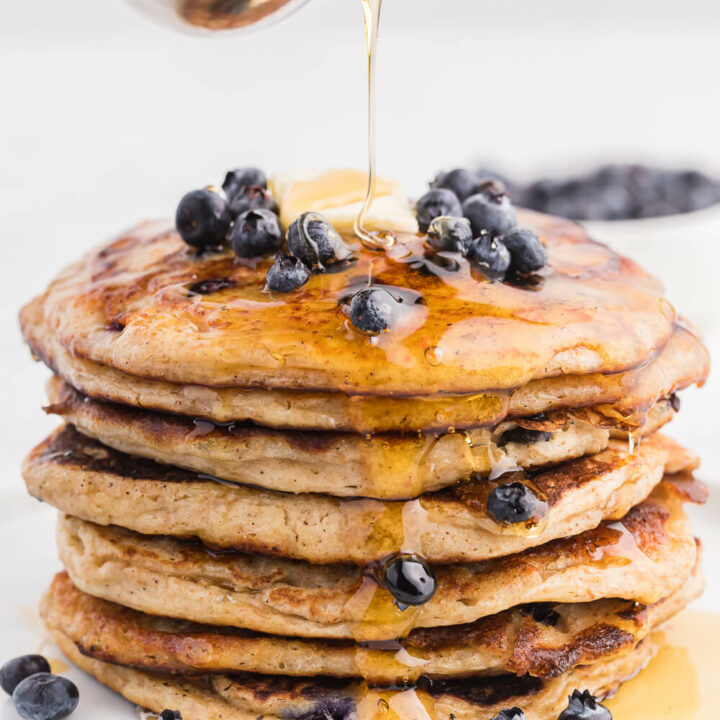 Whole Wheat Blueberry Pancakes
Blueberries are a wonder food, packed with fibre and antioxidants. Mixed into a light and fluffy whole wheat batter, these are a great way to add some extra nutrition without sacrificing delicious flavour.
Ingredients
1½ cups whole wheat flour
1 ½ teaspoon sugar
2 teaspoons baking powder
½ teaspoon baking soda
1 teaspoon nutmeg
1 ½ cups ricotta cheese
2 eggs
1 cup buttermilk
1 teaspoon lemon juice
1 cup fresh blueberries
1 tablespoon vegetable oil
Instructions
Mix together the flour, sugar, baking powder, baking soda and nutmeg in a small bowl.
In a separate bowl mix together, ricotta cheese, eggs, lemon juice and buttermilk.
Add wet mixture to dry mixture and stir to combine.
Add oil to a pan on the stovetop over medium heat. Add a scoop of batter (about ¼ to ½ cup depending if you like your pancakes big or small) to the pan and drop blueberries on top of each pancake.
Flip the pancakes over once the pancake starts to bubble. Cook for an additional 2 minutes or until cooked to your preference. Repeat this process until the pancake batter is gone.
Top pancakes with fresh blueberries or maple syrup.
Recommended Products
As an Amazon Associate and member of other affiliate programs, I earn from qualifying purchases.
Nutrition Information:
Yield:

8
Serving Size:

1
Amount Per Serving:
Calories:

202
Total Fat:

8g
Saturated Fat:

3g
Trans Fat:

0g
Unsaturated Fat:

4g
Cholesterol:

62mg
Sodium:

323mg
Carbohydrates:

24g
Fiber:

3g
Sugar:

4g
Protein:

11g