Fluffy whole wheat blueberry pancakes are healthy, sweet, and made with fresh juicy blueberries! Top these pancakes with your favorite breakfast toppings and enjoy.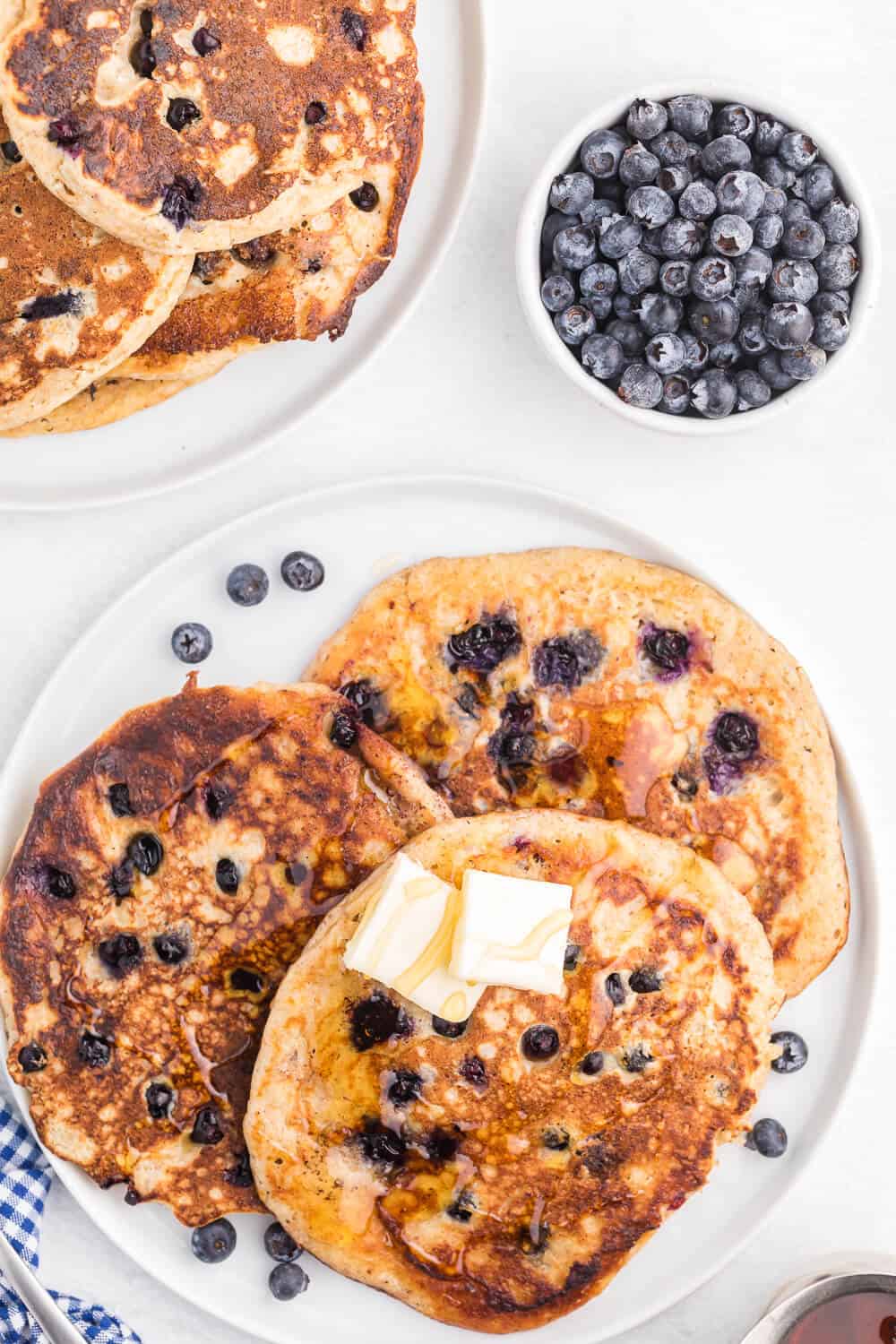 Are you ever in the mood for pancakes that are perfectly fluffy, soft, and sweet? Made with whole wheat flour, these tart blueberry and lemon pancakes are simple to make and healthier than regular pancakes! You can serve them with pancake syrup.
With extra fluffiness and rich flavors from ricotta cheese, nutmeg, and buttermilk, these will be the very best recipe for blueberry pancakes you'll ever eat. The best part? You can even freeze these flapjacks!
How do you like to eat blueberries? I love to incorporate them in a variety of sweet recipes such as pancakes, waffles, or these muffins because they are just so satisfying to eat!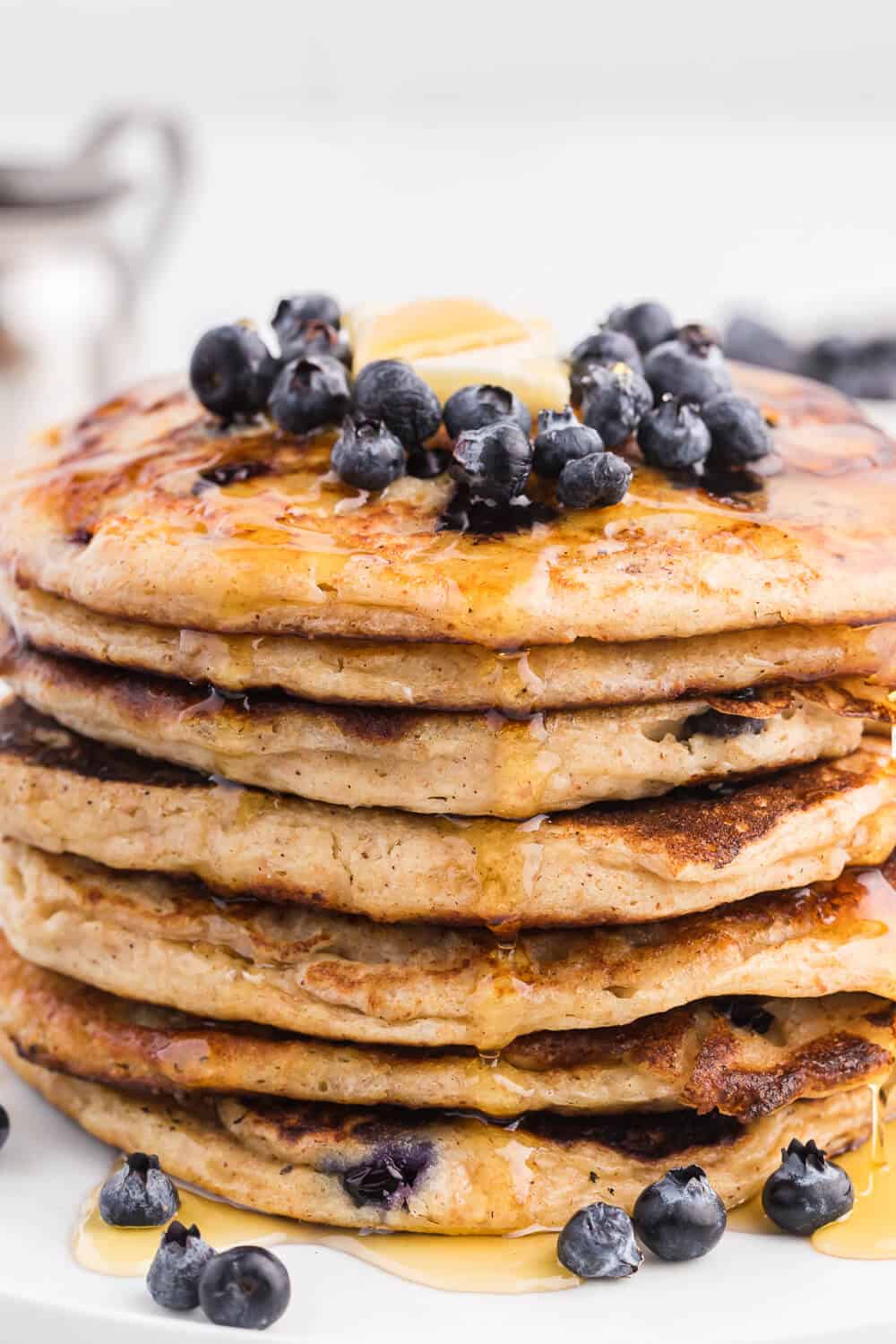 Healthy Whole Wheat Blueberry Pancakes Ingredients
Dry Ingredients
Flour: For extra fibre and nutrients, I like to use whole wheat flour. If you use all-purpose flour the pancakes will not be as healthy. Both options work!
Sugar: I use just a little bit of granulated sugar for these pancakes to give them just the right amount of sweetness. Feel free to use different types of sweeteners.
Baking powder and soda: These two leavening agents allow the pancakes to rise and become puffy. Without these ingredients, the pancakes would not be very delicious!
Nutmeg: Ground nutmeg is used for a little bit of spice. Feel free to use cinnamon, too.
Wet Ingredients
Ricotta cheese: Ricotta cheese allows these pancakes to be rich in flavor and super moist. The creaminess from the ricotta gives these pancakes extra softness.
Eggs: Two whole eggs are needed to bind things together and allow these pancakes to cook to perfection!
Lemon juice: Freshly squeezed lemon juice gives these pancakes the perfect flavor of citrus which pairs amazingly well with the blueberries and ricotta.
Buttermilk: Using buttermilk allows the pancakes to rise higher and become more tender and soft. You can use different types of milk, but the results will not be the same.
Oil: Any kind of neutral cooking oil is good for these pancakes to prevent them from sticking in the pan.
Blueberries: Every summer, I pick a bunch of fresh blueberries to use in various types of recipes. Make sure the blueberries have a deep blue hue with a slight silvery finish. You can use frozen blueberries, too.
Maple syrup: Totally optional but a delicious addition to pancakes to make them sweet and sticky.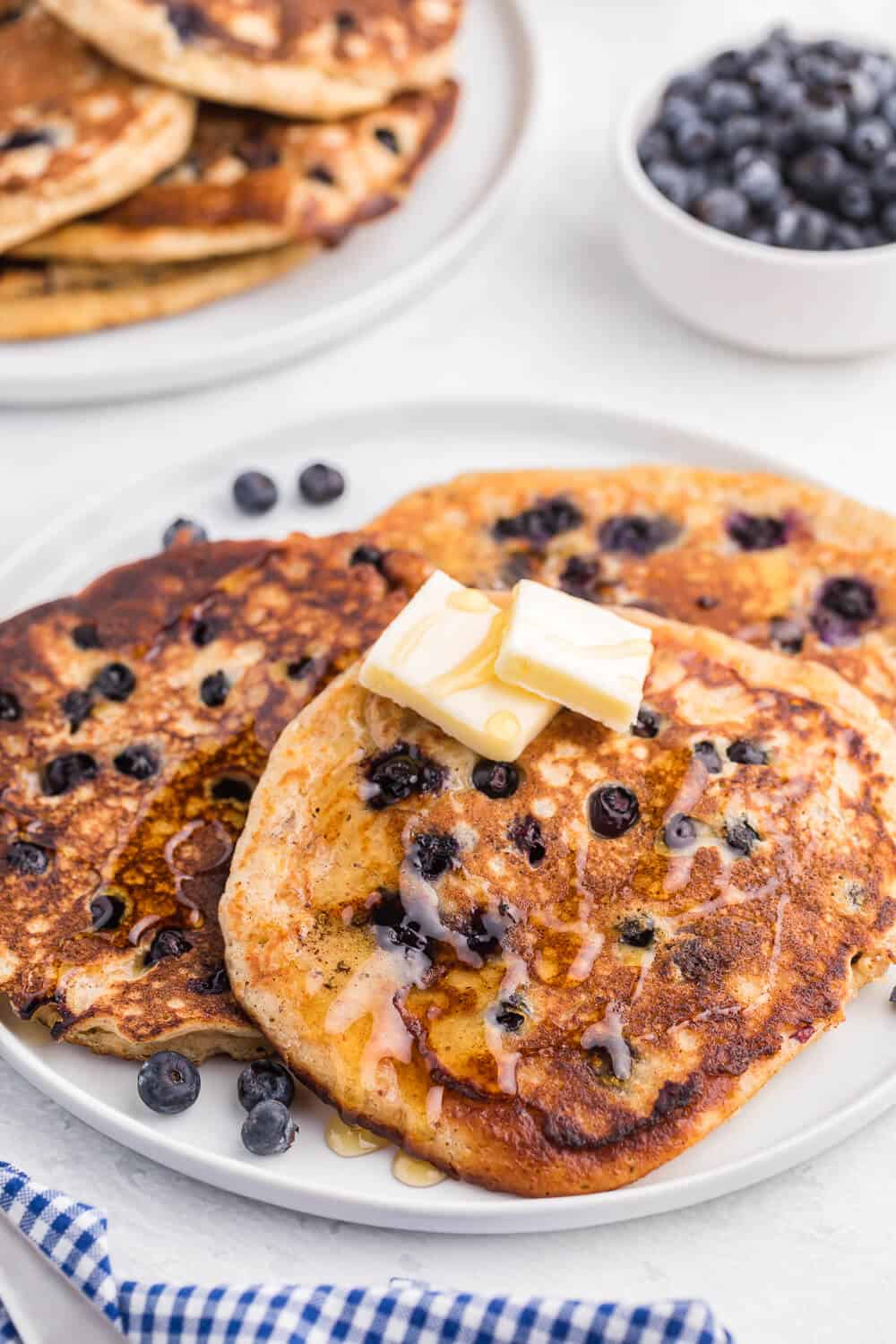 What I Used For This Recipe
This post contains affiliate links.
Heat Resistant Silicone Spatula: This is my favorite spatula! Nonstick and easy to use, you can use this spatula for most of your recipes as it is heat resistant and super durable.
Cuisinart Classic Nonstick Skillet: This large skillet is my go-to for all of my pancakes and eggs! Nothing sticks to this skillet and it's incredibly easy to clean!
Citrus Juicer: This juicer is perfect for all types of citrus and really lets you get all of the juice out. Definitely essential if you like to freshly squeeze your own fruits!
How to Make This Recipe for Blueberry Pancakes
You will love how simple these pancakes are. In just a few simple steps, you'll have your very own delicious pancakes ready in no time.
Mix the dry ingredients. First, mix together flour, sugar, baking powder, baking soda, and nutmeg in a small bowl until combined.
Mix the wet ingredients. In another bowl, mix together the ricotta cheese, eggs, lemon juice, and buttermilk until evenly mixed.
Combine ingredients. Next, stir the wet ingredients into the center of the dry ingredients and stir. Do not overmix!
Cook the pancakes. Add oil to a large pan over medium heat. With a measuring cup (¼ cup or ½ cup depending on the size of pancakes you would like), scoop the batter onto the heated pan. Drop the blueberries to the tops of the pancake batter.
Flip. Once the pancakes start to bubble on top, flip them over with the spatula. Cook for an additional two minutes or until the desired color is met. Use all of the batter until no more is left and you are left with a bunch of pancakes.
Serve. Top the pancakes with fresh blueberries or maple syrup.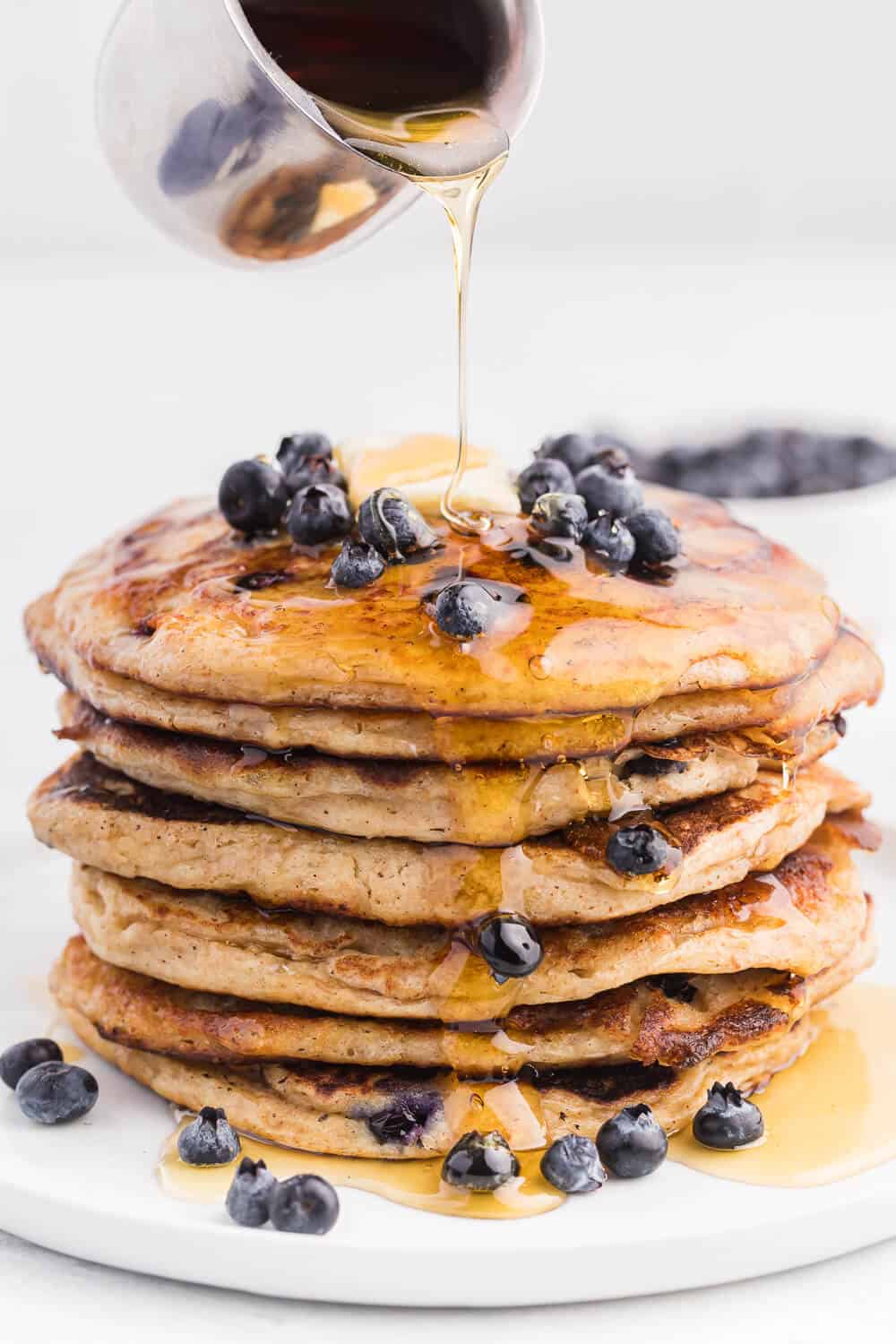 Are whole wheat pancakes good for you?
These pancakes are extra good for you because they contain fresh blueberries that are loaded with antioxidants, fibre, and potassium. The whole wheat flour allows these pancakes to be more nutrient-dense than all-purpose flour.
Should I cut blueberries in half for pancakes?
No! You do not have to cut the blueberries in half as the berries will soften and become plump as they cook.
What to Serve with Whole Wheat Blueberry Pancakes
There are so many things you can serve with pancakes! Whether you are enjoying these pancakes for breakfast or brunch, you will love how versatile they are.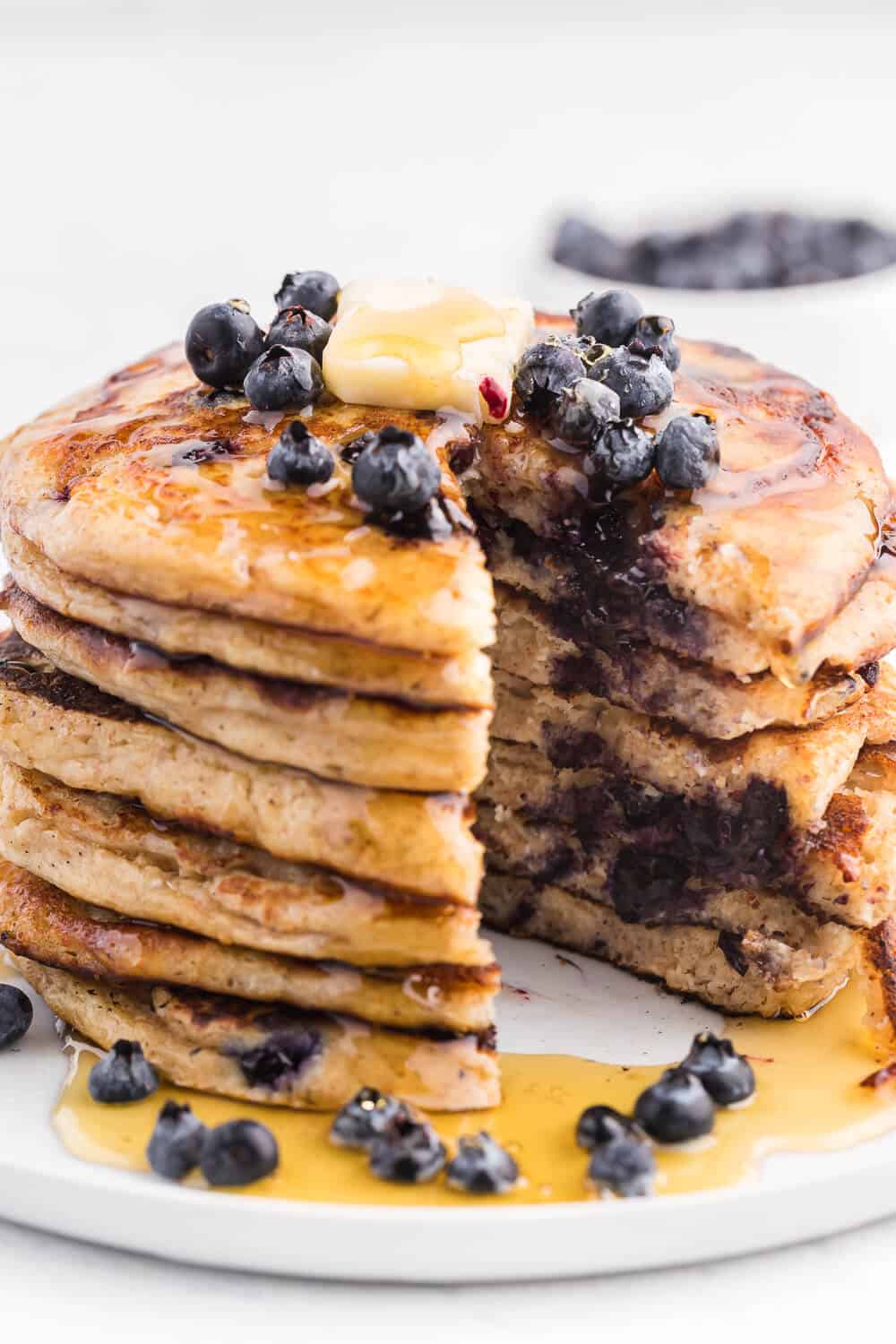 More Breakfast Recipes You'll Love
Do you have any amazing pancake recipes? I'm always looking for more recipes to try! Follow me on Instagram @simplystacieblog, on Facebook at Simply Stacie, and on Pinterest @SimplyStacie and let me know how you liked this and my other recipes!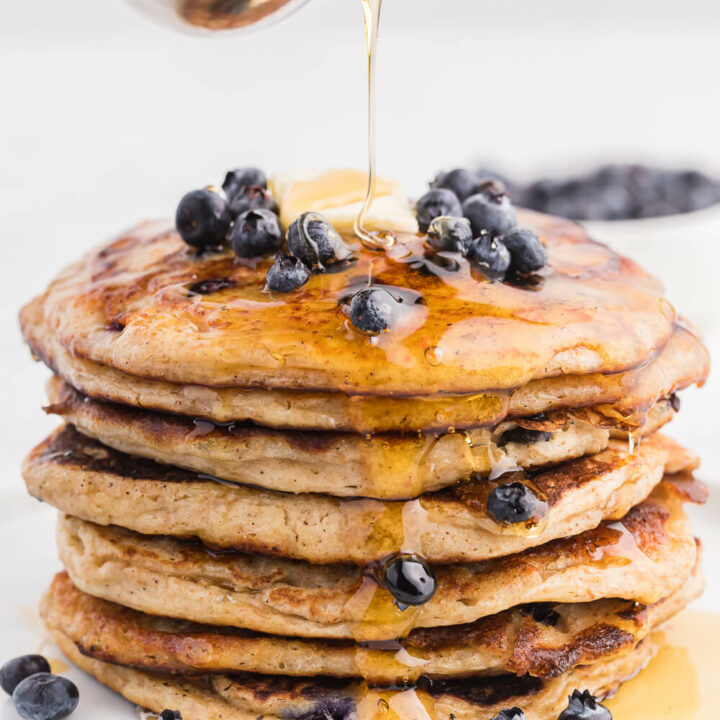 Whole Wheat Blueberry Pancakes
Blueberries are a wonder food, packed with fibre and antioxidants. Mixed into a light and fluffy whole wheat batter, these are a great way to add some extra nutrition without sacrificing delicious flavour.
Ingredients
1½ cups whole wheat flour
1 ½ teaspoon sugar
2 teaspoons baking powder
½ teaspoon baking soda
1 teaspoon nutmeg
1 ½ cups ricotta cheese
2 eggs
1 cup buttermilk
1 teaspoon lemon juice
1 cup fresh blueberries
1 tablespoon vegetable oil
Instructions
Mix together the flour, sugar, baking powder, baking soda and nutmeg in a small bowl.
In a separate bowl mix together, ricotta cheese, eggs, lemon juice and buttermilk.
Add wet mixture to dry mixture and stir to combine.
Add oil to a pan on the stovetop over medium heat. Add a scoop of batter (about ¼ to ½ cup depending if you like your pancakes big or small) to the pan and drop blueberries on top of each pancake.
Flip the pancakes over once the pancake starts to bubble. Cook for an additional 2 minutes or until cooked to your preference. Repeat this process until the pancake batter is gone.
Top pancakes with fresh blueberries or maple syrup.
Recommended Products
As an Amazon Associate and member of other affiliate programs, I earn from qualifying purchases.
Nutrition Information:
Yield:

8
Serving Size:

1
Amount Per Serving:
Calories:

202
Total Fat:

8g
Saturated Fat:

3g
Trans Fat:

0g
Unsaturated Fat:

4g
Cholesterol:

62mg
Sodium:

323mg
Carbohydrates:

24g
Fiber:

3g
Sugar:

4g
Protein:

11g