Soft, moist Banana Nut Muffins are a go-to recipe in our home. We love the sweet paired with the nice crunch from pecans. A great snack, mid-day treat, or breakfast for on the go! This Banana Nut Muffins recipe is full of banana flavor and a nice crunch from the nuts.
This is a family favorite recipe that can be made year round. It's a nice, healthy, yet a sweet, treat that everyone… including kids, can enjoy! We make this quite often, and they always get gobbled up in a hurry!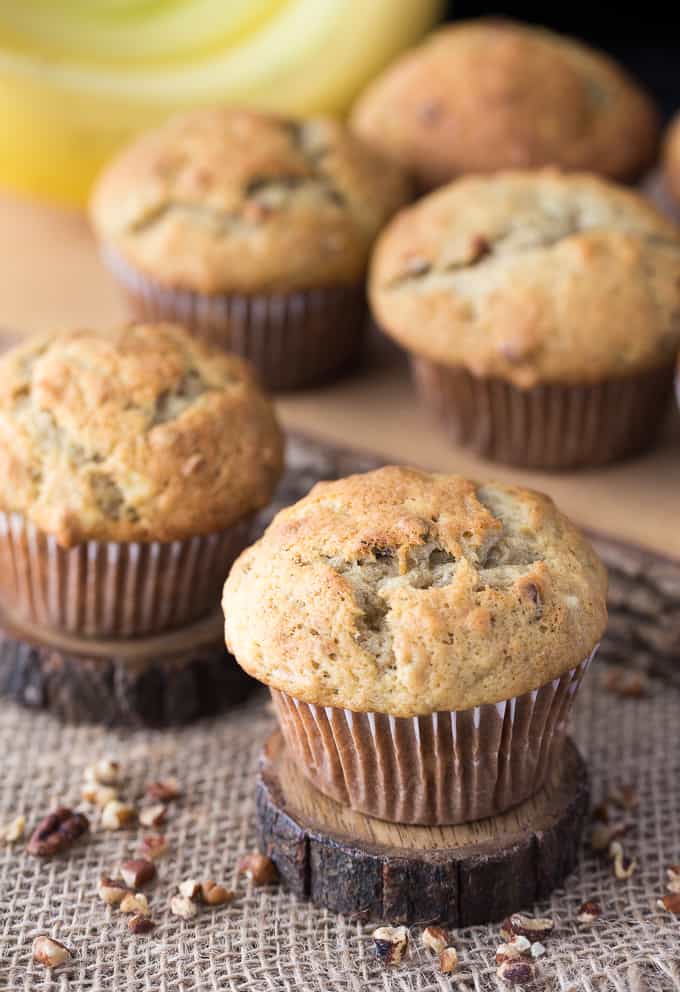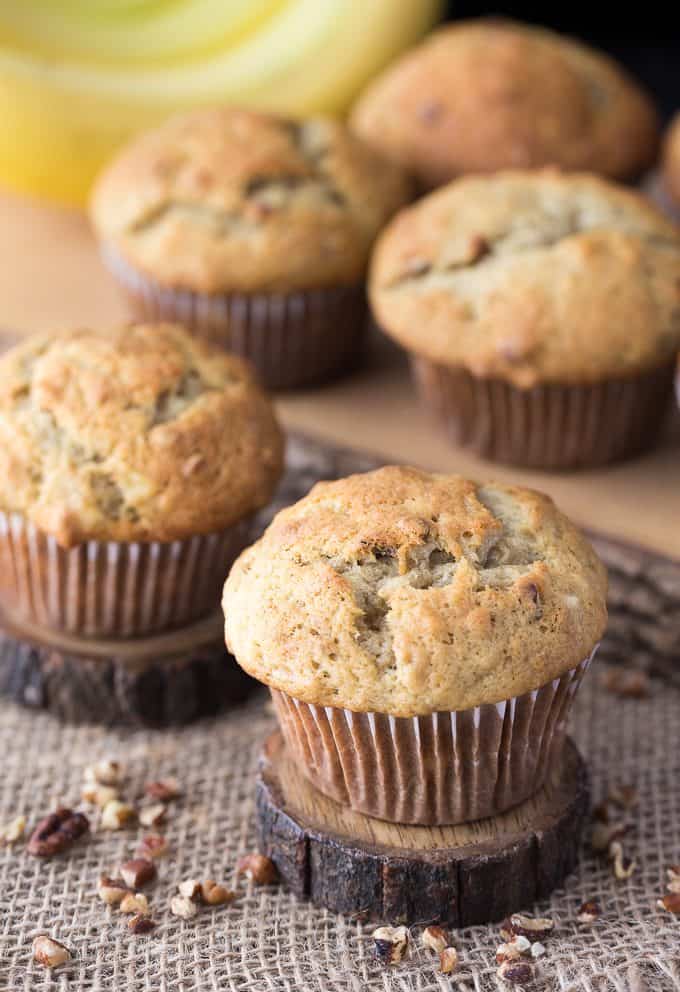 The Best Banana Nut Muffins
The beauty of the recipe is you can skip the nuts, use pecans, or even walnuts. Make your banana muffins regular size, mini, or go for a jumbo size. Just vary the baking time for the size of muffin you are cooking!
What Do You Do With Overripe Bananas
When we have overripe bananas sitting around, we always make sweets. Whether it be these banana nut muffins or another type of banana dessert. Let me share some of our favorites!
Do you sense a trend here? We love bananas in our home, but as much as we love them, they go bad quick. So I have tons of banana inspired recipes on my site for you all to enjoy and whip up.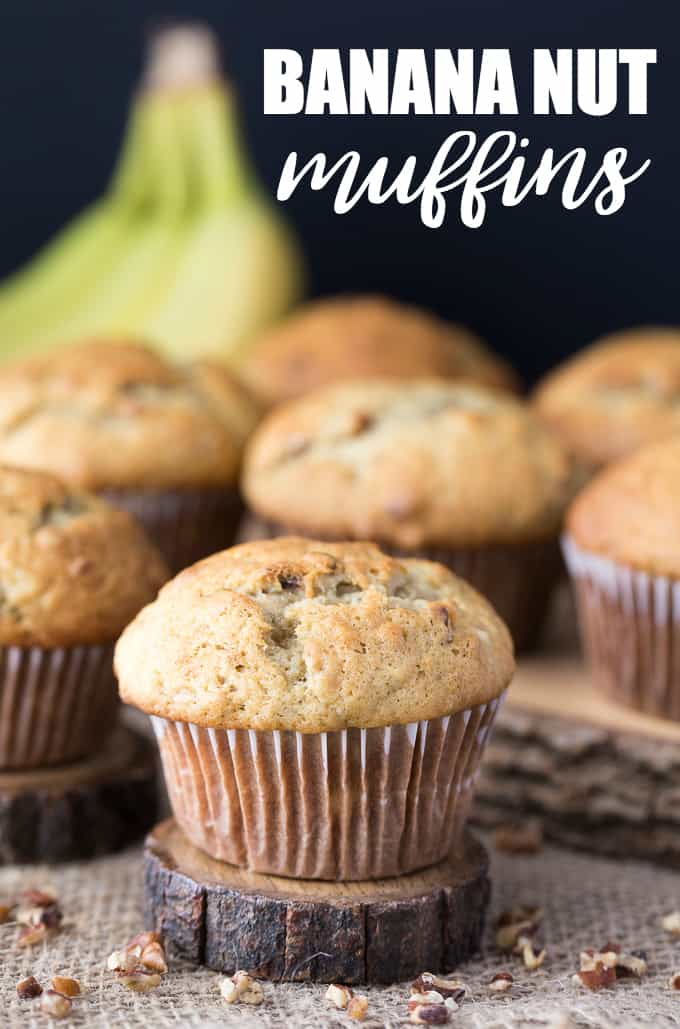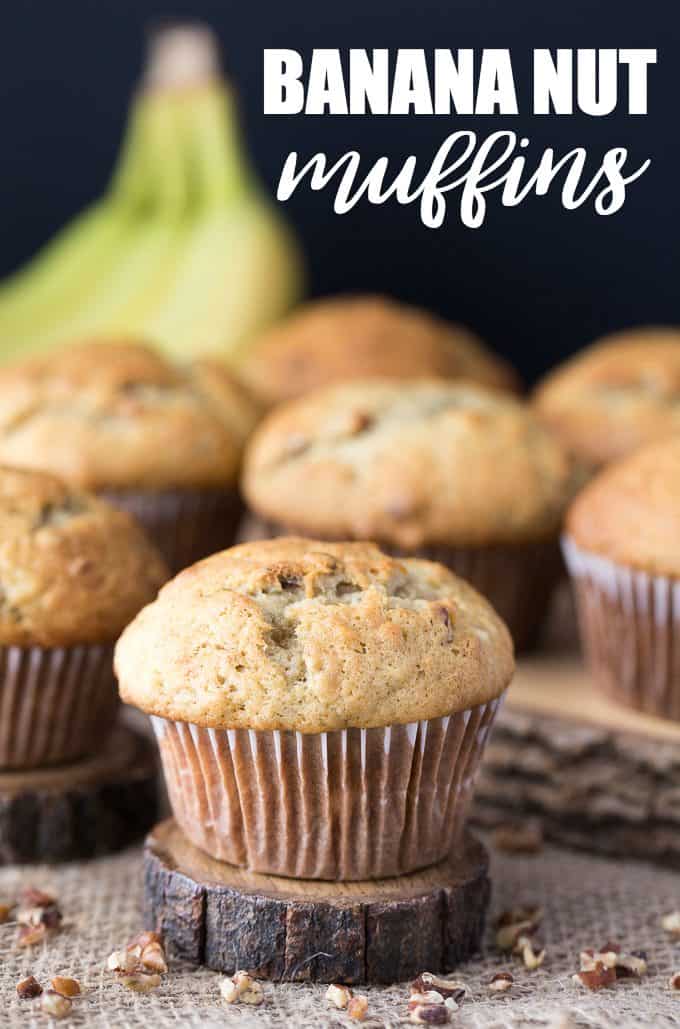 Can I Eat a Banana with Brown Spots
Brown spots are a sign of your banana ripening through each stage. Brown spots generally mean that they are close to going bad, and offer a stronger and sweeter banana flavor. A lot of times people will use these speckled bananas for making banana desserts, as it brings out more flavor.
If you use an under-ripe banana, you will find your banana muffins, bread, etc lack banana flavor.
Best Way to Ripen Bananas
Don't want to wait for your bananas to ripen naturally? That is okay, I got you covered! Take a knife and poke holes in the peel of an unpeeled banana. Then toss it in the microwave and heat it up for 30 seconds, repeat the process until your banana becomes ripe and soft.
This method will bring out the natural flavors in the banana, so you can get that ripe banana flavor without waiting days for your bananas to ripen on their own.


How to Make Banana Nut Muffins
Start with a preheated oven, and then grab a bowl to mash up your bananas. Add in the sugar and mix until combined.
Then pour in the melted butter, eggs, and vanilla and beat until blended. Add in your dry ingredients, and pour into muffin tins. I fill about 1/2 way full, as the muffins will rise as they cook. Bake for around 18-20 minutes.
How to Know When Banana Muffins Are Done
I always take a toothpick and stick it in the center of the muffin and if it comes out clean you know your muffins are done. You don't want any dough to come up when you pull the toothpick out.
Best Way to Store Banana Nut Muffins
I personally put our muffins in an airtight container. They will last 3-5 days on the counter. After a few days, you will find they begin to dry out. If you want you are welcome to freeze them, I share how below.
Freezing Banana Nut Muffins
Banana Nut Muffins freeze so well. I have done this almost every single time we baked them. Just take what you won't eat, and place in an airtight container or freezer bag. Toss in the freezer for two to three months. When done just thaw on the counter and serve them up.
Or if you are impatient like me, warm them up for a few seconds in the microwave for that fresh out of the oven taste.
So there you have it, a quick and easy Banana Nut Muffin that is calling your name. Make these for your next playdate, treat for coworkers or brunch. No matter when or how you serve up these banana muffins, I am sure you will get tons of compliments. This will instantly become a new family favorite recipe, I am sure of that.
Have you made Banana Nut Muffins at home before?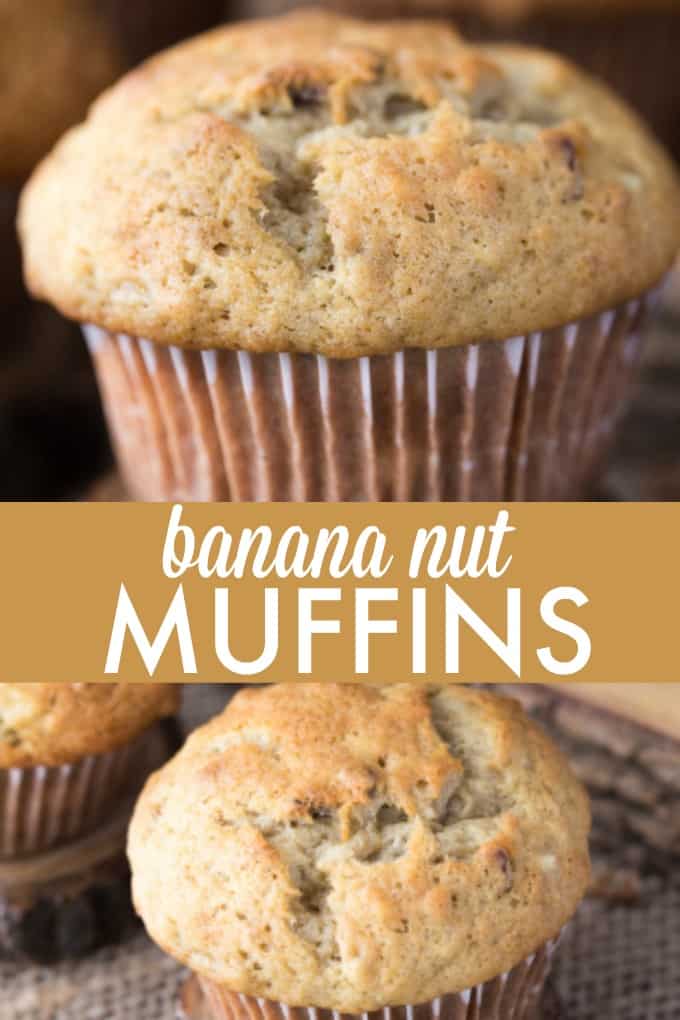 You'll also like these Pina Colada Muffins.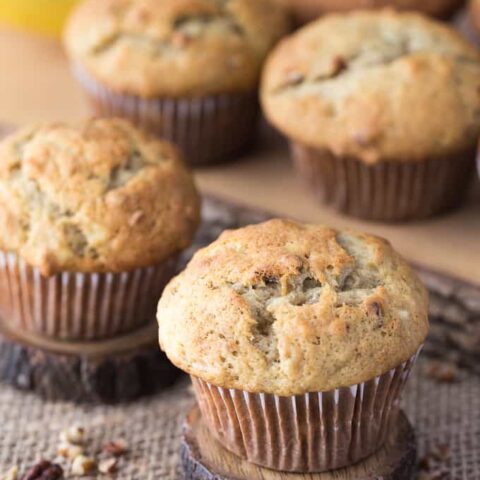 Banana Nut Muffins Recipe
A classic banana muffin that you can make with or without nuts. These muffins are moist and full of banana flavour, making them a go-to snack and lunch box favourite.
Ingredients
4 bananas
2 cups flour
1 ½ tsp baking soda
½ tsp salt
1 cup brown sugar
2 eggs
¾ cup unsalted butter, melted and cooled
1 tsp vanilla extract
½ cup chopped pecans or walnuts
Instructions
Preheat oven to 375 degrees and grease muffin tins. In a medium bowl, combine flour, baking soda, and salt.
Mash bananas with a fork in a small bowl. Combine the bananas and sugar. Add the melted butter, eggs, and vanilla, and beat for another minute. Mix in the dry ingredients. Fold in the nuts. Fill muffin tins halfway. Bake 18-20 minutes.
Recommended Products
As an Amazon Associate and member of other affiliate programs, I earn from qualifying purchases.
Nutrition Information:
Yield:

18
Serving Size:

1
Amount Per Serving:
Calories:

211
Total Fat:

11g
Saturated Fat:

5g
Trans Fat:

0g
Unsaturated Fat:

5g
Cholesterol:

41mg
Sodium:

182mg
Carbohydrates:

27g
Fiber:

1g
Sugar:

13g
Protein:

3g