If you are a fan of cheese tortellini, you have to give this Santa Fe Chicken Tortellini Casserole recipe a try. It is the ultimate casserole recipe, that is loaded with tender tortellini, veggies, in a creamy sauce with chicken throughout. The ultimate comfort food recipe to make.
With the cold weather, I've been craving comfort food. I know it's not the best thing to be eating when you're dieting, but I figure I'm too cold to care. This recipe for Santa Fe Chicken Tortellini Casserole is fairly straightforward to make (though there's some prep work) and really hits the spot.

This post contains affiliate links.
It's one that comes from my mom's Betty Crocker Cookbook that has been in our family for a number of years. I always love finding recipes like this that truly transform your mealtime at home. I highly recommend checking out this cookbook, it is loaded with fantastic recipes.
Can I Change Out Vegetables In Chicken Tortellini Casserole
It's very versatile and you can change up the veggies with what you have on hand or what is in season! I have used zucchini before and that was a fantastic switch. Cauliflower, diced carrots are both great options as well. Feel free to play around with what fits your tastebuds.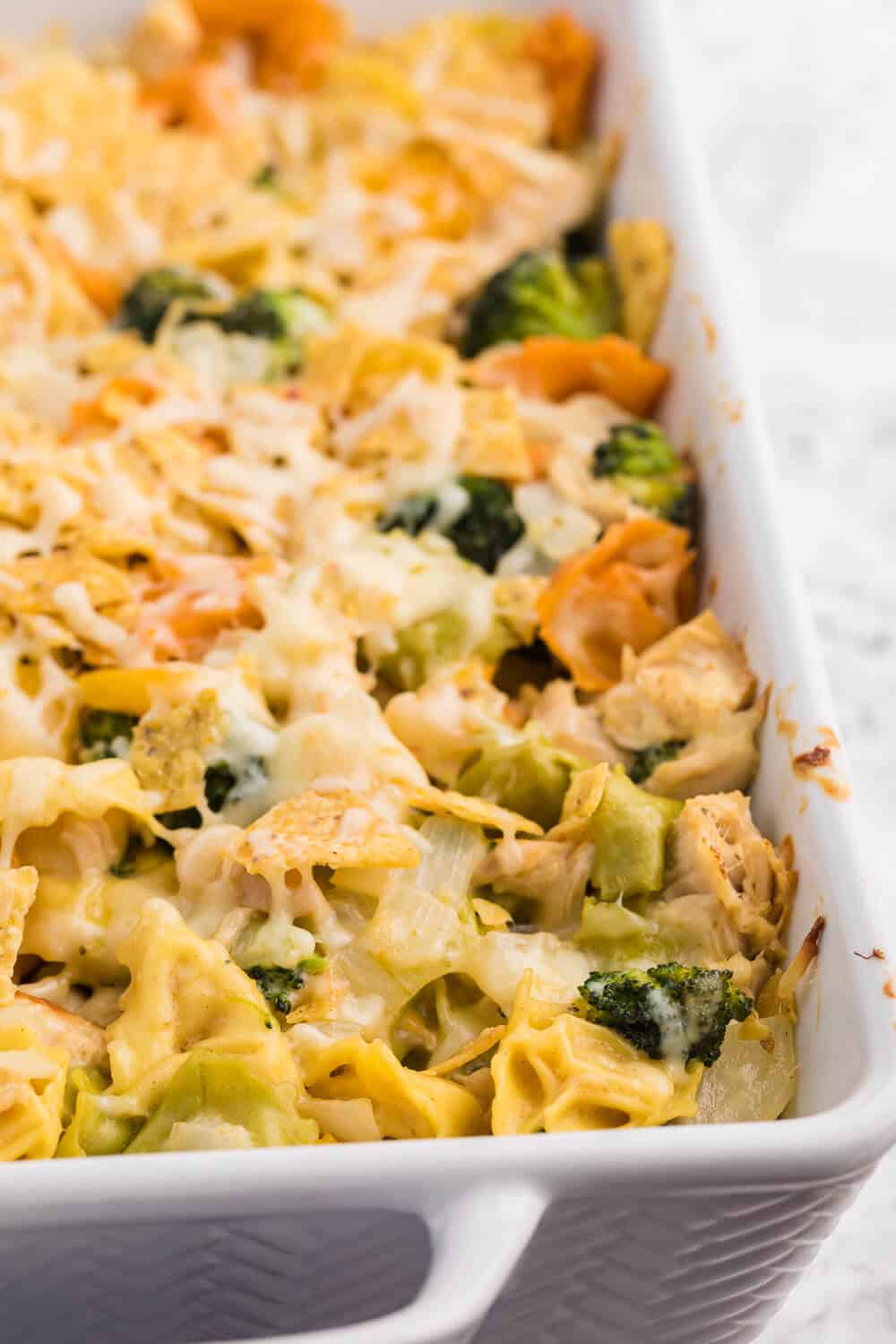 Can You Use Cream Instead of Milk in Tortellini Casserole
You bet! The cream will add an extra measure of richness to the dish. Just use the same amount the recipe calls for. Enjoy! I have used both, it just depends on what I have on hand at the time.
What Can I Use in Place of Tortilla Chips
If you don't have tortilla chips on hand or maybe don't like them, you can use crushed up crackers, plain chips, or even bread crumbs. The tortilla chips give this dish that Santa Fe flavor, but it doesn't have to be used in the recipe.
Is Santa Fe Chicken Tortellini Casserole Spicy
The cumin gives it a kick of flavor, but this dish is not spicy. There are always requests for second helpings! If you want to amplify the flavor you can always add in some spice. Whether cayenne seasoning, a splash of hot sauce, etc.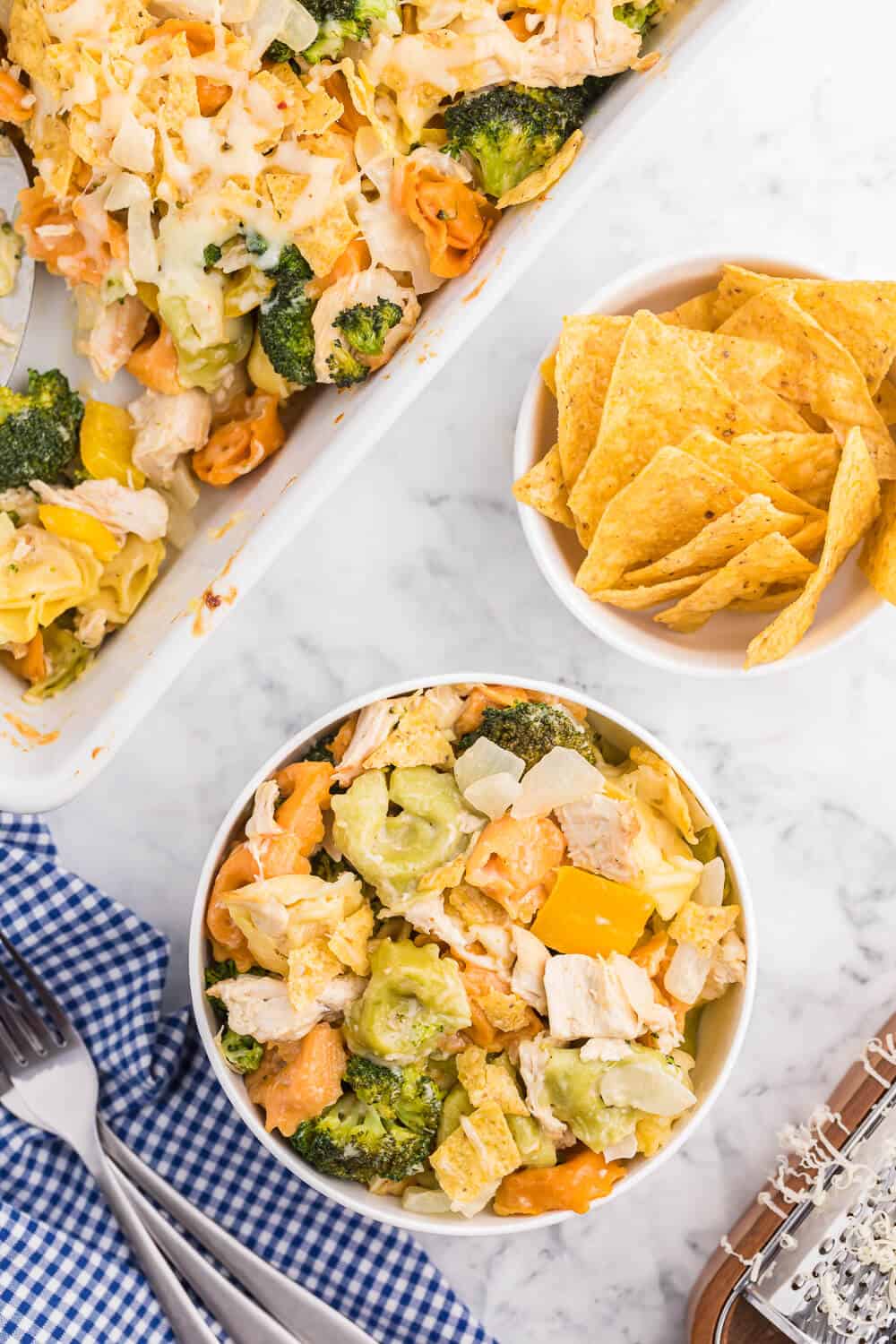 What to Serve with Santa Fe Tortellini Casserole
Green Salad | We generally reach for a classic side salad with a light dressing. Add whatever toppings you want and dive in. Or if you want do a southwest chopped salad for more Santa Fe flair.
Bread | If you want to elevate the comfort food flavor, pair some bread with your dish. Whether dinner rolls, crusty bread, or even garlic bread.
Veggies | I know there are vegetables in the dish, but you can always add even more with a side of roasted or steamed veggies.
How to Make Santa Fe Tortellini Casserole
Start by heating your skillet with oil and sauteing your onions, broccoli, and pepper for around five minutes. You want them to get tender and fragrant. Remove all the veggies on a plate.
In the same skillet, you then add in oil, flour, and mix to create a roux. Once it is smooth slowly add in your milk and chicken broth along with cumin. Heat until it begins to boil, and make sure to stir constantly. Once it boils you can remove from heat. Then toss in your chicken, cooked vegetables, 3/4 cup cheese, and your pasta. Stir and then pour into a 9×13 baking dish.
Bake for 25 minutes. Then remove and top with crushed tortilla chips, rest of cheese and bake an additional 5 minutes. Serve hot!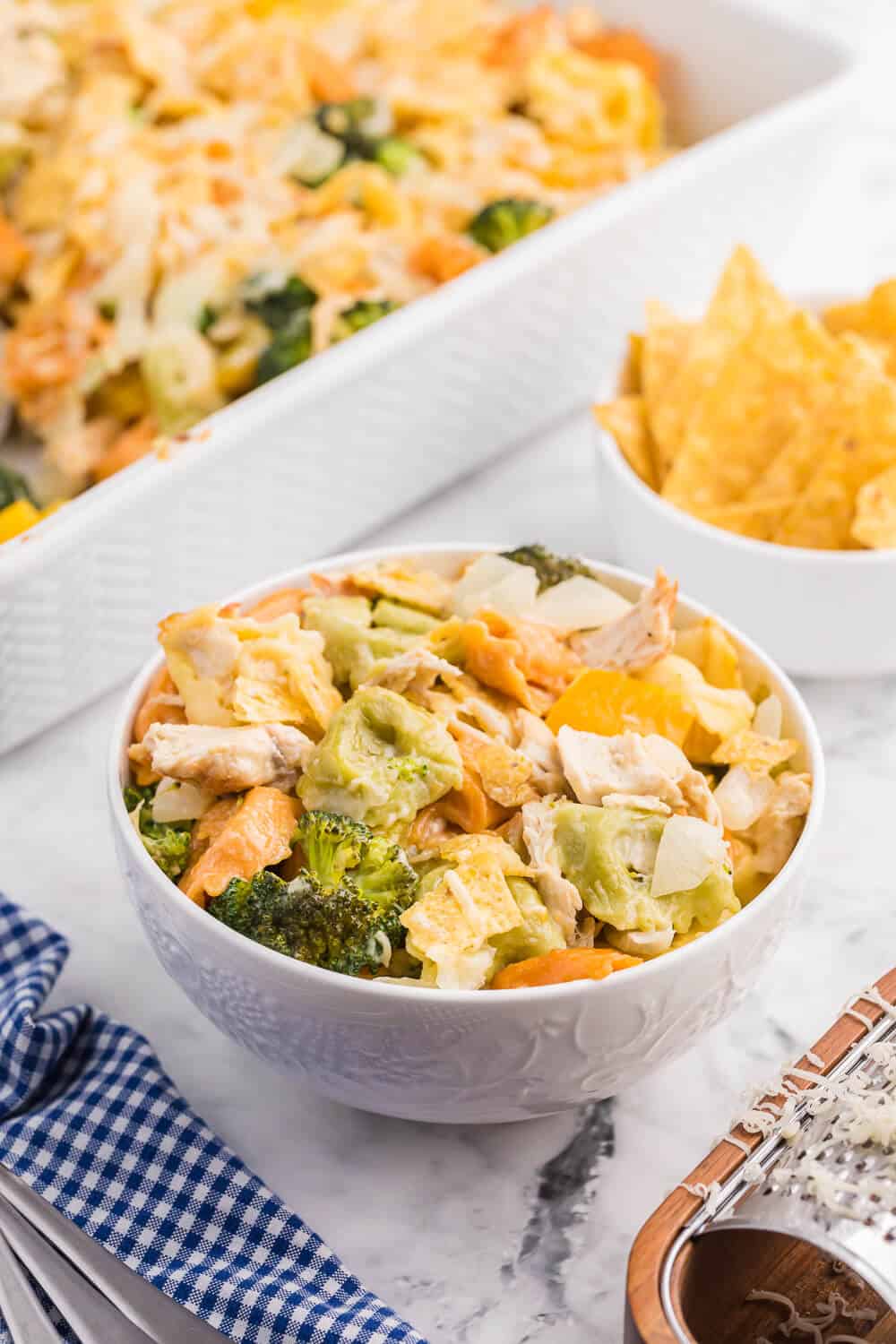 How to Store Leftover Casserole
You can keep this casserole in the refrigerator for up to three days. Anything after that use your best judgment in terms of if it has gone bad or not.
Best Way to Reheat Santa Fe Casserole
You can either heat in the microwave or opt for the oven. If you heat in the oven, make sure to cover the baking dish so it doesn't dry out the casserole as it cooks. I just keep it covered the entire time it cooks. Once warmed all the way through, serve and enjoy.
Can You Freeze this Tortellini Casserole
You can freeze this recipe. Simply assemble as you would, leaving off the tortilla chips and added cheese. Then toss in the freezer for up to three months. Thaw in the fridge the night before you plan to eat. Then warm up in the oven as I recommend above or heat in the microwave.
You'll also like this Doritos Casserole.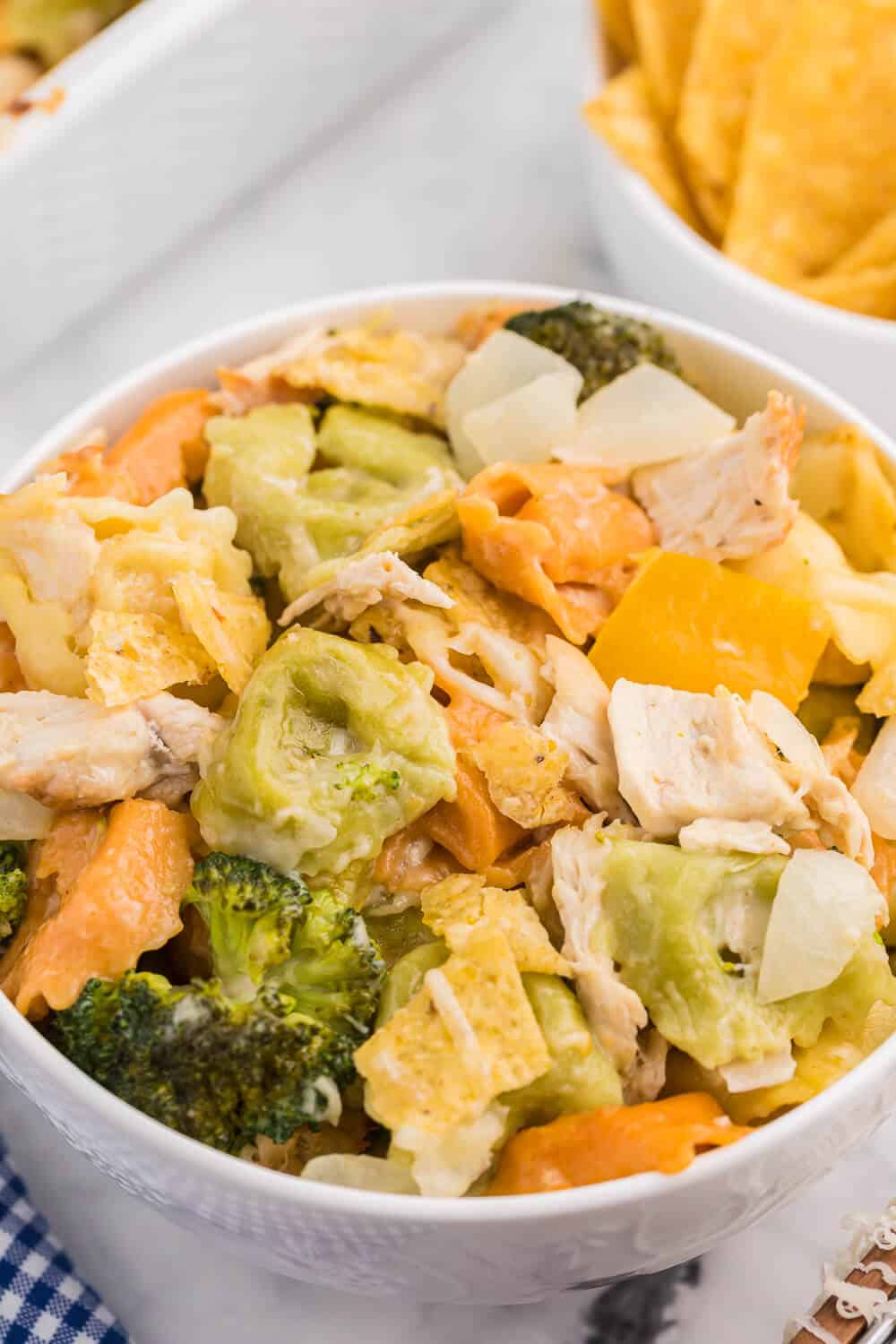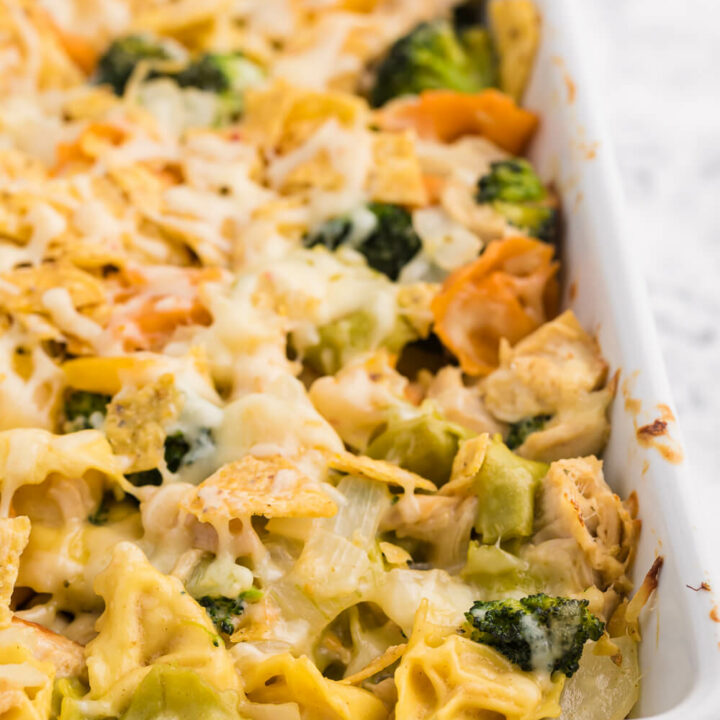 Santa Fe Chicken Tortellini Casserole
Tortellini pasta with veggies and chicken enveloped in a creamy sauce and topped with crunchy tortilla chips. An easy family dinner recipe ready in under 1 hour.
Ingredients
2 cups tortellini, uncooked
3 tablespoons extra virgin olive oil
1 broccoli, cut into flowerets
1 onion, chopped
1 yellow pepper, chopped
3 tablespoons all-purpose flour
¾ cup milk or cream
¾ cup chicken broth
1 teaspoon cumin
2 boneless, skinless chicken breasts, cooked and chopped
1 cup Monterey Jack cheese, shredded
½ cup tortilla chips, crushed
Instructions
Cook tortellini according to package directions. Drain and set aside.
Heat 1 tablespoon olive oil in a skillet over medium high heat. Sauté onions, broccoli and yellow pepper for about 5 minutes until onions are softened and broccoli is tender-crisp. Remove veggie mixture and set aside.
In the same skillet, add 2 tablespoon olive oil and flour and mix together over, low heat until smooth. Add in milk (or cream), chicken broth and cumin and stir. Heat to boiling over medium heat, stirring constantly. Remove from heat.
Add chicken, veggie mixture, ¾ cup cheese and pasta to the sauce mixture and mix together. Transfer mixture to a greased 9×13 baking dish.
Bake, uncovered, for 25 minutes in a pre-heated 325°F oven. Spread tortilla chips and ¼ cup cheese on top of casserole and return to oven for an additional 5 minutes or until cheese is melted. Let cool 5 minutes and serve hot.
Nutrition Information:
Yield:

6
Serving Size:

1
Amount Per Serving:
Calories:

318
Total Fat:

18g
Saturated Fat:

7g
Trans Fat:

0g
Unsaturated Fat:

10g
Cholesterol:

65mg
Sodium:

343mg
Carbohydrates:

17g
Fiber:

1g
Sugar:

1g
Protein:

22g