Disclosure: I am participating in the Chicken Farmers of Canada campaign managed by SJ Consulting. I received compensation in exchange for my participation in this campaign. The opinions on this blog are my own.
I know I shared a healthy chicken recipe in January, but February is all about LOVE. And for me, love is comfort foods! They fill your belly and warm your soul. Nothing wrong with a little moderation, right?
Since we are talking about love, I must say I do LOVE Canadian chicken for several reasons. Yes, it's delicious and versatile. Chicken can be used in so many ways and I frequently share chicken recipes here on the blog. I should also point out that Canadian chicken comes from our hardworking Canadian farmers with 90%+ being family owned and operated. When you buy Canadian chicken, you know you are getting a product of the highest quality. Canadian chicken farmers must follow a strict and mandatory auditable Animal Care Program to ensure the highest standards of animal care are upheld.
I always look for the Raised by Canadian Farmer mark on my chicken. Some stores don't have it yet so I encourage you to speak to the store managers about it. Let them know that it matters to you to know where your chicken comes from. In my area, Walmart is the only store that I've seen that has it so far.
Canadian chicken is the star of this mouthwatering dinner recipe: Chicken Cordon Bleu Casserole. I love Chicken Cordon Bleu, but don't make it often. I think it's a bit too fussy for me. The casserole version isn't though. It's a throw everything together kinda recipe that turns out beautifully.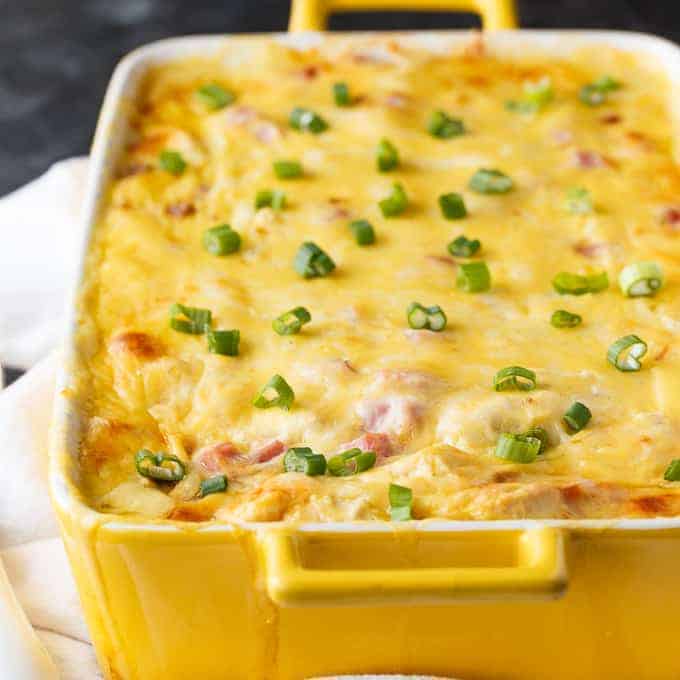 It has everything I love about Chicken Cordon Bleu without all the fuss. If you love easy recipes that are filling and comforting, this one is for you.
The recipe uses cooked chicken so it's a great option when you have leftovers. If not, just pop some chicken breasts in the oven or even boil them! I boiled mine to make this recipe. First timer here and they turned out great!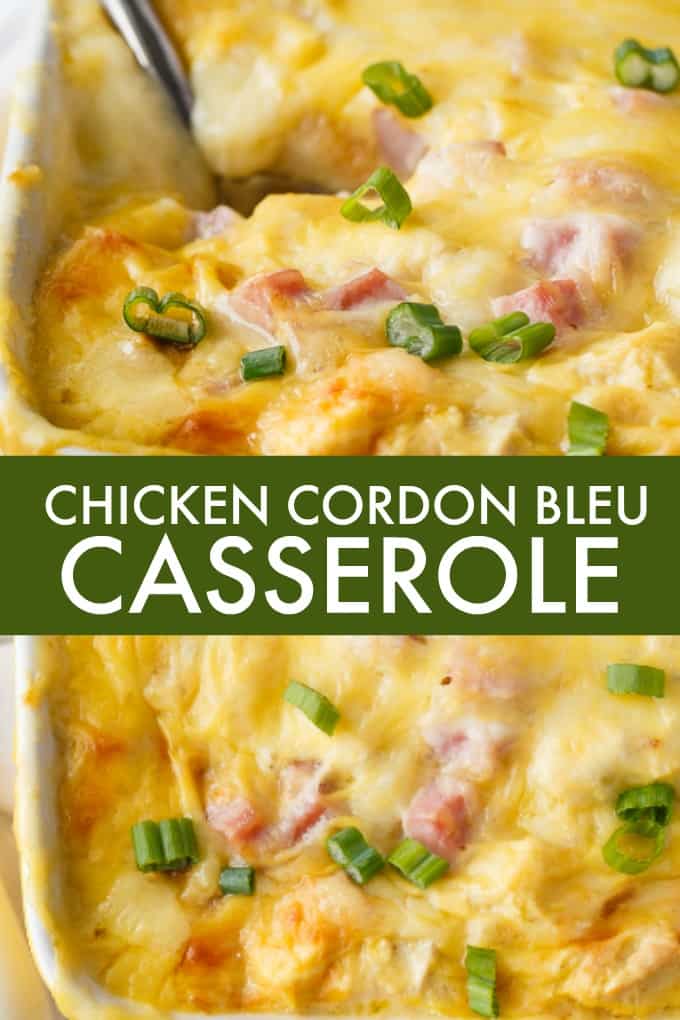 I love how rich and satisfying this recipe is. I didn't have any room for dessert after eating it! It's a keeper.
You might also like this Chicken Broccoli Biscuit Bake, Santa Fe Chicken Tortellini Casserole, Baked Chicken Parmesan, Impossible Chicken Pie, Chicken Broccoli Casserole or Peach Chicken.

Connect with the Chicken Farmers of Canada on Facebook, Twitter, Instagram and Pinterest.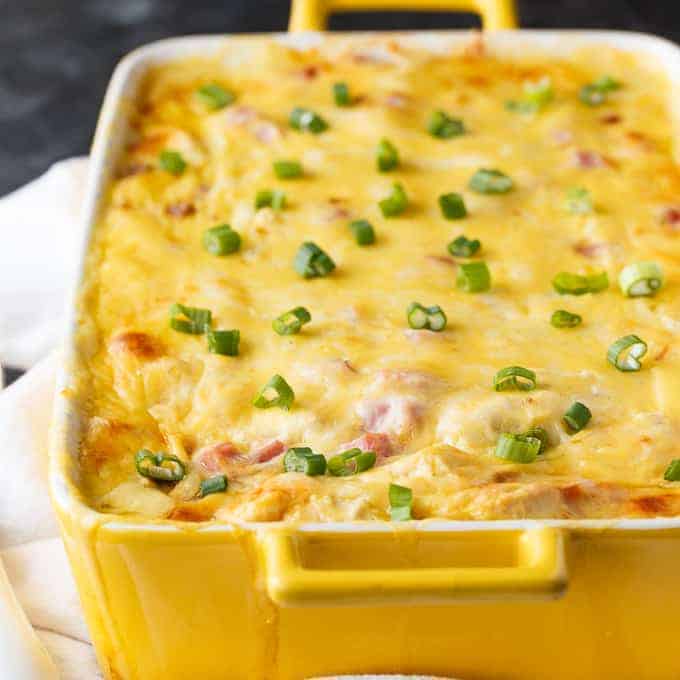 Chicken Cordon Bleu Casserole
Bake Time:
1 hour
30 minutes
Total Time:
1 hour
45 minutes
This recipe brings all the classic flavours of Chicken Cordon Bleu without the fuss! It's the perfect way to use leftover chicken, and when paired with Swiss cheese and bread, it is a comforting, easy and delicious meal.
Ingredients
2 celery stalks, chopped
1 onion, chopped
1/4 cup butter
2 eggs
2 cups milk
1/2 loaf white bread, cubed
3 cups cooked ham, chopped
2 chicken breasts, cooked and chopped
4 cups Swiss cheese, shredded
1 can cream of chicken soup
1/2 cup milk
3 green onions, chopped, for garnish, if desired
Instructions
Preheat oven to 300F.
Melt butter in a frying pan over medium heat. Add onions and celery and saute until softened, about 5 to 6 minutes. Set aside.
Stir together eggs and 2 cups of milk. Mix with bread cubes. Stir in celery and onion mixture. Set aside.
Mix cream of chicken soup and 1/2 cup of milk in a small bowl. Set aside.
In a 9×13 casserole dish, spread half the ham, chicken and Swiss cheese. Spread bread mixture on top. Spread the rest of the ham, chicken and cheese next. Pour cream of chicken soup mixture on top.
Bake for 1 1/2 hours, uncovered. Serve hot.
Recommended Products
As an Amazon Associate and member of other affiliate programs, I earn from qualifying purchases.
Nutrition Information:
Yield:

6
Serving Size:

1 bowl
Amount Per Serving:
Calories:

776
Total Fat:

36g
Saturated Fat:

18.9g
Trans Fat:

0.1g
Unsaturated Fat:

14.4g
Cholesterol:

261mg
Sodium:

1248.3mg
Carbohydrates:

37.7g
Fiber:

1.4g
Sugar:

8.1g
Protein:

72.4g