Disclosure: I am participating in the Chicken Farmers of Canada campaign managed by SJ Consulting. I received compensation in exchange for my participation in this campaign. The opinions on this blog are my own.
Skewer or Kebab? Is there a difference? I don't think so. It's whatever your preference is or what you feeling like calling it that day! It's basically meat and/or veggies you put on a stick (metal or wooden). I make skewers year round. In the winter months, I bake them in the oven. In the summer, it's barbecuing time all the way! Skewers taste a million times better on the BBQ, in my opinion. Let me rephrase that. Just about everything tastes better grilled on the BBQ! If summer had a taste, it would be BBQ flavoured.
Chipotle Chicken Skewers
This recipe for Chipotle Chicken Skewers is grilled perfection on a stick. The chicken is marinated in a spicy, flavour-packed chipotle sauce. Add your choice of veggies like peppers and squash and fire up your grill. The final result will make your mouth water, I promise!
I eat my skewers by pulling off all the chicken and veggies and then eating them with a fork on my plate. Others may pick up the skewer and nibble on the meat and veggies. There is no right or wrong way to eat them. Just enjoy 🙂
If you are looking for more yummy chicken recipes, make sure to download the Shopping with Chicken app. It also will help you plan your grocery list.
We eat lots of chicken here for a couple different reasons. The main one being that chicken is delicious and healthy. My family gobbles it up 🙂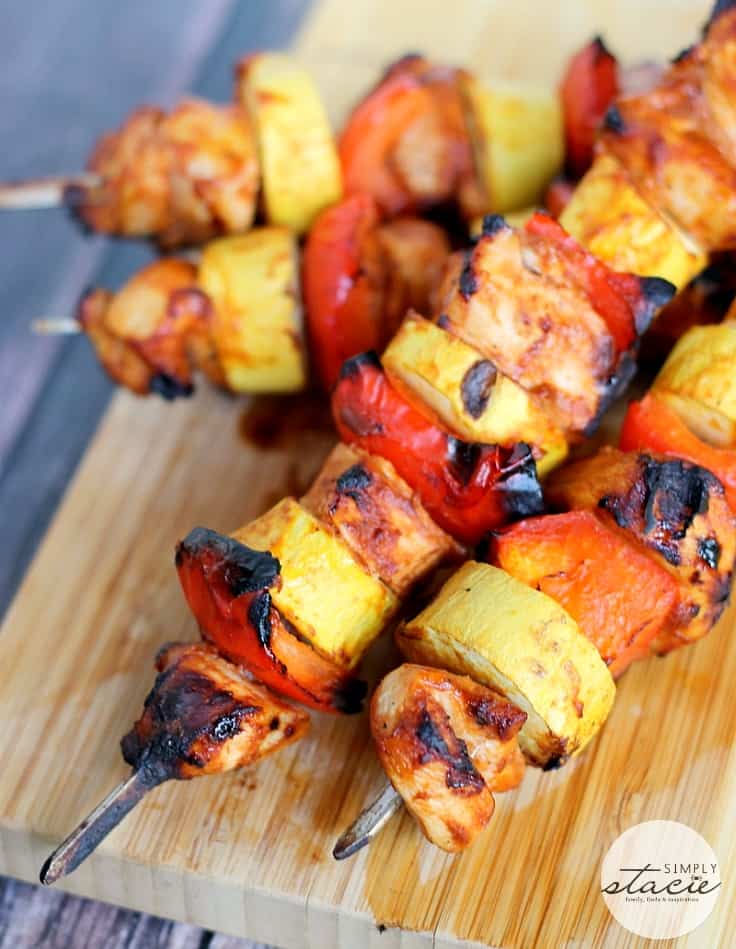 The second reason is the cost. When I'm at the store getting groceries, chicken is the most economical option in the meat aisle. It makes good budget sense for me to buy it. Side note – I recently learned that we, as consumers, have a lot in common with chicken farmers in that neither of us benefit from high food prices. Farmers do not set the prices; the restaurants and retailers do. Take a look at this post that explains the farmer's share – it's very eye opening!
Another big reason is that I like supporting Canadian chicken farmers. I prefer to "keep it local" and consume Canadian products. I read labels at the grocery and I check where the food comes from. I'm way more likely to buy the item if I see it is from Canada vs. a far away foreign country. It's important to me as it is to many of my fellow Canadians. I know the high standards of quality that Canadian chicken farmers follow. Awhile back I wrote a post about the Raised by a Canadian Farmer logo and what it means and why you should look for it at stores.
You'll also like these Burnt Ends.
For recipes, articles and more background on our amazing Canadian chicken farmers, please visit Chicken.ca.
Connect with Chicken Farmers of Canada on Facebook, Twitter, Instagram and Pinterest. Also follow @TheInsideCoop to keep up-to-date with Canada's hard working chicken farmers.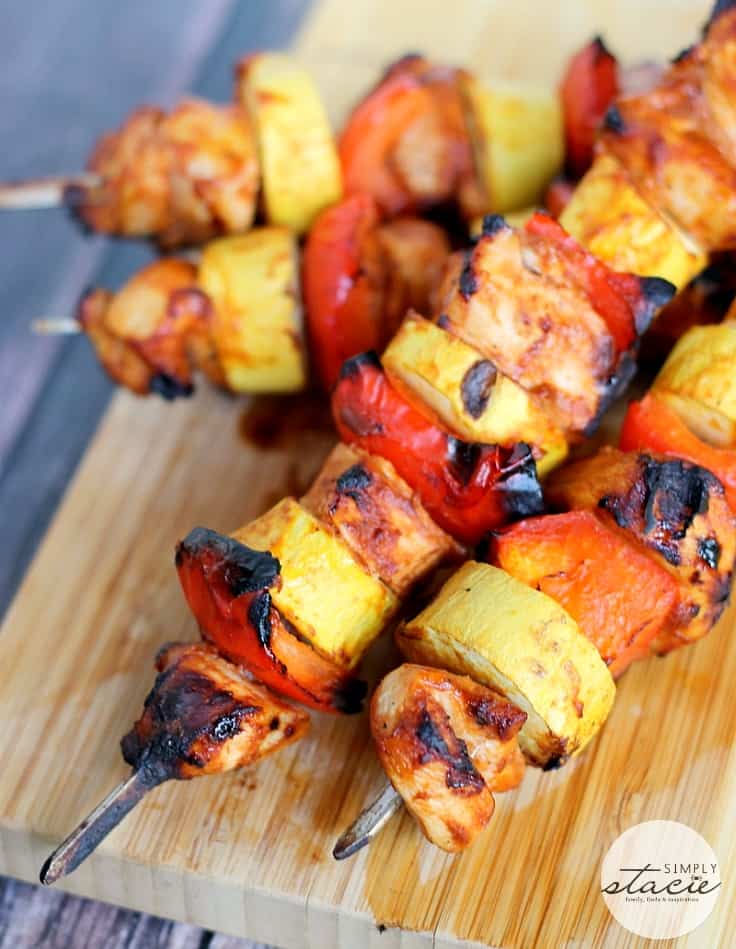 Chipotle Chicken Skewers
The best summer barbecue recipe! Juicy chicken surrounded by peppers, chipotle chiles, squash and charred to perfection.
Ingredients
1 1/2 pounds boneless skinless chicken breasts (3-4 breasts), cut into 1 inch cubes
1 red pepper, cut into bite sized squares
2 yellow squash, cut into 1 inch discs
2 chilies and 2 tbsp sauce from a can chipotle chilies in adobo sauce
1 tbsp olive oil
1 garlic clove, minced
1 tsp paprika
1/4 tsp cumin
1/4 tsp chili powder
1/4 tsp salt
1 tbsp lime juice
Instructions
In the bowl of a food processor, add 2 chilies and 2 tbsp adobo sauce, olive oil, garlic, paprika, cumin, chili pepper, salt, and lime juice. Process for about 30 seconds or until smooth. Use a spatula to transfer the mixture to a large Ziploc bag or medium bowl; add chicken cubes and toss to coat; place into fridge and allow to marinate for at least 30 minutes.
Heat your grill. Taking a metal skewer, add a cube of chicken, piece of red pepper, yellow squash disc, and then repeat until the skewer is full (should have 4-5 chicken cubes per skewer). Repeat for all skewers. Discard remaining marinade.
Spray your grill with non stick spray or brush with oil; add skewers and cook over medium heat with the grill closed for about 5 minutes. turn skewers over and cook an addition 3-4 minutes on the other side (careful, they are hot!). Remove from grill and serve!
Recommended Products
As an Amazon Associate and member of other affiliate programs, I earn from qualifying purchases.
Nutrition Information:
Yield:

5
Serving Size:

1
Amount Per Serving:
Calories:

298
Total Fat:

8g
Saturated Fat:

2g
Trans Fat:

0g
Unsaturated Fat:

6g
Cholesterol:

116mg
Sodium:

268mg
Carbohydrates:

10g
Fiber:

3g
Sugar:

6g
Protein:

44g