Chicken Prosciutto with Mushroom Sauce is one incredible chicken recipe. You have a tender, and juicy chicken breasts smothered in a homemade creamy mushroom sauce, topped with broccoli and prosciutto!
While this dish sounds elegant and extravagant, it truly is so easy to make. You have layers of ingredients, so each bite offers a variety of flavors that compliments each other well. The homemade sauce is what makes this dish stand out from other chicken recipes.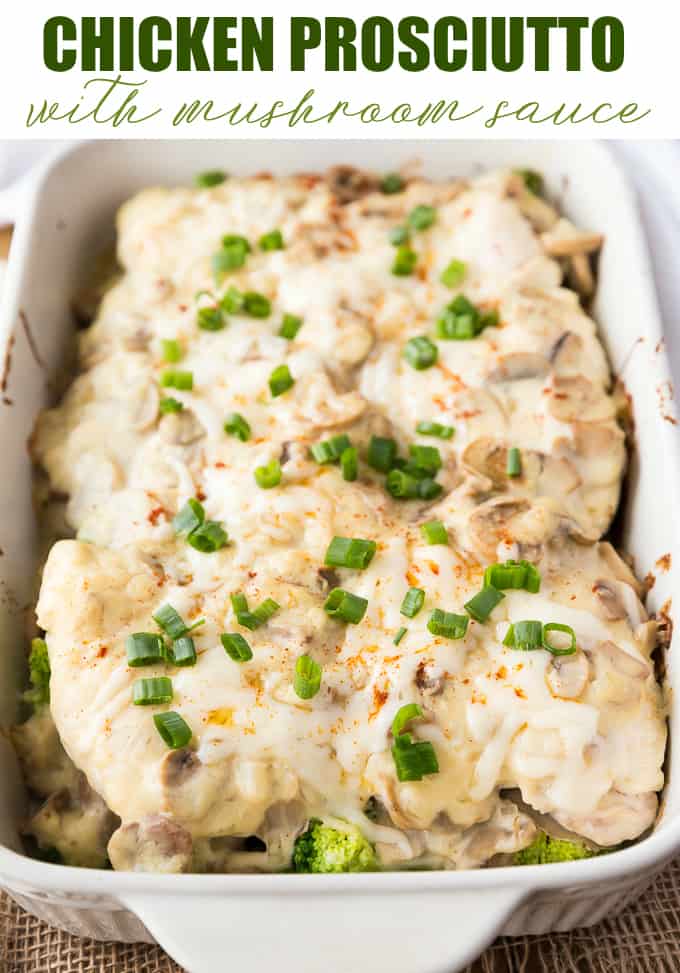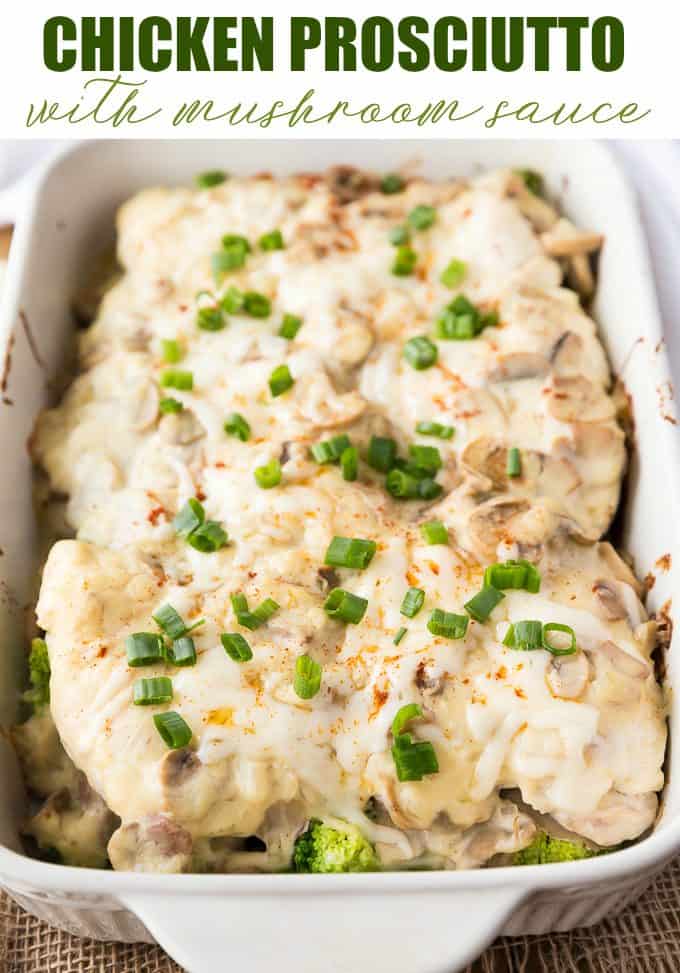 Easy Chicken Prosciutto with Mushroom Sauce
This recipe tastes as it came from a five-star restaurant. Tender chicken smothered with a creamy and tangy sauce. Loads of Swiss cheese, tender broccoli and we can't forget the mushrooms in each bite. This easy chicken recipe is one you will want to make over and over again.
Looking for More Ways to Serve Chicken

Best Cut of Chicken to Use for Chicken Prosciutto
I reached for boneless, skinless chicken breast. Feel free to opt for tenderloins as well. Now, if you want to use a bone-in style chicken, you will need to add some cooking time to your recipe. Bone-in chicken is going to add the time it needs to cook in the oven. So ensure it reaches proper internal temperature before you remove and serve your family or guests.
Can I Swap Out Swiss Cheese for a Different Kind
If you are not a huge fan of Swiss, you could probably swap it out with mozzarella cheese and not have a problem. I love the twang that Swiss cheese brings to the dish, but I understand if you are not a fan. I would simply grate up mozzarella to replace.
What If I Don't Have White Wine for Chicken Prosciutto
If you don't drink wine, or have any on hand, use white wine vinegar mixed with water in replacing. I have used the vinegar route, and it works just as good, and I didn't have to run to the store for a bottle of wine.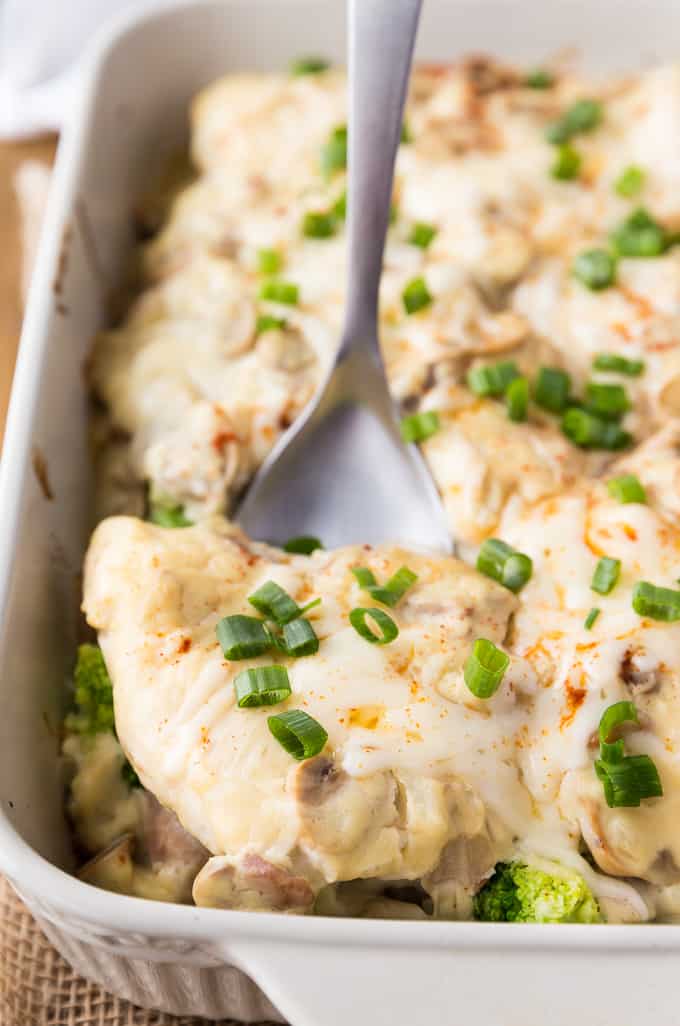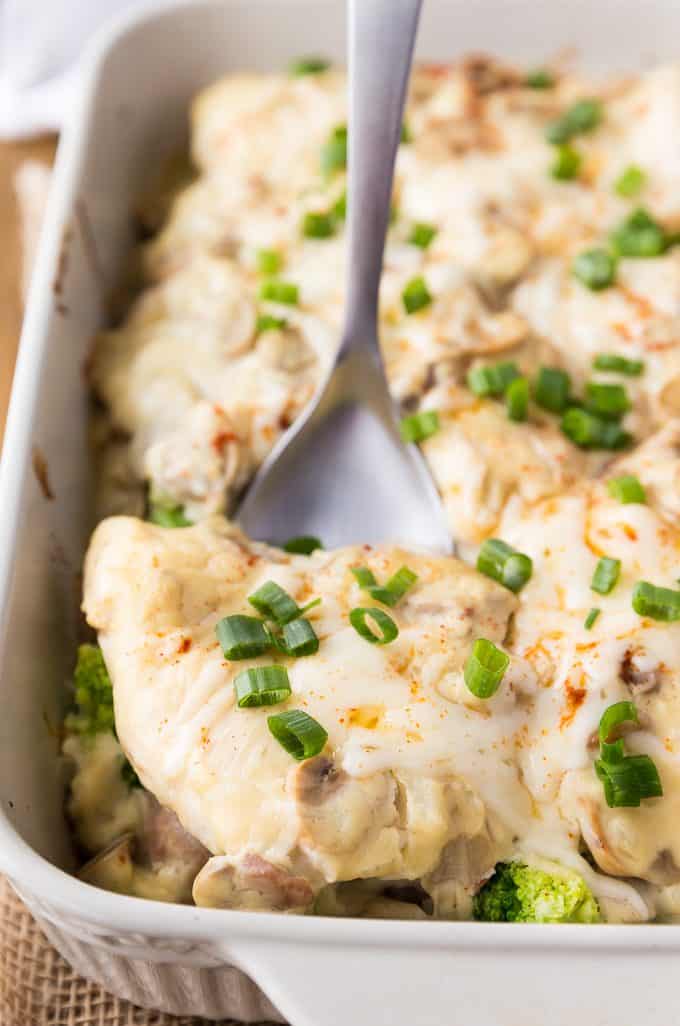 How to Make Chicken Prosciutto with Mushroom Sauce
Start by cleaning your chicken and then cutting them in half, so it makes six servings. If you don't use chicken breast, you can swap for tenderloins as well.
You will then heat a skillet with butter, and fry the chicken on both sides browning it. Just don't cook too long or it will make the chicken pretty tough. You want to sear the outside of the chicken. Once done remove chicken and set aside.
Then in the same skillet add in butter and onions and cook until translucent and fragrant. Then remove from the pan and make your mustard gravy. Add in flour, stock, wine, and mustard. Cook on low until you find your sauce is thickening. Then add in your drained mushrooms and grated Swiss cheese. Once all the cheese is melted, turn off and remove from heat.
Then in your dish, add a layer of broccoli over the bottom, followed by a layer of sauce. Add in prosciutto and top with more sauce, followed by the chicken. Then cover the chicken with the rest of the sauce and bake until your dish is done.
Does My Broccoli Need to be Fresh or Can I Use Frozen
Fresh or frozen will work for this recipe. I do recommend if you are using frozen that you run cold water over the broccoli, so it helps to thaw it out. If you don't thaw it first, you will need to add some cooking time to your dish, or you might end up with raw broccoli.
Could I Swap Broccoli with Another Vegetable
Sure, if you are not a huge broccoli fan, feel free to reach for something different. I think something like asparagus, cauliflower, or even diced potatoes could work nicely in this dish.
Why Do I Need to Cover The Prosciutto in the Dish Fully
You need to cover the prosciutto in the dish, or else it will become very dry and chewy, and not very tasty. By ensuring it is covered in sauce and by the chicken, it will help to keep it moist and tender, which is precisely what you want.
How Long Will Chicken Prosciutto Last in Fridge
You can keep any leftovers in the fridge for up to three days. Anything after I recommend tossing out. This dish reheats nicely. We generally warm it up in the microwave or even the oven if I am not in a hurry.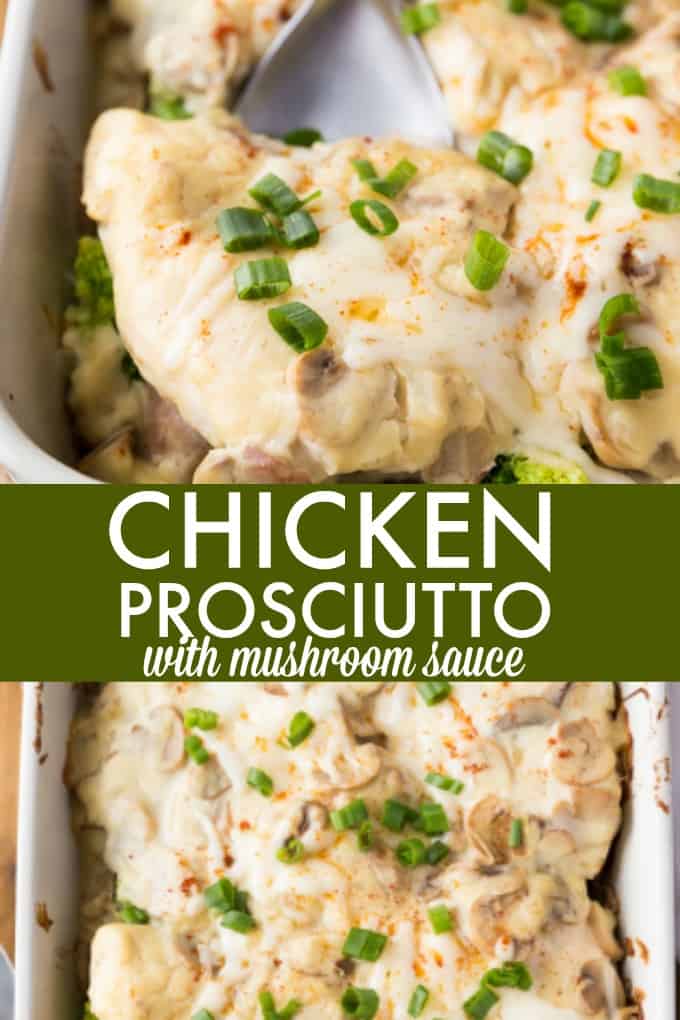 Chicken Prosciutto with Mushroom Sauce
Great for dinner parties! Juicy chicken breasts smothered in a creamy homemade mushroom sauce and topped with broccoli and prosciutto.
Ingredients
3 whole chicken breasts, skinless, deboned
5 tbsp butter
1 cup grated Swiss cheese
1/4 onion, finely chopped
1/4 cup all purpose flour
2 tablespoons Dijon mustard
1 cup chicken broth
1 cup half and half
1/4 cup white wine (or you can substitute 1 tbsp white wine vinegar with 1/4 c water)
3 4.5 ounce jars of sliced mushrooms, drained
14 -16 ounce package frozen cut broccoli
6 slices prosciutto (you may use thin sliced deli ham)
Paprika (to taste)
Instructions
Remove any fat from the chicken breasts, and cut them in half, then cut them across to make 6 servings. Place each serving of chicken between plastic wrap and pound to 1/4 inch thickness. Set aside.
Place the 2 tablespoons of butter in a large non-stick skillet over medium heat, and fry the chicken on both sides until light golden brown on each side. Set chicken aside. Be sure to not overcook the chicken as it can make it tough.
Add 3 tablespoons of butter to the skillet, add onion, and cook until just tender. Remove the pan from the heat, add the flour and the mustard. Stir and then add chicken broth, half-and-half and the wine. Cook and stir over low heat until nice and thick, then add the drained mushrooms and 1/2 cup of Swiss cheese, stir until the cheese melts. Turn off heat.
Grease a 3 quart dish. Layer the broccoli evenly in the bottom of the greased dish. Using a ladle, drizzle half the sauce over the broccoli. This should take around 3-4 ladles. Add the prosciutto on top of the sauce, then add the chicken. Hide any prosciutto under the chicken. Cover chicken evenly with the rest of the sauce.
Pre-heat the oven to 400 degrees and bake 20 to 30 minutes.
Remove from oven, add the remaining cheese and sprinkle the paprika on top and return to the oven for 2 minutes or until the cheese is melted.
Let dish stand five minutes before serving. Cut into 6 servings and carefully lift each serving out of the dish with a spatula. Using a large spoon drizzle mushroom cream sauce over each serving.
Recommended Products
As an Amazon Associate and member of other affiliate programs, I earn from qualifying purchases.
Nutrition Information:
Yield:

6
Serving Size:

1
Amount Per Serving:
Calories:

773
Total Fat:

28g
Saturated Fat:

14g
Trans Fat:

1g
Unsaturated Fat:

11g
Cholesterol:

128mg
Sodium:

1646mg
Carbohydrates:

86g
Fiber:

36g
Sugar:

18g
Protein:

60g