A toasted baguette is topped with grape tomatoes roasted in garlic and olive oil and finished off with ribbons of fresh basil and a drizzle of balsamic vinegar. Roasted Grape Tomato and Basil Crostini is the perfect appetizer to serve up to guests, or a snack to finish the night off with a glass of wine. This is one of my favorite crostini recipes I make over and over again!
An Italian influenced appetizer that is bursting with rich and vibrant flavors. The roasting of the grape tomatoes really brings out the incredible flavor to the crostini.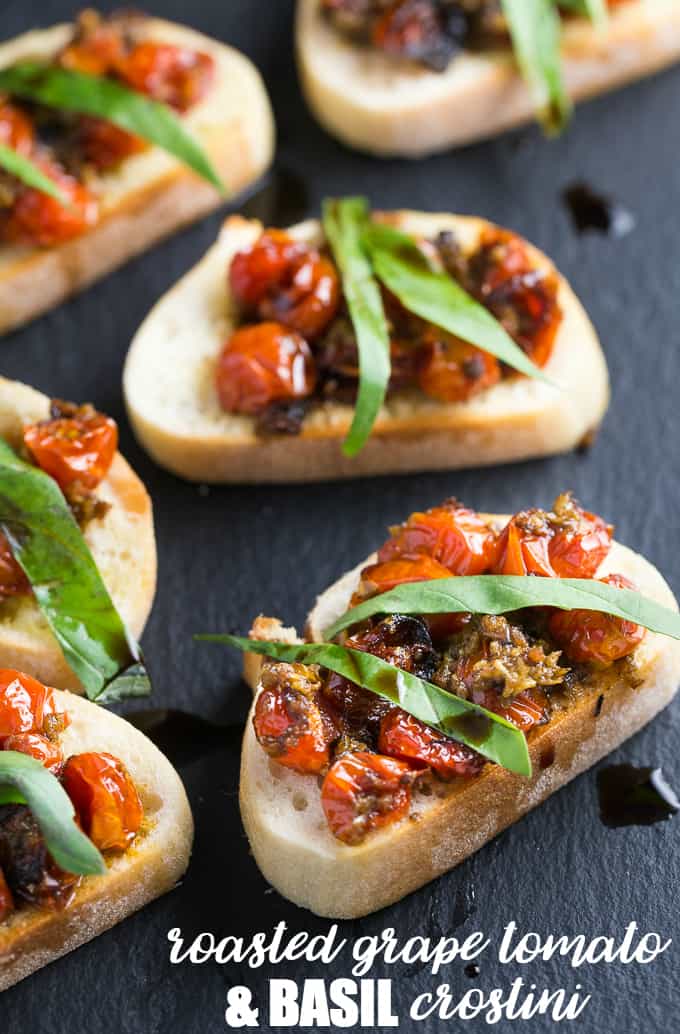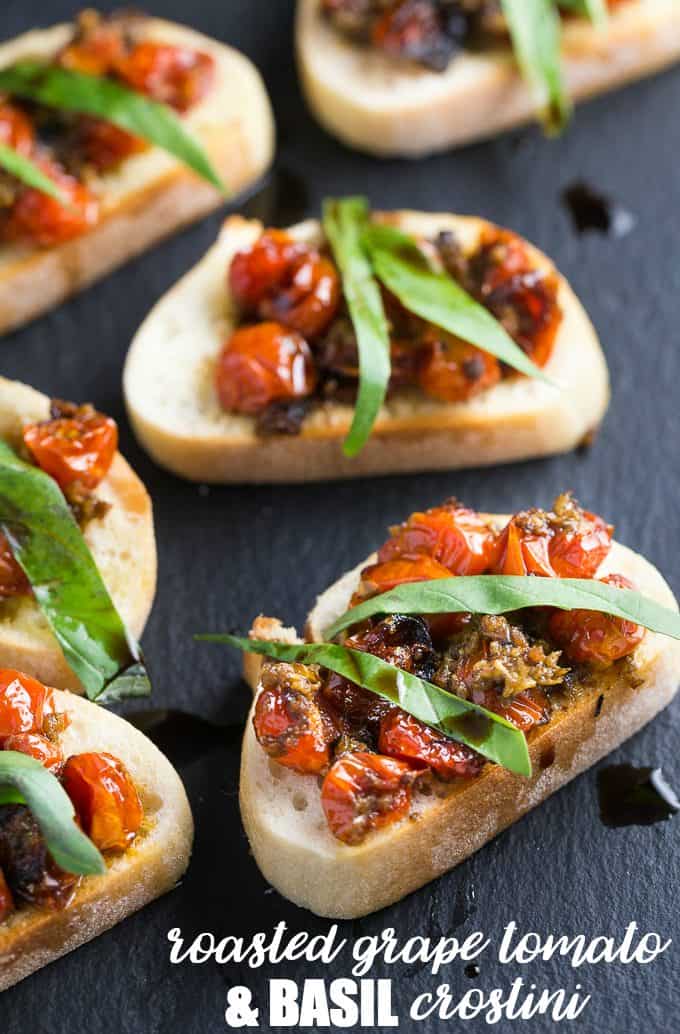 Tomato and Basil Crostini
I find these Tomato and Basil Crostini are perfect for entertaining guests. Whether it is fall and you are having guest over and want a fresh appetizer or its summer, and you have a cookout going on. This crostini appetizer works for any time of year. Best of all, a few simple steps and you have one savory appetizer to serve.
This appetizer offers a tomato bruschetta vibe for sure. The balsamic vinegar drizzled over the top of the tomatoes is spot on in the flavor department.
Looking for more appetizers

What is the difference between crostini and bruschetta?
Crostini and Bruschetta can be a little confusing on what is the difference. Bruschetta usually uses a sourdough or Italian bread as the base. Where as crostini uses a smaller, rounder bread like a baguette.
Is crostini French or Italian?
Crostini means "little crusts," and it is an Italian appetizer. You use your baguette bread and toast or grill it then add on whatever toppings you want.
How Do You Make Roasted Grape Tomato and Basil Crostini
First you want to work on roasting your tomatoes. Start by preheating your oven and then slicing the tomatoes in half and tossing with the thyme, olive oil, and garlic. Then season with salt and pepper, and pour on a rimmed baking sheet. Roast in the oven, and then remove and let cool to room temperature.
Then take your baguettes and place them on an aluminum foil lined baking sheet. Brush with oil and salt and pepper — toast on low to give them a golden brown look.
Then place your tomatoes on top of the warm baguettes, drizzle with balsamic vinegar, and top with basil! Serve right away.
What Type of Bread do I need to Make Crostini?
For this recipe I used baguettes, but I know sometimes your store might be out, or they won't have it for sale. Here are options that you can opt for, in making these tomato and basil crostini!
Baguettes
French Bread
Artisan Bread
Bagels (mini size)
Ciabatta bread
Just cut the bread or bagel down to a bite-size piece and then use it to toast and then top with the tomatoes and basil. I love the baguettes as they are a perfect size, but I know sometimes improvising is a must.
Tips for Making Crostini
Quality Bread | Having quality bread is a must. You want to slice your bread or baguette around 1/2 inch thick. This is going to be a nice size so guests can quickly eat it.
Season Well | Plain bread can seem bland. Making sure you add salt and pepper like directed in the recipe to the bread will help offer flavor. The salt and pepper can bring out characters and allow the whole crostini appetizer to come off more flavorful.
Toppings | If you pile on the toppings, you might find it falls off. I like to lay a few tomatoes down and then gently press them in, so they won't move as quickly. Lighter toppings are best then piling super high and watching it fall off.
Can I make Tomato and Basil Crostini in advance?
Not really. This is one appetizer I recommend serving right after it comes out of the oven and you assemble with toppings. After so long the baguette will soften and lose that crispy texture. Once you drizzle on the balsamic vinegar, it can go from crunchy to soggy fast.
You can prep the tomatoes in advance, and then toast bread and top right before serving.
Easy Italian Appetizer
This Tomato Basil Crostini is going to win over the crowd. We make these often, and the whole family enjoys them. They are great for any season of the year, and you can adapt the size of the recipe to fit how many people you are planning to serve!
Have you ever made a homemade Tomato and Basil crostini before?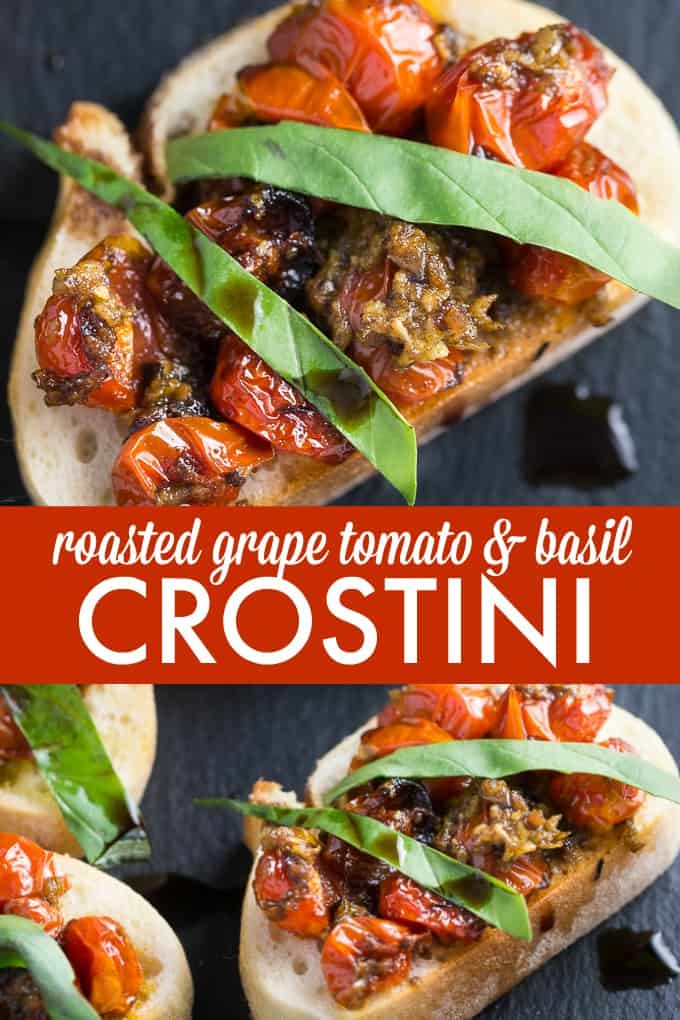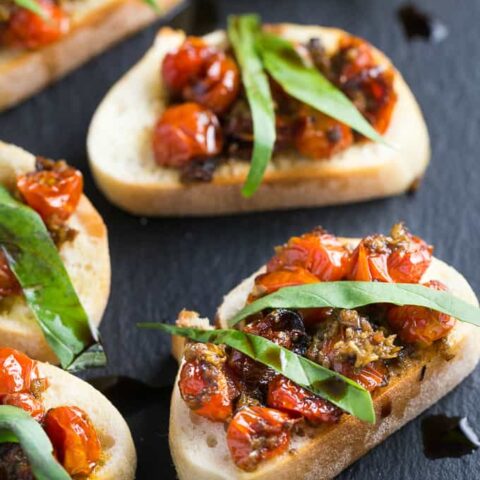 Roasted Grape Tomato and Basil Crostini
Total Time:
2 hours
10 minutes
A toasted baguette is topped with grape tomatoes roasted in garlic and olive oil and finished off with ribbons of fresh basil and a drizzle of balsamic vinegar.
Ingredients
10 oz cherry tomatoes, halved (or one box)
1/3 cup extra-virgin olive oil (more as needed for bread)
4 sprigs fresh thyme (or 2 tsp dry thyme)
sea salt & freshly ground black pepper (to taste)
8 cloves garlic, peeled and lightly crushed
1 large baguette, cut into 20 -24 (1/2-inch thick) diagonal slices
6 tbsp balsamic vinegar, or to taste
12 large fresh basil leaves, cut into fine ribbons, for garnish
Instructions
Preheat oven 275 degrees. Place tomato halves in a medium mixing bowl and toss gently with 1/3 cup olive oil, garlic, and thyme sprigs (Optional: Use 1 tsp dry thyme instead of thyme sprigs). Season with salt and pepper to taste. Arrange tomatoes on a rimmed baking sheet in a single layer and pour juices from bowl over tomatoes. Roast in preheated oven until golden brown and slightly shriveled, about 1 – 2 hours.
Remove tomatoes from oven and cool to room temp. Remove thyme sprigs (if used) and discard.
Arrange baguette slices on a rimmed baking sheet lined with foil. Brush tops with olive oil and sprinkle lightly with salt and pepper. Toast at low heat until golden brown on top.
Remove baguette slices from oven and top with 4 or 5 cherry tomato halves, gently pressing to adhere. Drizzle each crostini with balsamic vinegar and top with basil ribbons. Serve immediately.
Recommended Products
As an Amazon Associate and member of other affiliate programs, I earn from qualifying purchases.
Nutrition Information:
Yield:

24
Serving Size:

1
Amount Per Serving:
Calories:

70
Total Fat:

3g
Saturated Fat:

0g
Trans Fat:

0g
Unsaturated Fat:

3g
Cholesterol:

0mg
Sodium:

95mg
Carbohydrates:

9g
Fiber:

0g
Sugar:

2g
Protein:

2g